Whether you're a car enthusiast or not, some say that your dream car is a reflection of your personality. Of course, if the price tag isn't an issue, then it's fair to say that preferences tell a lot about a person. After all, car choices—like all other decisions in life—are largely psychological in nature.
While some are into classics (read: the nostalgic camp), others may prefer speedsters (AKA those who live for the thrill), and still others may prefer exotic cars (if you have it, flash it). Or what if your dream car isn't a car, but a van or a pick-up truck? (We see you, neo-hippies!)
With that being said, Team BURO spills what we'd like to have parked in our imaginary garage. Make of it what you will…
Sarah Hani Jamil, Editor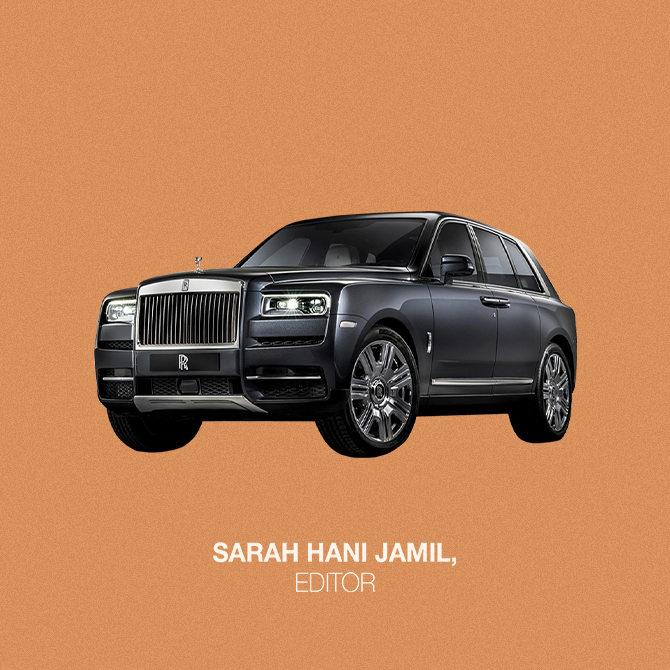 "I've always driven sedans or hatchbacks but after many years of car reviews (it comes with the job) I've realised that I truly love SUVs due to their height and robust build. Personally, I love having a clearer view of the road at all angles. Now, if we're talking about ideal SUVs, it's got to be the Rolls Royce Cullinan. I mean, why not? It's the car of royals! Look at that magnificent, sleek body—just breathtaking. The Cullinan is the type of vehicle you'd want to be driven in and drive for yourself. It offers a commanding drive, yet a refined, quiet, 'Magic Carpet' ride quality, which I've personally experienced in the Rolls Royce Ghost model. The interior is the epitome of luxury with bespoke wood trim, fine leather and immersive lounge seating. What a dream!"
Adelina Tan, Deputy Editor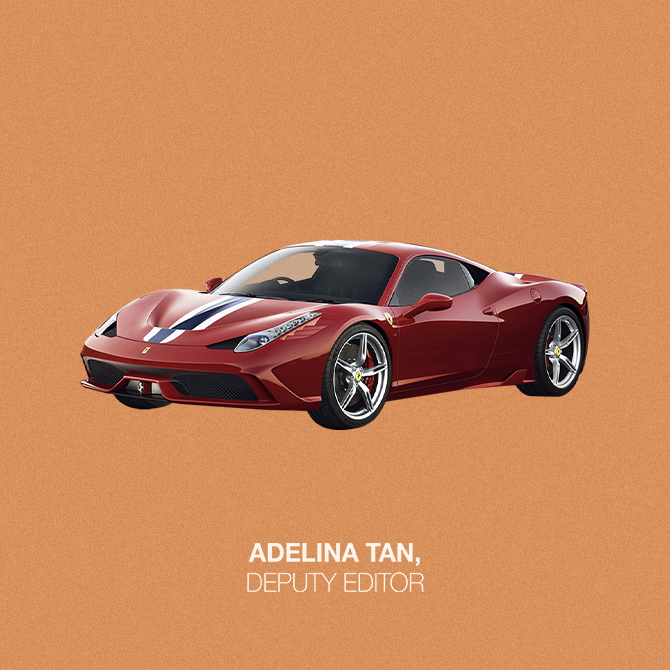 "As much as I love variety, I've only ever had one dream car since I was five or six years old. It's not even one car in particular but a specific car manufacturer, colour and type: A red, convertible Ferrari. Any model. This lifelong love for the Prancing Horse was first cultivated in my childhood, on regular drives past a showroom in Taman Tun. I had no idea how much these beauties cost then (or any concept of money)—the magpie in me marvelled at how they were so shiny, sleek and eye-catching.
"As for the convertible part, I'd attribute it to a childhood filled with Malibu Barbie. Experience and age have since convinced me that it's not the best choice for Malaysian weather. But hey, it's a dream car for a reason, and my dream is to one day drive a red, convertible Ferrari along a sun-kissed coastal road."
Natalie Khoo, Lifestyle Editor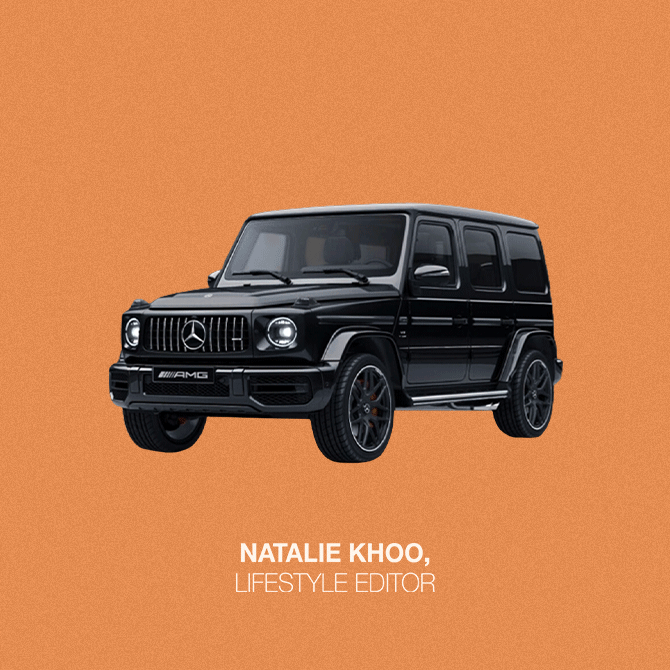 "My dream car has changed several times over the years, especially with the influence of age, technology, and lifestyle. But if you ask me now, the first car that comes to mind is the *iconic* Mercedes-Benz G-Wagon (or G-Wagen, if you prefer). Why does a petite five-feet-two girl like me want a boxy, muscular ride owned by equally brawny celebrity clientele like Arnold Schwarzenegger and Sylvester Stallone? Probably for the same reasons Kylie Jenner and Hillary Duff own one too. It's powerful, commanding, and luxurious, yet practical for my off-road excursions with friends.
"Alternatively, I've always been drawn by speed and sporty designs, so I'd love to own a Porsche 911 Turbo S. Since convertibles have extra points in my books, the Cabriolet variant would be my pick. Talk about hitting 0-100km/h in 2.8 seconds with a top speed of 330km/h, thanks to its twin-turbocharged 3.7-liter engine. Add that mighty 640hp output to its athletic body and up-to-date interiors—that sums up a dream car for me."
Redzhanna Jazmin, Beauty Writer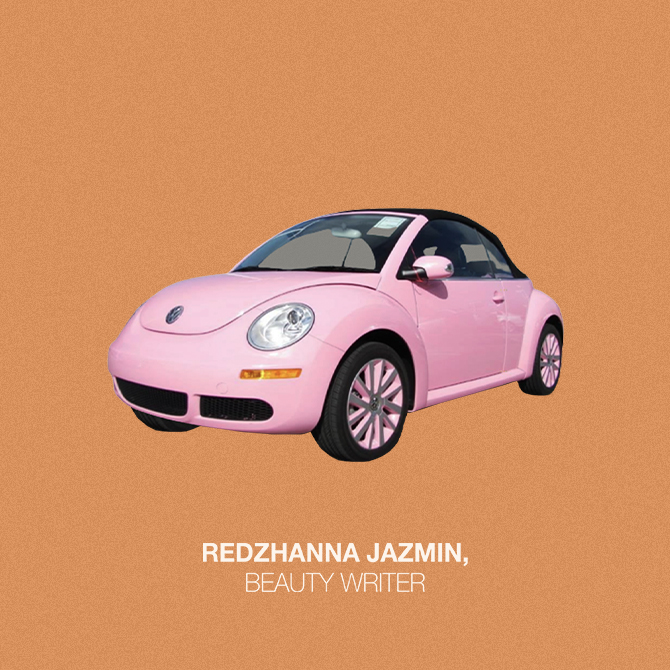 "My dream car has been the same since I was six years old: The periwinkle VW Beetle Mary-Kate Olsen drives as Roxy Ryan in the 2004 cult classic film New York Minute. It's a completely ridiculous car with absolutely no practical use (it's not exactly a roomy car and the boot is literally there entirely for aesthetics) but it's my ideal ride. Of course, purple is negotiable—I'd settle for hot pink or baby pink too. I picture myself taking it on excursions around the country with the top down (in my mind, it's also a convertible car). That, and driving around aimlessly with pals.
"If, however, the Beetle is off the table (unfortunately, it was discontinued before I managed to get my hands on it), I'd also love a T3 with a roof box. Again, it's not the most spacious vehicle but it really is a stunner. I'd add a bed and a kitchen to make it liveable for travel. Ideally, I should probably learn how to drive a van first, though…"
Pravin Nair, Fashion Writer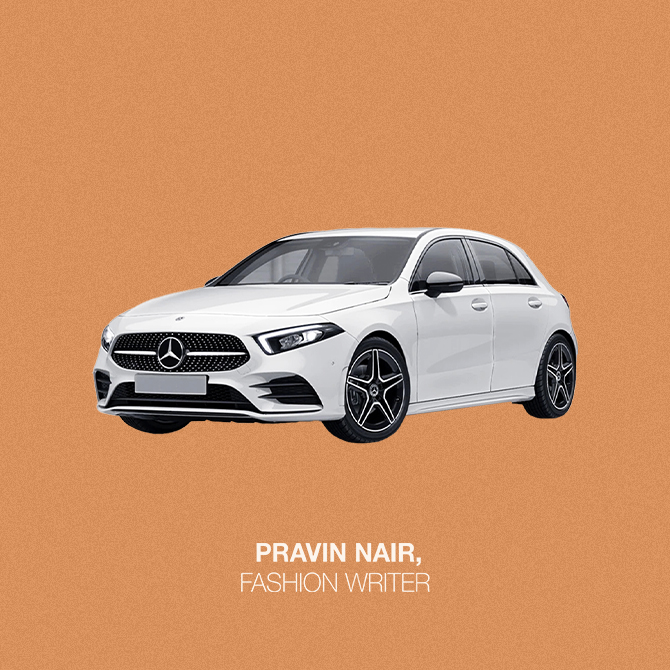 "I personally would love to be driving the Mercedes-Benz A250 as it's compact and easy to drive around in small spaces. And even though the car is small, it's pretty luxurious too. It's got all of the Mercedes specs that you could want in a size that's enough for a solo driver like me. Oh, and it has great trunk space too! With that, I stand by the A250 as my dream car for its practicality and luxury."
Phyll Wu, Editorial Assistant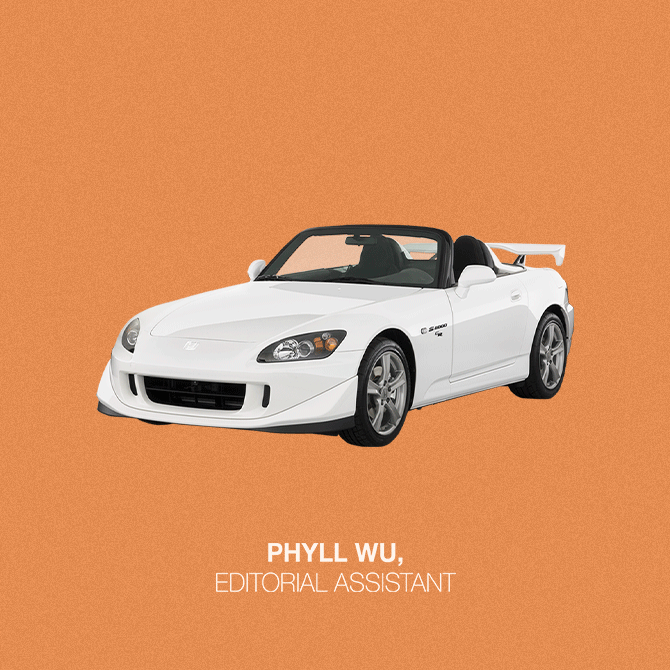 "As someone who doesn't drive, I have to admit—I know nothing about cars. However, I did grow up around car geeks. So when it comes to my dream cars, I can name a few. My favourite car of all time has to be the Nissan Fairlady 350Z, or the 'hot girl car' as I like to call it. It's cute in the front, slightly edgy and fierce in the back, it's fast, and I personally think it looks good in any colour.
"And of course, I had to include Nissan GTR and the R34 is just one of my favourites. It's a timeless beauty that's way ahead of its time and is undeniably one of the most stunning cars to ever grace the roads. I also absolutely love the Honda S2000, another one of those 'hot girl cars'. My love for it is particularly influenced by Suki from 2 Fast 2 Furious, played by Devon Aoki. Much like the Nissan Fairlady 350Z, the S2000 is *so* cute. The body is sleek, clean, and not too flashy, but it stands out regardless."
Find more motoring stories here. Get to know Team BURO better here. 
| | |
| --- | --- |
| SHARE THE STORY | |
| Explore More | |