Food + Drink
Review: Vér—The Bar at Nadodi turns childhood memories into inventive cocktails
Celebrating roots
Images: Keith Chong for BURO Malaysia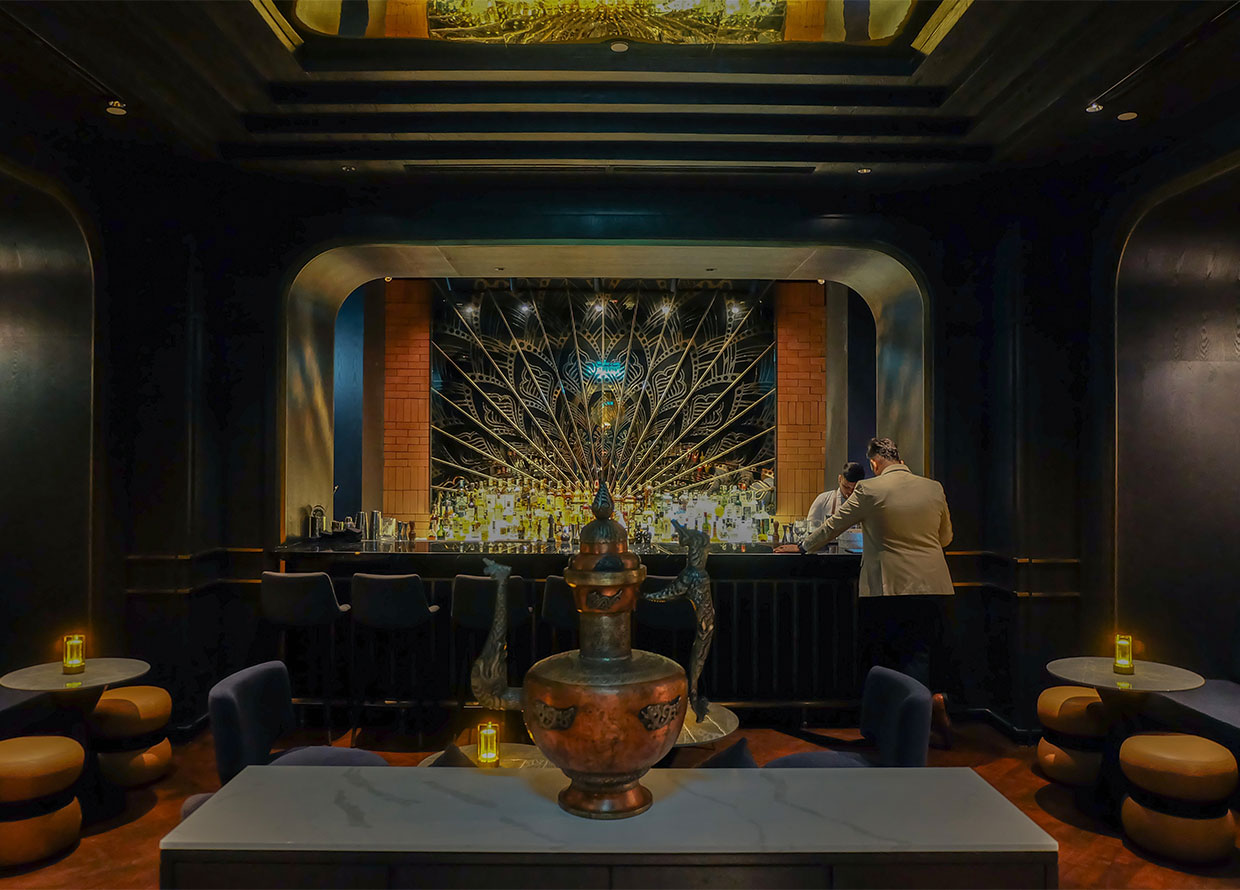 Fine dining gourmands in Malaysia would be well-acquainted with Nadodi, touted for its elegant execution of Indian cuisine. Since relocating to its swanky new home in Four Seasons Kuala Lumpur, the restaurant has also introduced a new addition to the Nadodi experience: an all-new cocktail bar and lounge dubbed Vér.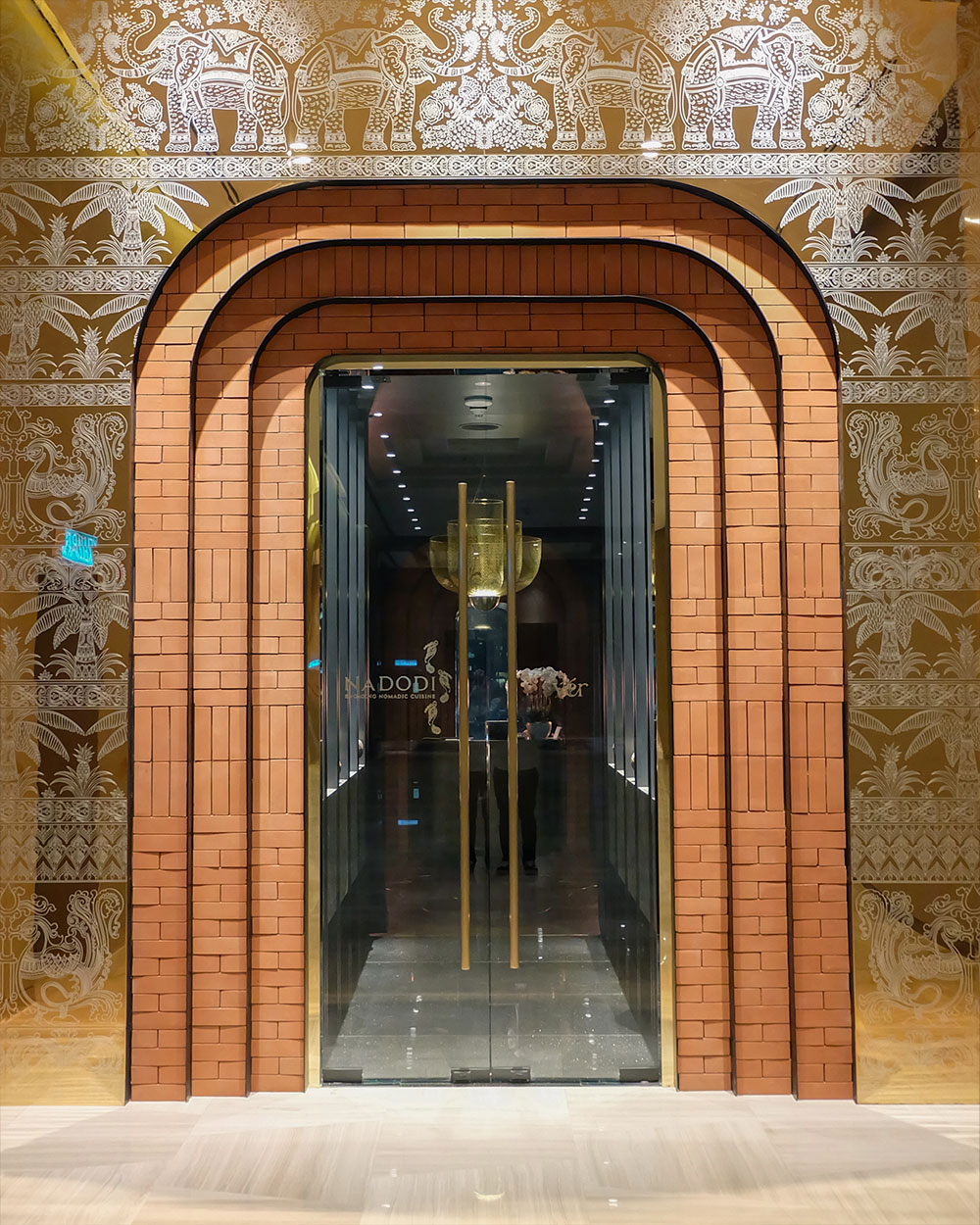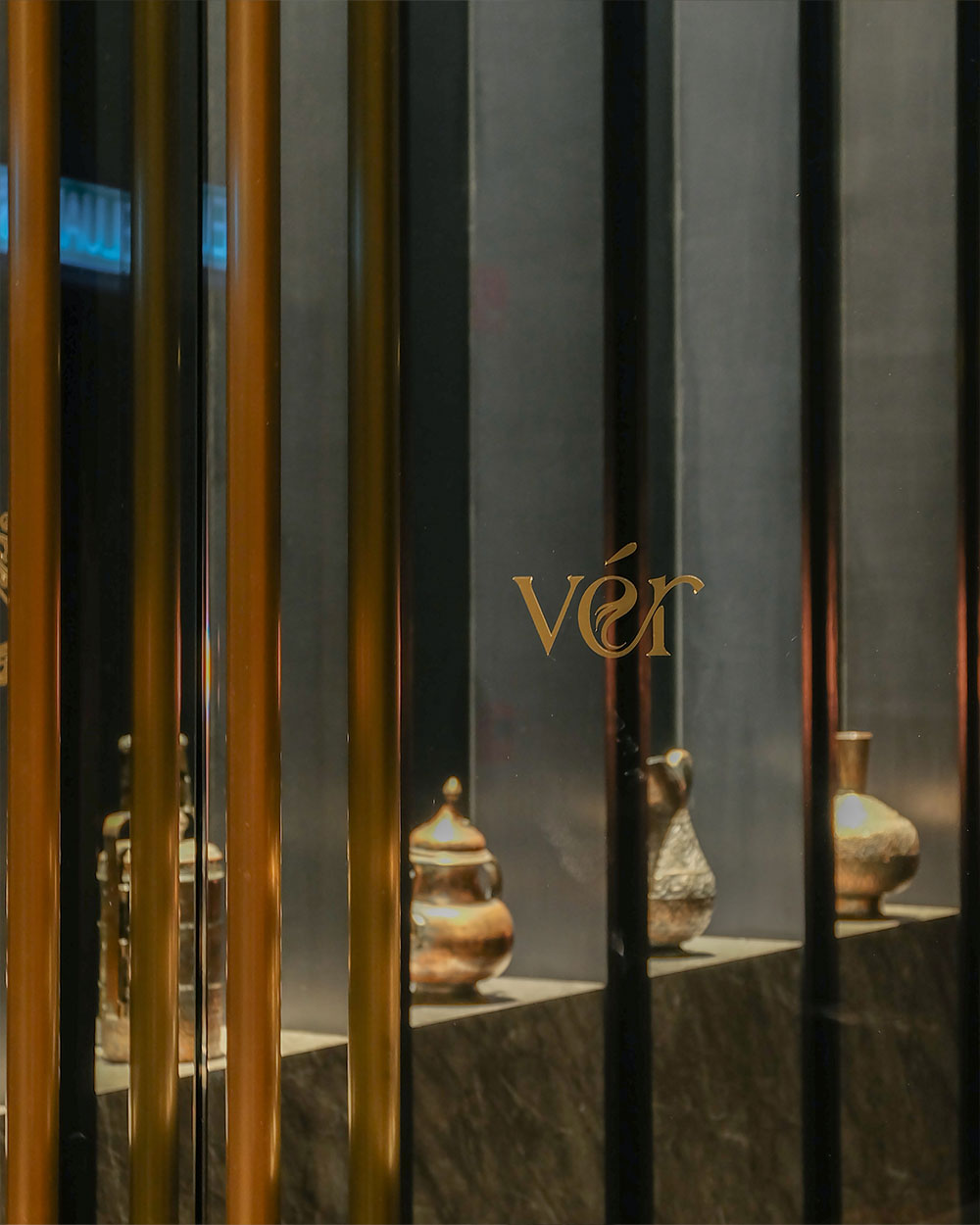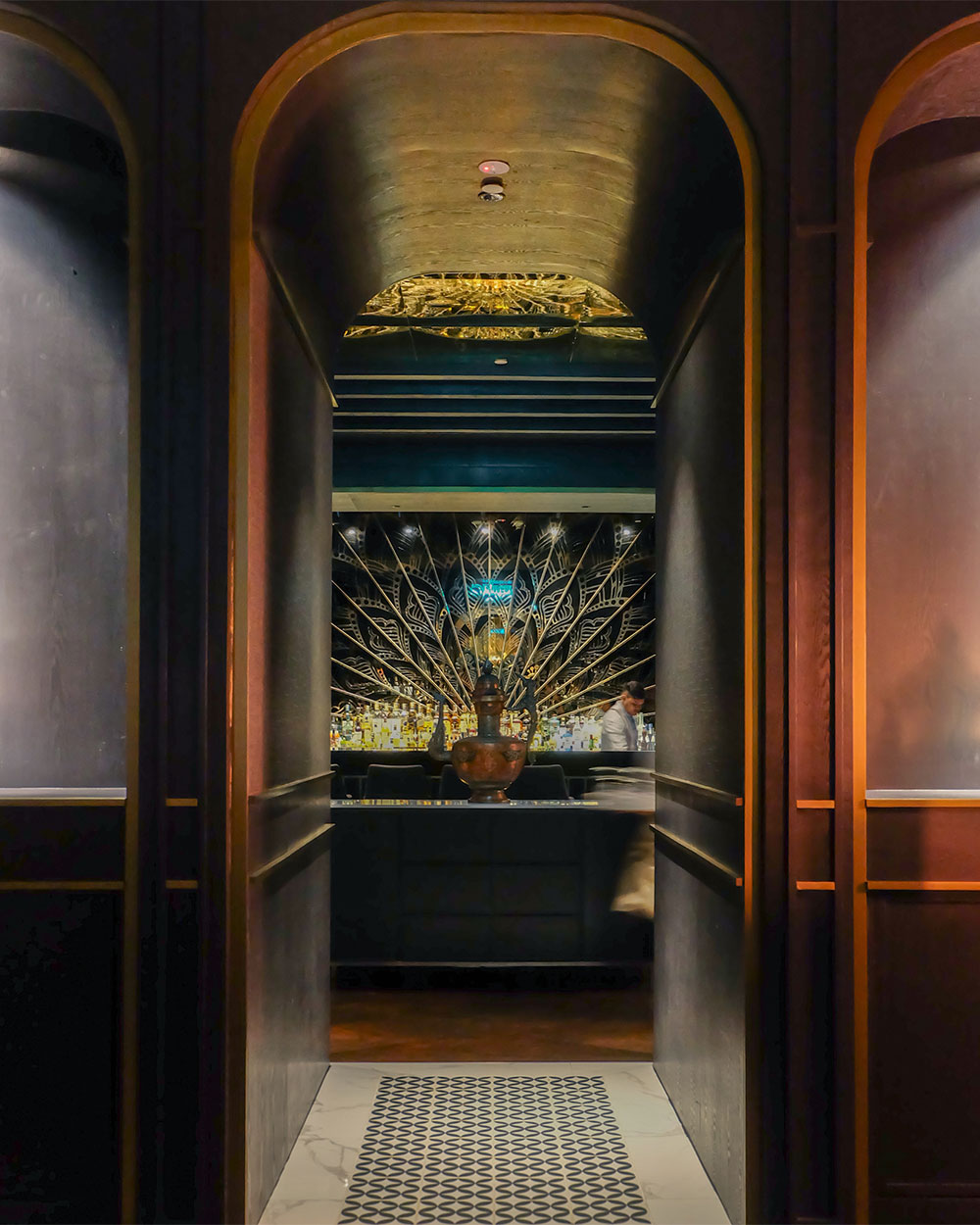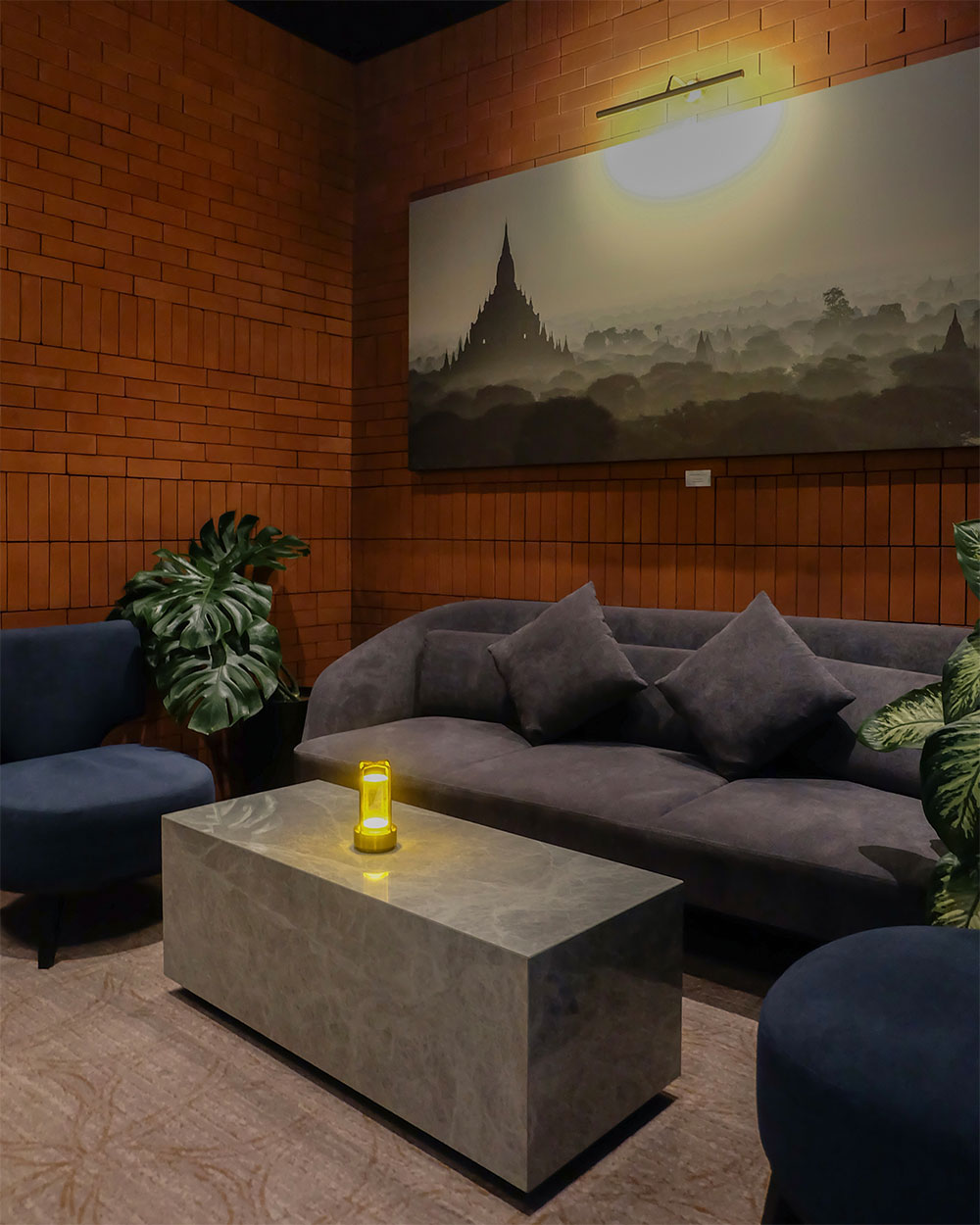 More than an extension of the brand, Vér holds its own with a unique space and an extensive food and cocktail menu. It welcomes Nadodi guests even before they step into the restaurant, as the bar occupies the dimly lit space to the left of the entrance, as well as the sophisticated lounge to the right. The latter boasts views overlooking the KLCC Park, offering a nice vantage point to catch the famous Lake Symphony Light Show at night—as I found out during my visit. 
Thus, we sat down at the lounge to enjoy the complimentary entertainment, as Bar Manager Apurav Bhatia walked us through the menu and ethos of Vér.
THE CONCEPT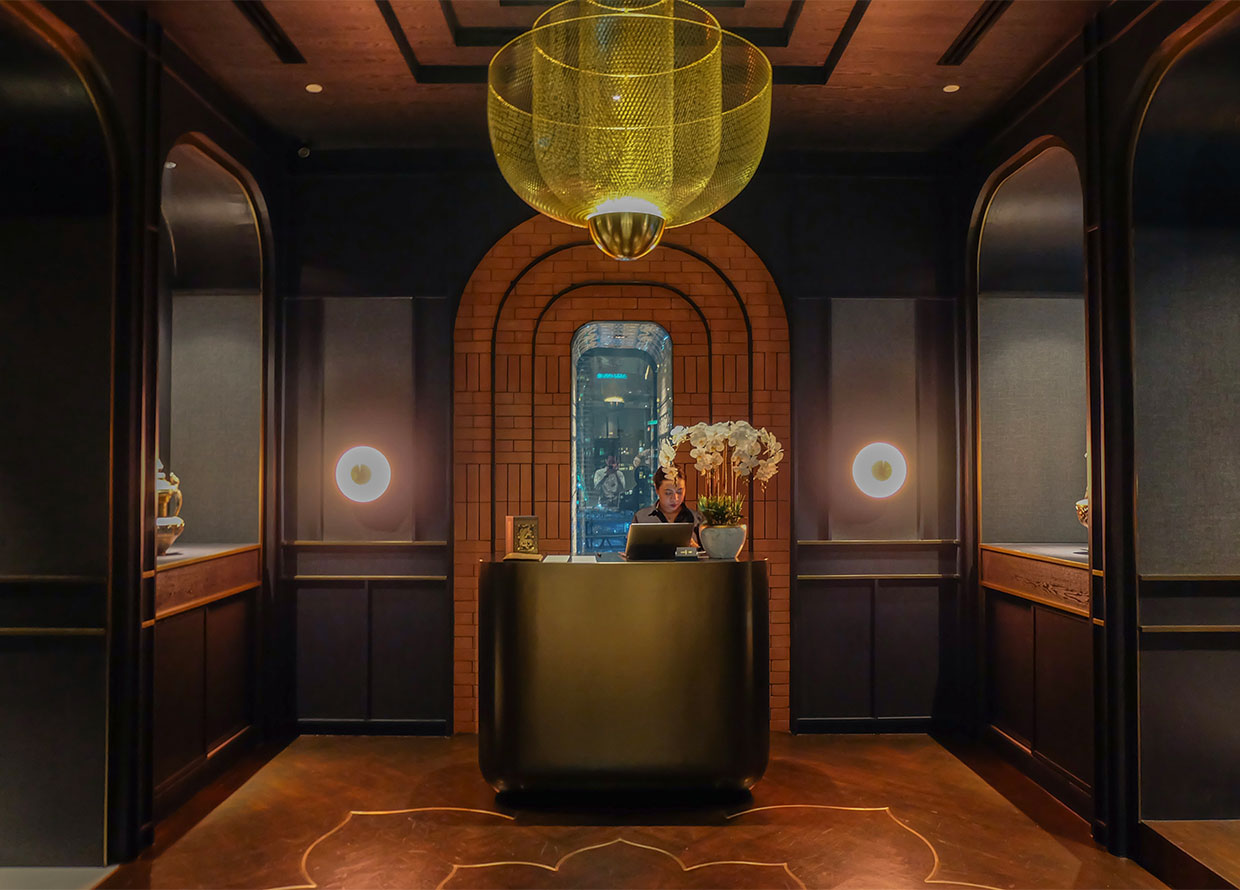 Like Nadodi, Vér—meaning "roots" in Tamil—celebrates the colourful heritage and diversity of the nomadic cultures of Sri Lanka and Southern India. The sophisticated craft cocktail bar adopts an offbeat approach to cocktails and drinking rituals that form part of the region's golden thread, weaving nostalgic memories and whimsical stories into its cocktail offerings. This is supplemented by a respectable menu of bar bites, though I'd argue that some "bites" are substantial enough to fill up those visiting on an empty stomach (more on this later).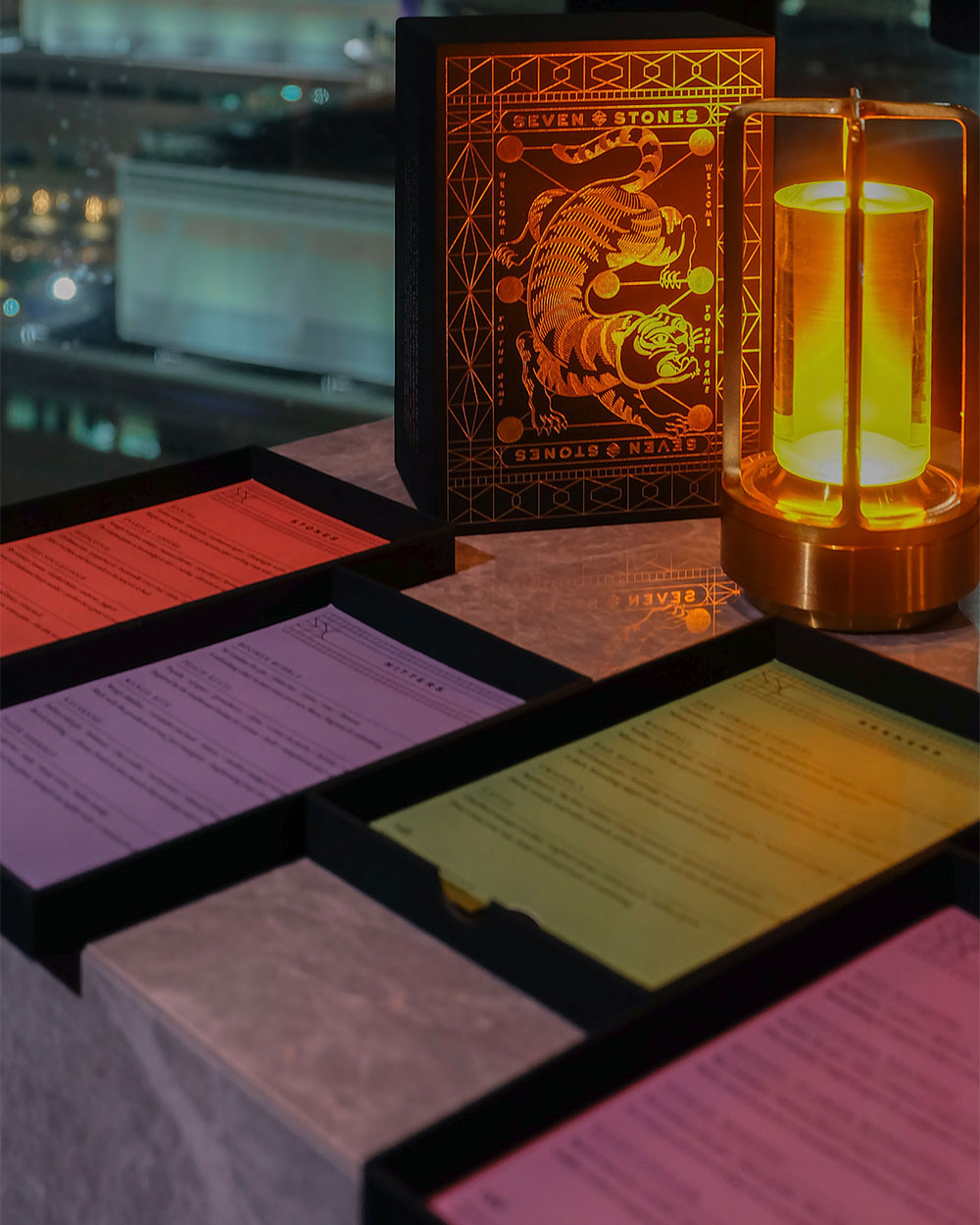 Bhatia set before us a black box inscribed with a tiger and the words 'Seven Stones', representing the name and inspiration behind the menu. Also known as Satoliya or Lagori, Seven Stones is a traditional game in India that involves a ball and a pile of stones, played between two teams comprising "seekers" and "hitters".
Tying in with the theme, the box consists of four drawers—three of which are named after elements of the game. The first tier is Stones, featuring creations inspired by childhood games. Hitters comes next, with concoctions referencing the flavours of well-loved desserts in India. The third drawer is Seekers, based on shared memories of seeking out adventures as a child. These three layers each offer four cocktails and one mocktail, while the last layer—dubbed Nomadic Classics—presents Ver's take on four classic cocktails. 
THE COCKTAILS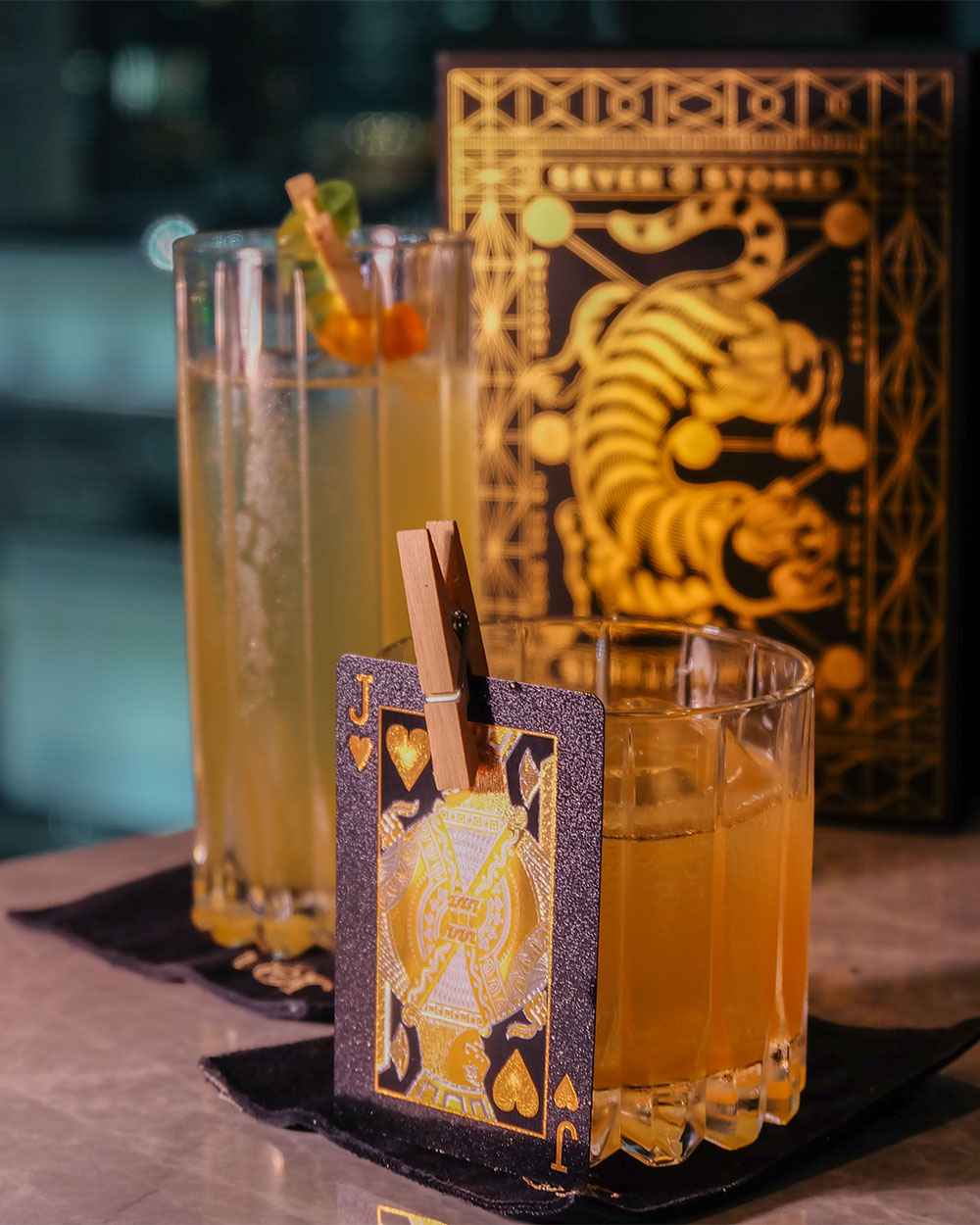 Starting off with the Stones drawer, we had the Snakes and Ladders that's made with straight bourbon whiskey, nannari sherbet, citrus blend, kesum and soda. True to its name, the sweet concoction even arrived with a snake gummy (made in-house) wrapped around a mini ladder. Three-Nought-Four is another interesting mix consisting of rye whiskey, sesame, clarified butter, and jaggery with a hint of ambrette. It's named after a card game that Bhatia kindly demonstrated, which makes for a fun bar activity among groups of three or more.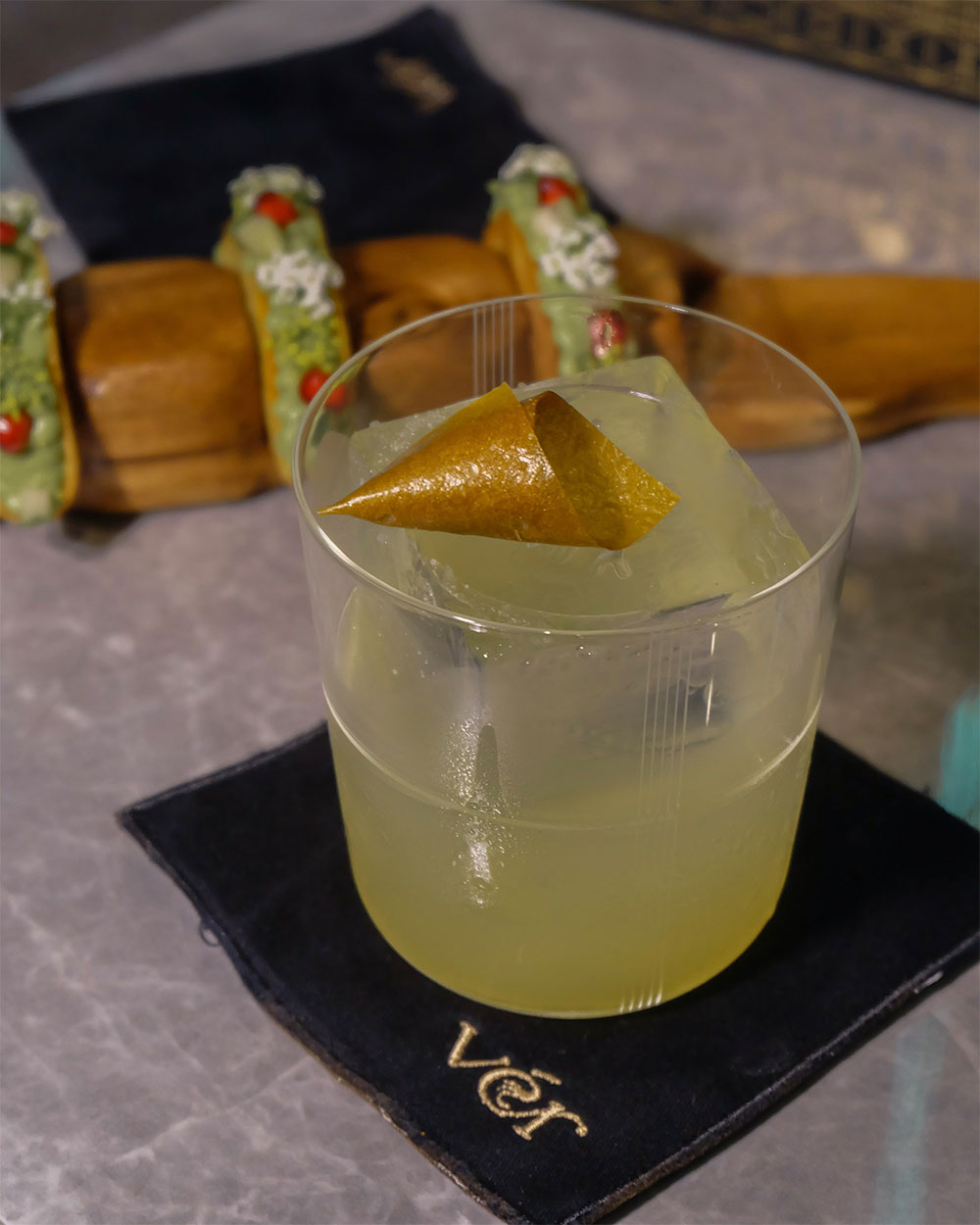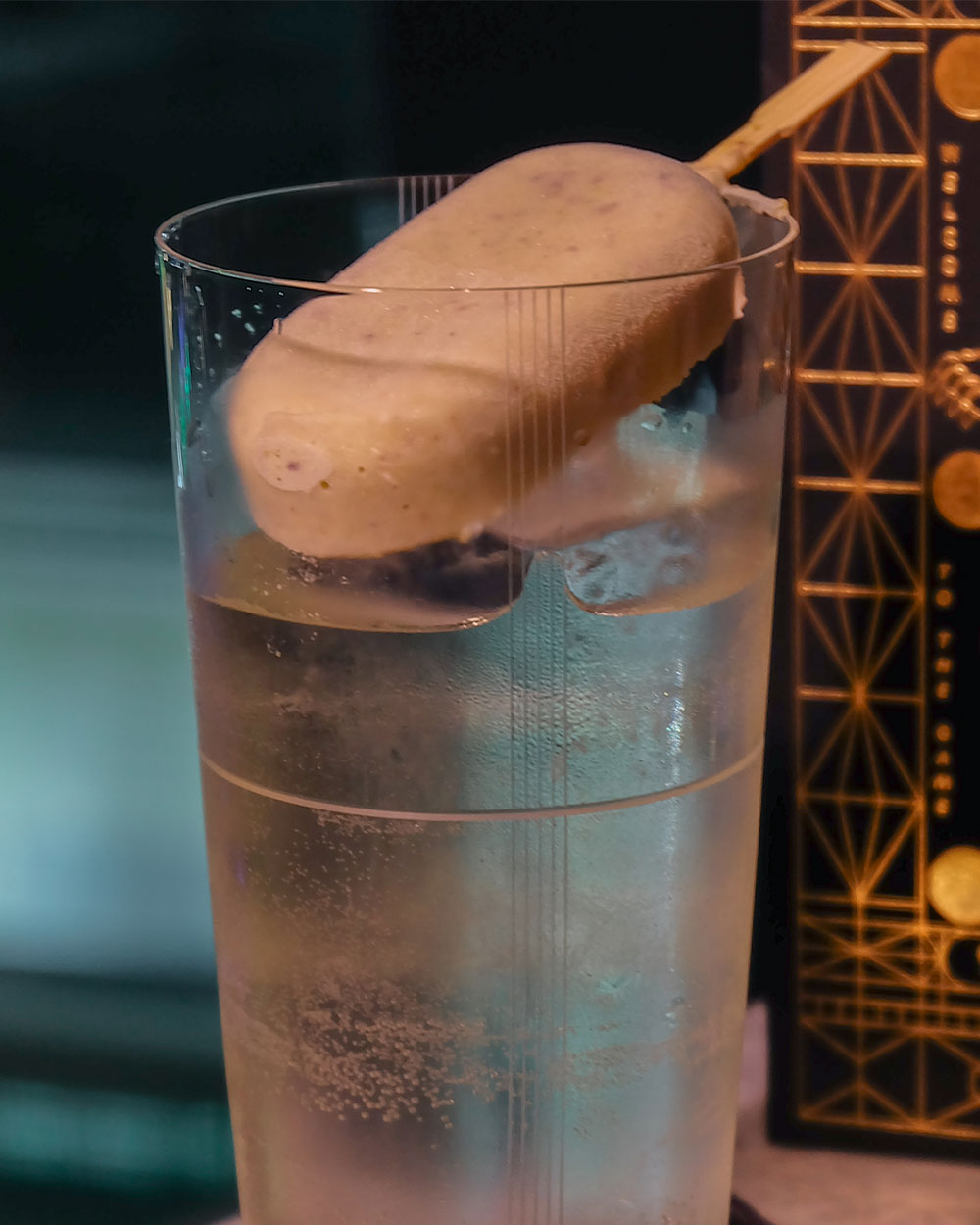 From the Hitters menu, we tried the Mango Bite and Peach Kulfi, both of which are best-sellers at the bar. The former is a blend of mango distillate, lemon and clarified mango cordial that's simply refreshing and easy to drink. It is garnished with a cone-shaped dehydrated mango leather containing cucumber gel that complements the drink well. 
Meanwhile, the latter is a clarified tequila-based cocktail with allspice, gooseberry juice, and peach liqueur that has been clarified with lactose. What makes it so unique is the accompanying pistachio and peach kulfi, a traditional Indian ice cream made using only full-fat cream milk and no eggs. Best enjoyed by alternating sips and bites, the contrasting textures of this unique combination is simply delicious. If you could only order two drinks from the bar, these two come highly recommended.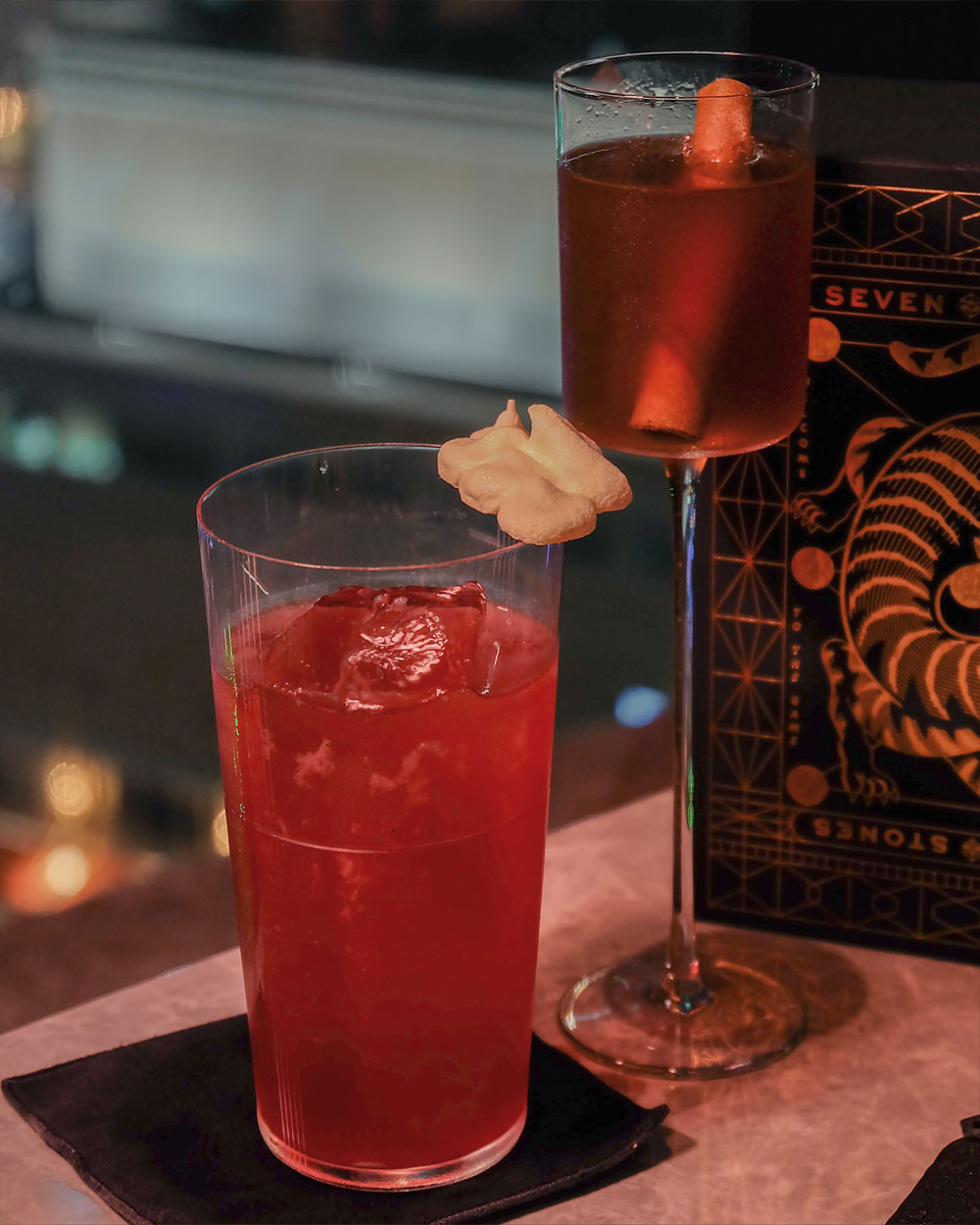 Moving on to the Seekers tier, Rainfall evoked the smell of the ground after the rain with a blend of vodka, cacao husk, raicilla, kaolin, citrus, beetroot and soda. Topped with a meringue cloud for garnish, it's a thoughtfully crafted creation with earthy, botanical notes. We also had a taste of Bad Habits, a sipping cocktail that may resonate better with smokers (past or present). This strong libation is made with a blend of Sri Lankan gin and vermouth, nutmeg, tamarind and ginger honey, complete with a chocolate wafer garnish to match.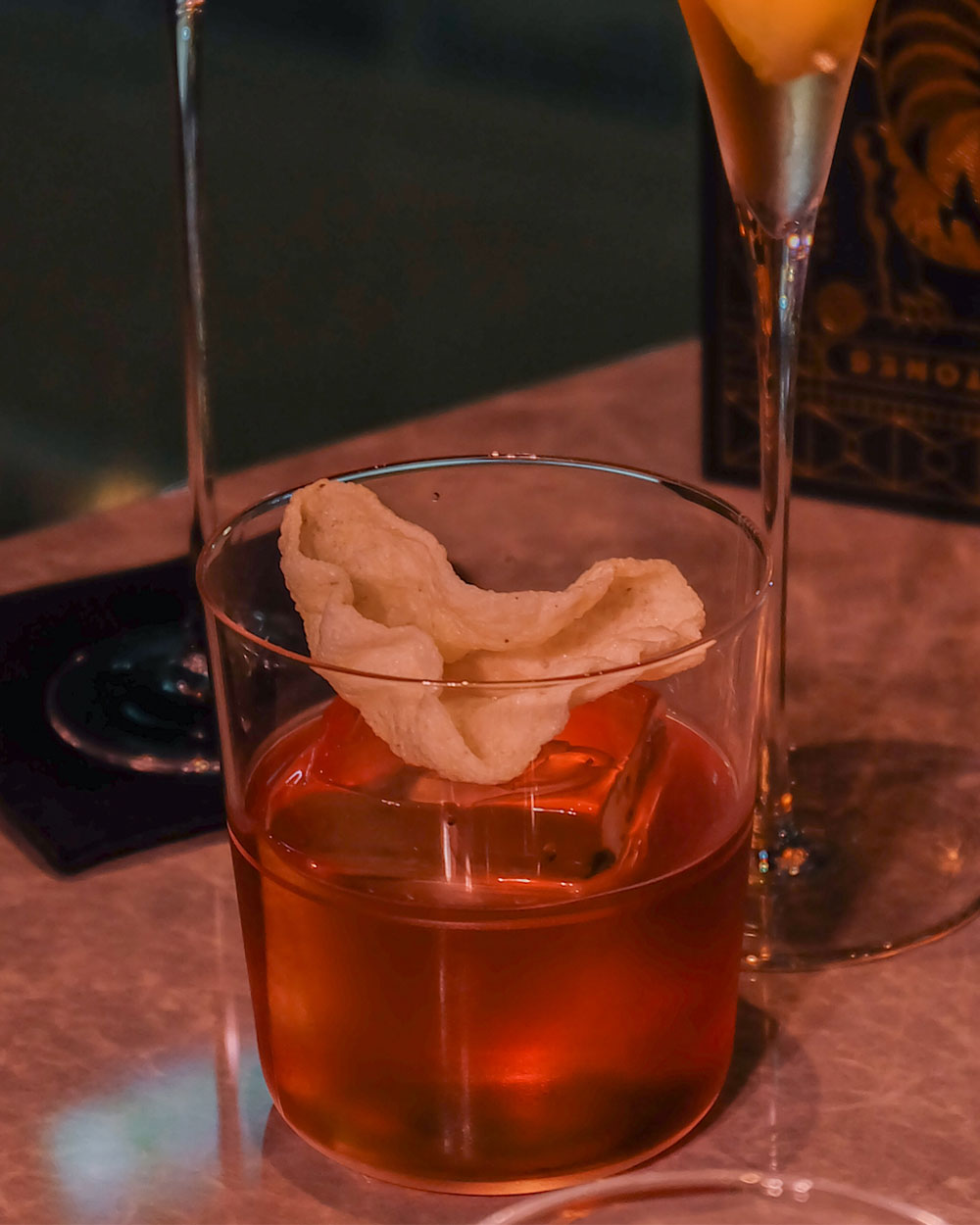 Our final drink of the evening was the Fenugreek Negroni from the Nomadic Classic menu. It's a combination of Indian dry gin, Campari, sweet vermouth, tulsi (also known as holy basil) and fenugreek seeds, topped with a fenugreek crisp as garnish. The spicy notes elevate this classic drink, adding another layer to its bitter, sweet, and aromatic profile. 
THE CULINARY EXPERIENCE
As aforementioned, Vér offers a comprehensive food menu that reflects Nadodi's culinary philosophy, but with a less formal approach befitting a bar's social customs. Chef de Cuisine Yahvin Siriwardhana and Executive Chef Mohammed Eliyaz, who head the kitchen at Nadodi, also lead the culinary team in curating inventive dishes for the bar. Trust us, you'll want to save some appetite for the food here.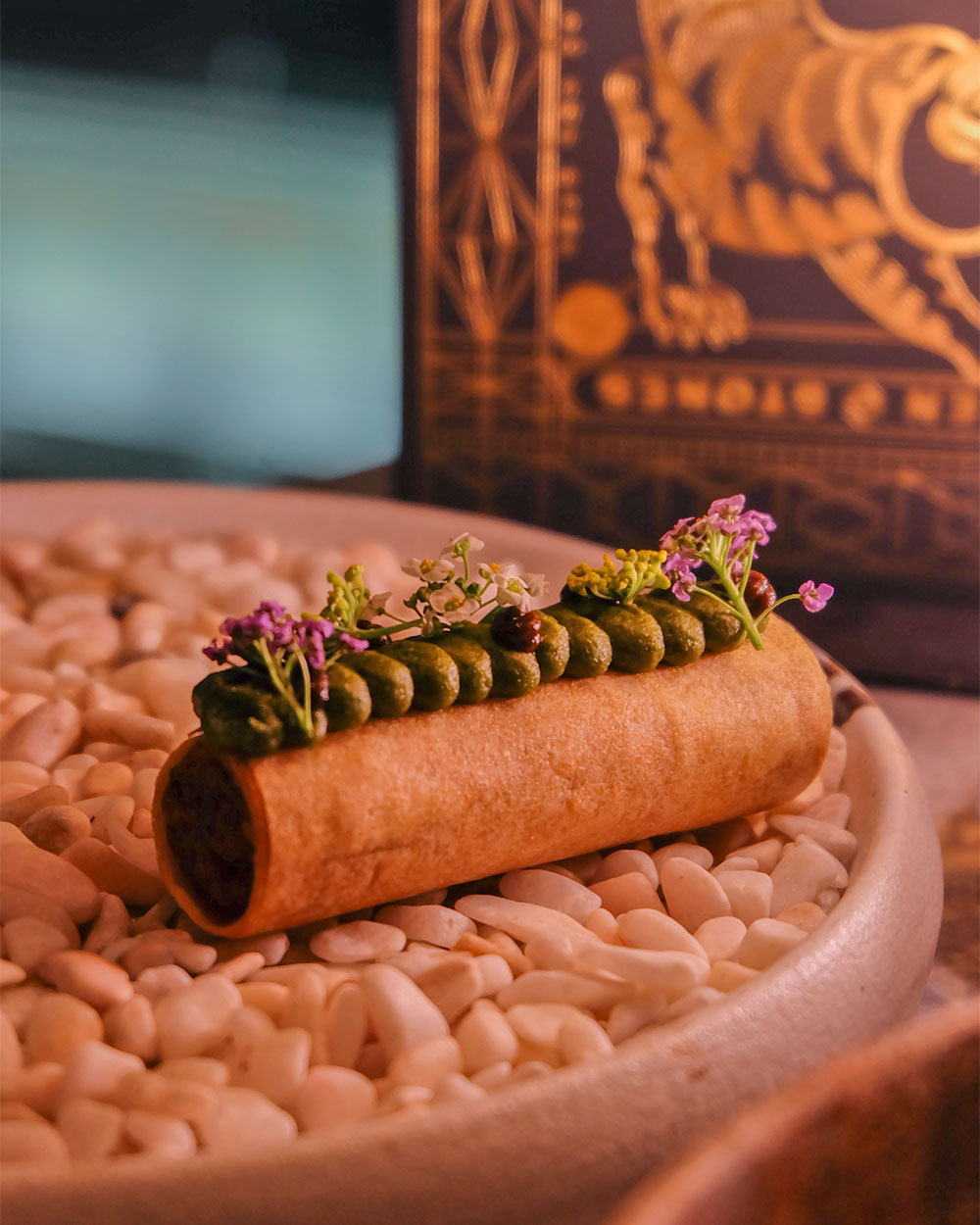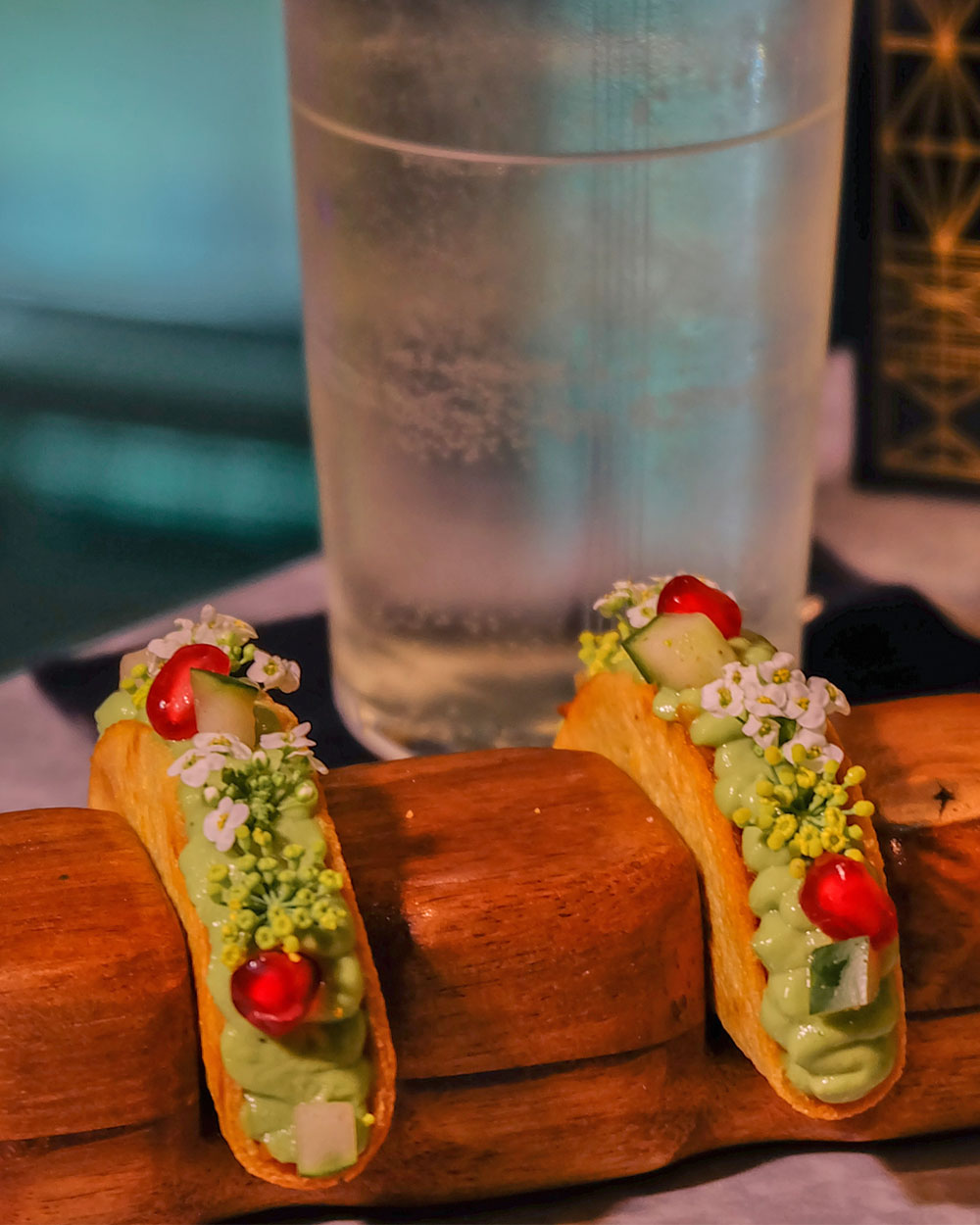 One of the dishes we had was the Spiced Lamb Cigar, featuring smoked pulled lamb with black garlic and mint chutney—which was a hit in terms of presentation and palate. The Spiny Lobster Taco 65 is another beautifully plated snack with creamy and spicy flavours from the combination of avocado, black peppercorn, and marigold.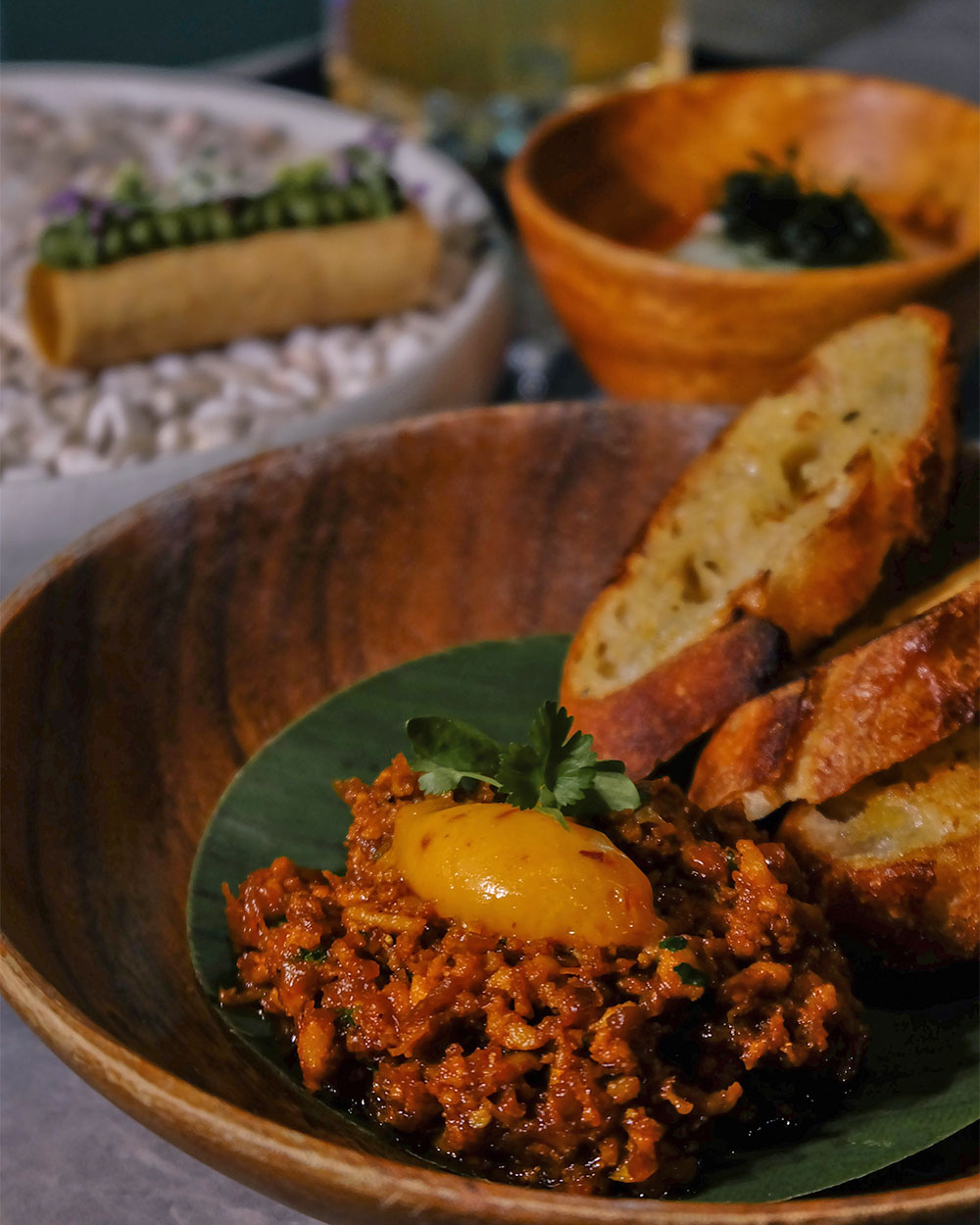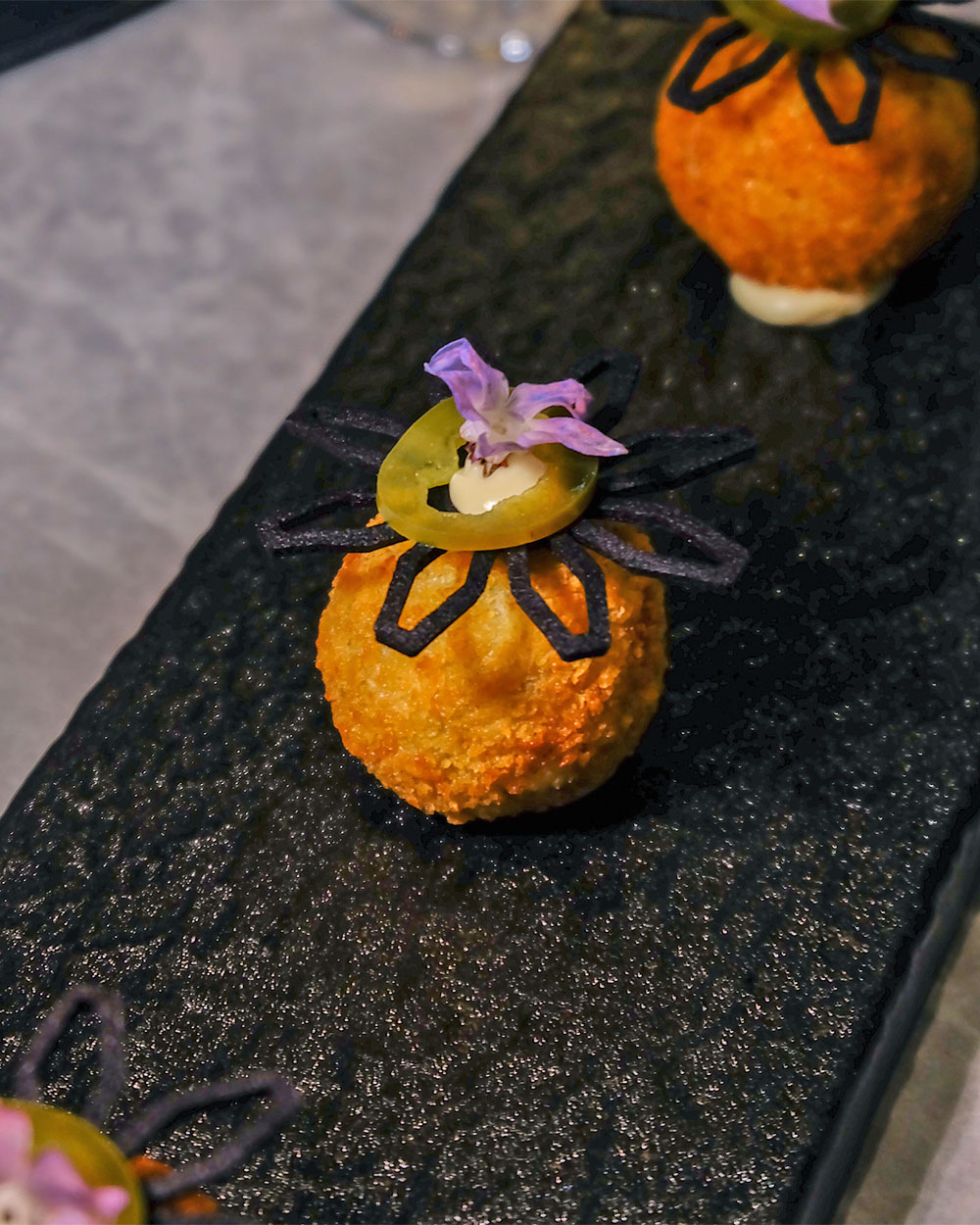 For a carb option, there's Masala Keema, a blend of spiced chicken mince and confit egg yolk served with sourdough for a comforting bite in between boozy sips. Alternatively, the Yellow Cheddar and Local Spinach Croquettes offers a flavour-packed morsel combining cheese and spinach with jalapeño, russet potato and truffle aioli.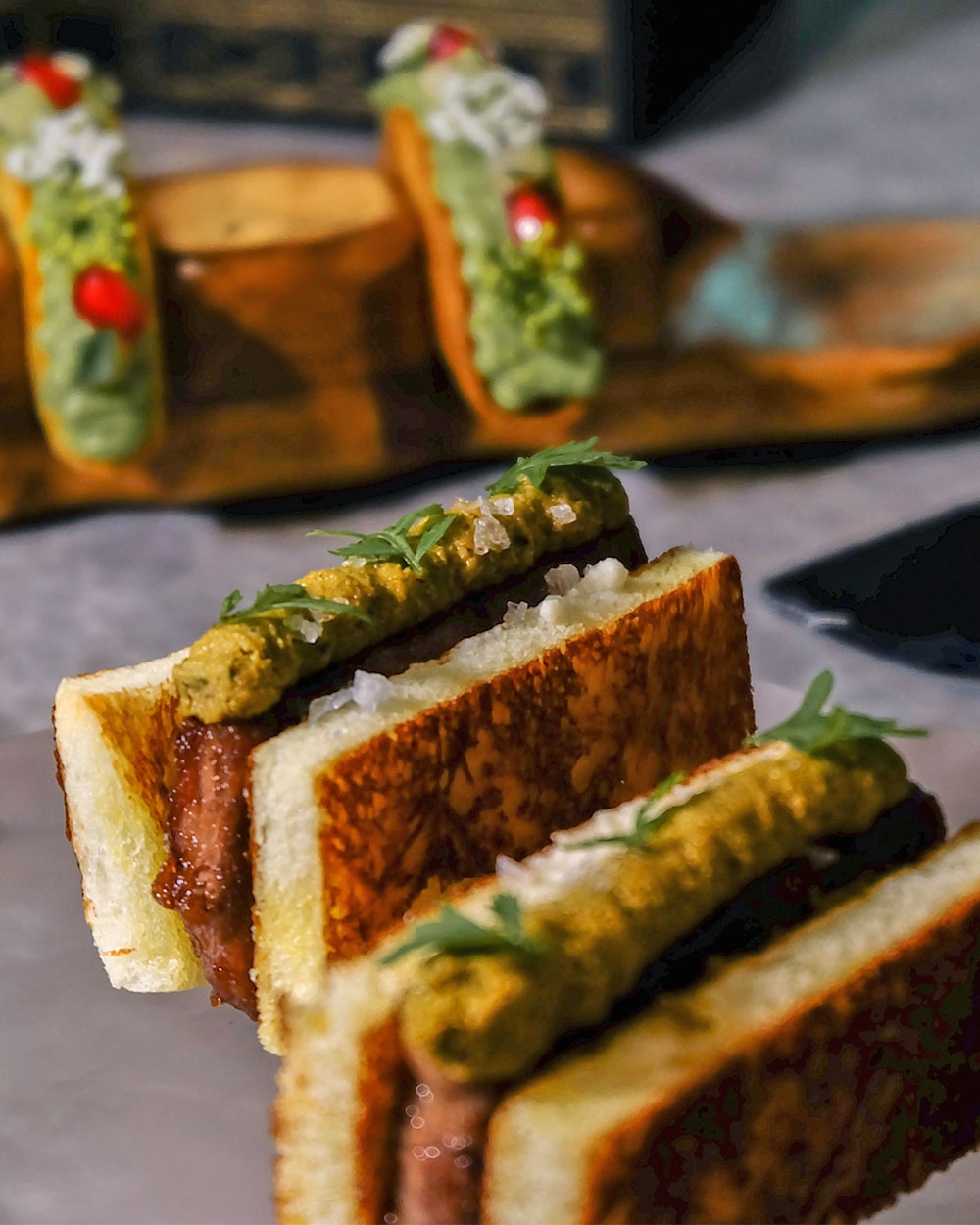 The A5 Miyazaki Wagyu is a heartier dish that delivers melt-in-your-mouth beef sandwiched between soft brioche bread with stracciatella and sambol. On the other hand, seafood lovers will not regret ordering the Oyster and Sanriku Scallops—a medley of tempura-style Gallagher oysters topped with coriander oil, yuzu froth and calamansi pearls, complemented with yuzu-marinated scallop tartare. 
With Vér's fun concept, inventive libations, and delicious food, it's a great hideout for cocktail enthusiasts and curious explorers in KL. Top that off with the warm service from Bhatia and his team and you're bound to have a good time while learning about South Indian history and culture with every sip or bite! 
---
VÉR BAR
Address: Level 7, Four Seasons Hotel, 145, Jalan Ampang, Kuala Lumpur, 50450 Kuala Lumpur
Opening hours: 4pm to 2am (closed on Sunday) 
Contact: 017-296 9520
Find more food and drink stories here. 
| | |
| --- | --- |
| SHARE THE STORY | |
| Explore More | |