Food + Drink
Review: Eat and Cook's new menu presents The Journey of three chefs
Familiar flavours with surprising twists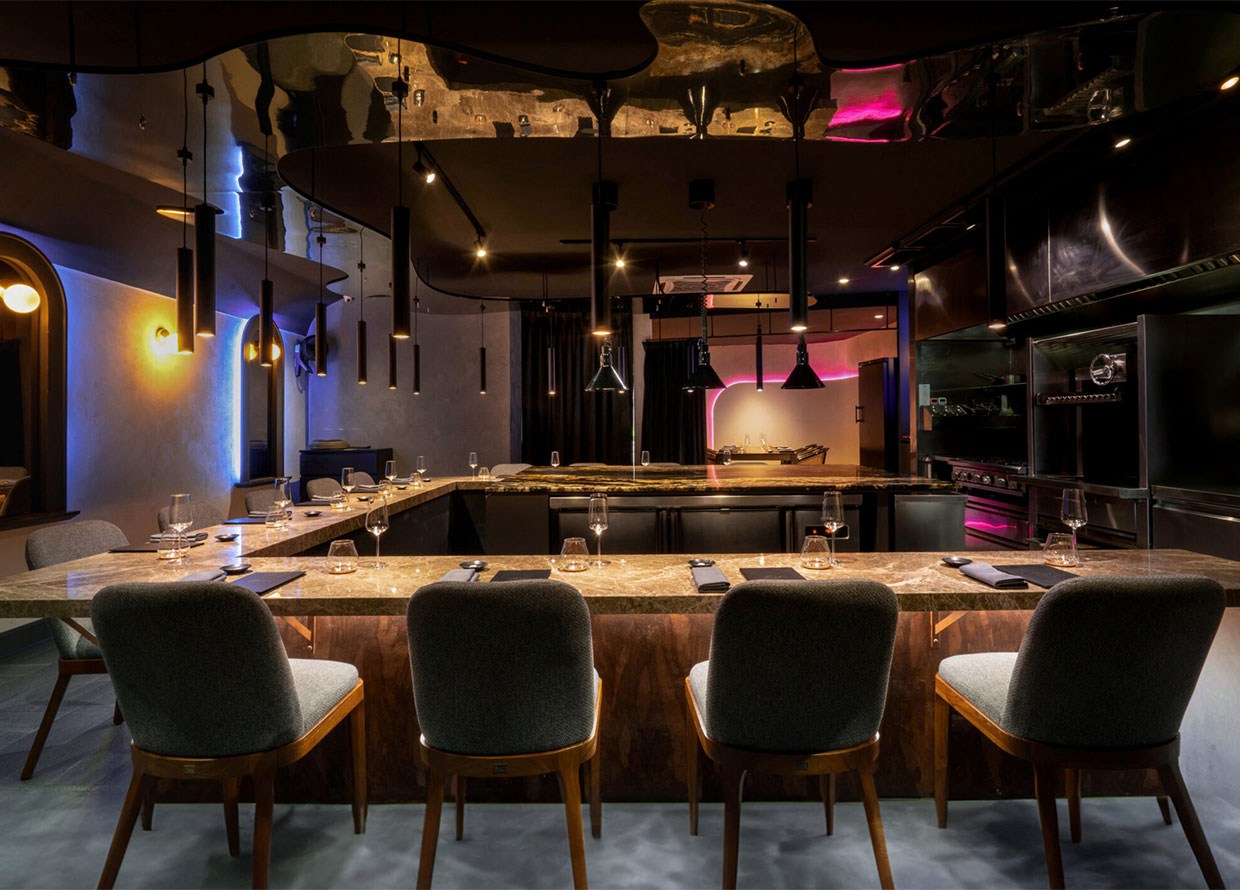 Omakase restaurants are now a dime a dozen in Kuala Lumpur, ranging from the most extravagant experiences to more accessible options. But beyond the anticipation of leaving things to the chef, a big appeal of omakase—typically a form of Japanese dining—lies in the use of seasonal, quality ingredients presented in the finest ways. 
With that concept in mind, Eat and Cook set out to introduce the first Malaysian omakase dining experience in 2021. Founded by two young and accomplished chefs, Lee Zhe Xi and Soh Yong Zhi, the restaurant instantly garnered attention for its creative approach to modern Malaysian cuisine. Just a year later, it earned the American Express One to Watch Award by Asia's 50 Best Restaurants 2022 for its "refined cooking techniques, surprising combinations, and creative execution." It was also named a Michelin Selected restaurant in the inaugural Michelin Guide Kuala Lumpur.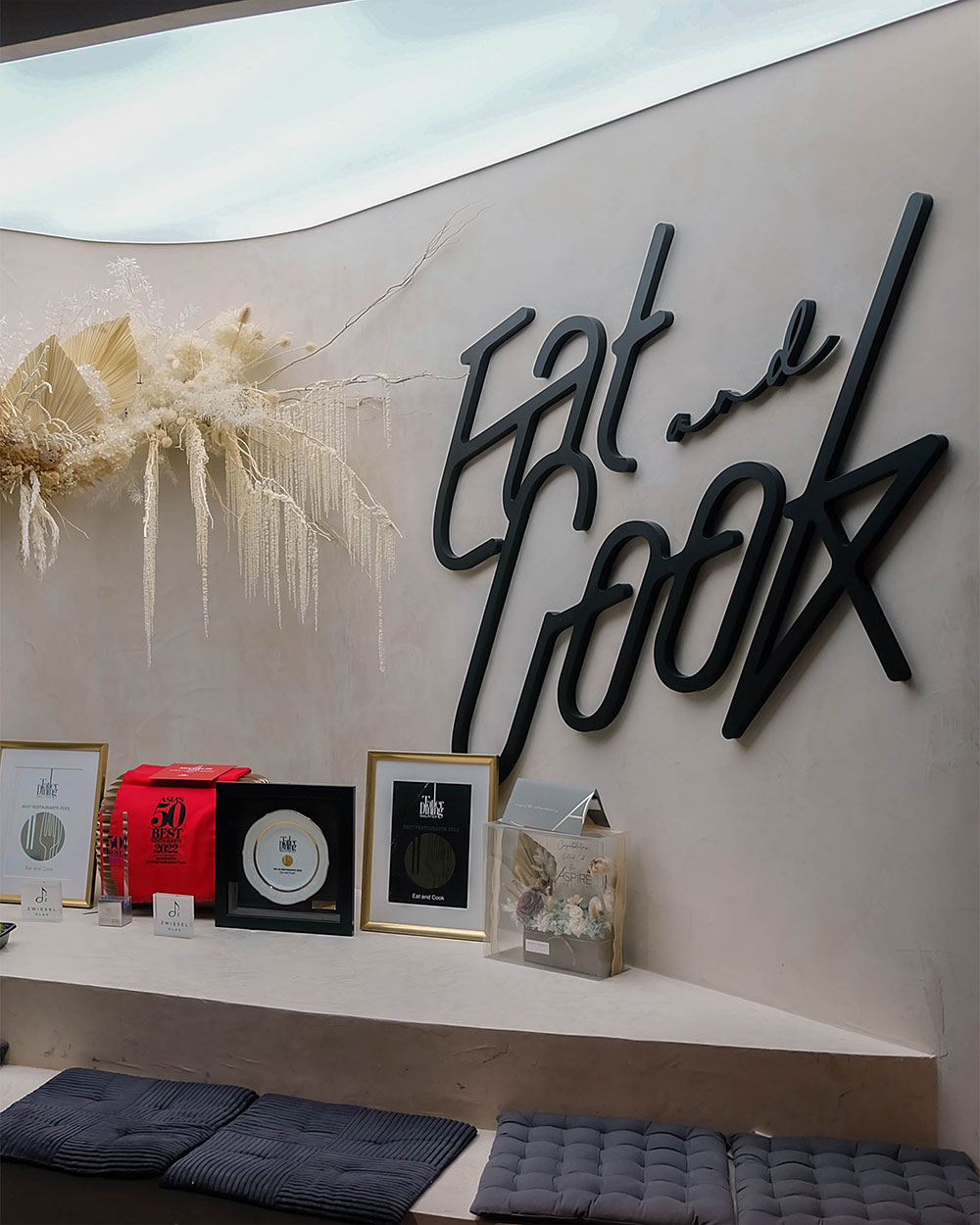 Since then, Eat and Cook has stayed true to its mission to elevate the F&B industry through collaborations with both local and international talents (recent ones include Atas at The Ruma Hotel & Residences and Path in Singapore). At the same time, the culinary team continues to reinvent the menu with fresh twists and interpretations every season. 
The restaurant's latest chapter is the culmination of experiences from three chefs on the team: Chef Lee, Chef Jenn Bang and Chef Malcolm. Dubbed "The Journey", the 11-course menu takes cues from their collective backgrounds and narratives. Alcohol pairing is optional but comes highly recommended, featuring five curated glasses to accompany the meal. 
THE STAGE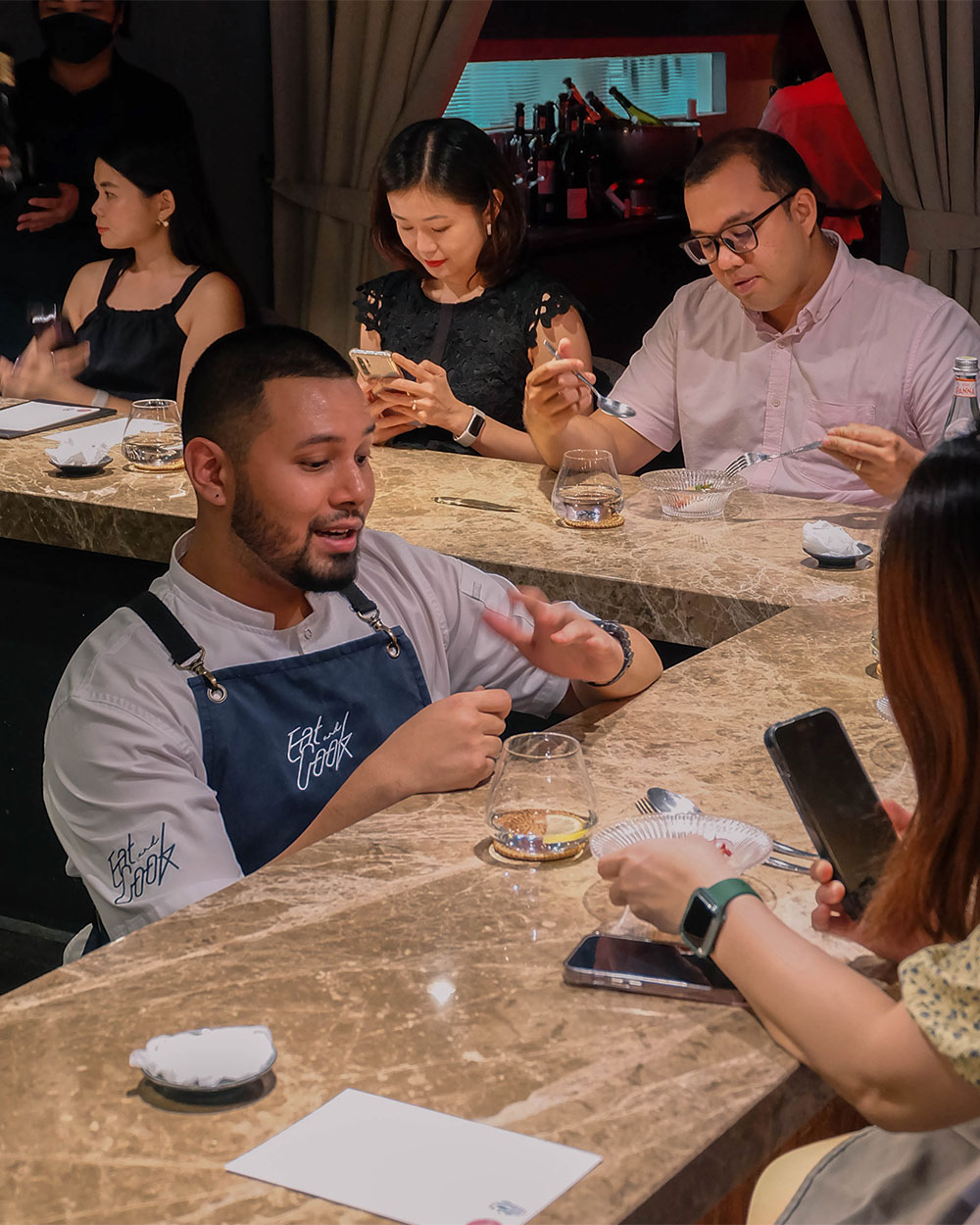 Like most omakase restaurants, Eat and Cook sets "The Stage" (literally—that's the name of its dining area) for an intimate dining experience with seats arranged around a modern island kitchen. Calling themselves "The Performers", the chefs are the true stars of the show here as they work meticulously at their craft to the delight of patrons. 
Amidst the spectacle of crackling flames and smoking plates, the team makes it a point to fill guests in on each stop (read: dish) along the journey. Warm, welcoming and well-trained, their humble yet personal approach is a testament to the restaurant's commendable level of service. Needless to say, my plus one and I are very well taken care of throughout "the show". 
THE JOURNEY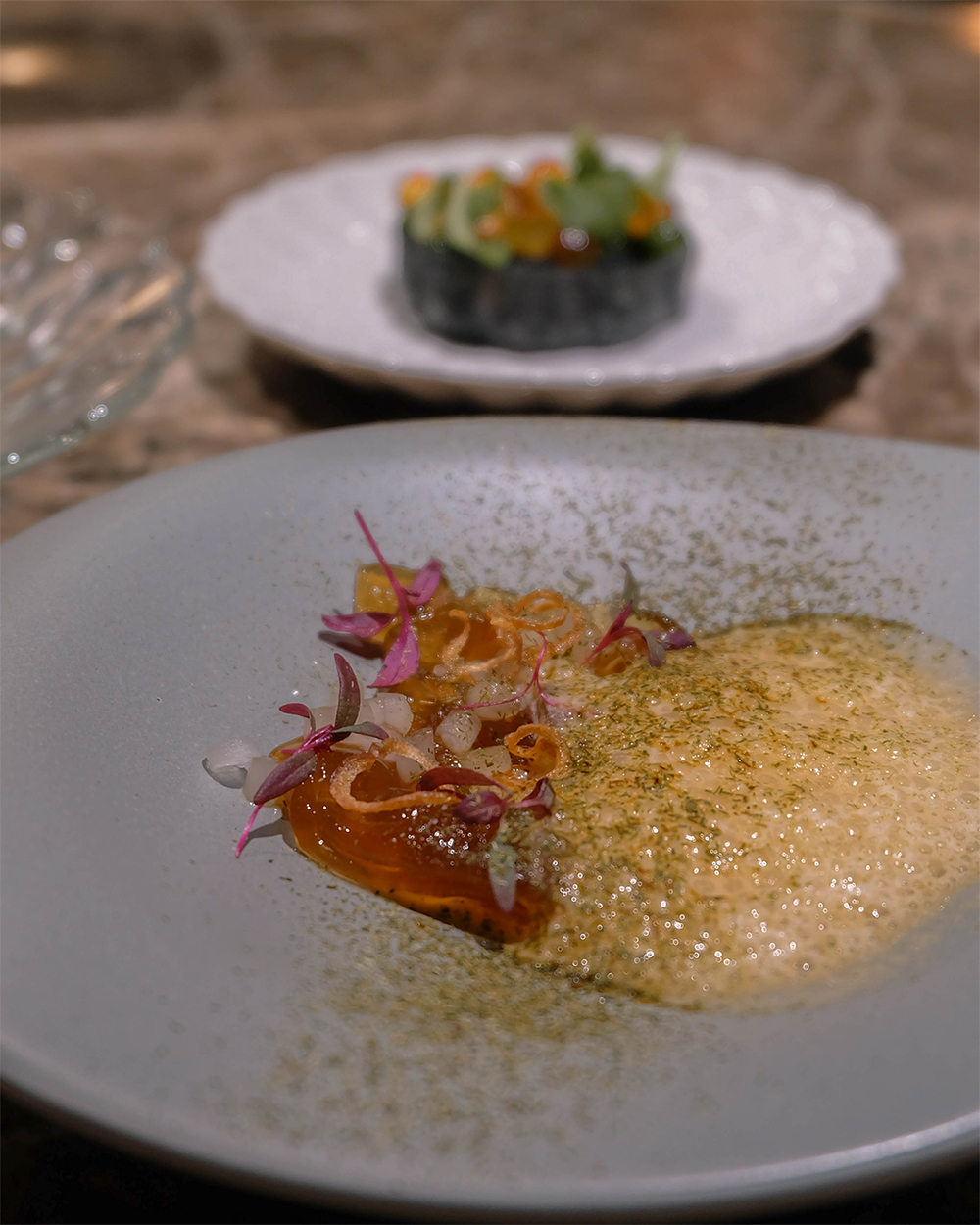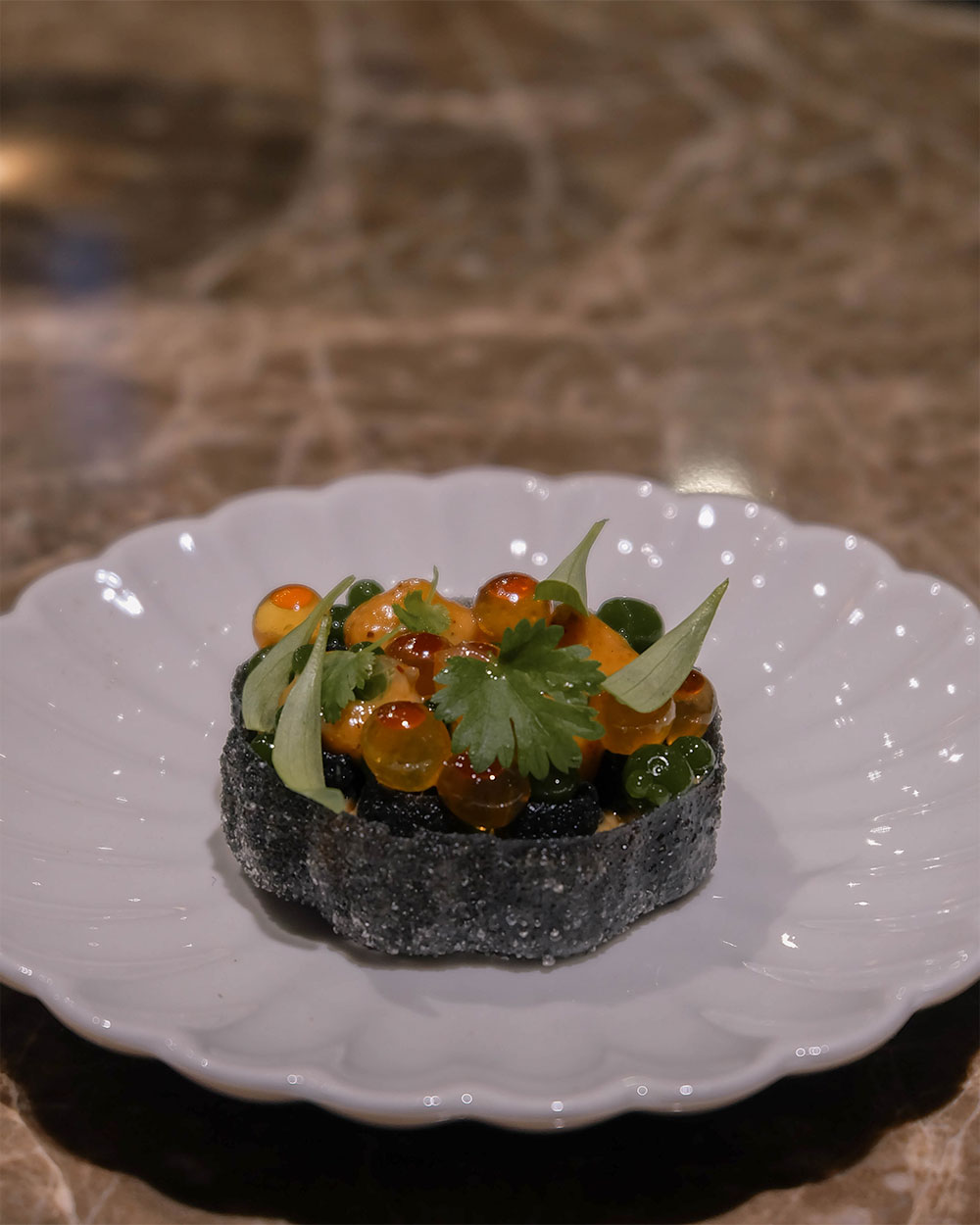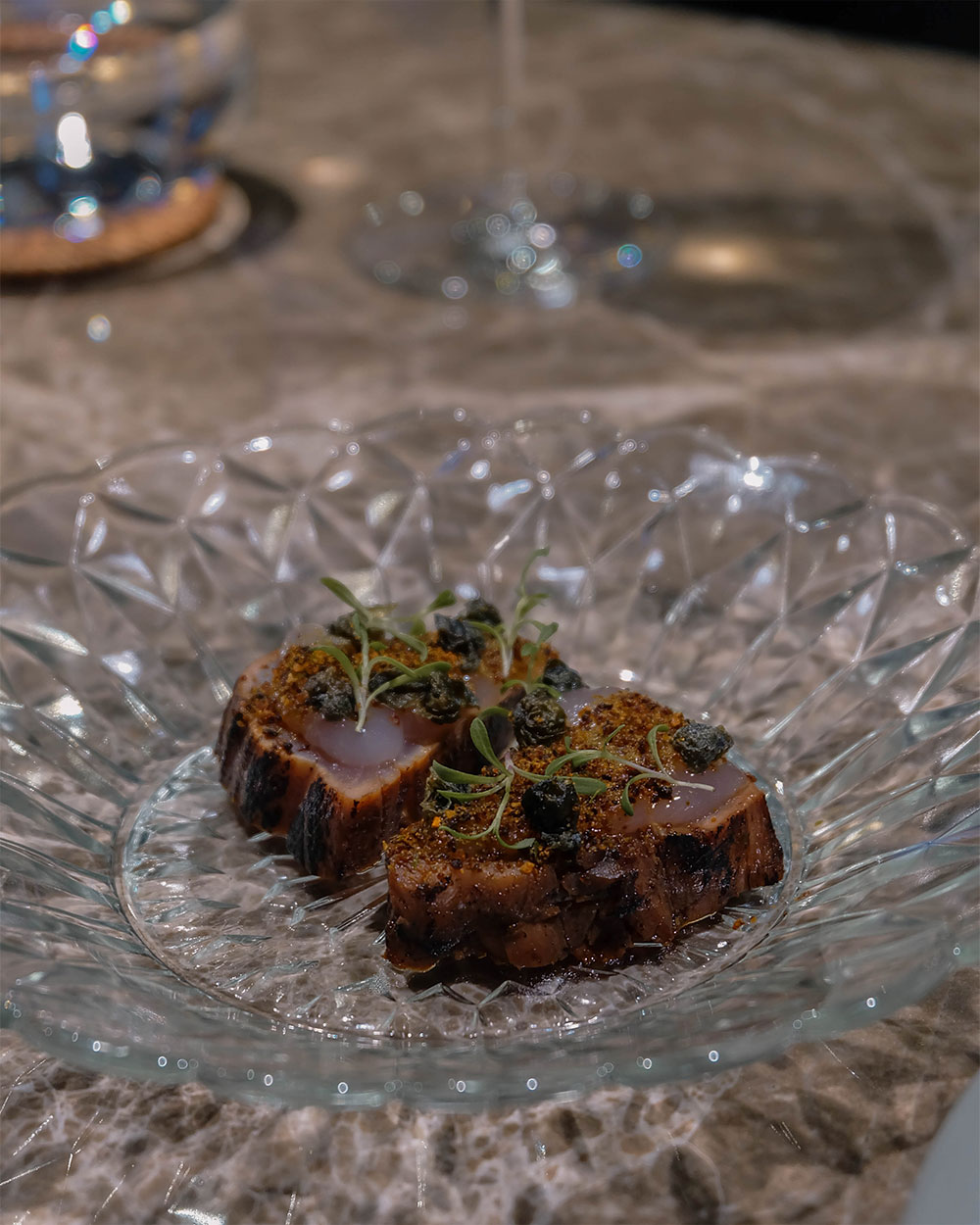 The theatrical odyssey begins with a trio of morsels that may look curiously assembled, but taste familiar upon a bite. First is the hor fun, consisting of cold noodles served with crispy shallots, chive powder, and a foam made from chicken jus; followed by a cracker that's a cross between an upside-down kuih loyang and rempeyek with a charcoal shell, anchovies and peanut butter filling, topped with ikura and coriander aioli. A Sabah-sourced bluefin tuna rounds off the triad, aged and complemented with tapioca starch (inspired by the local ambuyat delicacy), assam crumble and turmeric leaf.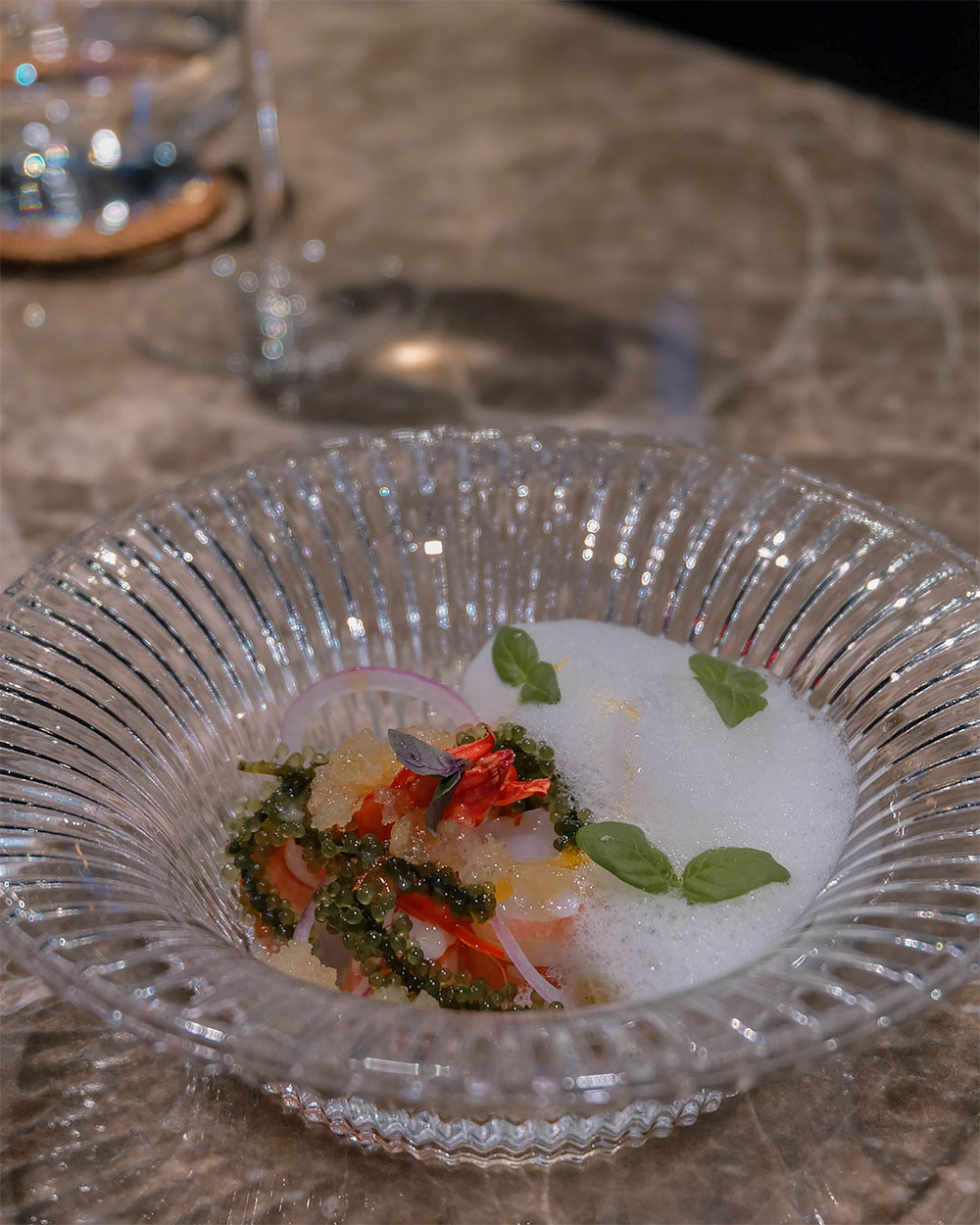 Next up is a tiger prawn dish that's inspired by hinava, a traditional Sabahan raw fish salad. The fresh shellfish is cooked semi-raw for a firm texture and soft middle, accompanied by sea grapes, a granita made from calamansi and prawn stock, and bitter gourd foam.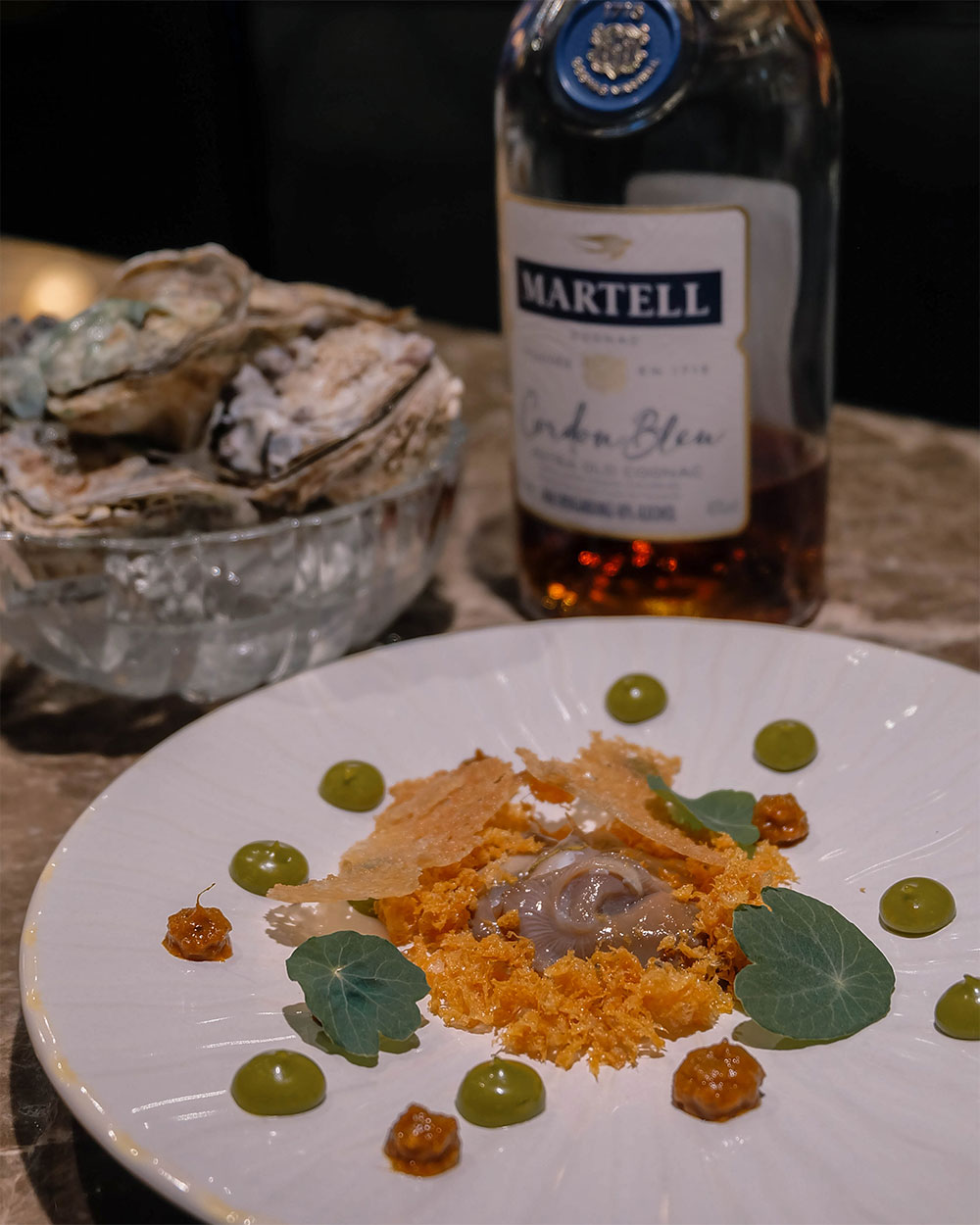 In all honesty, I'm not a fan of oysters (due to unpleasant past experiences that I'll spare you the details of). Surprisingly though, this proves to be one of my favourite dishes of the evening, reminiscent of Penang's famous oyster omelette. It consists of Penang oysters surrounded by a cloud of egg floss and dollops of coriander hollandaise and chilli jam. A few finishing spritzes of Martell Cordon Bleu adds a fragrant, fruity aroma to the delicious medley of flavours.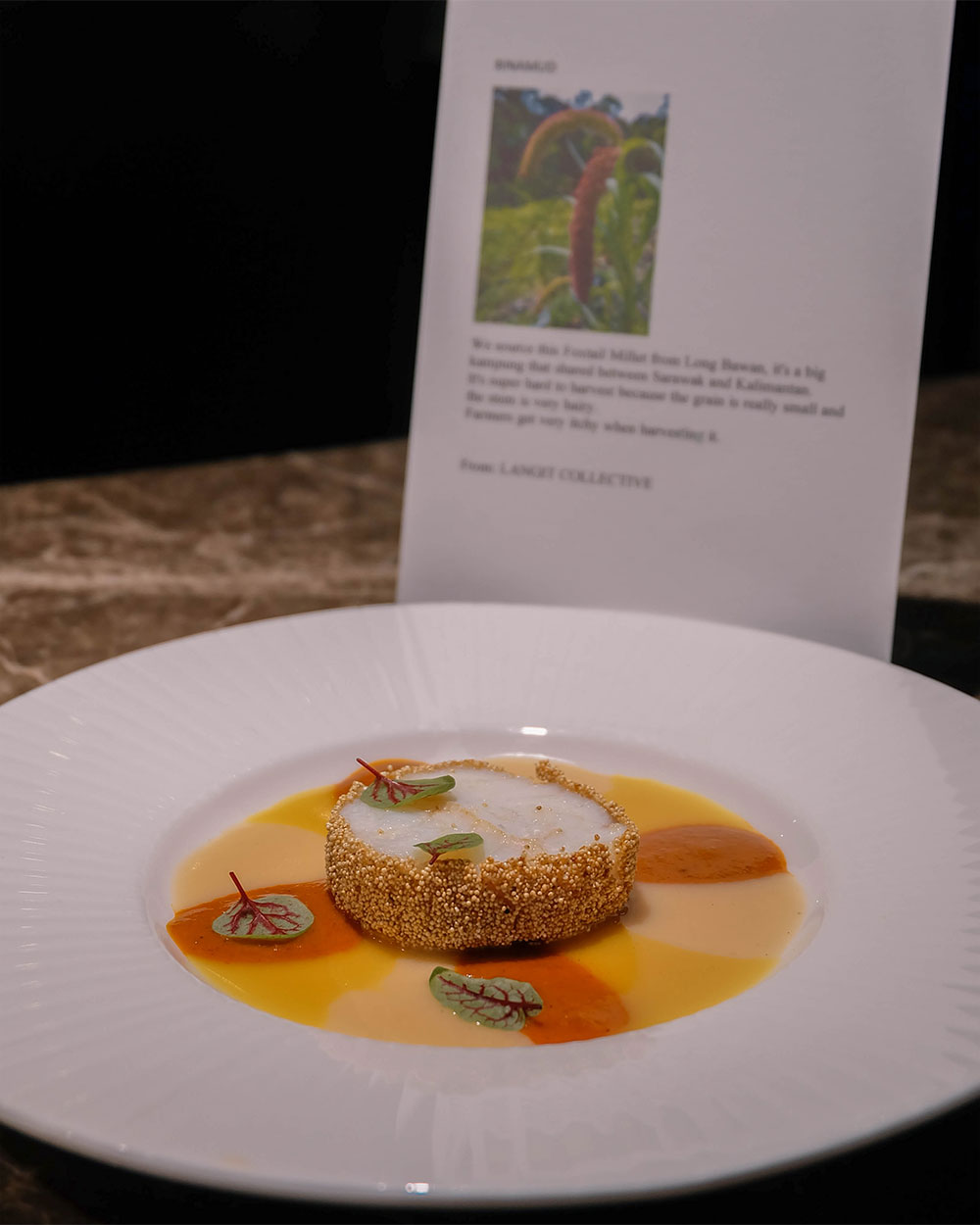 The fourth course presents a marble goby (locally known as soon hock) coated with a unique local ingredient from Sarawak—binamud, also known as foxtail millet. Inspired by the classic Ikan Tiga Rasa, the fish is complemented with three different sauces: onion infused with capsicum and chilli padi; a blend of tomatoes and anchovies; and pineapple veloute. Each lend a different dimension to the fish, with the overall combination delivering a smack of sweet, tangy and savoury notes.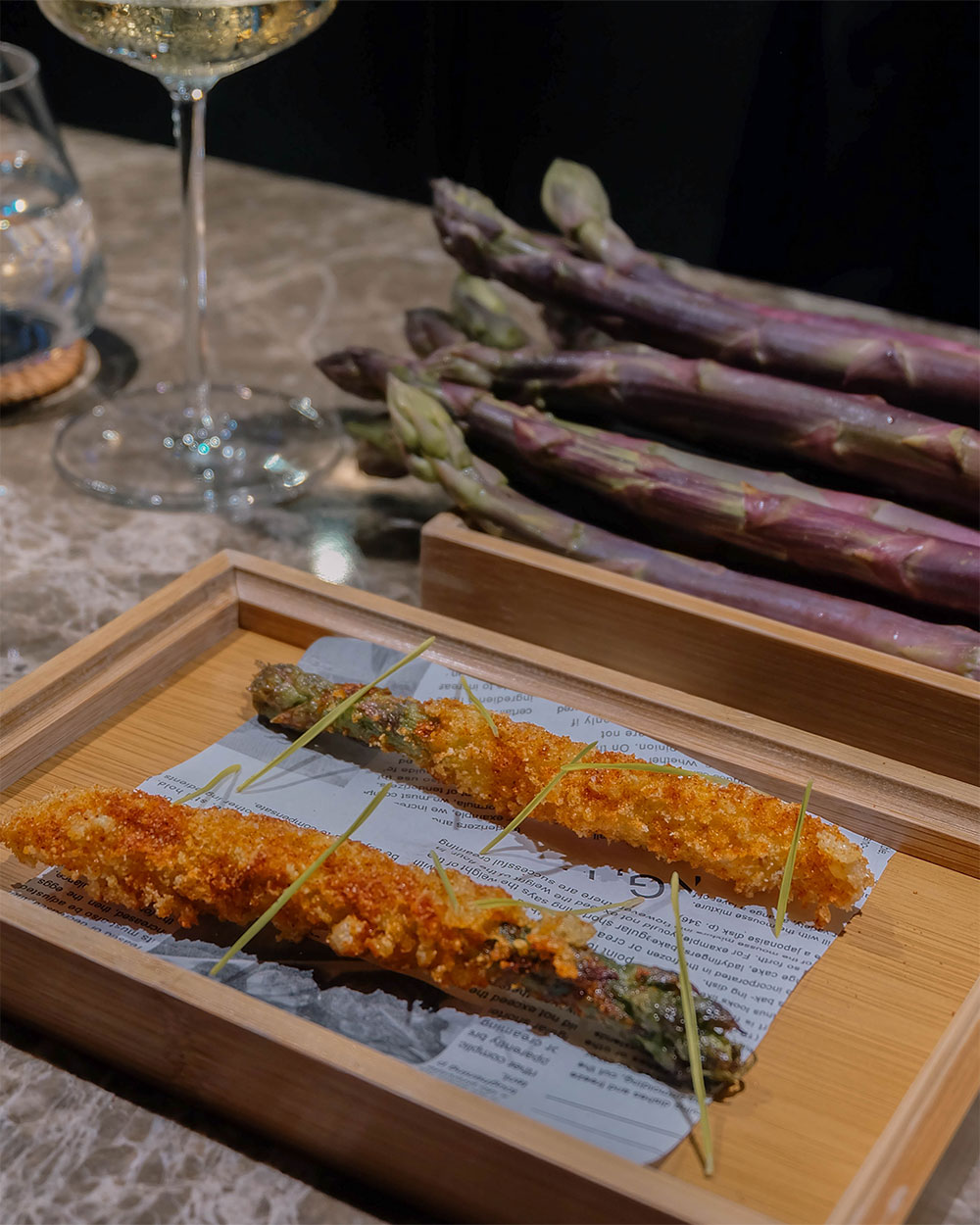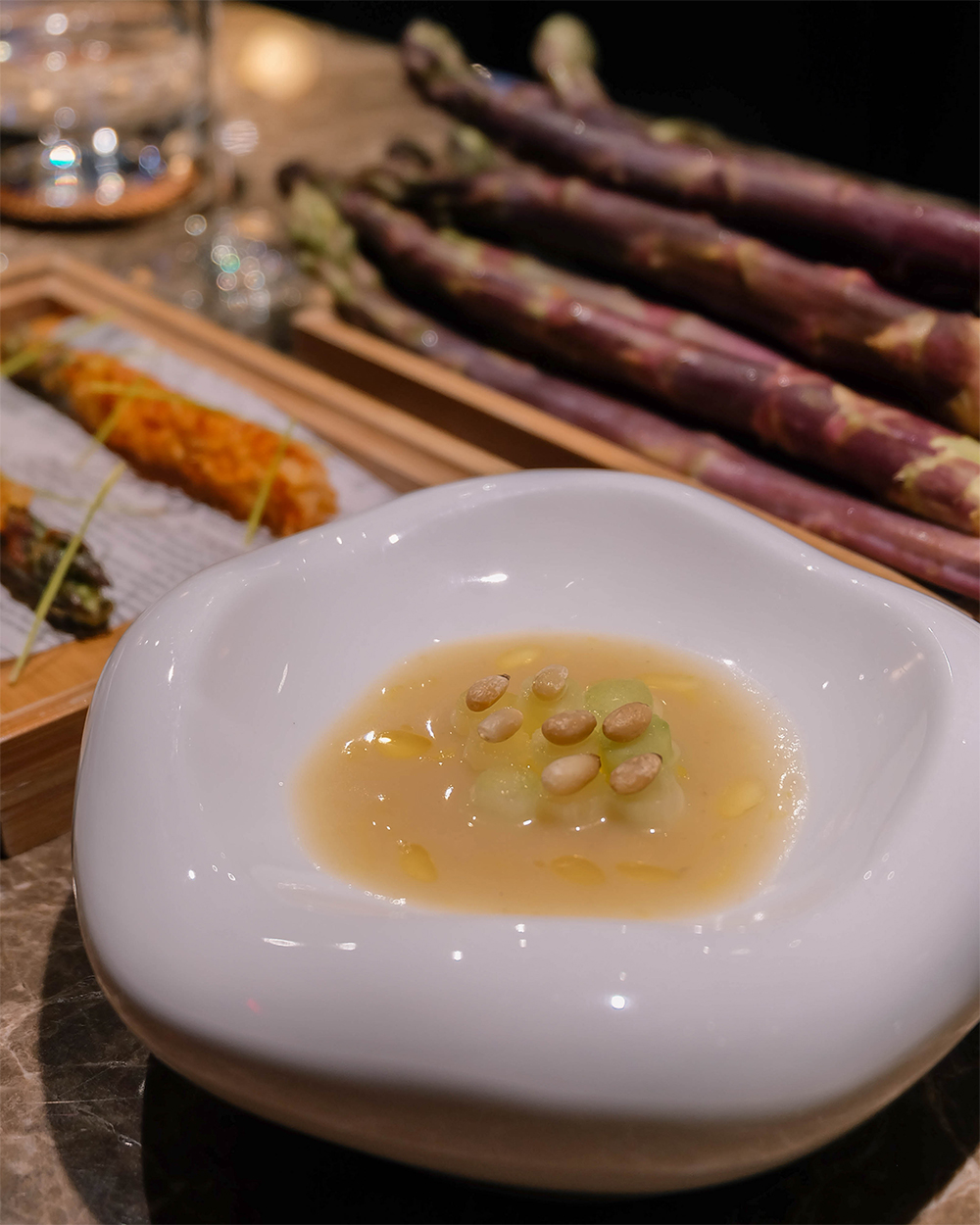 What appears as a series of question marks on the menu turns out to be an asparagus dish, prepared two ways. One comes deep-fried with fish maw, smoked paprika, salt and sugar; while the other is served raw in a sauce made from fish maw and chicken broth, with a sprinkle of pine nuts and lemon zest. The contrasting profiles between the two showcase the versatility of both the ingredient and the culinary team—another tick for this menu.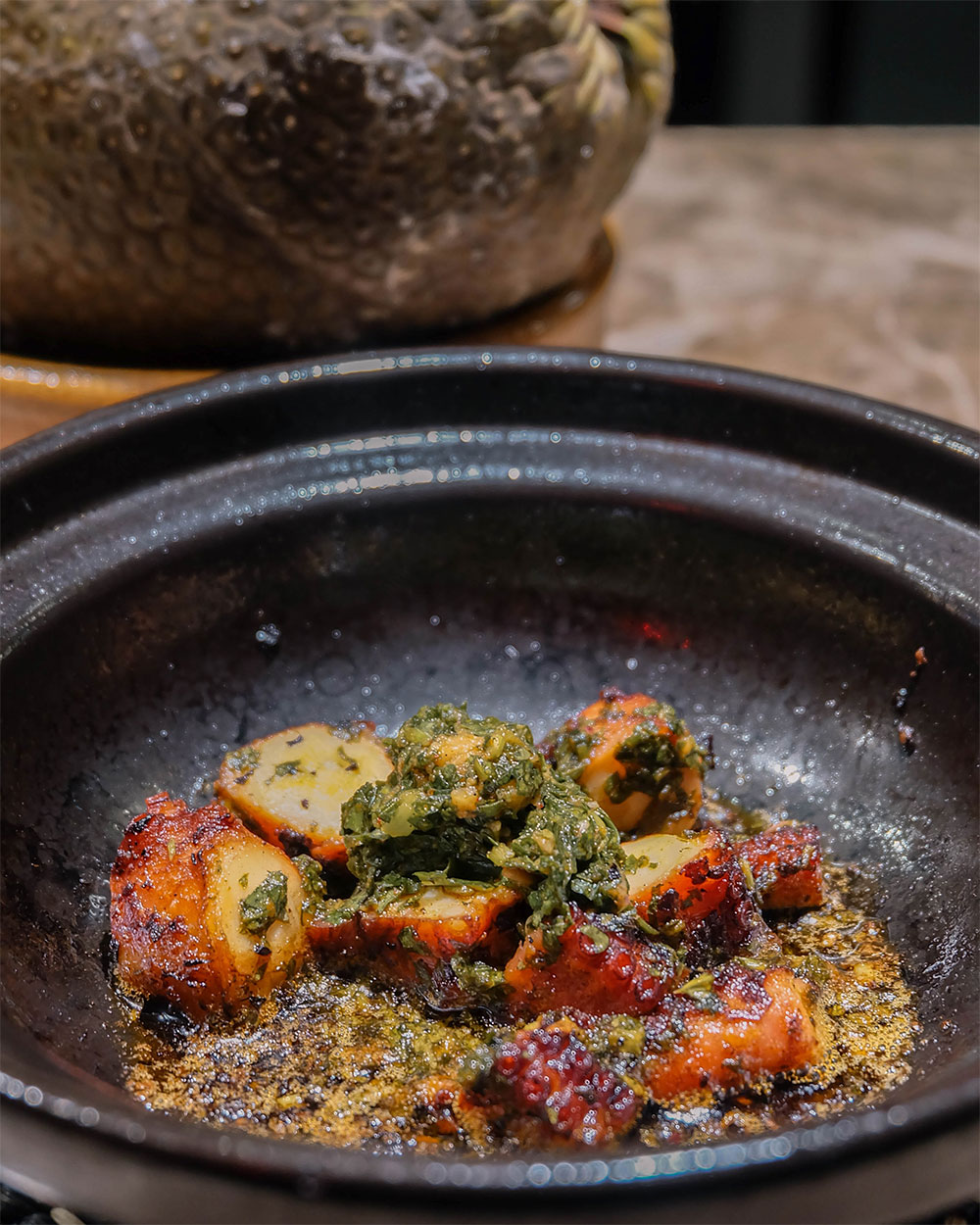 This next two-part octopus course is the piece de resistance of the meal for me, hands-down. The first plate consists of a takoyaki made with breadfruit (sukun), offering a comforting combination of starchy and umami goodness. Simultaneously, sous vide octopus arrives sizzling in a claypot, topped with a generous serving of chimichurri made from local herbs including daun selom and ulam raja. Finished with a few drops of Martell VSOP, this dish is definitely one I'd return for.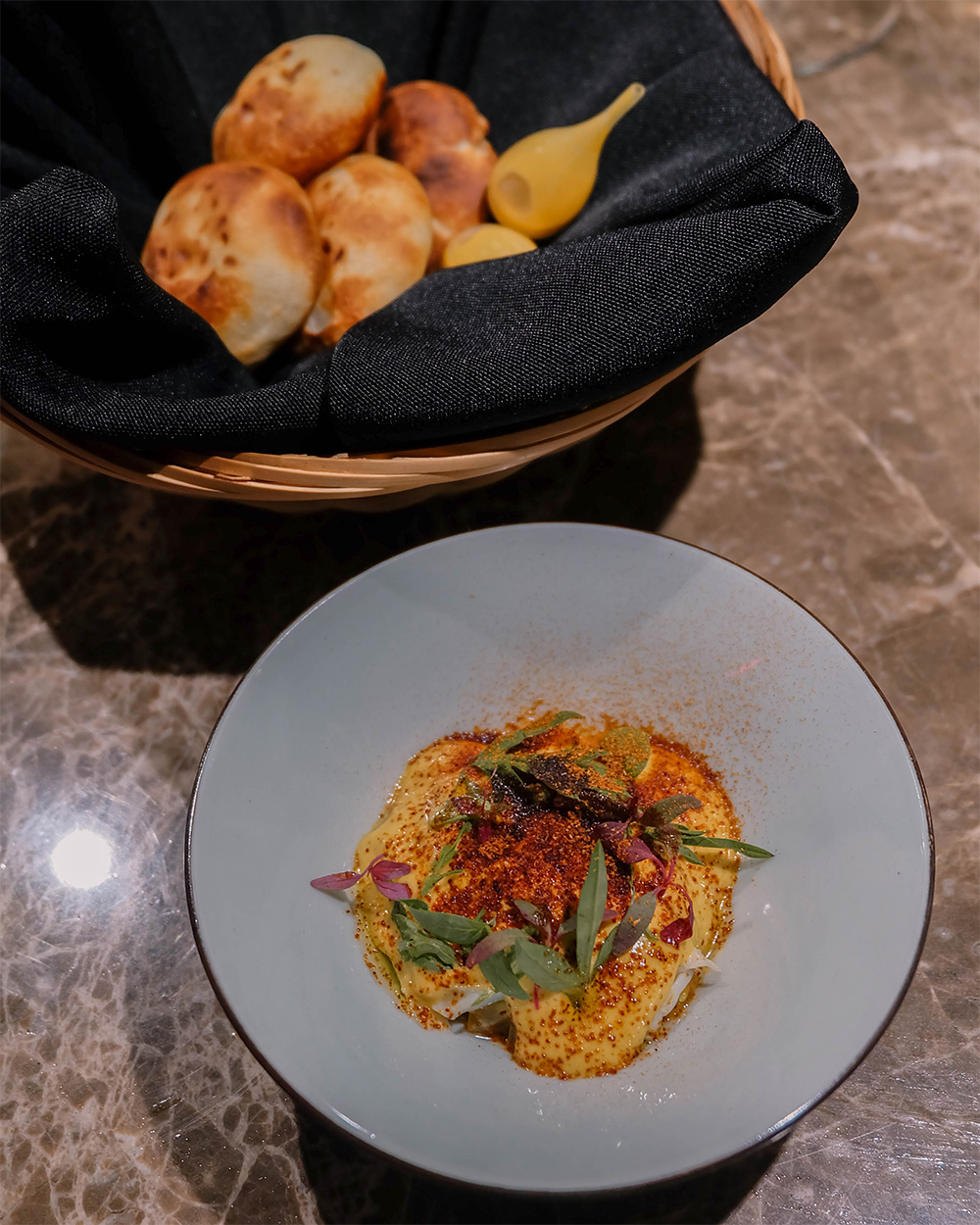 Although the hint for the next course on the menu is "tomato", it's just as much of a crab dish. Hidden under a blanket of fragrant crab curry sauce are sweet, fermented tomatoes and flower crab meat, accompanied by garden herbs to balance out the rich flavours. It's also served with a basket of housemade flatbread (naan) and a small pipette containing crab roe, which can be enjoyed with the bread or mixed into the bowl for an intense umami punch.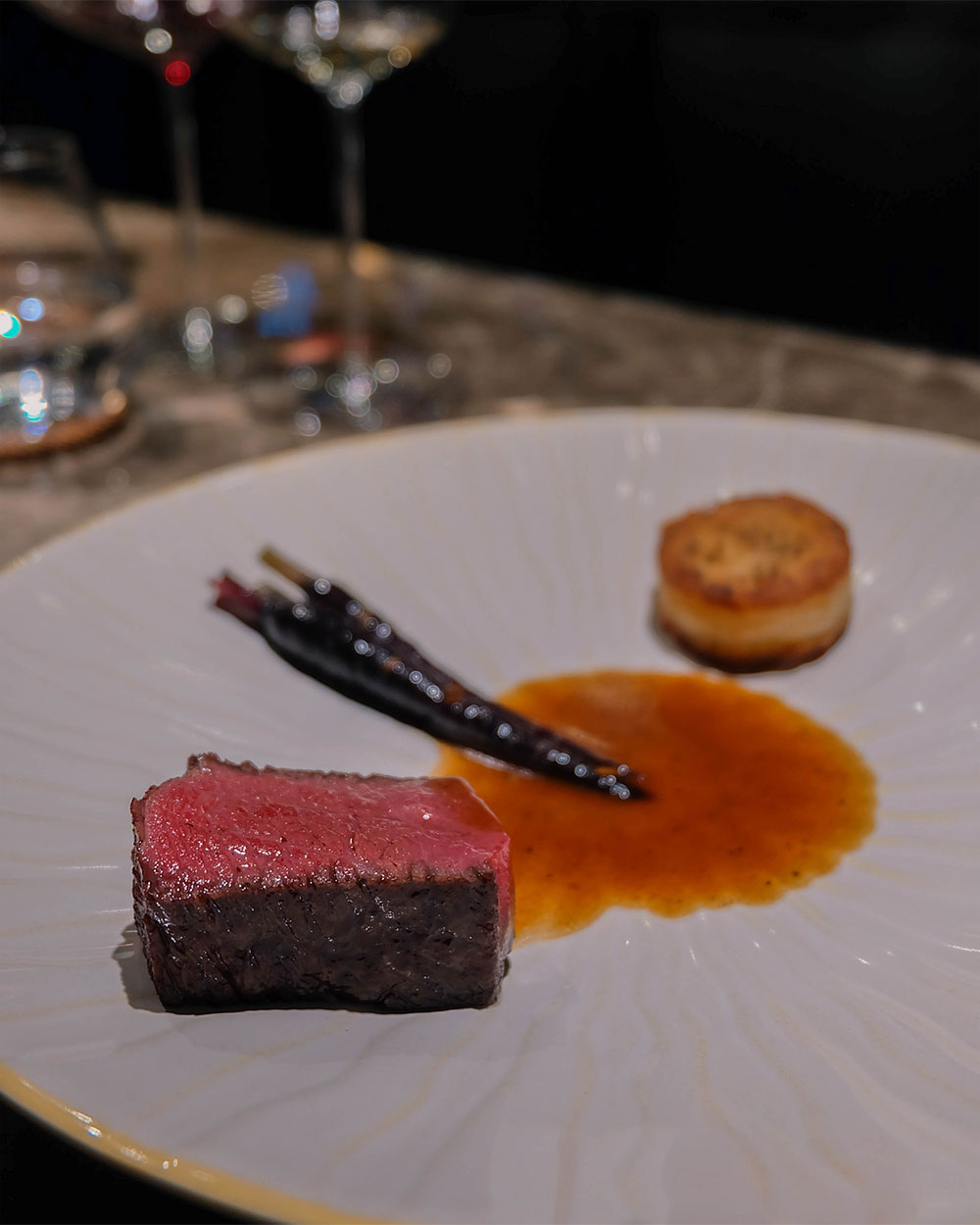 After the seafood courses comes a wagyu dish for a change. Instead of prized cuts, however, the culinary team uses the rump—considered a secondary cut—to demonstrate the potential of the meat when cooked right. The resulting medium rare steak is succulent and tender, enhanced by an onion and beef jus, with baby carrots and roasted potatoes on the side.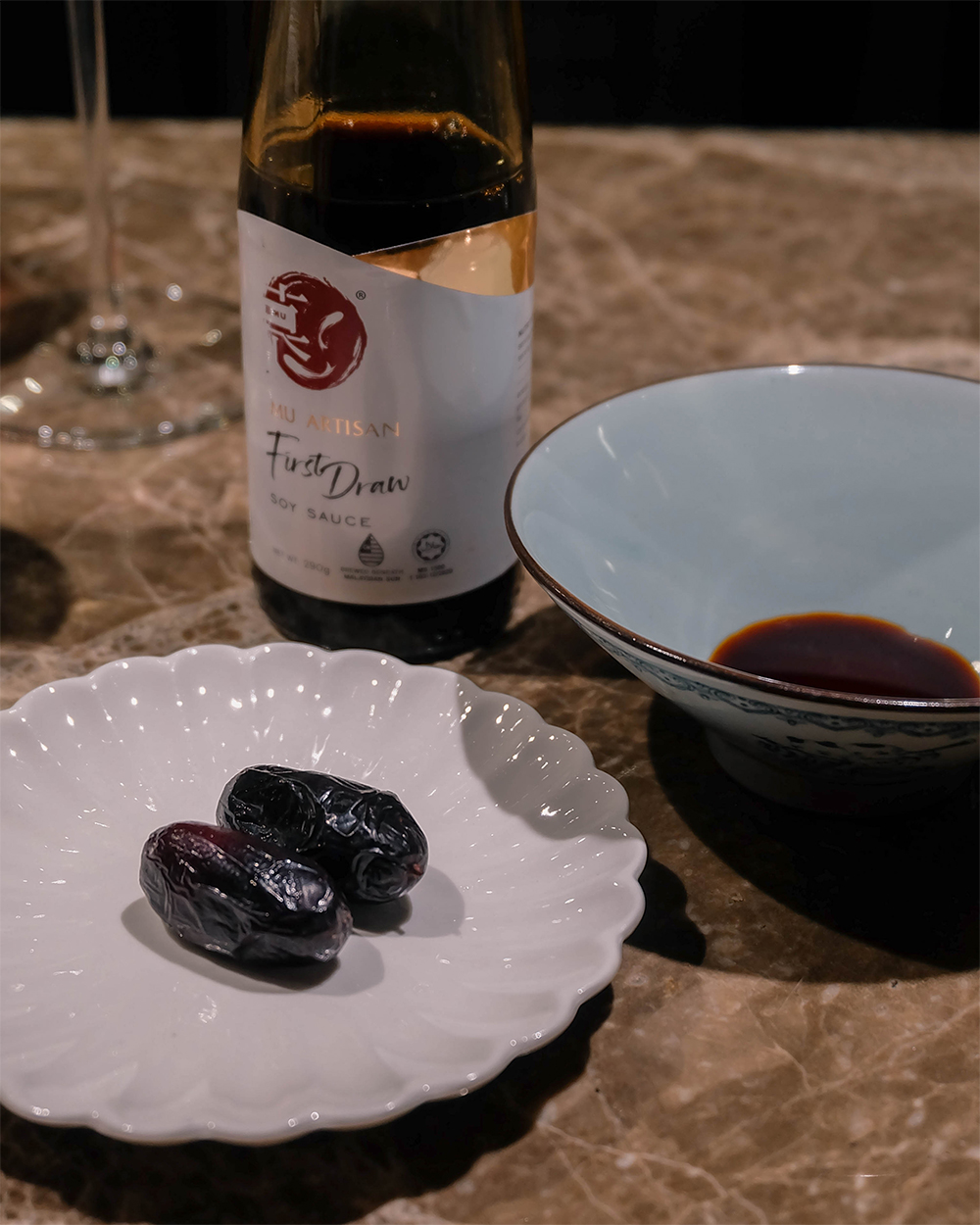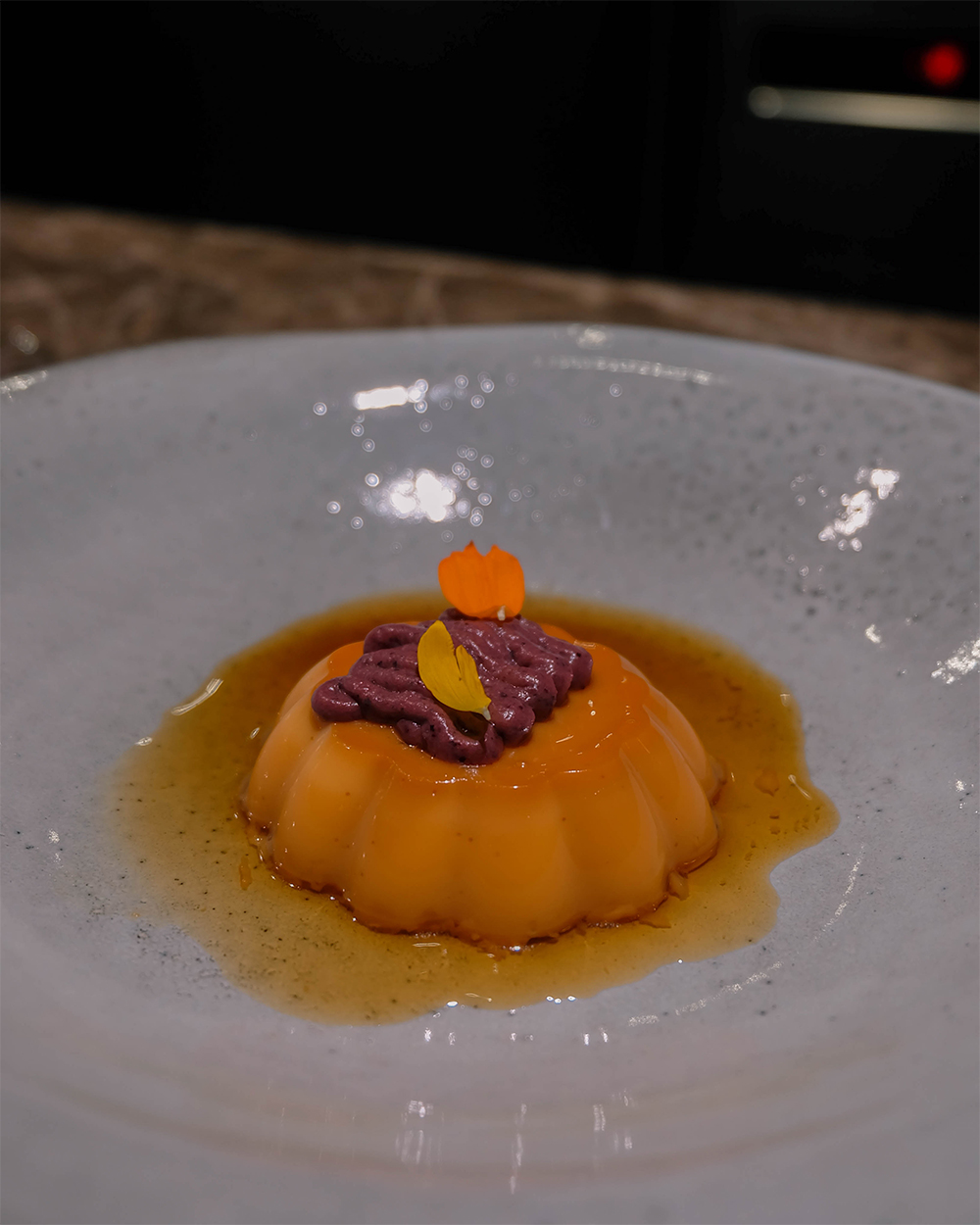 While most course meals have one or two desserts, The Journey has three—starting with an unusual dabai dish. For the uninitiated, dabai is an indigenous seasonal fruit in Sarawak and can be likened to olives. On its own, the fruit tastes a little astringent for my liking, even when dipped into the accompanying soy sauce. However, the creamy texture of its compote pairs surprisingly well with the custard, gula melaka and chocolate ganache dessert.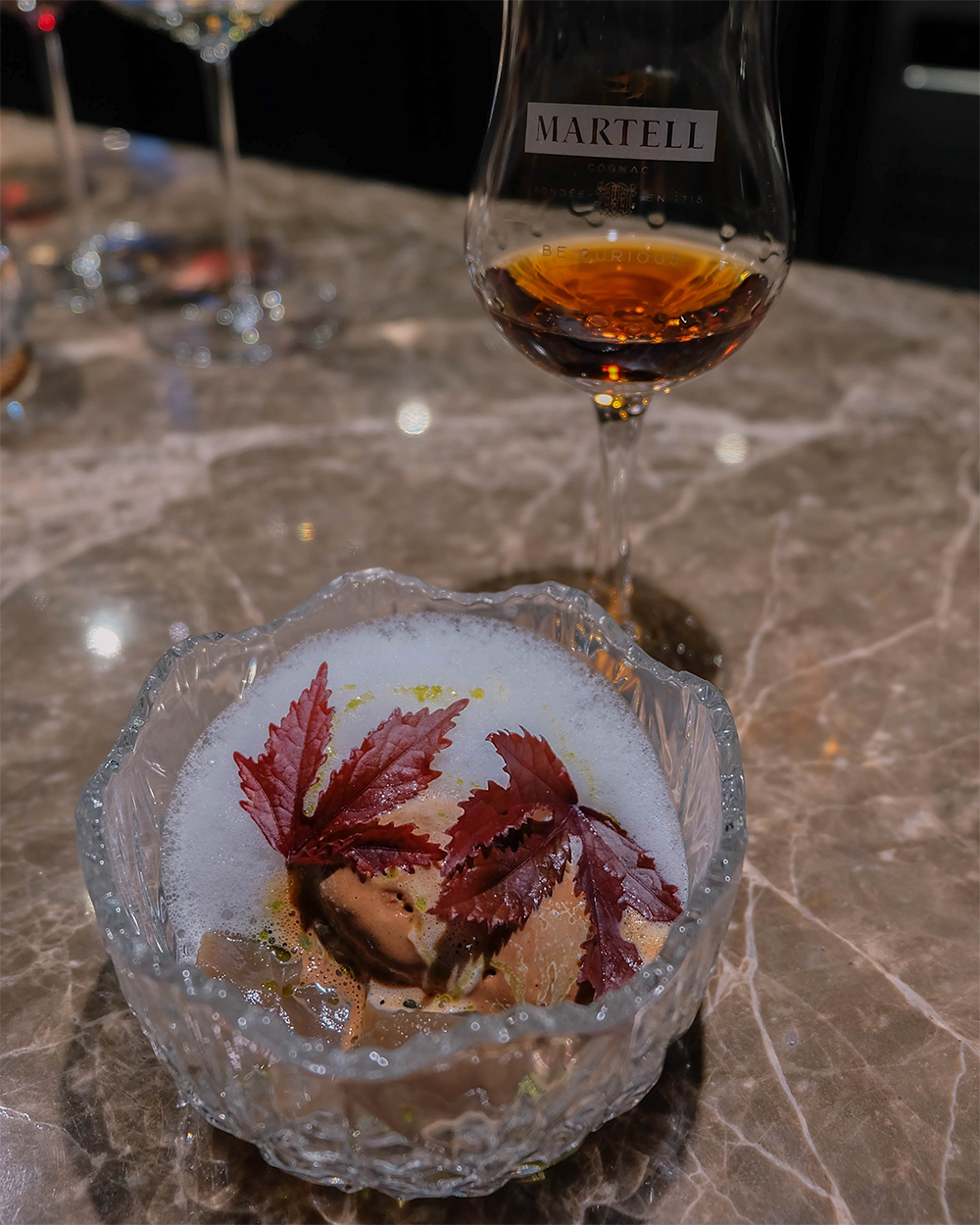 The second dessert reinterprets the beloved three-layer tea into an ice cream form, served with grass jelly, coconut foam and pandan oil. It's subtly sweet, refreshing and simply delightful.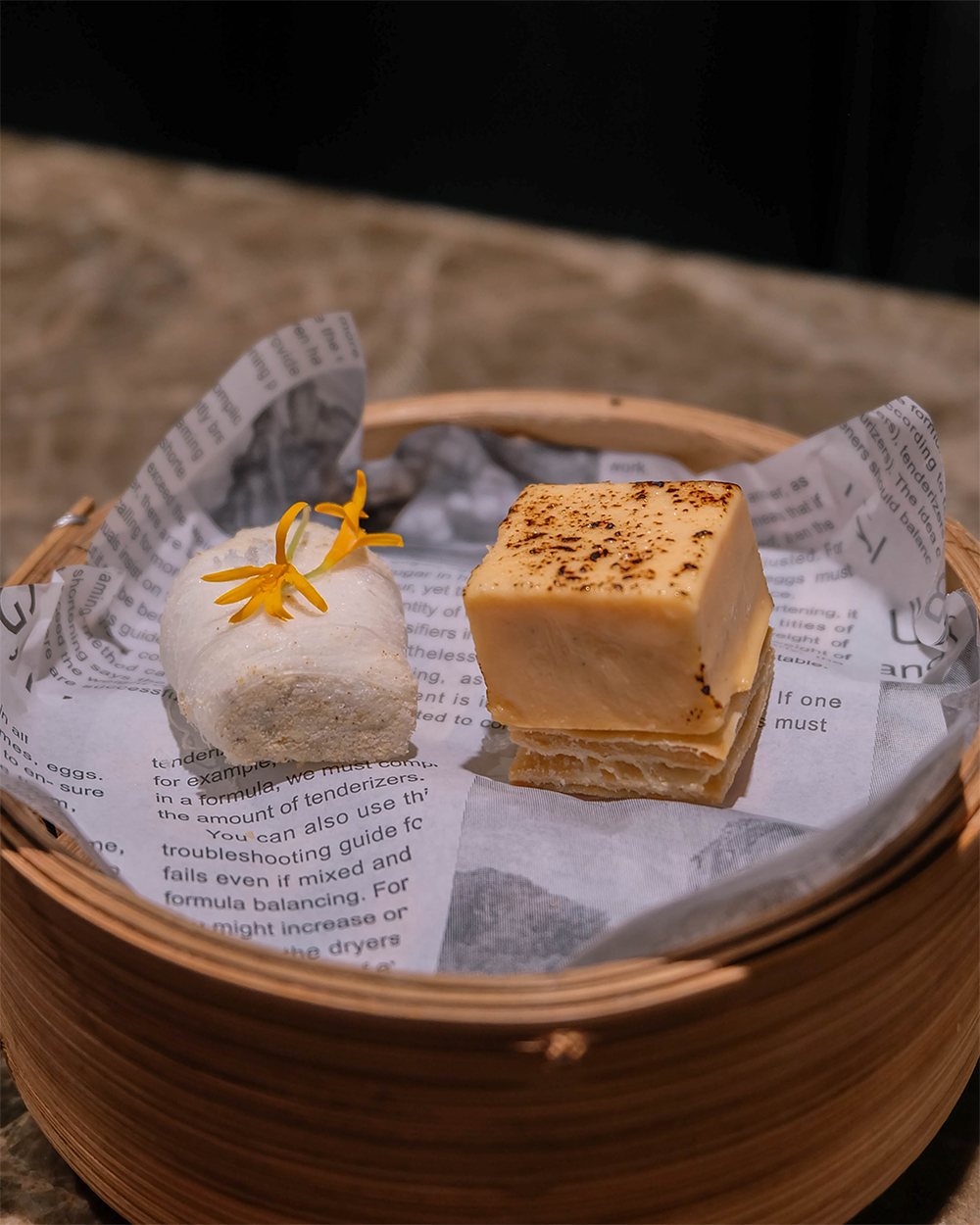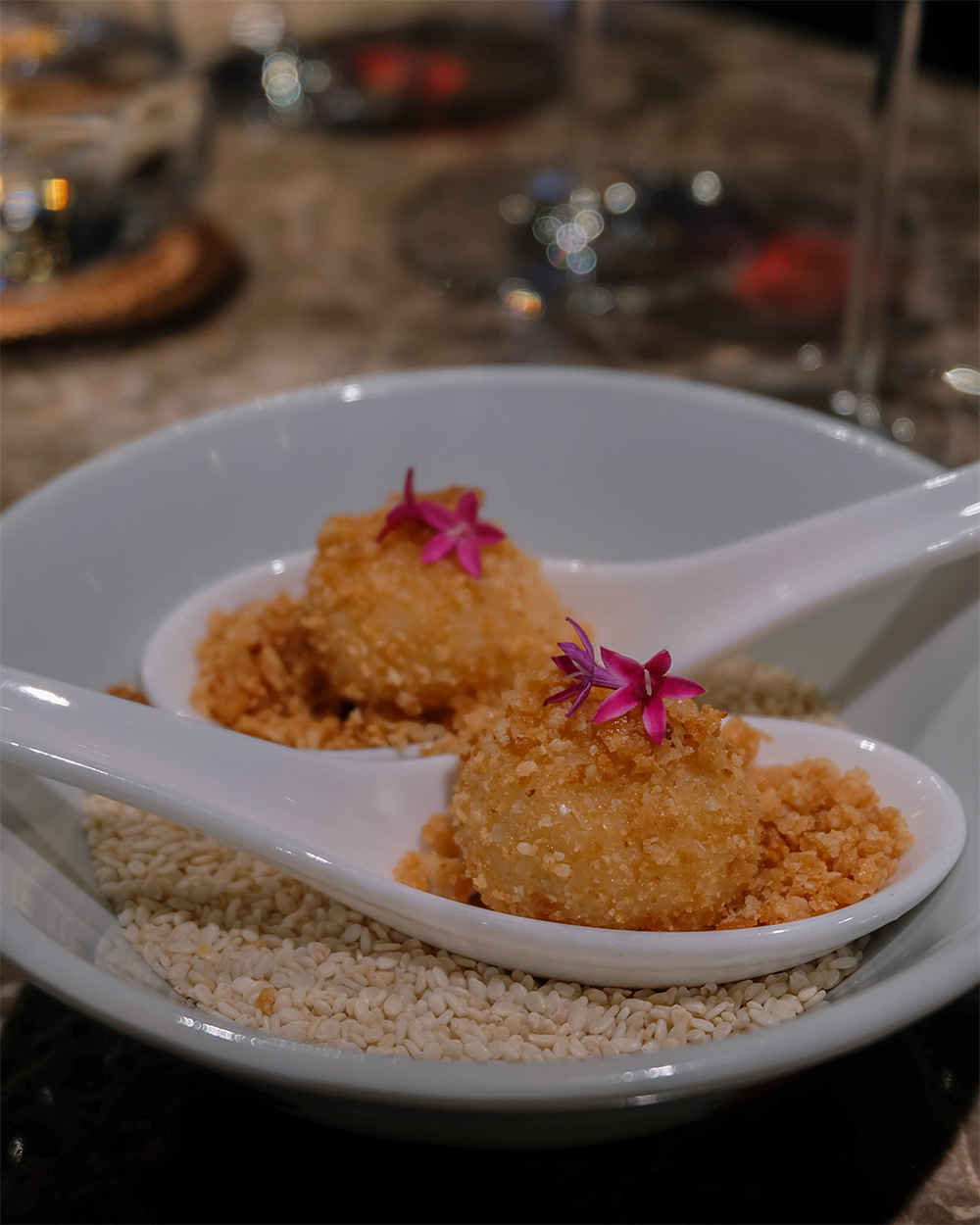 For the finale, we are presented with three bite-sized treats. The first is a take on the Portuguese egg tart, made with duck egg and duck fat. The second is a recreation of dragon's beard candy, featuring hand-pulled wisps made from maltose syrup, wrapped around a popcorn with a dusting of sea salt. Lastly, a mochi consisting of mung bean and salted egg yolk coated in crushed sesame completes the meal. 
THE VERDICT
From my maiden dining experience here, Eat and Cook certainly lives up to its awards and recognition with a well-curated menu that spotlights Malaysian ingredients, flavours and heritage. "The Journey" may be an ode to the stories of three chefs, but it's a tale that many Malaysians can also relate to and experience in a new light. 
---
EAT AND COOK
Address: H6-1, Pusat Perdagangan Bandar Bukit Jalil, Persiaran Jalil 1, Bukit Jalil, Kuala Lumpur, 57000, Malaysia
Opening hours: 5.30pm – 11pm daily
Contact: 03 9765 6898
Website | Facebook | Instagram 
To read more food reviews, click here. 
| | |
| --- | --- |
| SHARE THE STORY | |
| Explore More | |