1. Snitch by The Thieves, The Gardens Mall
The Breakfast Thieves are out to strike at your hearts and stomachs with their second venture. Having enjoyed a celebrated success from their APW cafe, they're stepping a little out of their comfort zone. Snitch by The Thieves serves up a wide variety of hearty dishes that are both Western, Asian and local; while retaining many of their breakfast and brunch favourites. That being said, some of these dishes are on the playful side such as the Vietnamese pho which includes watermelon.
Address: T-225A&B, 3rd Floor, The Gardens, Kuala Lumpur
Opening hours:
Sun – Thurs: 9am – 12am
Fri & Sat: 9am – 3am
2. Agrain by Hale, The Gardens Mall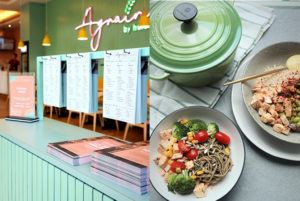 agrain by hale gardens mall
For the unfamiliar, Hale is a healthy food delivery company with the goal of breaking stereotypes that eating healthy means eating tasteless, boring food. After gaining a positive response, they expanded to offline stores and this one at The Gardens is their third outlet. Like most salad bars, Agrain also has the option for you to build your own bowl with a wide variety of choices such as cauliflower rice, Aglio-olio whole-wheat pasta, Piri-Piri chicken breast and more.
Address: Suite G.01, The Gardens, North Tower, Kuala Lumpur
*Walk through Coffee Club at Robinsons' Ground Floor and head outside to see Agrain by hale
Opening hours:
Weekdays: 8.30am – 8.30pm
Weekends: 8.30am – 3pm
3. Nourish by Kenny Hills Bakers, Damansara Heights
Crowd favourite Kenny Hills Bakers have brunch-ed out to open Nourish where the menu caters to all kinds of diners: the ones who seek hearty comfort food, the ones who prefer refreshing salads, and the ones with a sweet tooth. Props go to them for also including gluten-free and refined sugar options. Coffee drinkers too can opt for almond, oat, or soy milk as non-dairy substitutes as well.
Address: 35, Jalan Medan Setia 1, Plaza Damansara, Bukit Damansara, Kuala Lumpur
Opening hours: 8am – 6pm, daily
4. Bo All Day Dining, The LINC KL
We probably mention this one too many times but trust us when we say The LINC KL is worth a visit. The place is gorgeous and peppered with eateries and one of them is this elegant dining space that serves pizzas, pasta and a tender roast chicken. They also have a fun selection of cocktails for those of you who are interested.
Address: Lot 1-10/1-11, The LINC KL, Jalan Tun Razak, Kuala Lumpur
Opening hours: 11am – 11pm, daily
READ MORE: Where to find bubble tea cocktails in KL
5. Kofi by 77, Mont Kiara
Mont Kiara has a new quaint cafe for great coffee, cakes and light bites. With a wide open space and neutral tones for its furniture, it's the place to drop by for casual chats or a quiet space to get some work done. Be warned though; parking is limited.
Address: Lot 7-5, Vista Kiara Shoppe, Jalan Kiara 3, Mont Kiara
Opening hours:
Mon-Fri: 7.30am – 6.30pm
Sat & Sun: 8.30am – 6.30pm
Tue: Closed
6. Apron Fools, Subang Jaya
There's never one set menu at Apron Fools but what they definitely serve is a counter of mouth-salivating desserts. The sweet treats differ by the week and some days, they even have savoury dishes for those looking for more than a slice of cake or two. Some of the cakes that have caught our eye: The Mango Strawberry Pavlova, Earl Grey Tealightful Cake, Chocolate Whoopie Pies and more.
Address: 27, Jalan USJ 2/2c, USJ 2, Subang Jaya
Opening hours:
Mon: Closed
Tue-Thurs: 12pm – 8pm
Fri: 3pm – 10pm
Sat & Sun: 11am – 6pm
READ MORE: How to start your own cake cafe in Bangsar
7. Pause Cafe, Kuala Lumpur
Who doesn't love a cafe with a strong name that speaks to us? What's even stronger than their name game is their selection of food and drinks. Choose from something as simple (yet cooked to a fine balance of flavours and textures) as their Creamy Carbonara or rice with pork lard, minced pork and onsen egg; to something from their more intriguing drinks menu such as the Sober Tonic (espresso, tonic water and ginger-spiked syrup) or Taichi – Ying and Yang (tea, espresso shot and steamed milk served in a Chinese teacup). 
Address: 140, Jalan Choo Cheng Khay, Kuala Lumpur
Opening hours:
10am – 7pm
12pm – 6.30pm (kitchen)
| | |
| --- | --- |
| SHARE THE STORY | |
| Explore More | |