When it comes to nightlife, Kuala Lumpur is definitely enticing with the amount of options available. With new establishments opening frequently, bar-goers will never run out of drinking spots. This list includes an extensive range of bars that are sure to get you swinging from chandelier to chandelier. Oh, there's also a bonus at the end!
1. Circa Bar
Talking about this might be easy, but looking for the place? Not so much. This speakeasy, located in Plaza Batai, might have just appeared in an area where people would least expect—the back alley between BIG and Yellow Brick Road. There are four crucial steps to follow, beginning with the spiral staircase that you will have to take through the hole in the wall. Next, gain entry into the bar/club by dialling 1234# on the secretive payphone. Steps three and four: well, drink and stay for the music. What can you get at Circa? The modern, yet hip, place has a catalogue full of cocktails where the flavours are motivated by the seasons and a captivating contemporary design. Your first visit won't be your last and you're sure to be Circa-ling the joint as often as you can.
Address: 8-7, Jalan Batai, Bukit Damansara
Opening hours: 5pm – 3am (Tues – Sat) 5pm – 1am (Sun – Mon)
Phone number: 016 266 3627
Original: https://www.buro247.my/lifestyle/food-and-drink/new-bars-and-clubs-in-kl-for-fun-night-out.html
For more information, visit here.
READ MORE: Why not refresh your memory on Asia's 50 Best Bars 2019 list?
2. MariGin
This one is for the ginophiles (hands up if you're one!). You're in luck because there's a new gin bar in town. To complement their whiskey lounge, Marini's on 57 launched MariGin. Inside, expect to feel like you're in the 1930s from the decor, and 1980s from the  rock music playing. The setting isn't the only winner here, though. The concoctions here—creative and visionary. Created and conceptualised in-house, cocktails at MariGin include Gong Xi Fatt, Ginius, Padrino, Archaelogin, and Jungle Gin. The names alone are enough to pull you in. This is the place to find relaxation away from the crowd. Come here for an experience like no other.
Address: Ground Floor, ONE KL, No.6, Jalan Pinang
Opening hours: 5pm – 1am (Mon – Sat)
Phone number: 03 2386 6030
For more information, visit here.
READ MORE: Have you been to Marble 8? Find out why you should
3. D by Dirty
Despite its name, there is nothing dirty about the bar that's owned and operated by [email protected]. Even better, it is only one floor above [email protected]. D by Dirty is located in Taman Tun Dr Ismail, which is quickly evolving into one of the best areas for a great night out. Craving for a glass of beer? How about whiskey to take things up a notch? D by Dirty is your destination for a simple and chill night out with friends.
Address: G110B, Jalan Burhanuddin Helmi, Taman Tun Dr Ismail
Opening hours: 7pm – 3am (Wed – Sun)
Phone number: 016 673 7114
For more information, visit here.
READ MORE: How much do you know about whiskey? Check out this Whiskey masterclass
4. Marimbar
PJ, concrete jungle where dreams are made of. The first of two rooftop bars on this list is Marimbar, and it isn't just any basic bar. Apart from being Petaling Jaya's highest located bar, it is also by The Marini's Group—yes, the same one that operates MariGin (scroll up to refresh your memory). Any doubts on its credentials should vanish right this instance. Evanesco. What sets Marimbar apart from the rest? Firstly, the ambiance that's full of greenery as a result of the tropical aesthetics of the rooftop bar. Next, the space is suitable for everyone with hangout areas on the 35th floor overlooking PJ. Come here for cocktails, wines, whiskeys, and pure party perfection.
Fun fact: Look forward to more openings in the same complex in Q3 2019 with Madame Queen and [email protected].
Address: Level 35, Pinnacle PJ Tower A
Opening hours: 3pm – 2am (Mon – Sun)
Phone number: 03 2386 6030
For more information, visit here.
READ MORE: These are some bars you might not have been to
5. Lucky Tora
You can't have a list of bars in Kuala Lumpur without including one from Changkat Bukit Bintang. It's a blasphemy, no? While we've featured Lucky Tora back in January's #BuroEats, food isn't the establishment's only attraction. There is a thriving bar with a whole lot of goodness. Make sure to try their sake cocktails, with Chi Chi and Mr. Miyagi being personal favourites. Even better, they are also reasonably priced. If you're not into sake, there are usual offerings from specialty cocktails to wines and beers. Pair your drinks with their amazing food and you're set for a superb night out. Fun fact: Game of Thrones' Tywin Lannister (Charles Dance) himself has visited the place.
Address: 25, Jalan Mesui, Bukit Bintang
Opening hours: 12pm – 1am (Daily)
Phone number: 03 2859 0489
For more information, visit here.
READ MORE: Did you know you can get alcoholic bubble teas in KL?
6. Dragonfly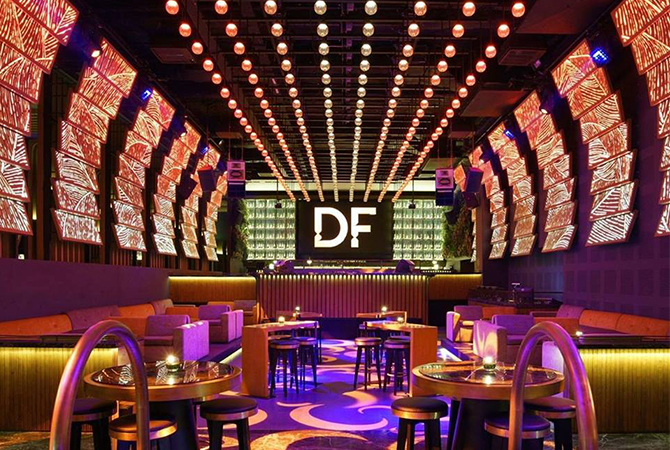 Platinum Park is the newest hub for dining and entertainment in Kuala Lumpur, and within it is Dragonfly—an established entertainment juggernaut overseas with over 15 years of experience. As Jakarta's leader in entertainment since 2004, Dragonfly has collected top accolades from mondo*dr Awards and DJ Mag, among many others. With its debut in Kuala Lumpur, expect Asian influences for its interior as well as outstanding lighting effects and state-of-the-art sound system. If you want to be the very best like no one ever was, you have got to experience the very best too. Pokemon references aside, Dragonfly is bound to be the key spot for an exciting, stress-relieving night out.
Address: Level 50, Naza [email protected] Park Kuala Lumpur
Opening hours: 9pm – 3am (Fri – Sat)
Phone number: 012 628 9876
For more information, visit here.
READ MORE: Eating is fun too. How many farm-to-table restaurants do you know in KL?
BONUS: Zouk Genting
Zouk, oh, Zouk. The iconic name synonymous with all things major and excellent. Did you know that Zouk Genting just had its grand opening? Here, prepare to experience features such as the main stage, hip-hop club Empire by Zouk, gaming bar RedTail by Zouk, RedTail Karaoke and upcoming vibe dining restaurant FUHU Restaurant & Bar. All these over 35,000 square feet of space. If that isn't impressive, what is? With more than 28 years of top notch experience, patrons of Zouk will not be let down by the group's new outpost in Genting. Illuminated by an ecstatic blend of music and pyrotechnics, the main space of Zouk Genting holds up to 1,200 partygoers. With lights designed by LEDsCONTROL and sound system by The Void, expect state-of-the-art components to accompany all the good, good fun you're sure to have. Even better, there are CO2 canisters, infinite lasers, over 1,000 LED lights, and a flame unit on the ceiling. Positively over-the-top! Why not check it out and experience it for yourself? Next destination: Genting Highlands.
Address: Level G, SkyAvenue, Genting Highlands
Opening hours: 11pm – 5am (Fri – Sat)
Phone number: 019 390 3738
For more information, visit here.
READ MORE: This is the biggest club in Singapore. Guess which?
| | |
| --- | --- |
| SHARE THE STORY | |
| Explore More | |