Food + Drink
Ignis At The Table serves up a new monthly menu for grill enthusiasts
A meal from the grill
Photos courtesy of Ignis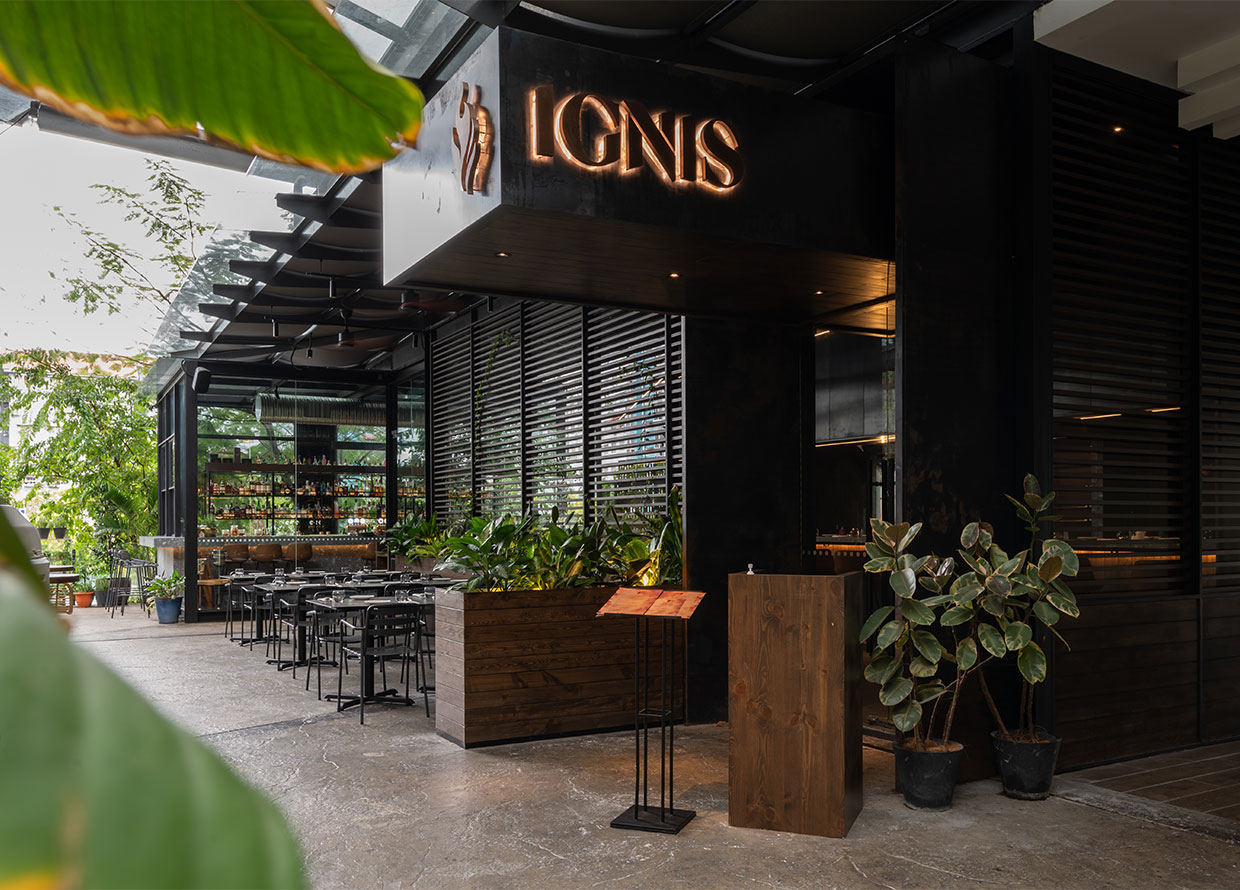 One year after its opening at The Sphere in Bangsar South, Ignis KL is launching a new monthly series for grill enthusiasts to experience a six-course tasting menu for one night only. Dubbed Ignis At The Table, each course in the changing menu will highlight a single ingredient, prepared and presented to its best.  
Curated by chef-owner Lroy Lim and Head Chef Desmond Chong, this exclusive experience is a testament to their commitment to featuring exceptional produce that's grown seasonally and farmed responsibly—thanks to their trusted network of suppliers that form the cornerstone of the restaurant since its inception.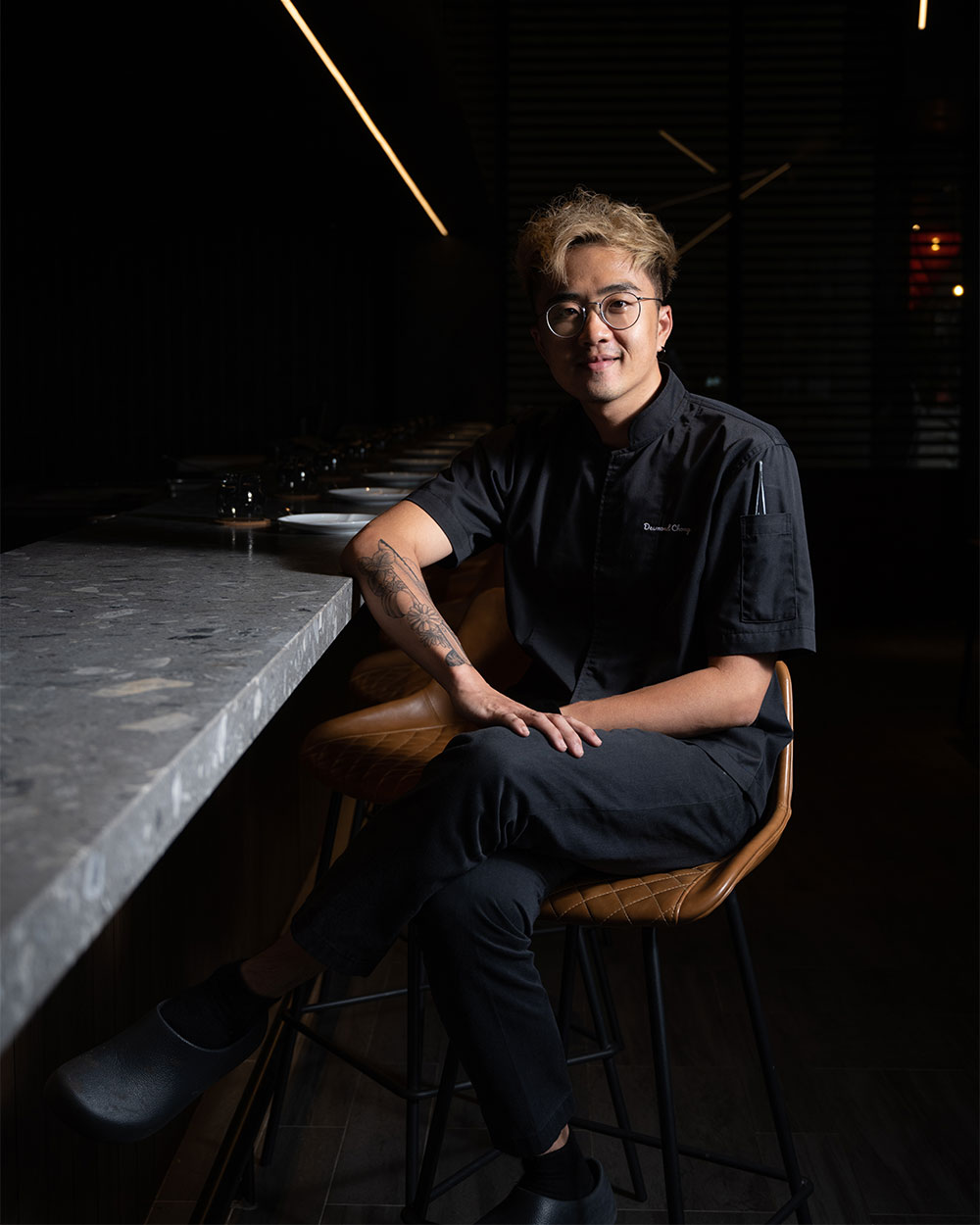 "We want our guests to leave with new memories when they dine at Ignis. People frequently assume that grilling, or a steakhouse, implies grilling meat, but our goal is to broaden people's perspectives on the flavors of varied ingredients, such as vegetables, seafood, and even dessert, as well as to introduce innovative flavours," says Chef Chong.
We had a preview of the inaugural Ignis At The Table menu ahead of its opening night on 22 November, along with a sake and cocktail pairing curated by Master Saké Sommelier Danny Leong of The Sake Place. Find out what to expect—and why you should not miss this experience—in our review below. 
Chicken Skin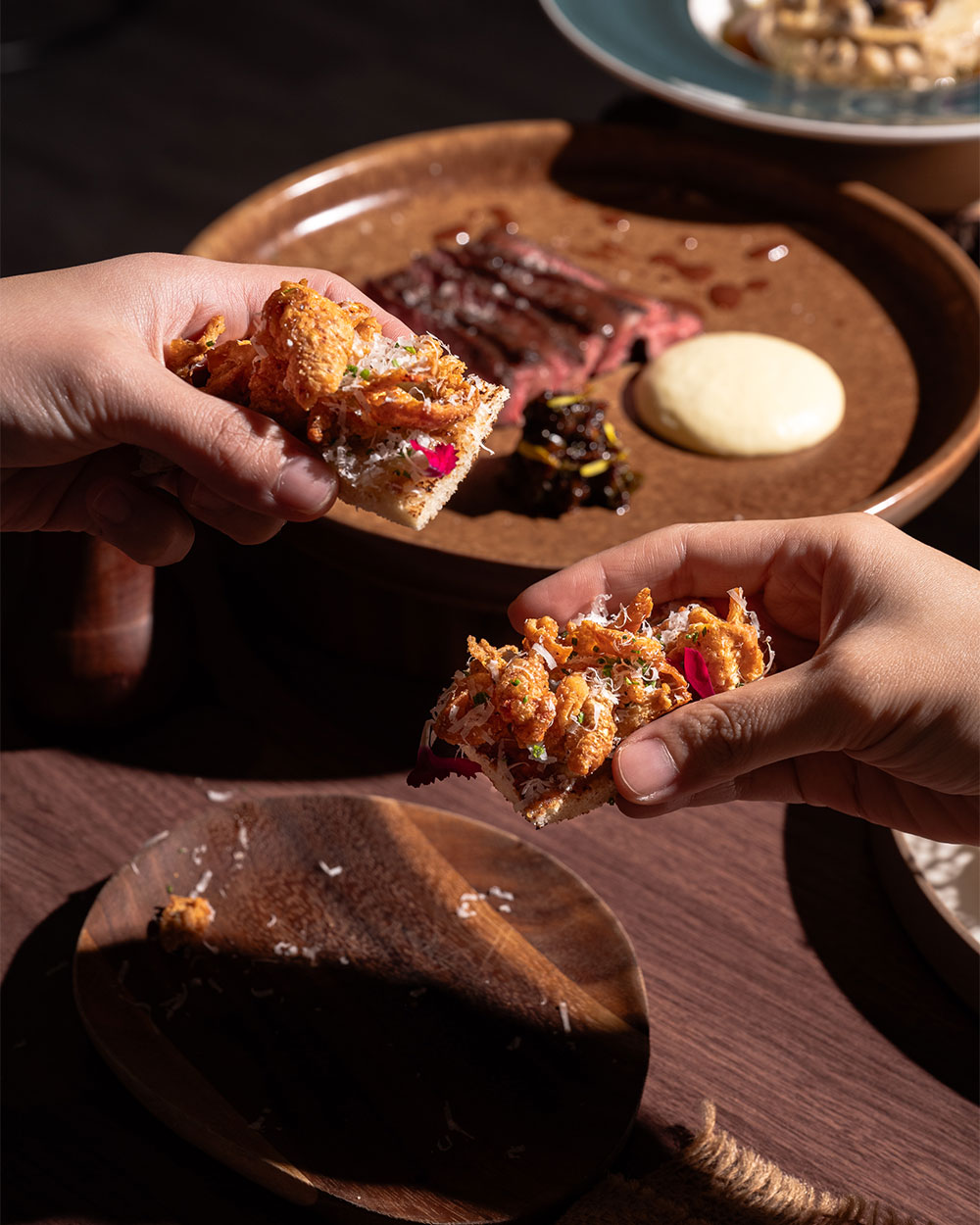 For the starter, Chef Desmond takes inspiration from his favourite snack: fried chicken skin. Prepared on brioche toast that is lightly charred on an open-wood fire, the crispy skin is served with onion puree, pickled cucumber, parmesan cheese shavings and paprika for a blend of sweet, salty, sour and umami flavours—a prelude of what's to come. 
To offset the fatty dish, Danny presents a refreshing glass of Tsuruume Yuzushu sake. It's a one-year aged Junmai Sake that is reminiscent of limoncello, with yuzu-driven notes that make it the perfect drink to start the evening with. 
Mushroom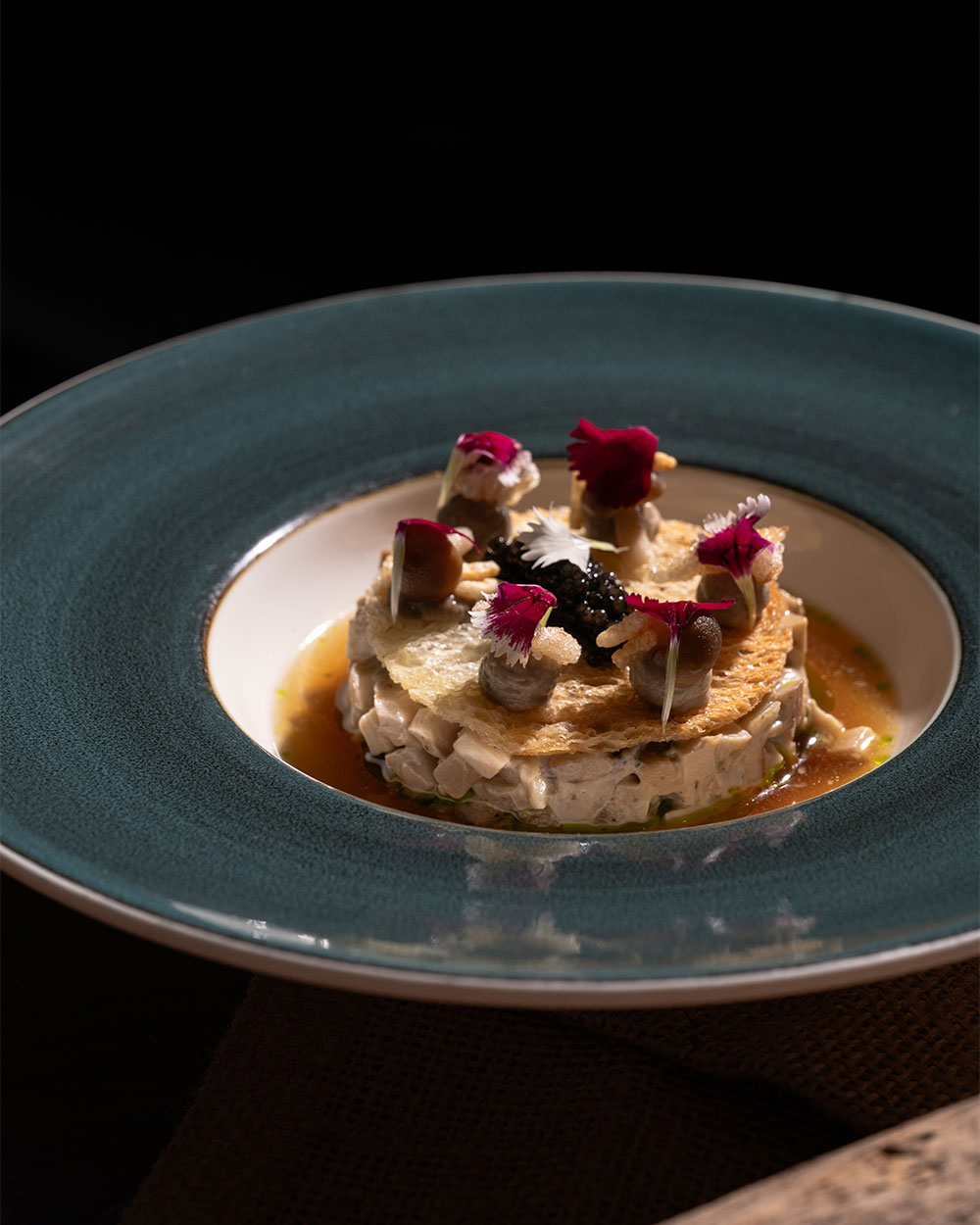 You can't go wrong with a classic mushroom soup, but Ignis gives it a unique twist where the dish is served cold instead of hot. The clear brown broth at the base is made from the trimmings of shiitake, button and eryngii mushroom simmered down with vinegar and fish sauce. A crispy white disc-shaped toast topped with pickled shimeji, deep fried shimeji, and sturia caviar from France caps off the mushroom tartare and creme fraiche at the centre. While it may not offer the comforting warmth you're used to, hear us out—the mix of textures and umami notes of the different varieties of mushroom really shine through here. 
Complementing the cold appetiser is the Takijiman Ginjyo, brewed with quality water, thanks to the brewery's surrounding pristine waterfalls in the Mie Prefecture of Japan. The result is a high-grade dry sake that has clean, delicate aromas and a light body that balances out the heavier, earthy flavours of mushrooms. 
Pumpkin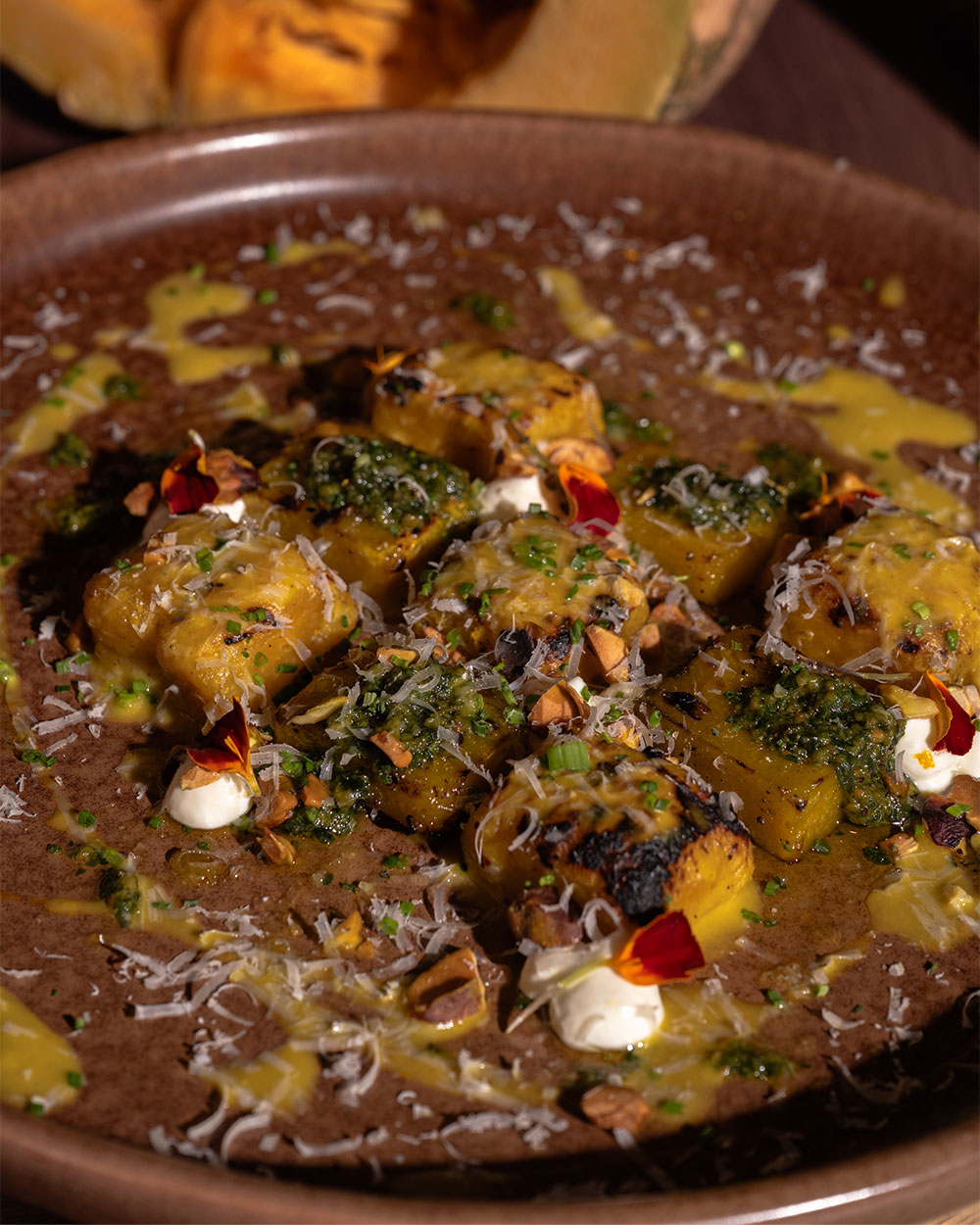 The next course on the menu is pumpkin gnocchi, which pays respect to Chef Desmond's past experience with Italian cuisine at Mandarin Oriental under the tutelage of two Michelin-starred Chef Luigi Stinga. We like how this dish is a guessing game of sorts, as the pumpkin and gnocchi appear similar so you won't know which one you're digging into until you take a bite. 
Once you do, you'll be rewarded with either a gnocchi that's nicely charred to a soft yet firm texture; or a Japanese pumpkin (sourced from Cameron Highlands) that's slow cooked in brown butter and seasoned with smoked oil, salt and pepper into a delightful nosh. Drizzles of yoghurt gel and trimmings of pumpkin puree, coconut curry and lime juice add more flavour to the dish, accompanied by pistachio pesto for a nice crunch. 
Golden Snapper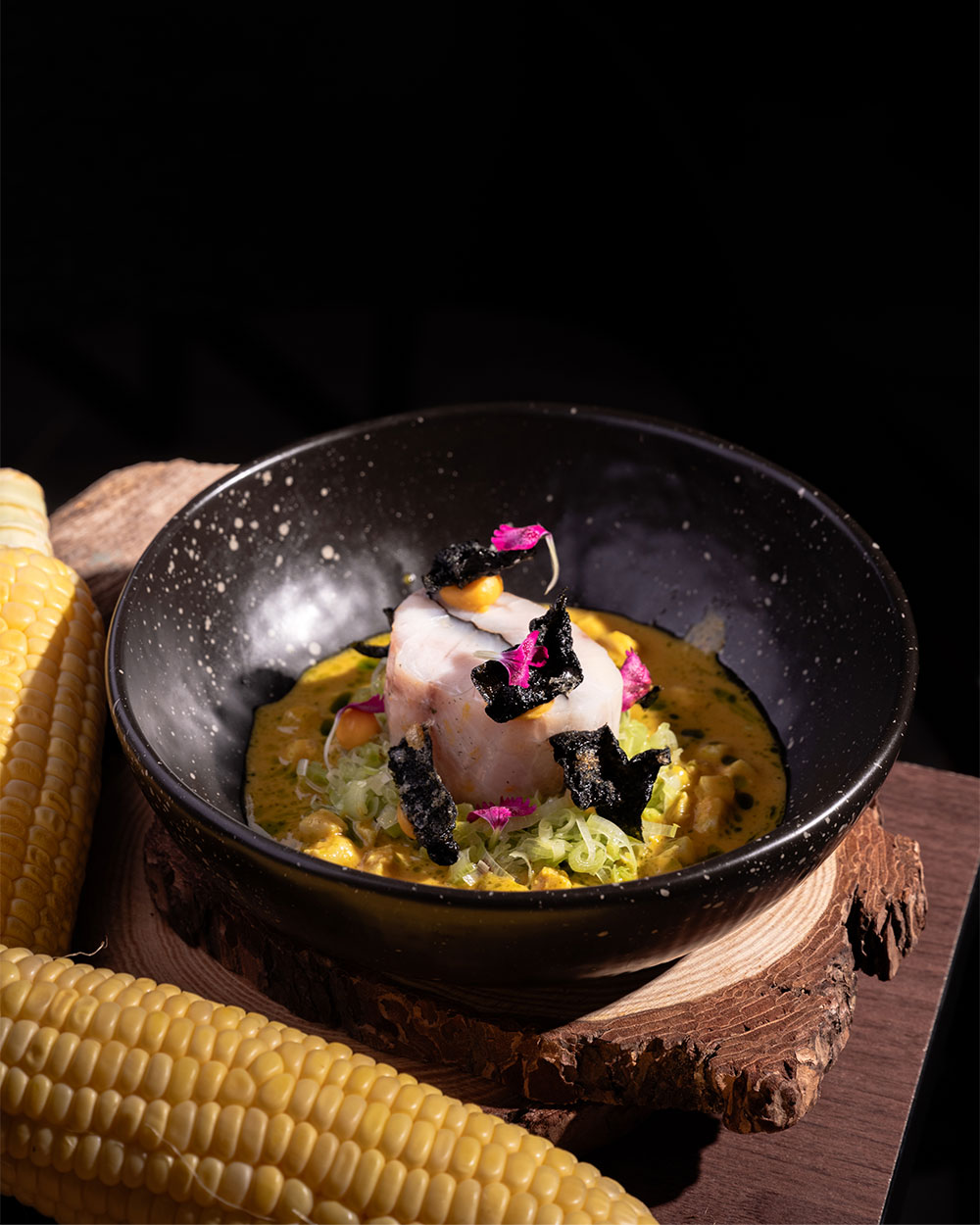 Although the key ingredient of the fourth course is a golden snapper, the dish is actually inspired by otak-otak. Reinterpreted into a sauce made from fish trimmings, garlic, galangal, lemongrass and pickled daikon for crunchiness, it lends a subtle kick to the star of the dish. Speaking of which, the fish is brined for 25 minutes to seasoned with lemon zest, chopped dill and salt, then garnished with deep-fried seaweed and edible flowers for a beautiful plate that's just as pleasing to the palate. Drops of parsley oil and slices of charred leek complete the delicious medley of flavours.
Interestingly, the daiginjo sake chosen to pair with this dish offers rich notes of apricot and strawberry, balanced with white flowers. The fruity aromas of the drink pair well with the natural sweetness of the fish, tying the course together brilliantly. 
A5 Omi Beef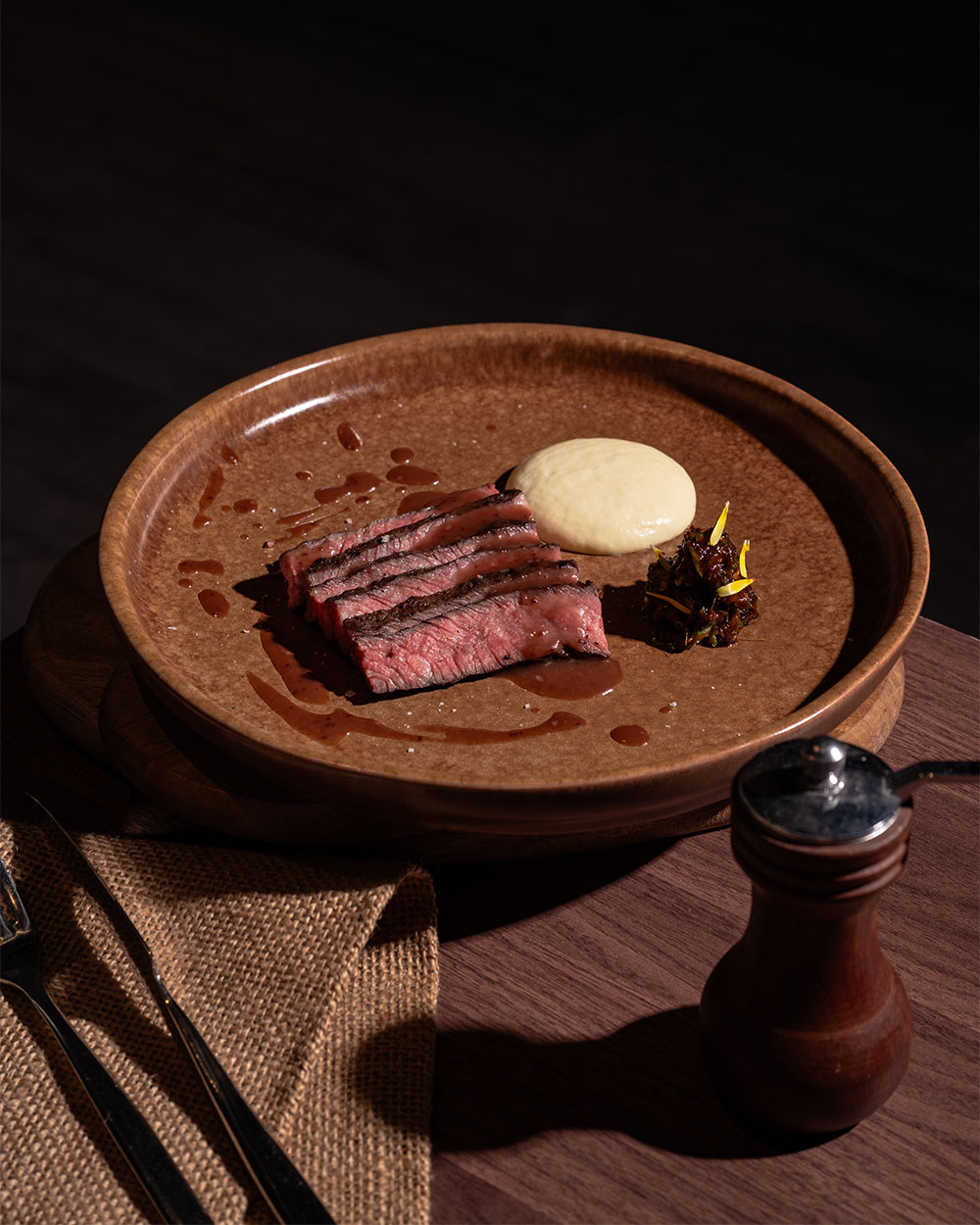 We move on to red meat in the fifth and main course of A5 Omi Beef. Instead of just your typical beef jus, Chef Desmond has created a strawberry cognac sauce that combines jus with strawberries cooked in cream and cognac. There's also a dollop of sambal hitam to cut through the fatty marbling with a tinge of spiciness, served alongside a potato truffle foam and wing beans charred over open fire. Each bite is as indulgent and packed with a myriad of flavours as the next! The same KID Junmai Daiginjo sake goes down with this dish—its strawberry flavours matching the sauce note for note. 
Parmesan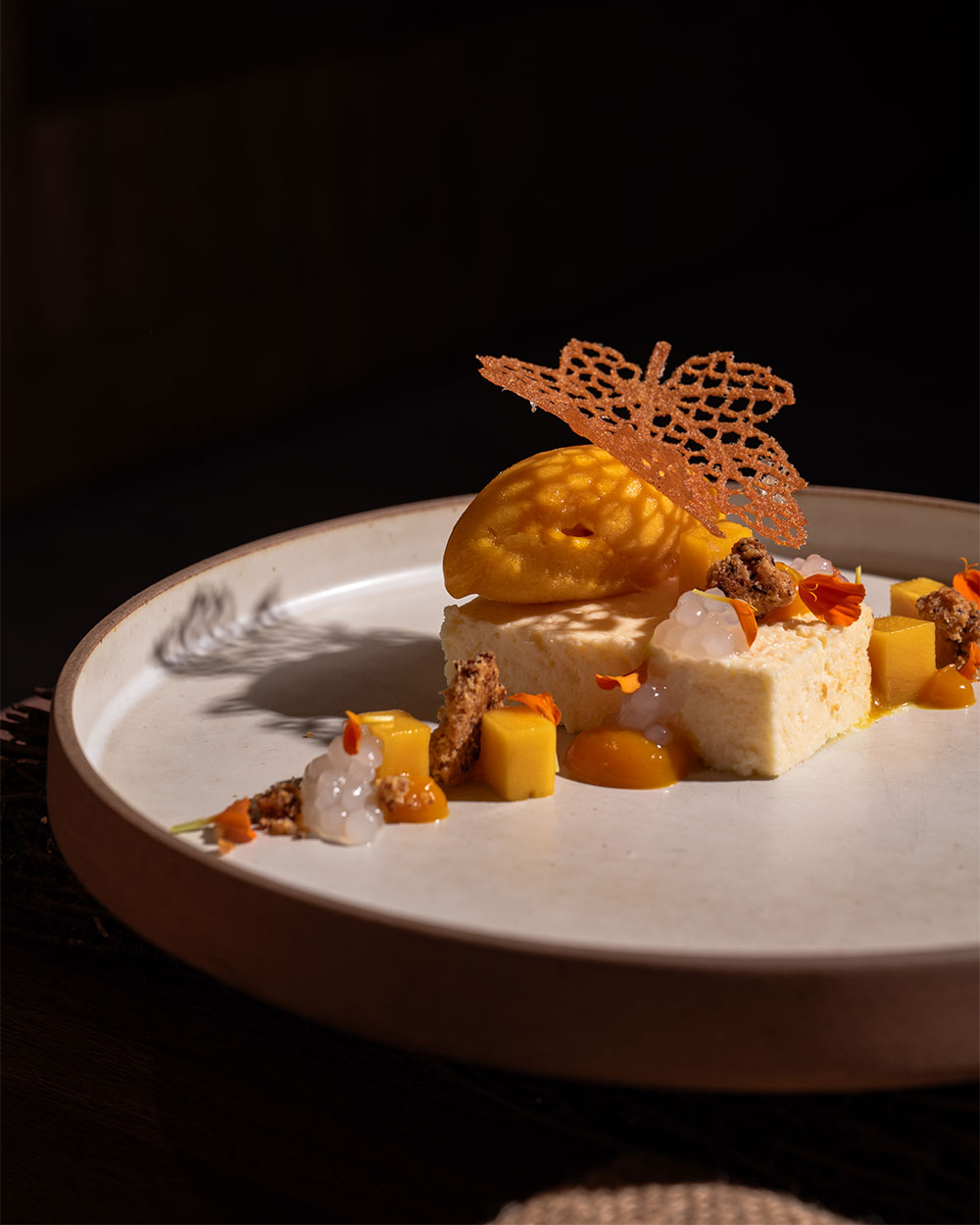 Pastry Chef Viyern Ooi comes out of the kitchen for the final course, presenting a unique take on her favourite dessert: parmesan cheesecake. Her creation showcases fresh mango sourced from a local farm, along with lime-flavoured sago and lime zest that give it a trace of acidity. Cheese tuile and lime crumble add texture to the dessert, which rounds off the meal tastefully.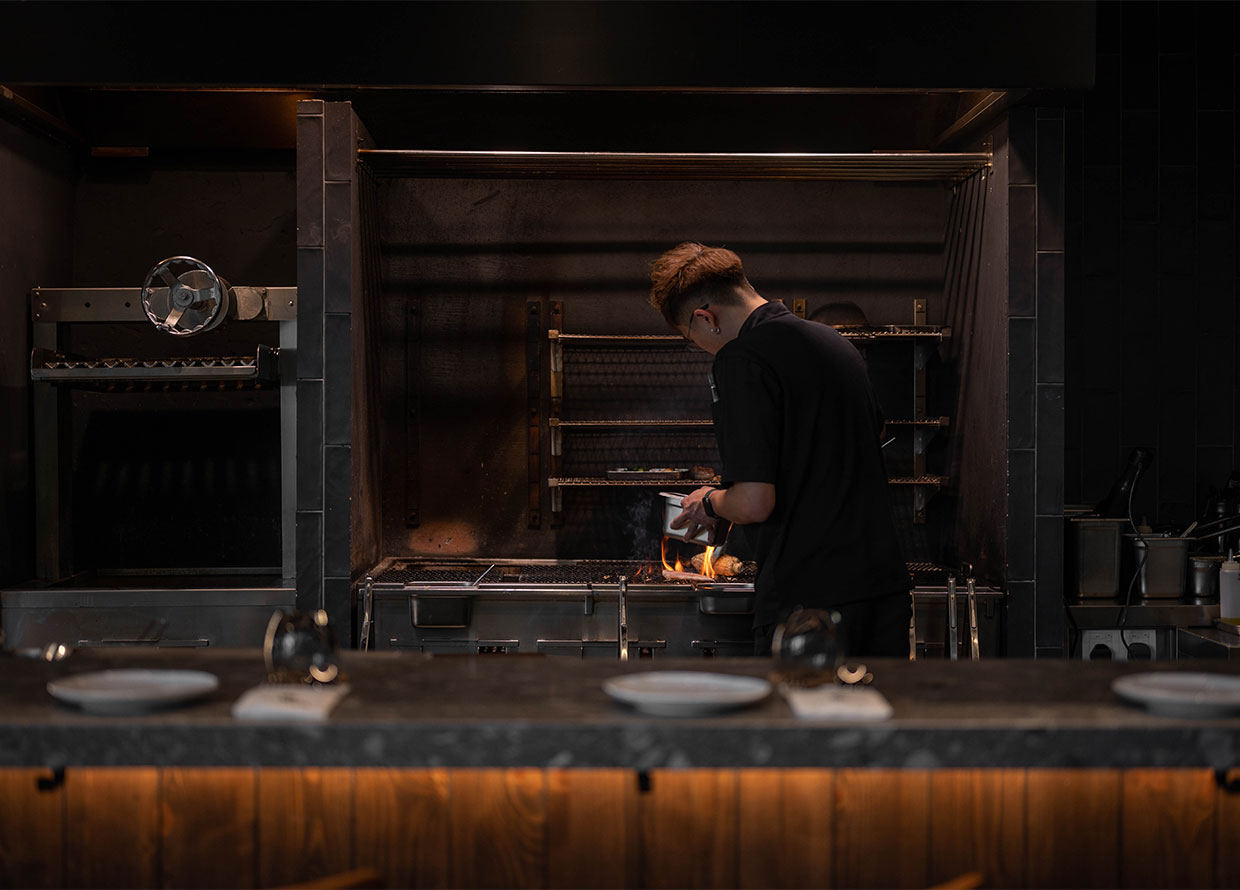 If you were already a fan of Ignis before, the Ignis At The Table menu demonstrates the next stage of Chef Desmond and his team's culinary capabilities. Supplemented with a fine pairing, the experience promises a satisfying meal that's not too heavy on the wallet. 
The Ignis At The Table menu is priced at RM300++, with optional alcohol pairing of sake and cocktails at an additional RM150++ (note: the price of alcohol pairing is subject to change with every tasting menu). The first dinner will launch on 22 November, with subsequent dates to be announced.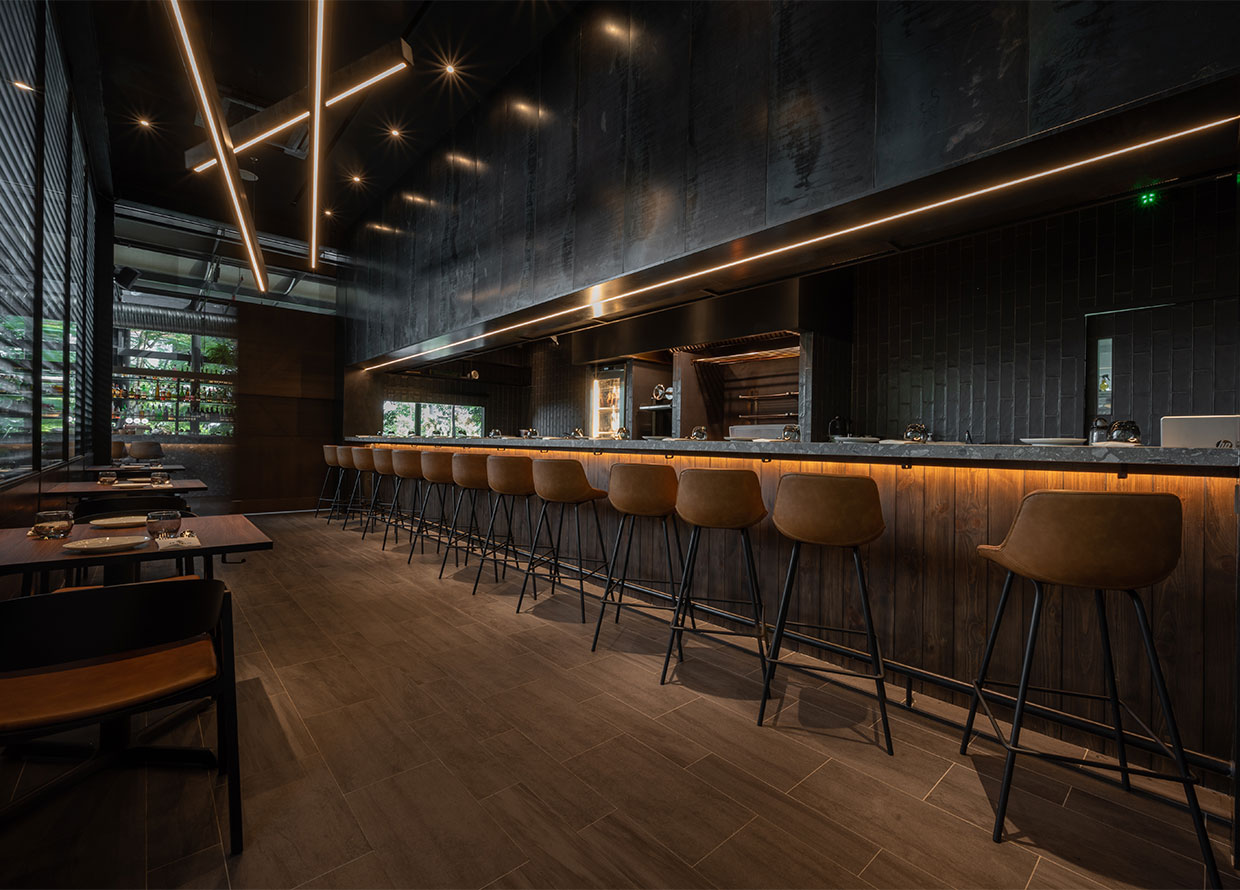 ---
Ignis KL
Address: G-02A, Ground Level, The Sphere, No. 1, Avenue 1, Bangsar South City, 8, Jalan Kerinchi, 59200 Kuala Lumpur, Wilayah Persekutuan Kuala Lumpur
Opening hours: 11:30 am–3 pm, 6–10 pm
Contact: 012-343 9566
Website | Facebook | Instagram | Reservations
Find more food reviews here.
| | |
| --- | --- |
| SHARE THE STORY | |
| Explore More | |