Food + Drink
Eats-A-Review (Hotel Delivery Edition): Le Méridien KL, Four Seasons Hotel KL, and Sofitel KL Damansara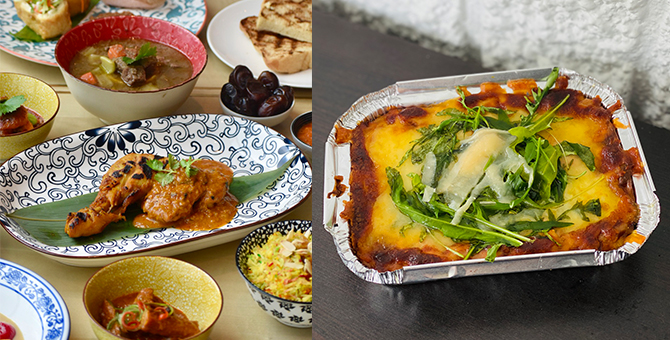 Put your hands up if you love food! Alright, you can put them down now. Welcome to Eats-A-Review—a new monthly food review column from BURO Malaysia. The premise is simple. We review cafes and restaurants without a formal invitation. Food is life and one way to really capture the essence of an establishment is during an unplanned setting. Every month, we will decide on three spots to indulge in.
In the June edition of Eats-A-Review: we did something a little different than usual. Instead of going to the dining spots, we have the food delivered to us instead—from new hotel delivery and takeaway menus. This month, we tried the culinary offerings from Le Méridien KL, Four Seasons Hotel KL, and Sofitel KL Damansara.
Le Méridien Kuala Lumpur
Let's begin with Le Méridien KL's new delivery and takeaway menu! Perfect as an office lunch takeaway, the set lunches are all priced at RM45 nett per set. Available from 11am to 2pm every Monday to Friday, there are four sets to choose from—Malay, Chinese, Indian, and Western. I had the opportunity to give the Malay Set a go and here's what I thought.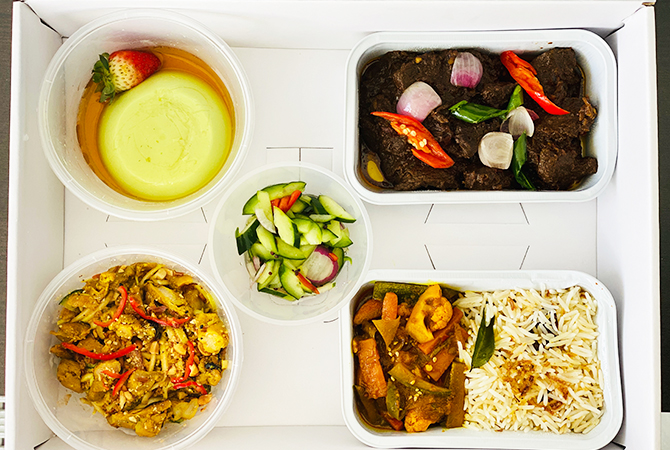 The Malay Set comprises of Kerabu Ayam Berempah, Mangga Muda, Sambal Lesung, and Kacang Tumbuk (Grilled Chicken Salad, Green Mango, Chilli-Lime Paste, and Toasted Peanuts); Nasi Minyak Tumis Darat bersama Acar Sayuran Biji Sawi (Aromatic Ghee Rice and Vegetable Acar with Mustard Seed); Daging Masak Mintan Saruman Karipoley (Slow Braised Beef in Cumin Sauce infused with Curry Leaves); as well as Pandan Cream Caramel for dessert.
As you can see from the photo above, the dishes are separated really well. Now, it's time to dig in! I started with the rice and vegetable acar. While the rice is pleasant and adequately delectable, the vegetable acar with its mild hint of heat added an extra layer of tasty blissfulness. It's a brilliant combination of sour, spicy, and sweet. Let's move on to the Grilled Chicken Salad. Although it is a tad too spicy for me, what I really enjoyed was the slight tanginess from the chili-lime paste. It's sharp without being too intrusive of tastebuds; ensuring that you still get to experience the other flavours in the dish.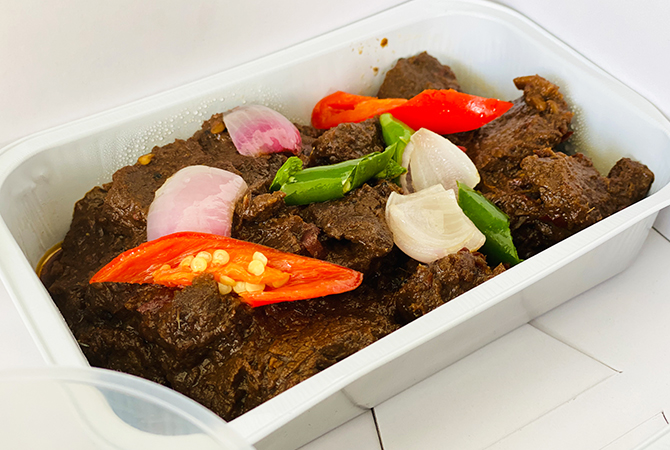 The star of the show is definitely the Slow Braised Beef (also known as the dish that drew my attention to the Malay Set). Perfecting rendang can be difficult, especially with it being such an iconic Malay delicacy. Everyone has an idea of how beef rendang should taste and that includes me. Growing up, I've always been fond of beef rendang and hence, you can understand my excitement with this specific concoction by Le Méridien KL.
On first bite, I noticed that the beef was cooked to perfection; tender and lush. I appreciate the fact that it wasn't too spicy because I might not have enjoyed it like I did. Seasoned well, you get this intense aroma of curry leaves and cumin—taking the dish from good to divine. Paired with the aromatic ghee rice, you're all set for a great day ahead after lunch.
—RONN TAN, lifestyle writer
Four Seasons Hotel Kuala Lumpur
If there's one word to describe the food from Four Seasons Hotel Kuala Lumpur's delivery menu, it would be "indulgence". Imagine my surprise when they sent a large thermal bag full of mouthwatering dishes recommended by Executive Chef Junious Dickerson to my house for me to try out. I say this because that much care and detail had gone into planning the logistics of transporting the food from the kitchens right to the recipient's doorstep, ensuring that it's still piping hot when served.
From a generous portion of Lamb Briyani (with a whole lamb leg subtly submerged in a sea of golden, fragrant rice) to juicy and flavourful Kadai Prawns, every dish was a perfect balance of spices and a testimony that fresh ingredients always make a difference. Tender and sweet, the Ayam Masak Merah was another clear favourite with my only wish that it was a tad spicier. If you're a fan of satay, the hotel does offer chicken, beef, lamb or a mix of all three, which make for a great accompaniment if you're opting for local favourites from the menu.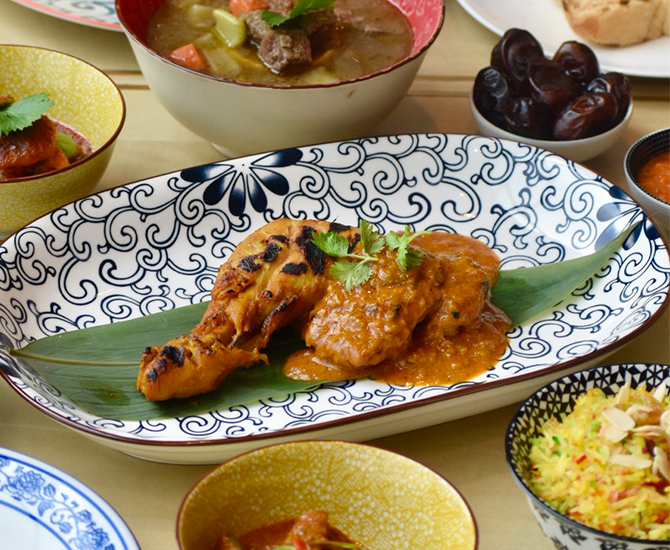 Of course, considering Four Seasons Hotel Kuala Lumpur houses a few F&B establishments, the menu offers a wide variety of cuisines to cater to most cravings. From Malaysian classics to Cantonese fanfare to Western indulgences (mmm, the Seafood Pasta with Black Garlic Alfredo Sauce and Salted Egg Yolk or even the 8-Hours Braised Beef Short Ribs) to a delectable afternoon tea spread or even a DIY Trigonal Cocktail, you'll definitely be spoilt for choice.
You can check out the full menu here. The delivery fee ranges from RM5 (5km within hotel's radius) or RM10 (5-10 kilometres within hotel's radius).
— RACHEL AU, editor
Sofitel Kuala Lumpur Damansara
In June, the hotel launched a new all-day dining delivery and takeaway menu, featuring local and international flavours from its palatable collection of F&B establishments. They include Kwee Zeen, Nizza, Wan Chun Ting, and Le Bar Cocktail and Stories—serving an exciting selection from burgers and pasta to desserts and dim sum. With that, it also made making a decision a little tougher than usual.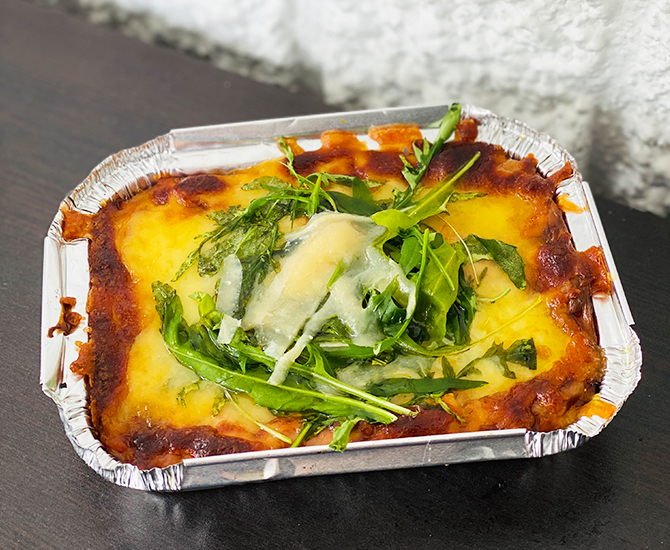 The first dish that I tried from the delivery and takeaway menu is the Salmon Spinach Lasagna (RM42). Made with green lasagna dough, spinach, Béchamel sauce, smoked salmon, and tomato sauce, the dish arrived looking majestic. I was thoroughly impressed with the way the food was delivered; sealed in tough cardboard box to retain the heat. What I really enjoyed about the Salmon Spinach Lasagna dish is the lasagna itself—the very essence of the dish. Lasagna done well is usually otherworldly and the hotel definitely hit the bullseye with this. It's adequately tangy and isn't too mushy.
Of course the texture of any pasta is of utmost important and I'm glad that the flavours of the sauce did not clash with the moist lasagna layers. You still get the cheesy and sweet consistency without having to call timeout on the taste avalanche. Another thing I need to point out is how generous they are with the salmon filling. Served in small bits and seasoned adequately, the protein definitely provided some added crunch to the dish. It's a massive and hearty dish but one you wouldn't be able to stop eating.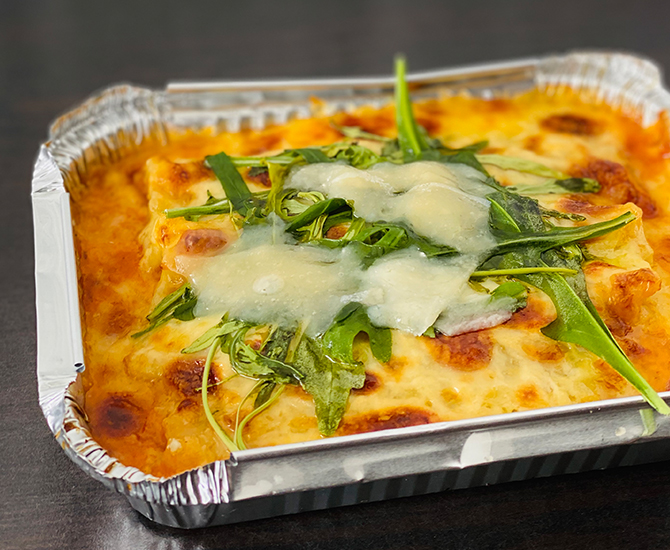 Still in the pasta category is the Homemade Lamb Cannelloni (RM58). Although it looks similar to a typical lasagna, dig in and you'll quickly realise that cannelloni is very different. Instead of layers of lasagna dough, cannelloni comes in the form of cylinders stuffed with fillings. This dish from Sofitel's delivery and takeaway menu is served with feta tomato sauce, sun-dried tomatoes, parmesan, and basil. While I thoroughly adored the first dish, the follow-up just takes the cake. It's a lot creamier and its soft consistency can be deceiving because it's actually really heavy. I love how well the lamb is seasoned; it's lush and ambrosial yet doesn't overpower the flavours of the cannelloni.
It's a culinary rollercoaster in a single dish. While I do think it's a little brackish, it can easily be overlooked. Other dishes on the menu include Classic Beef Burger in Sesame Bun, Pan-fried Salmon Steak, Salted Egg Yolk Custard Buns, and Artisanal Cheese Board.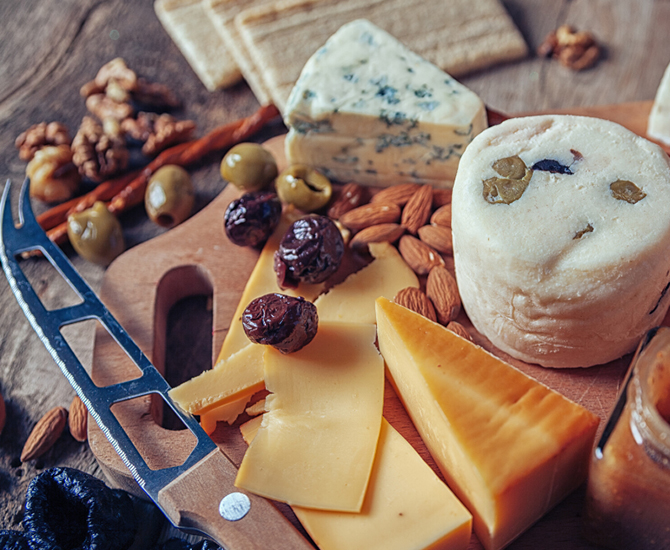 You can check out the full menu here—where the instructions to order are also displayed. Orders need to be placed a minimum of one hour in advance of preferred collection and delivery time for processing. Destinations within 10 kilometres of the hotel get complimentary delivery.
—RONN TAN, lifestyle writer
Have you tried any of these places yet? If you have, share your thoughts with us! Take a look at February's list here or stay tuned for the next edition of Eats-A-Review in July!
| | |
| --- | --- |
| SHARE THE STORY | |
| Explore More | |