Put your hands up if you love food! Alright, you can put them down now. Welcome to Eats-A-Review—a monthly food review column from BURO Malaysia. The premise is simple. We review cafes and restaurants; and we talk about the best dishes from the respective establishments.
In this edition of Eats-A-Review: we checked out Gin Rik Sha, La Juiceria Superfoods' new Beyond Meat menu, and Botanica + Co's Meat-less Mondays menu.
---
Gin Rik Sha
Walk into this modern Indian restaurant in Damansara Heights and you'll find yourself teleported. Its immersive setting automatically puts you in paradise mode, from the various shades of green to the lively music. If you're looking for Indian fare with a contemporary twist, Gin Rik Sha is the spot to check out. Gin Rik Sha's menu consists of unique concoctions that are bound to wow and impress with bold and powerful flavours.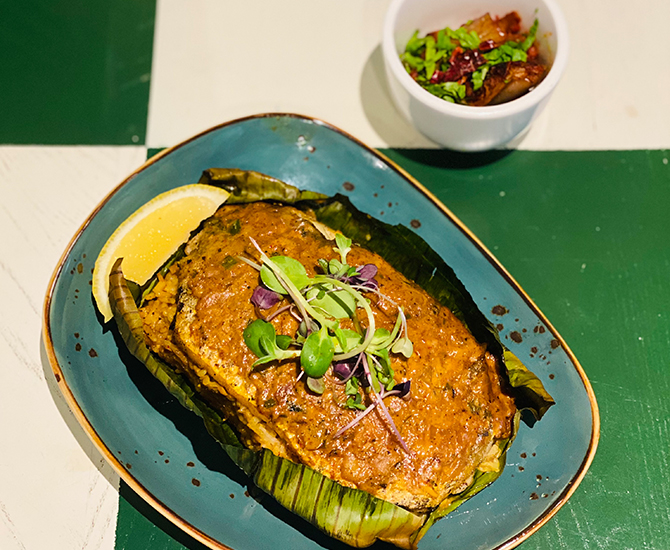 Always begin with the crowd-pleasing Yoghurt Chaat Bomb for a multi-dimensional starter. With a tinge of heat and a citrus flavour profile, this is the very definition of flavour bomb. Another must-try is the Banana Leaf Baked Seabass. Here's a dish that tastes as good as it looks. Start by squeezing the lemon on the seabass that's layered on a bed of perfectly cooked biriyani. The additional tartness elevated an already palatable dish. The baked seabass—soft, lush, and immensely toothsome—paired really well with the fragrant rice. It's also haven for lovers of all things spicy. The epitome of comfort food, you'd want seconds (or even thirds). Just make sure you save space for the other dishes!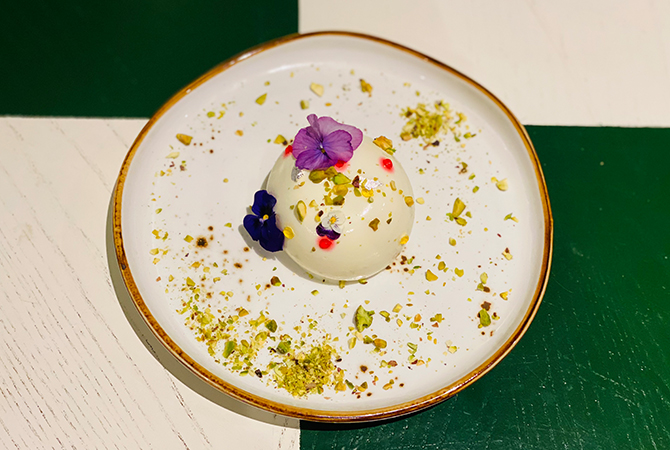 You'd also want to give the Lamb Burger with Green Chilli Chutney a go. Complemented by refreshing yoghurt and premium lamb patty, it's definitely an exciting amalgamation of East meets West. Once you're done with your mains, don't miss out on Gin Rik Sha's selection of desserts, including the popular Glazed Rabri Mousse Ball. Before you begin devouring, take a moment to marvel at the beautiful creation placed in front of you. Immaculate, isn't it? Give the dessert a delicate slice to discover the hidden layers. Already adequately sweet and dense, the pistachios added crunch; upping the ante on a brilliant finisher to a meal at Gin Rik Sha.
---
La Juiceria Superfoods: Beyond Meat menu
La Juiceria is no stranger to the dining scene here in Kuala Lumpur. Since their inception in 2013, they have expanded massively throughout the city (and beyond). Already the destination for deliciously healthy as well as natural food and drinks, La Juiceria Superfoods now has another milestone to celebrate. Beginning 6 November 2020, the brand (as well as sister restaurant Super Saigon) officially became the first in Malaysia to offer Beyond Meat Burger Patties in its menu.
Plant-based meat offerings—described as having the same taste and texture as beef-based products—is created without GMOs (genetically modified organism), bioengineered ingredients, synthetic colors, hormones, antibiotics, or cholesterol. They also have 40 per cent less sodium than real beef products.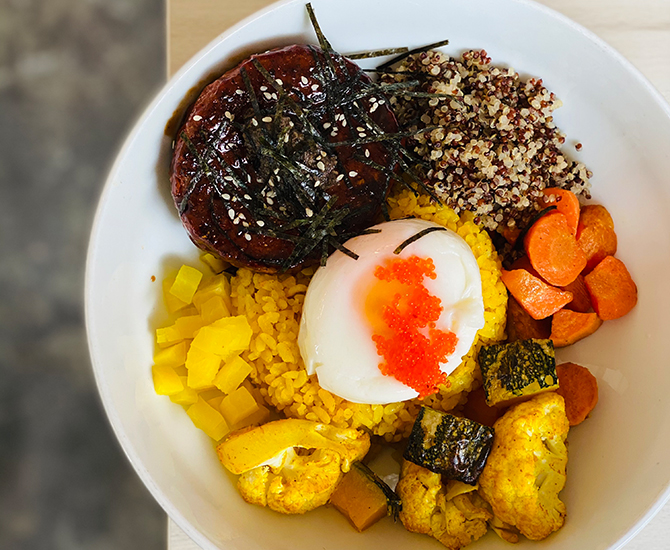 The Truffle Beyond Poké Bowl—served with turmeric rice, cauliflower, carrots, takuan pickled radish, poached omega egg, and quinoa—is one of two dishes from the new Beyond Meat menu. Along with La Juiceria Superfoods' very own signature teriyaki sauce, this dish is made to satisfy all kinds of palates. Expect a rather clever blend of flavour profile from the inclusion of turmeric rice and the savoury sweetness of teriyaki sauce. It's a massive dish but the perfectly soft and divine Beyond Meat burger patty sure made devouring the entire bowl a pleasant experience. Give the dish a massive stir, mix them all up, and you're all set for wonderful meat-free meal.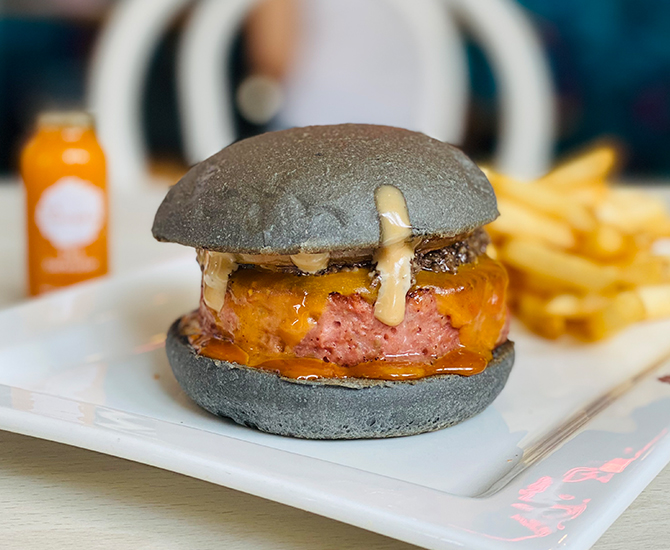 The star of the Beyond Menu is definitely the Truffle Umami Beyond Burger—served with Beyond Burger Patty, teriyaki mayo, maple balsamic mayo, truffle sauce, tomato slice, cheddar cheese, and charcoal buns from MyBurgerLab. Whether you're looking for your first meatless burger experience or craving for more, here's one to consider. Every bite is equivalent to euphoria of the highest level. The inclusion of truffle provided extra aroma while the truffle mayo complemented the burger with ambrosial delight. It's easy to describe the patty as "tender" but even that is an understatement. Does the Beyond Meat patty actually tastes like beef? Let's just say the answer's a resounding yes!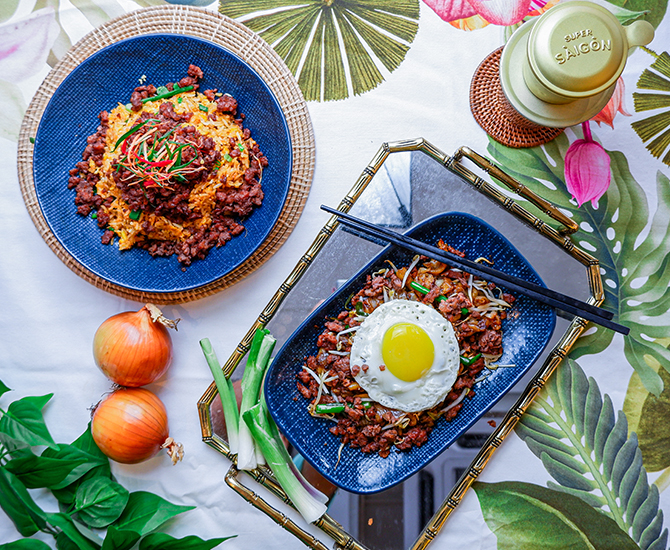 In addition to La Juiceria Superfoods, Super Saigon's Beyond Meat menu consists of Beyond Fried Rice and Beyond Dry Wok Kuey Teow. The items will be made available for dine-in at most of the outlets, as well as on GrabFood. The special meatless menu will be available until 13 December 2020 or while stocks last.
Website | Facebook | Instagram
---
Botanica + Co: Meat-less Mondays menu
Launched at the start of 2020, the brand's Meat-less Mondays menu was designed to encourage diners in taking that baby dive to committing a meat-free meal once a week. Helmed by Area Executive Chef Lim Tzer Chuan, the one-of-a-kind menu is available at both Botanica + Co branches—Alila Bangsar and Bangsar South.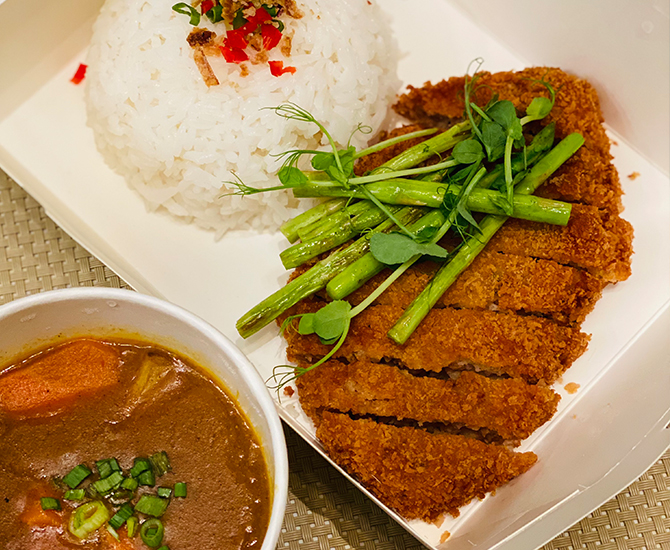 In addition to meat-free delights such as Feel-Good 'Meatball' Pasta and Thai Red Curry, the Katsu Curry Don is also worth checking out. You will have crispy fried breaded vegetable patty, spring vegetable, Japanese curry, and jasmine rice. Of course, this isn't actually chicken but the dish is definitely as good. Enjoy the delectable crunch on its own or have the fried vegetable patty with Japanese curry. You get a rather mellow flavour profile from the Japanese and that's perfect because the fried vegetable patty is adequately brackish. For anyone who's thinking of stepping into the realm of meat-free cuisine, the Katsu Curry Don is perfect for first-timers.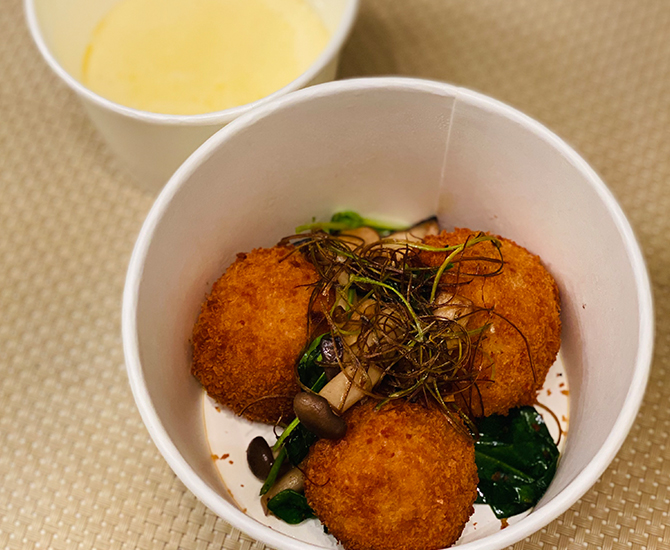 Another dish to try is Mushroom Risotto Dumpling—served with thyme cream sauce and mixed fried mushrooms. Ideal for anyone who prefers something light yet delightful, the rice-filled fried balls are crunchy and crisp. Best eaten warm, pour or drip thyme cream sauce over the mushroom risotto dumplings for a tinge of sweetness and mint. The Meat-less Mondays menu is now available for dine-in, takeaway, and delivery.
Website | Facebook | Instagram
---
Have you tried any of these places yet? If you have, share your thoughts with us! Take a look at the previous list here or stay tuned for the next edition of Eats-A-Review!
| | |
| --- | --- |
| SHARE THE STORY | |
| Explore More | |