There is no better way to celebrate Malaysia Day than to reminisce on our favourite childhood snacks. These delicious and nostalgic tidbits contributed to our growth—not just as people, but as Malaysians too. We ate and bonded with our fellow countrymen over them. In conjunction with 16 September, Team Buro Malaysia hopped onto a mental time machine to decide on the ones they love the most (and that wasn't easy). Here are our most beloved childhood snacks in Malaysia.
TERRY SAW, editor-in-chief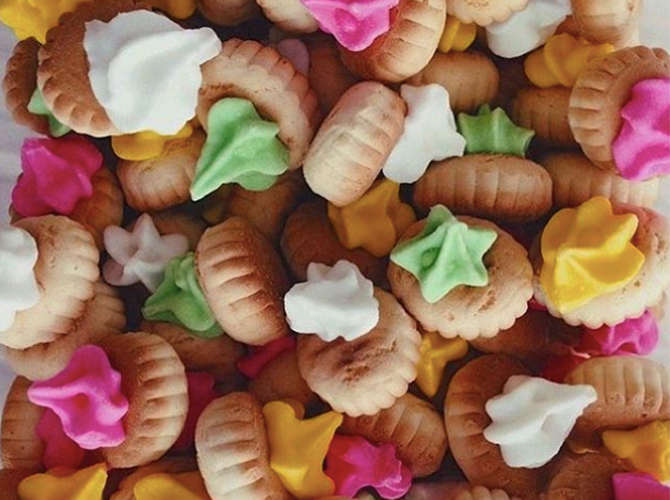 There are two types of people reading this—either you know iced gems as plush cushions and keepsakes by Naise (ah, to be young) or you grew up eating them by the bagful. Clearly, I'm the latter, speaking from a little too much snacking experience. Pre-Ladurée macarons, the quintessential Malaysian iced gem biscuits were anything but basic. A crunchy, buttery biscuit base topped with a sinful dollop of royal icing in pastel green, pink, yellow or white (delicious eaten whole, even more satisfying enjoyed separately—80s babies, you know what I mean) was the definition of happiness in a simpler time. Extra love for the childhood memories they evoke—super early (occasionally reluctant) morning trips to the market with my mum, which always ended with a fresh bag of iced gem biscuits to share on the walk home. Simple, yes, but clearly some of the best days of my life.
RACHEL AU, editor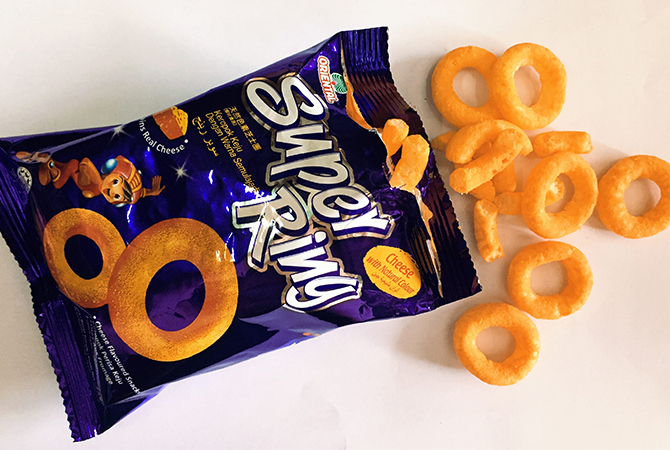 Basically, the cheap-o version of Cheezels (which, by the way, did you know it's from Australia?). I fondly remember Super Ring being one of the many offerings the roti uncle had on his bike of goodies. They were highly addictive too as I'd pop the crispy corn snack coated thick with cheese powder one after the other until the whole pack was gone (in possibly ten minutes). By then, my fingers too would be "coated" with that same cheese powder and I'd finish off those too. Truth be told; while the pack does say "natural colour", I highly doubt it but one just can't resist indulging in it every once in a while.
GWEN ONG, associate editor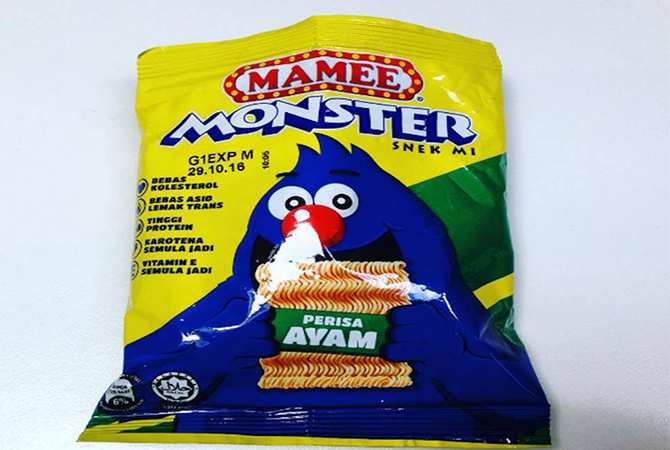 I'm a snacker! From fruits to nuts and chips, I'm always snacking away especially at the office when stress is high (hi boss!). I guess you can say that the habit started when I was young. Back in primary school, the roti man was always around the corner just outside the gates. I would look out for the uncle with his motorcycle of wonders, filled to the brim with everything delicious and exciting. We were spoilt for choices but my favourite was Mamee. There was just something about the crunch, the seasoning and the blue monster. I spent many weekends morning glued to the TV watching cartoons and you'll never miss the catchy Mamee commercial. And most certainly, you'd want a bite of the noodle snack after.
JOAN KONG, fashion editor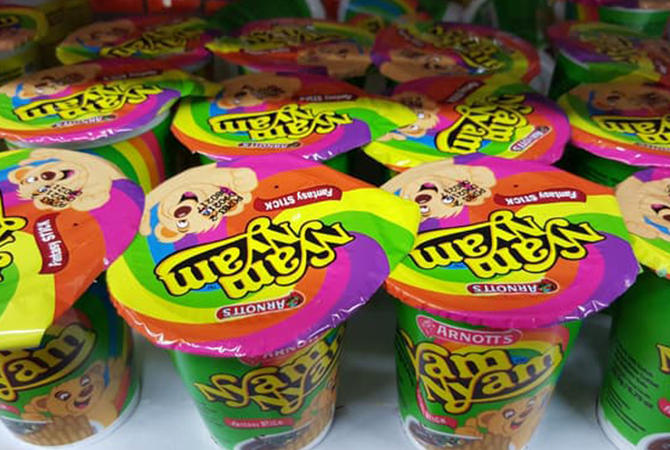 Growing up with a tiger mum (who never approves the food choices of a child), I remember having to sneakily buy snacks in school, and one of my go-to's is the Nyam Nyam snack by Arnott's. If you don't remember or have never heard of it, it's essentially a cup that's sectioned into two—puffed rice balls in red, green, and yellow colour in one, and the other, filled with velvety chocolate cream. Eating it is always fun—it's like a game on its own! First, you dunk the flat spoon in the chocolate, then, into the pool of rice balls and enjoy! A certain skill is needed to finish both components at the same time, and I can confidently say that I've mastered it.
STEPHANIE BOEY. fashion writer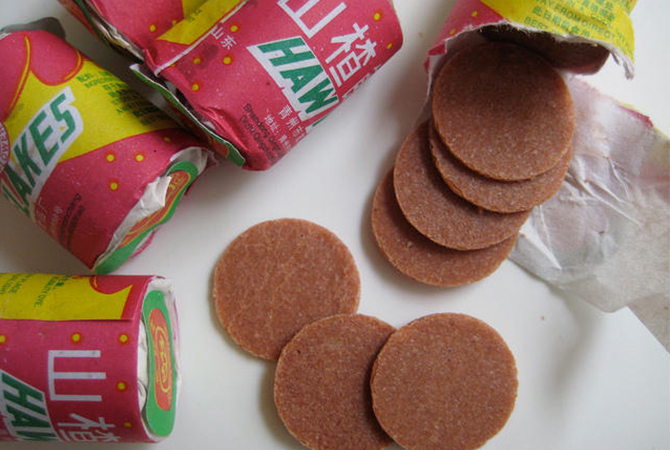 I have vivid memories of bringing Haw flakes to recess as a snack time treat while in primary school. And they were a popular hit among my fellow classmen, I was often asked, "Nak satu!". The Chinese candy is flat and circular, forming a thin disc shape, and is packaged in cylindrical stacks. The candy takes its name from the Chinese hawthorn fruit which also gives its sweet berry taste. One serving was never enough for me, I would (and still do) easily barrel through three stacks. The packaging has not changed till this day and looks exactly the same as it did years ago, and same goes with the taste. Whenever I come across it now, I'm hit with a sudden wave of nostalgia and I'm 10 years old again, giddily enjoying candy.
LOH WEI YEEN, beauty editor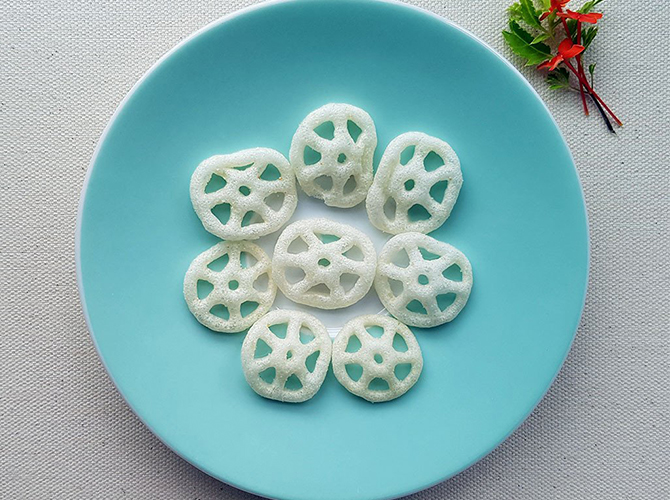 Way before I'd discovered the uppity league of chips i.e. Pringles, Lay's, Kettle and the like, I was pretty hooked on the veritable potato snack that most early '00s kids could relate to—keropok roda aka wheel crackers. The taste of these chips still brings me back to my primary school days where I could devour packs of these savoury morsels without worrying about whether I could eat lunch (or dinner) later. Made of potato and a dash of salty seasoning, the crackers are crispy on the outside and fluffy on the inside. Can I go through said packs right now with the same fervour? Let's just say that I shop these by the bulk (no less than 500 grams) right now.
JOANNA PINTO, special projects editor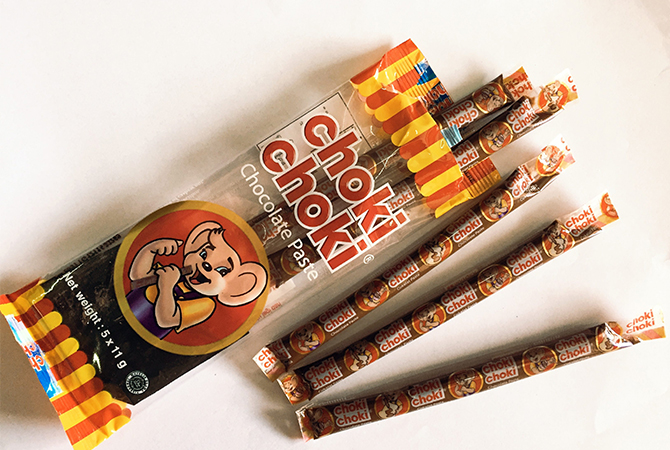 When it comes to sweet snacks, I'm a chocoholic at heart. As a kid, I'd always reach for a stick of Choki Choki—that slim cylinder of chocolatey goodness was all I ever craved. Sometimes, to switch things up, I'd even get creative by squeezing out the chocolate paste on a slice of bread or biscuit to make a creamy Choki Choki sandwich. Come on, don't tell me you've never tried doing that!
RONN TAN, editorial assistant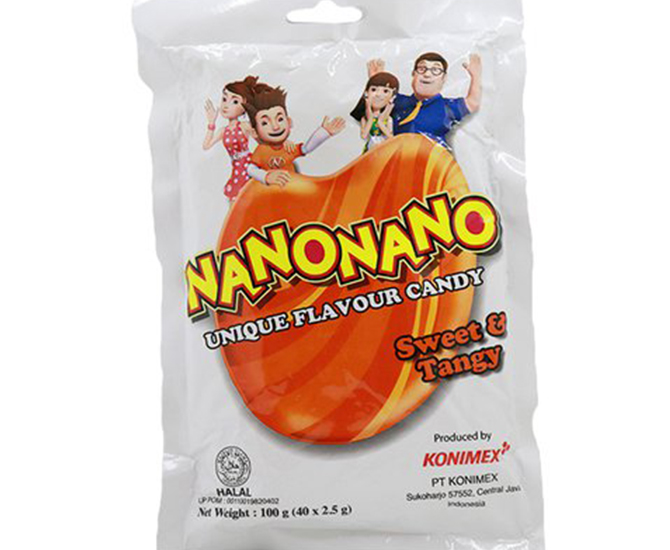 Oh, to be that young again would be a bliss! I'd be snacking on candies and biscuits all day if health isn't an issue. In fact, I did! Growing up, I would run to the nearby convenience store as soon as school ends. Right away. Every day. I went to the shop so often that the tauke knew what to prepare for me upon arrival. Easy come, easy go. While I'd always get different snacks, one I never failed to grab is Nano Nano. It's sweet, it's tangy; but most importantly, extremely delicious! If I have to use one word to describe the candy, it's explosive. Yes, I said it.
CALLEIGH YAP, senior web designer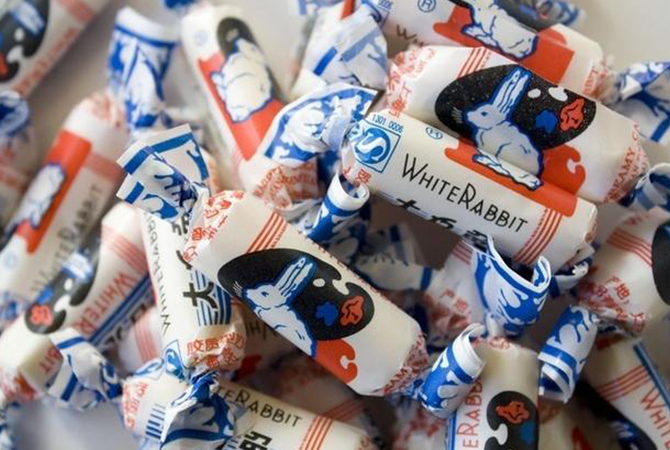 I have so many fond memories of the White Rabbit candy! I remember the first time my aunt gave it to me when I was a kid, I unwrapped the candy and quickly placed the creamy candy into my mouth. My immediate reaction was a smile when I took my first bite! When my aunt told me that the transparent wrapper that came with the candy is also edible, I laughed at her silliness. Guess I'm the silly one because I've been in love the White Rabbit candy ever since!
| | |
| --- | --- |
| SHARE THE STORY | |
| Explore More | |