EQ is KL's most anticipated hotel opening of the year. Formerly known as Equatorial Hotel KL, it has since been stripped down completely, rebuilt and rebranded. But even with a new, shiny look, it's no stranger. One of the features that EQ has kept is its all-day dining restaurant, Nipah. As an excuse to properly check out the hotel in the flesh, we headed over for lunch and though we walked away with a tummy full and satisfied, we also realised Nipah is set to have one of the best buffets in KL.
The experience begins the moment you walk into the vicinity of the restaurant's open space. As much as we love sitting near the buffet spread, the floor-to-ceiling glass windows naturally beckoned us. This generous shower of natural lighting is only one of the many reasons why EQ is certified gold under GBI (Green Building Index). Despite being at the heart of busy Jalan Sultan Ismail, the hustle and bustle of KL life were left at the entrance doors. No trace of it within the hotel itself. Everywhere we looked was a hearty splash of greenery and a warm envelopment of rose gold or copper touches. So, yes, it is indeed a very cosy space and an almost endless array of food is the perfect accompaniment.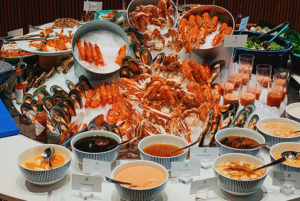 eq hotel buffet nipah
We're told that the main chefs are all top of the top in and outside of KL. One of them is even a Michelin-starred chef at his restaurant in Vietnam. At Nipah, the variety may not be as large as most hotels in KL but the quality and freshness of every dish make up for it a whole lot. The seafood station is evidence enough. The prawns, yabbies and flower crabs are huge and gleam invitingly under the light. The oysters remain whole, waiting for a guest to pick them, at which a designated staff will shuck them immediately. Sharing the station is the salad and cold cuts bar, all freshly laid out; but what stood out were the Vietnamese spring rolls with the skin looking so dewy and plump with its contents.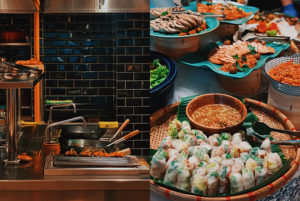 eq hotel buffet nipah
The word "fresh" might be overused in this entire review but it's really the best word to describe it. Unlike traditional hotel buffets, both satay and pizzas are made on the spot upon customers' request. The satay was beautifully charred and every bite of the juicy, caramelised meat was like fuelling an addiction. The pizza, on the other hand, can be both whimsical and classic. There's no set menu—just tell the chef what kind of ingredients you like and he'll whip it up and put it straight into the pizza over. There's no need to hang around and wait for either of these dishes either as the staff will deliver them to you once it's ready.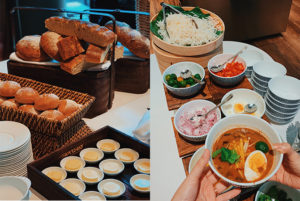 Nipah's lunch buffet is a balanced mix of Malaysian meets West. The other highlights are the Hainanese chicken rice and assam laksa. The latter has the chef boiling the soup for at least three hours each day, and you can tell from the first spoonful. Fish all broken up into smaller pieces as a result of simmering over the fire for a long period of time; broth slightly thick in texture but rich and intense in flavour. We were easily satisfied by the Malaysian offerings but if you prefer Western dishes, they served a roast chicken and grilled salmon. The latter had such delicate, crispy skin! Oh, there's also soup but the winner is definitely the entire selection of bread—a crispy crust, a fluffy centre and beautiful salted butter to go with.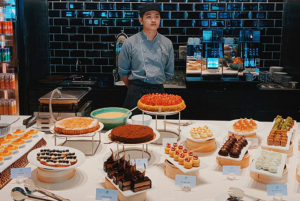 The perfect finale lies in Nipah's dessert table. Every platter looks gorgeous and there's even a waffle station (not the best waffles we've ever had but we hear they'll eventually have ice cream to go with). The pastry chef from London too is clearly skilled with his hands. Eclairs shine with a generous topcoat of chocolate. No millimetre of the cheesecake was left without a strawberry (and that cheesecake was incredibly dense and rich). Even the most humble-looking dessert on that table, which was bubur barli in a pot, was good. In fact, that bubur barli instantly became a personal favourite. With a medium-to-thick consistency, it wasn't just the flavour of barley—it was also coconut milk and candied winter melon. If you're feeling too full, this is perfect.
There's a lot more that we can talk about but it's more fun for you to check it out and taste them all for yourself. In conjunction with Nipah's opening, the lunch buffet is currently priced at RM68 nett, for both weekdays and weekends, till the end of April 2019.
For more info, visit EQ's website or call them at 03 2789 7777.
| | |
| --- | --- |
| SHARE THE STORY | |
| Explore More | |