Put your hands up if you love food! Alright, you can put them down now. Welcome to Eats-A-Review—a new monthly food review column from Buro Malaysia. The premise is simple. We review cafes and restaurants without a formal invitation. Food is life and one way to really capture the essence of an establishment is during an unplanned setting. Every month, we will decide on three spots to indulge in.
In the January edition of Eats-A-Review: I checked out Slow Coffee (SS2), Roti & Kopi House (Damansara Uptown), and Jann (Chinatown). Mystery foodies, unite!
1. Slow Coffee @ SS2
This new cafe was previously featured on our #BuroEats roundup as one of the new places to check out in Kuala Lumpur. I decided to give them a go and it was my first time at The Hub in SS2. Side note: we need more places like this; similar to The Commons in Bangkok or The Café Apartment in Ho Chi Minh. Slow Coffee's menu isn't extensive but definitely adequate. From breakfast food to fluffy desserts, there is no doubt that they aim to keep patrons satisfied (and maybe, returning to try new dishes).
Confit Chicken at Slow Coffee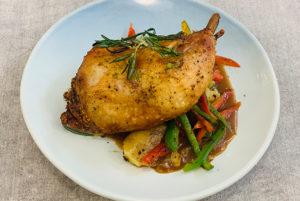 The first dish I tried was the Confit Chicken. Legs for days! Yes, chicken leg with potatoes and grilled peppers. Slow Coffee completes the dish with Lyonnaise demi sauce. In my opinion, chicken is one of the best (if not, incredibly underrated) ways to gauge a person's or restaurant's prowess in cooking.
When the Confit Chicken dish was placed on the table, I was perplexed—not because the meat didn't look appetising, but because it was served on a puzzling small plate. It would have been a lot more helpful if the plate was bigger, especially for a dish that requires slicing. But that's where the negativity ends.
One whiff is all it takes, to fall in love with me. The chicken leg was singing Dua Lipa's One Kiss. At least in my head, it was. The aroma from the spices and herbs bounced off the golden brown chicken skin; almost like a way of welcoming you into its world. As I took my time slicing, I noticed that it was tender and fragrant. From the palatable crisp of the skin to the ambrosial texture of the flesh, it was a thoroughly enjoyable meal—accompanied with smashed potatoes and grilled peppers help make it a really filling affair. I wasn't really fond of the Lyonnaise sauce, however. The chicken, while adequately salted and delicious on its own, would have benefitted from a more intense sauce to elevate the dish. All in all, it's a really good attempt and one I'd definitely have again.
Fuwa Fuwa pancakes at Slow Coffee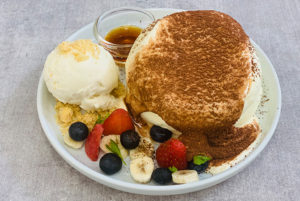 Done with the main course and off to the next one—dessert! You don't go to Slow Coffee and not indulge in fuwa fuwa (Japanese soufflé pancakes). I had the option between vanilla or pu'er; I went with the former. Take note that there is a waiting time of around 20 minutes—but it's absolutely worth the wait.
First impressions matter and the impeccable presentation was what caught my eye. Delicate fruit bits and vanilla ice-cream (plus crumbs) accompany the main attraction. Drenched in cream are the fluffy and jiggly pancakes. Unlike breakfast pancakes, fuwa fuwa pancakes are thicker and sweeter. The soufflé was perfectly airy; the portion might be a tad too much for one person but if you're up for the challenge, you should definitely get the pancakes. Tens, tens, tens across the board.
Iced Flat White at Slow Coffee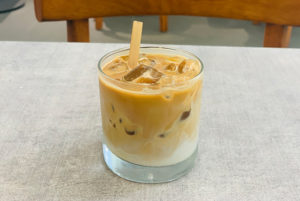 Slow Coffee opened in December 2019. While there are aspects that require improvement, they are definitely on the right track—food was satisfactory and the minimally beautiful zen-like setting is perfect to indulge a meal in. Other dishes on the menu include Mushroom and Omelette, Slow Benedict (with pulled BBQ chicken), and Jerked Barramundi among others.
---
Address: B-G-03, The Hub SS2, Petaling Jaya
Contact: 03 7931 9690
---
2. Roti & Kopi House @ Damansara Uptown
Despite its name, this cafe isn't just another spot that serves bread and coffee—and you will notice as soon as you step foot into the establishment. At the entrance, a beautiful wall is adorned with the name of the cafe, colourful plants, as well as a mural of a tiger (to represent Malaysia). It's perfect for the 'Gram! Roti & Kopi House aims to serve locally-inspired concoctions alongside the exquisitely-designed space. You'll be greeted with an impressive interior the moment you walk in—from the high ceilings to the utilisation of wood elements.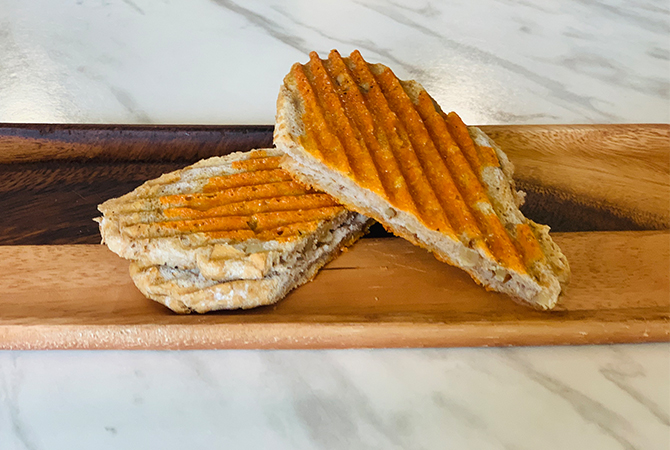 I began with the Roti Tiger. It's basically wholemeal toast—panini-like—with cheese. You can also opt for the Roti Tiger with cheese, roasted almond, butter, and kaya or the one with chocolate and peanut butter (I decided on the most stripped down version.) As much of a carb-phobic I am, I was really excited to indulge in the Roti Tiger.
While the toasted wholemeal bread erred on the chewier side, I would have preferred for the cheese to be more flavourful—slap on a little more cheese and I'd be really happy. After all, if anyone's making toast with just one spread, said spread has to dominate. Was it a mistake going for this instead of those with additional toppings? Probably, but it did help me gauge my next move.
One thing on the menu that really caught my attention was the Nasi Lemak Toast i.e. wholemeal Hainan bread with sambal chicken chop, fried egg, cucumber, ikan bilis, roasted peanut, and fried sweet potato (on the side). While the trend of nasi lemak-ing is fortunately slowing down, I'm glad that Roti & Kopi House has one that should be a mainstay on the menu.
It is basically everything you know and love about Malaysia's national dish, except that it's sandwiched between two slices of bread (sans the nasi). I know many prefer sambal to be overbearingly spicy but I much prefer milder versions—like Roti & Kopi House's. It's slightly sweeter than the usual but is a necessary catalyst—the sambal did take things up a notch.
The chicken was juicy and mellow while the anchovies and peanuts added dimension. The only downside is that things can get really messy but hey, that's the fun part!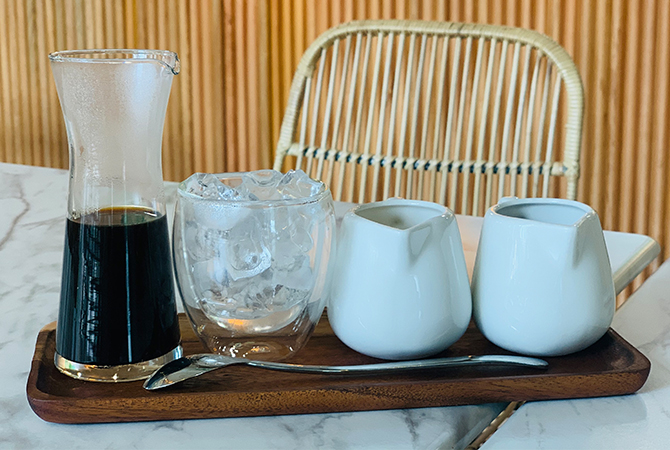 It has been barely a month since Roti & Kopi House's opening. Damansara Uptown is an area filled with notable eateries (plenty of competition), but Roti & Kopi House's concept will certainly hold the fort. I will be returning for more, especially for Kopi Harimau (made with dark-roasted Johor Liberica beans). The menu includes local goodies such as dim sum, kuih-muih, and pisang goreng, as well as rice and noodle options.
---
Address: Level 1, Tower C, Damansara Utama (Uptown), Petaling Jaya
---
3. Jann, Chinatown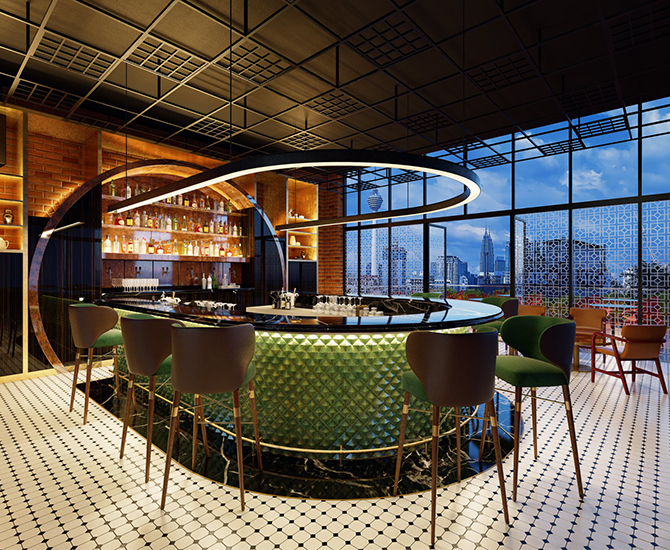 We've featured Jann in our #BuroEats roundup as well and here's why. One of the newest additions to the bar scene in Kuala Lumpur, Jann is located in Chinatown's Four Points by Sheraton. The new hotel's strategic location has had a colourful and impressive history. So it was only natural that head bartender Lawson See uses ingredients that are available in the area for his cocktails—including tau foo fah and bak kwa.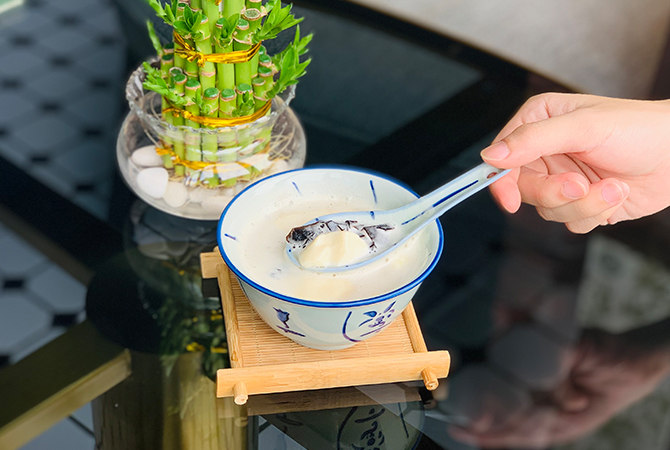 I went with the first option on the Concoction of Chinatown list—Tau Foo Fah. Jann uses traditional Chinese tofu dessert from Petaling Street for this drink, served with Plantation Original dark rum as well as palm sugar pandan. If you're looking for something unique without being over-the-top, this is it.
The tau foo fah is silky, smooth, and light (as expected from one of the most popular stalls in the city).  With palm sugar and strong notes of butterscotch, the addition of pandan was a smart move to help sweeten the cocktail without overwhelming it. The intensified taste profile of Tau Foo Fah also came from the sweetness and woody flavour of rum. Fun fact: rum in Spanish is ron. Well, I am definitely not rum-ming away from another serving of Tau Foo Fah with alcohol!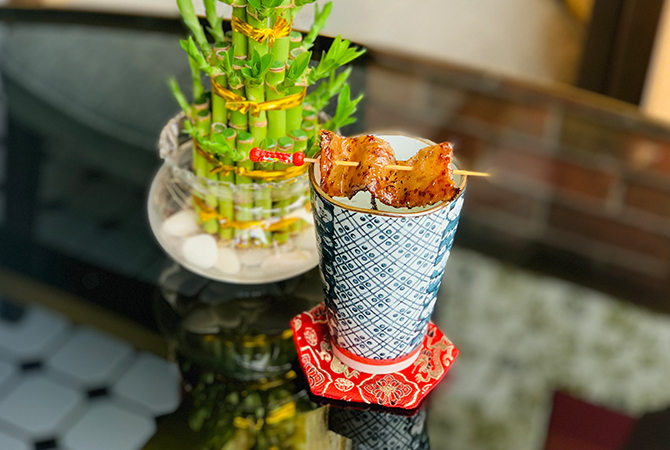 Next up, I tried Bak Kwa—also from the Concoction of Chinatown list of cocktails. At first glance, the presentation comes off as rather simple—a slice of meat balanced above the drink via a canape skewer. But the taste was anything but. The cocktail consists of Absolut, Grand Marnier, lemon, and Lapsang tea foam. The dried meat, that Jann uses, comes from Jalan Hang Lekir's Oloiya—which also serves as the inspiration for the cocktail.
The cocktail is rather refreshing and would be perfect for a really hot day. I enjoyed the surprising mildness but would not mind an amplified version with stronger alcohol profile. The slice of bak kwa itself is tender but didn't really complement the cocktail in any way (in terms of flavours) apart from serving its role as the solid counterpart to the liquid courage. You also get hints of acidity and bitterness.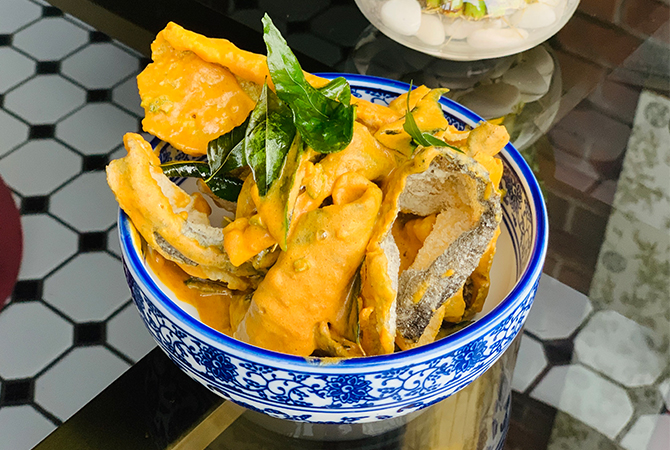 In addition to drinks, Jann also serves really delicious snacks. The Salted Egg Fish Skin is a must-have. I'd even go as far to say that the goodie alone is reason to head to Jann. The bowl of pure delight comes filled with large, crispy chunks of fish skin that are drenched in well-prepared salted egg dressing—a generous portion for sharing.
Other snacks on the menu include Peking Duck Spring Rolls, Flaky Smoked Salmon Bergedil, and Corn Chips. Pair these snacks with Lawson's unique creations such as Rojak (Bacardi Carta Blanca, rojak sauce, Ambra, pineapple, mango, and calamansi) and Kapitan Yap (whisky sour that's sweetened with honey and mixed with egg white).
---
Address: Four Points by Sheraton Kuala Lumpur, Jalan Balai Polis, Chinatown
Contact: 03 2035 7333
---
Have you tried any of these places yet? If you have, share your thoughts with us! Stay tuned for the next edition of Eats-A-Review in February!
| | |
| --- | --- |
| SHARE THE STORY | |
| Explore More | |