Food + Drink
BURO Orders: 10 Must-try dishes at Peaches and Cream
European delights
Images: Eve Lyn Lau for BURO Malaysia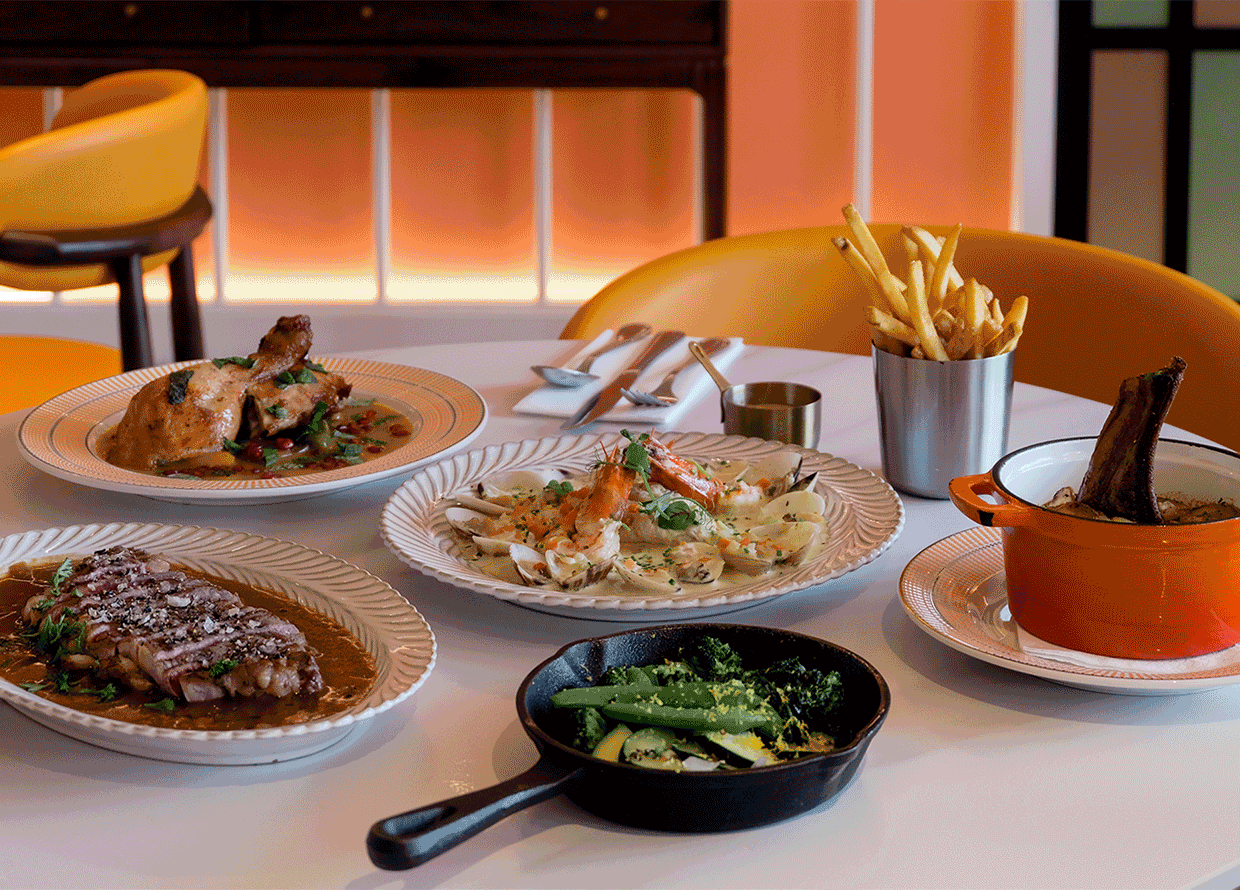 With so many new cafes and restaurants opening in the Klang Valley every month, we're incessantly spoiled for choice with dining options. One particular spot on our radar is Peaches and Cream, which opened last June at The Grange @ Ampwalk on Jalan Ampang. 
The name informs its aesthetically pleasing interiors, featuring peach-coloured walls and murals, modern furnishing and tall, arched windows allowing ample sunlight into the expansive space. Neatly potted greens further liven up the ambience, setting the scene for a charming European-themed all-day dining experience.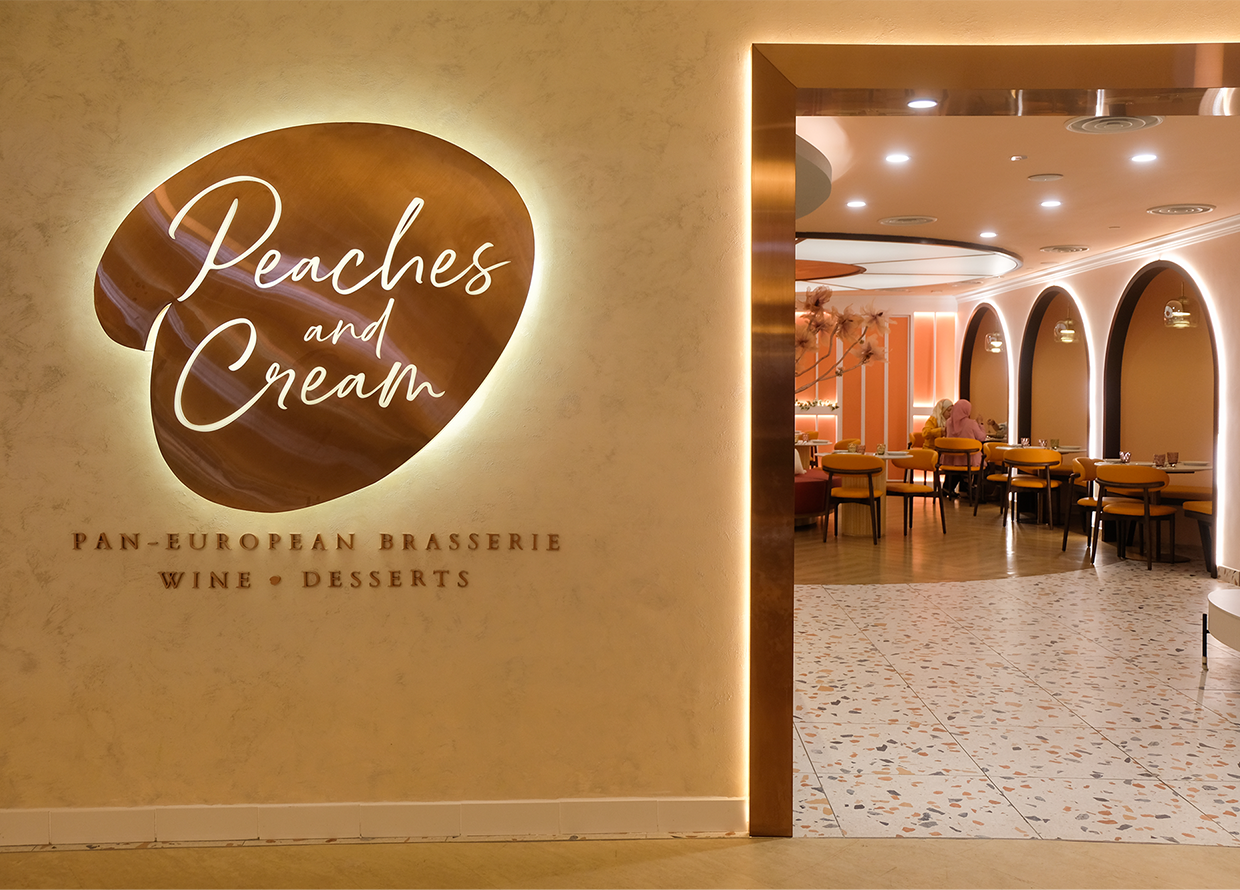 Chef-patron Victor Yap, who honed his skills at Tray Cafe and Fittie Sense in Bangsar, helms the kitchen. He brings with him a decade of culinary experience from his European travels and time spent living in the UK, and a keen eye for premium and local ingredients. Given his expertise, diners can look forward to tasting the flavours of France, Italy, Spain, and the British Isles in Peaches and Cream's contemporary menu—complete with a whimsical dessert trolley serving homemade treats table-side.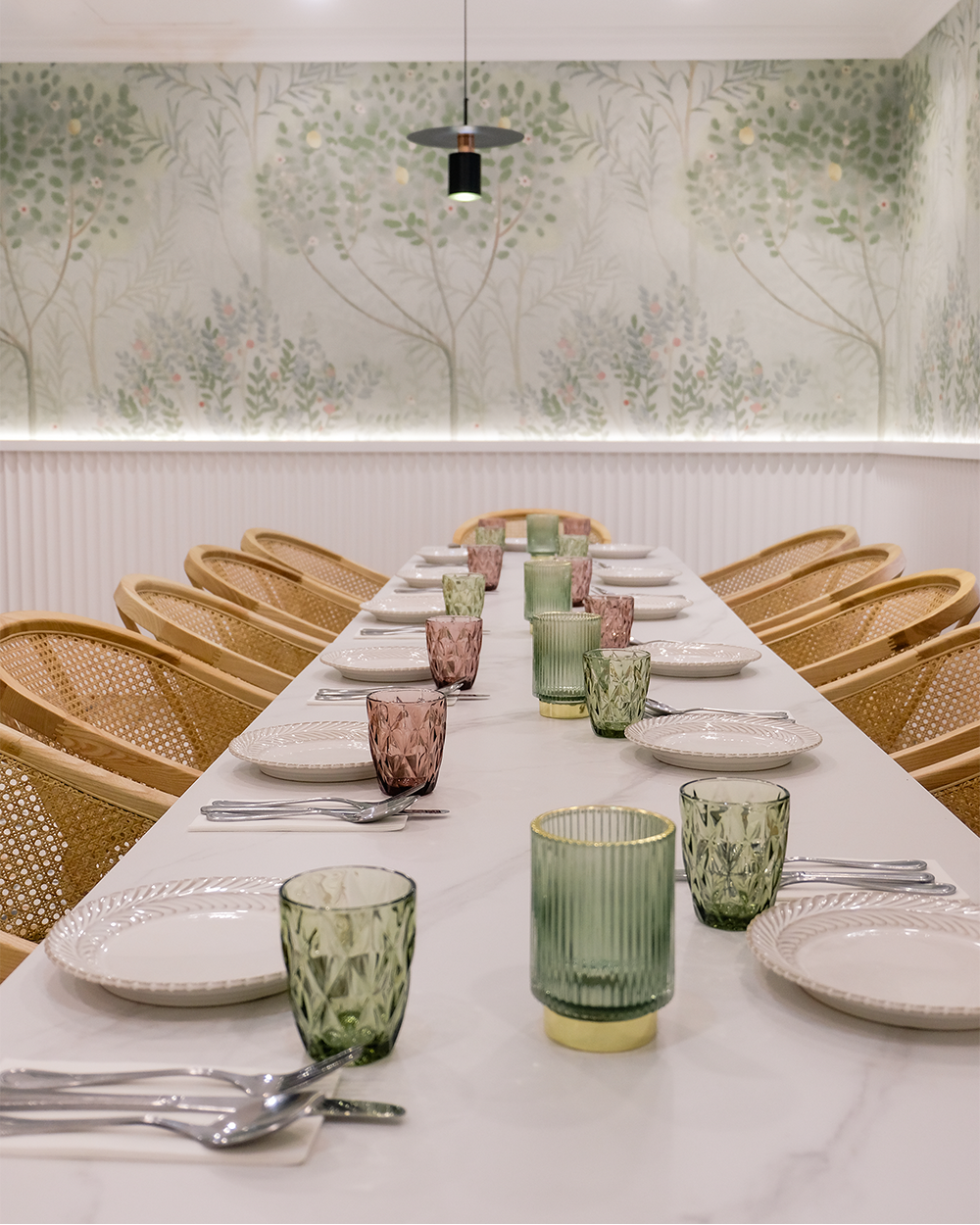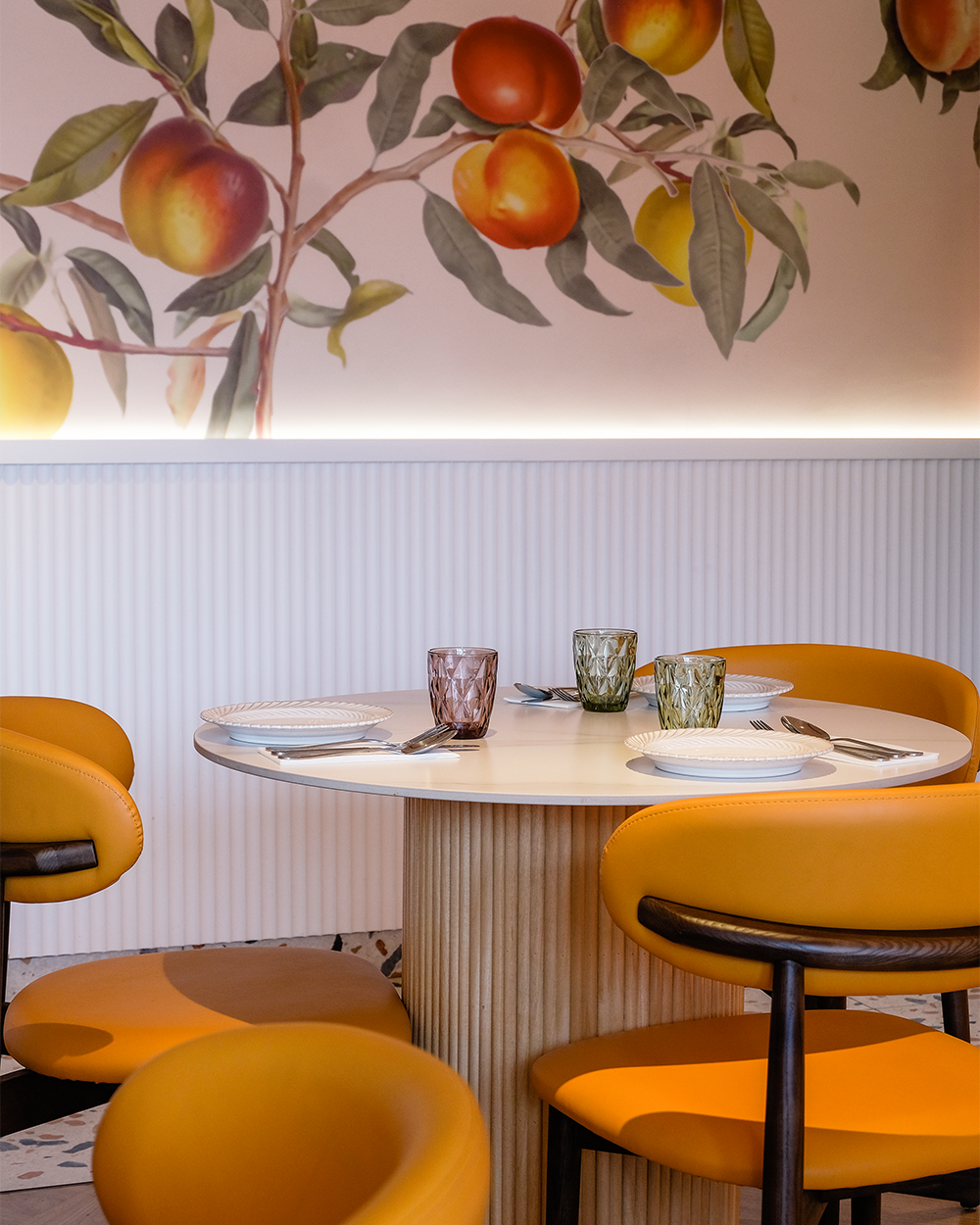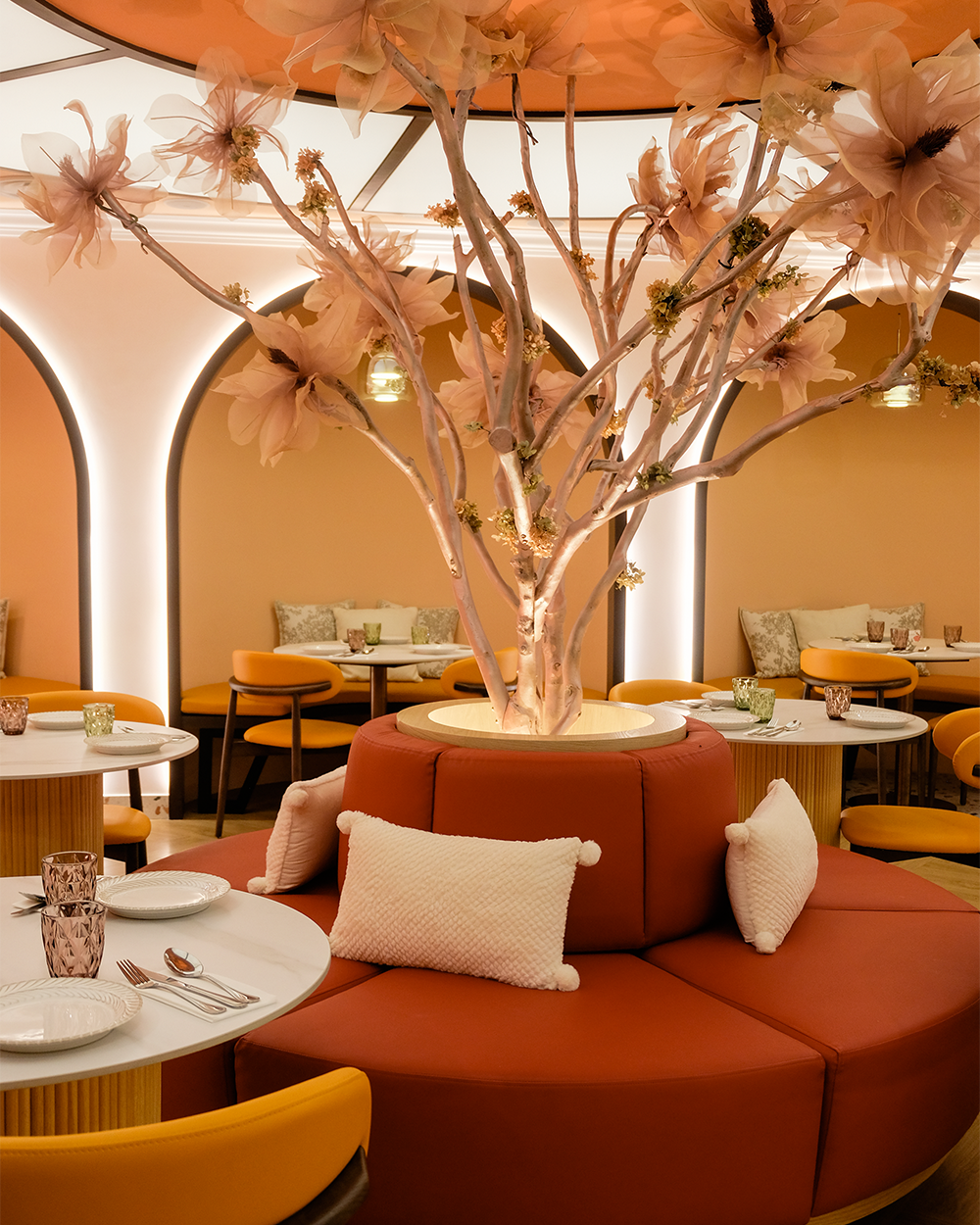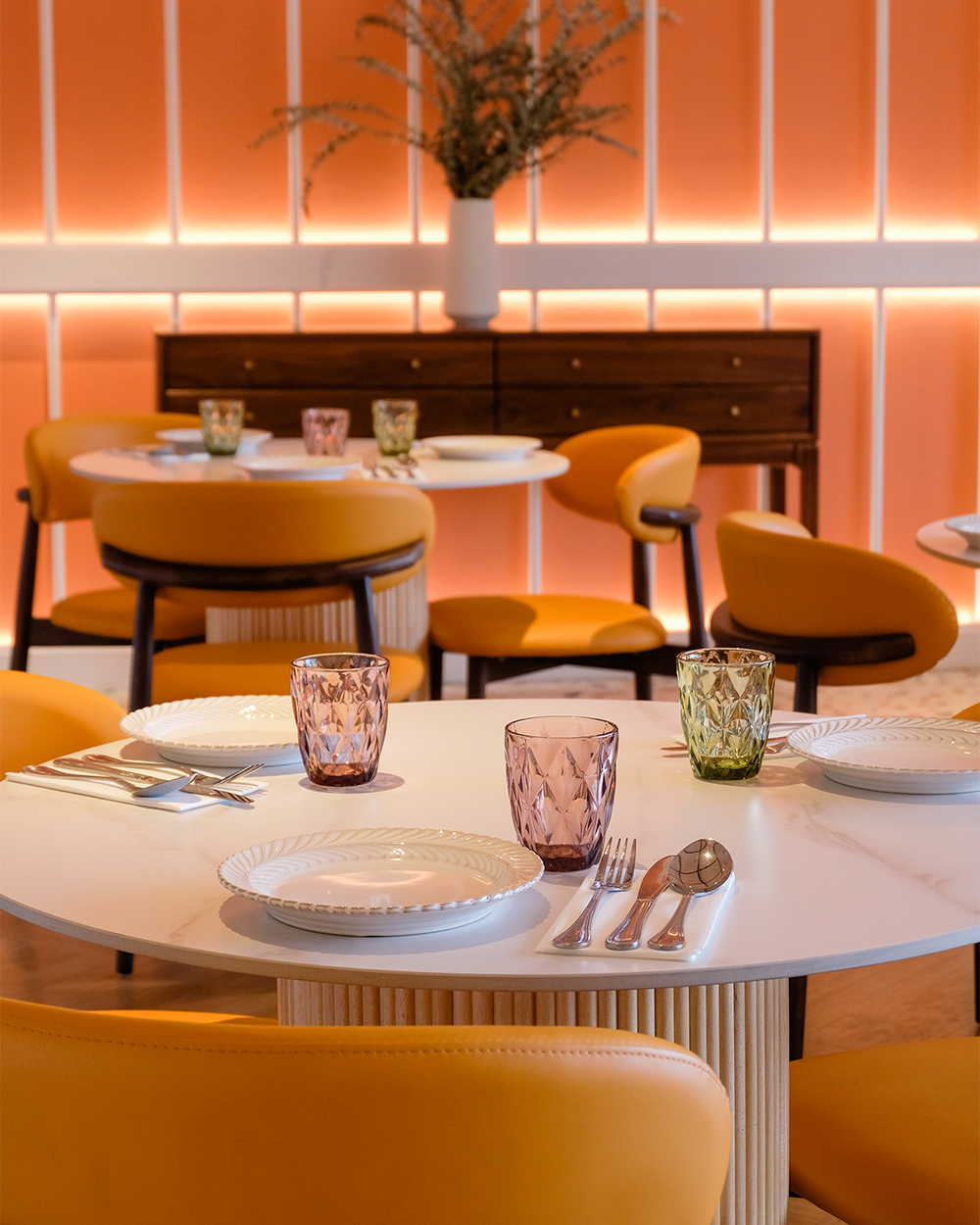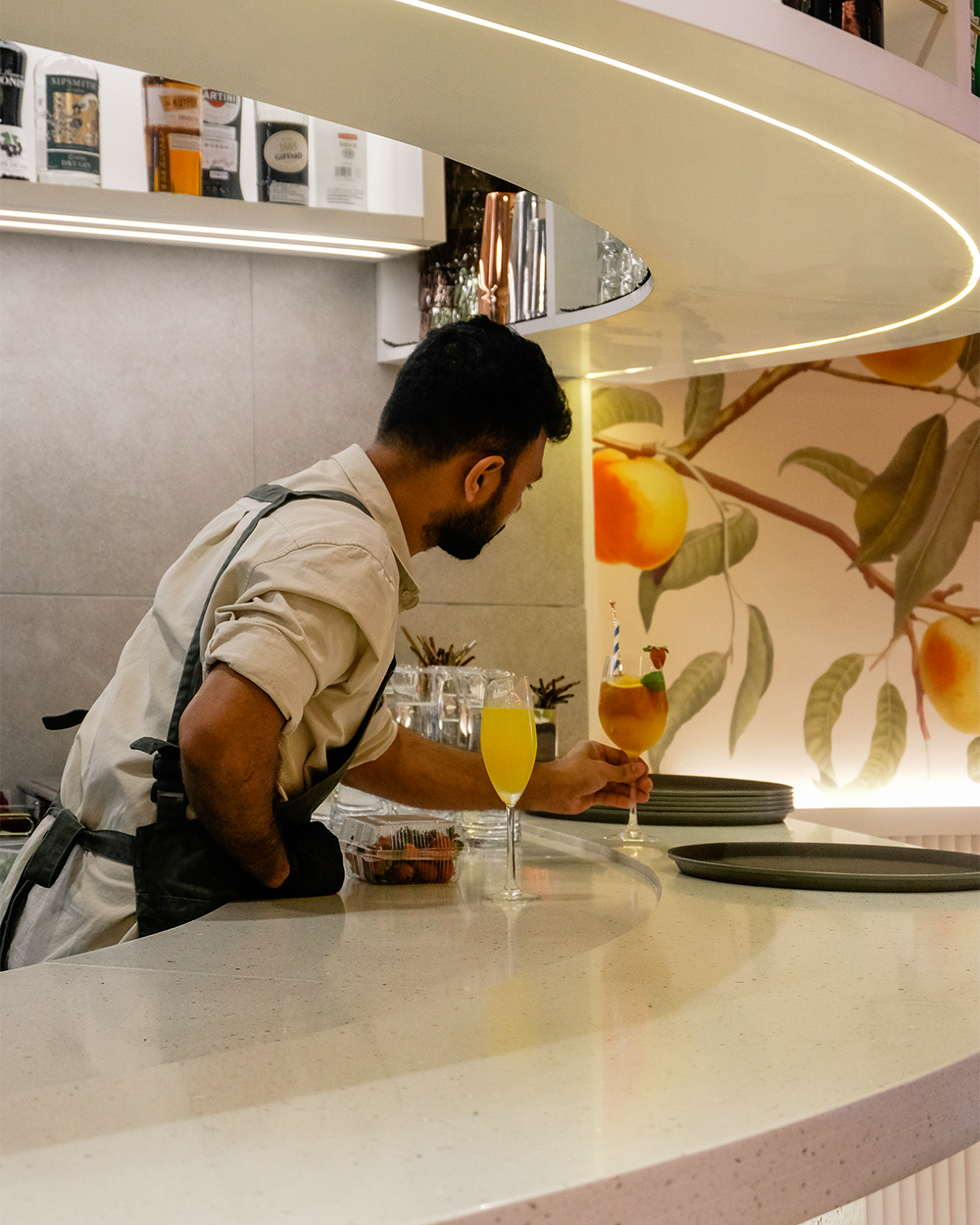 With its extensive Pan-European menu and sharing plates concept, the brasserie is perfect for group gatherings with friends, family or colleagues. There's also two private dining rooms to cater for special occasions and functions. Cue our lunch visit to the lovely brasserie, where seven of us (including one vegetarian) indulged in over a dozen dishes from the menu. Ahead, we've rounded up our favourite dishes from the spread to help you decide what to order.

STARTERS 
Truffle Mushroom & Lentil Fricassee, RM43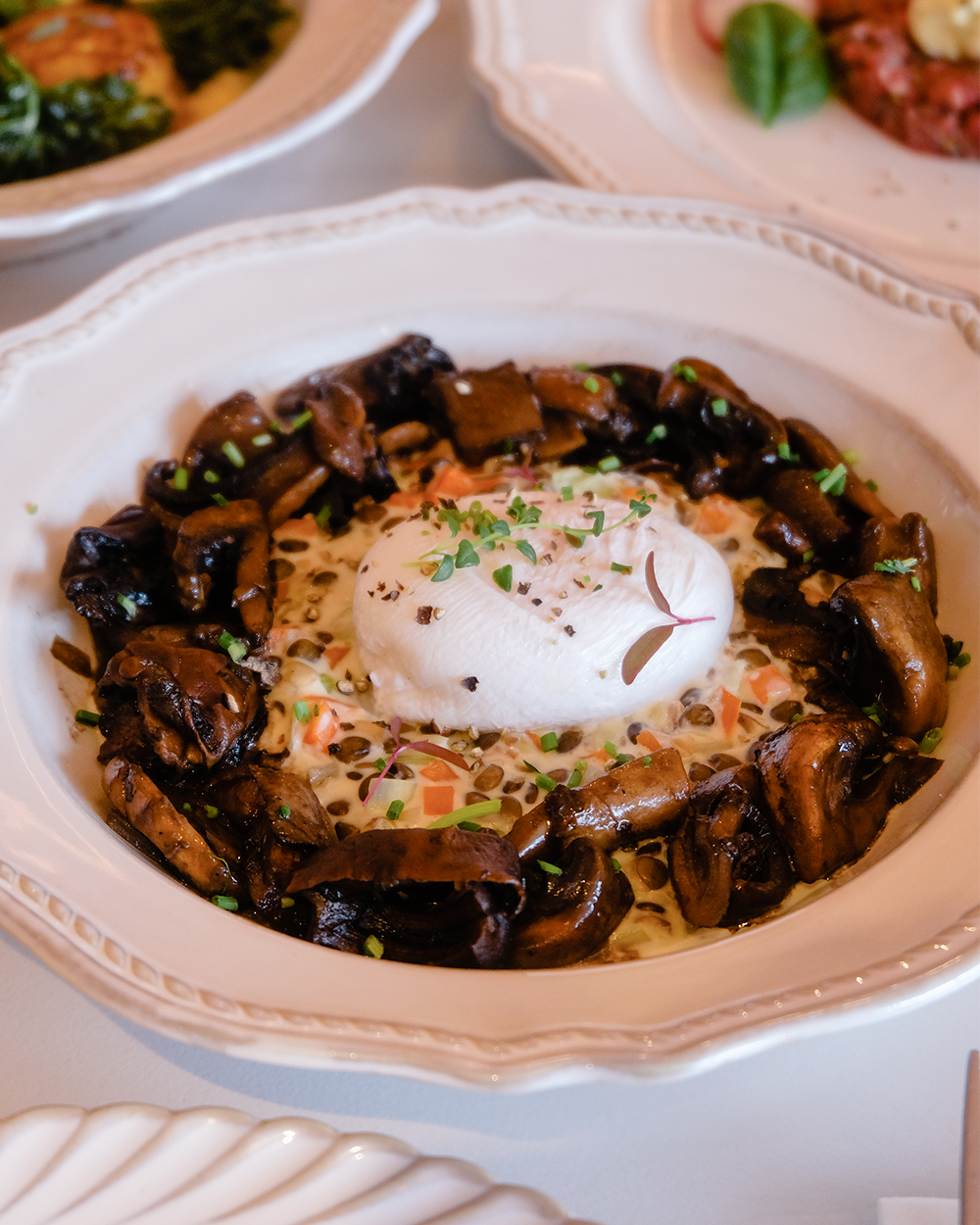 This vegetarian-friendly starter was a hit for all of us—even those who can't live without meat. It offers a creamy and earthy medley of forest mushrooms with truffle cream, Puy lentils, and poached egg. Mix them altogether and you'll have a delicious dish that leaves you craving for more!
Steak 'Tartare', RM59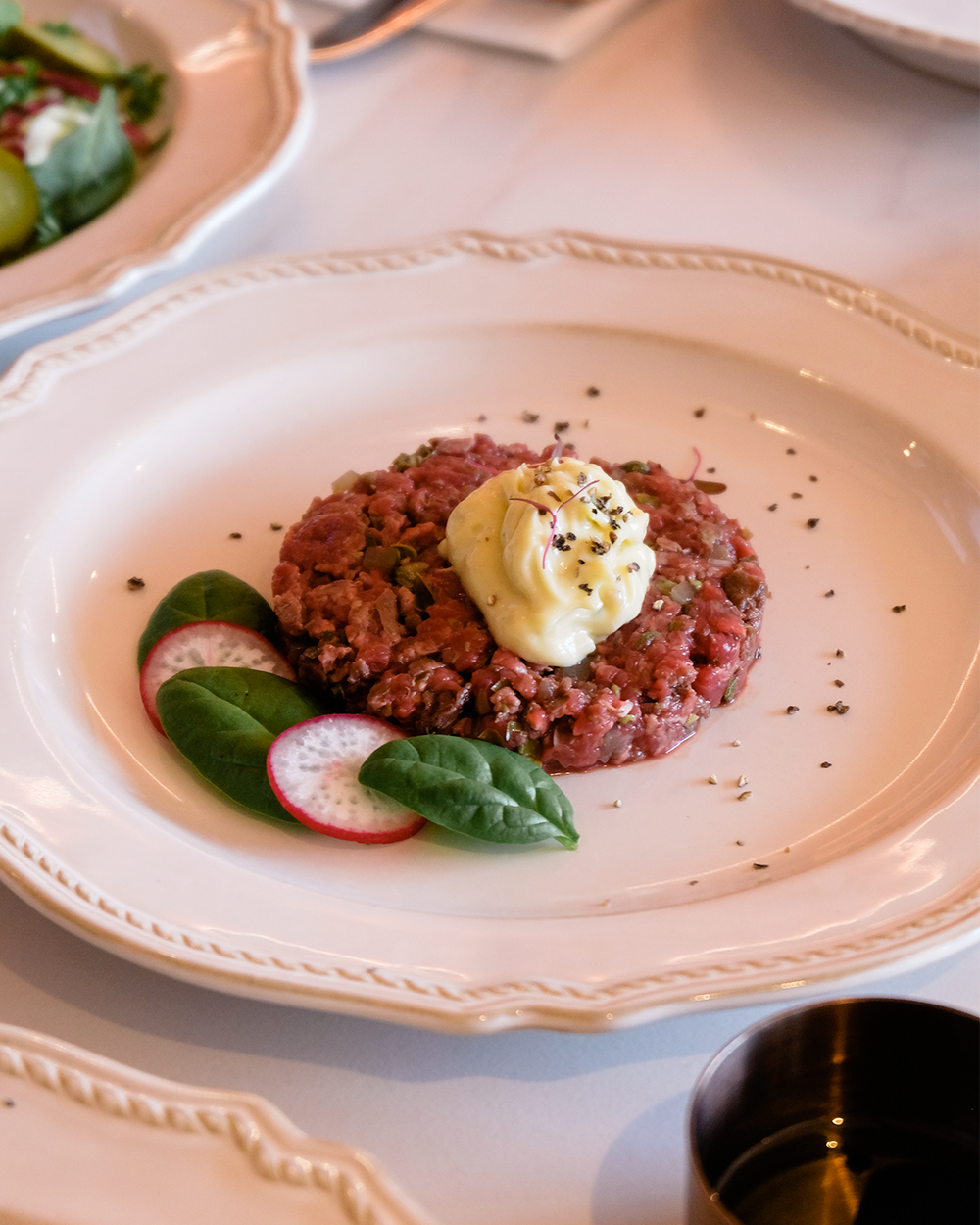 While a classic steak tartare isn't for everyone, Peaches and Cream's version presents a lighter twist for the uninitiated. Instead of serving the beef completely raw, the Black Angus is lightly seared rare for added texture and flavour. It's served with chopped shallots, capers, gherkins, and lemon aïoli in lieu of the usual egg yolk. This cuts through the rich, meaty game with a nice hint of acidity—best enjoyed with the accompanying melba toast. 
Cacio E Pepe, RM48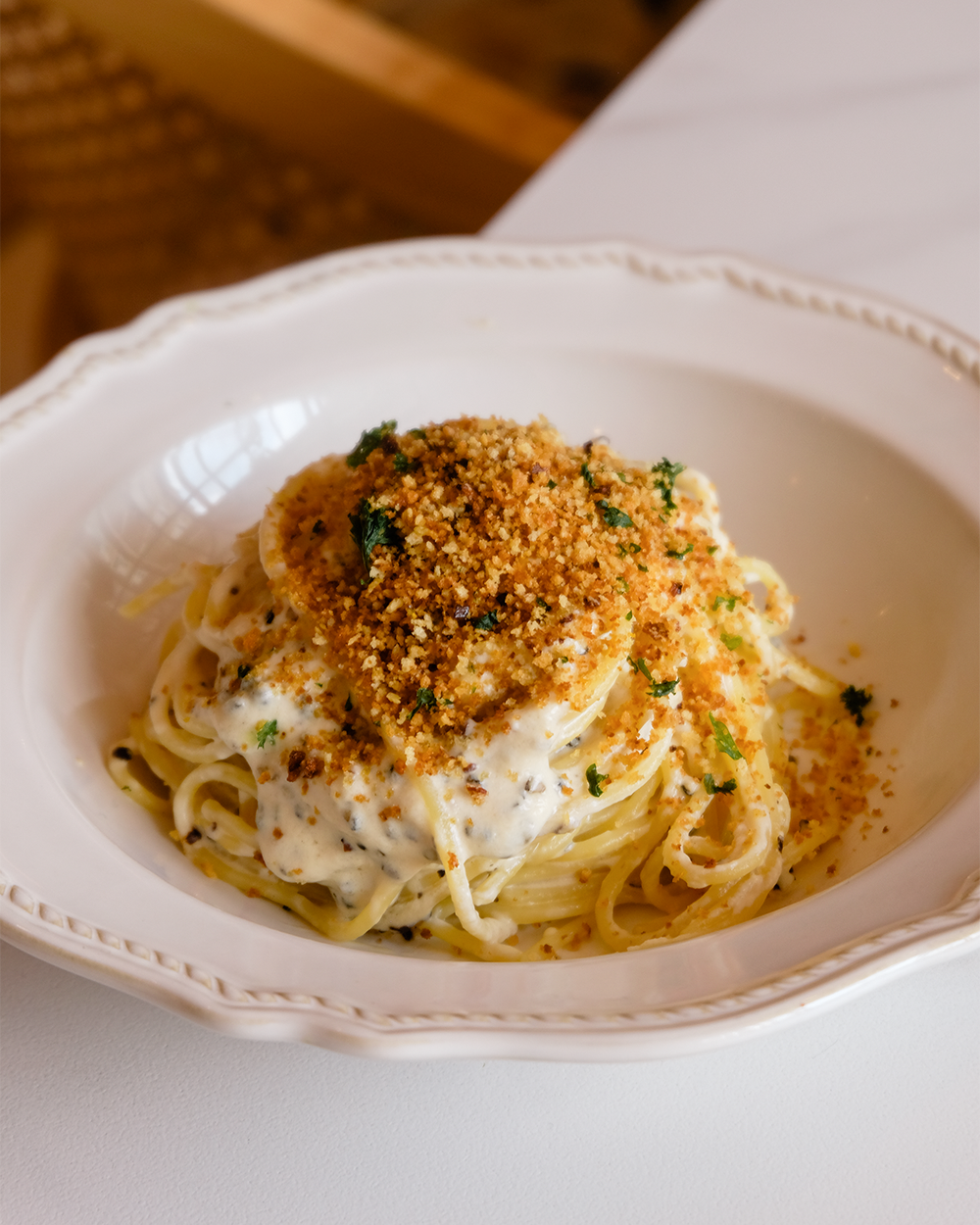 Another vegetarian option that's worth ordering is this Roman-style cheese spaghetti that stays true to the original recipe. It's made with Pecorino, black pepper and orange pangrattato—none of that "localised" cream stuff. The resulting dish is ideal for cheese fans, offering rich, robust and spicy flavours.

MAINS
Peaches and Cream Steak Frites, RM136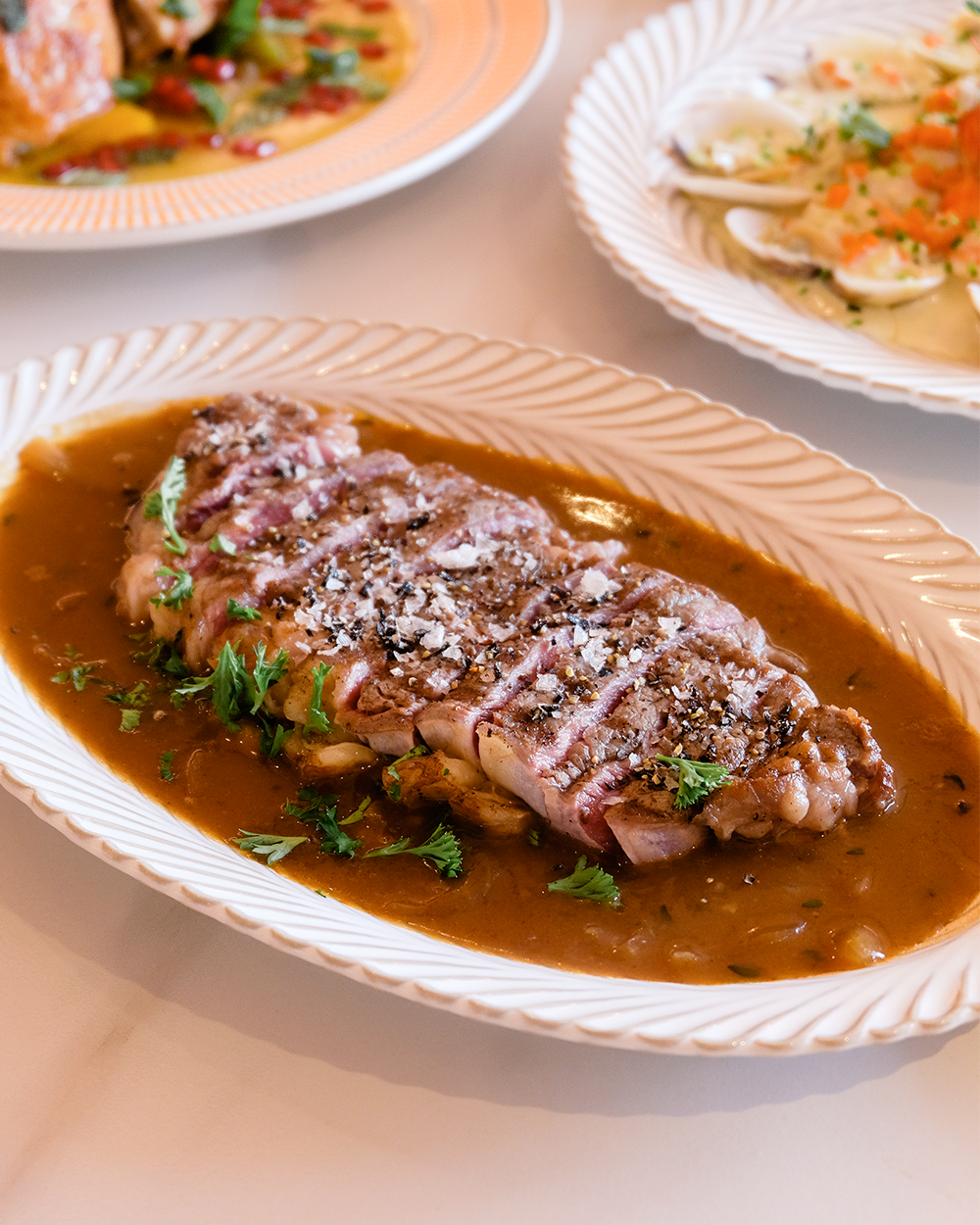 You can't go wrong with steak frites and Peaches and Cream's iteration definitely doesn't disappoint. It comprises a 250g cut of grilled Black Angus sirloin seasoned with seaweed salt and onion pan jus, complemented with béarnaise sauce and crispy skin-on fries. Each slice is as flavourful as the next!
Orange & Mint Chicken Leg, RM48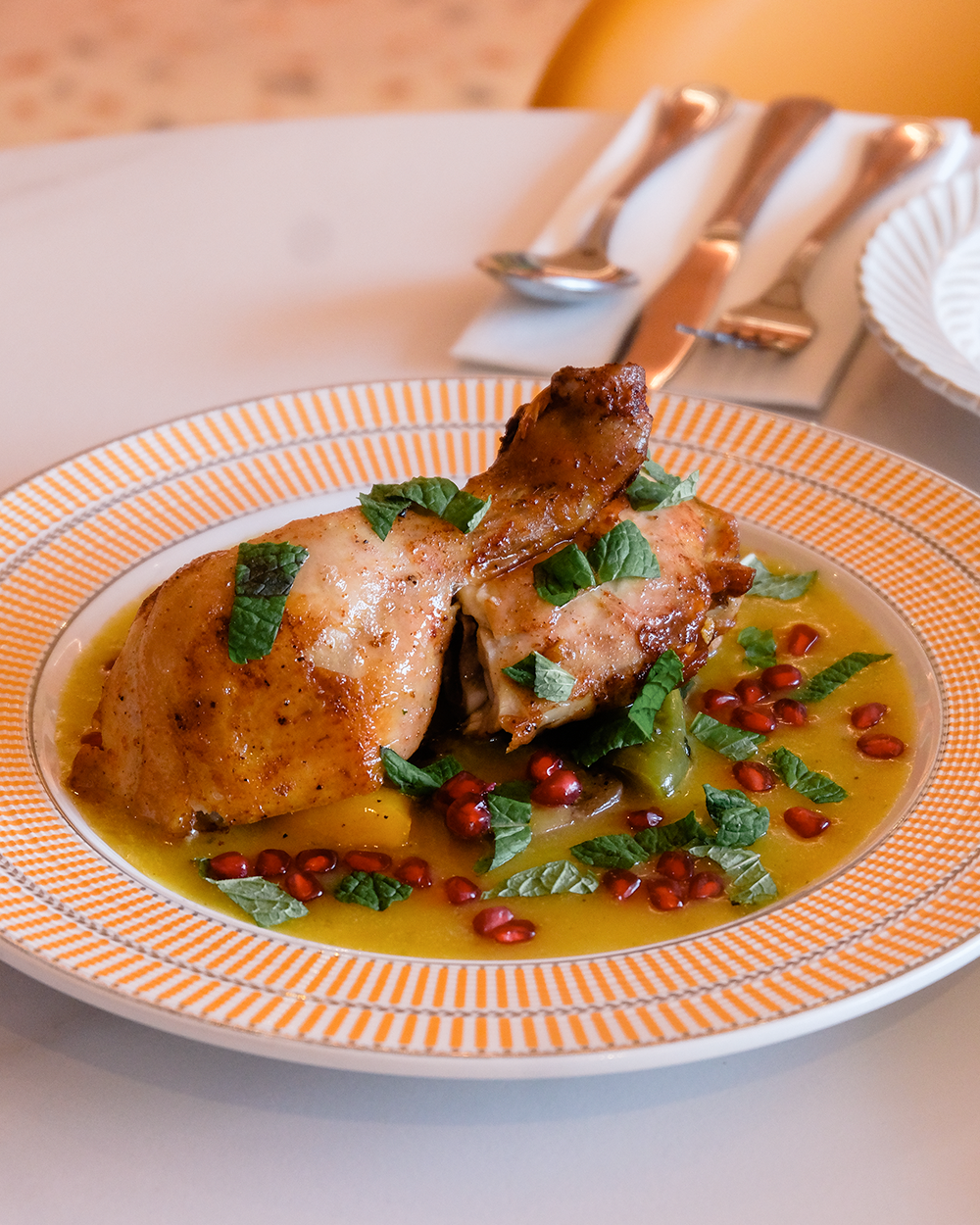 This unassuming dish was a pleasant surprise that evoked the picture of a homey meal during Christmas season. The roast chicken leg is well-cooked and tender, uplifted with a zesty Spanish orange sauce and aromatic mint leaves. We loved the addition of pomegranate, which added sweet and tangy notes for a balanced finish. 
Lancashire Lamb Hotpot, RM65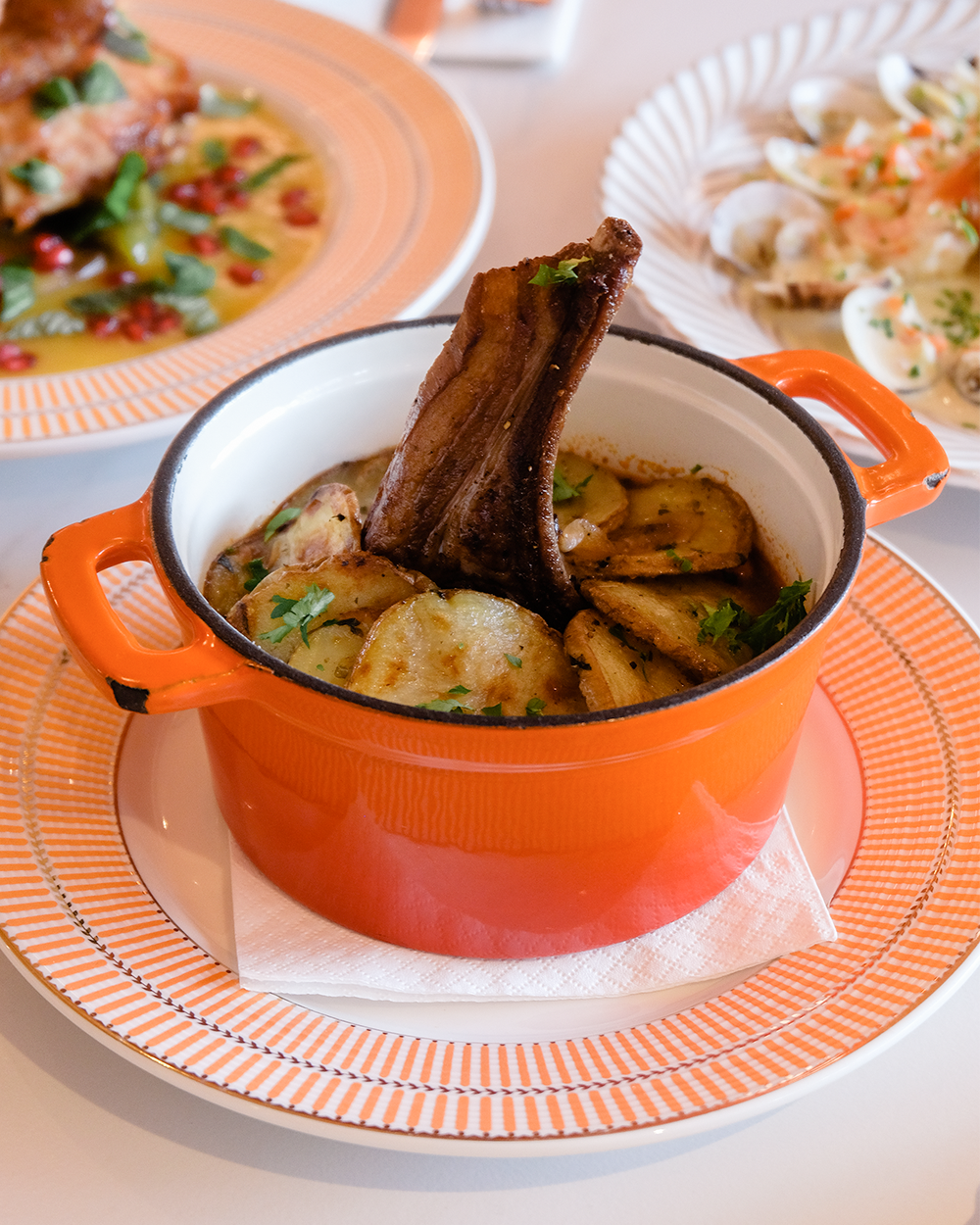 If you appreciate a hearty, comforting stew, try this traditional Lancashire Lamb Hotpot. Consisting of braised lamb and vegetables, lamb chop, and Lyonnaise potatoes, it's a quintessential British comfort food that satisfies the palate as much as it warms the soul. 
Seafood Paella, RM235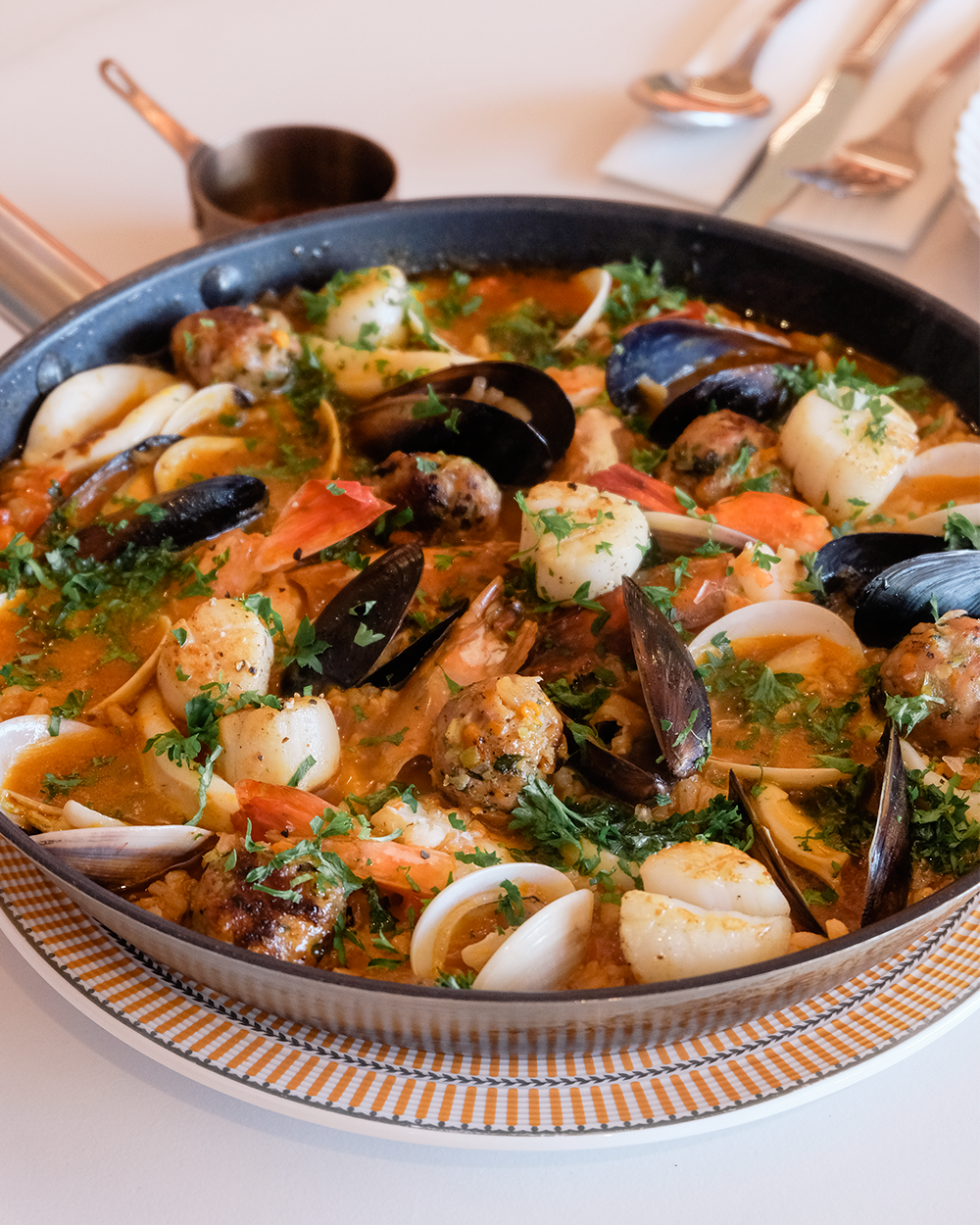 There's nothing like a hot pan of paella to fill up larger appetites in a group. Peaches and Cream's take on the Spanish staple comes with generous servings of prawns, clams, scallops, mussels, squid, and—just in case there's a non-fan of seafood around—homemade chicken sausages. The combination bursts with a fresh taste of the sea, and the rice is cooked to perfection—soft on the outside, hard on the inside with toasty bits. 

DESSERTS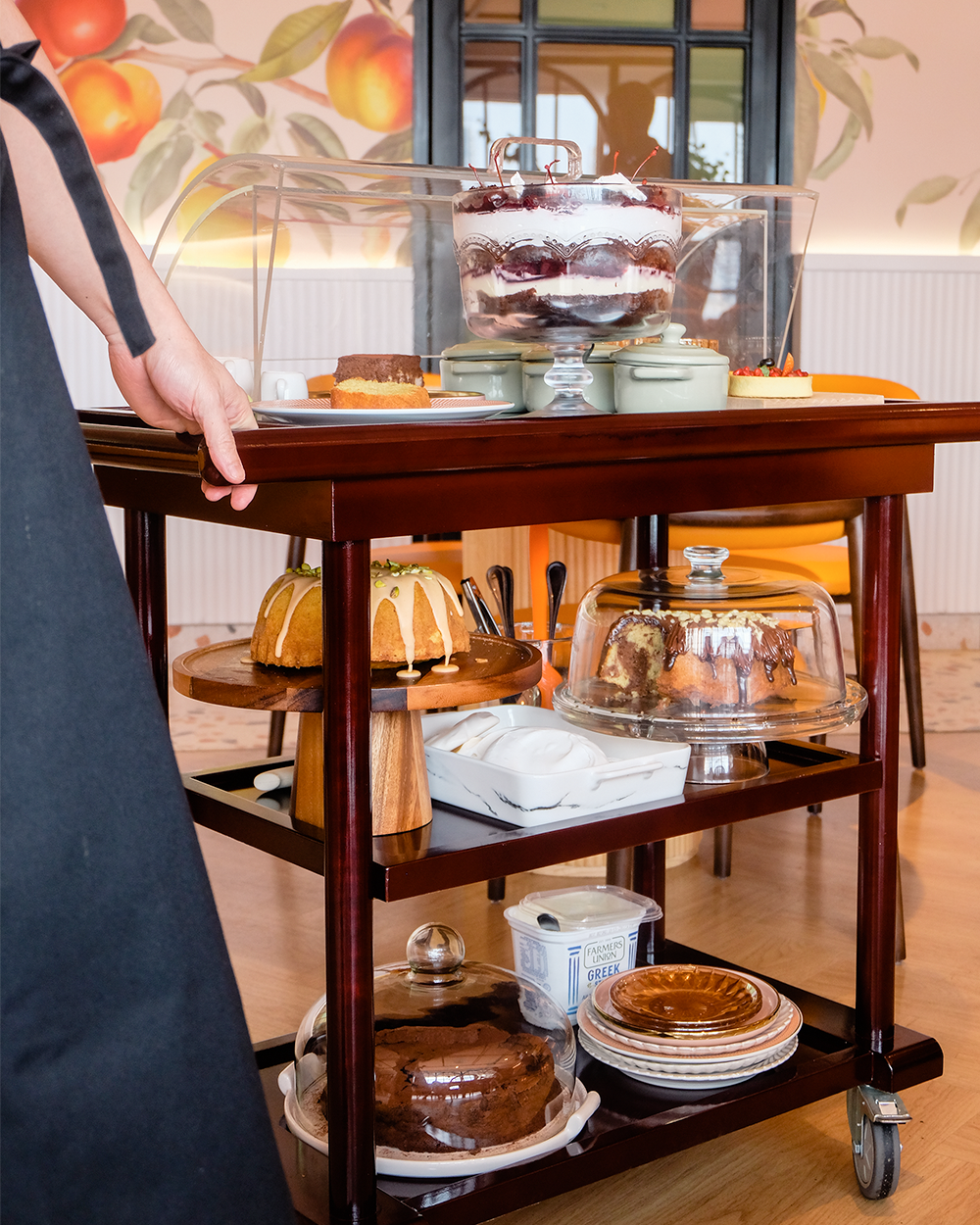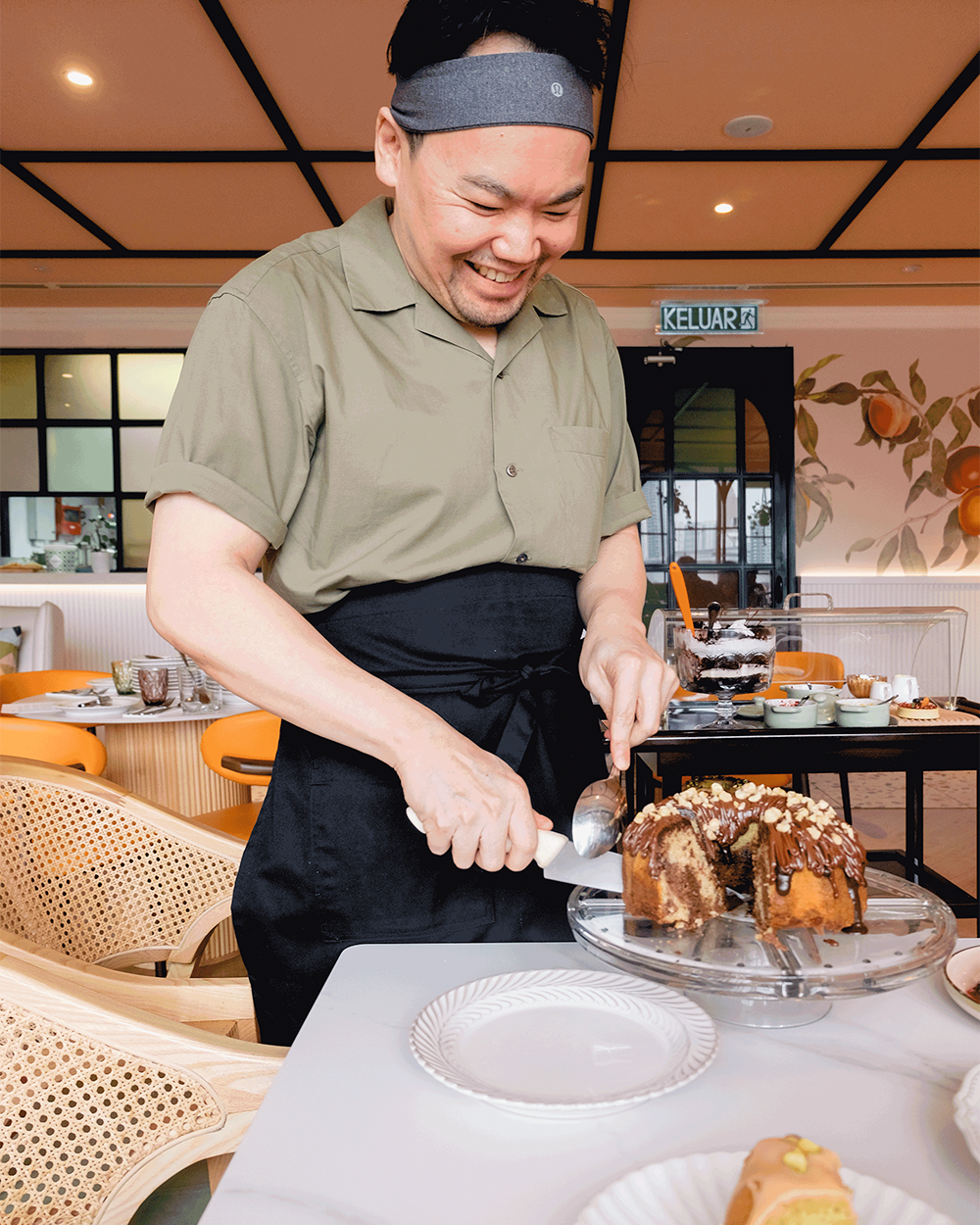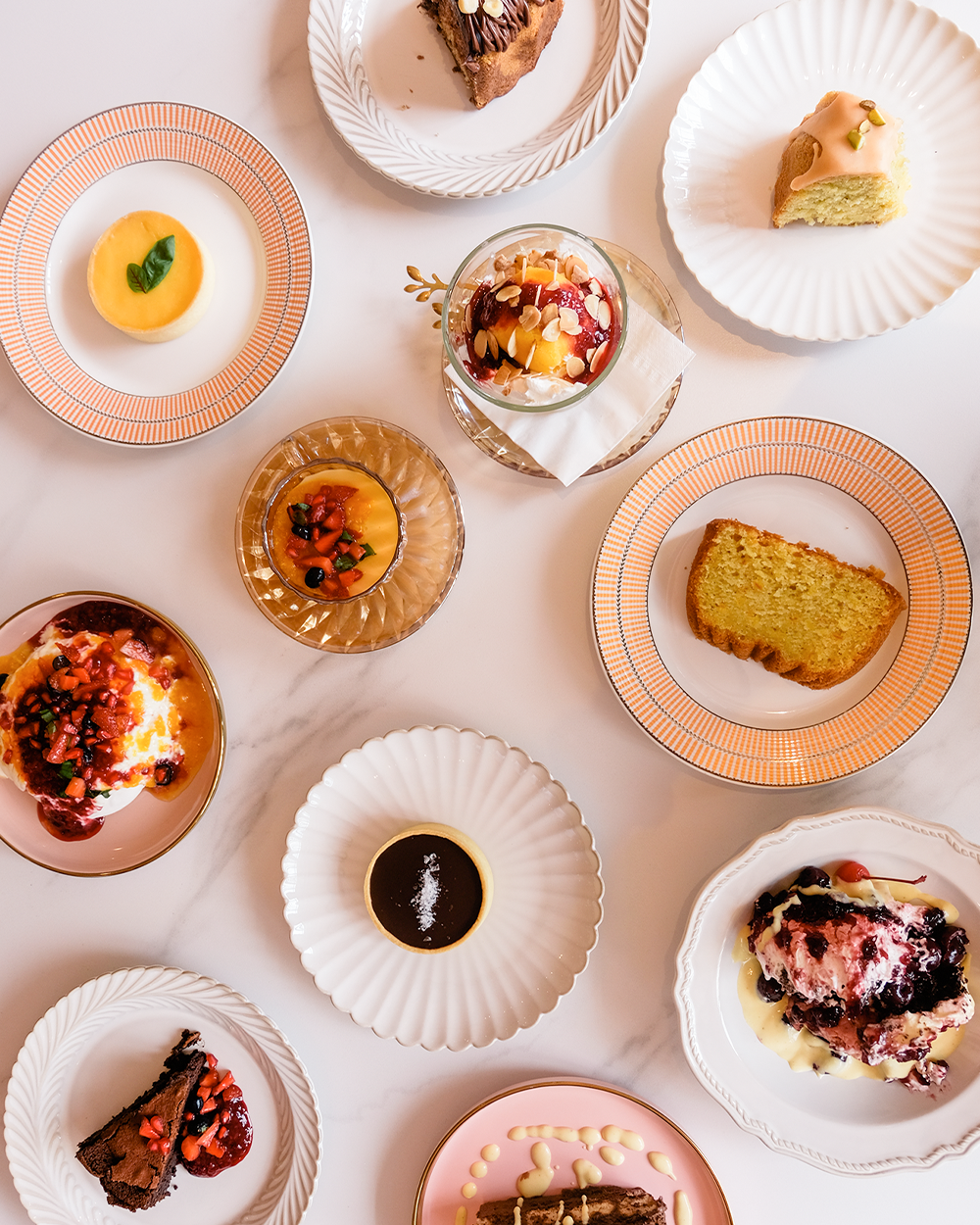 "I only serve what I like to eat," Chef Yap revealed as he rolled out the much talked about dessert trolley. Read: don't expect the run-off-the-mill cheesecakes here. Instead, we were presented with a delectable array of fresh homemade European cakes, bakes, and puddings. Needless to say, the sweet tooths among us were thrilled and couldn't resist ordering almost everything. Of the selection we tried, these proved to have the popular votes: 
Seasonal Trifles, RM24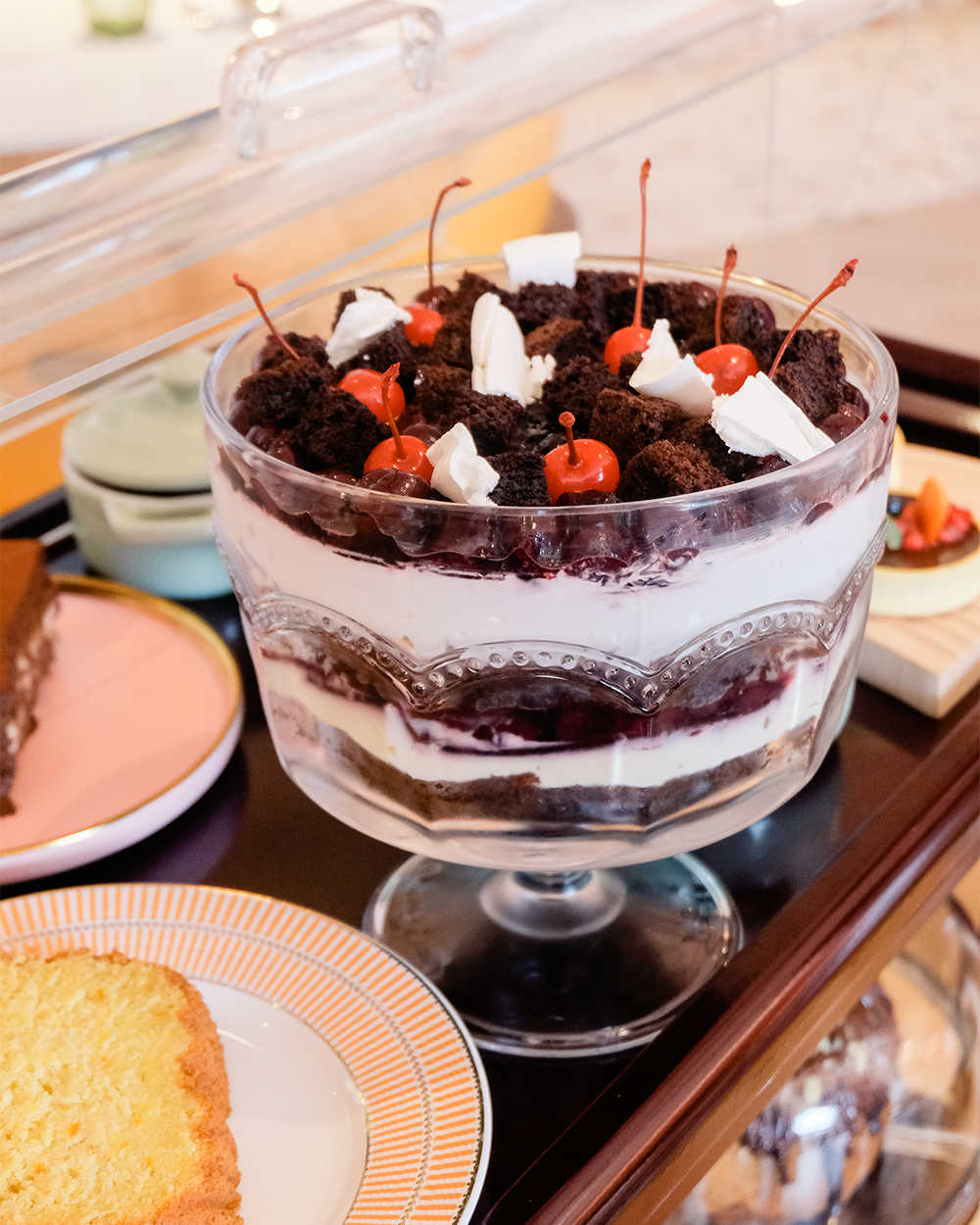 Although a trifle may seem like a heavy dessert to follow a big meal, the combination of fresh fruits, jam and whipped cream turned out just perfect for sharing for a group of our size. Chef Yap switches up the flavours based on the freshest ingredients of the day—in our case, we had a glorious Black Forest-inspired trifle with cherries.
French Meringue, RM19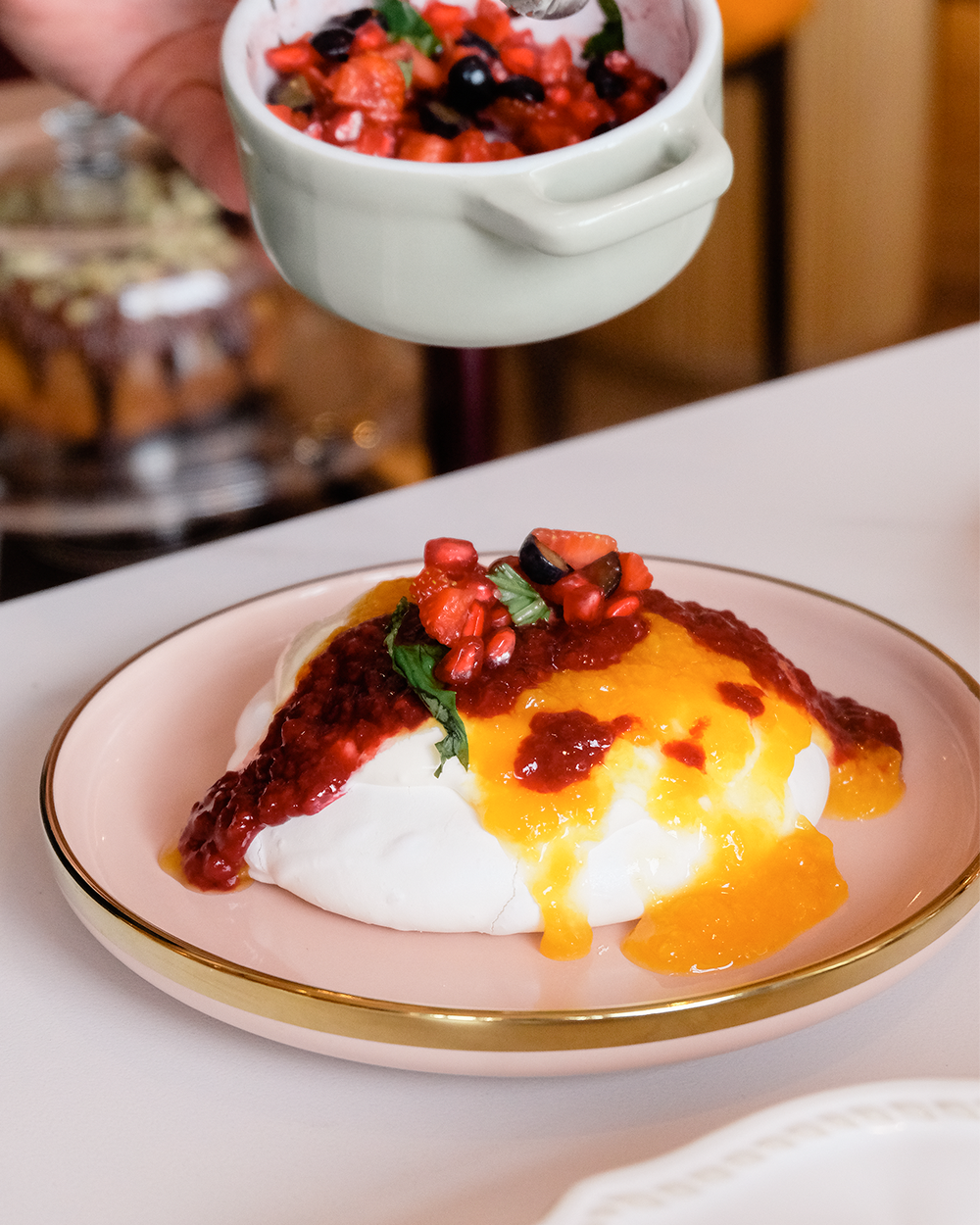 The French Meringue is another classic dessert we'd recommend for its light, airy outer texture and soft, pillowy interior. Served alongside fresh fruits and sauces, it boasts a symphony of colours and flavours that enhance the meringue. Like the trifles, the fruits and accompaniments may vary depending on the season—more reason to come back for another serving!
Knickerbocker Glory, RM28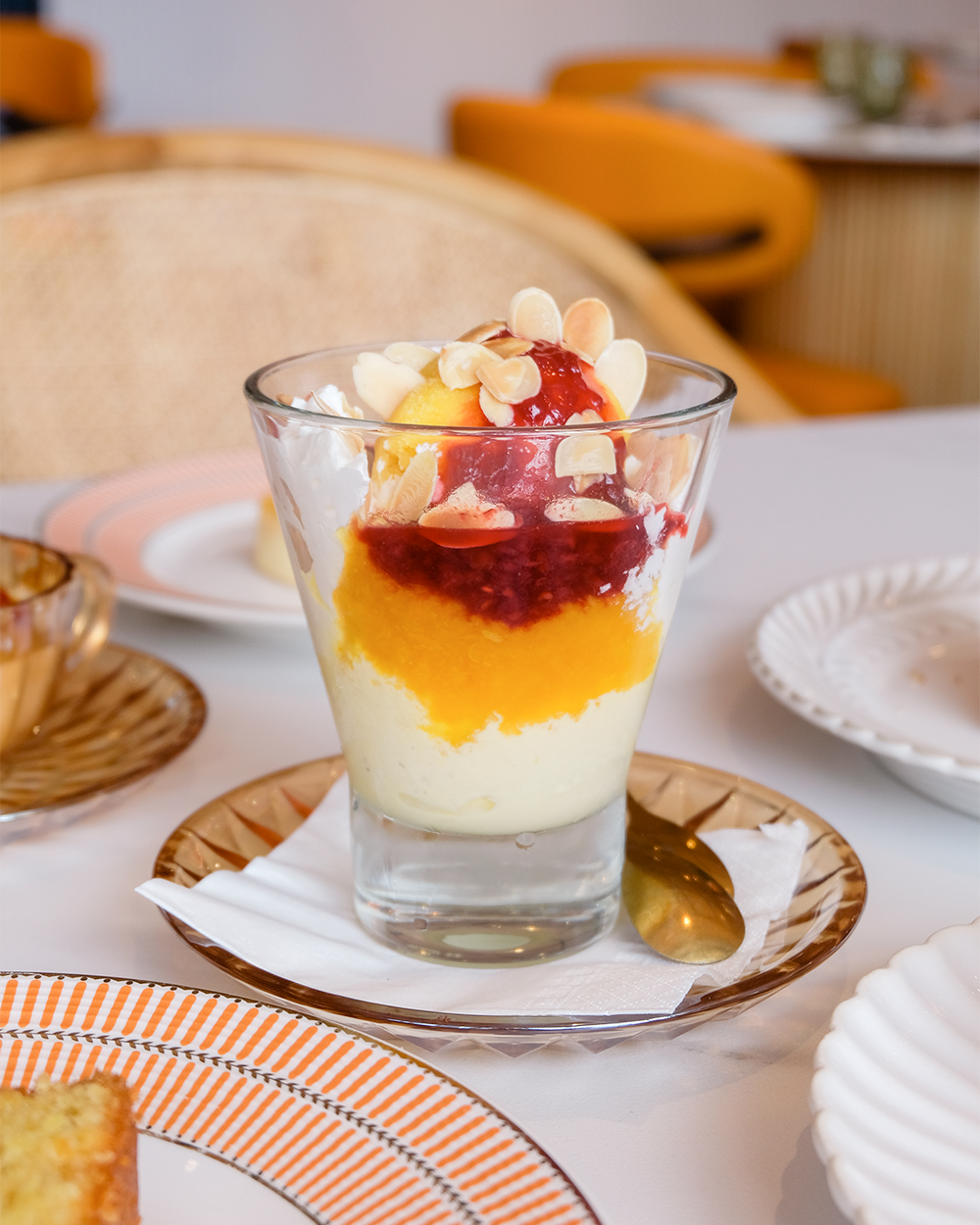 Ice cream lovers should not miss the Knickerbocker Glory (not included in the dessert trolley). This layered sundae comes with vanilla bean ice cream, peach and thyme sorbet, peach jelly, raspberry coulis, créme Chantilly and toasted almonds—promising a decadent treat to end the meal.

DRINKS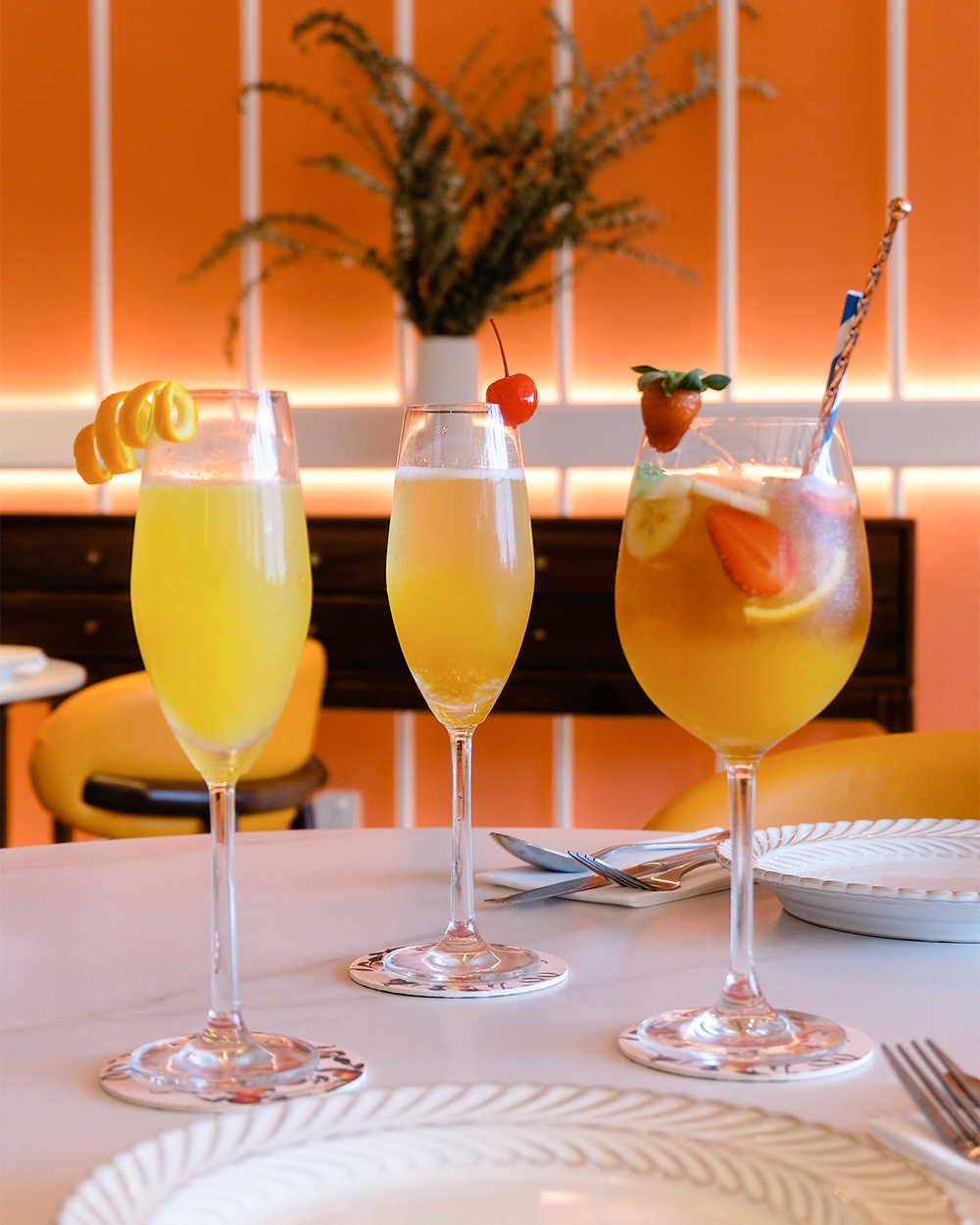 Food aside, the drinks menu at Peaches and Cream is no less worth mentioning. There's a long list of signature and classic cocktails; craft gin and tonics; European beer, cider and spirits; as well as specialty coffee and tea beverages to choose from. Wine aficionados can also sip their way through Europe's best wine regions with Peaches and Cream's Wine Map Menu, featuring hand-selected sparkling, red, white, and rosé wines from some of the continent's greatest vineyards. 
Special mention: Peach Star Martini, RM55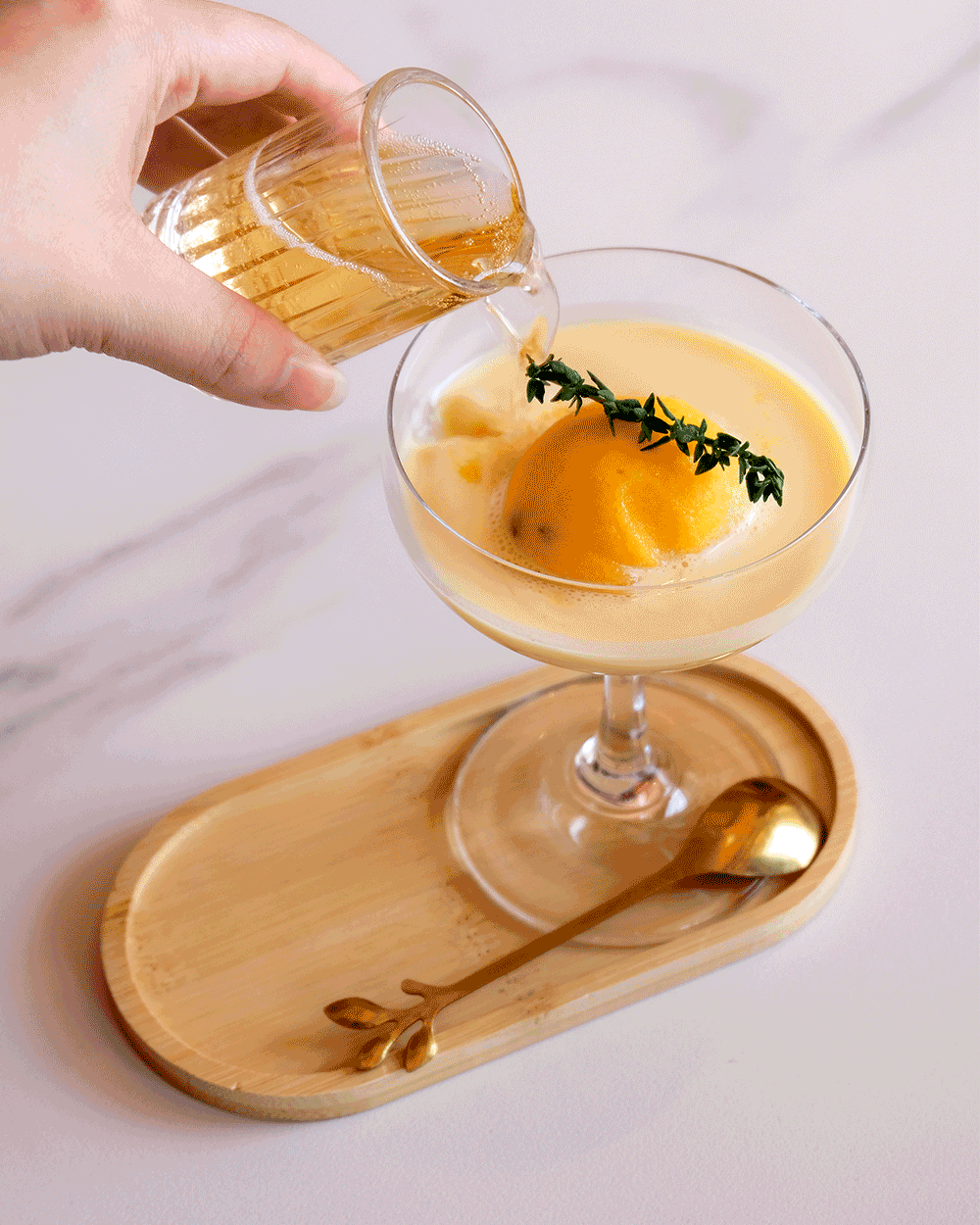 Made with vodka-infused crème Anglaise, peach and thyme sorbet, and peach Prosecco shot, this dessert cocktail packs a boozy punch with vibrant notes that really embody the essence of Peaches and Cream. Lightweights, you have been warned. 
So there you have it—our top dishes and desserts to order at Peaches and Cream. Whichever you pick, you're in for a great meal in a beautiful space that's designed to be relished with good company.
---
PEACHES AND CREAM
Address: Lot L1.08 & L1.09, First Floor, The Grange @ Ampwalk, 218 Jalan Ampang, 50450, Kuala Lumpur
Opening hours: 10am to 10pm daily
Contact: +603 4815 9408
Website | Facebook | Instagram 
Find more food and drink stories here. 
| | |
| --- | --- |
| SHARE THE STORY | |
| Explore More | |