We love our mamak culture—a major part of our appreciation for food in the country. Whether it's roti canai, thosai, chapati, or roti tisu, Malaysians flock to various spots to satisfy our cravings for no-frills meals. Roti tisu is a sweet flatbread that's popular in stalls here. It is thinner compared to the roti canai and coated with sugar. Some variations include toppings with chocolate, jam, and many other options. What's special about this specific dish is its height. Without further do, check out the list below.
1. Original Penang Kayu Nasi Kandar
It's inevitable that this well-known mamak make the list. After all, they are known for producing the longest roti tisu in town. How long? Well, a single portion requires three plates.
Address: 64, Jalan SS2/10, Petaling Jaya
Contact: 03 7877 7745
2. Valentine Roti
Instead of using frozen dough, this joint makes them fresh every day. While food can take a little longer than usual, that just means better quality. Known for their roti canai and Roti Valentine, they also do a rather mean roti tisu.
Address: 1, Jalan Semarak
Opening hours: 5.30pm – 2am (Closed on Sundays)
Contact: 016 976 6095
3. IV Restaurant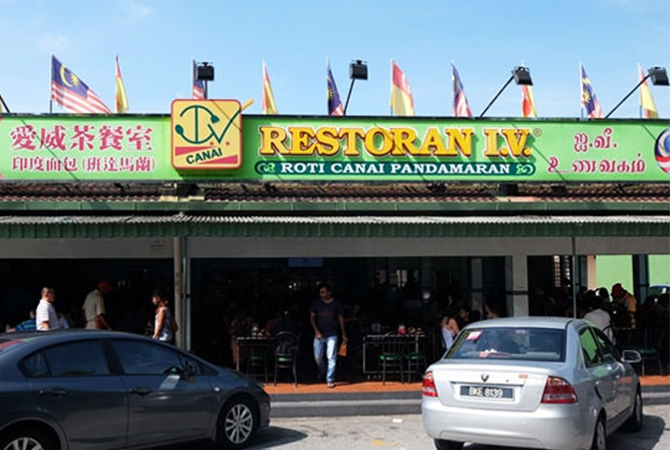 This spot can be packed even during off-peak hours. Yes, it's known for roti canai but many go there for the roti tisu too.
Address: 117, Jalan Pandamaran Jaya 62, Kawasan 10
Opening hours: 5.30am – 5pm daily
Contact: 03 3167 0943
4. Tg's Nasi Kandar
Located at the centre of Bukit Bintang, this is a popular establishment in Kuala Lumpur. The roti tisu here is said to be really spectacular inspite of the restaurant's name. Hence, why not try both the roti tisu and nasi kandar while you're there?
Address: 5, Tengkat Tong Shin, Bukit Bintang
Opening hours: 24 hours
Contact: 011 1055 6435
5. Nasi Kandar Pelita
Wait, another nasi kandar place with good roti tisu? Yes, you're right. Roti tisu is well-recommended by loyal patrons of the restaurant. It's delicately sweet and full of crunch.
Address: 2, Jalan Telawi 5, Bangsar Baru
Opening hours: 24 hours
Contact: 03 2282 5532
Where do you go for the best roti tisu? Vote below!
{insert poll tpl="sub-vote-freesize.tpl" id="58″}
| | |
| --- | --- |
| SHARE THE STORY | |
| Explore More | |