Food + Drink
5 Cocktails to make at home using local Malaysian ingredients—such as 'pandan' and 'gula melaka'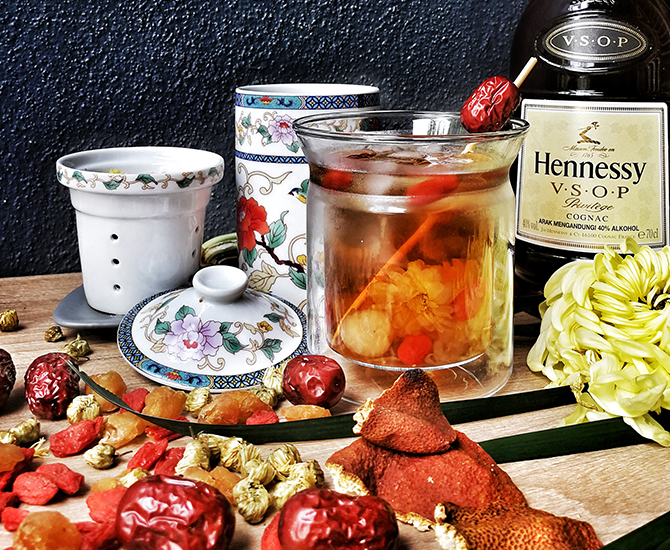 Here's a tipple (or five) for you! What is your favourite cocktail of all time? Some classic drinks include Old Fashioned, Negroni, Martini, Sidecar, Manhattan, and Whiskey Sour. These are cocktails you will be able to get anywhere you go. Of course, different bars have their own signature creations too. While you're waiting patiently for the global health crisis to end (and maybe for your beloved bars to re-open), why not try making your own concoctions at home? This time, put your skills to the test by utilising local everyday favourites—as seen from the #MYHennessyAtHome Cocktail Challenge by Hennessy.
1. Soulmate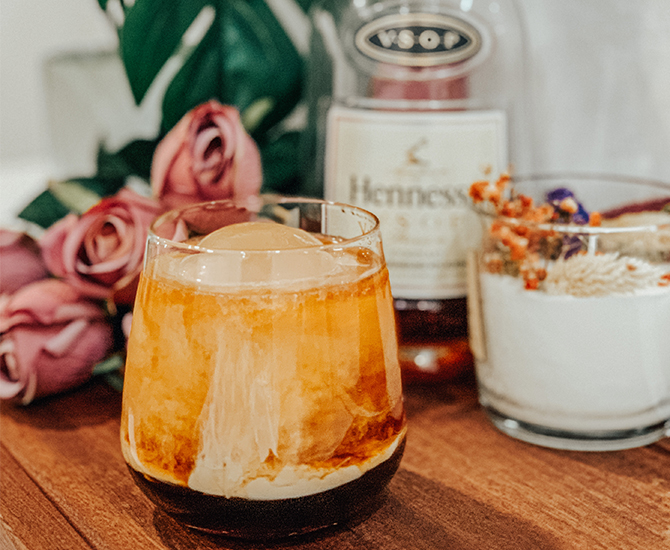 Photo by @ceciliablack
Let's begin the list with pandan leaves (screwpine) and gula melaka. While you might recognise them in many Malaysian delicacies such as agar-agar and onde-onde, these ingredients can also be used in cocktails. This blend (known as Soulmate)—that resembles milk tea—is best served chilled in a wobble glass.
Ingredients:
150 millilitres of Thai red tea
100 millilitres of gula melaka
2 pandan leaves
150 millilitres of evaporated milk
70 millilitres of Hennessy V.S.O.P Privilège
2. The Elixir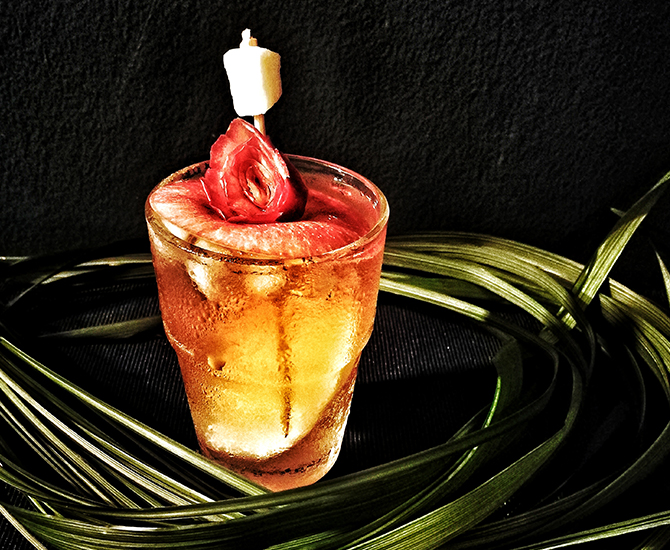 Photo by @b_e_ll_z
Next on the list is The Elixir with ginger as the star ingredient. Tangy and refreshing, this concoction is also spicy. Its thirst-quenching quality is also perfect for the Malaysian weather. Make sure you have a shaker for this. What are your favourite ginger-infused dishes and drinks?
Ingredients:
15 millilitres of organic apple cider vinegar
3 slices of ginger (crushed)
50 millilitres of honey syrup
30 millilitres of lemon juice
50 millilitres of Hennessy V.S.O.P Privilège
Apple slice and peel
Ice cubes
3. My Hennessy Colada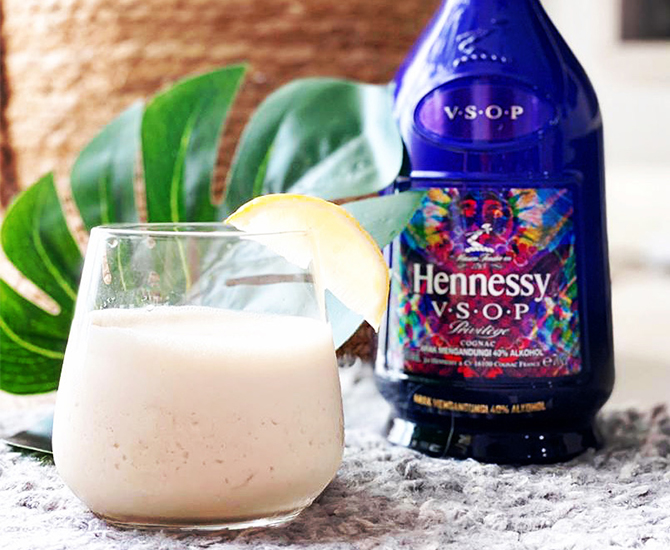 Photo by @johnooisy
Can you guess the star ingredients in this cocktail? Hint: Pina colada. If your answers are pineapple juice and coconut milk, you are definitely correct. Best enjoyed shaken or blended with ice, My Hennessy Colada is the ideal drink for a hot day at home. It's also really easy to make!
Ingredients:
30 millilitres of pineapple juice
20 millilitres of coconut milk
20 millilitres of Hennessy V.S.O.P Privilège
4. The Hedonist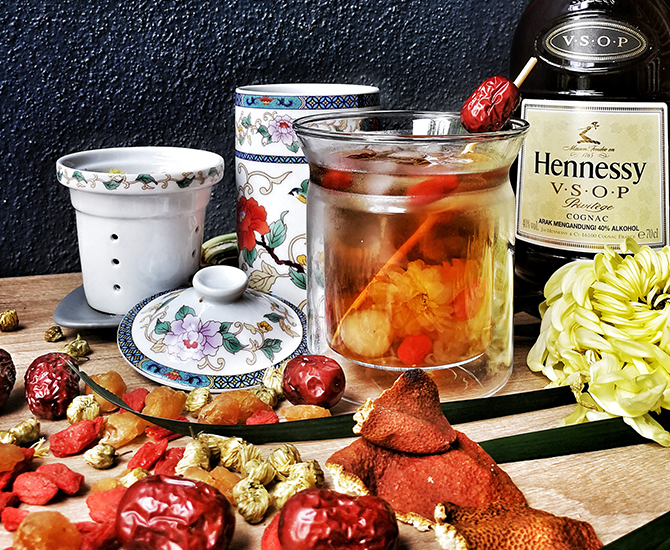 Photo by @edmund_foong
This cocktail comprises of red dates, goji berries, dried longans, and dried chrysanthemum flower buds. Think of this as a healthier concoction with an Oriental touch. Oh, you can also enjoy this drink warm if that's what you prefer or add ice cubes for a cold version.
Ingredients:
2 red dates
10 goji berries
5 dried longans
9 dried chrysanthemum flower buds
1 small piece of dried mandarin peel
1 small piece of rock sugar (in a cup, for taste)
120 millilitres of hot water (to soak for 20 minutes)
50 millilitres of Hennessy V.S.O.P Privilège
Ice cubes
5. Jungle Bird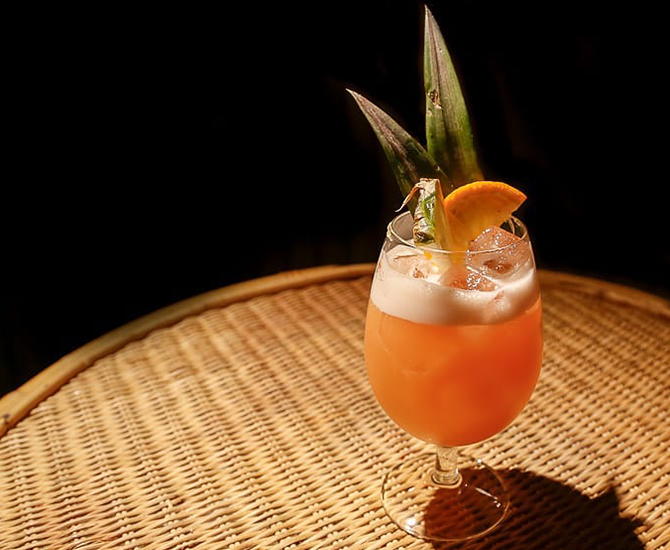 Photo by JungleBird
You can't talk about Malaysian-inspired cocktails without mentioning Jungle Bird. After all, it is Malaysia's addition to the classic cocktail hall of fame. Did you know that the Jungle Bird was invented in the Aviary Bar in Hilton Kuala Lumpur? Pineapple juice (like My Hennessy Colada on this list) is the lead actor of the concoction.
Ingredients:
60 millilitres of pineapple juice
15 millilitres of lime juice
5 millilitres of sugar syrup
30 millilitres of Campari
50 millilitres of Diplomatico Mantuano
There you go! When it comes to making cocktails at home, do it your way and experiment. If you don't think your first try was adequate, give it another go. You can even infuse your own local ingredients and you might end up creating your very own masterpiece. Make sure to select suitable cocktail bases—such as the ones from Hennessy cognac—to go with your concoctions. The roundup of localised drinks is perfect for any day of the year, especially if you're searching for something to do while self-isolating at home.
For more recipes, click here.
| | |
| --- | --- |
| SHARE THE STORY | |
| Explore More | |