Looking for a place to dine this Valentine's Day? Check out the roundup of suggestions below
Whether 14 February is significant to you or not, there is no denying that it is an immensely popular day. While appreciating your loved ones should be a daily occurrence, couples use Valentine's Day to take things up a notch. Every year, lovebirds shower each other with extra affection—from sweet gifts to lovely trips to romantic meals. For many, it is the day to go all out! Planning to bring your special one out for an extraordinary Valentine's feast? You've come to the right place! Now you can stop scratching your head and start scratching each other's backs.
1. Sofitel Kuala Lumpur Damansara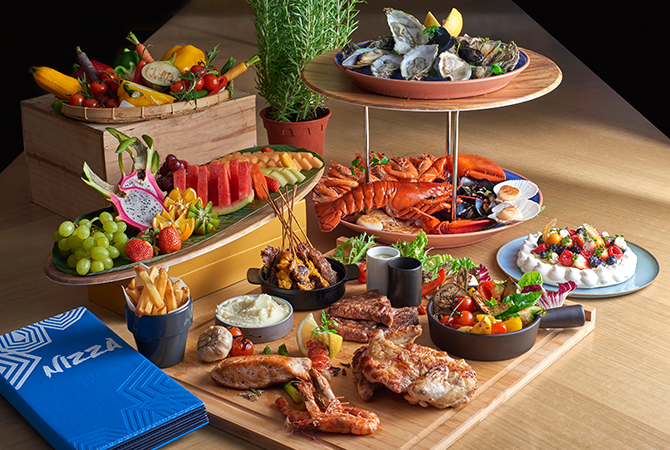 Many say that Valentine's Day is a day for affection and that goes without saying—regardless if it's for a lover, friend, or family member. Head over to the hotel's Nizza to indulge in their sharing platters. Expect premium smoked and grilled meats as well as fresh seafood. The specially-curated platters also come with desserts to end your meal on a romantic high.
Price: Varies based on the item ordered
Contact: 03 2720 6688
2. The RuMa Hotel and Residences
Are you up for love? Executive Chef Tyson Gee of Atas Modern Malaysian Eatery has prepared a five-course menu for the special day. You and your significant other will first begin with Fine de Claire Oysters with Calamansi and Sea Urchin as well as River Prawns with Malaysian Caviar and Lobster Tail. After that, feast on Gold Band Snapper and Wagyu Beef. Last but definitely not least, indulge in Chocolates and Strawberries to end your meal on a sweet note.
Price: RM496 nett per couple, RM846 nett per couple with wine pairing
Contact: 03 2778 0888
3. Le Méridien Kuala Lumpur
The hotel's Prime has curated a love-centric four-course dinner menu for Valentine's Day. You will be able to dine on Lightly Poached Fine de Claire Oysters, Foie Gras Au Torchon with Pickled Cherries as well as the 300-Days Grilled Australian Wagyu Tenderloin. As for desserts, expect Berries Almond Tart with Raspberry Mousse, Hazelnut Gianduja Macaroon, and Lemongrass Ice-Cream with Praline Powder.
Price: RM600 nett per couple, RM320 nett per person
Contact: 03 2263 7434
4. DoubleTree by Hilton Kuala Lumpur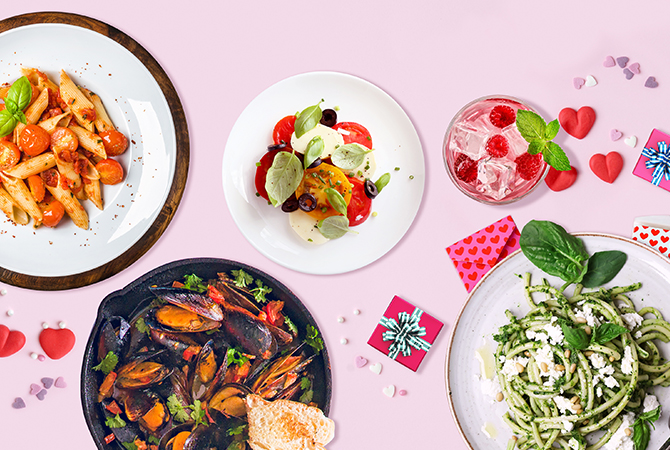 Celebrate the special day of romance by heading over to the hotel's Tosca for a four-course dinner menu. Dishes to expect include Mushroom Consommé Soup and Black Angus Beef with Green Peas Puree as well as Salmon Trout with Wilted Spinach. The finale comes in the form of the Trio of Desserts—Baby Vanilla Macaroon, Dragon Fruit Panna Cotta, Grapefruit Sorbet, Crispy Almond Crostillant and Meringue Biscuit.
Price: From RM260 nett per couple
Contact: 03 2172 7272
5. Nobu Kuala Lumpur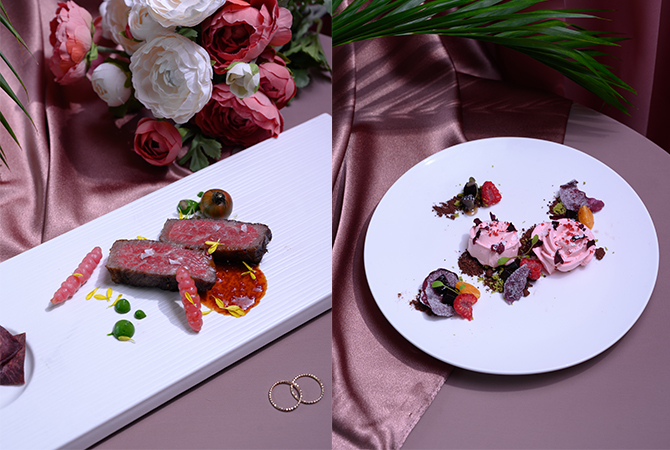 Prepare yourself for a unique Valentine's Omakase menu curated by Executive Chef Philip Leong and his team. Available from 13 to 16 February 2020, the seven-course omakase meal might be the perfect way to elevate your celebrations. Romantic concoctions that are part of the menu are Botan Ebi Tartar with Foie Gras, Wagyu Yamamomo Teriyaki, Inaniwa Chuka with King Crab, and Kinmedai Bagna Cauda as well as Smoked Oyster and Uni with Caviar. Nobu-Style sushi and Candied Rose Petals and Rose Mousse round up the list.
Price: RM550++ per person
Contact: 03 2164 5084
6. Shangri-La Hotel Kuala Lumpur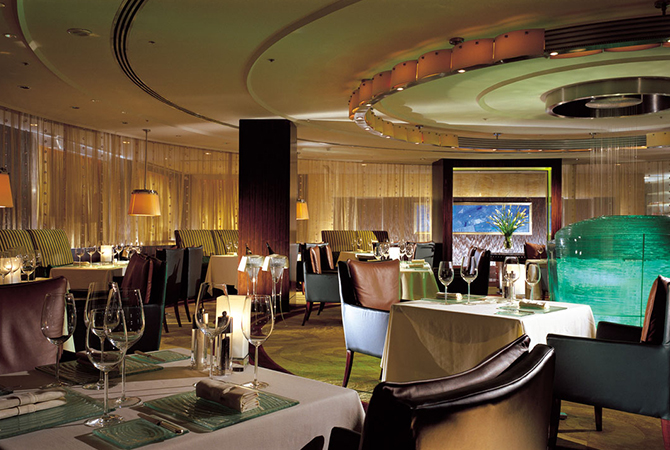 If you're looking for an intimate venue, Lafite might fit the bill. Indulge in a six-course set dinner menu that consists of Hokkaido Scallop and Oyster Tartar, Lobster Royale, Duck Foie Gras Ravioli, and Mandarin Orange with Grand Marnier. You also have the option between Sous Vide Turbot or Venison Loin. End the meal on a hearty high with the dessert—Raspberry Lychee Crème with White Chocolate Tonka Bean Ice Cream.
Price: RM298 nett per person, RM498 nett per person with wine pairing
Contact: 03 2074 3900
7. Mandarin Oriental Kuala Lumpur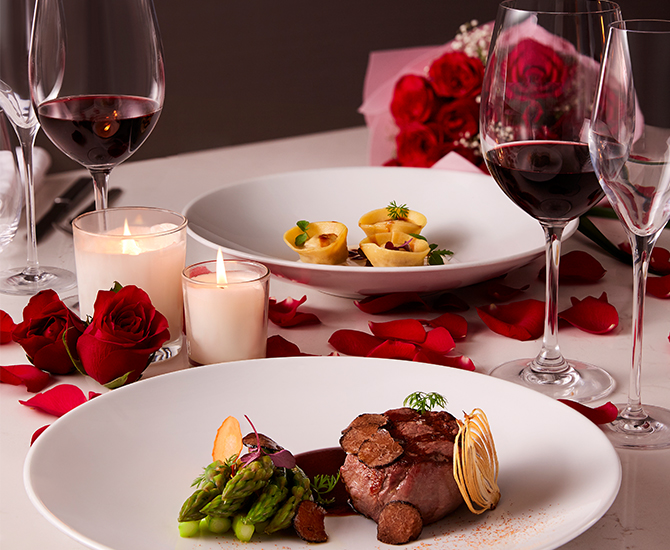 Aqua Restaurant and Bar in Kuala Lumpur's MO—overlooking the KLCC Park and city skyline—has prepared a romantic five-course dinner menu. Pamper each other while munching on creations such as king prawn in Kataifi and soft-shell crab tempura, pan-fried duck foie gras, passion fruit and mint sherbet, a choice between grilled Australian beef tenderloin or herb crusted Atlantic cod, as well as red berries chocolate fondue.
You can also check out the six-course dinner menu—curated by Chef de Cuisine Luigi Stinga and team—at Mandarin Grill. Dishes to expect include coffee sabayon with caviar, warm lobster salad with avocado and masak lemak sauce, risotto with oyster and tarragon, Scarola ravioli with tomato sauce and burrata, a choice between grilled Australian beef tenderloin with duck foie gras and polenta or Atlantic cod fish with rosemary and capers, as well as raspberry-pressed shortbread and chocolate pralines.
Price: Aqua (RM658 nett per couple), Mandarin Grill (RM398 nett per person)
Contact: 03 2330 8798
8. Marini's on 57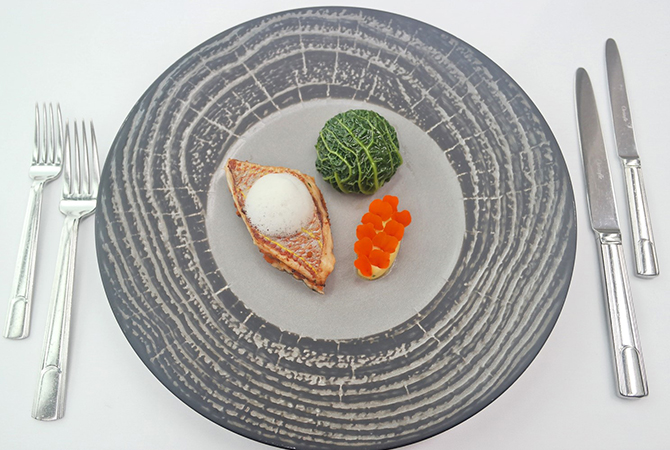 Why not enjoy a romantic evening with Marini's on 57's sky-high settings? Love is literally in the air. Special Valentine's Day menus, curated by The Marini's Group, will be available—vegetarian and non-vegetarian. The former includes dishes such as porcini mushroom risotto, pappardelle pasta with morel mushrooms and asparagus, as well as a truffle scrambled eggs with black truffles amuse bouche. The non-vegetarian menu comes with lobster with braised fennel, and foie gras crème brulee with black truffle appetisers as well as sea bream ravioli with sea urchin pasta. For the main course, you can decide between Itoyori Fish and Sicilian Red Prawn or Wagyu Tenderloin Marble Score Five with Pumpkin Terrine.
Price: Non-Vegetarian (RM1,699++ per couple for normal table, RM1,999++ per couple for window able) & Vegetarian (RM1,599++ per couple for normal table, RM1,799++ per couple for window table)
Contact: 03 2386 6030
9. The Ritz-Carlton Kuala Lumpur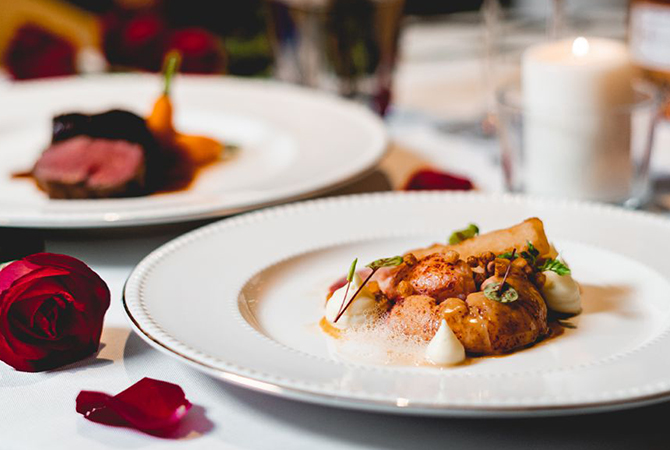 Head over to Chef Wai at The Library for an opulent Valentine's celebration. The four-course candlelit dinner includes Loin of Blue Lobster with Crayfish Bisque, Amberjack Sashimi with Tomato Broth, M5 Wagyu Medallion with Crown Daisy Vegetable Purée, and Amaou Strawberry Tart with Hokkaido Milk Gelato.
Price: RM799 nett per couple, RM999 nett per couple with wine pairing
Contact: 018 621 4252
10. Four Seasons Hotel Kuala Lumpur
Celebrate Valentine's Day at Pool Bar & Grill with a special menu crafted by Chef De Cuisine Varinder Patial. Expect dishes such as American oysters, T'Lur caviar, Alaskan crab, Champagne Espuma, truffles, and strawberries.
Price: Four-Course (RM588 nett per couple including a bottle of wine), Five-Course (RM888 nett per couple at private cabana and including a welcome cocktail/mocktail)
Contact: 03 2382 8888
11. Botanica+Co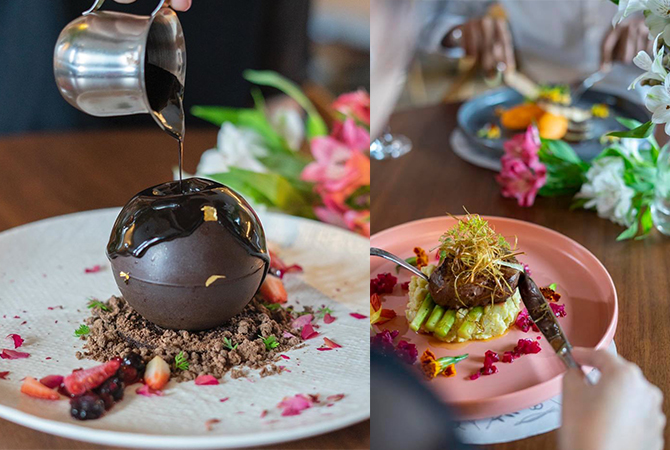 The three-course Valentine's menu will be available from 13 February (dinner only) to 15 February. Begin with Bell Pepper and Strawberry Gazpacho before proceeding to the main course. Make a decision between Beef Tenderloin or Black Cod. As for dessert, you will be feasting on A Chocolate Dream—dark chocolate dome with chocolate mousse, mixed berry compote, chocolate soil, and gold leaf. You will also get a complimentary glass of cocktail crafted with Côté Mas Crémant Brut Rosé NV.
Price: RM138 per person
Contact: 016 965 6422
12. W Kuala Lumpur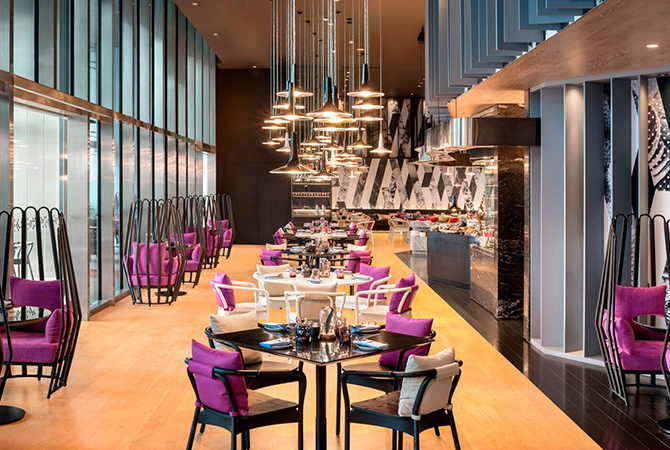 If you'd like to impress your date, the hotel's all-day dining restaurant, Flock, might just do the trick. The five-course menu—which also includes Prosecco Di Raja as a welcome drink—starts with Chia Seed and Rose Petal Flower Pot Roll with Organic Vegetable Bites, Chevre, and Olive Liquorice Love Garden. The following dishes are Scallop Sashimi (with Hot Sesame Oil, Radish, and Ponzu Pearls) and Foie Gras Chawanmushi (with Lobster, Shellfish Espuma, Fennel Pollen, and Toasted Brioche). For the main couse, you have two options: Sous Vide Duck Breast or Miso Glazed White Cod. End the night with Twin Au Chocolate Mousse, Nitrogen Yoghurt Popcorn, Caramelia Popping Crumble, and Noir Fudge.
Price: RM318+ per person
Contact: 012 3479088
13. The Chow Kit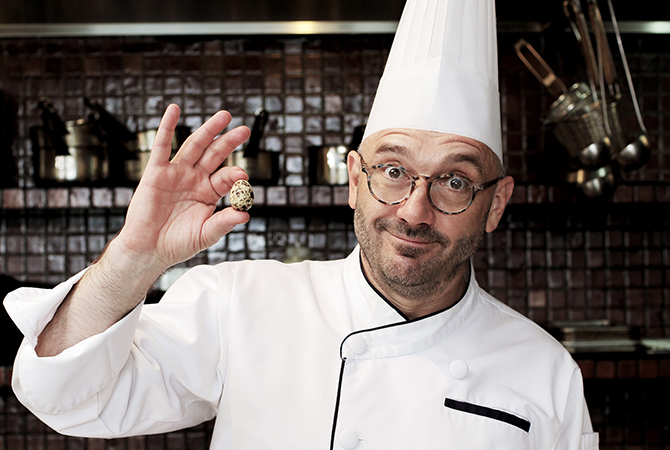 Chef Christian Bauer of Troika Sky Dining will be preparing a special dinner this Valentine's Day. Appetisers include following three: Smoked Salmon Mousse with Galangal and Lemongrass on a Tumeric & Wild Pepper Leaf Rice Roll, Tamarind Marinated Grilled Prawns and Papaya Salad with Tapai Dressing, as well as Pan Seared Foie Gras with Broken Crisp Tempeh, Vegetable Crackers, and Peanut Sauce. As for mains, choose between Pan Roasted Barramundi Fillet with Pineapple Curried Chutney and Herb Rice or Grilled Sliced Ribeye Steak with Sticky Garlic Sauce, Deep Fried Onions, and Kailan. To end a lovely meal on a high, the dessert will be served in the form of Ivan's Blue Flower and Coconut Dessert with Ice Cream.
Price: RM120 per person
Contact: 03 2778 6666
14. Hotel Stripes Kuala Lumpur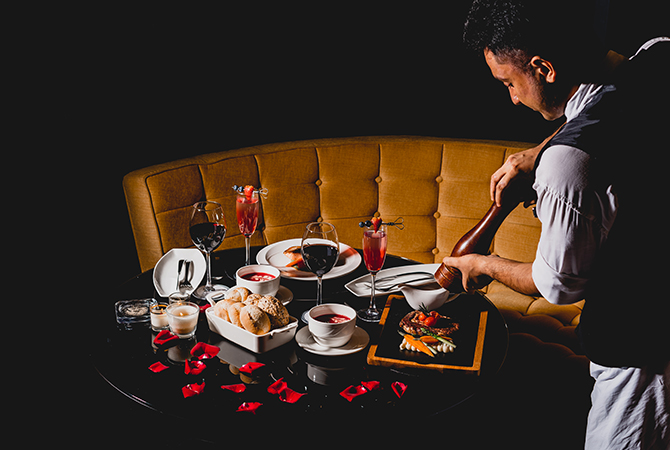 Available from 10 February to 14 February, the hotel's Brasserie 25 is helping you celebrate a romantic mission with a four-course dinner menu. You will also receive a love potion shot as a welcome drink and desserts to end things on the sweetest note.
Price: RM180 nett per couple
Contact: 011 3774 8099
15. The Majestic Kuala Lumpur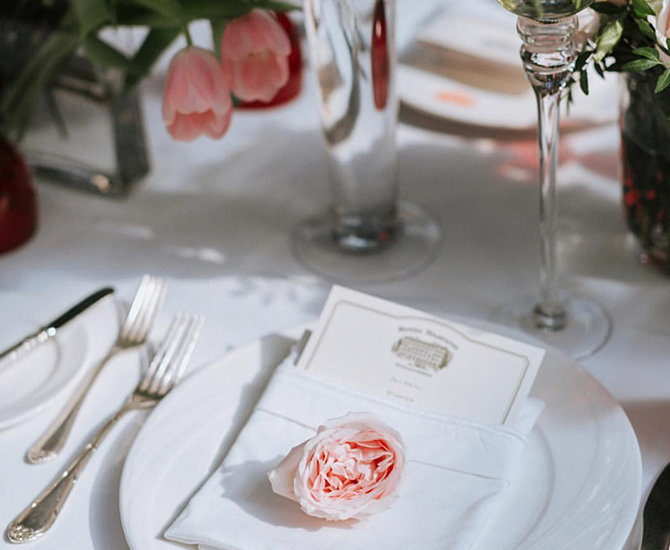 Head over to Colonial Cafe to celebrate Valentine's Day the Majestic way. The five-course dinner will be accompanied by Soliano's performance, a Valentine's giveaway, and a complimentary glass of bubbly.
Price: RM550 nett per couple
Contact: 03 2785 8000
Happy Valentine's Day!
For more Valentine's Day ideas, click here.