Think Malaysian snacks and dishes like rempenyek, pinasakan, and bubur cha cha—but presented in a completely new light
Beta is no stranger to local gastronomes and fine dining connoisseurs when it comes to modern Malaysian cuisine. Since its inception in 2018—founded by the five dynamic individuals behind KARLS Group, which owns sister restaurant Skillet as well as Burnt & Co in Artisan's Playground—the restaurant has developed a reputation for putting a creative spin on Malaysian dishes and flavours.
Its popularity is owed in no small part to Executive Chef Raymond Tham, who helms the kitchen and is responsible for its menu curation. Speaking of which, one of the reasons loyal fans (including yours truly) keep coming back is the fact that the menu is regularly updated according to the season.
This brings us to the latest iteration of the Tour of Malaysia menu (Season 2/2022), which showcases Chef Raymond's interpretations of local flavours across the country. While a few crowd-favourite dishes make a return from the original menu, most of the items are new additions.
SNACKS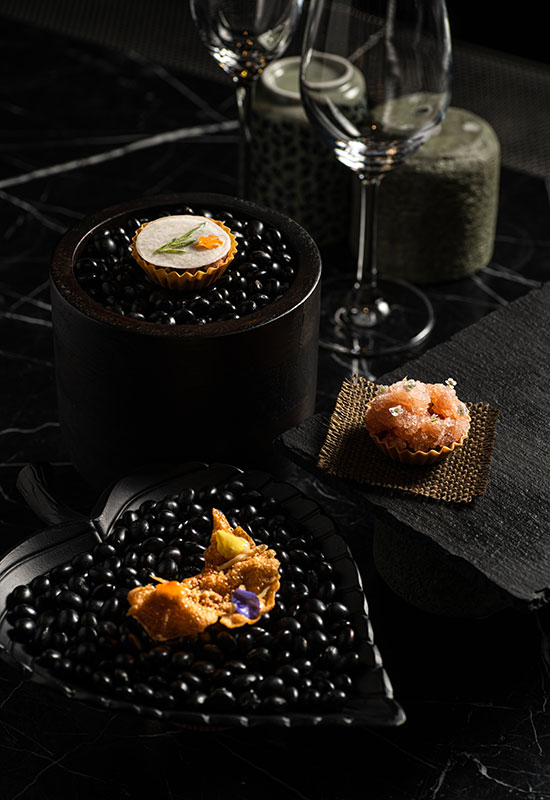 Kickstarting the meal is an amuse bouche trio of Peanut, Winged Beans, and Nutmeg. As simple as the name of the dishes may sound, each snack demonstrates complex flavours that can only result from meticulous refinement. Peanut is Chef Raymond's take on rempenyek, made with a rice cracker topped with chilli, anchovy emulsion, and peanut dust.
Winged Beans is a Kelantan-inspired salad complemented with budu aioli and sliced jicama jelly, whilst Nutmeg presented a combination of nutmeg granita (instantly calling Penang to mind), smoked duck brunoise, and orange peel. Despite the presence of typically pungent flavours (like anchovy and budu), all three are executed delicately—packing just enough punch to ease the palate into the gastronomic tour.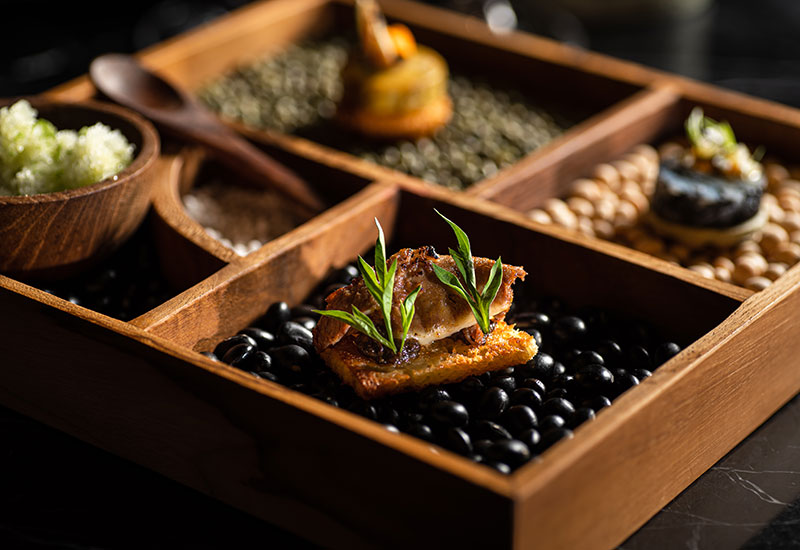 Next up is another trio of bite-sized morsels, arriving on a wooden platter filled with colourful beans, meriting presentation points. I reach for the foie gras first and welcome a deliciously sweet and savoury combination of torched duck liver and locally-grown fig, followed by a subtle hint of curry. The second nosh of prawn roulade shows equal restraint in its use of spice, offering a gentle kick of asam pedas to accompany the squid ink-marbled prawns and white radish. A combination of chargrilled ox tongue and buah keluak rounds off the set, served on a small brioche that adds a nice crunch to pair with the tender meat.
APPETISERS
For the first appetiser of the evening, I am served with scallops hidden under jicama slices arranged in the shape of a flower, with strips of dried squid at the centre. It is served with petai consomme (made from charred petai pods into a broth that's later clarified with egg white), which, interestingly, doesn't taste (or smell) overpowering in the least. On the contrary, it is light and aromatic, allowing the fresh, natural sweetness of the scallops to shine.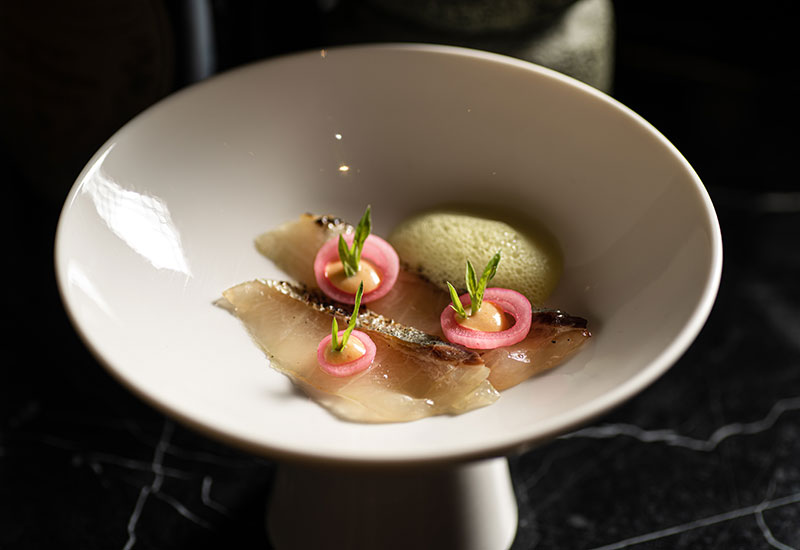 The second appetiser brings me to Sarawak with its combination of shima aji, pickled shallots, chilli emulsion, and a fish bone sauce (blended into a foam)—inspired by Pinasakan, a popular dish among the Kadazan. Uplifted with hints of tamarind and turmeric, this proves to be a delightful dish with vibrant nuances.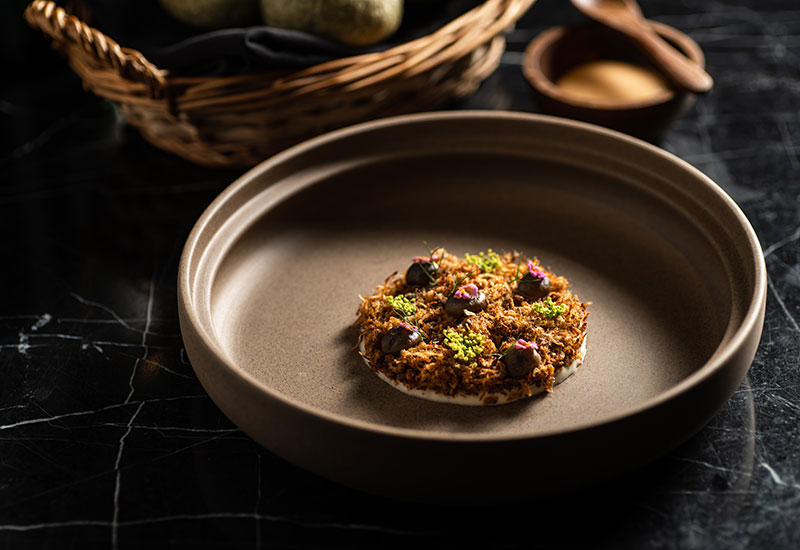 Following that is one of the most unexpected dishes of the tour, in my opinion. What appears like a bed of soil is actually made of duck that has been slow-braised with herbs and spices and then dried into a floss, with pickled shimeji mushrooms peeking out from it. A layer of soy curd forms the base underneath the floss, adding a creamy mouthfeel sans the fat content of cream or cheeses. The resulting combination is aromatic and earthy with a hint of spice from the smoked chilli oil—best enjoyed together with the basket of seaweed bread and anchovy emulsion served alongside the dish.
MAIN(S)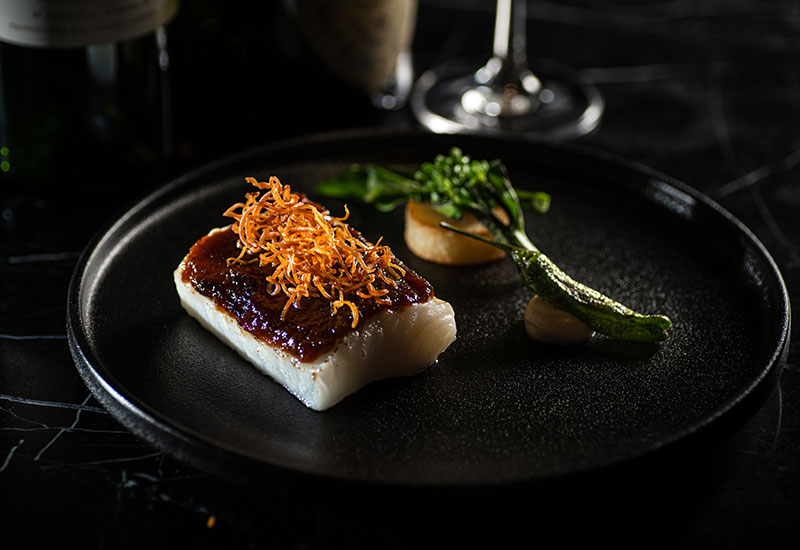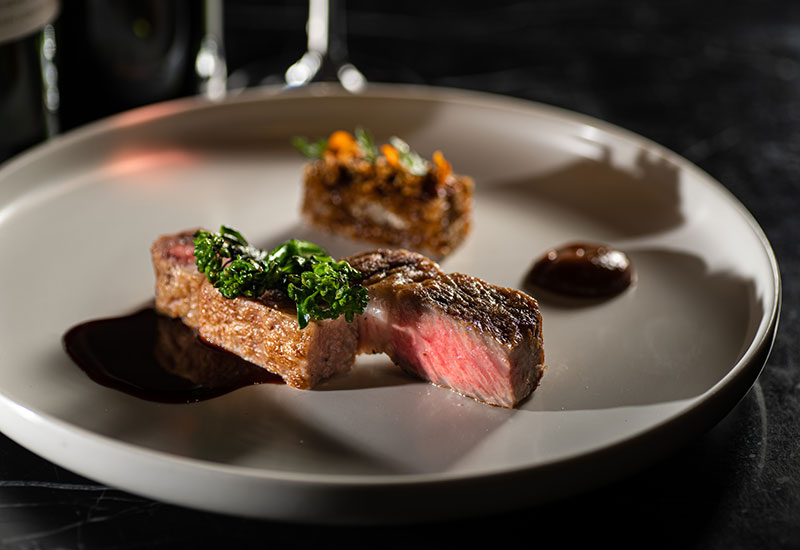 Out of the three options for mains, I settle for the cod as I have tried the koji lamb during a previous visit. Served with local jalapeno, aubergine, and potato, the fish is desirably flaky and pairs well with the tamarind sauce. While not a bad choice, I remember having a much stronger impression of the lamb—if that helps you decide between the two. Alternatively, the Japanese Wagyu A5 is also available as an upgrade for an additional RM220. Expect a premium cut of steak that's served with yam rice, inspired by the kind locals enjoy at Bukit Mertajam.
DESSERT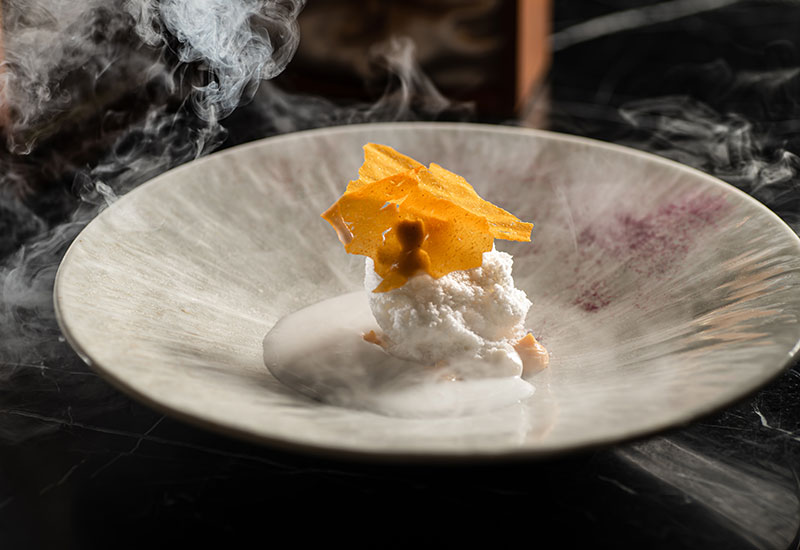 To finish off the meal on a quintessentially Malaysian note, Chef Raymond introduces his take on the classic bubur cha cha. The dessert reveals itself amid a cloud of smoke—a signature theatrical display from the chef—-perfect for this social media generation. Yam, coconut, and sweet potato star in this satisfying crunchy and creamy texture play, making for a memorable finale.
Once again, Chef Raymond Tham takes familiar Malaysian elements and renders them in ways you wouldn't expect. Visit Beta with an open mind and you'll leave with newfound appreciation for our local ingredients and flavours.
The Tour of Malaysia menu is priced at RM398 and comes with optional cocktail pairing.
---
BETA KL
Address: Unit 3 & 3A, Lot, Retail, 163 No. 10, Jalan Perak, Kuala Lumpur, 50450 Kuala Lumpur
Opening hours: 6pm to 10pm (Tuesdays to Thursdays) | 6pm to 11pm (Fridays to Sundays; closed on Mondays)
Phone number: 03 2181 2990
Website | Facebook | Instagram
Find more food reviews here.