When working from home, you no longer have to worry about what to wear (at least, waist-down) or having to apply makeup. Traffic jams and crowded commutes are a thing of the past. You save so much more now that you don't have to pay for (season) parking and/or eating out. You have even become a Microsoft Teams pro.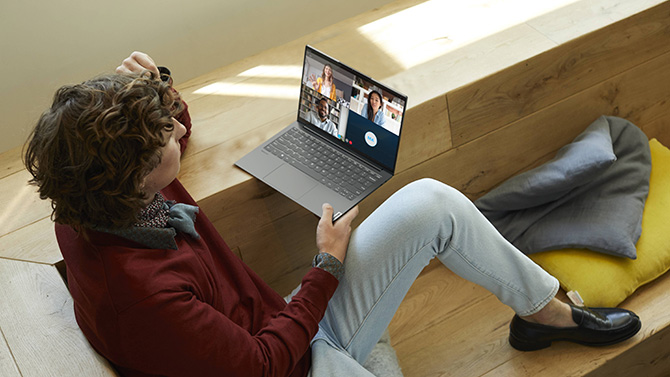 But 'office' hours seem longer. You miss your colleagues (#workfam) or any form of human interaction (that isn't family). There's seemingly no work-life balance when work is merely a few steps away from your bed. You're mostly chained to your desk all day with no 'breaks' (which previously came in the form of traffic jams, lunch breaks or simply walking to your car).
So is working from home (WFH)/remote working the future? Yes and no.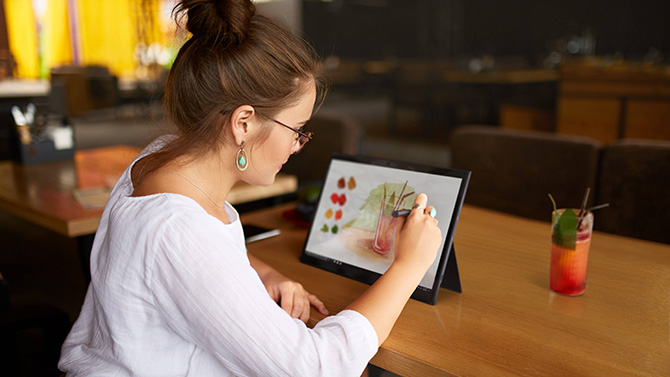 According to researchers, the answer lies in a hybrid model. Most research concludes that neither daily WFH nor working at the office full-time will work moving forward. According to Forbes, the recommendation is to work remotely for 60 to 80 per cent of the time (or, three to four days at home in a five-day workweek). That way, employees will get the best of both worlds and plan their tasks according to their optimal work environment. For example, the same article suggests that "dull, tedious tasks" and collaborative meetings could be carried out at the office where there are fewer distractions. On the other hand, individuals will fare better with creative tasks at home.
But is Malaysia ready for the hybrid work model?
Even before the pandemic, Malaysian organisations were not enthusiastic about adopting the remote working culture. And yet, most private and public sectors in the country managed to pull through during the first partial lockdown. As it turned out, most employees are keen on working from home. Last year, JobStreet ran a Malaysian recruitment study titled 'Laws of Attraction', which found that WFH has an approval rating of more than 50 per cent across generations, ranging from Baby Boomers to Gen Zs.
Unfortunately, the people are willing but it's the work environment that needs to be future-proofed. According to a report titled "Uncovering the DNA of the Future Workplace" by Hays, nearly half of its respondents in Malaysia felt uncertain about their organisations being "future-ready". That could change if companies were to digitalise processes, offer remote work options, increase training and development opportunities, as well as potentially redesign existing roles into hybrid or part-time jobs instead.
As Malaysia continues its vaccine rollout, the post-pandemic times are on the horizon. Organisations need to start thinking about how they want to approach the hybrid work model. Until then, with the on-again, off-again movement control orders, Malaysians need to get accustomed to being adaptable and flexible. To make that transition more manageable, it is crucial to have a trusty sidekick for work. Not your usual lunch buddy, but your laptop. One that gets the job done wherever your work desk might be—like Lenovo's new Yoga series. They offer impeccable performance, flexibility, and a touch of style. Not sure which is the right model for your lifestyle? Read on to find out in our breakdown.
For those who can't live without their laptops:
Lenovo Yoga Slim 7i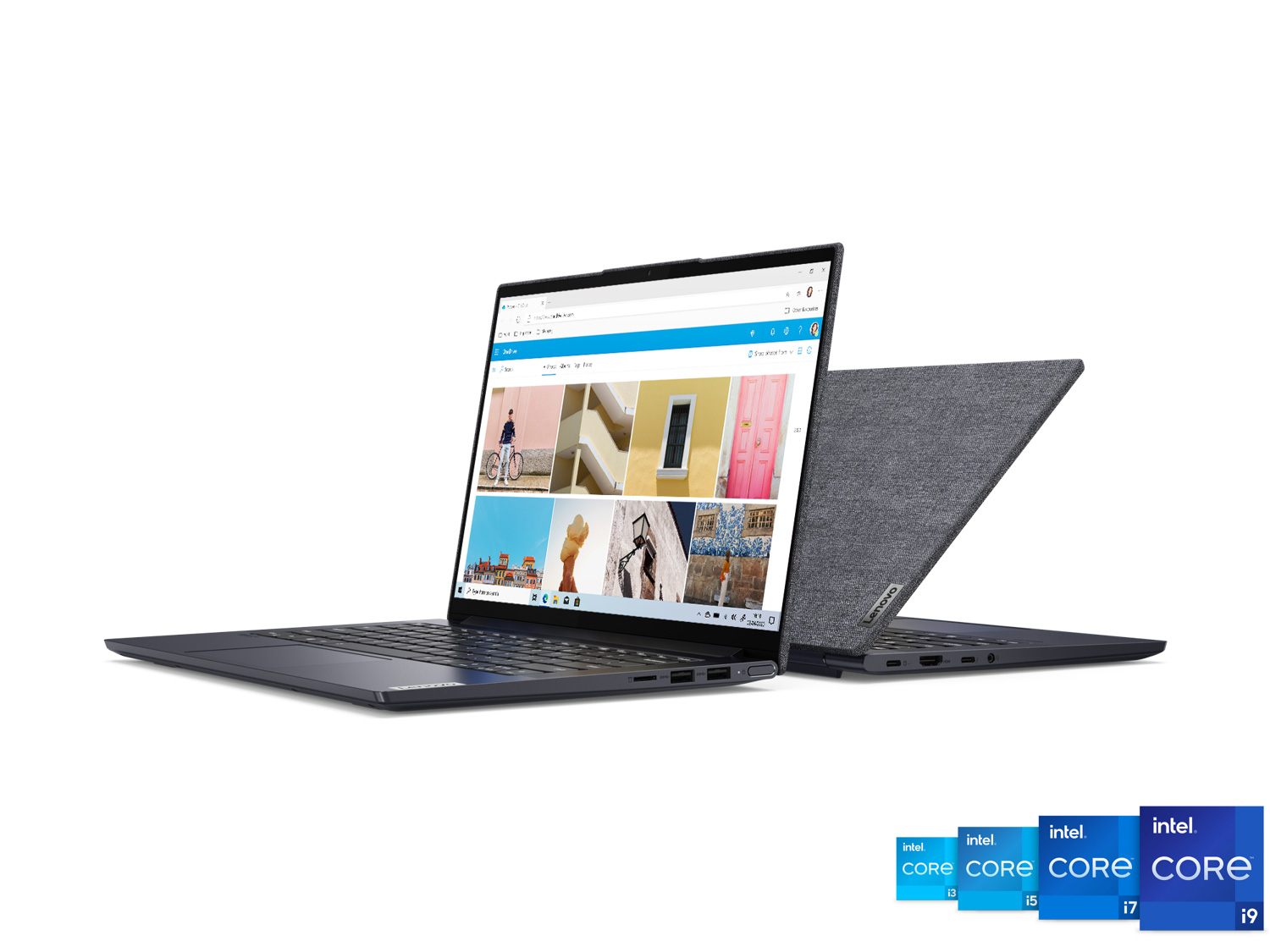 Size: 14″, 15.4mm thin, 1.55kg
Battery life: Up to 15 hours
Price: Starts from RM5,099
The Lenovo Yoga Slim 7i is perfect for both work and play. At its core is the latest 11th Gen Intel® Core™ processor that has been optimised with machine-learning technologies, delivering ultra-responsive performance. On top of that, the 14-inch display offers up to 4K resolution so you can be sure that images and videos look stunning, in terms of clarity, colour, and detail. Whether you're editing photos or watching your favourite shows, it will make your experience even more immersive and enjoyable—even better, no matter how heavy the tasks are, it won't take a toll on the battery life. While the Lenovo Yoga Slim 7i battery can generally last almost all day, switch on the AI-enhanced Intelligent Cooling mode, and you will get up to an extra 20 per cent of juice with no compromise on the performance.
For people who are always on the go:
Lenovo Yoga Slim 7i Carbon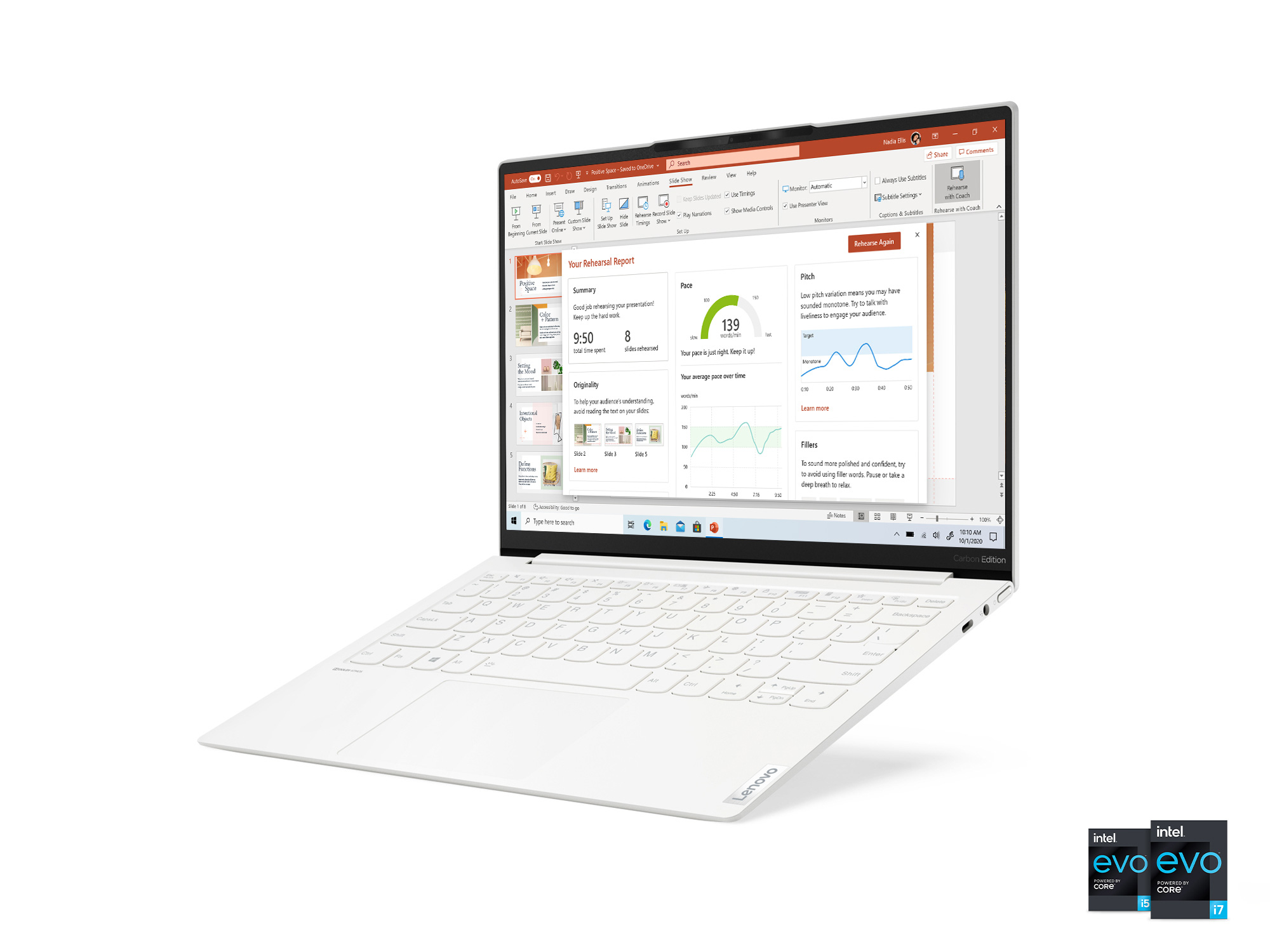 Size: 13.3″, 13.9mm thin, 996g
Battery life: Up to 15 hours
Price: Starts from RM4,399
With its sleek Moon White exterior, the Lenovo Yoga Slim 7i Carbon stands out amongst most laptops, and not just aesthetically. Rather, the top cover uses aero-grade strength carbon fiber, and the laptop itself has been proven to withstand almost everything. It is resistant to dust, extreme temperatures, and that impactful drop on the floor. The Moon White finish—accomplished via a three-layer high heat and six to nine hours of painting—is anti-fingerprints and super easy to clean. Flip it open and the laptop will power on by itself thanks to the Lenovo Smart Assist through the Lenovo Vantage app. In terms of performance, the Intel® Evo™ platform helps to boost productivity and process graphics three times faster. Battery life is not a concern either as the laptop offers up to 15 hours of video playback or 13 hours of all-day office productivity. If the battery runs low, the Lenovo Rapid Charge Boost technology will boost it up back to two hours' worth of local video playback power in 15 minutes.
For creatives looking for a 2-in-1:
Lenovo Yoga 9i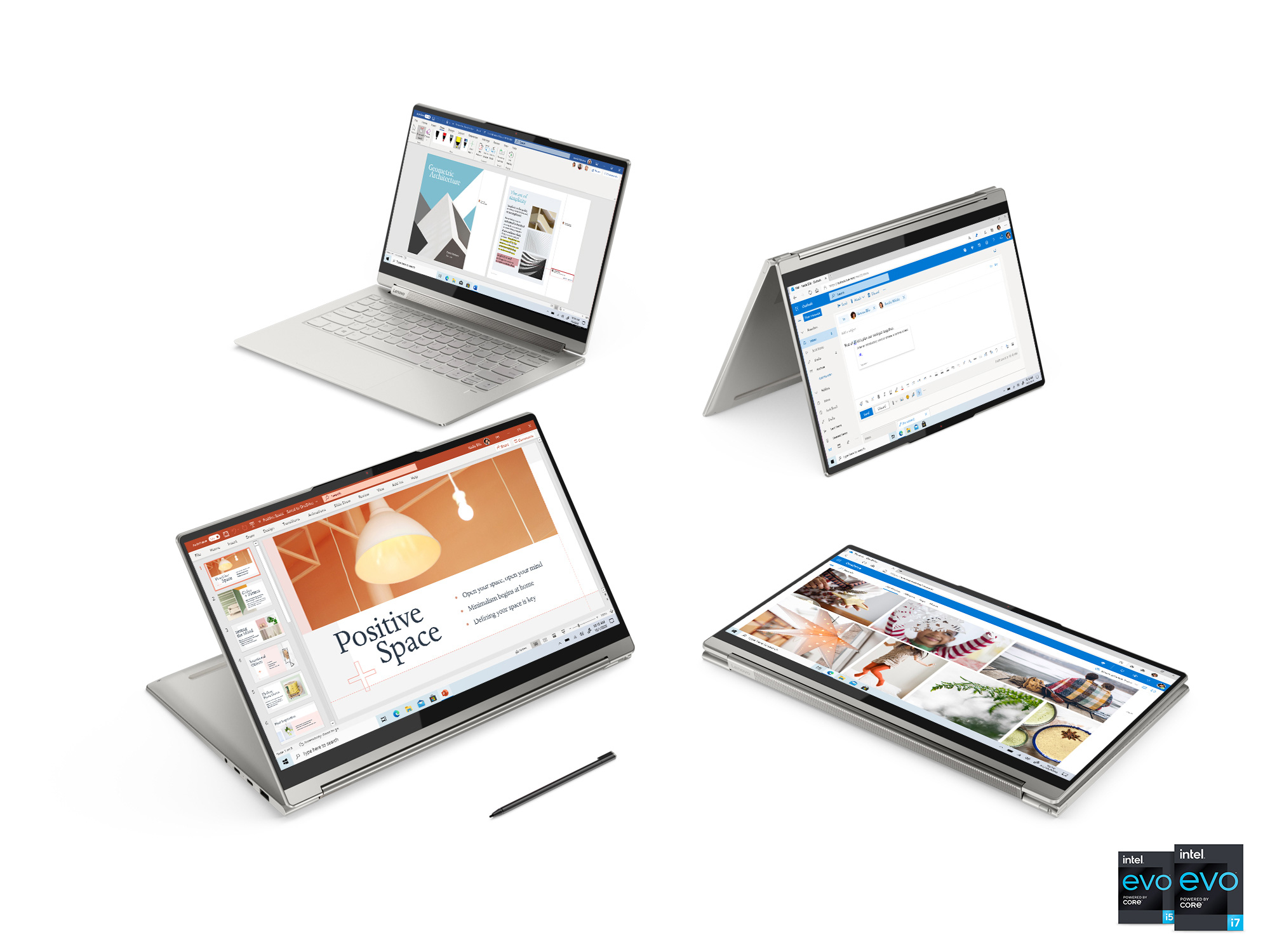 Size: 14″, 15.3mm thin, 1.35kg
Battery life: Up to 15 hours
Price: Starts from RM6,499
Why get a tablet and a laptop when one machine can do both? With the Intel® Evo™ platform, the Lenovo Yoga 9i can function as a laptop with a 14-inch touchscreen or flip it around to instantly transform it into a tablet. It comes with a garaged pen, which the more creative users can use to draw illustrations or take notes with ease. Users will love how smooth it feels—almost like a pen on paper. Some creative work takes a few hours to complete but with this digital pen, you rarely have to stop in between. All it takes is 15 seconds to charge the pen back to 40 minutes of power. The 2-in-1 laptop scores plenty of points when it comes to entertainment too —with astounding visuals on the 4K touchscreen complemented by Display HDR and a rich audio quality thanks to the Dolby Atmos Speaker System via the improved Rotating Sound Bar.
For those who occasionally like to work at a café:
Lenovo Yoga Slim 9i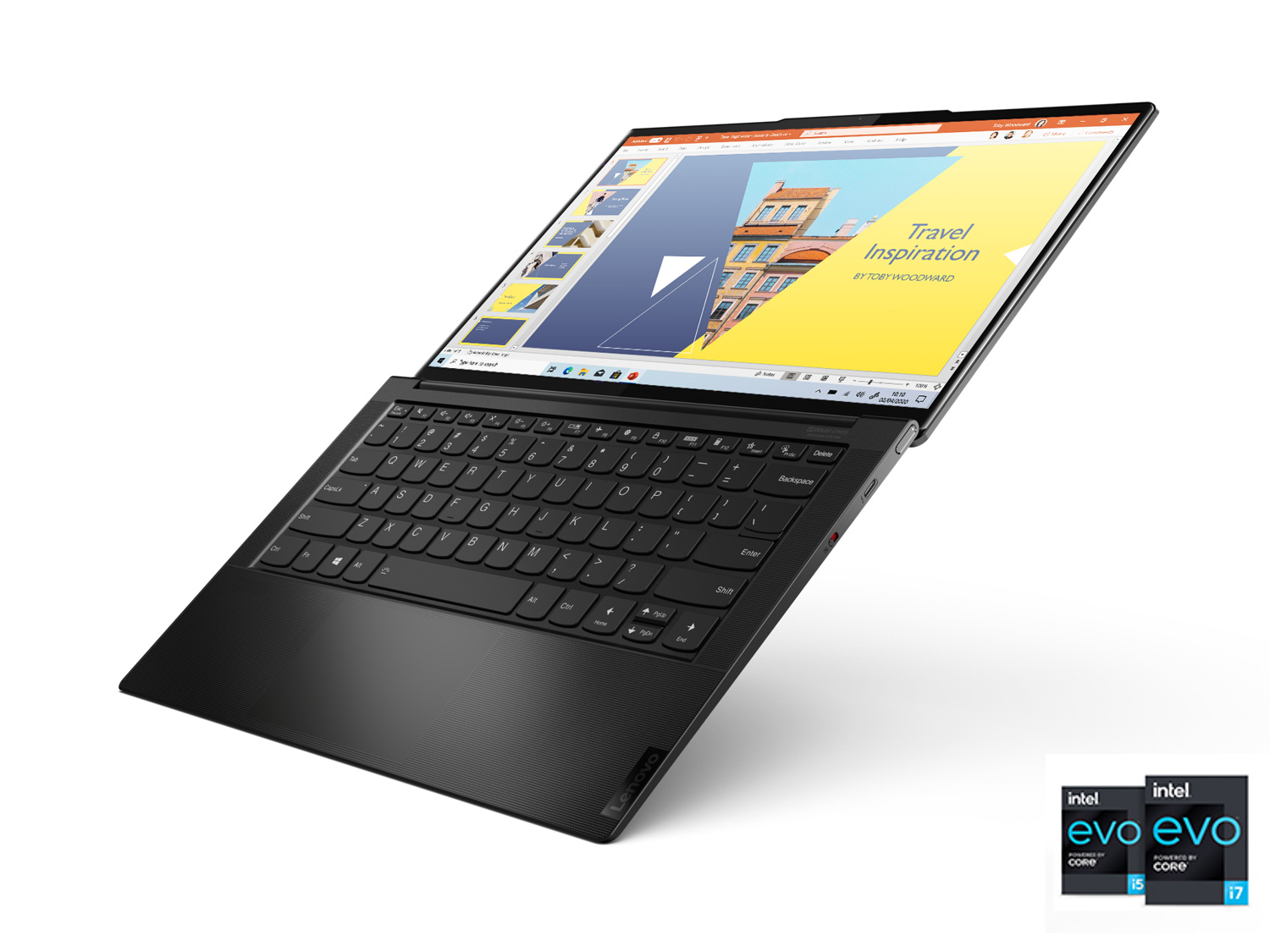 Size: 14″, 13.9mm thin, 1.29kg
Battery life: Up to 15 hours
Price: Starts from RM7,599
Even at the office or at home, there are just some things on your laptop that need to be kept P&C, what more in a cafe full of strangers. Wherever you might be, your secret is safe with the Lenovo Yoga Slim 9i. For starters, Windows Hello and Lenovo Smart Assist will alert you if someone is looking at your screen over your shoulder. If you were to leave the laptop unattended, it would blur the content with Glance by Mirametrix; and lock the screen automatically. On that note, it is easy to log in due to its hands-free facial recognition technology. It is almost like using your smartphone. And if someone were to move the laptop, an alarm will go off. Aside from it being powered by the Intel® Evo™ platform, the new Yoga Slim 9i comes with an authentic black leather cover, has a smarter dual charging built into it, which increases battery capacity while lowering the system temperature, which, in turn, reduces the fan noise.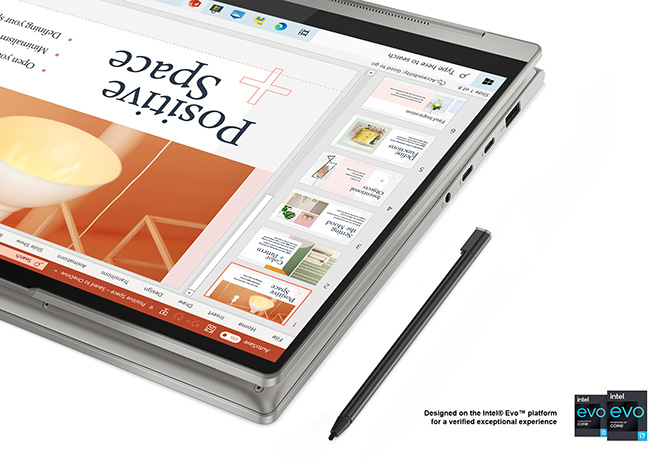 Further increasing productivity, selected Lenovo Yoga laptops come pre-installed with Microsoft Office Home and Student 2019 (worth RM529), empowering users with efficient days ahead. On top of that, the new Microsoft 365 subscription supports users with other cool features with its Premium Office apps, free support, 1 TB of OneDrive storage and more.
Every huge change begins with a single step. While companies and organisations work their way towards being future-ready, we can take our first step in ensuring a hassle-free transition in anticipation of it. And Lenovo's new Yoga series is already there.
If you wish to try out the premium WFH experience with any of the laptops from the Yoga series, head over to Lenovo Official Stores on Lazada and Shopee to make your purchase.
For more information, please visit the official Lenovo Yoga website.
| | |
| --- | --- |
| SHARE THE STORY | |
| Explore More | |