It's day 14 of the Movement Control Order and if you're already kind of done with staring at the wall (for those who live alone), kept up with everything on your Instagram feed by noon, and just got off your 20th work concall from this two-week #WFH period, here's an idea of what you can do next: complete a beauty-related task each day.
Not all of us are up for KonMari-ing our beauty shelves on a daily basis, but that's alright—do something fun that you've always wanted to do, but have put on the back burner, whether it's trying that new eyeshadow palette or colour-categorising your lipstick wardrobe.
It could be the smallest of gestures or a grand task that you've always been meaning to execute—whatever it is, keep your chin up and take a day at a time. Staying home should be deemed as a blessing us (especially if you're in the pink of health), and you'd be surprised to discover how much you've learned at the end of this #MCO.
After documenting my beauty activities on the daily, I can attest to the fact that boredom is (truly) a state of mind. Here's what I did for seven days:
Day 1: Spring-cleaned my beauty stash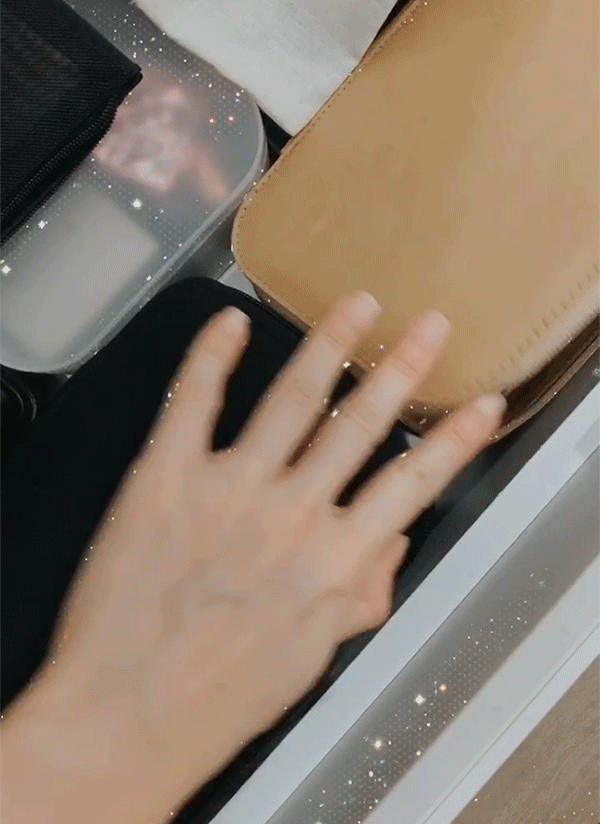 Organised chaos doesn't even begin to describe my personal space(s). I may or may not have a terrible habit of stashing my belongings in paper/tote bags all over my desk and cupboards (out of sight, out of mind, right?). Beauty products that require reviewing can often times be in said bags for weeks, until I finally remember I'm forgetting something—awful, I know.
So I've begun to systematically categorise all items according to type (skincare > type of skincare; makeup > type of makeup > colour), and replacing said bags with boxes (with lids so it doesn't trap dust). What started out as seemingly arduous chore gradually became a therapeutic task—it was more than satisfying to rearrange my essentials, chucking expired products out, and then taking in how neat and tidy my space looks now.
Safe to say that I may turn this to a seasonal exercise. Check in with me again come June to find out more.
Day 2: Unboxed Drunk Elephant's skincare range
Drunk Elephant's cult following has made me rather curious about how legit its products were—I mean, if a brand can successfully persuade beauty lovers to post bare-faced selfies for the world to see on their Instagram feed, that's saying something.
The brand sent over some goodies (full range of skincare that's available in Malaysia, actually) and after discovering what founder Tiffany Masterson had to say about the brand (read more here), I was eager to try out its bestsellers. Some takeaways here:
Beste™ No. 9 Jelly Cleanser: This makes for fuss-free, easy cleansing—love the gel-like "jelly" texture and that it's fragrance-free. A little goes a long way, even to remove waterproof makeup; plus, it didn't strip my skin's natural oils away (no tight, post-cleansing feeling with this one).
B-Hydra™ Intensive Hydration Serum: Thicker texture than your typical watery serums, sinks into skin quickly and doesn't leave an overly sticky residue. This kept my skin feeling plumped and quite hydrated; I could go without moisturiser on some days as well—definitely a keeper.
Day 3: Learned a new hairstyling trick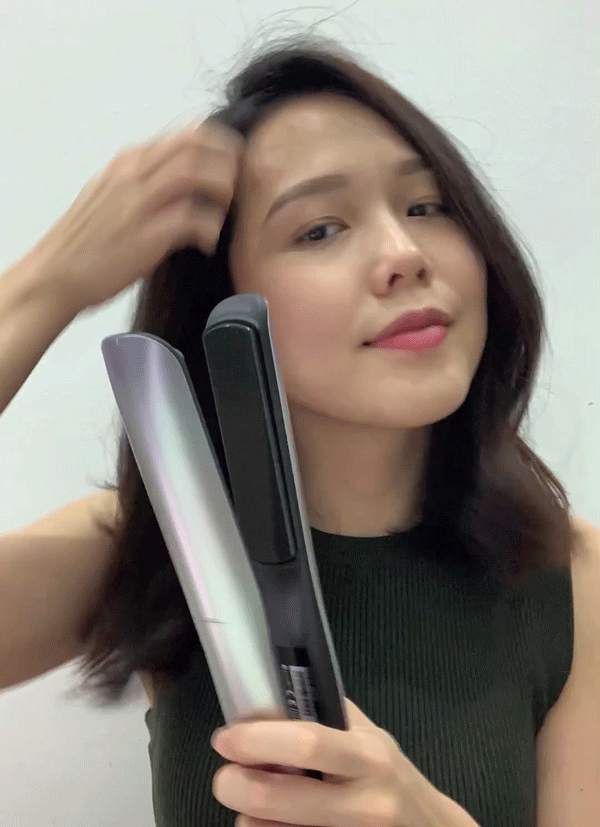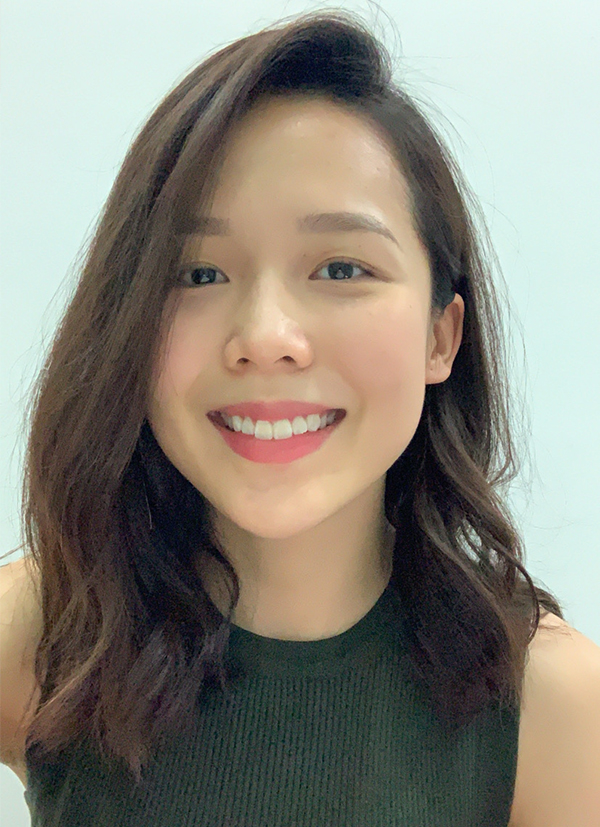 Three days in and I was already done with my #WFH lewk. Not much of a lewk, actually. My hair resembled something akin to a rat's nest (second-day hair gathered in a haphazard bun, go figure), so I sought out to fix my strands with a nifty hair tutorial, while picking up a new skill.
Confession: I may or may not have done this tutorial right before a work concall just to look more presentable.
I resorted to this tutorial on how to create textured hair with tools I already have i.e. a hair dryer and straightener. Tip: always use heat protectant before any hairstyling. Also, this will work for anyone who wants to add volume to a high ponytail—wear your hair up and gently tug locks of hair from the top of your head for a ponytail that's bangin' instead of blah.
Day 4: Attempted a nail art trend as seen on Instagram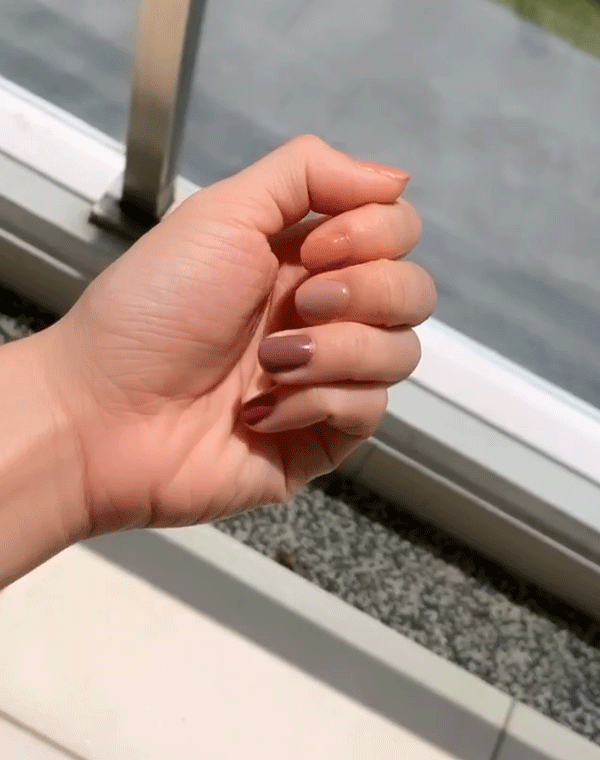 Insta-nail art may be daunting for some—chances are you'd be showing your manicurist these looks for reference on your next mani-pedi session (crossing fingers, when this COVID-19 situation is finally under control). But in all honesty, a set of pretty digits isn't that difficult to achieve.
The real trick to it is to work with what you have, whether it's a favourite nude, classic red, or fun elements in motifs or stick-on wraps that you'd like to explore.
I was quite obsessed with the monochromatic manicure trend that every nail art enthusiast was repping on Instagram. So I brought out all the nudes, pink-nudes, and grey-beiges from my nail polish stash,  wore a different colour on each nail, sit 'em dry with the help of two portable fans, and finally stuck my hands out in the sunlight (for the best lighting) to capture a #nailfie.
Although, you may want to go with nail wraps if daily house chores are on your roster—no point in messing up your delicately hand-painted tips.
Day 5: Finally got over my fear of glitter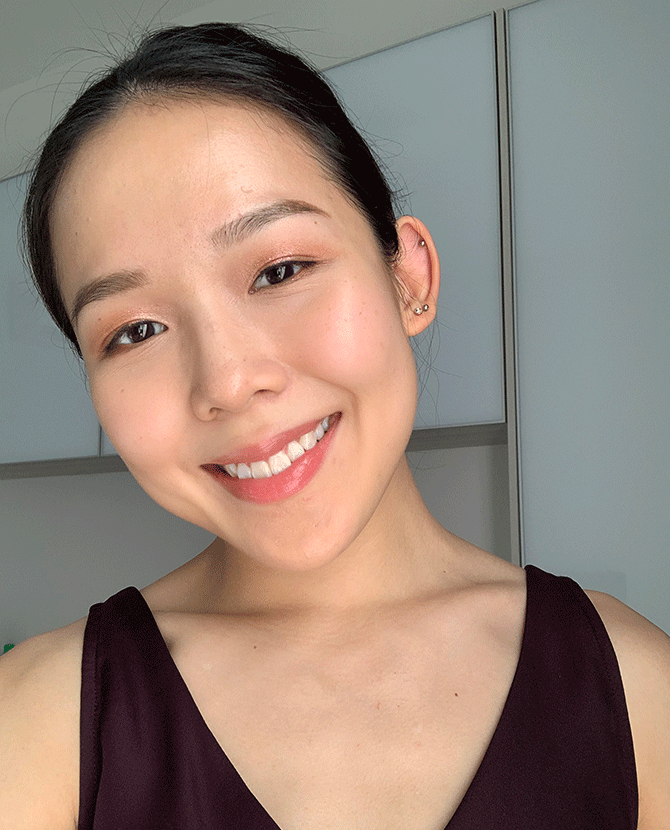 My irrational fear of glittery specks of all sizes is likely attributed to 1) the technicality that comes with successfully pulling it off without looking like I'm about to hit the disco (yes, disco); and 2) the inevitable side effect that comes with the application i.e. messy fallout all over my undereye area and cheeks.
But like all Instagram challenges we've seen during this #MCO period, what better time than now to really work on such trivial grievances?
So I took the bull by the horns and used Marc Jacobs Beauty's See-quins Glam Glitter Eyeshadow in Star Dust (a stunning warm orange with gold and pink flecks) and Fenty Beauty's Snap Shadows eyeshadow palette in True Neutrals for this look.
A tip I gleaned from Marc Jacobs Beauty's Southeast Asia Regional Artistry Ambassador, Michael Brown: always use fingers (instead of an eyeshadow brush) to gently press the glitter eyeshadow on the eyelids to prevent fallout.
I gotta admit, I'm actually really digging this look—likely the most successful smokey eye I've attempted in a long time. I dived into this without expecting much (with plenty of makeup wipes ready on the side, in case I made a hash of this look), but I've learned my lesson: you can't be too quick to say no when it comes to trying something out of your comfort zone. The best kind of glittery smokey eyes comes with minimal apprehension and maximum positivity (coupled with a whole load of practice, of course).
Day 6: Masked, masked and masked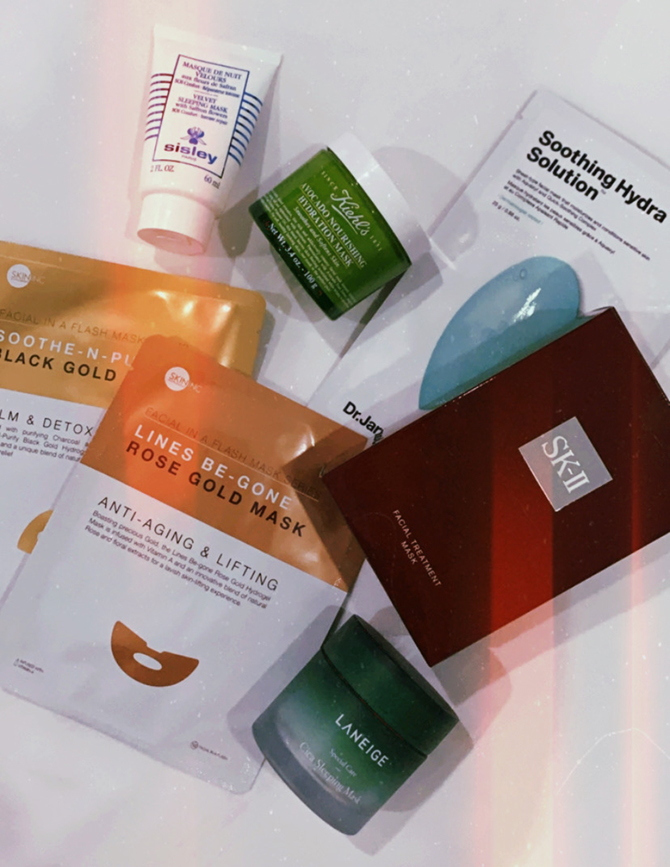 Working from home means that I have more time to mask—better yet, mask while I'm working (as long as I'm not on a video concall). Some favourites of late:
Hydro-gel: Skin Inc's Bento Sets for me to mix and match depending on my daily skin concerns
Cotton: Dr. Jart+ Soothing Hydra Solution (served cold) to wake my skin up, and SK-II's iconic Facial Treatment Masks when I'm feeling bougee
Overnight: Laneige Cica Sleeping Mask and Sisley Velvet Sleeping Mask for a generous dose of hydration
In-between concalls: Kiehl's Avocado Nourishing Hydration Mask for major skinfood action, Sand & Sky's Australian Pink Clay Porefining Face Mask when pesky zits come around
Day 7: Meditated to the sound of rain
During such distressing times, it's only natural to feel stressed and anxious—but an often overlooked action that could help with managing your mental and emotional well-being is to take a moment to slow down, clear your mind and regroup.
Last Friday, I got a chance to host a meditation session with Datin Dian Lee on Buro Hangouts (more here!) and realised that cultivating a healthy state of mind is so imperative, yet easily taken for granted.
Some tips from yoga instructor, entrepreneur and producer Datin Dian on how you can start:
Meditate in a safe space that's quiet, peaceful and free from distractions and external noise
Practise it once a day. "It's like training your muscles; working your mind out everyday through stillness and quiet helps train it to handle distractions better," says Datin Dian
When you're aware that you're distracted, guide your mind back to what you were doing
Use apps such as Headspace to help with meditating for a minute every day
Don't be too hard on yourself. "Don't beat yourself up if you don't do it every day. Be gentle with yourself. At the beginning, it always seems difficult, but if it's worth investing time in, today is a good day to start," says Datin Dian
What is your #MCO beauty diary like? More stories here.
| | |
| --- | --- |
| SHARE THE STORY | |
| Explore More | |