Your solution to the working-from-home outfit dilemma.
Hello everybody! Before you do anything else, take a deep breath! You good?
Okay.
So we're officially on "movement control" by the government because of the COVID-19 pandemic, meaning working from home will be the deal for the next 2 weeks. The perks of working from home do sound great. You save on commuting time and travelling costs, not to mention you get to work in your preferred tailored conditions.

In this sweltering heat (it was a hot 36°C on Tuesday evening!), for many, it's in an air-conditioned room that's going at a solid 16. But for those who aren't at current liberty to the pleasant cooling breeze of an indoor AC, follow our quick guide!

Short sleeved and sleeveless tops are the most sensible. Light breathable materials such as linen and synthetics like rayon, nylon will keep you at your coolest. However, what one deems to be the most comfortable rumah baju may not necessarily be the best thing to wear during a four-way video call with your colleagues. Here, we list out seven outfit ideas that are totally SFW.
The formal blouse [Safe for work score: 5/5]
Rule of thumb is, if it has a collar, it's good to go. Put on a silk button-down for a formal office look or a bowling shirt for a casual take. If your workplace is chill and is less strict on covering up, a dressy sleeveless top can also be work apropos.
The T-shirt [Safe for work score: 4/5]
If you work in a corporate environment where your day-to-day consists of button-ups, neckties or court shoes, this may be your safest bet in our entire list. It's comfortable and casual yet still SFW. But we strongly advise to keep in mind the logo and art on your t-shirt are also SFW.

The off-shoulder [Safe for work score: 3.5/5]
Drop a shoulder for a breezy approach and balance with muted hues for a sense of decorum. You might as well flaunt the results of hours on the rowing machine!

The summer dress [Safe for work score: 3/5]
If we look on the brightside of Malaysia's eternal summer, you'll notice it gives us the privilege of wearing summer dresses all year long. And especially now when the temperatures are rising.
The tank top [Safe for work score [3/5]
Dial it all the way down and go way laidback. A tank top can still work for an on-screen meeting if the neckline isn't too revealing. But if you'd like to be in the clear, add on an extra layer for a modest yet sartorial flair.
Bring on the athleisure [Safe for work score: 2/5]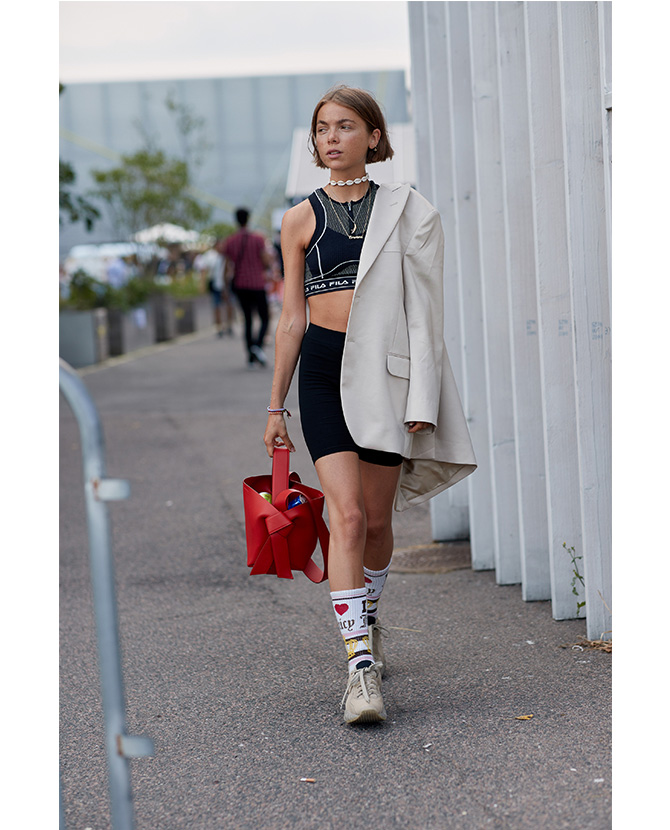 There is truly no better time. Just because we're on a movement control order doesn't mean our own body movements should be stagnant. Remember to clock in workout minutes into your schedule. Health and fitness levels should be at optimum during this trying time.
Have fun with it [Safe for work score: 13/5]
If you're working in an air conditioned room and the temperature outside has no effect on your choice of clothes...by all means go all out! Do you have an important (digital) meeting to attend? Throw on your favourite dress! Weekly update meetings still pushing through? Say you're on friendly terms with your colleagues, why not set a theme for the meet to spice things up?