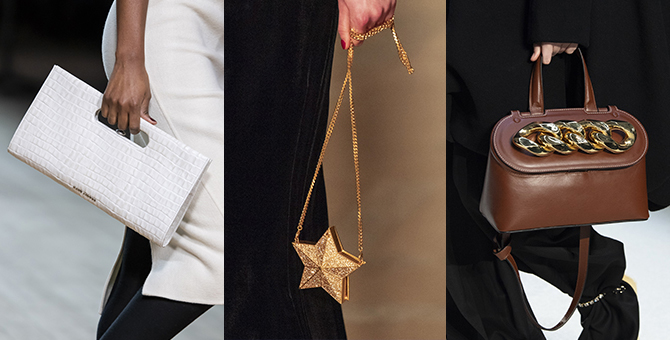 All about the fluff
Have you been staying home this CMCO 2.0? These fluffy, furry bags can also double up as comfy pillows—how could we resist?
16Arlington
Bucket list
Bucket bags are given a more literal update this AW20 and we're a fan.
Balmain
Chains, chains, chains
From straps to adornments, an array of bags feature thick and chunky chains this season.
Dolce & Gabbana
Extra room
For those of you who can never have enough space.
Bottega Veneta
Frame of mind
Framed bags are making a stylish comeback this season, whether it's in the form of 19th century-inspired doctor bags or '50s clutches.
Area
Fringe benefits
From crossbody bags to clutches (of XS and XXL sizes), these fringed bags are made for flaunting. Sashay away!
Area
Geometric goodness
What's your favourite shape? From square, round, and hexagon, to star and heart shapes, it's time to get your geometry on.
Area
Give it structure
One of the unexpected trends this season goes to the cut-out handle bag that warrants a double-take.
Area
Hard work
Say goodbye to your soft and plush clutches (for now), as it's all about the hard-shell cases this AW20.
Balenciaga
Hitting on all cylinders
These cylinder-shape bags will raise some eyebrows for a good reason. Also, a note from the designers? Hydrate yourself!
Chloé
Boho hobo
The brands have amped up the boho flair of the classic hobo bag with braids, studs, and suede.
Bottega Veneta
Little trinkets
Your little trinkets are getting the luxe treatment that they deserve.
Celine
Smaller and smaller
The mini-bag trend is here to stay, but this season, designers are challenging themselves by introducing even smaller silhouettes that give off a super-cute vibe.
16Arlington
Totes practical
The practical piece is given an eye-catching update with shearling letterings, patchwork panels, and embossed details.
GCDS
14 Autumn/Winter 2020 trends every bag lover should know
Bag it!