As cases continue to rise and new variants of the virus emerge, people are seeking new ways to further prevent the spread of the virus. If you're venturing out to run essential errands or go for your vaccine appointment, face masks are a given—but if you want to up your level of protection, double-masking together with a face shield can filter out more particles and substantially reduce a wearer's exposure to Covid-19, according to Health Director-General Datuk Dr Noor Hisham. Better safe than sorry!
What are face shields?
Also known as a face visor, face shields cover a person's entire face from the forehead to below the chin with an elastic headband that holds them in place. They're an item of personal protective equipment (PPE) that's used across different industries including medical, dental, construction, military and more. Typically made from Polyethylene Terephthalate (PET) or Glycol Modified Polyethylene Terephthalate (PETG), other clear plastic sheets with the correct thickness can also provide basic functionality.
View this post on Instagram
Can they replace face masks in preventing Covid-19?
No. Health experts have warned that shields should only be worn as supplements on top of face masks and not on its own. They merely act as a physical barrier and are not effective in preventing you or others from infection if worn by themselves as you can still contract the virus via air that comes in around or under the shield. In Singapore, a guideline was recently passed to prohibit people from wearing face shields in replacement of masks, except in certain settings and for select groups such as children aged 12 and below.
Having said that, face shields can provide additional security by covering our eyes from the respiratory droplets produced when someone coughs or sneezes. Additionally, they're comfortable, fuss-free and have the added value of preventing you from touching your face and eyes while you're out and about in public spaces. The best part? They're also reusable. All you need to do is to wipe them down with a sanitiser or clean them with soap after each wear.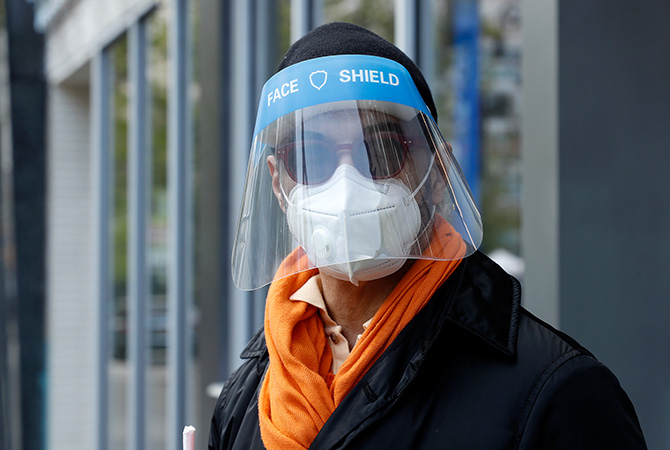 Can we make them ourselves?
A quick search online and you'll find a list of sites that provide DIY instructions to make face shields at home, and the ones below have some of the most comprehensive guides:
Quartz (provides face shield patterns for you to trace them)Preview (provides drawing instructions)KSDK News (provides video instructions)
Where can I get them in Malaysia?
 Online retailers including Lazada, Shopee, Etsy and more.
 Your neighbourhood hardware stores such as Mr. DIY or Ace Hardware.
Farah Khan is offering complimentary face shields to go with every purchase of their stylish hand-crafted masks from the New World Essentials collection. Mask designs range from tropical prints to embellished lace and velvet solids across a range of different colours.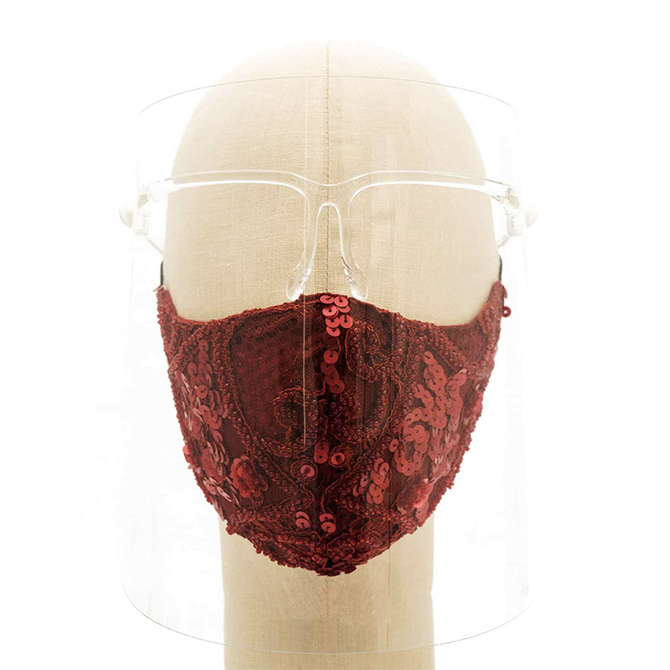 Polaroid Eyewear is putting its expertise to good use by launching the #StaySafe collection not only for healthcare personnel but for those of us who'd like that extra layer of protection too. Designed in collaboration with Safilo Group in Italy, the protective gear is durable yet stylish with the brand's signature rainbow stripes garnishing the adjustable band. Its UV shielded with ultra-clear visibility and has enough space for you to comfortably wear it with glasses. Available to shop on their online store in both adult and kid sizes to ensure the whole family stays protected.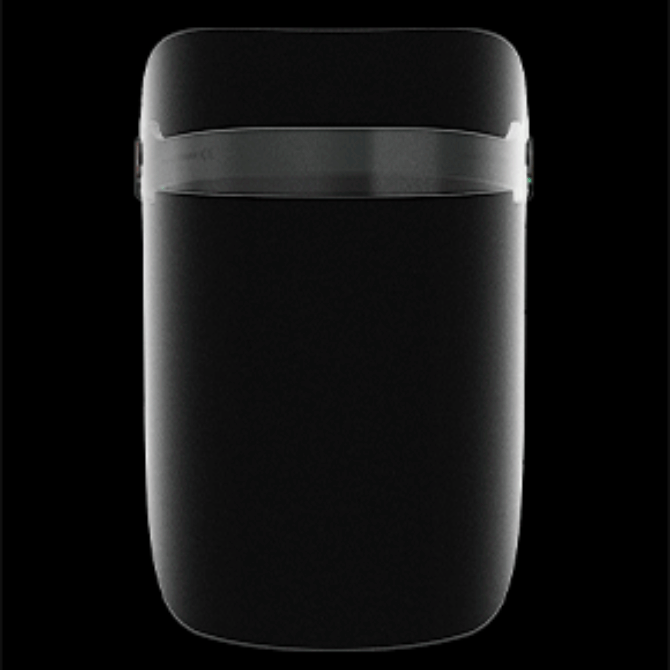 Bridal designer Celest Thoi has introduced a design that combines both a face mask and a shield (that's beautifully adorned with lace, no less). You can pre-order via its Instagram profile here.
View this post on Instagram
 New York designer Joe Doucet's Vue Shield design is one of the most futuristic face shields currently out on the market. In addition to full face protection against the virus, the ultra lightweight creation features an all-over UVA and UVB coating that protects you from harmful UV rays and a blue light filter to relieve eye strains from scrolling too long on the screen.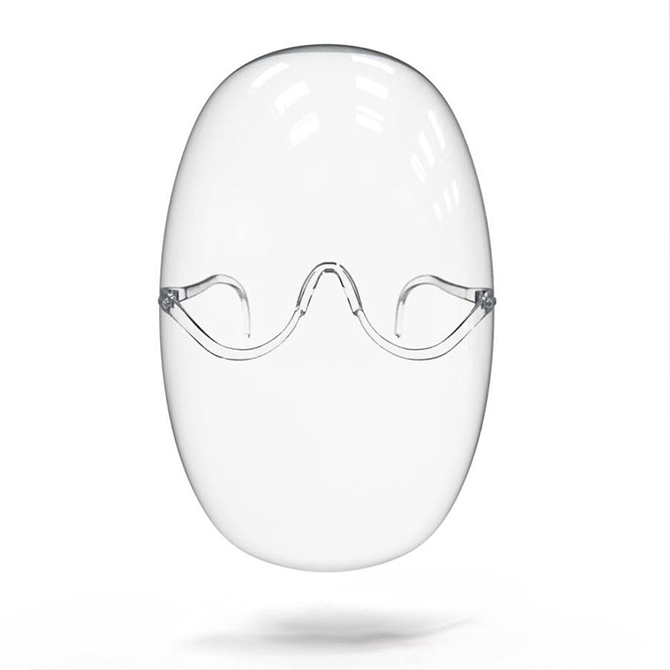 Marine Serre introduced face masks into her collection long before the pandemic hit but her versions of a face shield were a more recent addition that comes as a transparent visor with an adjustable cinch strap. It extends over the shoulder and is available in two styles featuring their trademark crescent logo: a moire cap and a bucket hat. Both renditions can also be worn on its own for the days that you spend at home.
 Louis Vuitton offers a statement shield that combines its craftsmanship with a stylish appeal. The photochromatic piece features an embossed monogram canvas strap and also gets darker when exposed to sunlight for added protection.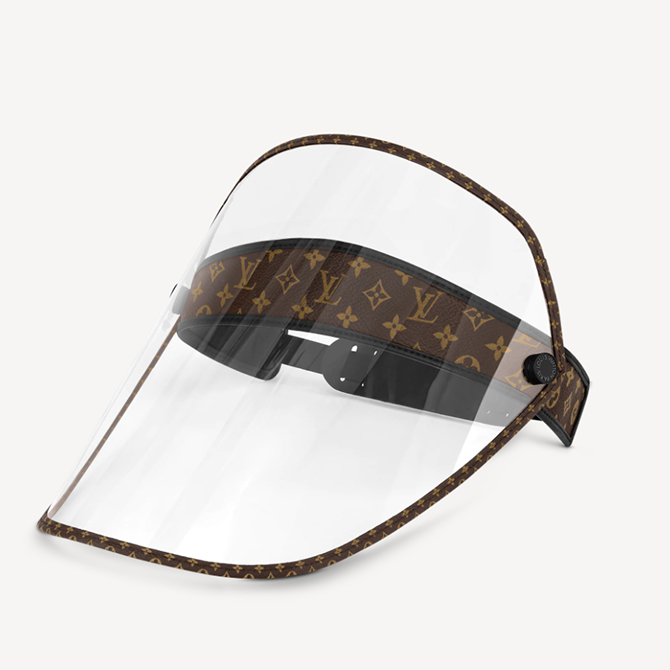 | | |
| --- | --- |
| SHARE THE STORY | |
| Explore More | |