Highlights from the collection include dachshund printed polos, plaid bucket hats, and lounge-worthy sweatpants
It's been a little under three months since Colette announced that it will officially close this December, but fans of the renowned French store can rejoice that business will be carried out as usual (until December 20, that is). Last week, it was reported that American designer Thom Browne is currently taking up a monthlong residency at the Parisian concept store, with Chanel next in line for November. But if you can't make it to the French capital in time for the installation this month, fret not—you can now score merch from an exclusive capsule collection designed by Thome Browne on fashion retailer platform Farfetch.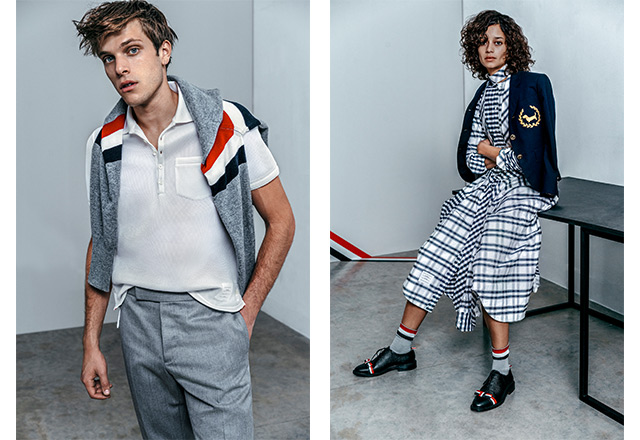 In conjunction with the store takeover, Browne has collaborated with Colette on a lineup made of men's and women's pieces made of reinvented bestsellers and collectible runway pieces. You can expect his signature imagery and stripe motif emblazoned over shirts, polo shirts and trousers—all in a muted grey colour palette coupled with fun references of Browne's favourite inspiration, his dachshund Hector. Our favourites include a patchworked blazer with a gold insignia of Hector with a matching laurel wreath, a long-sleeved dress made of grids of varying checks, and a sporty bomber jacket with Browne's signature stripe pattern decked over the front. Below, check out all 17 pieces from the collection that you can shop on Farfetch.com:
Thom Browne x Colette is available on Farfetch.com.
Related stories:
Buro 24/7 celebrates the launch of BFFI in partnership with Farfetch in Paris
Farfetch appoints Yasmin Sewell as Vice President of Style and Creative