Men's Fashion Week returned in full glory for the Spring/Summer 2023 season and like the makings of a fresh start that come with spring, fashion houses and designers had a certain youthful energy in their steps.
Over in Milan, Versace held a physical men's show—a first in years—while Silvia Venturini Fendi's offering held a sunny disposition akin to a tropical cocktail. Or as the show notes said, "approaching summer dressing as a round-the-world ticket to holiday destinations near and far."
As we slid into Paris, the audience witnessed Louis Vuitton's homage to the late Virgil Abloh where the maison utilised early sketches from the creative director, bringing to life a sense of joie de vivre to the menswear pieces. Then, there was the living and breathing entity at Loewe, where creative director Jonathan Anderson cultivated living plants onto clothes, taking the fashion world by storm. For Thom Browne, gears were switched from his usual clean, structured tailoring to a more theatrical spin on his signature style. Preppiness was dialled up, anchor-shaped face coverings centred on the models' faces—some paired with punk-ish hairdos—and tweeds showed up in more colours than you can imagine.
There are just too many incredible fashion moments from Men's Fashion Week SS23 so we've taken the liberty of listing down eight of our favourites below!
1. Louis Vuitton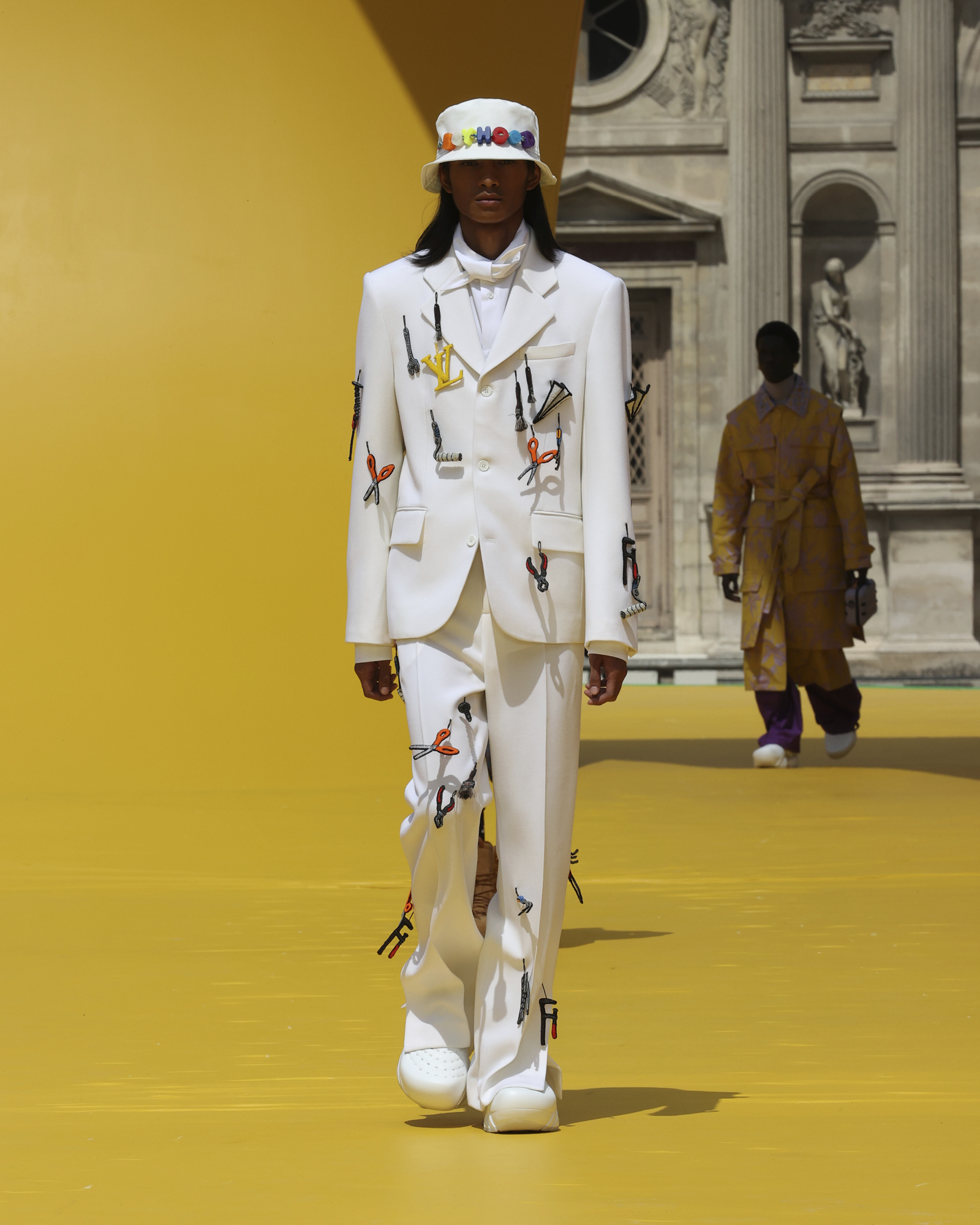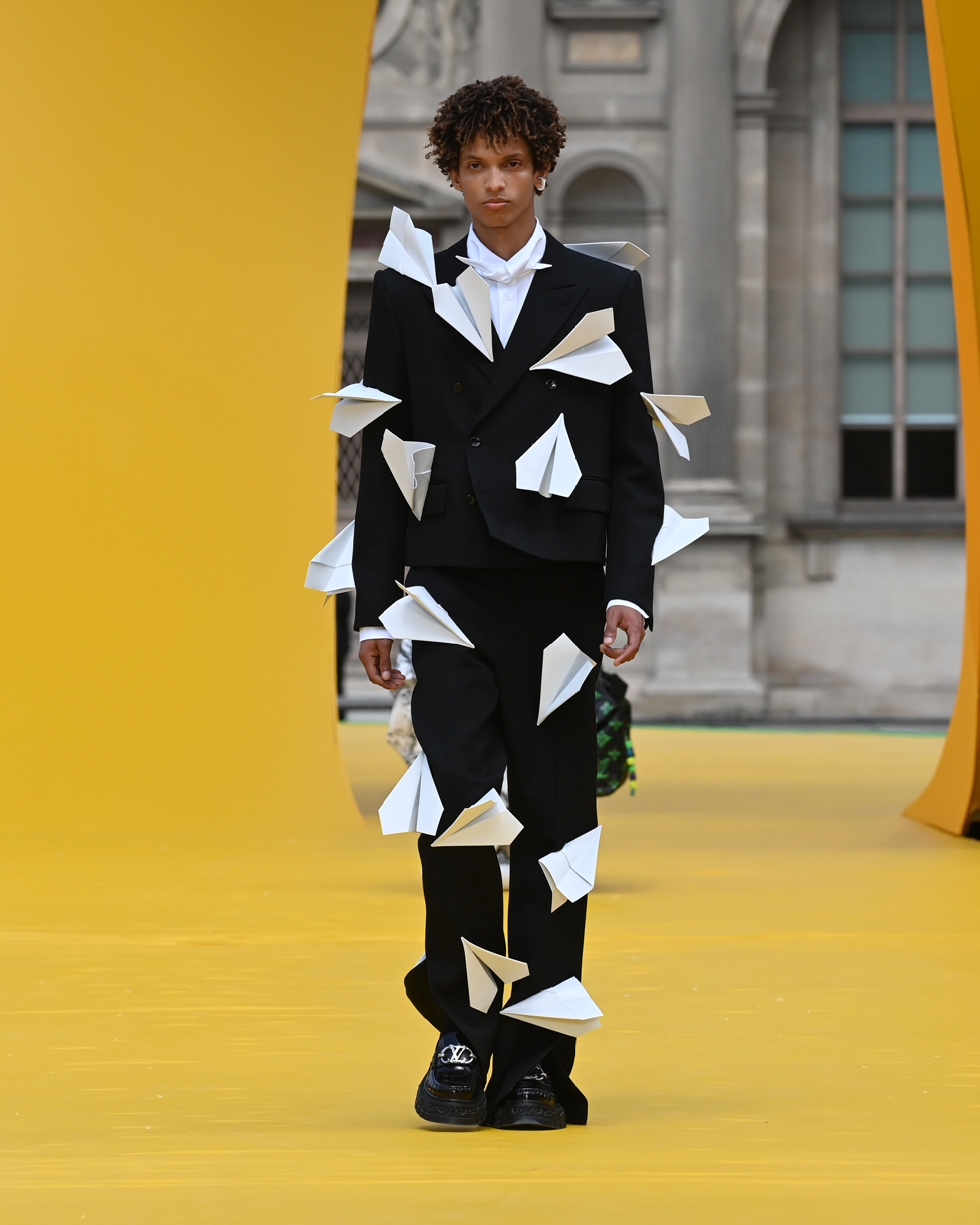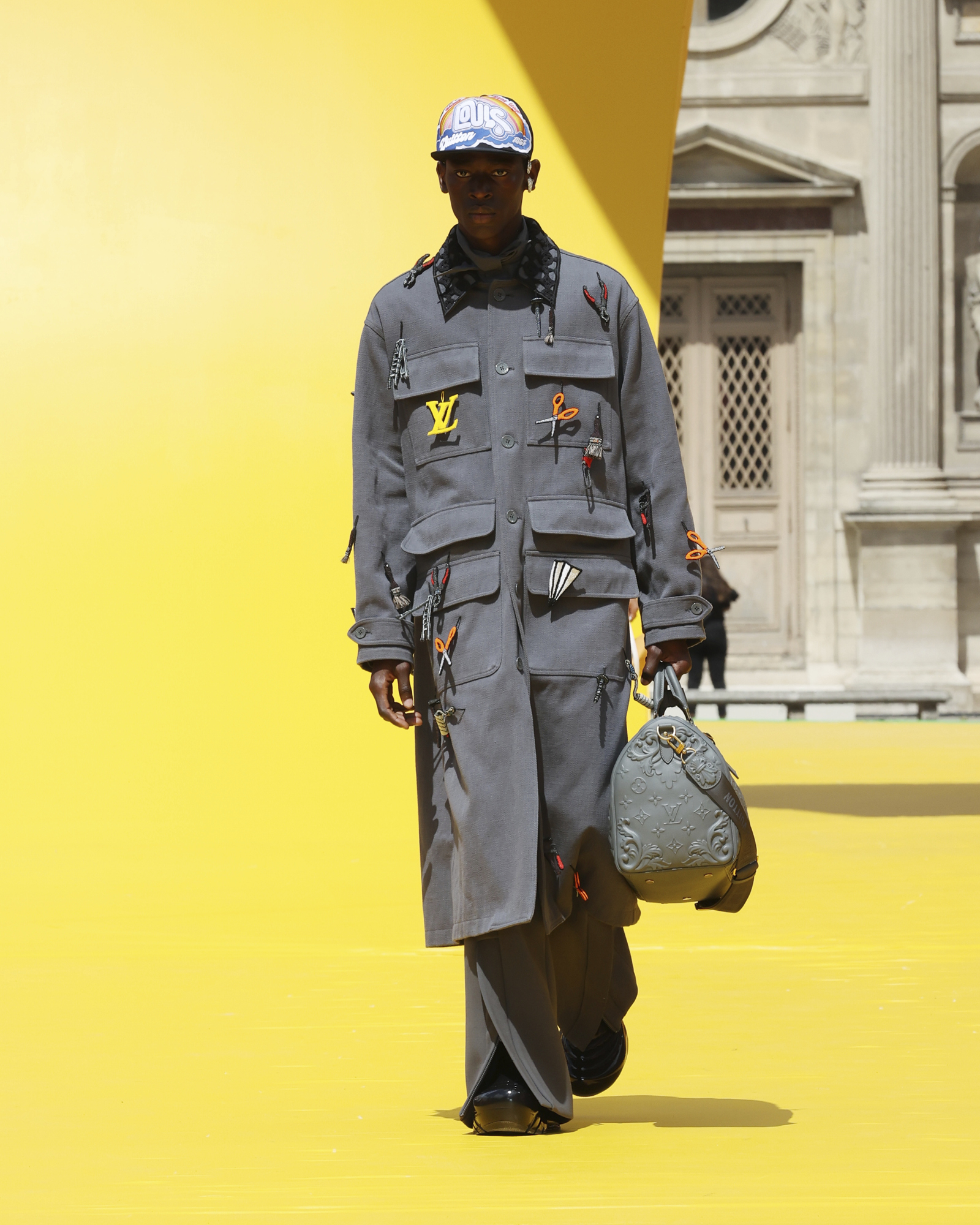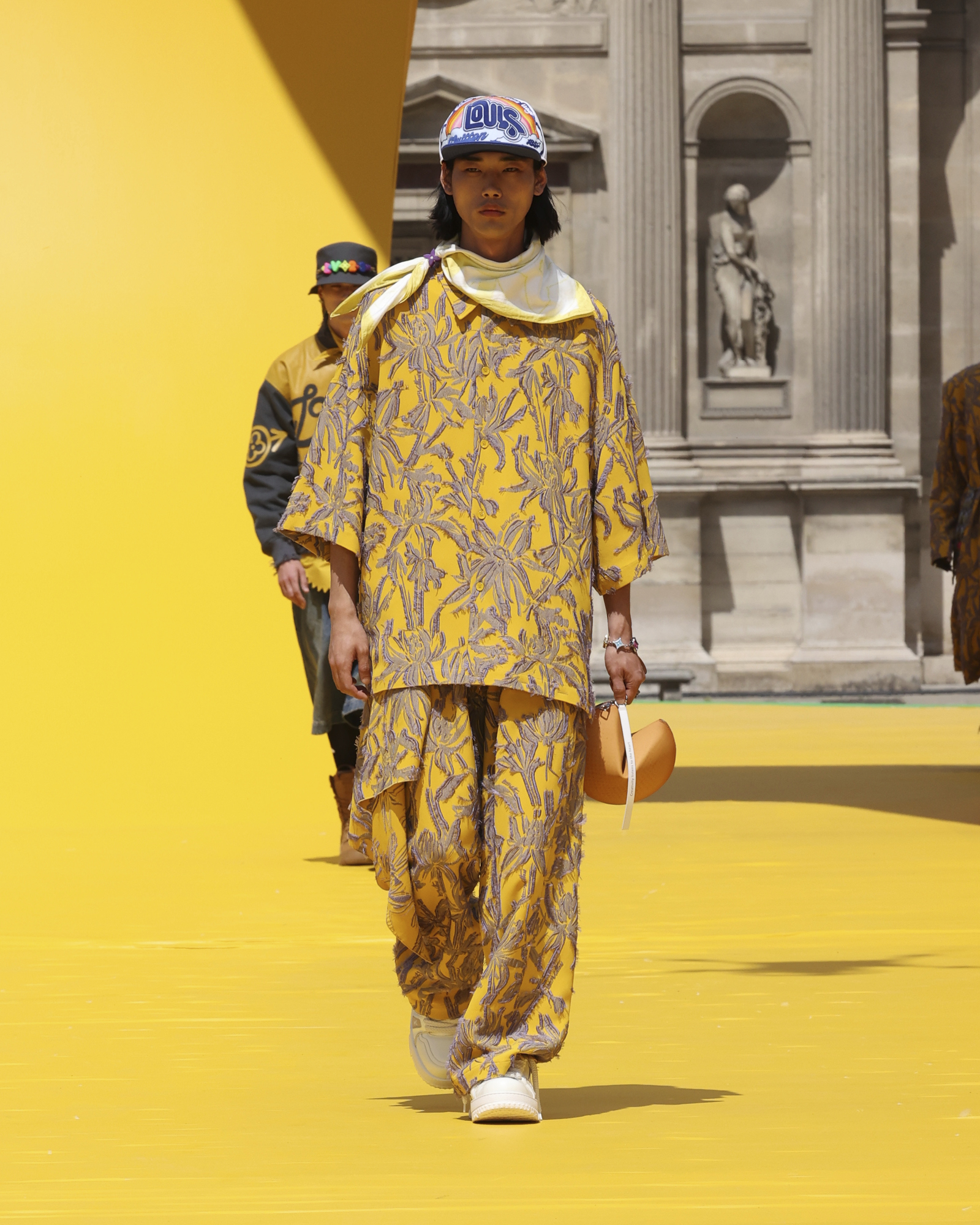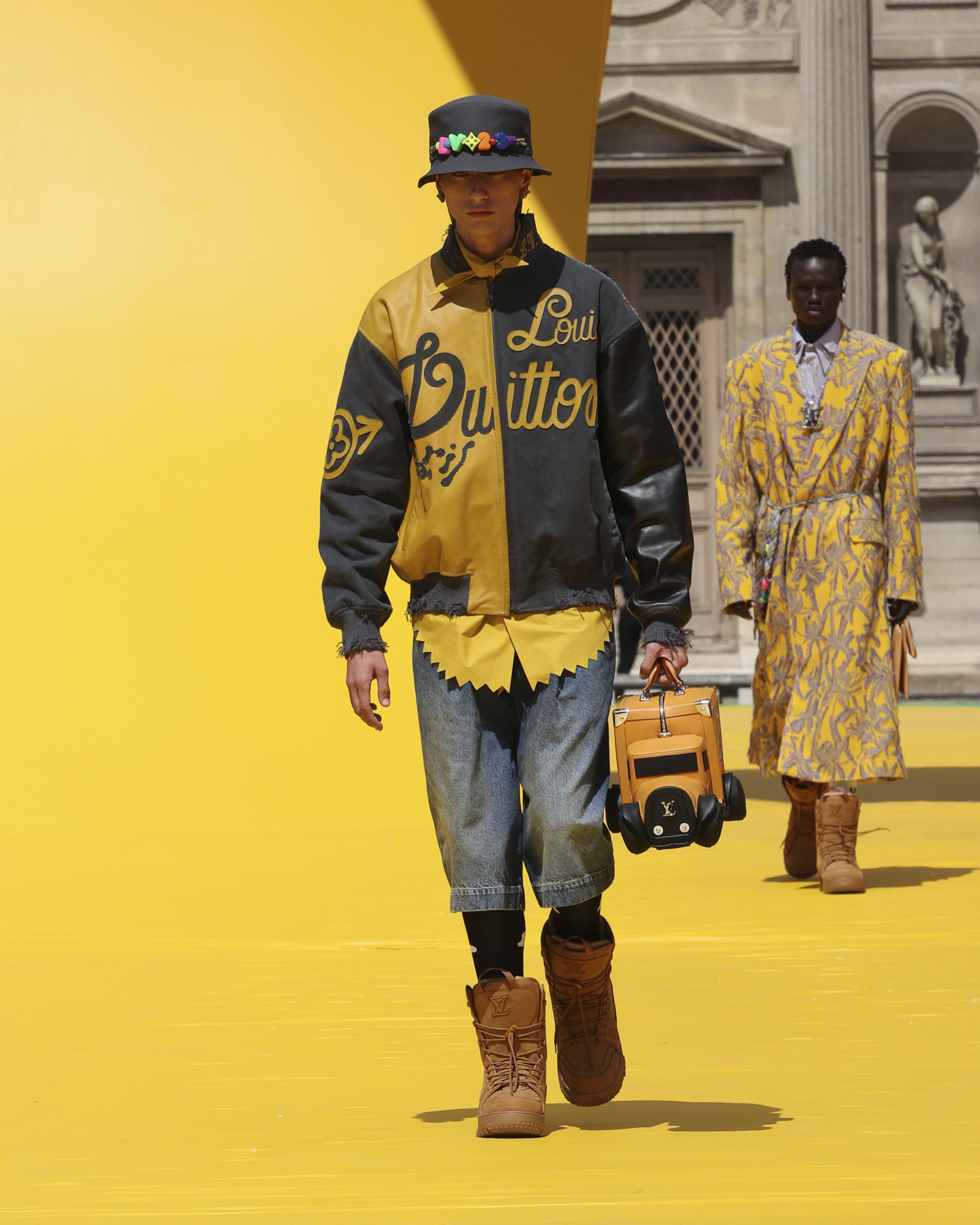 Imagination and inspiration were at the forefront of Louis Vuitton's men's collection for Spring/Summer 2023—a first without the late Virgil Abloh. All eyes were on the maison as to how they would carry on, but the brand's Studio Prêt-à-Porter Homme team did not disappoint.
Even the show invites carried the Abloh flair, indicating that this will be no mournful ceremony. The stage was constructed to look like a supersized children's racetrack, complemented by a Tallahassee-based marching band and a performance by Kendrick Lamar. All that yellow? It was to recall the Wizard of Oz theme for Abloh's first Louis Vuitton collection back in 2018.
As for the collection, Abloh's design language was splashed across the gender-defying looks. Childlike, playful and yet elevated, the runway was set ablaze with patterned blazers, "paper airplanes" made out of origami leather affixed to formal suits, bags in the shape of toy trucks, and belts hanging with coloured building blocks with the LV monogram. And of course, it's not a Virgil Abloh-inspired collection without a standout footwear piece. In this case: the new Le Boyhood sneaker in a glorious chunky silhouette and thick laces, paired with silicone blocks or beads.
In the midst of the fun fair, eagle-eyed locals might have caught Ridzman Zidaine on the runway. Zidaine is the first Malaysian male model to walk for Louis Vuitton and we couldn't be more proud. The show came to a close as models walked down the runway with a mile-long rainbow flag, a nod to the rainbow catwalk at Abloh's first LV show.
2. Dior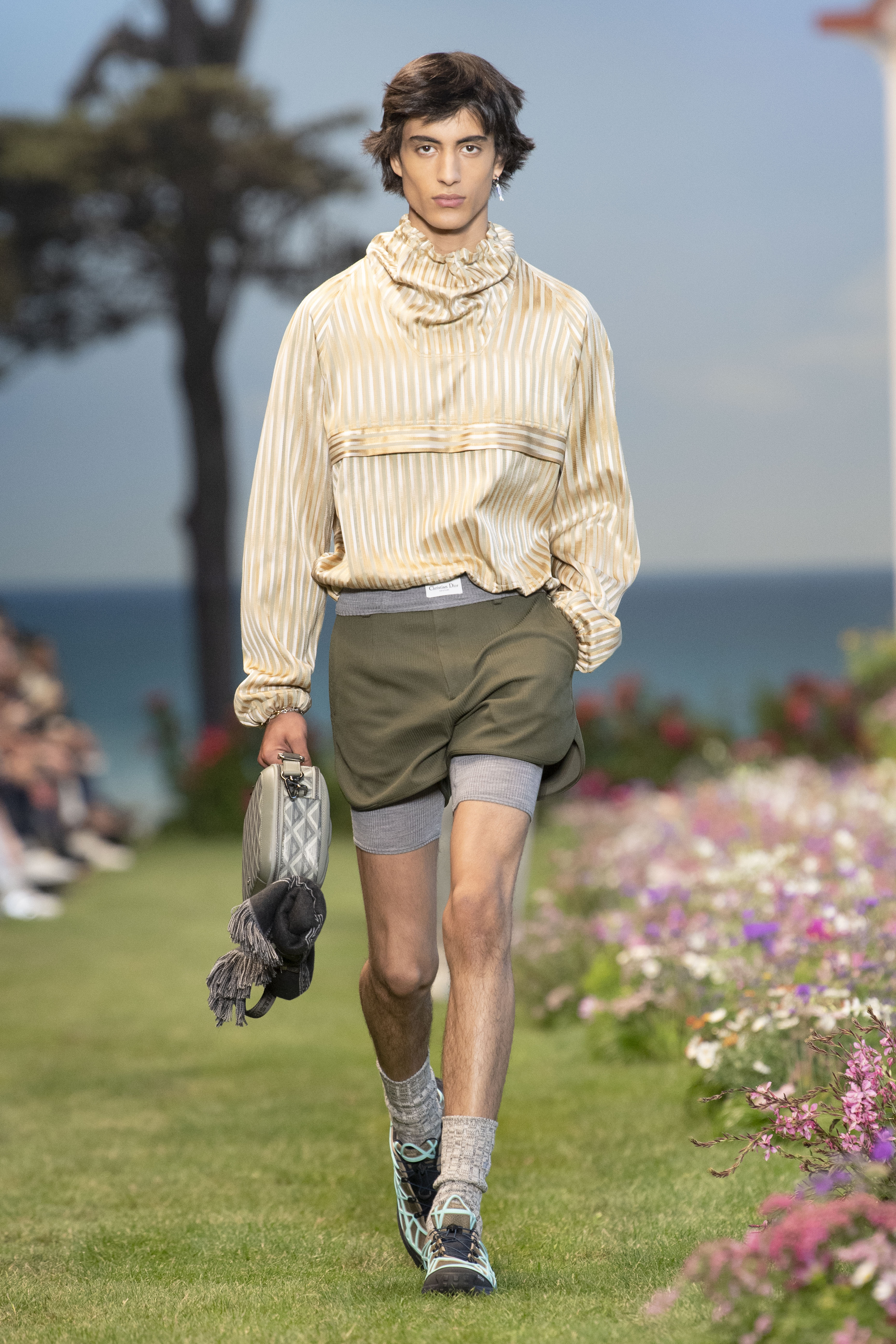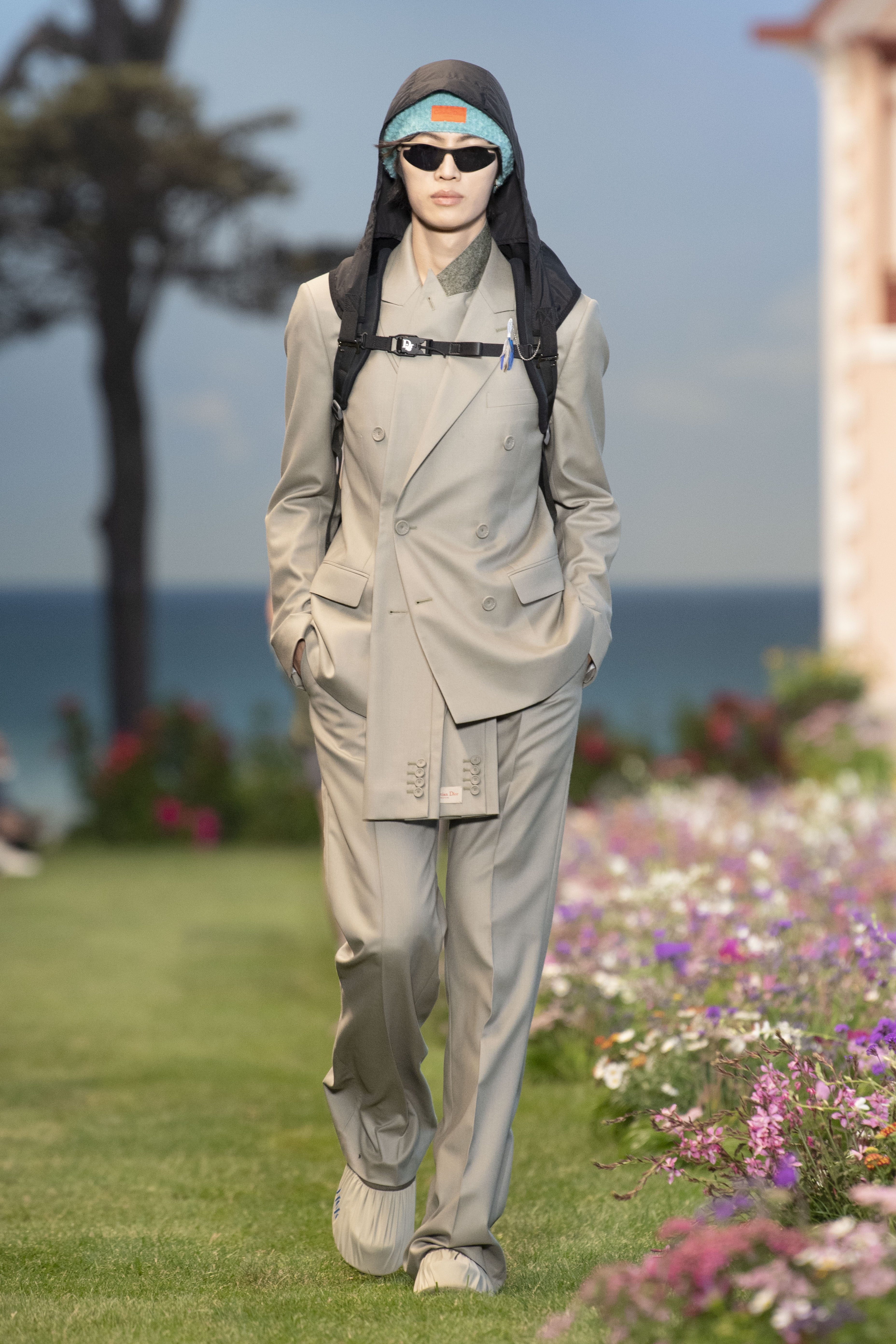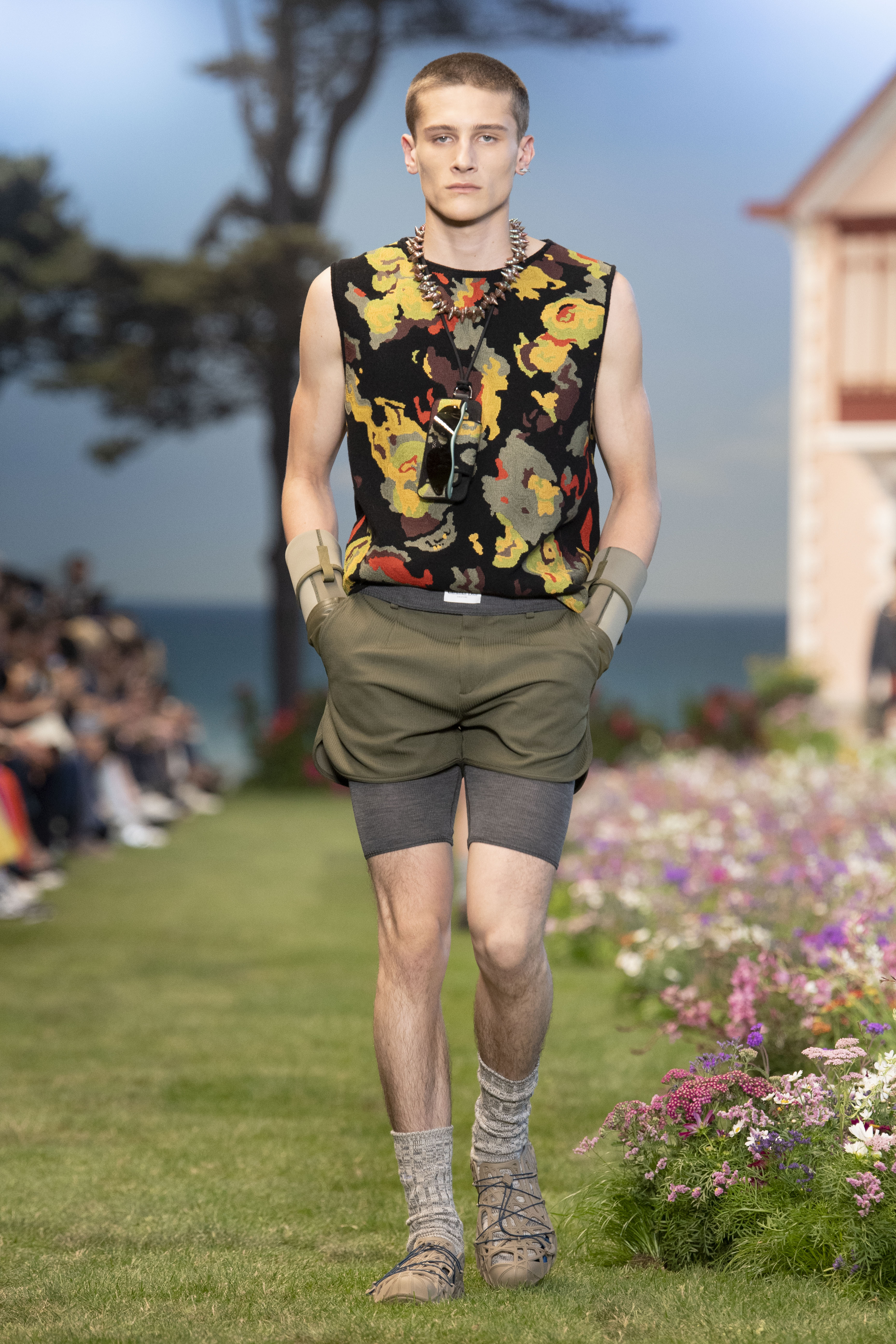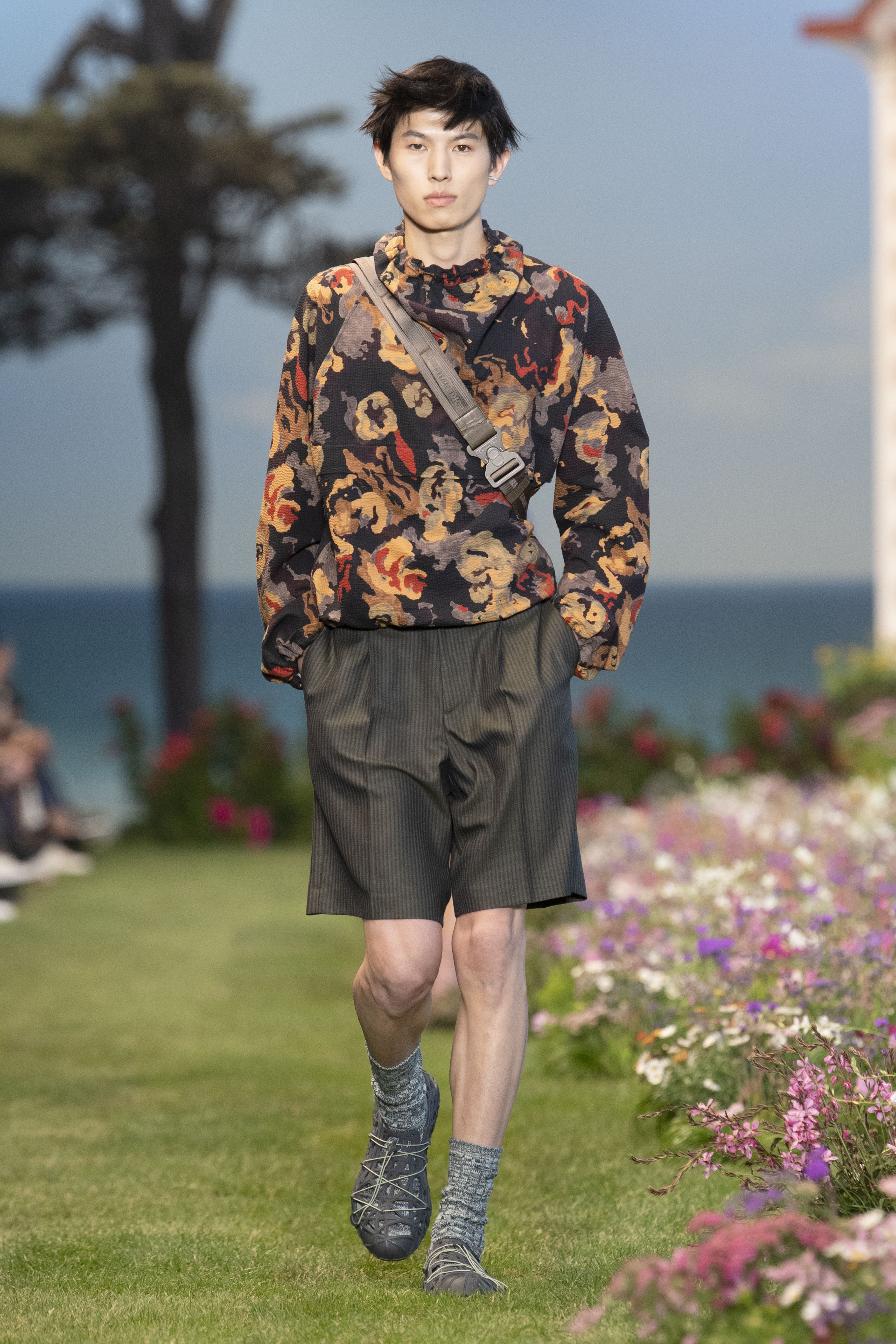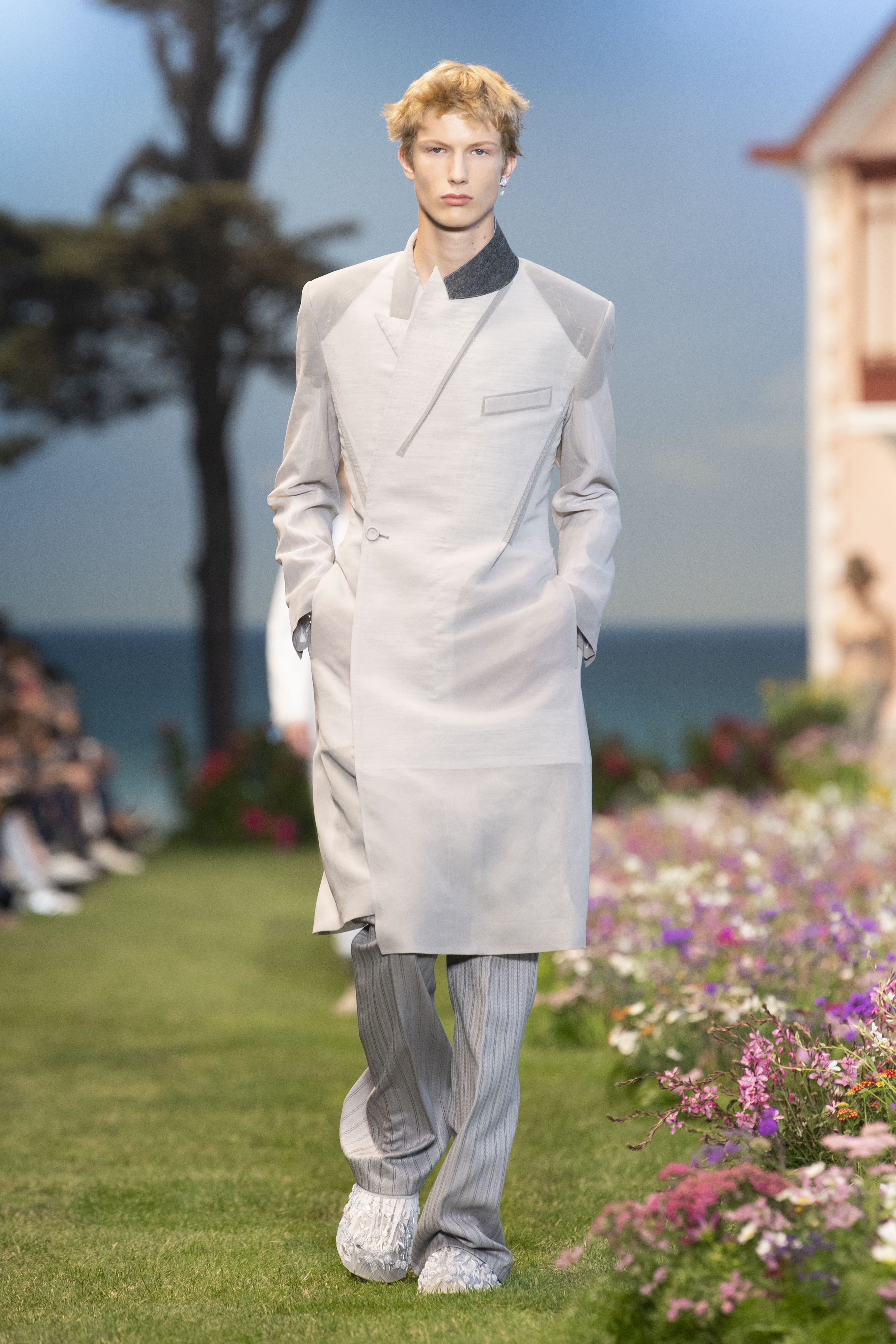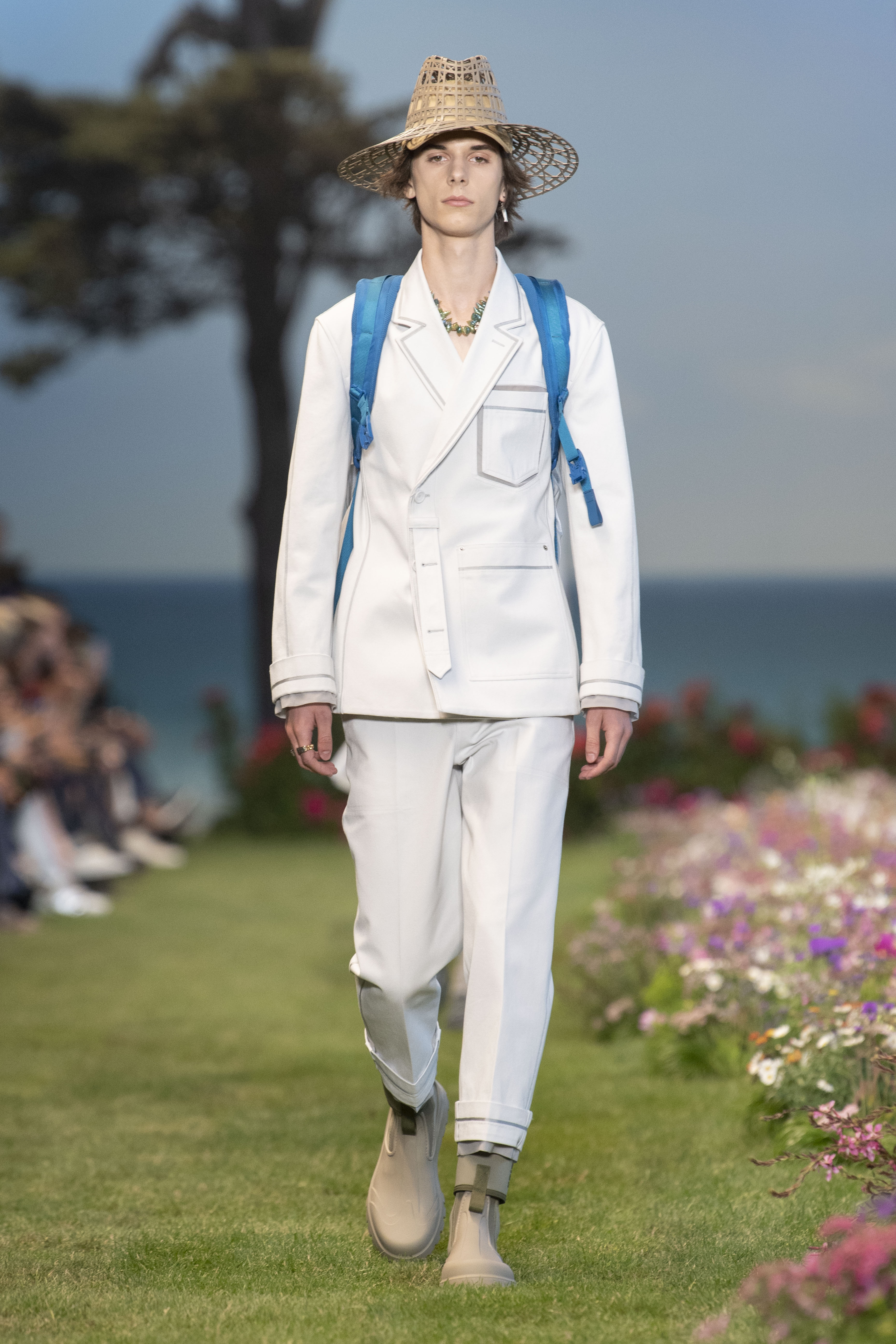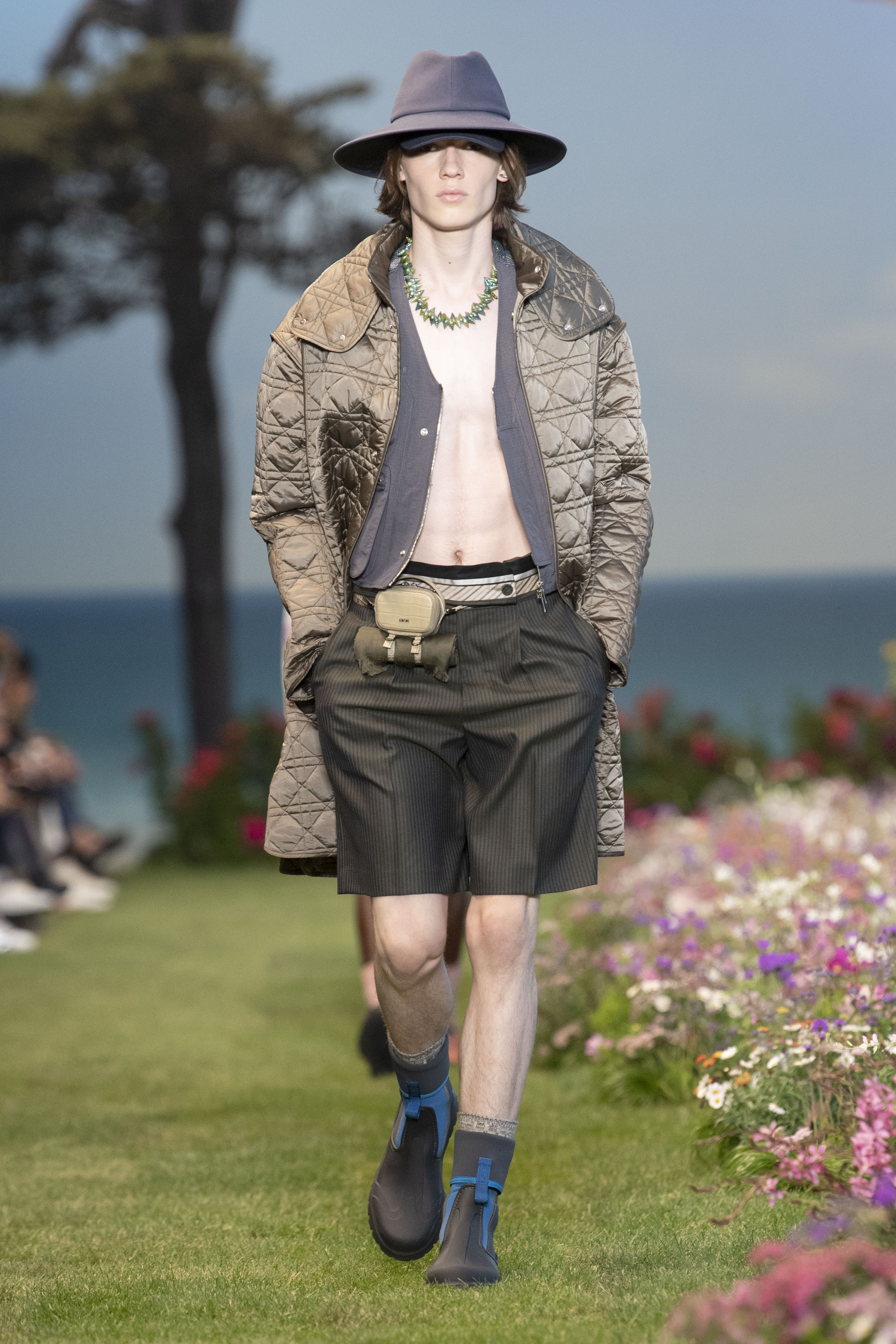 Kim Jones returned to Monsieur Dior's roots for the Dior Men Summer 2023 collection. By that, we meant Christian Dior's childhood home in Granville. In addition to recreating the villa, Jones also had the Charleston Farmhouse—where artists Vanessa Bell and Duncan Grant lived—brought to life on set. At the centre of these two houses was a picturesque garden for the models to stroll through, but read between the lines and you'll see it as Jones bridging Christian Dior's essence and his own passion for the arts, literature and the great outdoors. All with the trademark couture-grade craftsmanship.
Dior ankle-length wellies may seem like a novelty, but there were also beloved Dior staples such as the Bar jacket in semi-transparent silk organza. Across the 53 looks, we saw double-layer shorts, post-impressionist artworks by Duncan Grant on cosy sweaters and tops, 3D-printed gardener's hats, and zippy camo-jackets.
Nothing from the extravagant set was going to waste either as we heard all 19,000 plants were going to be donated to the Val de Grace. By the end of the show, we were just ready for a spot of tea.
3. Fendi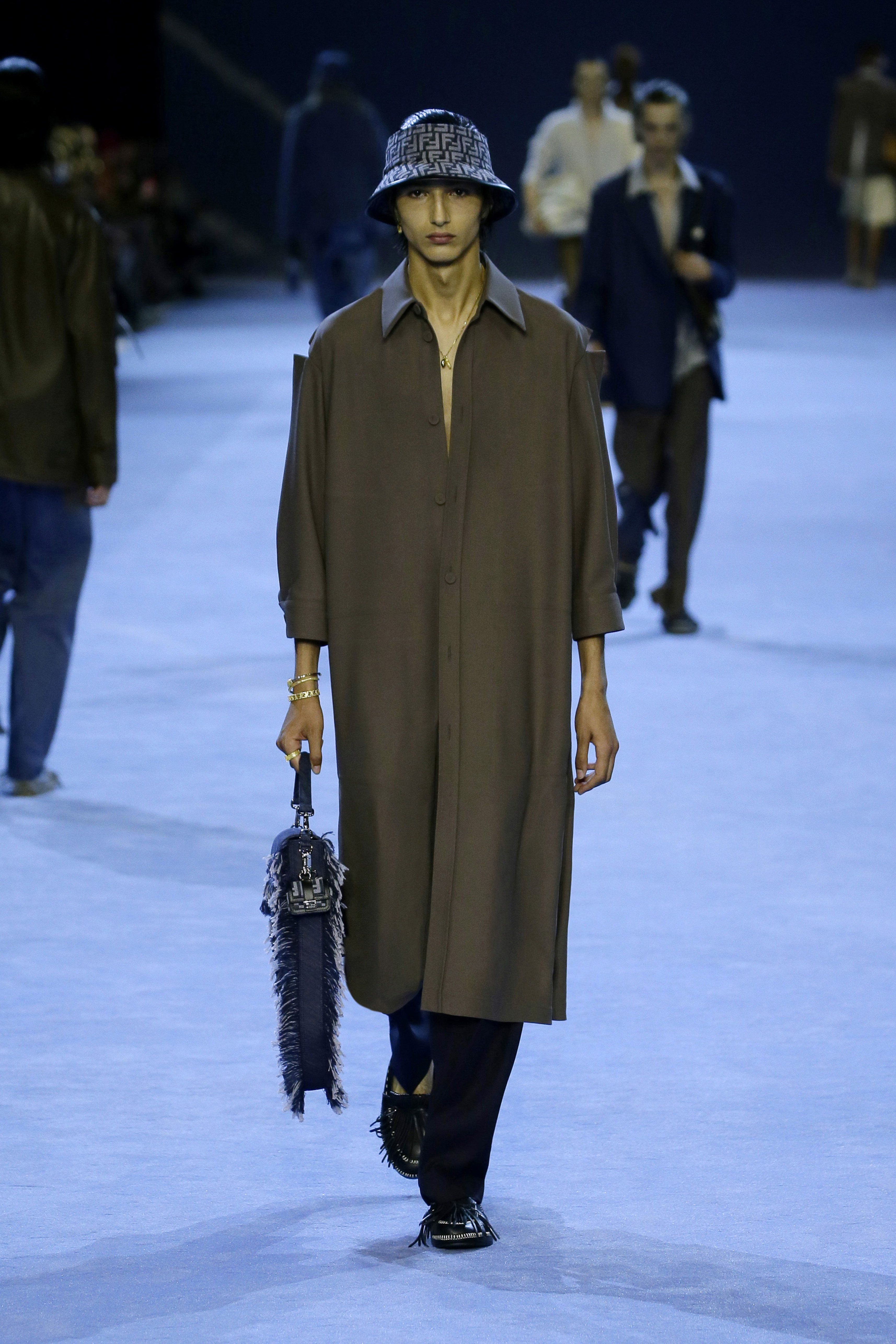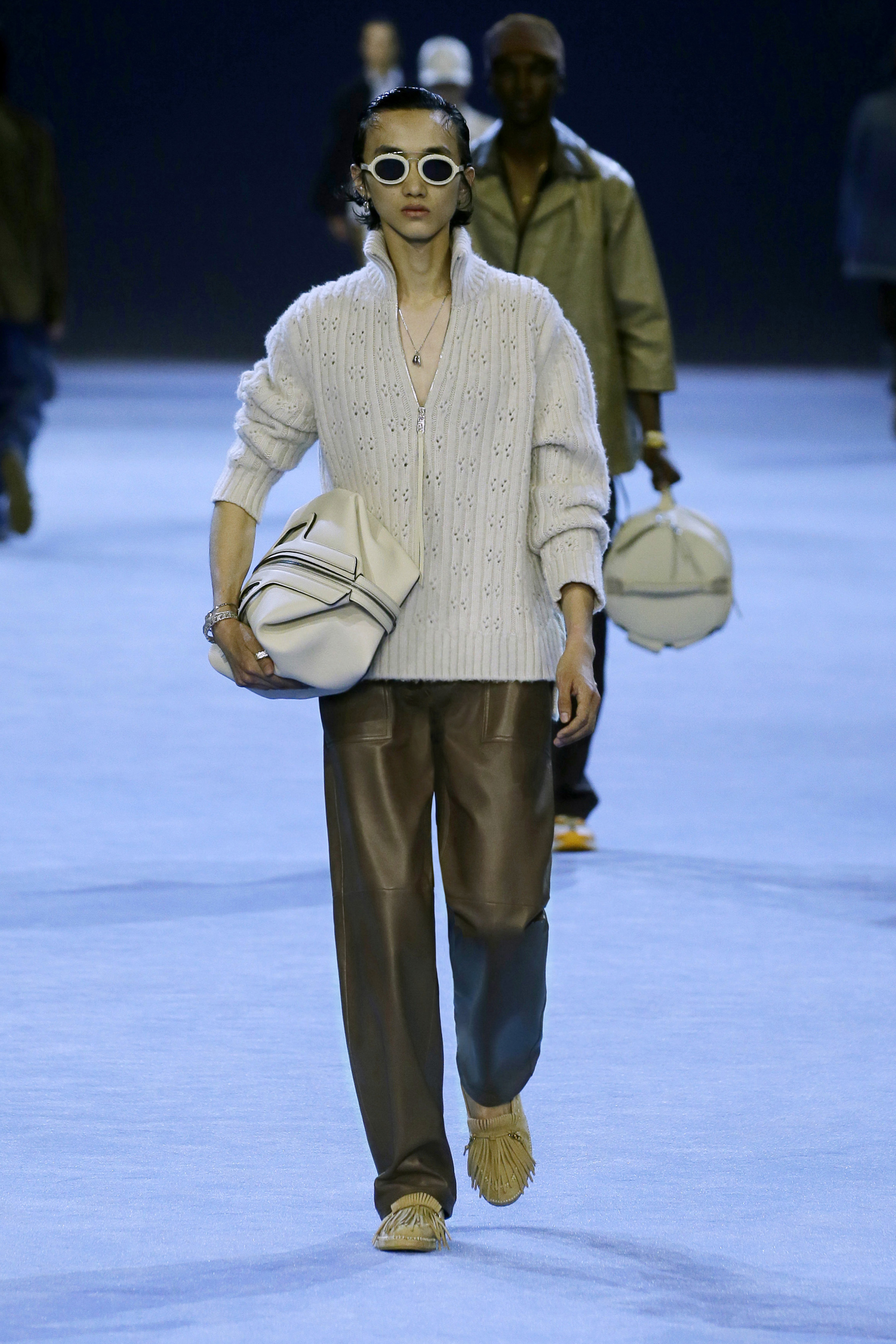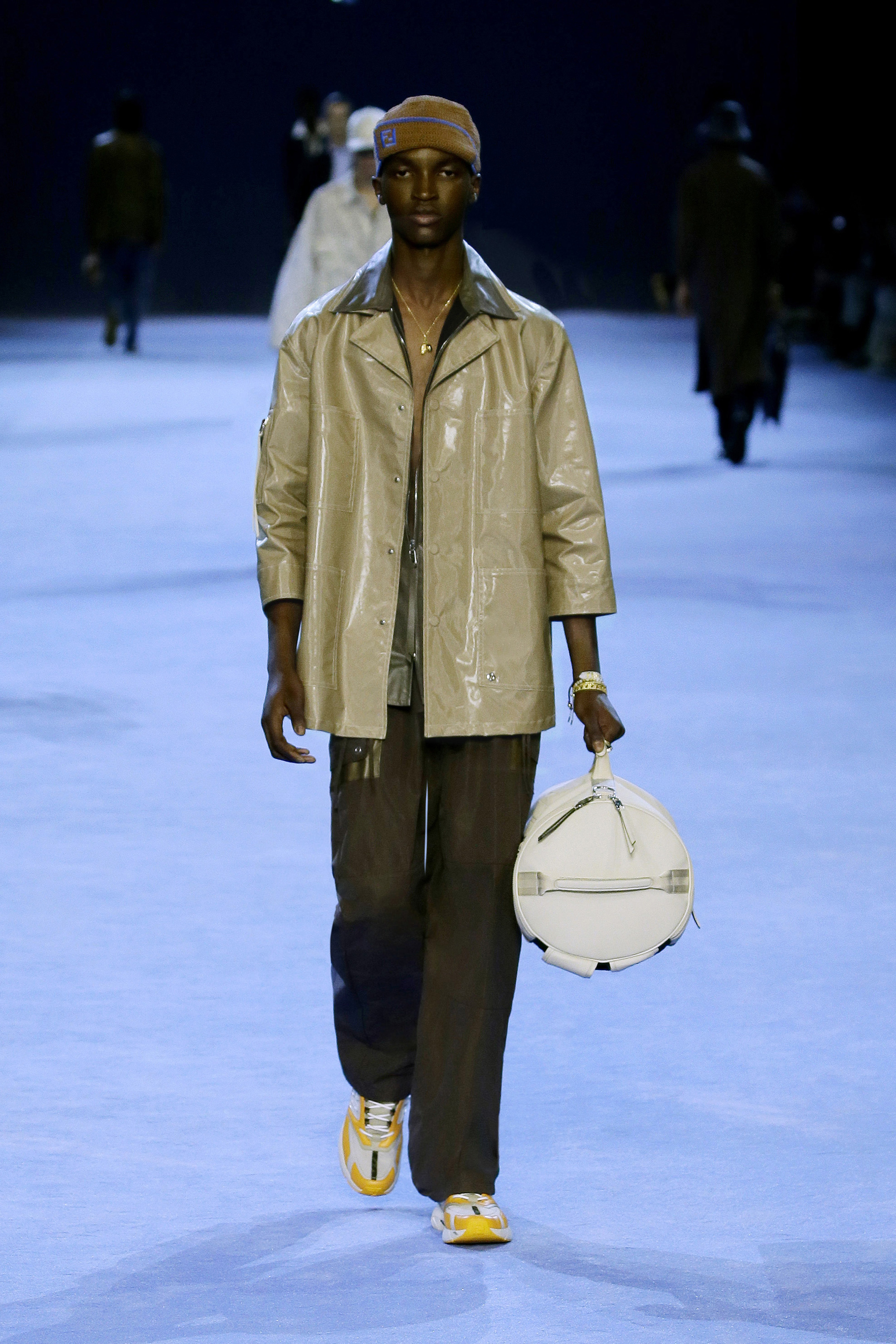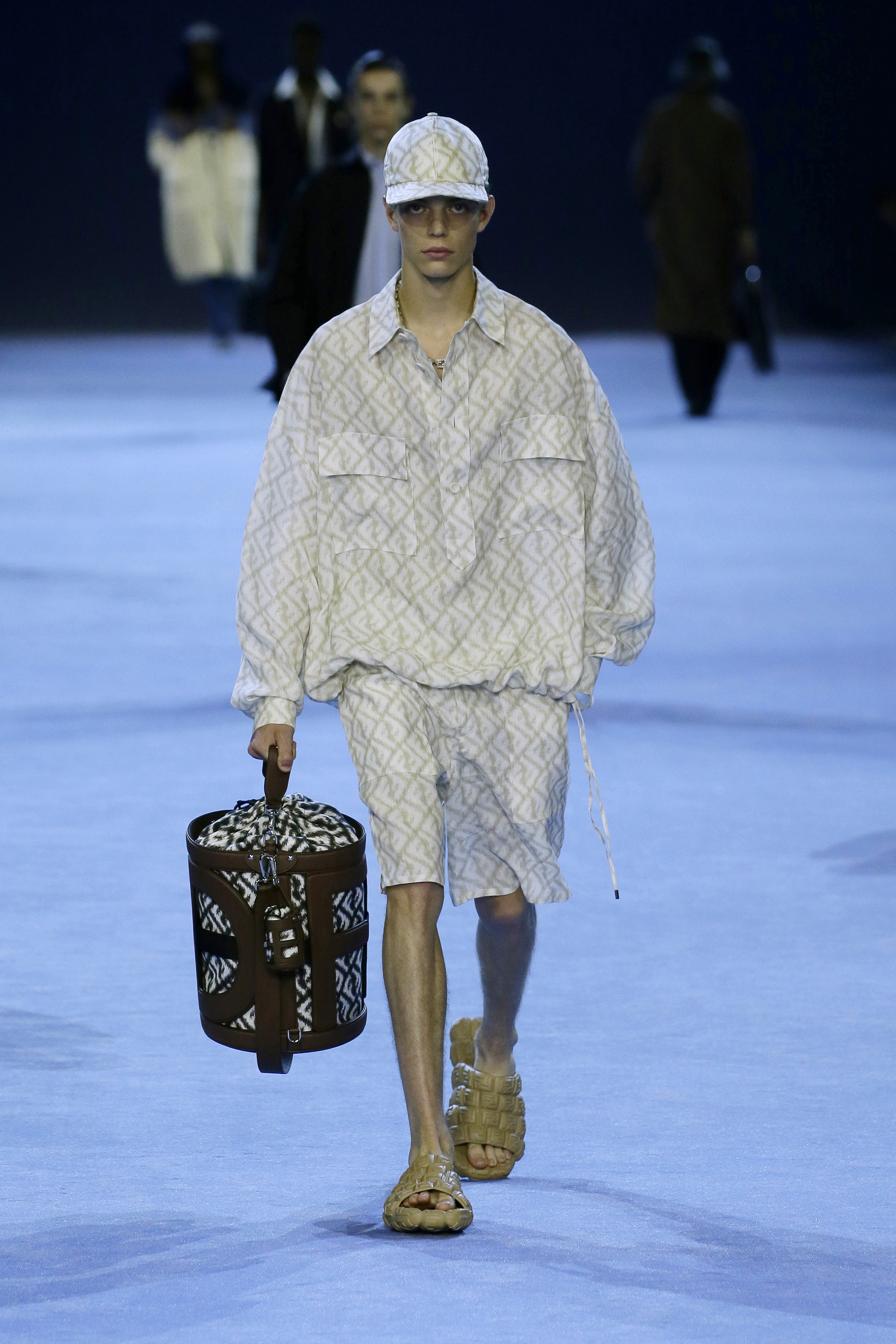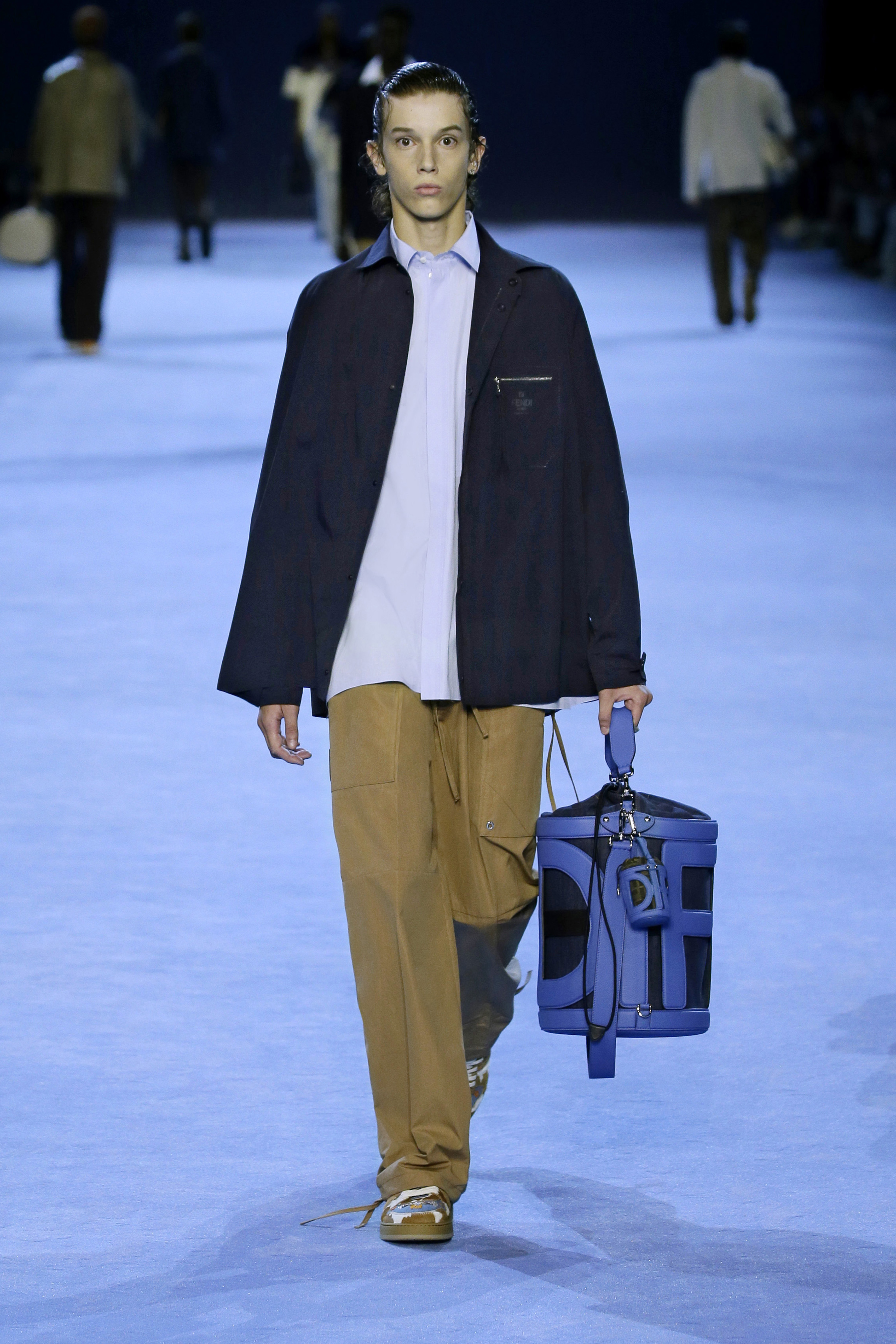 Was it California dreaming or a denim festival at Fendi's Men's Spring/Summer 2023 show? Curated by Silvia Venturini Fendi, it was both—it was constant contrast and juxtaposition. It was about freedom. Featuring agelessness in its clothing pieces this season, the collection shows how the use of colours can mimic the effervescence of the summer as it reflects the shades of the earth, sea and sky. Hence, denim pieces that are distressed with a trompe l'oeil print, fluid cotton twill shirts, cowhide-themed patterns, lots of earthy tones, and five-pocket jeans in entrancing blues.
Keen Fendi enthusiasts were quick to spot the iconic Fendi Baguette dressed with frayed denim edges (or animal prints) while others have their eyes on the new Fendi Roma Bucket bag. The Peekaboo ISeeU and ISeeU Petite arrived on the runway with the textured cowhide treatment or alternatively, accompanied with a beaded daisy chain strap. For their footwear selections, a slew of options was revealed—from a new skate sneaker to suede moccasins to chunky loafers with motifs. It's the bubble slides for us though.
4. Versace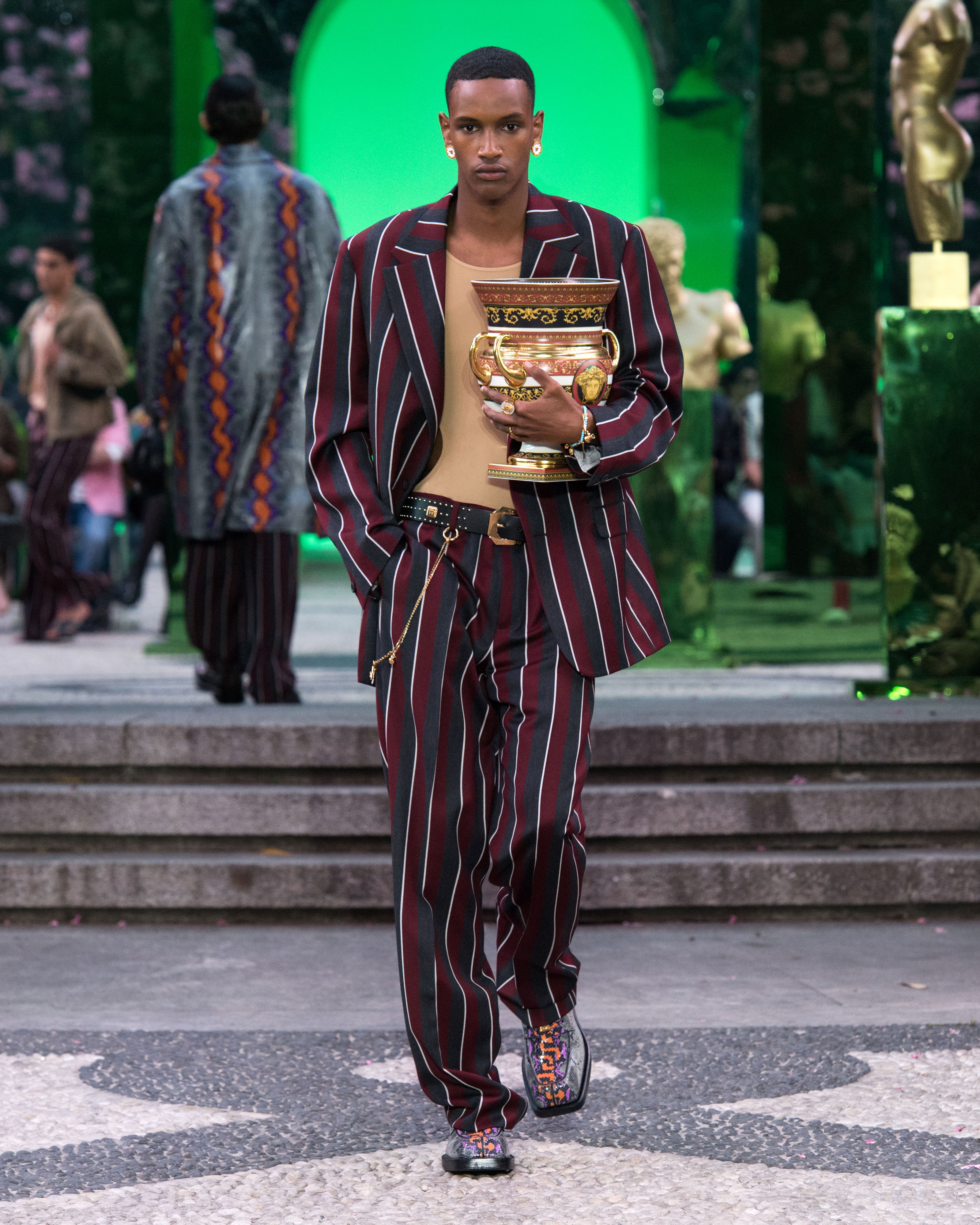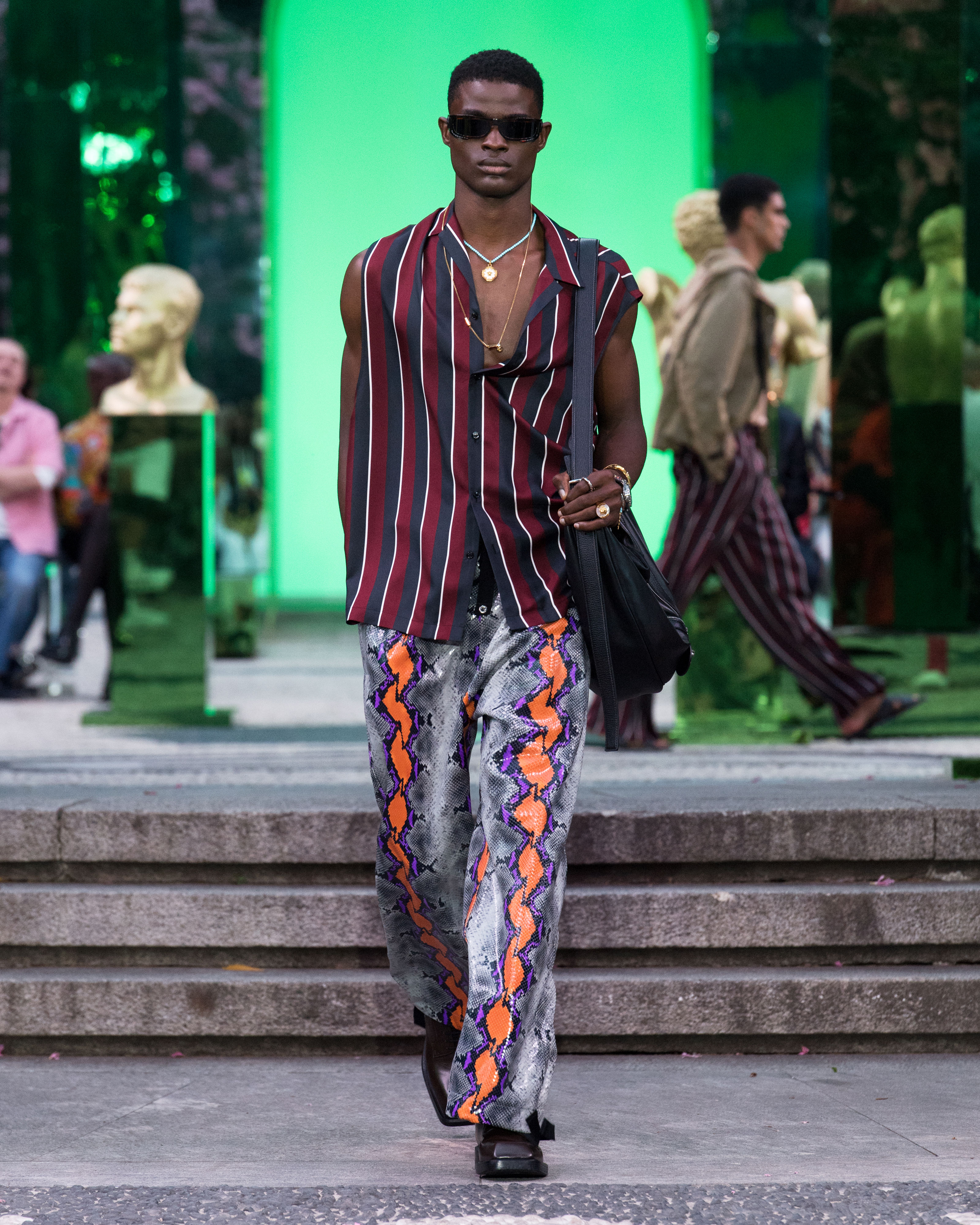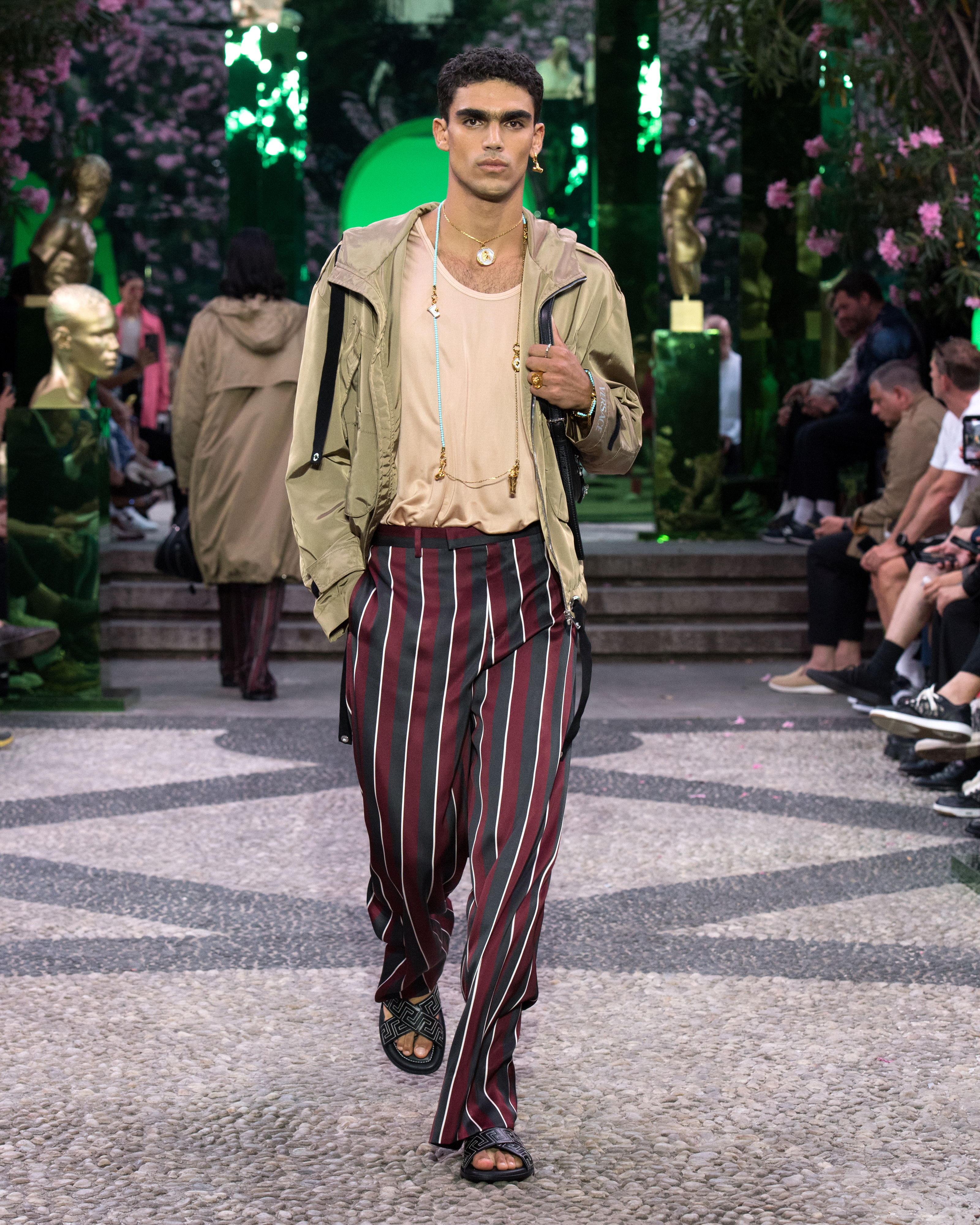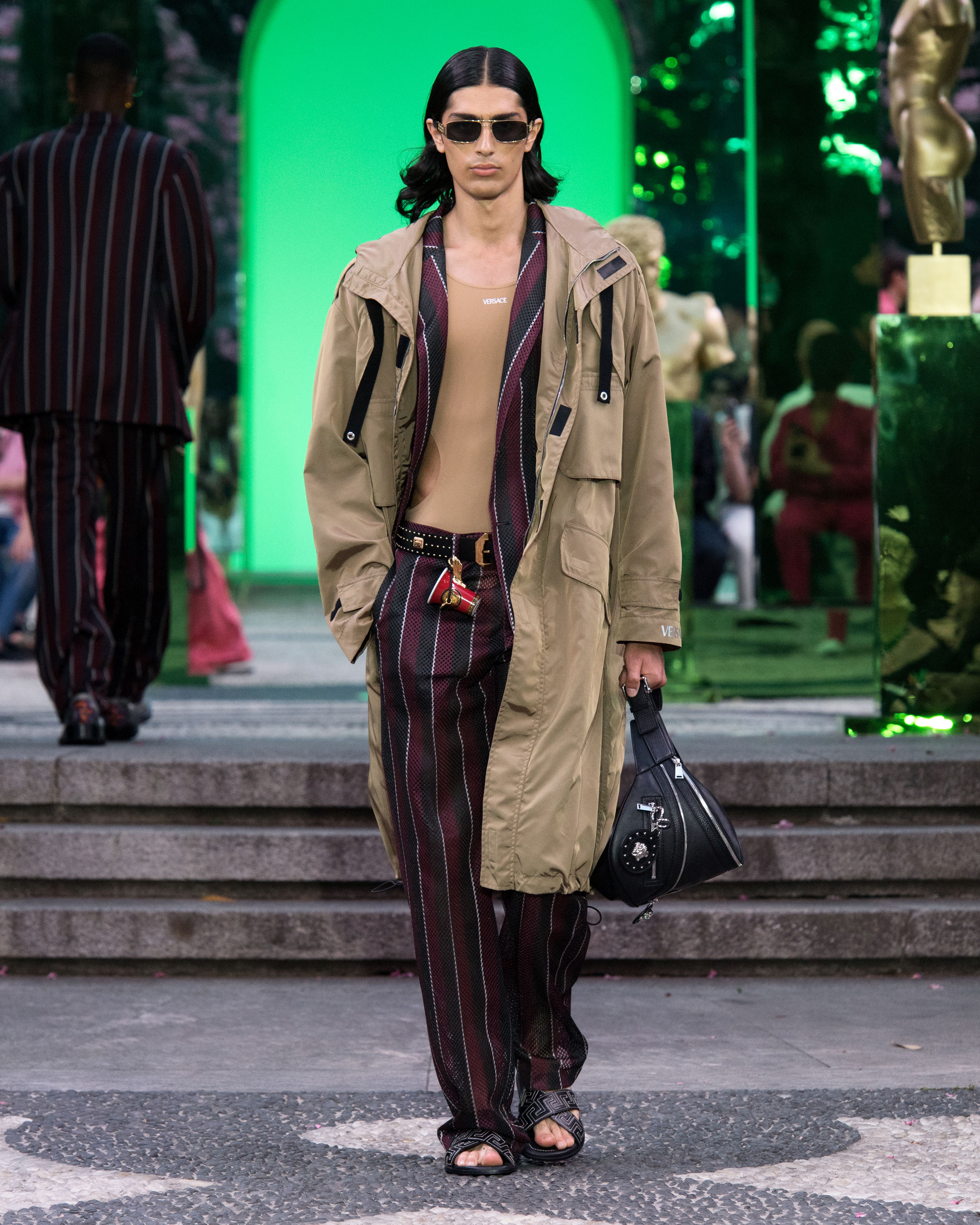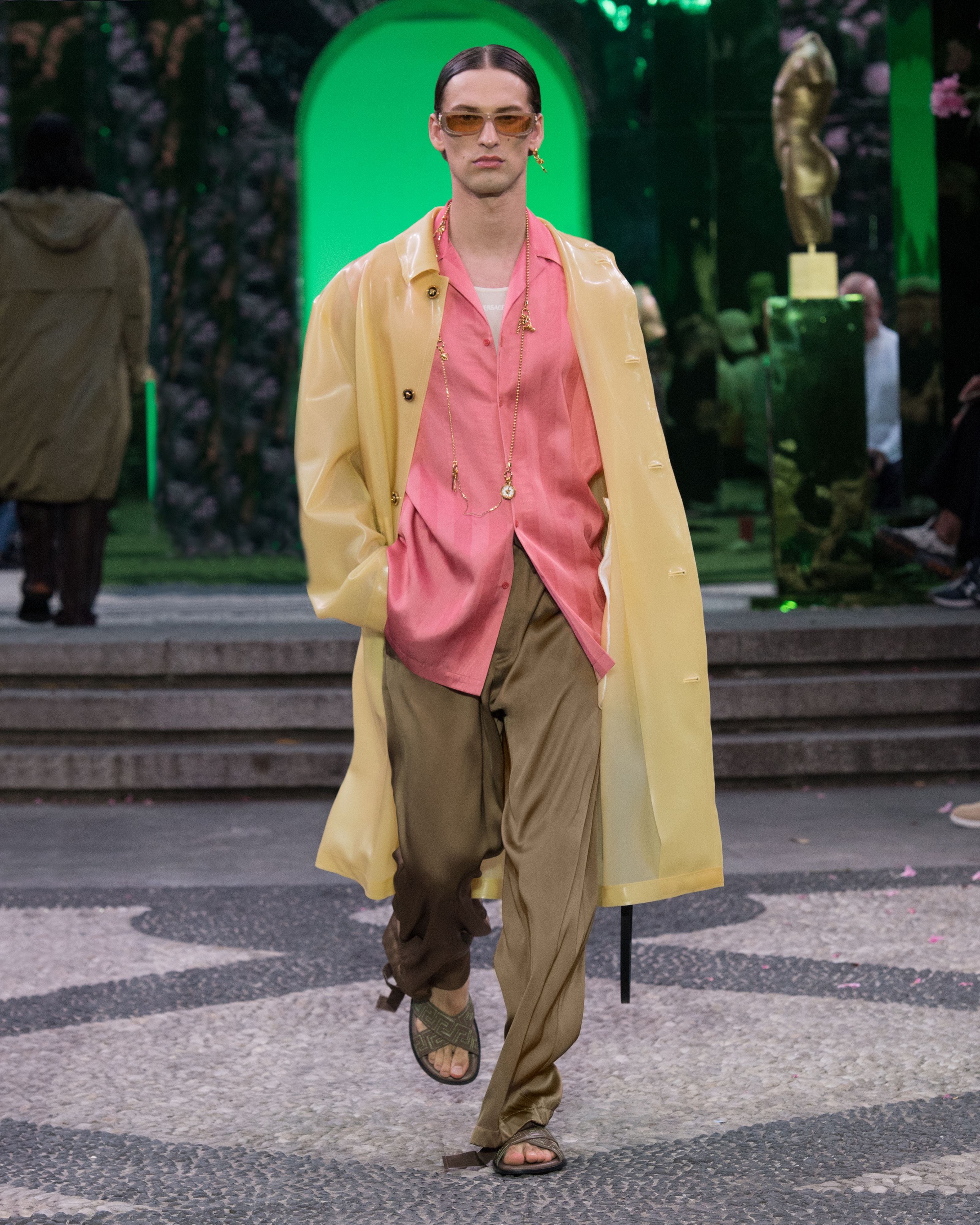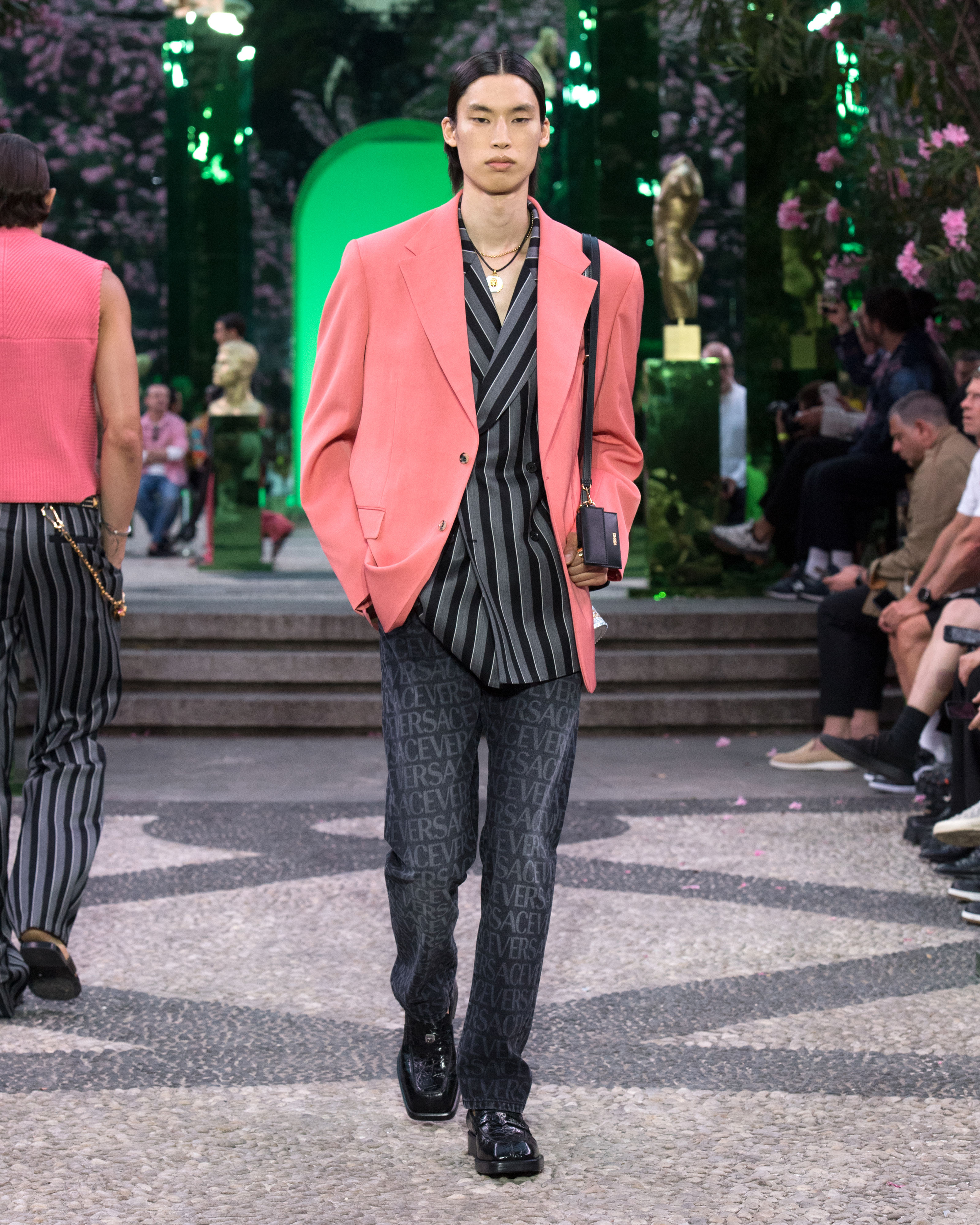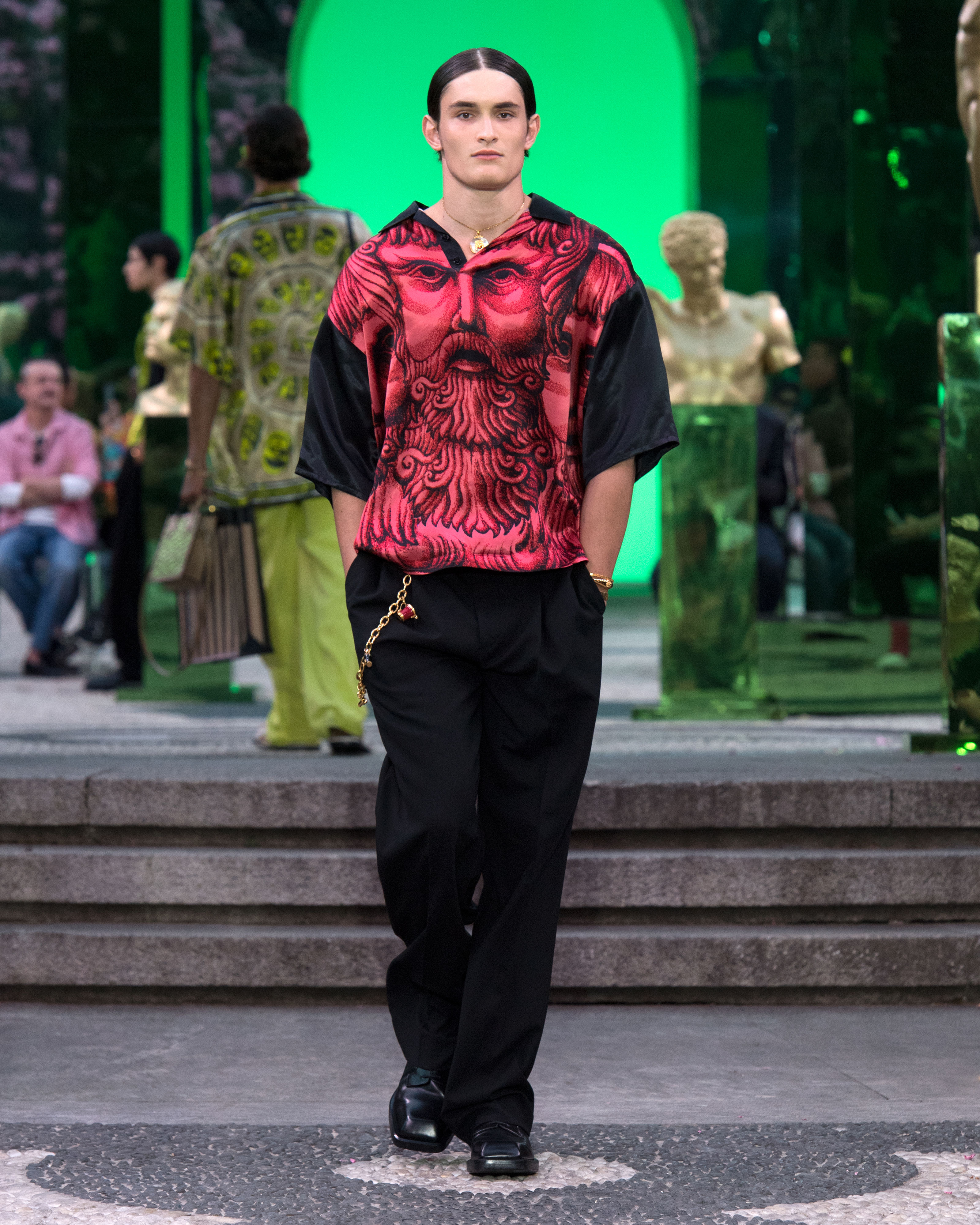 Realised by the hands of Donatella Versace and her team of highly-skilled artisans, we were presented with a very bold and loud interpretation of the Gen Z community. Walking the runway were the sons of fashion icons Mark Vanderloo, Helena Christensen, Andre van Noord, Carla Bruni, Megan Douglas, and Angela Lindvall, who brought their generation's vigour and attitude while codifying the Versace DNA.
Oversized silhouettes, python-print leather, t-shirts and jackets have been designed for this season with the iconic house symbol branded on each piece, making it all a perfect addition for a flashy summer. Of course, to cater to this rising generation is to be aligned with their values and so, the python prints versus exotic skins and eco-sustainable latex for the illusion of leather looks. The other highlight was the revival of the legendary archival Versace print: the frozen-in-lava death mask of Pompei.
Killing two birds with one stone, Donatella Versace had models walk down the runway with the latest Versace Home novelties. Some carried urns with intricate details, others had a teacup dangling from their belts, and one even had a bracelet shaped from a spoon!
5. Loewe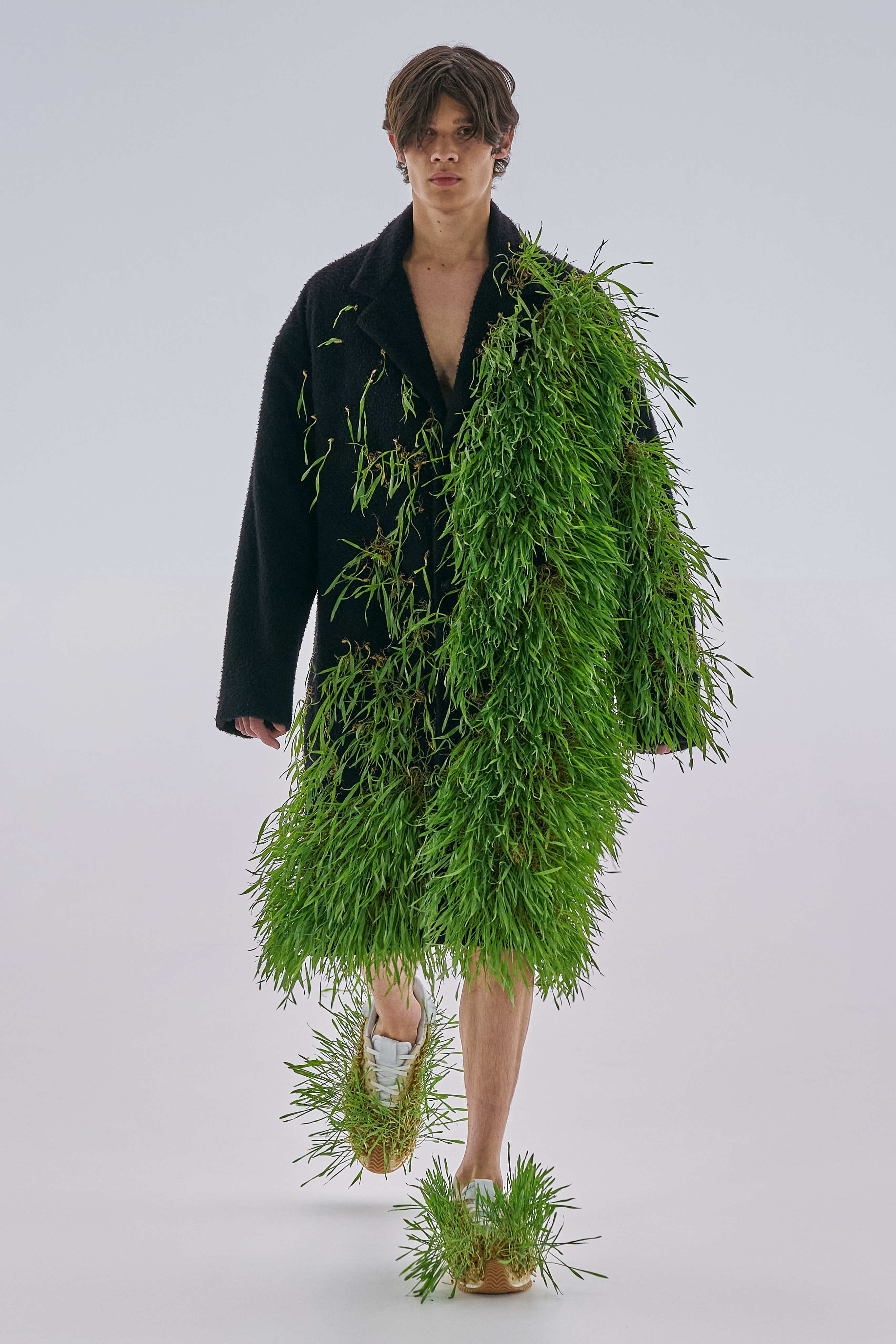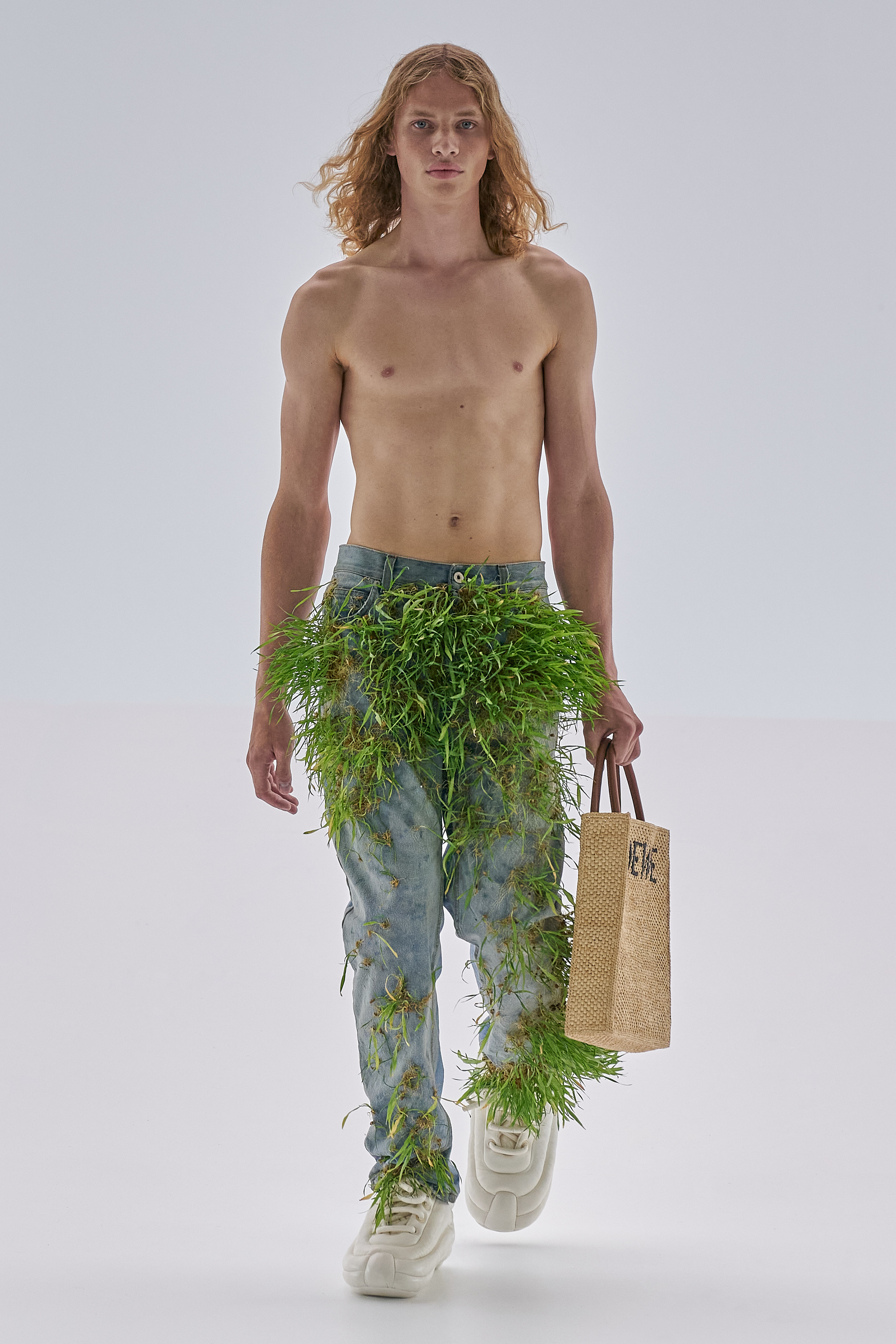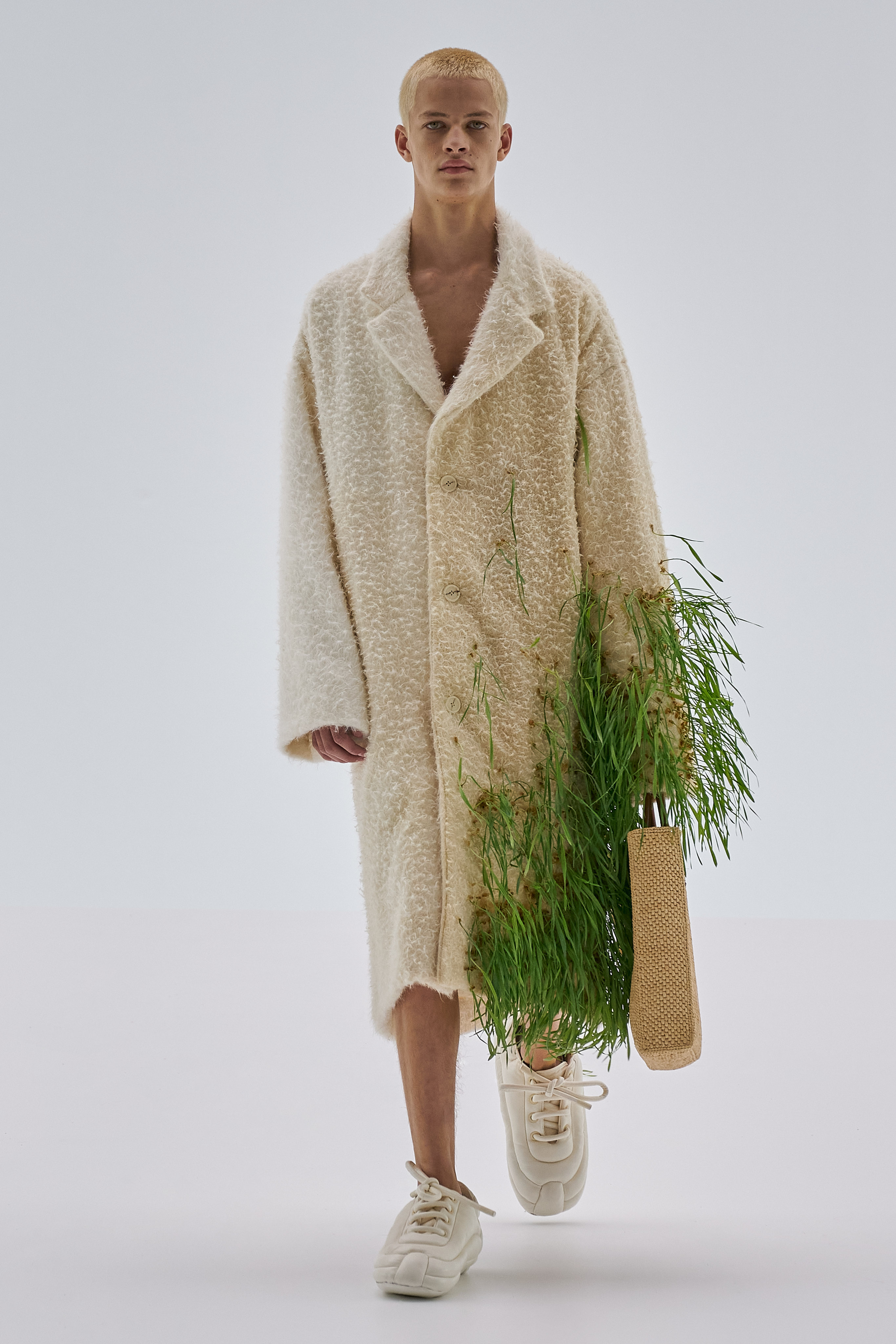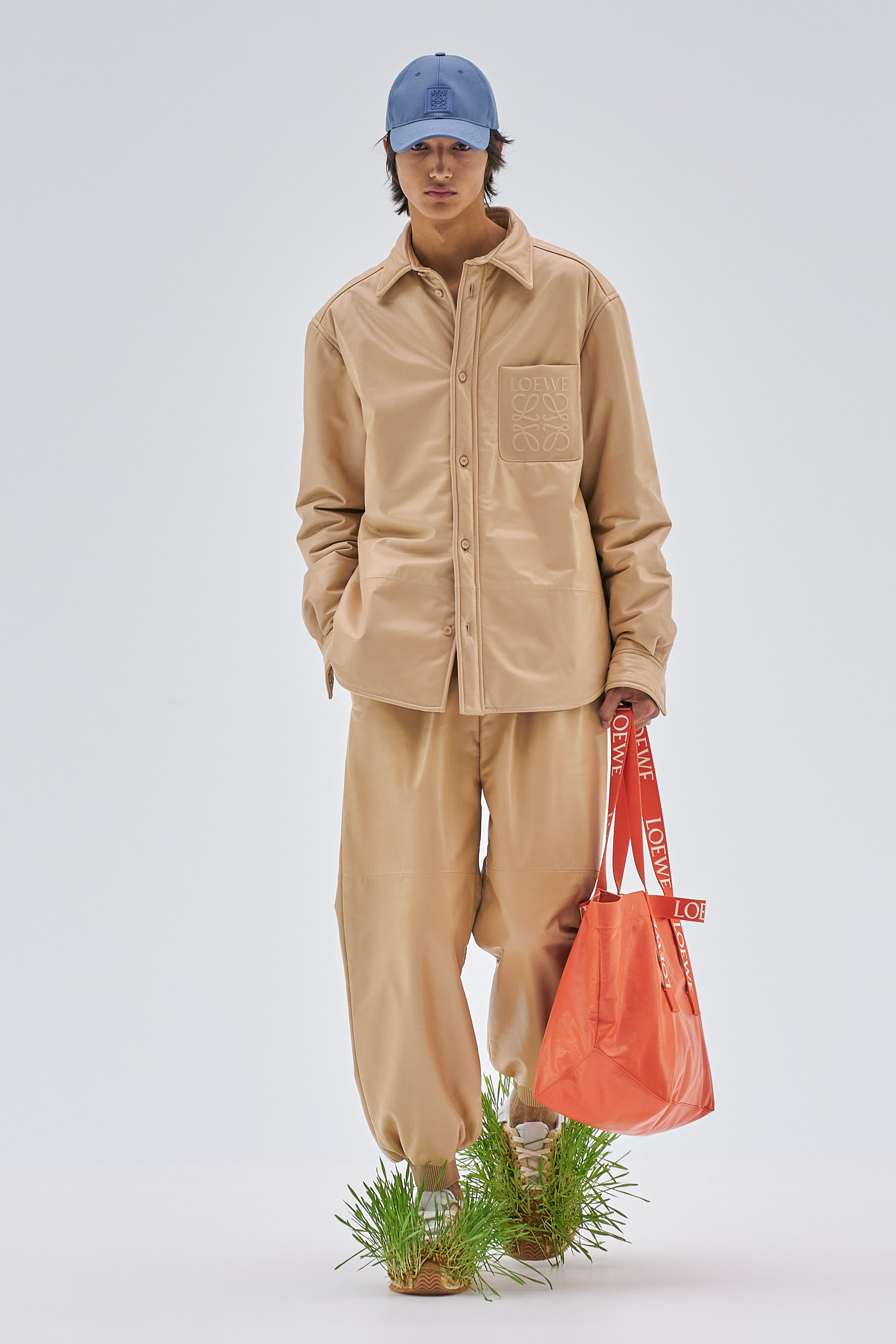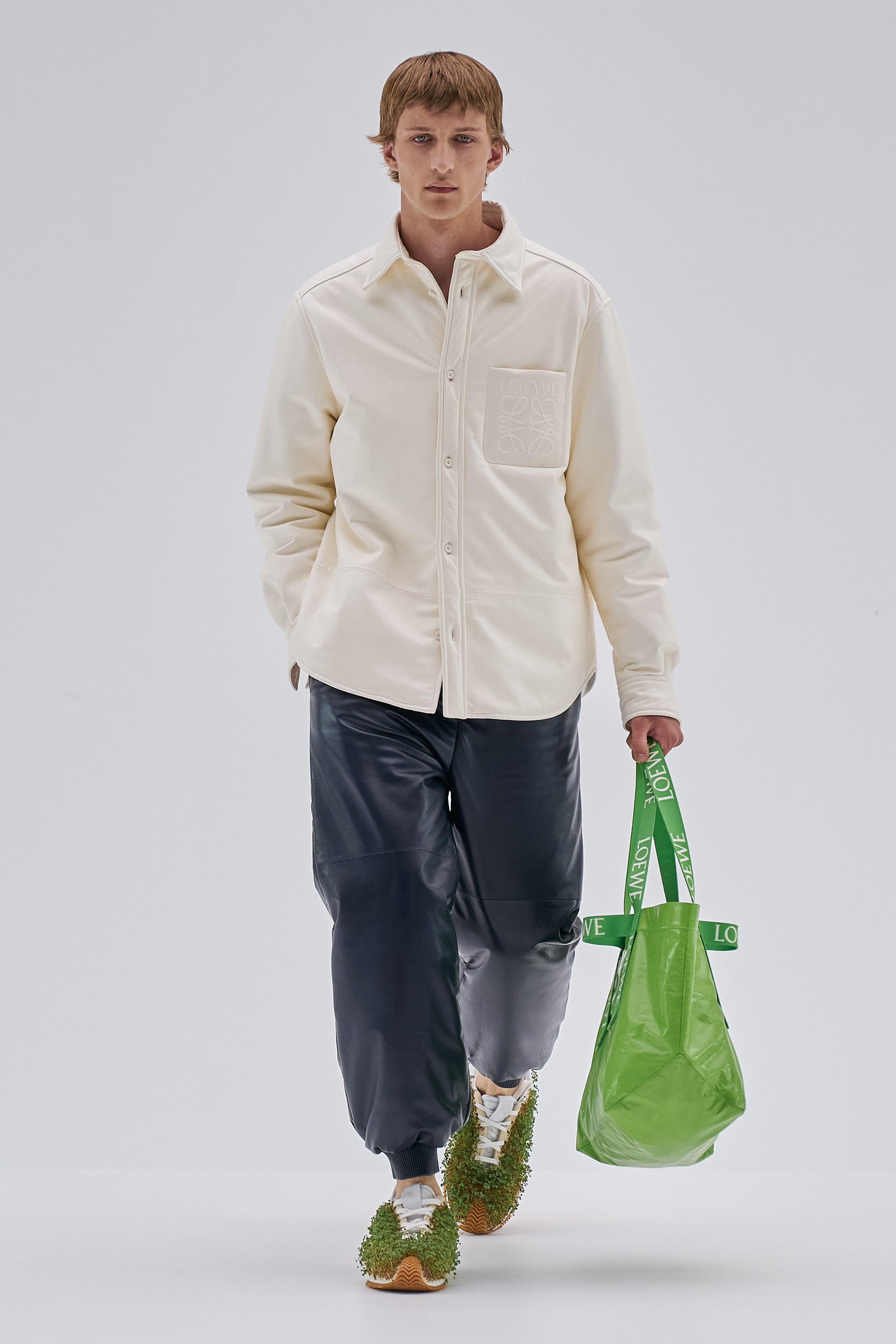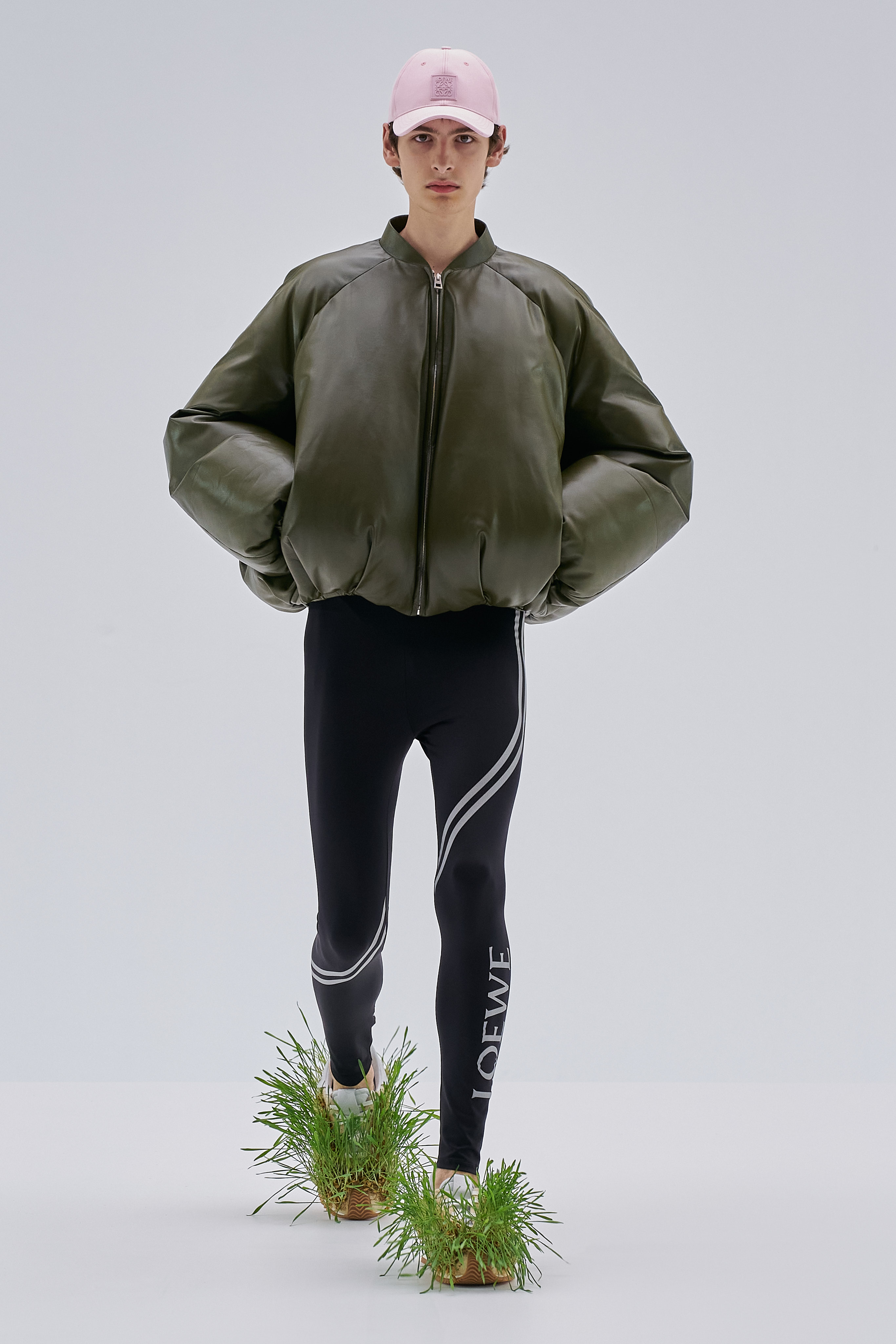 Arguably the most talked-about show from this season, Jonathan Anderson presented a collection that was literally brought to life. The creative director explored the realities of the physical world and the digital realm, but the message that shouted the loudest came in the form of plants growing out of fabrics. Done in collaboration with Spanish fashion designer Paula Ulargui Escalona and over the span of 20 days to grow from seed to grass, the idea was to show how nature merges with the material pieces of the world over time. It was a reflection of the changing landscape between the spring and summer months.
For the slight dip into the Metaverse, Anderson meshed gadgets with garments for a fascinating display of a real-life—and more colourful—Matrix. Call it vintage or calling out your age but it became a spot-the-relic game as earphones, pen drives and phone cases were embedded on leather coats. Other coats and tops were implanted with digital screens playing videos of people kissing or some kind of scenery. It was hard to look away—every look that emerged was a masterpiece of fashion and art with a subliminal message that left the audience in awe and with a subject for discussion post-show.
6. Moschino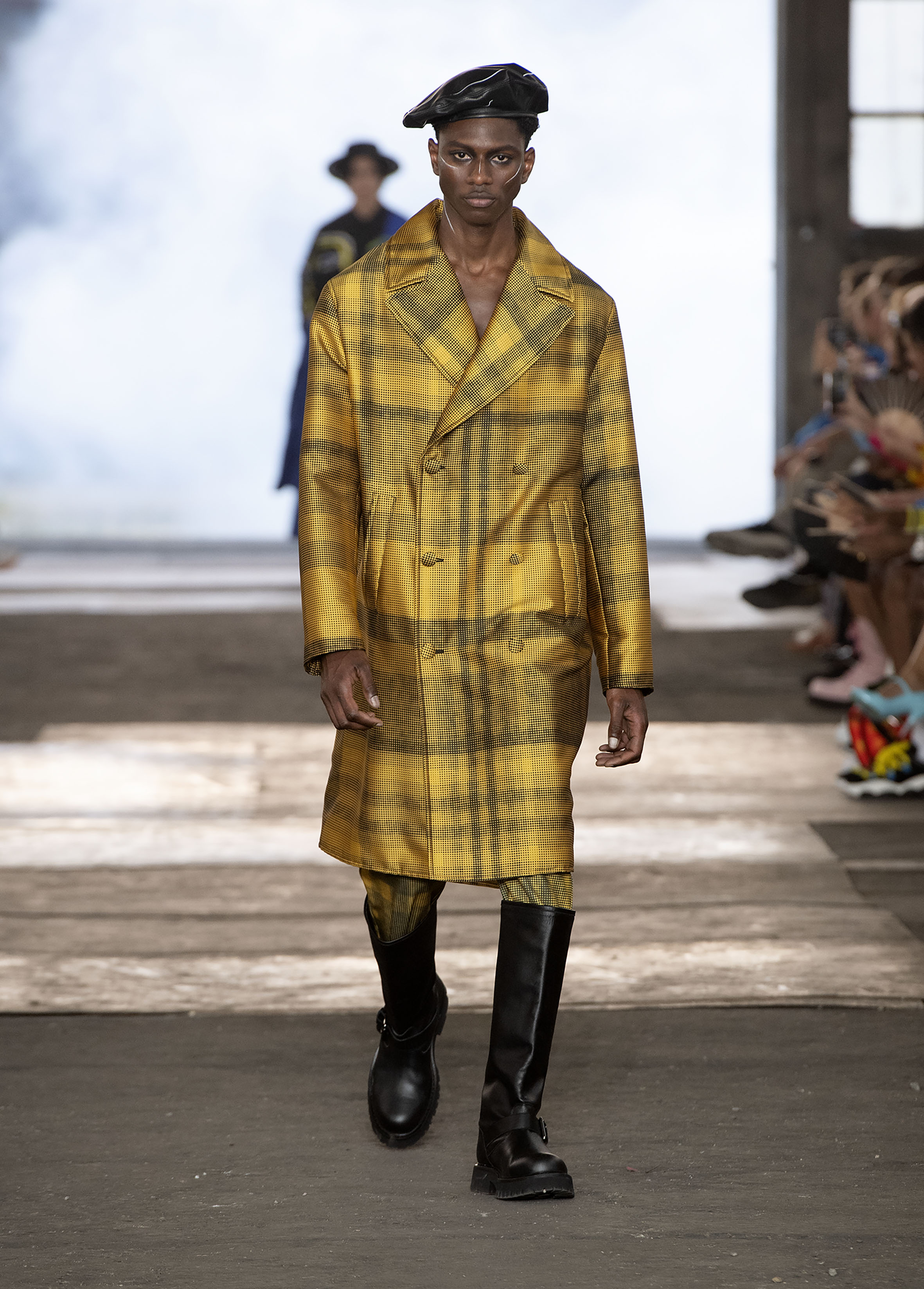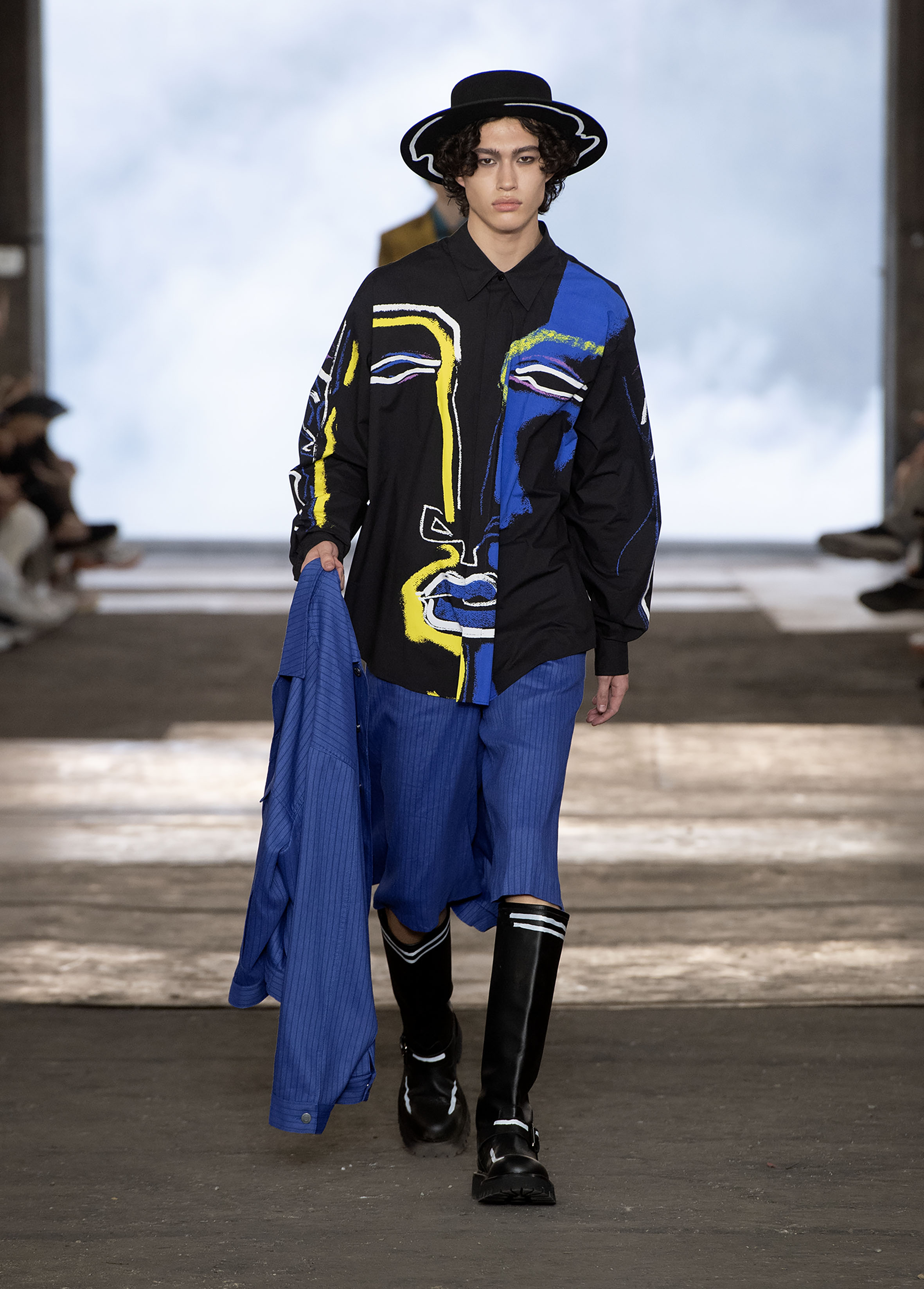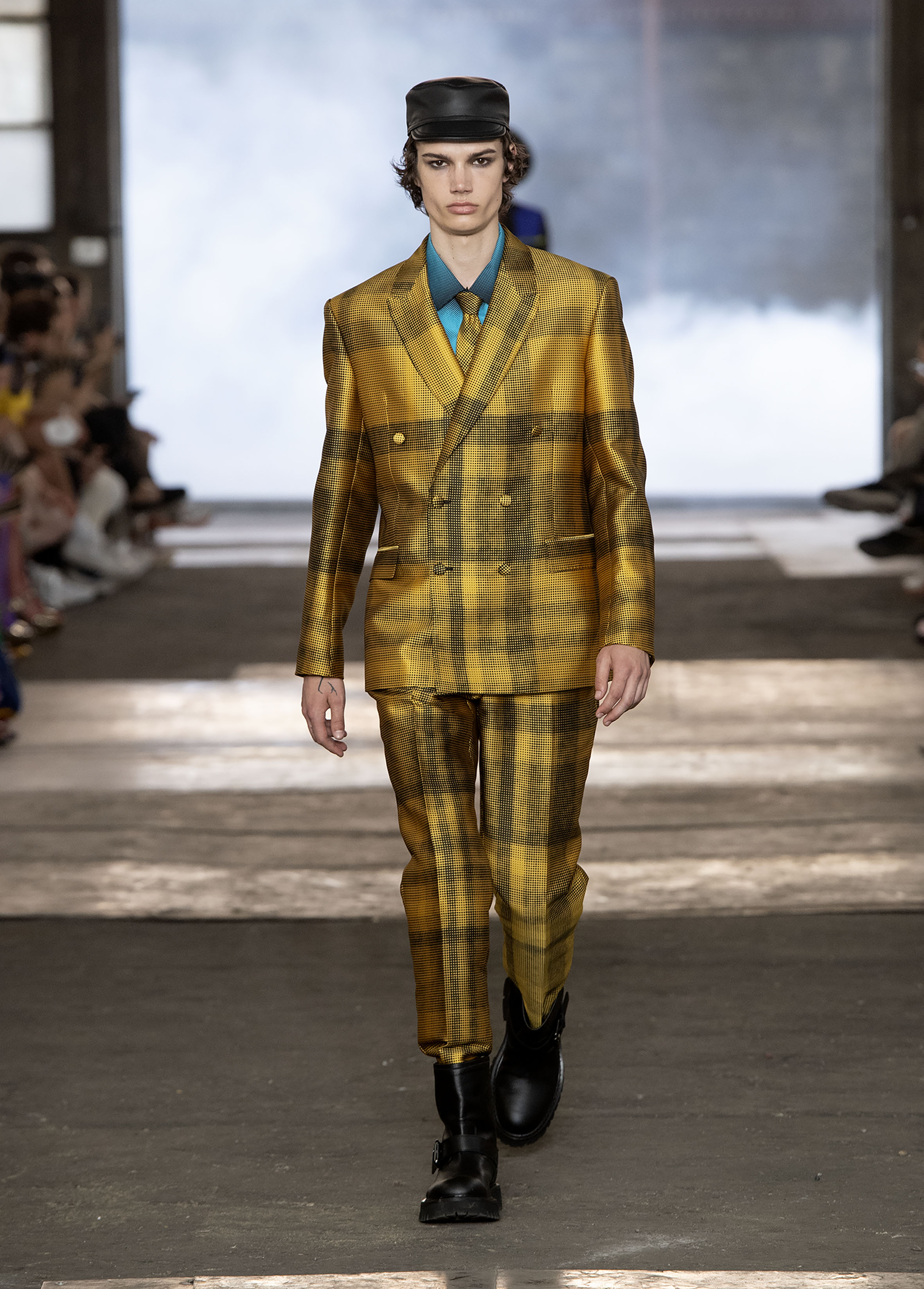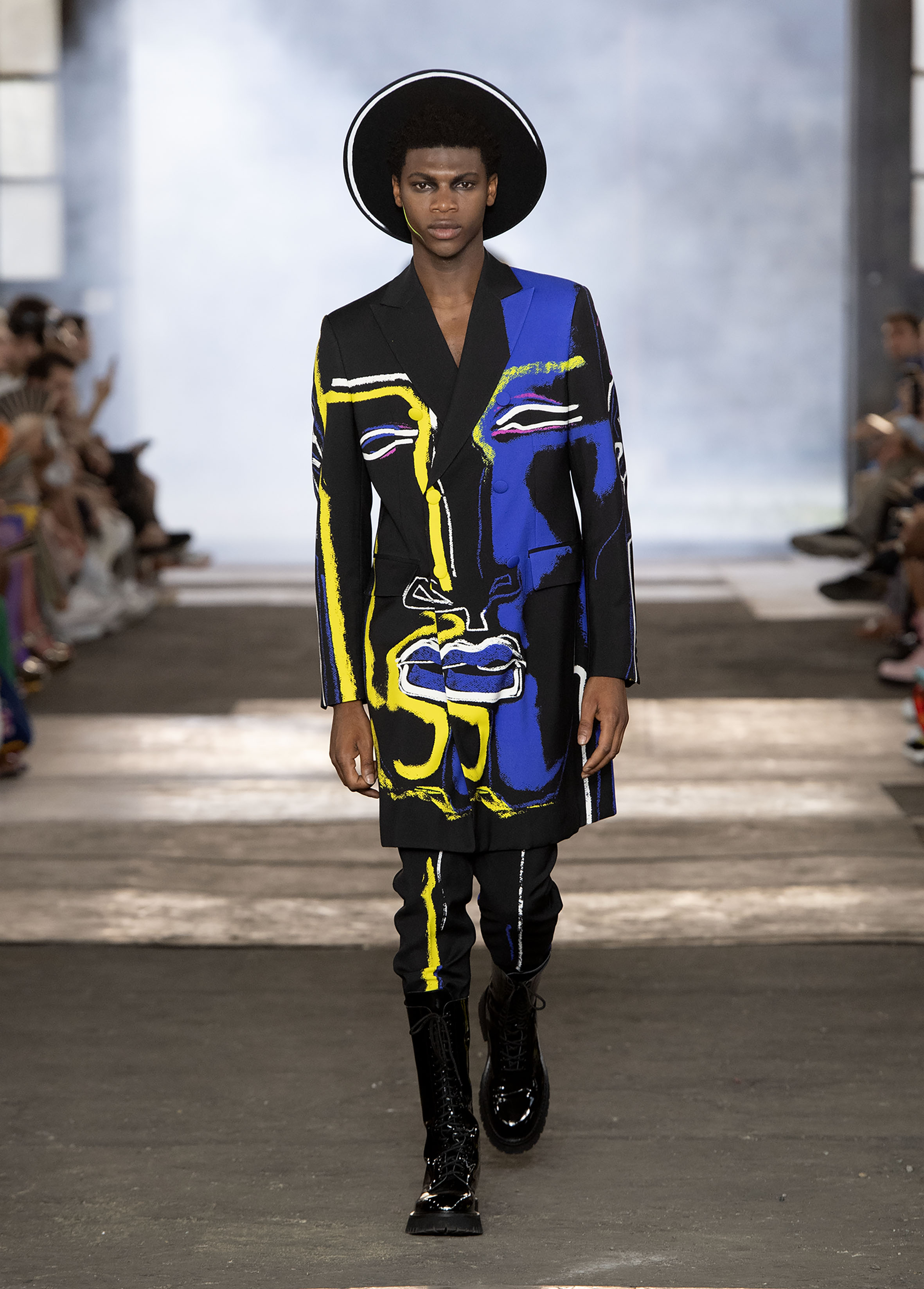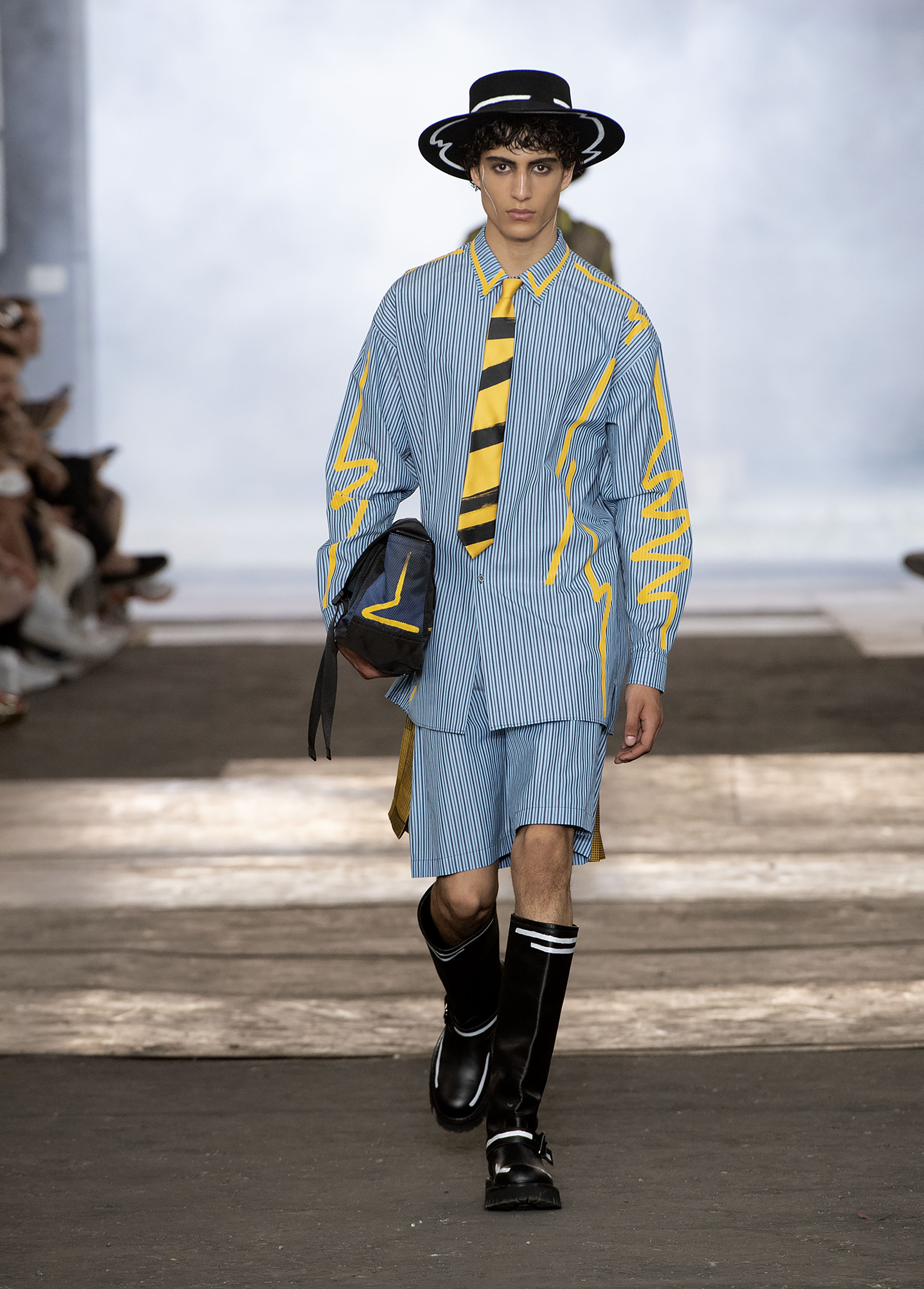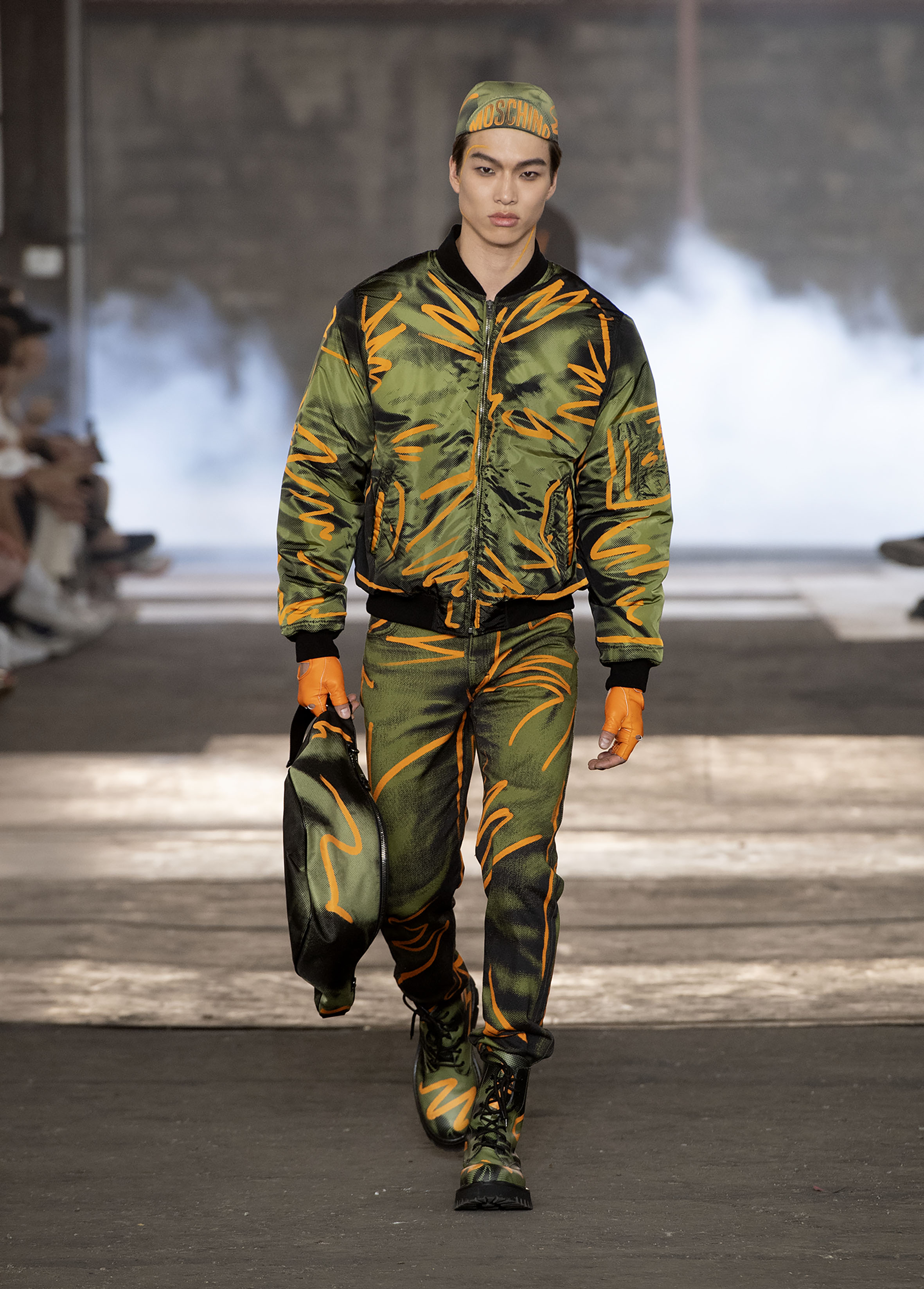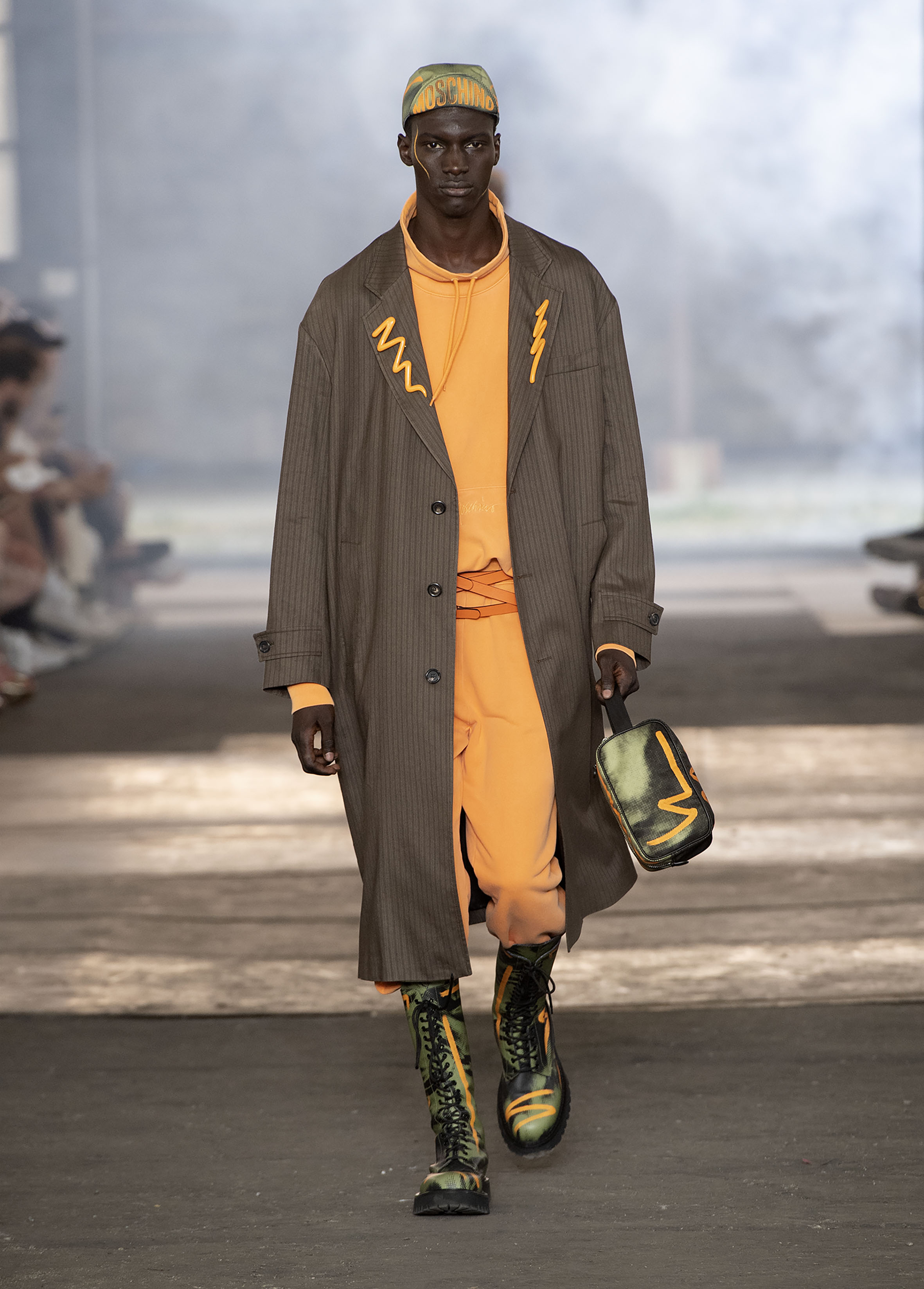 Playful campiness has always existed in the house of Moschino, and that is more so apparent in the Spring/Summer 2023 collection. For his first solo men's show, creative director Jeremy Scott honoured Tony Viramontes through a collaboration with the late artist's estate. Viramontes was a person of the arts, being an illustrator, a fashion photographer and, to many, a "vivid chameleon".
Reproducing from Viramontes's archives via his motifs, abstract faces and figures, Scott combines that with his signature squiggles, abstract visages and accentuated colours, making the Moschino pieces, well… Moschino
| | |
| --- | --- |
| SHARE THE STORY | |
| Explore More | |