With animal-derived fabrics, non-organic cotton and polyester out of the question, what will our clothes be made out of in 2050?
It's no secret that the textiles industry is one of the most polluting industries on the planet. From the cost of raising livestock for leather and fur to the use of petroleum in polyester, and the wastefulness of conventional cotton cultivation, the ethical and ecological woes of manufacturing fabrics have led to a search for more eco-friendlier alternatives that keep the environment and people in mind.
In 2021, more and more luxury brands are taking note, alongside a crop of next-gen designers who are innovating within the fields of fashion, science and technology. Bottega Veneta was one of the earliest brands to introduce vegan leather with the launch of an entire collection made out of mulberry bark paper in 2012. But it was perhaps after Stella McCartney and Adidas joined forces with biotech company Bolt Threads to create products made out of the mushroom leather Mylo that we started seeing a ripple across the industry. Soon, Gucci, Saint Laurent and Alexander McQueen may join the wave as their parent company Kering followed suit with a Mylo partnership last year.
Then there's Hermès, whose recent move cements a broader shift in the luxury market. The French house ditched animal skins in March in favour of our favourite fungi to develop a new Victoria bag in collaboration with Californian startup MycoWorks. Could a vegan Birkin be on the way?
Pineapples, bananas, onion skins and coffee grounds also found its way into the fibres of fabrics as the industry sought to reach a more circular and regenerative system. While food waste has proved to be a more than worthy source, a slew of weird and wonderful innovations have also popped up along the way to show that there are no limits when it comes to the future of fashion. Below, we've rounded up some of the next-gen materials pushing fashion forward to a greener world: 
Lab-grown spider silk 
Fret not, no spiders were harmed in the creation of this protein biomaterial. Scientists and startups are racing to replicate the arachnids' threaded cobwebs with a synthetic stand-in instead. And it's no wonder because the legendary spider silk boasts strength rivalling that of some steels in addition to being soft, elastic and highly durable.
Though it's one of the most difficult innovations to create, the process is fairly simple once the fundamentals are pinned down. First, a replication of the spider threads is created in a lab, then fermented and grown to scale in yeast. Next, it's harvested and spun into a yarn, ready to be woven into a fabric of a garment. The latest to make headway is Japanese biomanufacturer Spiber, who partnered with The North Face Japan to launch the 'Moon Parka' jacket last year. Since then, they've expanded with a 'Brewed Protein' range, which borrows the same fermentation process to produce fabrics from bio-designed proteins grown in bacteria. Japanese designer Yuima Nakazato created his fourth collection out of the revolutionary material for the recent Paris Couture Week by incorporating it into a traditional kimono textile. 
Other companies to note in the spidey competition: Bolt Threads who've teamed up with Stella McCartney and Patagonia, and German contender AMSilk who've worked with Adidas on a sneaker project.  
Mycelium Leather 
Okay, given that mushrooms are basically everywhere nowadays, they're not that weird. But shrooms are still wonderful and the reason why we can't stop talking about them is because the boom is only going to grow bigger.
In fashion, we have the scientists and engineers of Bolt Threads to thank as the pioneers who first processed mycelium––the underground root structure of the fungi––to create their trademark Mylo. The fully compostable fabric is grown in a temperature-controlled environment with organic materials, and then sent off to sustainability-focused tanneries where they are coloured like traditional leather. At MycoWorks, 'Fine Mycelium' sheets are custom-engineered then harvested within their facilities according to the specifications of partner brands.
On top of being all-natural and biodegradable, mycelium can be grown in weeks as opposed to the years that it takes to raise a cow for its hide. With Stella McCartney launching the world's first Mylo clothing line earlier this year and the likes of Adidas, Kering, Hermès and more all tripping on mycelium, there's no doubt that mushrooms are currently the leader of the eco-friendly pack. 
Sweat Crystals
The final collection of London Royal College of Art graduate Alice Potts was made from crystallised human sweat. Yep, you read this right. Human perspiration! She was first inspired after finding white crystals that formed on her gym gear post-workout and sought to explore the idea by growing her own. Harvesting sweat from worn objects (e.g. sweaty socks), the sustainable material innovator then separates the bacteria in the lab and allows it to grow naturally on its own. Voilà, crystals to embellish your garms, minus the human rights violations or waste currently plaguing the mined crystals industry. 
Rose Petal Silk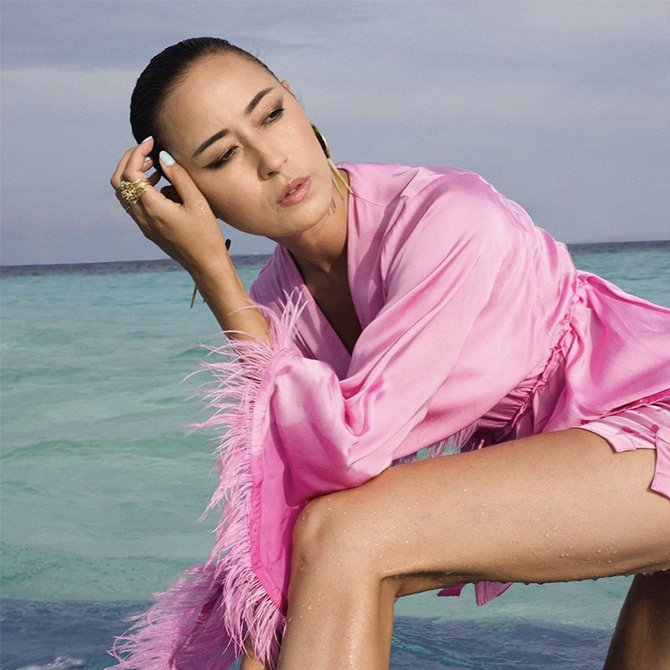 Deriving from an Indian rose bush, this new-to-market, regenerative version of silk is created from fibres that are spun from broken-down waste petals. Smooth, soft and chemical-free, the flower offers an all-natural, peaceful solution in comparison to the violent methods of traditional silk (in which silkworms are sadly killed during harvest). Brands like Singapore-based designer Lisa Von Tang and New Zealand label Maggie Marilyn have launched recent collections with pieces derived from biodegradable rose petal fibre.
Leaves 
Innovated by Brazilian company Nova Kaeru, Beleaf is a promising leather substitute made out of the large elephant ear leaf of a garden variety plant that grows freely in tropical forests. With an average size of three to five square feet, the massive leaf is beautiful on its own, which is what sets it apart from other alternatives as it does not aspire to look like leather. Its original form shines through in a finished fabric that is resistant, comfortable to the touch and free of heavy metals. Although WWD reported that Prada, Hermès, Nike, Gucci and New Balance already have their hands on Beleaf, the plant-derived leather was first seen in a handbag released by viral accessories brand Amélie Pichard late last year. 
Jelly 
To challenge current manufacturing methods, Icelandic designer Valdís Steinarsdóttir has created a range of translucent, gelatinous vest tops made out of gelatin or agar (a gelling agent derived from red algae). The liquid-based material is cast into moulds to eliminate waste and can be melted down to reuse into new clothes once it is no longer needed, as part of a closed-loop system. The jelly takes about a day to cure and solidify, and requires no seams or stitches to hold it together. Different patterns can also be added to the mould to customise any desired texture during the process to create variations from just that single source. Fun!