It's been 11 weeks since the first COVID-19 case in Malaysia; as of April 6, there are currently a total of 3,662 cases and 61 deaths recorded, and the numbers are expected to peak middle of this month. Amid this difficult time, luxury fashion brands have been doing their part to combat the COVID-19 pandemic, and here in Malaysia, it's no different. Spearheaded by fashion designer and president of Malaysia Official Designers' Association (MODA) Melinda Looi in partnership with FashionValet and IMARET, a fundraising initiative—to purchase PPE materials and make them—was launched last week.
Before we speak to Melinda Looi during our BURO. Hangouts: Live session on Instagram at 8.30pm today, we also got in touch with a few designers who are lending their helping hand to the initiative to gather their thoughts:
On how and why they decided to contribute to the initiative
"We started very small—we gathered donations from a few MODA members to help increase the PPE supply for the frontliners. Then Elvina, a volunteer who's helping to make face shields tagged me on social media and hooked me up with Liyana Zainal who's also a volunteer. Not long after, we started getting contacted by more friends, fellow designers and home sewers who either want to donate money to purchase more materials, or their time to help sew the PPE. It was a very humble beginning, but now we have FashionValet and Imaret on board with us to raise more funds, and I'm very glad at how this turned out." – Melinda Looi
"The real heroes here are the frontliners and we need to support them as best we can. We have friends and family working in the medical sector—my mother used to be a lecturer to medical students—so this is definitely an issue close to our heart. Being able to make clothes in our industry means we can play a huge part in this fight against COVID-19 by producing PPE for our frontliners." – Alia Bastamam
"We have to help these frontliners—we can't allow to let them fall! If they fall, we fall. Seeing how local creatives are lending each other a hand to work as fast and as efficiently as we can, by transforming businesses from designing fashion pieces to making PPE for our frontliners, it's truly a humbling sight. United we sew to save lives!" – Celest Thoi
"Instead of using their time and energy to treat patients, some nurses were assigned to sew their own PPE instead. Since we have the expertise, we felt the need to jump in so that they could fully focus on saving lives. It's our way of contributing to our beloved country. We are here to help and we will fight this battle together in the hope that it will help to make a difference." – Kai and Fizi of Fiziwoo
"We took the initiative to transform our atelier to produce PPE gowns after we learned how hard it was for the frontliners to get their supply—which they have to wear every day. We have workers who voluntarily and willingly took on this project and the facility to produce them quick, so why not? This is, undoubtedly, the most rewarding experience for all of us here." – Jovian Mandagie
On how are they working amid the Movement Control Order
"We managed to get a permission letter to work at our premise while abiding to the public health's social distancing and safe working guidelines—I have two separate workshops, and I only allow three people to be working at a time. I also make sure that my team works in rotation, so that everyone gets a chance to contribute to this good cause." – Izrin Ismail of Innai Red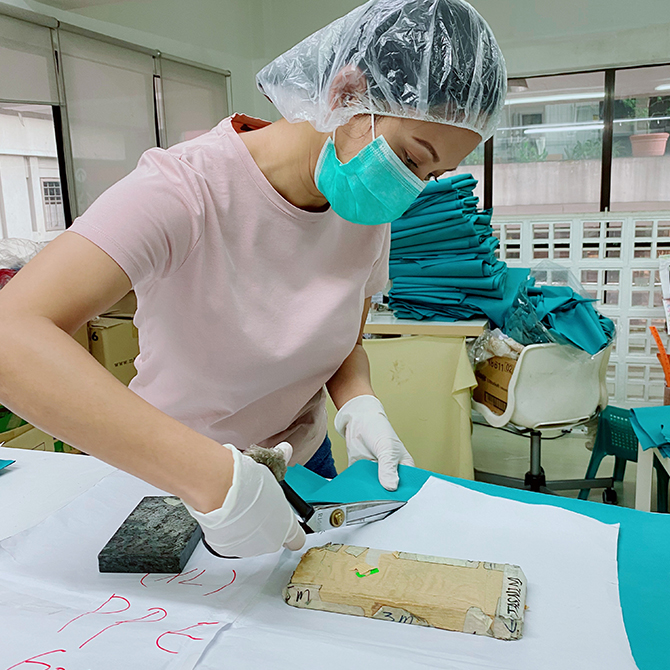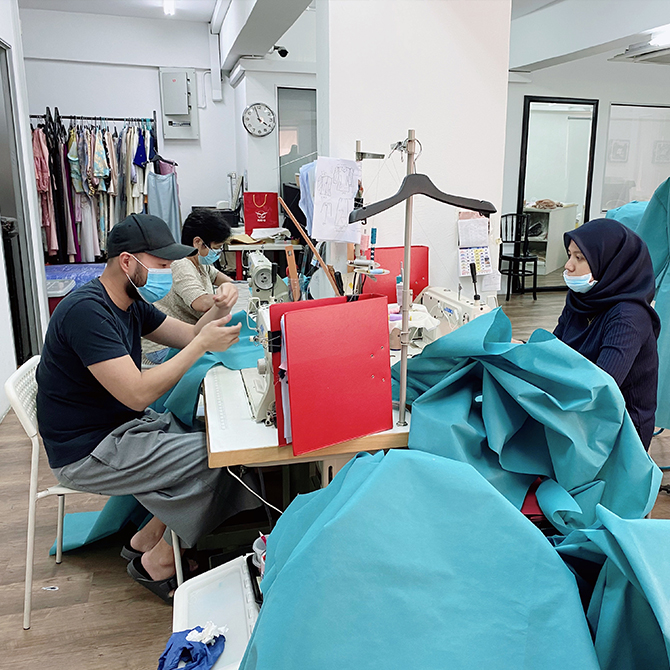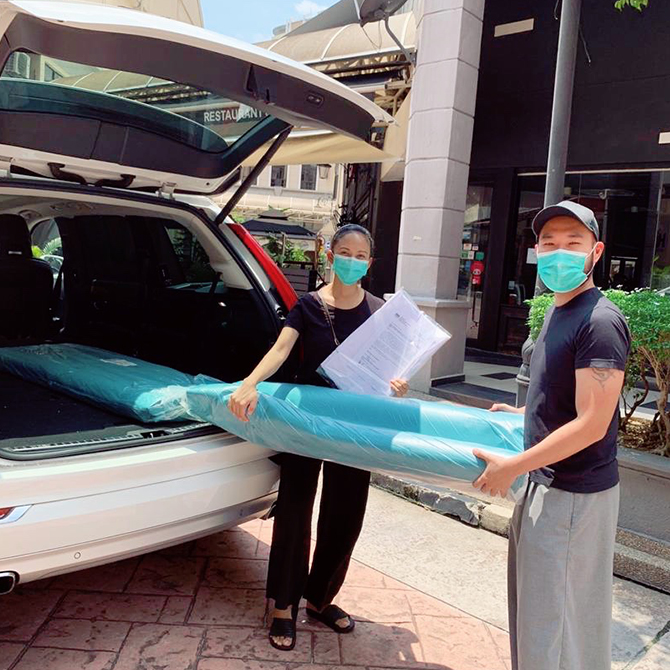 "Instead of sitting at home, it feels good to assist those who are putting themselves in danger to help others during this time. There are currently four of us in my team, but we have engaged a number of home seamstresses to help as well. In our production, we have a proper machine to cut the fabric in bulk, so it helps to do it faster." – Khoon Hooi
"Our team currently consists of me, a cutter, three seamstresses, and two person handling the logistics, but we're deeply touched to have fellow designers including Justin Yap, Mimpikita, Fizi Woo, and Nurita Harith who are helping us to sew the roll of PPE material so we can get as much done in a shorter period of time." – Alia Bastamam
On sewing the PPE 
"The fabrics for this project were donated and raised by a lot of parties through the Malaysia Official Designers' Association (MODA), Fashionvalet, and Imam Response & Relief Team (IMARET) initiative. The problem was that they do not have enough manpower and time to work on the PPE so that's where we come in—to provide our service and expertise to help the hospitals. Our sewing time is limited but we will do our best in getting the PPE garments ready as fast as we could with the workforce that we have." – Kai and Fizi of Fiziwoo
"The cost for the non-woven fabric of 2,000 meters is RM 3,800, and we can make 600 gowns with that. As for sewing time, it really varies, we got 100 pieces done in eight hours with four people sewing." – Izrin Ismail of Innai Red
"The PPE fabric is really hard to source at this time, so the same material in white is the only one we managed to get. We also think that white symbolises purity, cleanliness, and hope. We currently have a solid team of 10 tailors, and we've just finished our first 300-meter of fabric last week. We're currently waiting for additional materials to arrive to continue." – Jovian Mandagie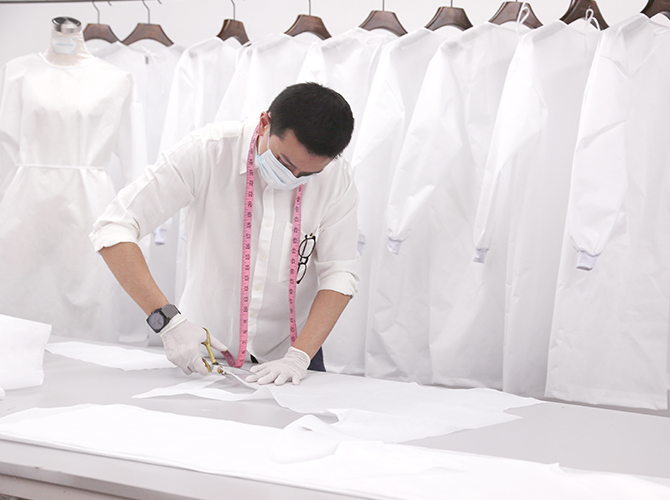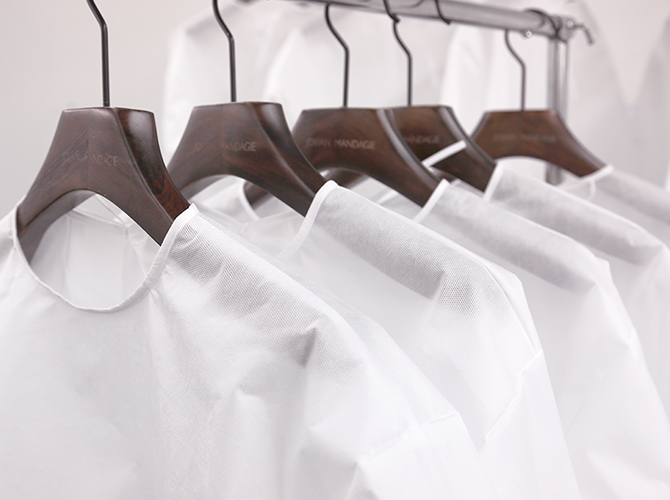 "Since our nation is under the MCO, in this age where a lot of things can be done faster with the help of machines, nobody is operating the factories, therefore, sewing has to be the old-school manual way, from cutting to sewing. So manpower is precious right now, and Melinda is working very hard to gather all who can help in any way." – Kit Woo
On how the COVID-19 pandemic has affected their business
"We have to close our stores that contribute almost 60 percent of our revenue, but we are grateful to have a strong e-commerce platform. It pains us to see some of the brands out there that don't have a website to sell their products online. We don't even know how long more it will take, but we've just launched our Raya 2020 collection called 'Balik Kampung' which you can find on our site now." – Jovian Mandagie
"Pretty much the entire year's fashion week schedule is affected, and this is definitely hitting hard on our store-front and online sales. To look at it from a positive view, maybe the industry needed time-off? Personally, my studio is my home, so it's business as usual, and I'm taking this time to finish up the existing orders and really strategise the next one or two seasons. I'm also currently revising my business module so this is the time to do that." – Kit Woo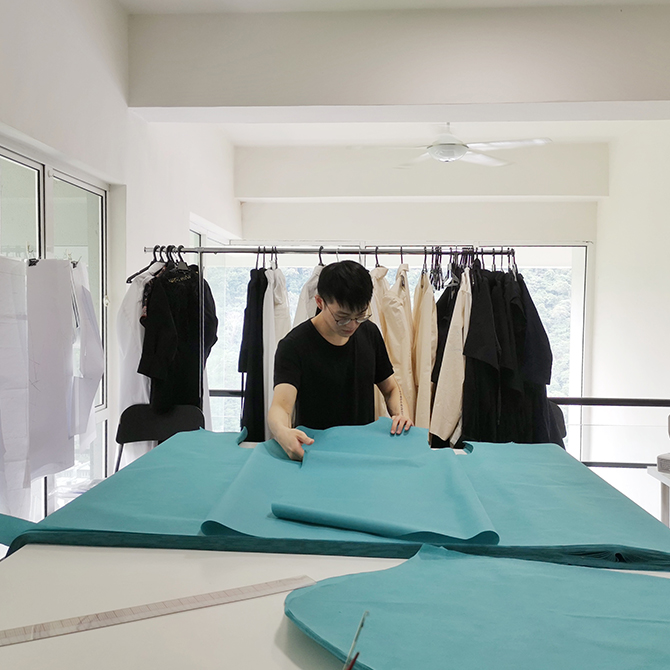 "The unexpected halt in business, especially since Innai Red's nature of business is bespoke has induced loss of orders. We are putting a pause in launching our Raya luxe as we are still trying to navigate ways to accept new orders and fulfilling them. Our process is usually intimate and personal, as clients see fabric, have their measurements taken and partake in multiple fittings to ensure the finished creation is perfect. On another hand, we also have our RTW collection that is due to launch but there seems to be a delay in shipments coming into Malaysia. Working from home hasn't been effective either. Imagine this: Our designer needs to pass the materials to our drafter/cutter for cutting; collect it back to pass it to the seamstress; then pass it along to the finishing department for embroidery, and lastly, back to the designer for QC. With the restricted movement order, it's tough." – Izrin Ismail of Innai Red
If you'd like to contribute, you can donate to:
1. MODA's Maybank account and state 'MODA_PPE' as reference2. MODA's e-wallet accounts (the QR codes can be found here)
Find out more about the initiative here.
| | |
| --- | --- |
| SHARE THE STORY | |
| Explore More | |