The global healthcare crisis has shifted the way we think about clothes. In the past year or so, we've swapped office wear and party dresses for around-the-house alternatives and Zoom-ready tops that prioritise feel-good comfort during isolating times. Meanwhile, leaving the house means gearing up for defence––masks strapped on, sanitisers in hand and a one-metre-wide wall of physical space to distance ourselves from others. We're taking more preventative action to stay protected and boost our immunities, but what if the clothes we wore could do both?
Enter the probiotic clothing of designer Rosie Broadhead. Created in collaboration with microbiologists, her ongoing 'Skin II' project weaves healthy skin bacteria into the fibres of sleek, form-fitting bodysuits and shirts. In doing so, the garments interact with our skin to reduce body odour through sweat activation, while simultaneously encouraging cell renewal to improve the skin's immune system. Eschewing the use of chemical fabric finishes, they also replace the need to wash your clothes frequently. Talk about all-in-one.
As brands consider their environmental and social impacts, alongside the rise of conscious consumers, the search for sustainable alternatives has been driving innovation in the industry. From blockchain technology to outfits that exist only on the screen, developments are bringing fashion closer to technology, while laying the groundwork for a greener, cleaner future. And while there's been considerable movement from the cohort moving towards fashion's future in the metaverse, a bio-revolution has been stirring for some time now––and it's starting to kick off.
More and more luxury brands are investing in plant-based leathers and lab-grown fabrics, with Hermes joining the bandwagon to announce the development of a mushroom leather Victoria bag earlier this year. At the same time, a growing pool of next-gen designers is incorporating biological systems to reshape existing notions of ethics, sustainability, wellness and luxury. Canadian-Iranian designer Roya Aghighi focuses on the life cycle of a garment by using algae to create 'living' clothes that can photosynthesis and absorb emissions like plants. Meanwhile, the glass-like dresses of Scarlett Yang grow over time and change in response to climate conditions. Made out of algae extract and silk cocoon protein, the decomposable designs highlights the wasteful nature of our current consumption cycles.
In the case of Broadhead, she's interested in the interaction between skin and clothing. Based between Brussels and London, the Central Saint Martins graduate advances clothing performance, with technology and science, by drawing from what is already natural on our bodies and the planet. Her latest brand of "therapeutic undergarments", dubbed 'Skin Series', furthers the idea of what was originally explored in 'Skin II' to embed seaweed, vitamin E yarn and zinc-encapsulated fibre. As such, when worn on the body, these garments provide health benefits to our skin with less impact on the environment.
Together with writer Wilson Oryema, Broadhead also co-founded 'Surface Tension', a new platform centred around realising the positive potential of materials on the human body. It debuted earlier this year as a virtual exhibition featuring wearable objects created by scientists, designers and artists, with a focus on biological elements. Stroll through the digital gallery and you'll find a white shirt made from discarded crab shells by shoemaker Allbirds, designer Marion Lasserre's project on the possibility of 3D-printing shoes with microorganisms to improve foot health, smart underwear by Alma designed to monitor vaginal health and more.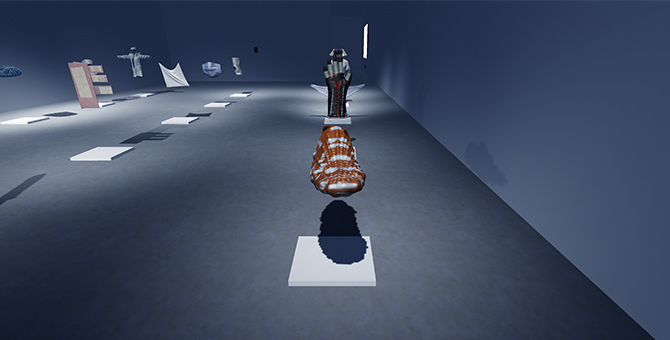 "With our long-established patterns being challenged during the past year, we were given the time and opportunity to reflect upon our relationship with our environment, identities, and intentions," the designer explains over email. "With a virus that shifts our perspective to the barrier between us and the world around us, we ask how the materials that we wear or interact with can offer both protection and improve our wellbeing?" The next step for 'Surface Tension' would be a physical iteration of the exhibition.
Ahead, we spoke to Broadhead to learn more about her skin microbiome research, her thoughts on our relationship with clothes and the seaweed collection that's currently in the works:
What sparked your interest in the relationship between cloth and skin?
"The skin is the largest organ of the human body, serving as a primary defence, a sensory and an excretory medium. Its semi-permeable nature plays an important role that coordinates the functions of our whole body. Therefore, what we put on and next to our skin has a direct impact on our bodies. As such, our health is shaped by our environment.
"More recently, research in the textile microbiome has been in development, which studies how our clothing takes on the microbiome of the wearer. Therefore, in a more literal sense, our clothes become us."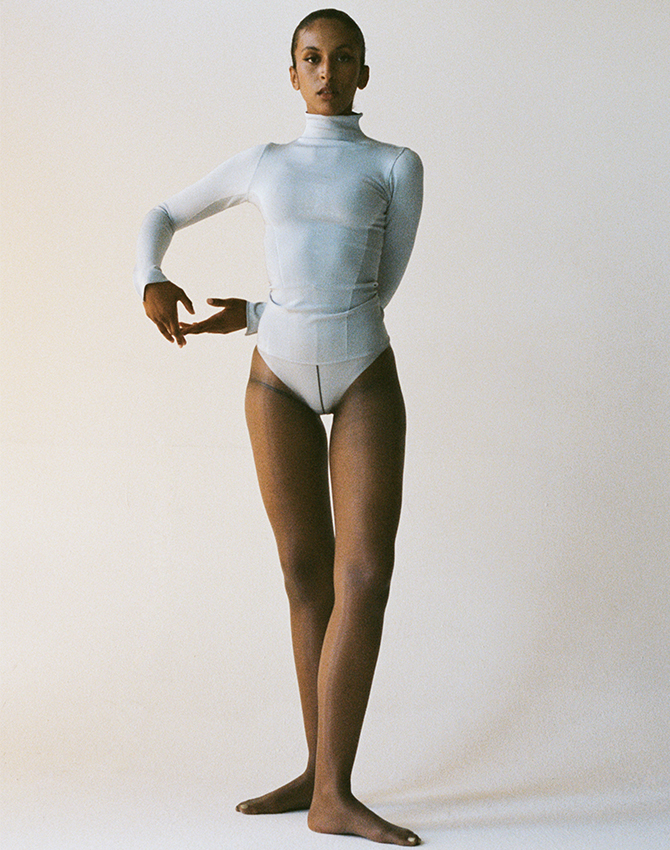 Could you give us a bit of insight into the skin microbiome research you're currently focused on, and what you're working towards?
"Our research in Probiotic Clothing is a cross-disciplinary research project between design and the sciences. I work closely with a team of microbiologists and bioengineers to develop bio-textiles. Biocides and fabric finish on clothing can contain toxic chemicals, which disrupt the diversity of bacteria living on our skin. As the skin microbiome plays a key role in our skin health, this research focuses on natural alternatives to replace the need for chemical fabric finishes. The research is prominently about this intersection between skin and clothing and how we can influence this space with new technology and materials."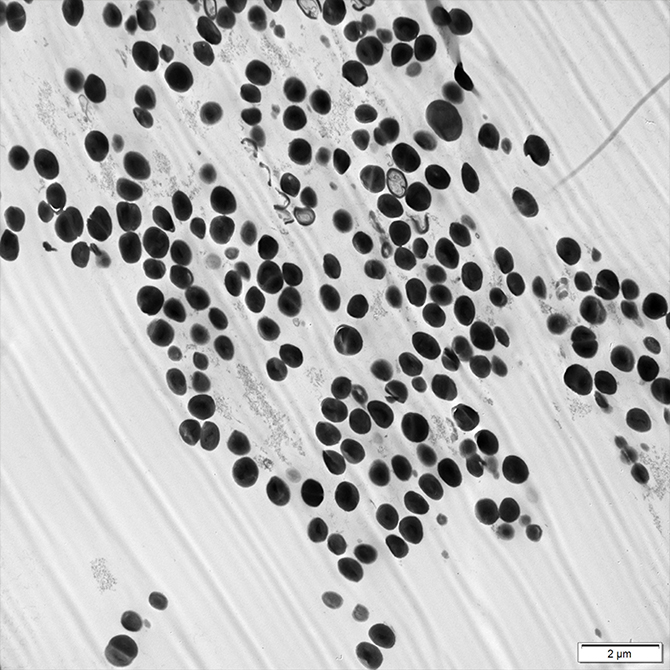 What are your thoughts about the way we currently consume fashion, and the relationship we have with our clothes?
"Clothing is not only a means to share our visual identity but plays a part in the chemical and microbial makeup of our skin too. The skin and textiles microbiome is a growing field of research in the sciences, therefore cloth and identity are developing a whole new and more literal meaning. The chemical and microbial diversity on our bodies and textiles can change depending on the composition, fit and finish of the garment. More recently scientists are now studying clothing's effects on the body in response to varied fashion or fabric choices."
Let's talk about 'Skin Series' and the science behind it.
"'Skin Series' explores the interaction between our clothing and the skin. The ethos behind the brand looks to nature to inform the focus on developing garments that provide health benefits to the skin with less impact on the environment.
"I am also in the process of developing a seaweed collection. The seaweed material developed explores the benefits of encapsulating naturally derived or active ingredients into the fibres of clothing. Seaweed is rich in vitamins, minerals and amino acids, which have known therapeutic benefits to the skin and body. Such properties can improve the immune system of your skin, encourage cell renewal, and hold antioxidant capacity."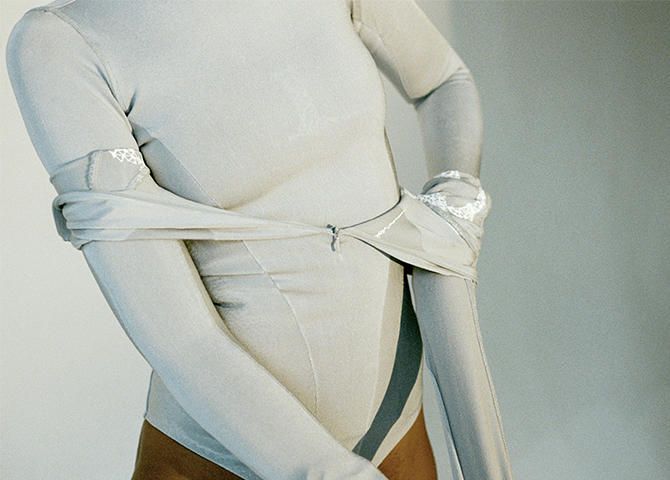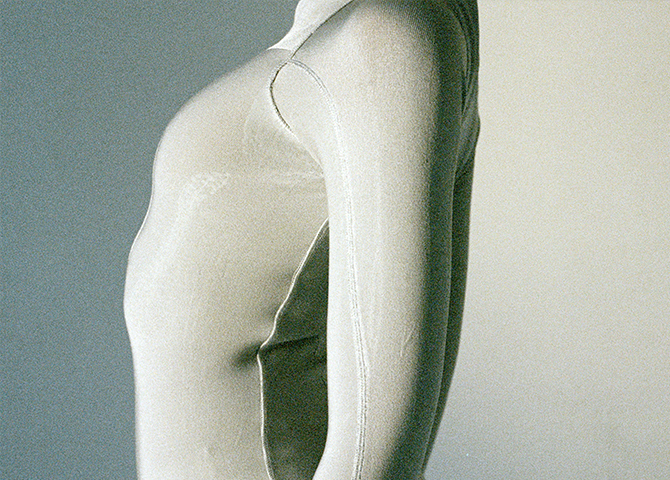 Your garments provide health benefits to the skin and create less impact on the environment––how does its wearer take care of the garment?
"The encapsulated bacteria used to develop 'Probiotic Clothing' are associated with reduced body odour, encouraging cell renewal, and improving the skin immune system. Due to the anti-odour properties, the hope is that you will not have to wash your clothes as frequently. To take care of the textile microbiome of your garment, the less you do, the better."
Based on your research and work so far, how do you think science and technology will influence fashion in the near future?
"The bio-revolution is going to define the future and become interwoven within our lives through many products and industries. This could be through microbial protein developments for food, our clothes being grown rather than being cut and sewn, or the bio-based materials used to construct our homes."
Based on your research and work so far, how do you think science and technology will influence fashion in the near future?
"The bio-revolution is going to define the future and become interwoven within our lives through many products and industries. This could be through microbial protein developments for food, our clothes being grown rather than being cut and sewn, or the bio-based materials used to construct our homes."
View this post on Instagram
What are your hopes for the future of fashion?
"Material innovation spans so many disciplines, professions, and stages of readiness. 'Surface Tension' is about highlighting what already exists, the space between concept and scalability, but also questioning the future through design speculation. My hope is that scientists and designers will continue to work together and bridge the gap between fields."
Discover Surface Tension here. Skin Series is currently available for preorder via Instagram.
| | |
| --- | --- |
| SHARE THE STORY | |
| Explore More | |