Here's everything you need to know about face shields
With the implementation of the Recovery Movement Control Order (RMCO) starting June 10 until August 31, it's safe to say that things are slowly but surely returning to normalcy, but going out in the 'new normal' comes with routines that we have to get used to, from wearing face masks to regular sanitising to maintaining social distancing. In recent weeks, more and more people have taken protection a step further by donning face shields out and about, which brings us to the question: Could face shields replace masks in preventing COVID-19?
In Singapore, its Ministry of Health deemed masks a must for those who are leaving their homes, but face shields are allowed for children 12 years and below (who may not be able to keep their masks on for a prolonged period of time), and for those who have health conditions that affect their breathing abilities. And in Thailand, you'll probably recall seeing pictures of newborn babies who were given tiny face shields for protection. In Malaysia, while masks are still not mandatory, it's "very, very encouraged", according to our Health Director-General Datuk Dr Noor Hisham Abdullah. Face shields, on the other hand, are mostly worn by our medical frontliners.
What are face shields?
Also known as a face visor, face shields cover a person's entire face from the forehead to below the chin with an elastic headband that holds them in place. They're an item of personal protective equipment (PPE) that's used across different industries including medical, dental, construction, military and more. Typically made from Polyethylene Terephthalate (PET) or Glycol Modified Polyethylene Terephthalate (PETG), other clear plastic sheets with the correct thickness can also provide basic functionality.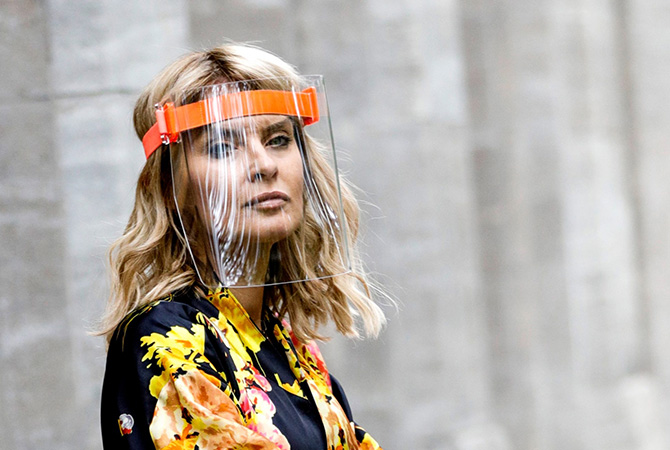 Can they replace face masks in preventing COVID-19?
We can all agree that face masks are not the most comfortable to wear especially in our tropical hot and humid weather, and they're not exactly the best viral barriers if they're worn incorrectly, or if they're not applied or removed with clean hands. Face shields, on the other hand, are more comfortable, easier to put on, and fuss-free (especially when you want to eat or drink). The best part? They're reusable. All you need to do is to wipe them down with a sanitiser or clean them with soap after each wear.
According to an editorial in the Journal of the American Medical Association, face shields have been shown to reduce viral exposure by 96% when worn 18 inches away from a cough, and by 92% at two meters of social distancing (82% at the recommended 1 meter). And even though there are openings on both sides of the shield and the bottom, as the virus spreads via large droplets, they'll be pulled down by gravity within said distance.
That said, while there are a number of factors that make face shields superior, there are no studies that show whether these visors protect other people from your germs. Seeing how the plastic is away from your face, droplets from your cough can still get out. They protect you from others, but not vice versa.
So, while face shields are a feasible option to protect yourself when social distancing is in place, wearing one in addition to a mask is the most iron-clad way to protect yourself from the virus. This combo will be useful for those who may not be able to avoid crowds, such as when they're taking public transportation or when they're grocery shopping. It's better to be safe than sorry!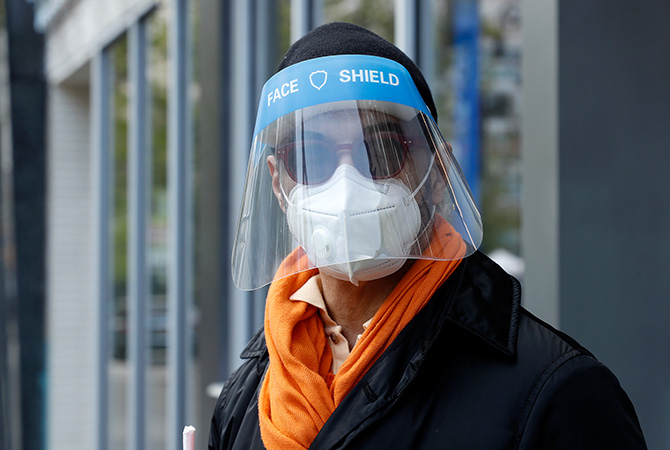 What brands are making them?
A number of big brands—internationally and locally—have started manufacturing face shields in the past few months, although they are solely made for healthcare frontliners at the moment.
Adidas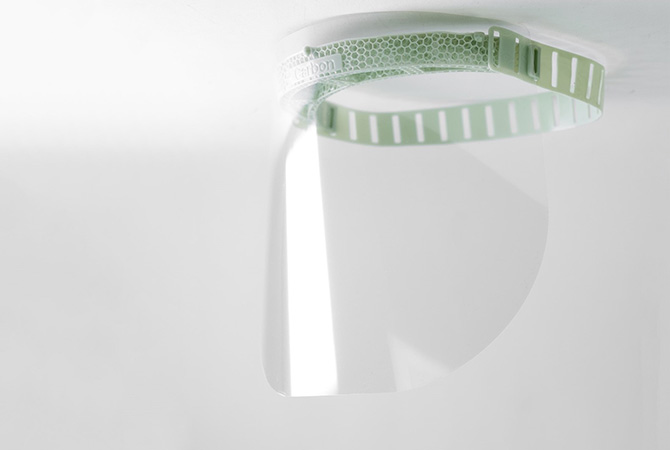 Adidas has worked with its longtime collaborator Carbon to produce 3D printed face shields to support the healthcare organisations, medical personnel, and underserved communities in the U.S. Using the same material that was developed for their 4D midsoles, the highly elastic and tear-resistant Elastomeric Polyurethane material is made into the forehead band, and it's a comfortable and reusable alternative for those who need to wear them for long hours. Organisations that are in need can write in to request for print files, and the team will respond to as many requests as possible.
Nike
The American sportswear giant has also partnered up with the Oregon Health & Science University (OHSU) to produce face shields using Nike-owned materials. Instead of the usual material for the strap, the brand is using the elastic drawstring with a push-button cinch. As for the forehead pad, to enhance comfort, a thin piece of Dri-Fit fabric is added onto the foam derived from the collars of its shoes. The shield is made from thermoplastic polyurethane (TPU) that can be found in a Nike Air sole.
Apple
In a post by its CEO Tim Cook on Twitter back in April, he stated, "We've launched a company-wide effort, bringing together product designers, engineering, operations, and packaging teams, and our suppliers, to design, produce, and shop face shields for health workers." The PPE item is made of three main pieces—the face shield, the forehead band, and silicone strap, and detailed instructions on how to make them have been posted on Apple's support website.
In Malaysia, Proton, UiTM, and Intel are a few companies that have produced face shields for our local frontliners. The Star and Free Malaysia Today have also reported on communities that are making them on their own.
Can we make them ourselves?
A quick search online and you'll find a list of sites that provide DIY instructions to make face shields at home, and the ones below have some of the most comprehensive guides:

Quartz (provides face shield patterns for you to trace them)
Preview (provides drawing instructions)
KSDK News (provides video instructions)
Where can I get them in Malaysia?
 Online retailers including Lazada, Shopee and more.
 Your neighbourhood hardware stores such as Mr. DIY or Ace Hardware.
 The Playground Borneo—which houses brands including Sereni & Shentel and Bowerhaus—has also started selling them in their Publika and The Gardens Mall outlets. For every face shield sold, the brand will be donating one shield to frontliners in the service industry.
Polaroid Eyewear is putting its expertise to good use by launching the #StaySafe collection not only for healthcare personnel but for those of us who'd like that extra layer of protection too. The brand has launched two designs—a wraparound shield glasses, and a visor mask to cover the face completely. Both designs come with an adjustable rubber band. The line is now available at Ban UK Optometry in Berjaya Times Square and The Spec Shop in Desa Sri Hartamas.
 Bridal designer Celest Thoi has introduced a design that combines both a face mask and a shield (that's beautifully adorned with lace, no less). You can pre-order via its Instagram profile here.