Always one to have his finger on the pulse of what's happening, Karl Lagerfeld took cues from our increasingly connected world and took us on a trip to the Silicon Valley. The Grand Palais was turned into the chicest IT space filled with servers and supercomputers, complete with carts full of colourful cables.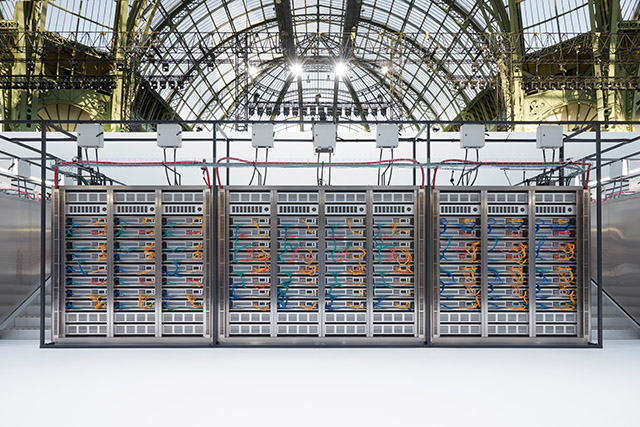 The first look out was a tweed skirt suit presented on a stormtrooper-like droid—a likely representation of what part of the workforce will look like in the near future? (Chanel tweed suit notwithstanding). His starting point was the idea of a girl who is perhaps so engrossed with social media updates on her phone that she's left with hardly any time to get ready, hence the light pink slips and negligees, worn with oversized tweed jackets and zip-up bomber jackets. The outerwear was spectacular—tweeds and knits in a multitude of colours and materials, like one with clear plastic strips and wire-like cords crisscrossing through the fabric, looking like something straight out of a computer.
Equally standout, were the accessories: square-shaped coloured crystals with digital numerals on them were arranged in blocks to create a brooch that resembled LED squares. Necklaces were lanyards with a large clip at the end to attach a pendant of choice—no mugshots required here at #DateCenterChanel. A pair of fingerless gloves had colourful bands running across the back of the hand, with more of the same plastic wire-like cords twisted into trimmings that lined the jackets.
The bags that are sure to become the must-haves of next season are definitely the large clutch and the Boy handbag with built-in LED lights that blinked and came together to spell Chanel—perhaps this marks the start of Chanel's entry into wearable tech? Next up: a tweed jacket that changes colour each time a tweet or an email comes in?
{insert gallery tpl="slide-freesize.tpl" id="Chanel SS17″ rid="4461″ order="a_tstamp"}
Related stories:
#WednesdayWishlist: What we love from Paris Fashion Week SS17
Get your fill of tweed suits and graphic cats from Chanel Autumn/Winter 2016
| | |
| --- | --- |
| SHARE THE STORY | |
| Explore More | |