1. Just when we thought that last year's Rio de Janeiro outing couldn't be topped, Louis Vuitton upped the ante this year. Guests were brought along on a heritage-rich trip to the East, specifically, to the thickly wooded Miho Museum located in the mountains of Kyoto, Japan. Designed by architect I.M. Pei, the museum was built to represent a mythical heaven on earth, and more than half of the entire building is situated underground, carved out of a mountaintop.
"I visited the Miho Museum a few years ago and was fascinated by I.M. Pei's concept of the harmony between architecture and nature. Japan is a country I know well," says creative director Nicolas Ghesquière. "It was one of the first places I traveled to when I was seeking inspiration, some twenty years ago, and I've been a regular visitor ever since. This collection is like a combination of what Japan has given to me for a very longtime."
2. Taking inspiration from the Land of the Rising Sun's tradition, the collection retained a sense of futurism while referencing cultural elements, including samurai, ceremonial costumes, figurative engraving, and even keikogi uniform for martial arts. Details such as inked landscape motifs, armour-like silhouettes on sweaters, and jackets with obi belts made up most of the visual fanfare.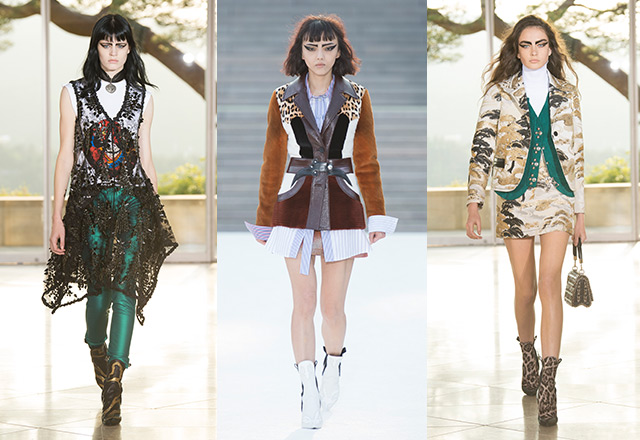 3. Ghesquière also intended to pay tribute to Japanese pioneering designer Kansaï Yamamoto—the legendary icon behind David Bowie's most iconic stage outfits. Spot the designer's icons, symbols and characters on a handful of bags and accessories, alongside a glittery, sequin T-shirt dress with a dominant red motif.
4. The makeup alluded to the theme as well. Brows were drawn in exaggerated, bold streaks to accompany equally dramatic winged eyeliner, and graphic patterns over the cheekbones harkened to the kabuki mask's harsh lines.
5. A Louis Vuitton show isn't complete without Nicolas Ghesquière's throng of celebrity supporters and the brand's ardent fans. The #FROW that evening had names such as Michelle Williams, Jennifer Connelly, Sophie Turner, Isabelle Huppert, Riley Keough, Laura Harrier, and Fan Bing Bing among others. Not to mention, the ever-stunning Japanese actress Rila Fukushima and South Korean actress Doona Bae opened and closed the show respectively.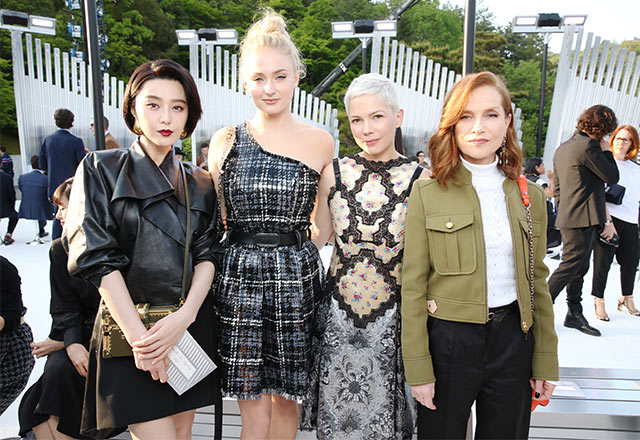 Take a look at the full collection here:
{insert gallery tpl="slide-freesize.tpl" id="Louis Vuitton Cruise 2018″ rid="5069″ order="a_tstamp"}
Related stories:
5 Things to know about Dior Cruise 2018
| | |
| --- | --- |
| SHARE THE STORY | |
| Explore More | |