Dior gave us a taste of French savoir-faire amidst primitive desert plains for its Cruise 2018 collection.
1. It does seem like fashion houses are outbidding each other to make their mark on the globe. For creative director Maria Grazia Chiuri's first Cruise collection for the house, Dior took its entourage to Calabasas, Los Angeles—the celebrity-populated valley that's home to the Kardashians amongst others. 
2. The setup was to mimic the grandeur of Hollywood, replete with a touch of savannah chic. Hot-air balloons billowed in the air while a giant "Dior Sauvage" sign was spotted on the hilltop. 800 guests were flown in to the desert-esque mountains, where they would watch the show from pitched tents coupled with carpets and pillows.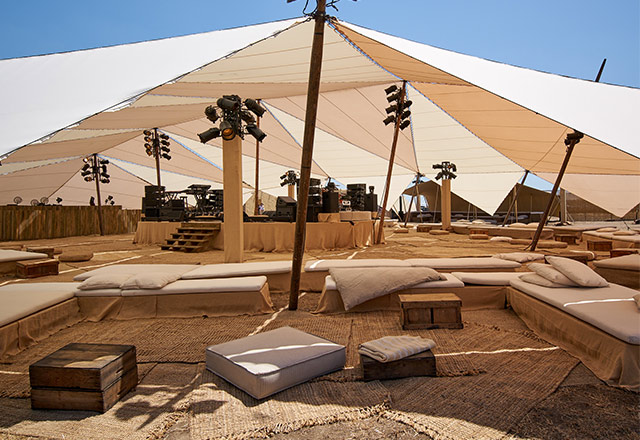 3. The collection reflected the wilderness of the show setting, as Chiuri dipped her fingers once again into the house's archives and referenced Monsieur Dior's prints within his 1951 Ovale line that were inspired by rock paintings found in the Lascaux cave. Spot motifs such as prehistoric wolves on silk jacquards of ochre, gold and black, including tarot card sketches—a favourite of Chiuri. 
4. But of course, the savoir-faire of the house ateliers were notable throughout the collection. No collection featured in the desert is complete without rugged, Western tropes, so they decided to update the iconic Bar jacket in suede fringe, worn with shin-grazing skirts and tough hiking boots. Outerwear had a charm of its own as well—fur vests, oversized knit cardigans, and biker jackets paired with feminine elements such as prairie frocks and feathered dresses.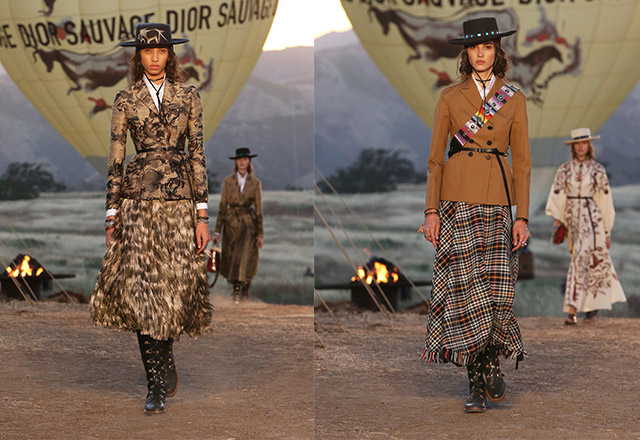 5. The show was also a star-studded event, as celebrities including Rihanna, Charlize Theron, Solange Knowles, Brie Larson, Olivia Palermo, Chiara Ferragni, and more showed up at the vast, desert plains clad in the French house's newest threads.
Take a look at the full Dior Cruise 2018 collection below:
01
02
03
04
05
06
07
08
09
10
11
12
13
14
15
16
17
18
19
20
21
22
23
24
25
26
27
28
29
30
31
32
33
34
35
36
37
38
39
40
41
42
43
44
45
46
47
48
49
50
51
52
53
54
55
56
57
58
59
60
61
62
63
64
65
66
67
68
69
70
71
72
73
74
75
76
77
78
79
80
81
82
83
84
Related stories:
5 Things to know about Prada Resort 2018
5 Things to know about Chanel Cruise 2018