The BURO fashion team explored Coach's latest collection featuring the one and only Barbra Streisand
There's no denying that the pandemic has deeply impacted businesses across the fashion industry, but the silver lining? The Spring/Summer 2020 collections will remain in-stores a little while longer—perfect for those who are in need of retail therapy now or after CMCO officially ends. Before the MCO started, the fashion team got to have some fun at the Coach Pavilion boutique, exploring pieces from its latest line. Check out our favourite looks, and what we think about the collection below:
Joan Kong, fashion editor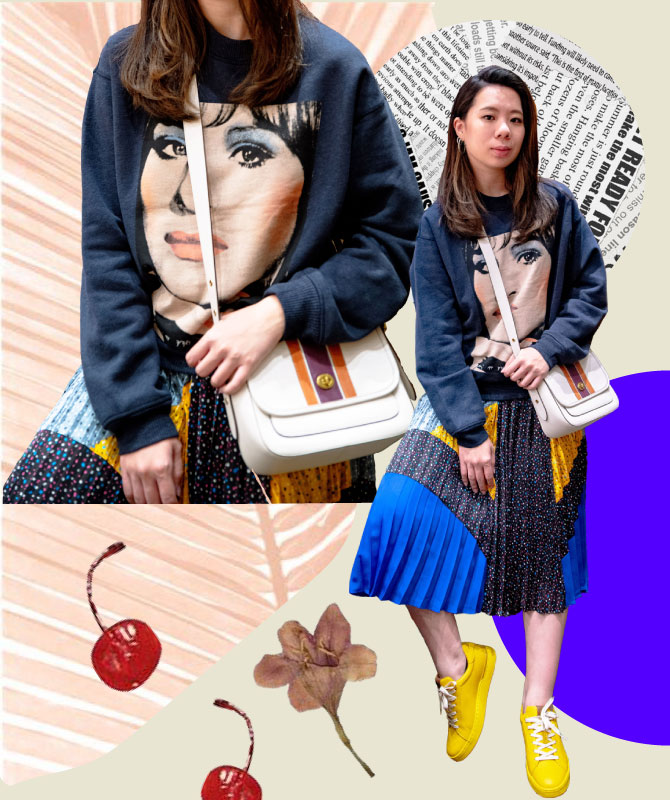 Coach x Richard Bernstein sweater with Barbara Streisand, mix pleated skirt, Rambler crossbody with varsity stripe, and Lowline luxe low top sneakers, all Coach
Outfit
:
Sweater and skirt combos have always been my go-to (yes, even in this hot and humid weather), and I've had my eyes on this Barbra Streisand top ever since I spotted it on the runway (want proof? Check out BURO's walk-in wardrobe).
Bag 
:
While this particular bag wasn't my initial pick, I like how the fail-proof white hue perfectly balances out the print-heavy get-up, and the varsity stripes seal the look with a tinge of retro note.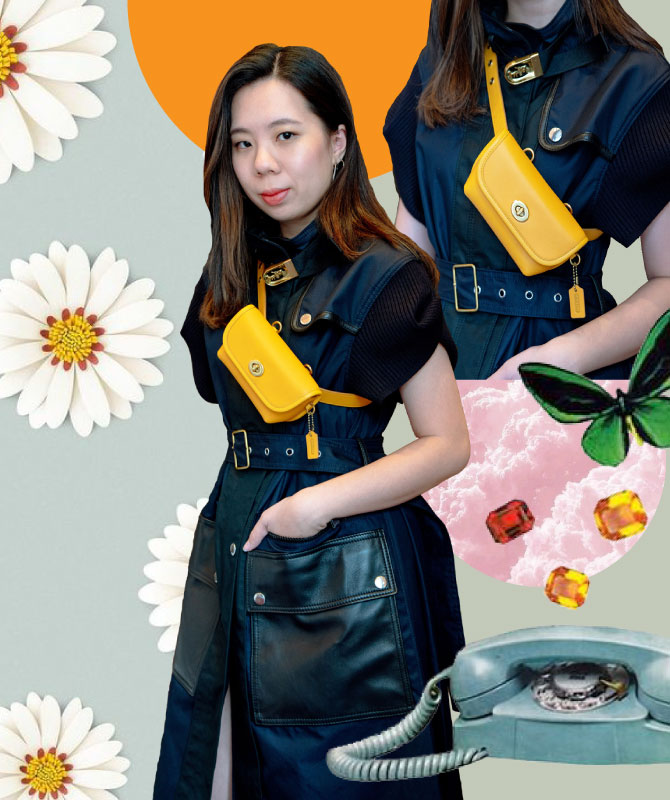 Sleeveless trench and belt bag, both Coach
Outfit 
:
The utilitarian aesthetic may be a mainstay in the brand, but the trench (which I wore as a dress) is definitely not your typical silhouette. Take a closer look and you'll notice the iconic Coach buckle on the collar.
Bag
:
When the trend first popped up a few years back, I got to be honest: I wasn't a fan (to say the least), and I thought that it would just be another fad. Fast forward to today, seeing how versatile it actually is, I've hopped on the bandwagon. The sleek size can be styled in different ways, be it across the décolletage or around the waist.
My style is...
Polished with a hint of edge. I tend to stick to muted colours and fail-proof silhouettes, but once in a while, you'll see me rocking pops of colour. Case in point: The looks above!
My thoughts on Coach's Spring/Summer 2020 collection:
Coach has always stayed true to its classic Americana aesthetic, but I love how its Spring/Summer 2020 collection has that extra spring in the step (no pun intended). The colours are bright and vibrant; the prints hit different artistic notes; the layerings exude that sense of ease. Alongside the RTW pieces are the Coach Originals handbags, featuring vintage and archive-inspired designs that have been restored, remixed, or remade. They're the perfect complement to the looks.
My very first Coach item:
The monogram wristlet that I got as a gift from my mum when I was 13 sparked my love for pouches and mini purses—I now have a collection of them (from different brands) in my closet!
Stephanie Boey, fashion writer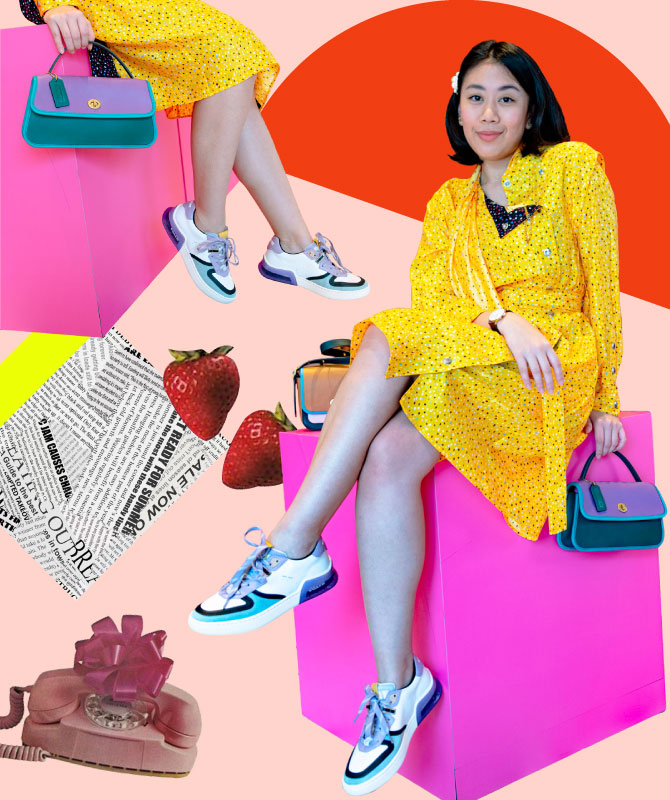 Dot-print architectural drape belted dress, turnlock clutch in colourblock, and Citysole court sneakers, all Coach
Outfit
:
I'm not much of a girly girl but when I saw this dress, I fell in love with the cheery yellow hue! It's an instant mood lifter.
Bag
:
I like experimenting with colours, and the Turnlock clutch has a separate, three-tone colourway on its own that gives my dress an interesting contrast.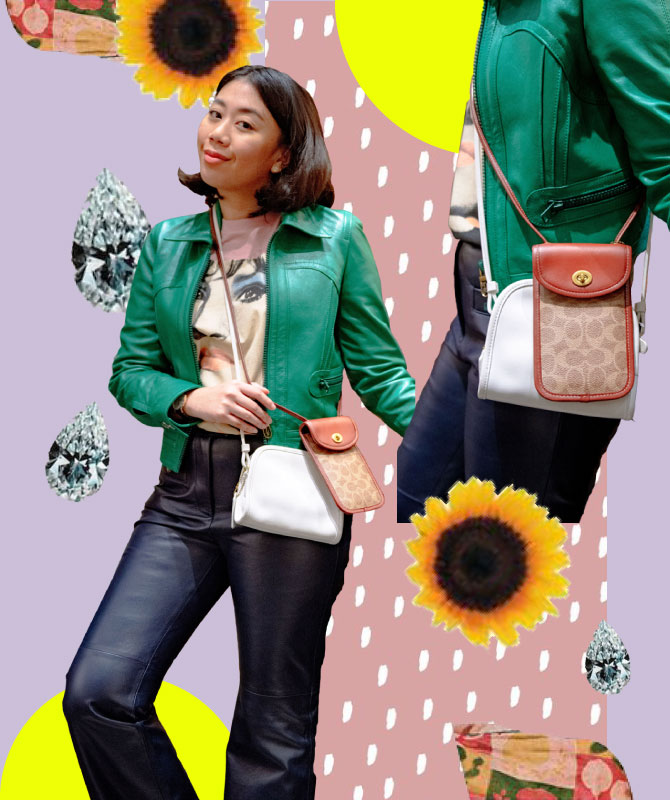 Cropped leather blouson, Coach x Richard Bernstein T-shirt with Barbra Streisand, leather pants, flat Turnlock crossbody 12, and crossbody bag, all Coach
Outfit
:
I feel like a total bada$$ in this, thanks to the major '70s vibe. I was skeptical about leather pants before, but you can consider me a total convert now.
Bag
:
I can never resist a crossbody bag, especially if it's in an adorable size and shape! Hands-free storage will always be my go-to.
My style is...
Honestly, I don't stick to one. I tend to jump from one aesthetic to another, depending on how I feel and where I need to be on the day. But if I had to pick a word to perfectly describe it, it'd be eclectic. I love experimenting with colours, prints, and textures. Fashion is another form of self-expression for me, so I resonate with pieces that make me happy.
My thoughts on Coach's Spring/Summer 2020 collection:
To me, the collection is all about icons. The brand features pop illustrations from famed American artist Richard Bernstein, depicting more familiar faces such as Barbra Streisand, Michael J. Fox and Rob Lowe, printed on T-shirts and tanks, all the easier to pledge allegiance. I like how Stuart Vevers collaborates with talents that speak true to the brand, while finding an innovative way to extrapolate that into his collections, making it a stronger and more interesting narrative.
My very first Coach item:
I've yet to own anything from Coach, but I have my eyes set on the Originals collection. The Restored line features archival bags that have been expertly cleaned, conditioned, and restored. I find the idea of shopping vintage fun and exciting, because there's a history and story behind it!
The Coach Spring/Summer 2020 and Coach Originals collections are now in stores. Click here to find out more.