Film, TV + Theatre
REVIEW: Season One of 'Extracurricular' on Netflix—starring Kim Dong-hee from 'Itaewon Class'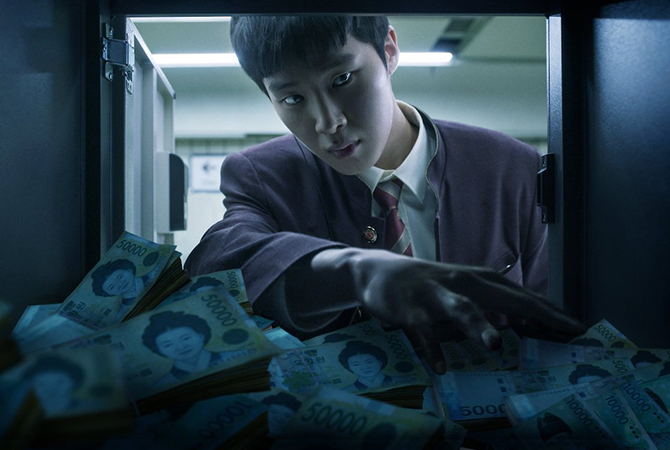 *Spoilers ahead*
Two weeks after releasing The King: Eternal Monarch, Netflix finally dropped Extracurricular on 29 April 2020—blessing the world with the beautiful avalanche of Korean dramas. The more, the merrier, no?
Extracurricular is a Netflix Original Series; hence, you can actually stream the entire debut season right now. With 10 episodes and each about an hour long, the new show is available for self-isolation binging.
The series is led by Kim Dong-hee; who plays Oh Ji-soo (you will recognise him as Jang Geun-soo in Itaewon Class)—a top student with a risky and illegal side hustle?. The cast also includes Jung Da-bin as Seo Min-hee, Park Joo-hyun as Bae Gyu-ri, and Nam Yoon-soo as Kwak Ki-tae. They play fellow students from the same high school as Ji-soo. Other notables characters in Extracurricular are Lee Whang-chul (played by Choi Min-soo), Cho Jin-Woo (played by Park Hyuk-kwon), and Lee Hae-gyoung (played by Kim Yeo-jin).
Written by Jin Han-sae and directed by Kim Jin-min, expectations surrounding Extracurricular are high. According to Netflix, the drama "is a story of high school students who become tangled in a series of conflicts and events that challenge human values and morality". Is it worth your time?
If I have to describe Extracurricular in two words, it'd be "mentally intense". The story is centred around teenagers who are dealing with tremendous amounts of pressure—from every direction; be it family, school, friends, or just society in general.
I definitely remember my days in high school in Malaysia and there are facets of being a teenager that are so vivid; so scarily relatable. Of course, I can't say that South Korean and Malaysian schools are completely the same but one thing's for sure: it's not always easy. After all, everyone has stories. Everyone.
Extracurricular explores and highlights this well-known setting but takes a solemn dive into the dark realm. For Oh Ji-soo, the story began with him being praised for never missing a class and always scoring well.
Right from the start, it was clear that he was struggling—mentally. Without his parents by his side and having to make ends meet (to pay for school), Ji-soo then developed a programme with an app that provides escort-like services for women who are interested. The actual words that were used: "compensated dating".
Of course, as an outsider in high school, he was bound to be bullied—and in comes bad boy Kwak Ki-tae; the popular student who was in a relationship with Seo Min-hee (one of Ji-soo's "girls"). Throughout the season, you will find out why these characters are so integral to the entire plot—along with Bae Gyu-ri, who I think is the catalyst for Ji-soo's eventual demise. But we don't really know, do we?
Extracurricular can get really slow and draggy at times but those moments are rare. It's a psychological race; with the audiences battling their own judgements. To be on Ji-soo's side, or to condemn him for his actions? That is the 60 million dollar question.
Personally, there were a plethora of thoughts that were going on in my mind throughout the entirety of the season. I found myself in a field of confusing mystery—who do I actually care for? Is it Bae Gyu-ri; the self-harming daughter of rich parents? Or Seo Min-hee; the girl who just wants to be loved for more than her body? There were instances when I truly felt for them but there were also spurs when I didn't mind their downfalls.  What's really going on?
This series definitely gets violent towards the end and wouldn't be ideal for anyone searching for something light and heartwarming. The level of darkness and intensity increases with every episode. Their performances were really impactful too and conveyed the elements of the premise adequately.
Extracurricular is definitely worth binging. Watch it for the character-based storyline that's done really well. Watch it for the chemistry among the cast. Watch it to understand the mental and physical challenges that people, especially teenagers, are facing every day. In fact, at the end of every episode, there's a statement that encourages anyone who needs help to seek support. That alone is a reason for me to tune in.
Have you seen the new Netflix series yet? What are your thoughts?
For my review of The King: Eternal Monarch, click here.
| | |
| --- | --- |
| SHARE THE STORY | |
| Explore More | |