*Minor spoilers ahead*
Like many others around the world, this is a drama I was really excited for—especially after binging Crash Landing On You and Itaewon Class. Both superb series in their own ways. The King: Eternal Monarch is even more exciting because it's Lee Min-ho's first post-military project. Let's be honest: Boys Over Flowers was the Korean drama for many of us growing up. I've always had a soft spot for Lee Min-ho. With Kim Go-eun as the female lead, I thought to myself, "This is going to be so good".
Well, I set the countdown for 10.30pm (the premiere time here in Malaysia) and waited patiently. Be still, my heart. When it was finally time, I put Netflix on and my journey into the realm of The King: Eternal Monarch began. Did Episode One live up to the hype? Does it warrant catching the second episode?
If I'm being real, I wasn't entirely sure about the plot. From the descriptions I saw prior to watching the programme, all I knew was that the drama will revolve around two parallel universes—one in which South Korea is a constitutional monarchy; and one similar to present-day South Korea. From the get go (including the opening credits), there was this sense of mystery; a not-so-subtle yet effective catalyst meant to get viewers hooked right from the start. From the fitting music to the textbook visuals, every element played a part.
But what about the storyline? Is it even interesting? In my opinion, what acclaimed screenwriter Kim Eun-suk does exceptionally well in her projects (Goblin, Descendants of the Sun, and Secret Garden among others) is the way she captures our attention. This is no different. In fact, I was thoroughly immersed from the opening scene. Yes, it can get really confusing. After all, the drama switches between two different worlds and in those worlds, the timelines alternate as well.
My advice is to really pay attention to the dialogue and characters from the beginning. It's so fast-paced that missing one detail can derail your entire understanding of the show. Viewers are treated to action from the first few minutes right to the end of the first episode. The cinematography and production are brilliant too!
What I also liked were the characters. We didn't really get to see the actual chemistry between Emperor Lee Gon and Detective Jung Tae-eul yet. However, that brief but powerful encounter towards the end of the episode was more than adequate. A poignant symbol of what's to come. It will be really interesting to watch how these two wildly different personalities interact with one another.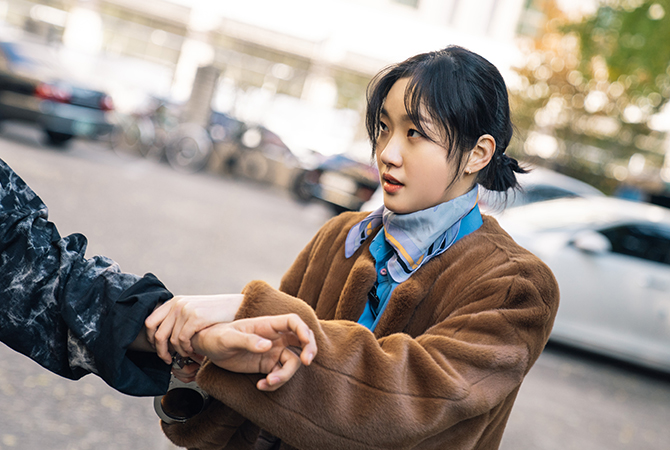 The King: Eternal Monarch doesn't just have action, the fantasy drama is also packed with humour—albeit for fleeting moments. One can definitely see that from Emperor Lee Gon's relationship with Chief Royal Guard Jo Young (played by Woo Do-hwan). The way they play off each other could very well be the comedic relief of the show. Ah, the bromance. And Maximus is sure one majestic-looking white horse.
As for the villain Lee Lim (played by Lee Jung-jin), I have to say: I am genuinely afraid of him. No, I haven't started boiling yet but I'm sure that I will eventually. Especially if his despicable antics continue throughout the series.
Duality is definitely one of the core themes of The King: Eternal Monarch. The fact that one character can be Person A in the Republic of Corea and Person B in present-day South Korea could be very confusing. It sure was for me! However, as the show progresses, I know it will be a lot easier to understand now that the foundation has been set.
To finally answer my question: yes, this series is worth checking out! It gets you thinking and thinking hard right off the bat—without taking away the fun. You will need to pay attention throughout to fully grasp the intricate storyline. I haven't followed a Korean drama on a weekly basis for quite a long time so I'm glad that my weekends are now blessed with this.
The second episode of The King: Eternal Monarch will be released on 18 April 2020 at 10.30pm on Netflix; with weekly episodes on Fridays and Saturdays. Did you catch the first episode? What are your thoughts?
For more Korean shows to watch, click here.
| | |
| --- | --- |
| SHARE THE STORY | |
| Explore More | |