Film, TV + Theatre
Here's what the cast of 'The King: Eternal Monarch' had to say about their roles in the Korean series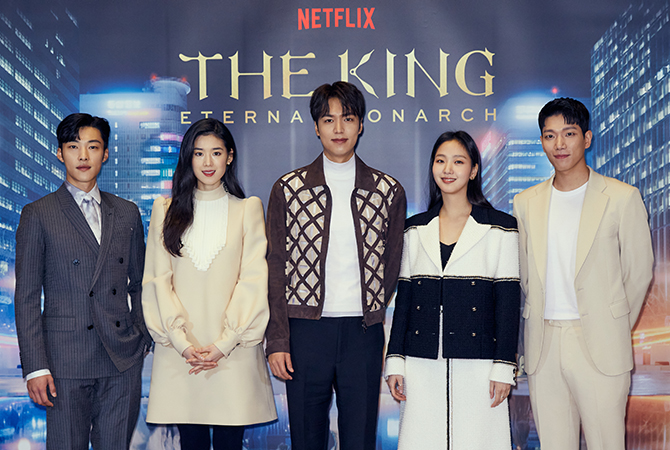 Throughout the past few months, we saw an avalanche of brilliant Korean dramas—from Crash Landing On You to Itaewon Class to The World Of The Married. Fans (including the recently-converted) have a new Korean series to watch; and it stars Lee Min-ho in his first post-military project.
The King: Eternal Monarch (by Netflix and SBS, or Seoul Broadcasting System) is fantasy romance that tells the story of two parallel universes: one in which South Korea is a constitutional monarchy; and one similar to present-day South Korea. The series is written by Kim Eun-suk—known for writing popular dramas such as Secret Garden, Descendants of the Sun, The Heirs, and Goblin.
The cast of the upcoming series also includes Kim Go-eun, Woo Do-hwan, Kim Kyung-nam, Jung Eun-chae, and Lee Jung-jin. Find out what these actors had to say about their respective characters in the drama:
Emperor Lee Gon—played by Lee Min-ho
Lee Min-ho: "He's the third generation emperor of the Kingdom of Corea which is a fictional empire created for the purpose of the drama. He's also a rowing athlete and a mathematician. He's described as a perfect monarch who excels at literary and martial arts".
Detective Jung Tae-eul and Luna—played by Kim Go-eun
Kim Go-eun: "Jung Tae-eul is a police detective in the Republic of Korea. Her father runs a taekwondo studio, so she started teaching children as a taekwondo instructor in high school. Luna is an orphan who had to do everything on her own from a young age. She did whatever she had to in order to survive. She named herself after a stray cat and she's a very troubled character".
Chief Royal Guard Jo Young and Public service worker Jo Eun-seob—played by Woo Do-hwan
Woo Do-hwan: "Jo Young is like the shadow of Emperor Lee Gon as the chief imperial bodyguard. Jo Young only focuses on the emperor and nothing else matters to him. They grew up together so they share a special bond like one between friends or siblings. Jo Eun-seob is serving his military service by working as a public service worker. He's very optimistic, never serious, and always lively. He grew up being like a younger sibling to Jung Tae-eul, so I have roles of being like a younger sibling to both Lee Gon and Jung Tae-eul".
Kang Shin-jae—played by Kim Kyung-nam
Kim Kyung-nam: "He is a police detective who has dreamt mysterious nightmares since he was young, so he had many questions. He met Tae-eul in high school and grew up together as sibling-like friends who relied on each other".
Gu Seo-ryeong—played by Jung Eun-chae
Jung Eun-chae: "She is the youngest-ever and first female Prime Minister of the Kingdom of Corea. She never hesitates when it comes to her convictions and she's very straightforward. She's a very ambitious person. As for her relationship to Emperor Lee Gon, she sometimes uses him but sometimes reveals her sincerity. She's a very complex and delicate character".
Prince Geunyang Lee Lim—played by Lee Jung-jin
Lee Jung-jin: "He is Lee Gon's uncle. The King is set in present-day 2020 and my character is 69 years old. He messes around with human nature and is very skilled at swordsmanship. While you can see romance from other characters, the moment Lee Lim enters the scene, dark clouds gather".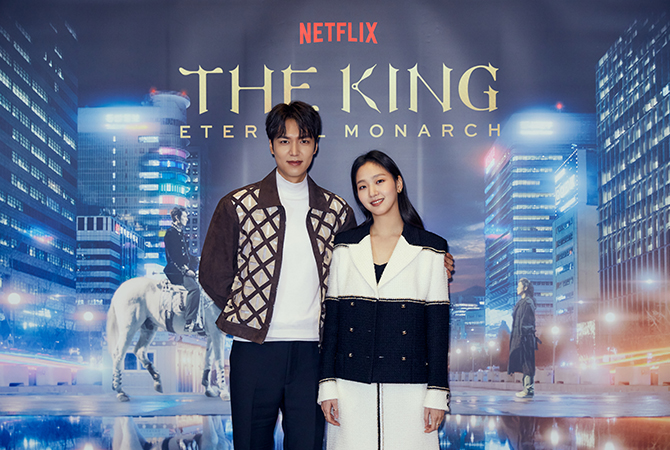 On the drama itself, Lee Min-ho said: "This drama has a lot of different traits and is sometimes like an epic, a romance, and a melodrama. I think you'll be able to enjoy watching the dual roles and different transformations. I hope you enjoy The King: Eternal Monarch while maintaining social distancing". In addition to that, Jung Eun-chae urged everyone to watch the series from the beginning—saying that the first episode is as important as a prologue. There will be a total of 16 episodes.
Are you excited for The King: Eternal Monarch? As mentioned earlier, the Korean series will premiere on 17 April 2020 at 10.30pm–with weekly episodes on Friday and Saturday. Meanwhile, stay safe, practise social distancing, and most importantly, enjoy your time at home!
For more Korean shows to add to your MCO watchlist, click here.
| | |
| --- | --- |
| SHARE THE STORY | |
| Explore More | |