In case you missed it, Elemis has finally arrived in the Malaysian market. This skin wellness brand was established in London in 1990, and has since gone on to garner a loyal celebrity clientele that includes the likes of Emily Blunt, Cara Delevingne, and Rosie Huntington-Whiteley.
Elemis was founded on the philosophy that your skin is a reflection of your lifestyle choices and that treating your skin has to come from the inside out. That's why the brand boasts a product line-up that strikes the perfect balance between scientifically-proven results and wellness-driven rituals. In fact, Elemis was one of the very first brands to pioneer the use of natural ingredients in efficacious, clinically-vetted formulations for all skin sensitivities.
READ MORE: Everything you need to know about Elemis—the latest beauty brand on the block
I am a long-time fan of Elemis. I've been using their products for years (I particularly love their Pro-Collagen Cleansing Balm and their Dynamic Resurfacing Facial Wash), so I was thrilled to have them reach out to me for a review. The brand sent over their Pro-Collagen Overnight Matrix—an anti-ageing night cream that has been formulated to smooth, firm, and hydrate your skin as you sleep.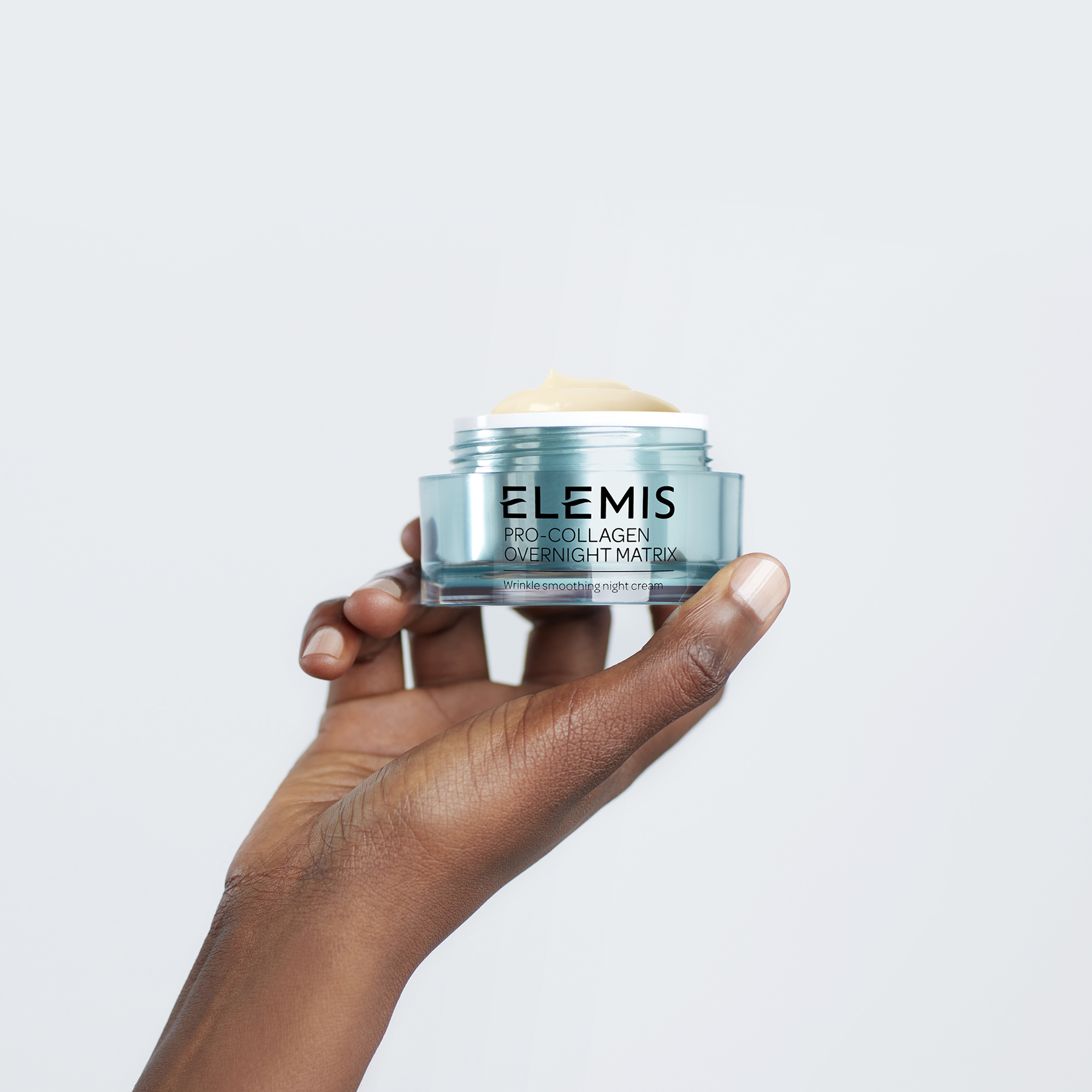 The key ingredients in this night cream includes the brand's Synergistic Microalgae Blend, Wild Indigo Oligosaccharides, and Drone Peptide Technology. These ingredients work together to create a protective matrix that seals in hydration, reduces the visible effects of modern skin stressors, and specifically targets wrinkles and sagging. Simply put, this product is a GPS that targets the signs of ageing and stress. By morning, you can expect to wake up with a complexion that looks rejuvenated, radiant and has visible bounce-back.
Getting ready to test drive this product, I had a look at the user trials. According to the trials, participants saw a reduction of fine lines and wrinkles in just two weeks. Does it sound too good to be true? I thought so too.
However, I thought it would be best to just try the product and see how it fared for myself. So, I'm here to report on how the Pro-Collagen Overnight Matrix performed during my 10-day review, complete with a telling before-and-after comparison that may just surprise you.
For context, at the beginning of this journey, my skin was not happy. In fact, this may have been the worst possible week for me to do this review. My oncoming period left my complexion looking dull, dehydrated, and sallow—for me, it's business as usual at this time of the month.
Further, my terrible eating habits (governed entirely by my hormonal cravings) meant that my skin was covered in fresh, sugar-induced breakouts. I had also been sleeping very poorly in the past few weeks, which left me with a hefty pair of perpetual bags under my eyes. Needless to say, this night cream had its work cut out for it.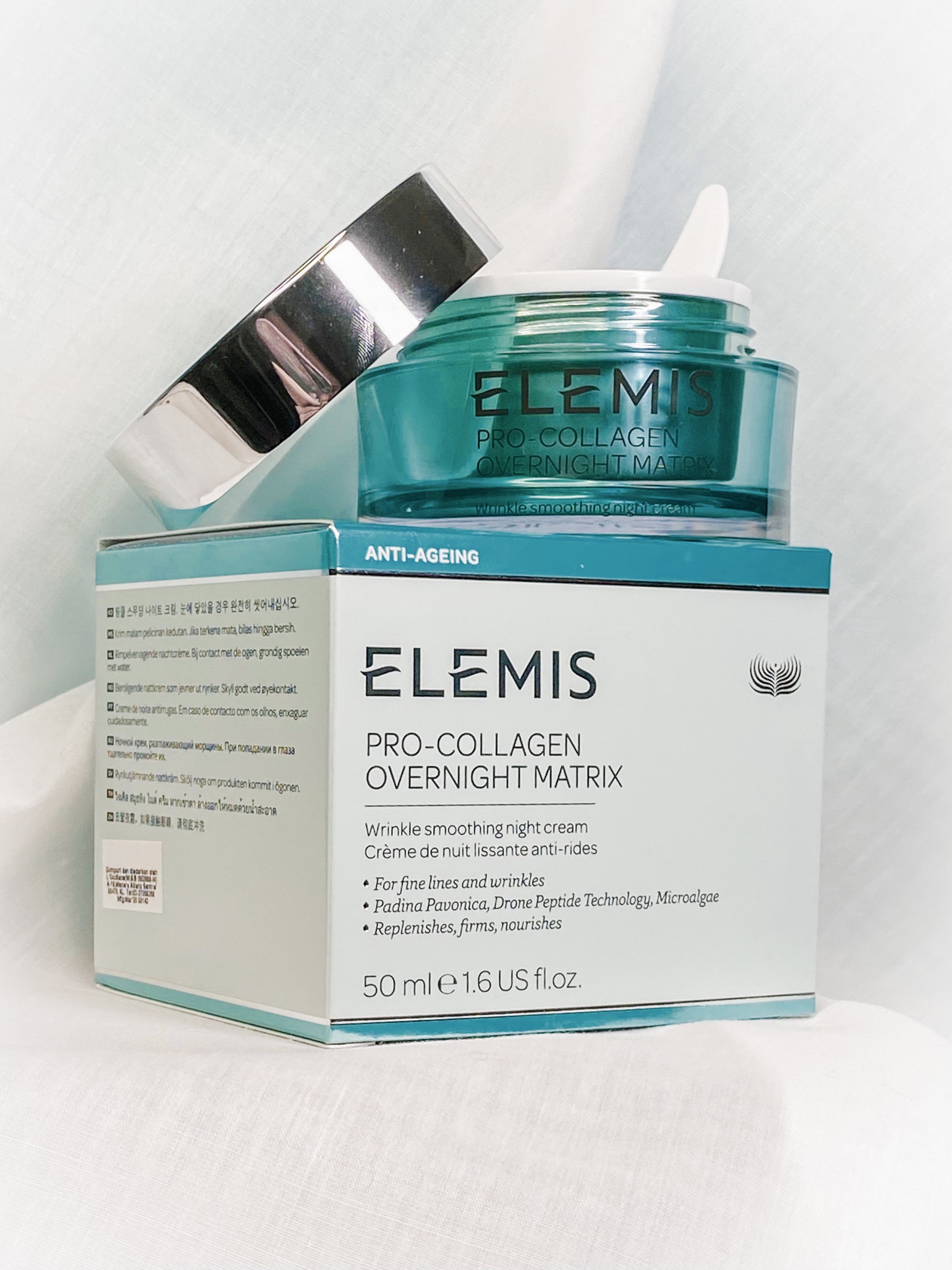 I wasn't about to give it an easy ride, either—according to the brand, the protective matrix ensures that "you will always wake up looking like you slept well". I intended to put that claim to the test. So, throughout my 10-day trial with the Pro-Collagen Overnight Matrix, I soldiered on and continued to sleep quite poorly. In fact, in the spirit of a fair assessment, I made little to no lifestyle changes during this review.
I also wanted to ensure that any changes in my skin could definitely be attributed to this night cream. As such, I used the cream as my only skincare step. The only other beauty products I used in this 10-day period were my usual go-tos:
The Kosé Sekkisei Skincare UV Gel, my current daily sunscreen
The Sisley Triple-Oil Cleansing Balm, which I used to remove my sunscreen and to carry out my twice-weekly 15-minute oil cleanse
The Clear Start Breakout Clearing Foaming Wash, which contains salicylic acid to treat my acne
The Elemis Gentle Rose Exfoliator, my daily physical exfoliant to help slough off my dead skin cells and allow the Pro-Collagen Overnight Matrix to better penetrate my skin
Whichever lip care product I had on hand at that particular point in time.
With this in mind, I was ready to be blown away. Once daily, I would take a pea-sized amount of the product (a little goes a very long way), warm it between my palms and gently smooth it onto my face, neck, and décolletage with upward strokes. The texture is beautifully rich and creamy, and leaves a luxuriously lightweight yet nourishing veil over the skin.
Here is what my skin looked like before and after my trial with the Pro-Collagen Overnight Matrix: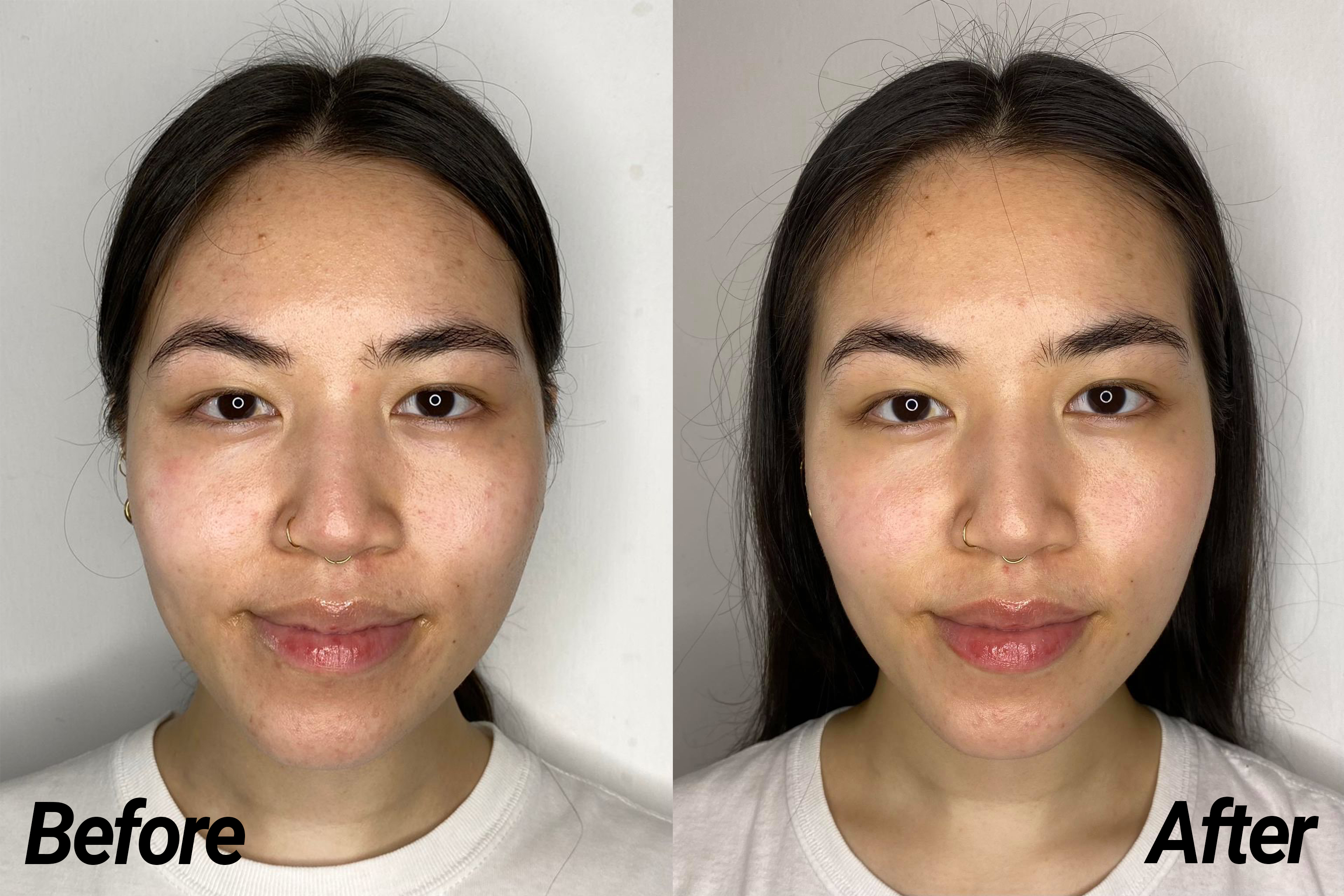 Now, the difference may not be obvious to you, but it is glaringly obvious to me. Overall, my skin looks more radiant, smoother, and more refined. My pores look less obvious (especially on and around my nose), my cheeks are far less blotchy, my skin looks glowy, and there has been a distinct improvement in the appearance of my acne scars.
The texture of my skin also looks much smoother than before—and it felt that way, too. Just compare my T-zone in the 'before' to the 'after'. Obviously, my skin is by no means clear in the 'after' shot (nor would I expect it to be after just 10 days with this cream) but, to me, the improvement is marked.
As far as the claims of a more youthful-looking skin goes, I have to concur. If you look closely, you can see that the fine lines around my eyes have been plumped away. In addition, though I am equally sleep-deprived in both portraits, this cream has somehow made me look like I am a functioning human being in the 'after' shot.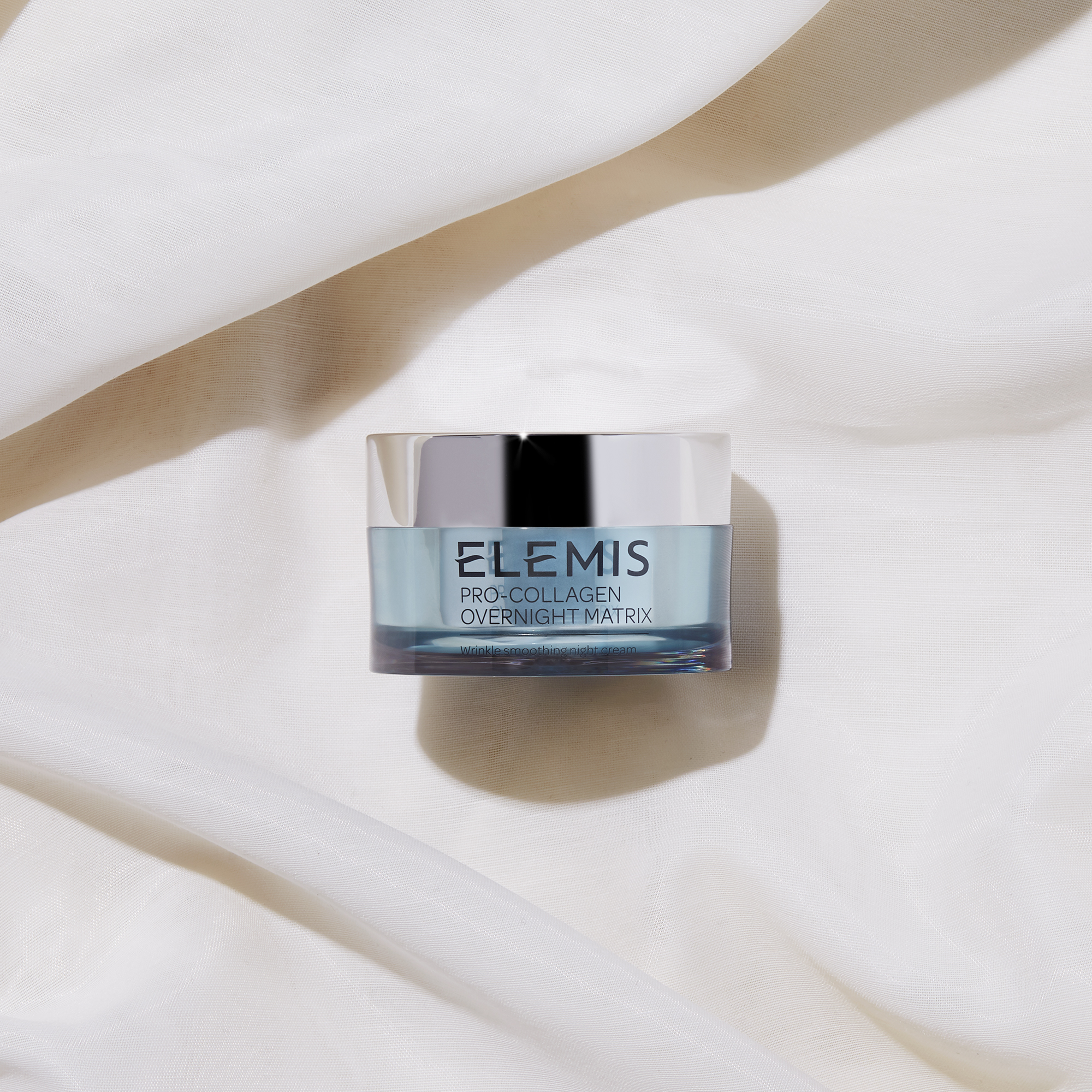 I am aware that any before-and-after post is bound to have its naysayers. So, just in case you're skeptical of my results, I would like to dispute any claims of image doctoring. Firstly, I kept the portraits as uniform as I possibly could—I used the same ring light setting and the same background for both pictures, and I did not retouch or filter the images in any way (that's why my hair is such a mess, and why you can still see my real skin texture clearly in both pictures). The difference in shadows is caused by my change in hairstyle. I'm also not wearing any makeup in either of the portraits—just the Elemis Pro-Collagen Overnight Matrix and the Laneige Lip Sleeping Mask in Berry. Basically, if you happen to be seeing any significant changes, it's probably because they are actually there.
Overall, this night cream was a pleasant surprise, to say the least. It did exactly what it said it would—and more. I am rarely so impressed with a product, but I do think that the results speak for themselves. On the whole, I think it's safe to say that the Pro-Collagen Overnight Matrix has cemented itself as a staple in my evening beauty routine.
The Elemis Pro-Collagen Overnight Matrix is available in the brand's stand-alone stores at Pavilion Kuala Lumpur and 1 Utama, and online here for RM900.
PSST: If the results of this review piqued your interest in the Elemis Pro-Collagen Overnight Matrix, I bear some very good news: We're doing a giveaway!
We've got three sets of the Elemis' Pro-Collagen Best Trio (Worth RM555 each) up for grabs, which includes travel-sized editions of the brand's Pro-Collagen Overnight Matrix 15ml, Pro-Collagen Marine Cream 15ml, and Pro-Collagen Cleansing Balm 20g.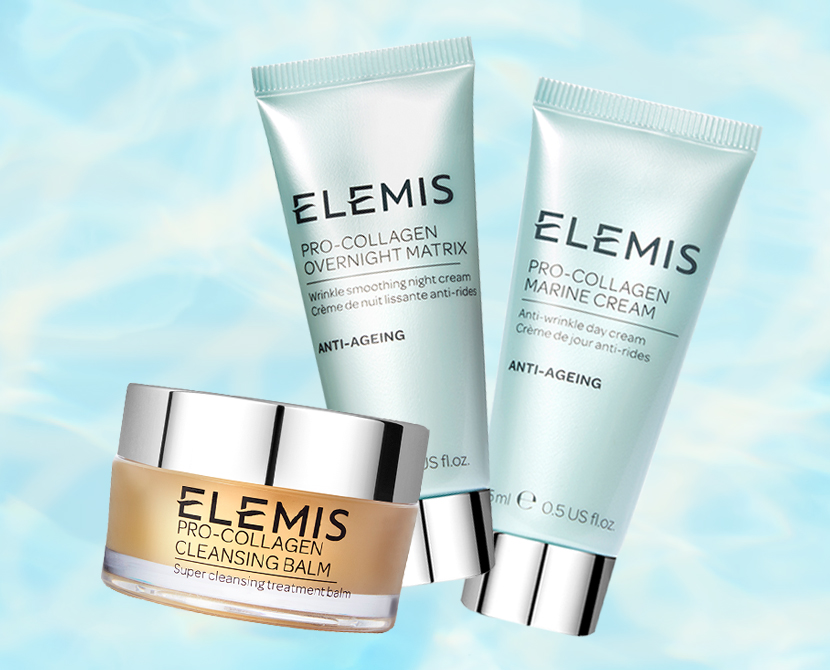 If you'd like to enter this giveaway, here's what you have to do:
Follow @buromalaysia and @elemis_my on Instagram
Fill in your details in the form below and tell us one thing that makes you feel beautiful
Submit and you're done!
The BURO x Elemis Giveaway runs from Thursday, 14 October 2021 till Wednesday, 27 October 2021. Winners will be announced on Monday, 1 November, and will be contacted via email. Other terms and conditions apply*.
1. Employees of BURO Malaysia and its related corporations ("Indochine Media Ventures") or BURO Malaysia partners and/or sponsors for the giveaway (if applicable), and their immediate family members (including spouses, children, parents, brothers and sisters) are not eligible to participate in the giveaway.
2. The winners of this giveaway are chosen at random.
3. This giveaway is organised by BURO Malaysia (hereinafter referred to as the 'Organiser').
4. The prizes for this giveaway are neither exchangeable for cash nor transferable.
5. All persons ('Participants') taking part in this giveaway agree that these rules shall be binding on them, and that the entries in this giveaway, including their name and likeness, may be used without restriction in any future publicity material by the Organiser.
6. The Organiser reserves the right to amend these rules or terminate the giveaway at any time at its sole and absolute discretion. All decisions made by the Organiser under these rules shall be final and no discussion or correspondence will be entertained. The Organiser may, but is not required to, justify any decisions relating to this giveaway.
7. The Participant acknowledges that the interest and good reputation of the Organiser are of paramount importance. The Organiser reserves the right to disqualify a Participant from the giveaway, or to withdraw the prize if it is believed the Participant is in breach of its obligations under the rules. The Participants shall not by act or omission, directly or indirectly bring the Organiser into disrepute.
8. All entries are sent at the risk of the Participants and in the event that there are technical difficulties experienced arising out of the internet or from any associated equipment or internet security is compromised, the Organiser may at its sole and absolute discretion disqualify the entire entry and shall not accept any liability doing so.
9. Giveaway entries may only be submitted via the stated medium of communication.
10. This giveaway is open to anyone above 18 years old and within Klang Valley only.
11. Each entry must be completed in full. The Organiser reserves the right to disqualify any incomplete entries in its sole and absolute discretion.
12. Incomplete entries will be deemed void.
13. Winners will be notified via email.
14. Uses of 'aliases' shall be considered a form of deception and are prohibited.
15. The winner must produce their original IC / passport with legible IC / passport number in order to claim the prize. The winner may also be required to produce additional original proof of identity at the discretion of the Organiser.
16. All Prizes are accepted entirely at the risk of the winner, and the Organiser excludes all warranties in connection with the prize to the extent permitted by law.
17. All Participants release from, and indemnify the Organiser, its agencies, sponsors and representatives against, all liability, cost, loss or expense arising out of acceptance of any prize or participation in the giveaway including (but not limited to) personal injury and damage to property and whether direct or consequential, foreseeable, due to some negligent act or omission or otherwise.
18. All personal particulars furnished are meant for identification purposes and will not be sold or given to any third parties. In the case of giveaways, our partners may wish to offer you services which require your personal particulars. These specific requests will be expressly stated within relevant giveaways, with a choice to opt out.
19. Inability to contact the Lucky Winners by Friday, 5 November July will result in disqualification and selection of an alternate winner.
20. Prizes are final; no cash equivalent or alternative prize will be given. Prizes are non-transferable, non-exchangeable and strictly not for resale. If the winner is found to be selling the prize(s), the Organiser reserves the right to demand the return of the prize.
For more beauty reviews like this, click here.
| | |
| --- | --- |
| SHARE THE STORY | |
| Explore More | |