Hair
Ouai's Jen Atkin talks hair health, ONE hair trend she'll wear forever and how to get beachy waves with a straightener
Celebrity hairstylist Jen Atkin wears many hats. The founder of haircare brand Ouai is also the Global Styling Ambassador of Dyson, founder of digital hair community Mane Addicts, and on top of that, the hair whiz behind a score of A-listers' tresses—including Kylie and Kendall Jenner, Chrissy Teigen, Hailey Bieber, Bella Hadid, Dua Lipa and more.
We had a chance to quiz the Ouai founder and celebrity hairstylist on ways to make second-day hair look chic, how to get effortless S-waves (newsflash: it's not that difficult!), and her thoughts on the future of the hair industry in a pandemic:
What do you think hair symbolises?
"I think that hair really is an emotional piece in a woman's life—it is part of our identity. Sometimes it's the first thing people notice when they first see you. Obviously now that we're living a life of Zoom meetings I feel like it is something that can either make or break your day.
"I think that we all have felt the impact of it since we were small—we can all talk about the bad haircuts that our mums gave us or the time that you coloured and it broke off. I find that it's important to not only make my hair healthy but to focus and help my clients get their hair really healthy too—it's definitely an emotional thing."
Please share your morning hair routine with us.
"I've been starting off with Dyson Airwrap's smoothing brush attachment and it is amazing because it helps you go quick from wet to dry, and the heat control helps to protect your hair health. I'll give it a pass and in under 10 minutes, it's dry.
"For my ends (I coloured it a while ago so it's different from my roots), I'll just go over it with the Dyson Corrale if I'm doing more of a straight look. I usually tell people to focus on [styling] small pieces of hair instead of doing it in big chunks, so that you can get the results that you want. I also can do a really gorgeous beach wave with the Corrale."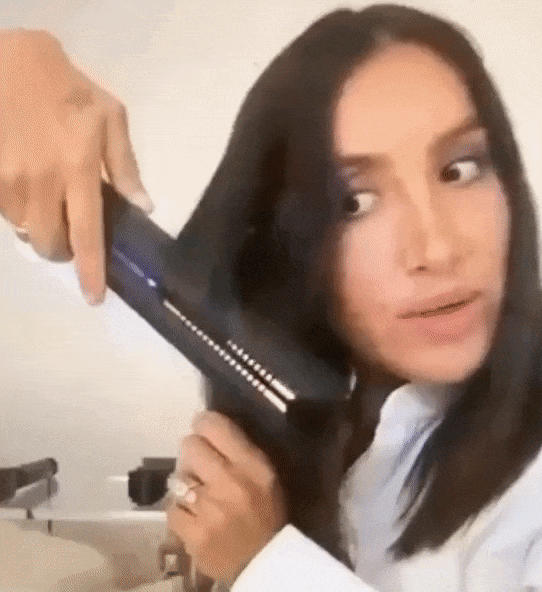 How do you get beginner-friendly beachy waves?
"I like to use the Dyson Corrale for that. You'll want to take small sections of your hair and go in with two-inch wide sections, and then hold it at an angle (the top of straightener facing down) and go in and out. Point the straightener up and down when you glide it through instead of going back and forth in the same angle."
"For S-waves, I like to use the smallest barrel attachment on the Dyson Airwrap on damp hair. I'll wrap a small section of hair around the barrel and then only turn the Airwrap on, holding the ends while I'm at it. I'll have a really gorgeous beautiful bend after taking it out—then I'll straighten just the ends with the Corrale. Ouai has an amazing matte pomade that you can use for the ends for an, exaggerated choppy look."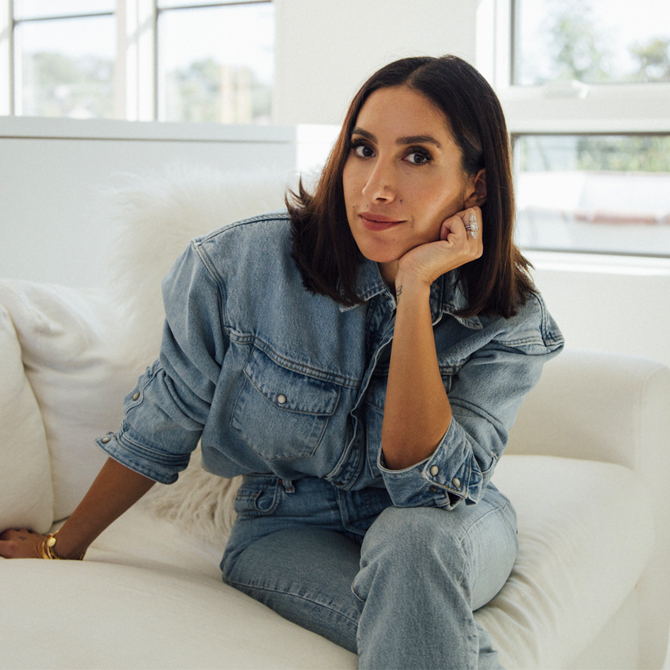 What are a few of the most common hair misconceptions and myths that you'd like to debunk?
"Trimming your hair more often will make it grow faster. This is one of the biggest myths within haircare because cutting your ends won't have an effect on the speed it grows out of your scalp. It may appear as if it's growing faster because you can actually see where it ends versus before the trim, if the ends were stringy, it's harder to see the line before.
"Also, that over-washing your hair is good for you—it's not because you are stripping your hair of natural oils that it really needs. Don't go with more than three days without washing—your pores (like the pores on your face) are going to clog and you are going to get pimples on your scalp."
What's a current favourite hairdo of yours that requires minimum styling?
"A centre-part low bun. It's so easy to do, all you need is some hair oil or use the natural oils of your scalp if you haven't washed it in a several days.
"For second day hair, I would just spray some dry shampoo to refresh it; then take the Dyson Airwrap with the round brush attachment and lift my roots up just to give a little bit more oomph to my hair. But if you have hair that's slightly dirty and you don't have time for a shampoo, I would say just use the Corrale and get it as sleek and straight as possible. Then, part it on the side or middle and put it to a ponytail or low bun."
A pro tip you can share with us on how to improve hair health?
"I always say start from within. Take certain vitamins and find out if you're deficient in any nutrients in particular that might help improve your overall well-being. I've been telling my clients for years to start their journey at the health food store, before you even get to the salon. I truly think our outer beauty comes from our lifestyle and inner health. Eating right, getting enough sleep, working out will all be the best approaches to good hair, good skin, good mood, all of it.
"Pay attention to your hair when you're out in the sun, especially in summer—it's more susceptible to damage from chlorine and saltwater. You can also sleep with a silk pillowcase to help maintain the moisture in your hair. Also, be careful when you are towel drying your hair. I think a lot of times people tend to get really vigorous—taking their hair and shaking it through a towel, and it does more damage than you think."
What are five things we can always find in your beauty bag?
If you could pick one hair trend you'd wear forever, what would it be?
"A classic 90's blowout. It's timeless, effortless, and chic and looks good on almost everyone."
How do you define great hair?
"I define great hair as hair that gives you confidence. Great hair gives you that power in your step—especially healthy hair. If you're feeling healthy, you're feeling good."
What is your AM/PM haircare routine like? Has it changed much during quarantine?
"Honestly, I think everyone's routine has changed during quarantine. People are getting haircuts and colour less, styling less and embracing their natural texture and colour more, which I think is so liberating.
"On the days I choose to actually style my hair, I'll shampoo and condition with the Ouai Medium Shampoo and Conditioner and blow dry using the Dyson Air Wrap. I love it because it gives me a pretty bouncy blowout in less than 10 minutes and it also doesn't use heat to style so it's a win/win."