Ready for a mid-year refresh but not quite sure where to head to? From staycations at luxe hotels in town to Insta-worthy glamping spots, we've got your #wanderlust bucket list covered—even if we can't travel abroad at the moment.
Consider an indulgent spa break away from the hustle and bustle of the city to reset your mind, body, and soul. Ahead, check out the most idyllic getaway spots for you to refresh your senses and take on the rest of 2020:
Spa @ The Ritz-Carlton, Langkawi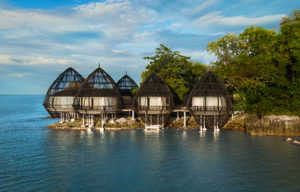 Spa, The Ritz-Carlton Langkawi
Built within the 10-million-year-old rainforest, The Ritz-Carlton in Langkawi is a sight to behold. Take your pick from its range of restorative treatments and rituals that are inspired by ancient Malaysian healing and beauty ceremonies. The best part? You get to experience them in the overwater spa (the only one on the island)—cocoon-shaped pavilions that resemble Malay Bubus—with a breathtaking view of the Andaman Sea as a backdrop. Check out editor Rachel Au's experience here.
V Botanical Spa @ The Andaman, Langkawi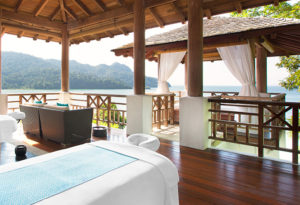 V Botanical Spa, The Andaman
At V Botanical Spa, your pampering session will take place in one of the five open air villas perched on a hillside, nestled in the serenity of the ancient rainforest and overlooking the beautiful Datai Bay. Let all your stress and worries melt away with your choice of relaxing treatment from the extensive spa menu, and be lulled to a state of utter bliss by the sounds of the Andaman sea's rolling waves in the background.
Spa Village @ Gaya Island Resort, Sabah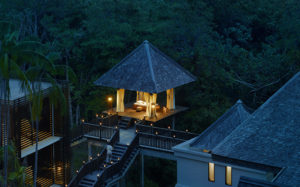 Spa Village, Gaya Island
It may be hard to peel yourself away from the waters when you're on Gaya Island, but trust us when we say setting some time aside for Spa Village Gaya Island is well worth it. A spot of tranquil amidst lush mangroves, its spa programmes combine the therapeutic properties of natural local ingredients with the traditional healing practices of Sabah's indigenous people.
Chi, The Spa @ Shangri-La's Rasa Sayang Resort & Spa, Penang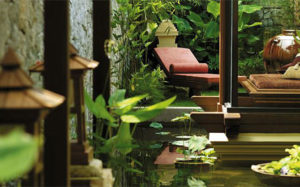 Chi, The Spa at Shangri-La's Rasa Sayang Resort
Penang is always a good idea. It will make every Malaysian's dream getaway—eat to your heart's content on the island, and make time to revive your senses at Chi, The Spa. The spa villas sit in a quiet corner of the resort, surrounded by greenery, with a variety of wellness, facial and massage treatments on the menu. Read about our take on this spa experience here.
Spa Village @ Pangkor Laut Resort, Lumut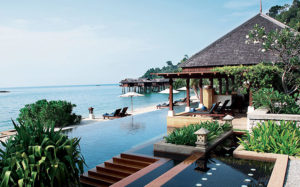 The Spa Village Pankor Laut
The Spa Village Pangkor Laut draws upon the healing cultures from countries across the region (China, Japan, India, Thailand, Bali, and of course, Malaysia), offering a comprehensive and diverse tapestry of spa treatments. Try to book your stay at one of the Spa Villas, which all have stunning views of the sea, and you'll have direct access to the Spa Village too.
La Santé Spa @ The Chateau Spa & Organic Wellness Resort, Bukit Tinggi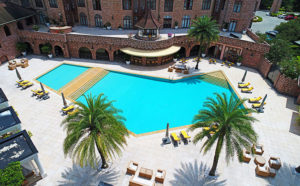 The Chateau Spa & Organic Wellness Resorts
If you prefer to bask in a cooler climate over island hideaways, then you'll find The Chateau an idyllic haven tucked away amongst the tropical rainforest up in Bukit Tinggi. Just like the rest of the resort, La Santé Spa uses only organic ingredients and materials for its treatments, providing you the ultimate pampering experience so you will leave the retreat fully rejuvenated.
The Banjaran Hotsprings Retreat, Ipoh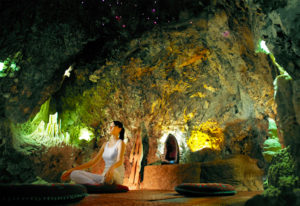 Meditation Cave, The Banjaran Hotsprings Retreat
The first natural hot springs wellness retreat in Malaysia boasts more than 40 holistic experiences to recoup peace and restore your well-being. The resort's comprehensive menu runs the gamut from Traditional Chinese Medicine inspired treatments to Malay healing rituals, including day spa programmes that address your specific lifestyle needs. Check out our editors' spa reviews here.
Taaras Spa @ The Taaras Beach & Spa Resort, Redang Island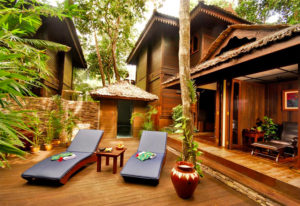 Taaras Spa, The Taaras Beach & Spa Resort
If the crystal clear waters and pearlescent sands of the South China Sea can't dissuade you to disconnect from your work emails, let the quaint spa at The Taaras in Redang Island whisk your mind and body away to ultimate relaxation. Must-dos include the Taaras Signature Massage (incorporating heated aromatic herbs and spices in a poultice to soothe your muscles), facials and treatments for jet lag recovery and even sun burns.
Spa Village @ Tanjong Jara Resort, Dungun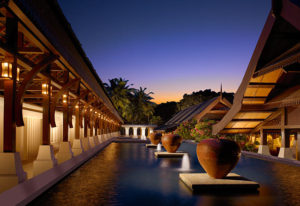 Tanjong Jara Resort
Tanjong Jara Resort's Spa Village isn't hailed an award-winning sanctuary for no reason. The heritage-rich haven is known for its traditional Malay treatments for both men and women (and couples if you're on a romantic getaway with your significant other). Expect indigenous herbs and plants in your face and body treatments and the expertise of skilled resident Malay healers at the spa. Full review here.
The Geo Spa @ Four Seasons Resort, Langkawi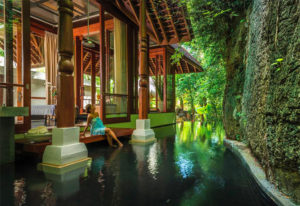 The Goa Spa, Four Seasons Langkawi
Planning to indulge yourself on this spa getaway? Reach out to The Geo Spa at Four Seasons Langkawi to have a personalised spa experience curated to your needs. Worth mentioning are the signature wellness rituals that help with detoxification of the mind and body along with promoting digestion, blood circulation and the like—trust us when we say that there's something for everyone at this bucolic retreat.
Iridium Spa @ The St. Regis Langkawi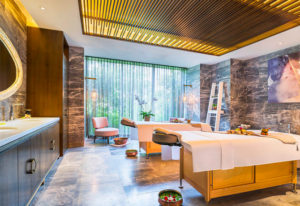 Iridium Spa, The St. Regis Langkawi
The five-star resort's Iridium Spa spans 800 square meters—an intimate space that stands out for its contemporary aesthetic (spot the fully-marbled walls). If you have plenty of free time and nothing on your itinerary, immerse yourself in the eight-hour long Awakening treatment that includes a meditation session, body scrub and wrap, 90-minute massage, herbal bath with a high-tea session, facial, and last but not least, a hand and foot spa. Talk about a complete, head-to-toe restorative experience.
Full review of the resort here.
Heavenly Spa @ The Westin Langkawi Resort & Spa, Langkawi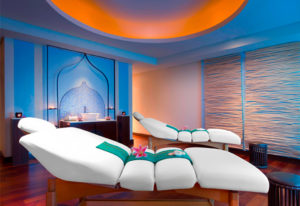 Westin Langkawi Heavenly Spa
The beachfront spa at The Westin Langkawi Resort offers a plethora of treatments derived from Malay, Ayurveda, Turkish, Swedish and Indonesian spa rituals, including anti-ageing facials, body exfoliations and global massages for complete sensorial indulgence. If you're feeling a tad bit lazy and find it hard to leave your abode, have your spa treatment carried out in the privacy of your villa.
| | |
| --- | --- |
| SHARE THE STORY | |
| Explore More | |