The power of cinema is all about creating escapist magic, in which hair and makeup play a huge part in shaping whether it's shaping a character's fantastical sense of self or adding to the tone and setting of the film. Good movie beauty can even provide a cultural barometer for the trends of the past, present and the future and inspire Halloween costumes, personal makeovers and even entire fashion collections.
Below, we present 15 memorable hair and make-up looks on the silver screen that has gone on to shape how we perceive and admire beauty.
Buffalo '66 (1998)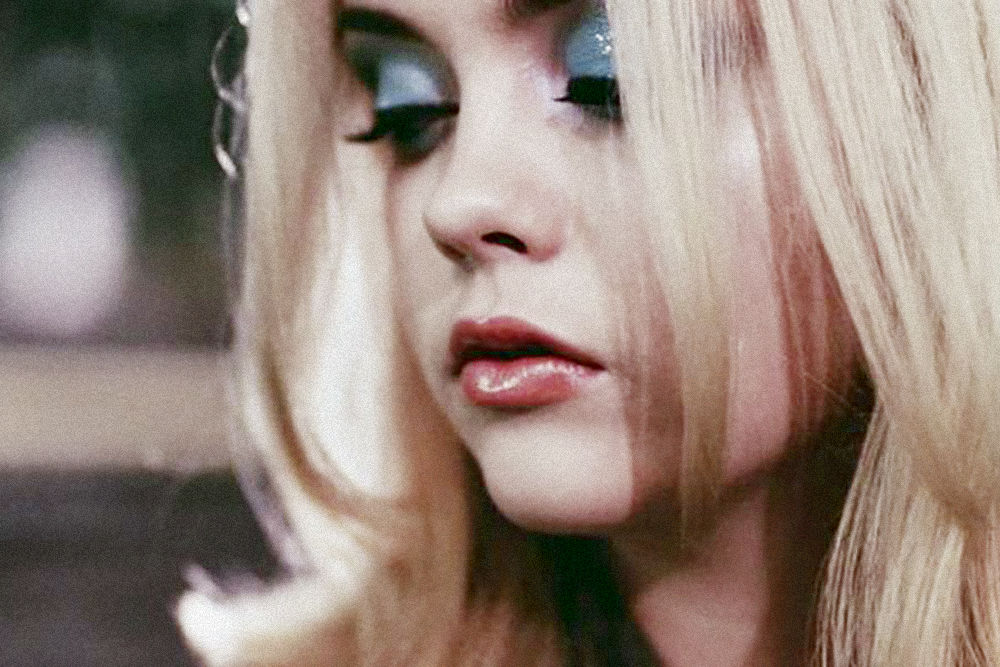 A young Christina Ricci lit up the screen as dancer Layla who falls in love with her ex-con kidnapper, exuding a dreamy innocence in babydoll dresses and peach glossy lips. But what stuck with us most was her glittery sky-blue lids—reminiscent of the very first Barbie in 1959—which was obscurely perfect in the complicated American arthouse flick and taught us to never underestimate the power of colourful eyeshadow.
In The Mood For Love (2000)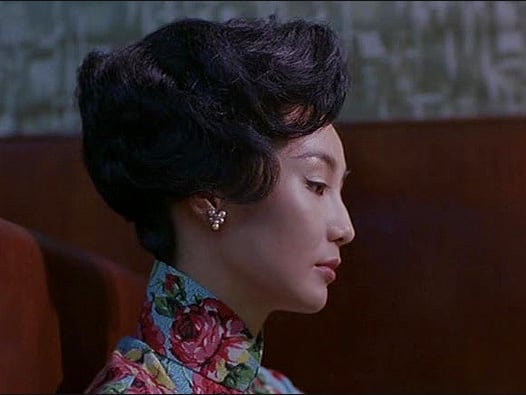 Wong Kar-wai's In the Mood for Love served us a heartbreaking tale of unconsummated love, encapsulated by dimly lit '60s Hong Kong aesthetics and the beautiful Maggie Cheung in an endless array of stylish high-necked cheongsams and immaculate beauty looks. Finely-flicked liner and perfectly filled-in brows framed her enigmatic gazed, while barely-there cherub cheeks and a softly coiffed updo elevated her look to achingly mesmerising effect. Matte lips completed her look in various shades from rosewood to soft plum and classic red, complimenting the kaleidoscopic variations of her elegant dresses.
Atomic Blonde (2017)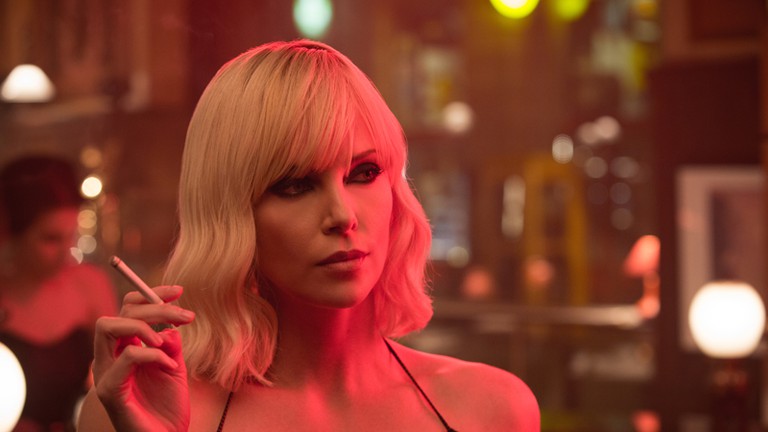 Alongside its epic wardrobe of vintage designer to channel the late '80s style of punked-out glam and Helmut Newton sensuality, Atomic Blonde also made a killer impression through its beauty looks. Alongside smokey feline eyes and icy-pink lips, Charlize Theron, who played an MI6 spy in 1989 divided Berlin, rocked a platinum blonde shag à la Debbie Harry—in textures both straight and wavy—that was fiercely sexy and effortlessly chic, even when those locks gained bloody-pink tips after that kickass stairwell fight scene that lasted a whole seven minutes.
A Single Man (2009)
Tom Ford's directorial debut gave us a Christopher Isherwood adaptation that was full of dreamlike-cinematography, beguiling visuals and '60s style. It also gave us Julianne Moore as the beautiful and balmy Charley with her mod graphic liner, doll-like lashes and crazy-voluminous top bun, who hypnotised us all when she traced those perfect lines along her upper and lower lashes in a steady fell swoop.
American Psycho (2000)
The opening scene of American Psycho gave us a lengthy monologue by the obsessively narcissistic Patrick Bateman (Christian Bale), alongside his iconically extensive beauty regimen that introduced his next-level vanity to the world. The murderous Manhattan businessman's psychotic 10-step skincare routine to maintain his hard-fought good looks was progressive for its time, and comprised of endless 'gel scrubs', an ice pack (if his face is puffy), a 10-minute 'herb-mint facial mask' and absolutely nothing with alcohol because it "dries your face out and makes your skin look older".
Dreamgirls (2006)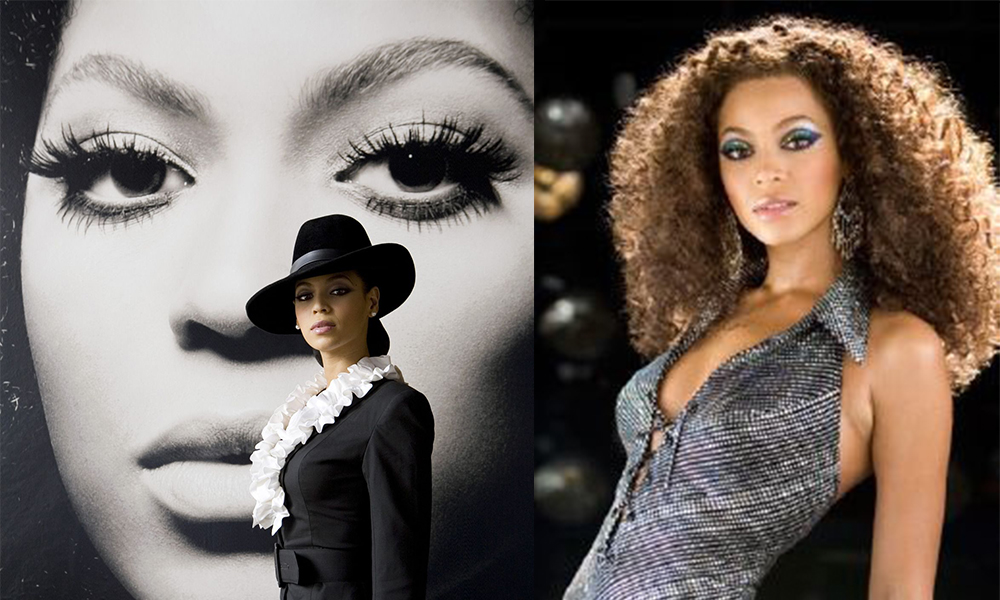 The beauty transformation of Beyonce's Deena Jones encapsulates the young singer's journey to musical stardom. Her natural beauty shines at the beginning of the film with nothing but a touch of glossy lip balm, before culminating into full-blown disco glitter that illuminated her lids lime and turquoise and highlighted her face in silver for her One Night Only performance. Plus a shout out to those thick luscious lashes in her Diana Ross-inspired photo plastered on the recording company's wall.
Funny Face (1957)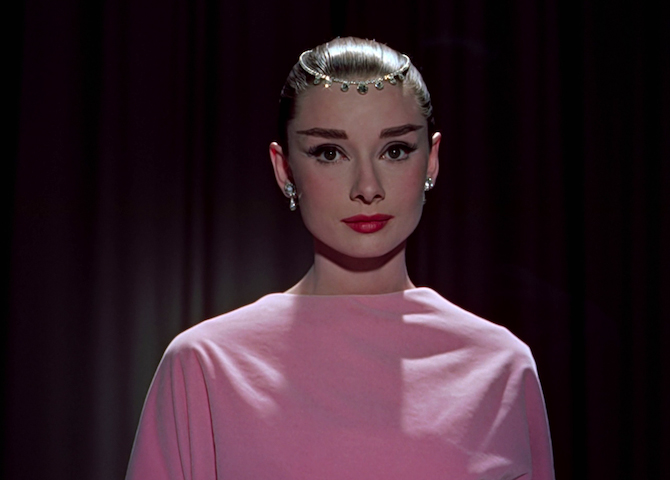 Audrey Hepburn's most iconic on-screen fashion may have come from Breakfast at Tiffany's but her best beauty moment was in comedy musical Funny Face. She played the shy, doe-eyed philosophy student Jo who gets discovered by a fashion photographer and transformed into a style icon. In it, Hepburn's classic beauty and air of nonchalant glamour was immortalised through straight, groomed brows, her now-iconic cat-eye flick and painted lips as she models an array of stunning Givenchy-designed pieces against a definitively Parisian backdrop. Side note: And let's not forget the fierce couture looks worn by OG supermodel Dovima in her cameo.
The Fifth Element (1997)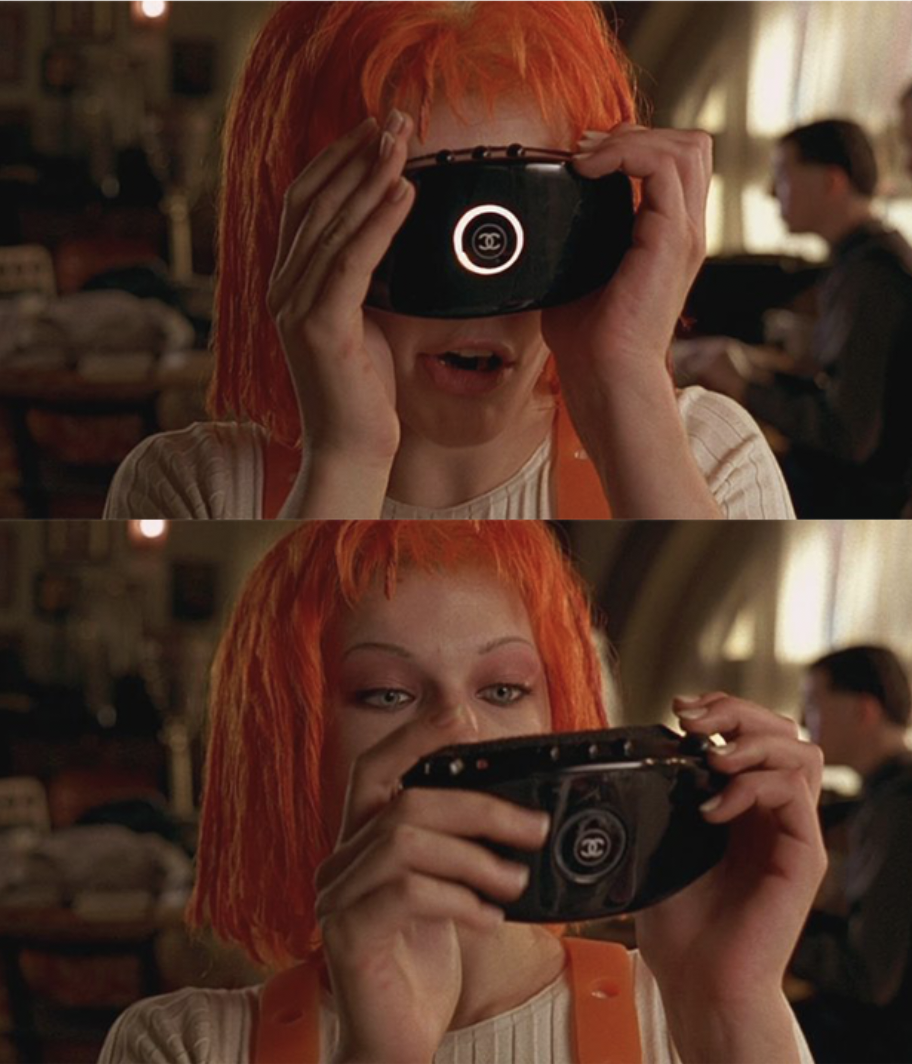 Luc Besson's cult classic is not without its flaws, but the outlandish sci-fi flick revolutionised the genre with its fast pace and fun, stylistic visuals that are chock full of fashion (Jean Paul Gaultier designed over 1,000 costumes for the film after all) and beauty inspiration. Its eclectic cosmetics come in many forms: from the razor-sharp brows and overexaggerated Elvis blonde quiff of Chris Tucker's Ruby Rap to the air hostesses' imaginative use of periwinkle blue shadow in worn in various different ways. And who can forget when Milla Jovovich's tangerine-haired Leeloo gained instant eye makeup over her bare face and bleached brows after using a Chanel view-master box?
The Royal Tenenbaums (2001)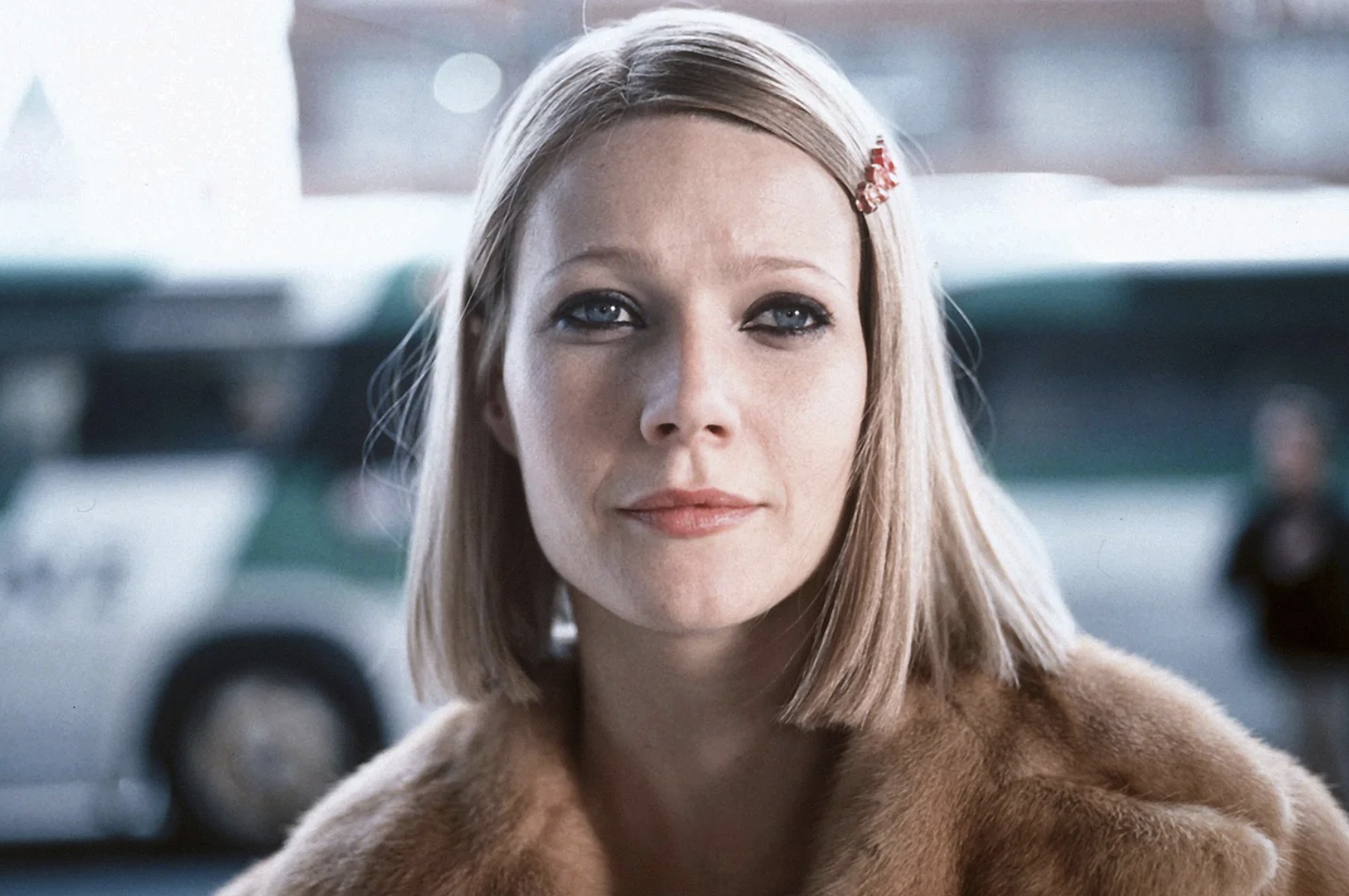 Chain-smoking, mink-wearing Margot, played by a pre-Goop Gwyneth Paltrow, remains a cult style icon who continues to inspire fashion designers even today. With her morning-after kohl liner and pin-straight barette-clipped bob, she is the very epitome of anti-heroine cool.
Lady Vengeance (2005)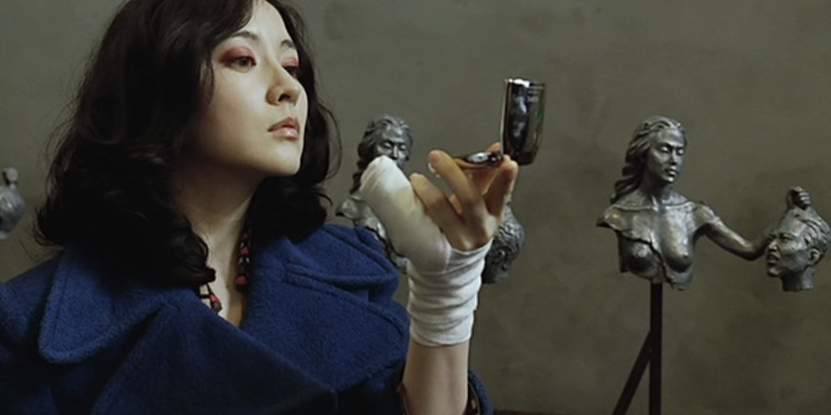 This 2005 psychological thriller concluded Park Chan-Wook's revenge trilogy with a stylistic nightmare that was filled with religious iconography and the hope of redemption. A major beauty moment came in the form of blood-red eyeshadow worn by Lee Young-Ae's Geum-ja, who adorns it to look less 'kindhearted' as she carries out her quest for vengeance. Hell hath no fury like a woman seeking revenge.
The Rocky Horror Picture Show (1976)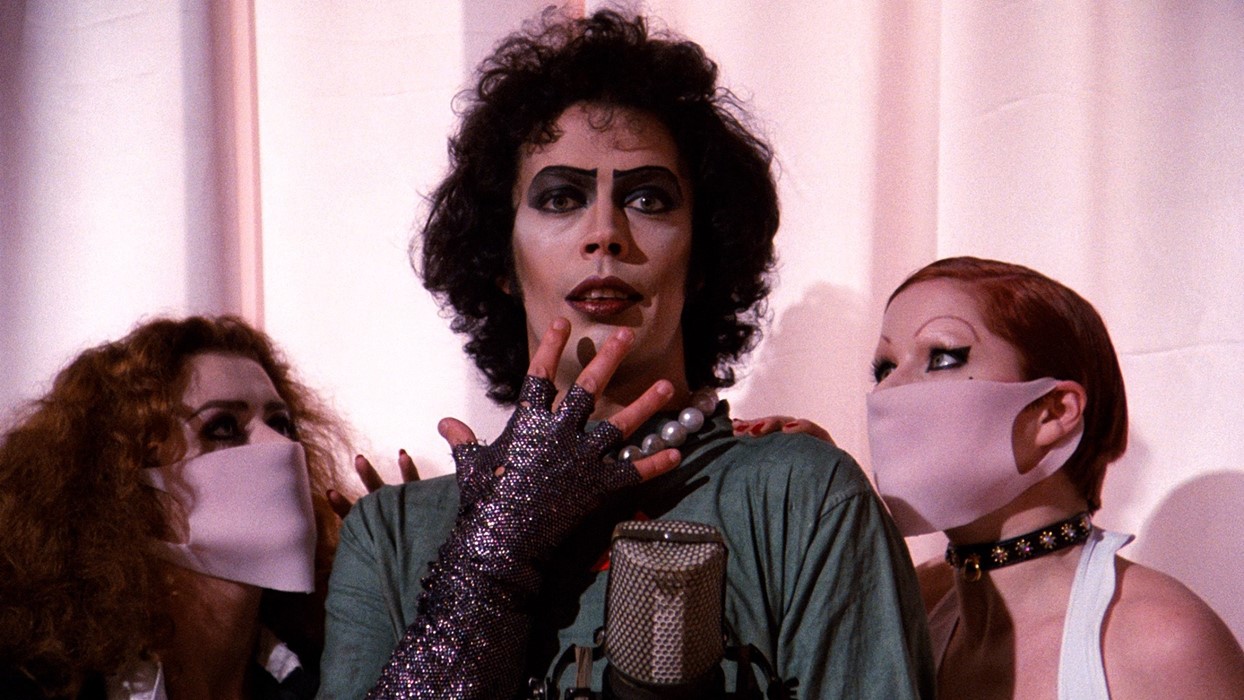 The campy, gender-neutral musical's enduring legacy continues to offer endless sartorial inspiration, never-ending singalongs and drag-inspired/glam-punk makeup (e.g. Marc Jacob's recent quarantine beauty tutorial). Dr. Frank-N-Furter, played by Tim Curry, rocks dark, dramatic eyes, sculpted cheekbones and blood-red lips is the embodiment of self-expression and the film's lasting tagline: 'Don't Dream It, Be It!'
A Clockwork Orange (1971)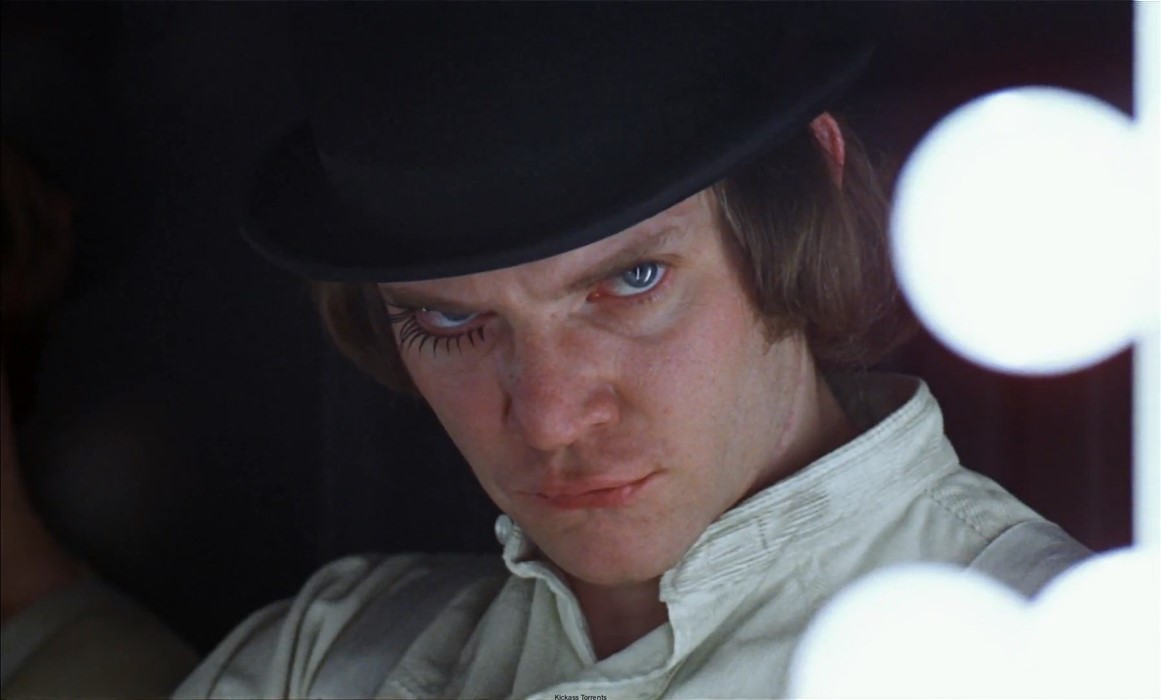 One of Stanley Kubrick's most terrifying sociopaths come in the form of Alex, the theatrically evil antihero, whose intimidating appearance is asserted through his iconic single eye, rimmed with liner and menacingly long and spidery lashes. The one-sided look has gone on to inspire glam, punk, hardcore, and even heavy metal, so much so that icons like Bowie, Led Zeppelin and Guns N' Roses copped the dangerously alluring aesthetic for themselves.
Black Panther (2018)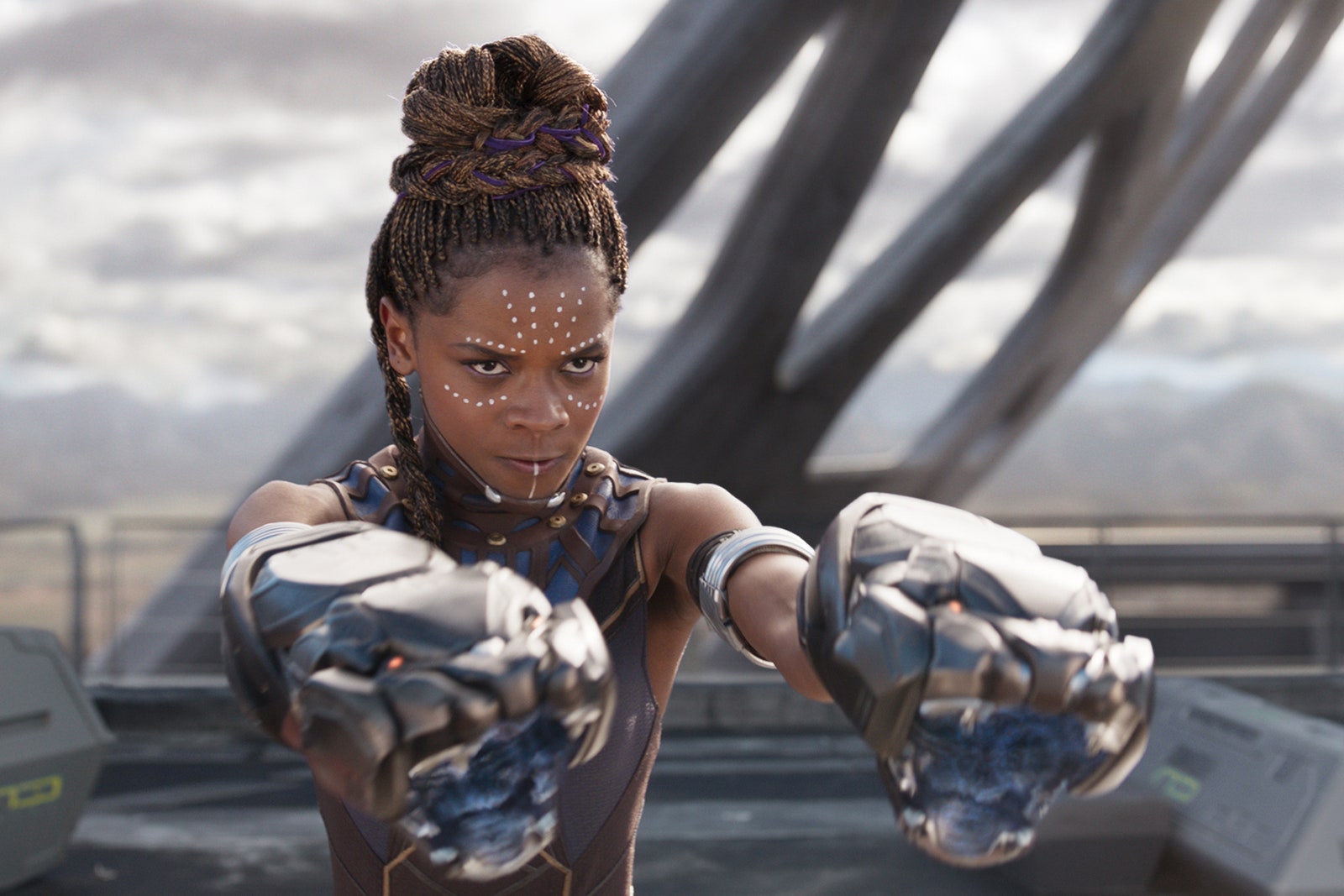 Black Panther was one of the first films to embrace Afrofuturism and champion a wide range of intricate looks that pay homage to the diversity of African beauty and traditions of its culture. Shuri's dotted face paint and versatile micro braids, the strong sheer red lips and cat eye of the Dora Milaje women and the iridescent lower lip tattoos that distinguish the identity of a Wakandan—the film's array of looks sent powerful reflections about identity and empowerment, while taking up a necessary space in mainstream media.
Pulp Fiction (1994)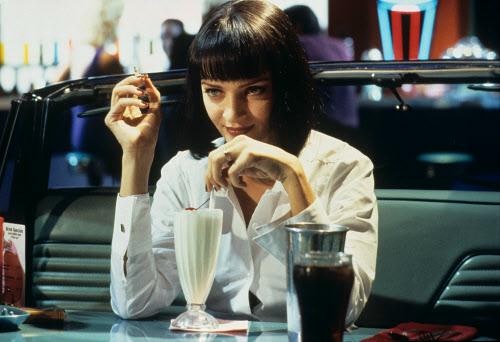 Uma Thurman's Mia Wallace spawned a look that has inspired one of the most popular Halloween costumes of the last two decades and an Urban Decay eyeshadow palette. The Mob wife donned her quintessential white unbuttoned shirt, cropped boot cut pants and Chanel gold slippers for the iconic dance montage with John Travolta, instantly recognisable thanks to her sharp black bob, rouge noir nails and wine-kissed lips that remains chic even today.
Blade Runner (1982)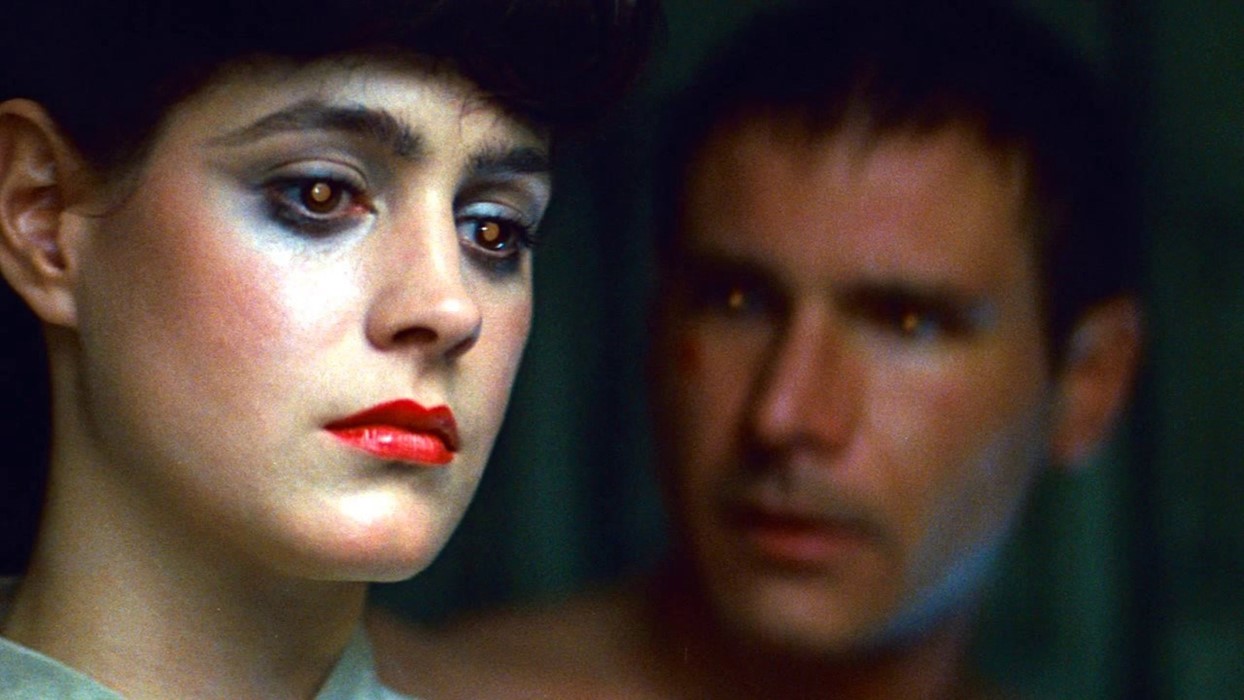 The sci-fi classic set a benchmark for futuristic style with its eclectic mashup of retro and futurism in its fashion, design and beauty looks. Daryl Hannah's Pris served the ultimate inspiration for Jean Paul Gaultier's 2009 Fall couture show, complete with her signature spray-on black eye mask and choppy blonde bob, while the 2049 sequel resurrected a CGI version of Sean Young's character Rachael, complete with her rolled bangs, smokey eye shadow and lacquered lips.
| | |
| --- | --- |
| SHARE THE STORY | |
| Explore More | |