The former First Lady of the United States' Netflix documentary is an intimate and personal look into her life—from being a lawyer in Chicago to selling out stadiums on her book tour
Michelle Obama is arguably one of the most famous personalities in the world. In addition to being a lawyer and former First Lady of the United States (FLOTUS), she is also a fierce advocate of women empowerment, education, and physical activity. Oh, she also happens to be married to Barack Obama, the first African-American President of the United States. From 2009 to 2017, Michelle and Barack Obama were two of the most influential forces; not just in the United States, but all over the world.
In 2018, Michelle Obama took the world by storm when she released her memoir, Becoming. In just 15 days after publication, Becoming became the best-selling book released in 2018—in the United States, Australia, the United Kingdom, France, Germany, South Korea, and South Africa, among others.
Produced in association with Higher Ground Productions, the Netflix documentary is an intimate look at her life and her book tour. Becoming is directed by Nadia Hallgren and executive produced by Priya Swaminathan and Tonia Davis. It features a myriad of recognisable faces too, from Oprah Winfrey to Gayle King to Stephen Colbert to Valerie Jarrett to Barack Obama to Conan O'Brien. The documentary isn't extremely revelatory and those who have been following Michelle Obama closely throughout the past few years will be able to tell. However, it's still a very personal glimpse into the enigma that everyone knows and adore.
The documentary is filled with buzz-worthy moments and these are some of the best:
1. Is Michelle Obama really not Princeton material?
"I'm still a little salty," she said in the documentary. This was in response to being told by her high school guidance counsellor that she wasn't exactly suitable for Princeton. Mrs Obama actually shaded her counsellor on stage. However, the Princeton and Harvard Law graduate also said, "I share that because, obviously, it worked out okay. But that statement, while I was able to get over it, it was a punch."
This tea-spilling occurred around the 20-minute mark when she then revealed that the guidance counsellor doesn't work at the school anymore. 
2. Was Barack Obama late for their first meeting?
According to Michelle Obama, yes—he was! This happened when the former FLOTUS was working at a law firm in Chicago and Barack Obama was the summer intern. This topic starts around the 33-minute mark in the documentary. "He's got that Barack Obama voice that did not match the nerdy image I had in my head," she said about their first-ever phone call. 
So, yes, Barack Obama was late on his first day, but everything changed when he flashed his smile and apologised to Michelle Obama in his famous deep voice. The rest, as they say, is history. They have been married since 1992—that's 28 years of married life together! 
With a bouquet of flowers, Barack Obama also made a surprise appearance on stage during one of her tour stops. That's like a Jay-Z appearance during a Beyoncé concert!
3. Michelle Obama reveals her core team
Throughout Becoming, viewers are introduced to the likes of chief of staff Melissa Winter, stylist Meredith Koop, and bodyguard Allen Taylor. Melissa Winter has been with Michelle Obama since 2007, when she was first hired to aide Mrs Obama during the Obama Presidential campaign. 
Meredith Koop, on the other hand, has been Michelle Obama's stylist since 2010 and was (still is) responsible for many of Michelle Obama's iconic looks; dressing the former FLOTUS in designers such as Brandon Maxwell, Jason Wu, and Narciso Rodriguez.
In the documentary, Michelle Obama said: "Allen is more like a brother than he is an agent. He was my first experience of having a detail—so that's 12 years of a relationship, if not more." A statement that clearly highlights their bond.
In Becoming, Allen also said: "I've been working with Mrs Obama since 2008. Over that time, if you're around the protectee, you get to know each other very well. The stakes are very high in this job, it's a no-fail mission, so you have to get it right 100 per cent of the time."
4. Michelle Obama plans to continue mentoring until she's 90
You read that right. Mrs Obama—now at 56-years young—isn't about to stop doing what she does best. "I want to be the 90-year-old woman that you just excuse," she said. This portion happened about an hour and 22 minutes into Becoming, with Stephen Colbert moderating one of her 34-city book tour stops. As one of the most respected public figures in the world, it's clear that many wouldn't mind this at all!
5. Malia Obama made a surprise cameo
It's a surprise because even director Nadia Hallgren wasn't expecting Malia Obama to make an appearance. In Becoming, viewers were already treated to glimpses of her mother Marian Robinson and her brother Craig Robinson—who even gave an unintentional "jab" at one of Michelle Obama's outfits (the one with the belt above the waist).
The unexpected cameo occurred when Malia Obama approached Michelle Obama while she was signing books backstage after speaking to a packed stadium. Malia said: "You're so good. I love you too much. I cried again." This occurred around the one hour and 13-minute mark. 
"People are here because people really believe in love and hope in other people," Malia added. This moment is special because Michelle and Barack Obama usually prefer the personal lives of Sasha and Malia to be off-limits.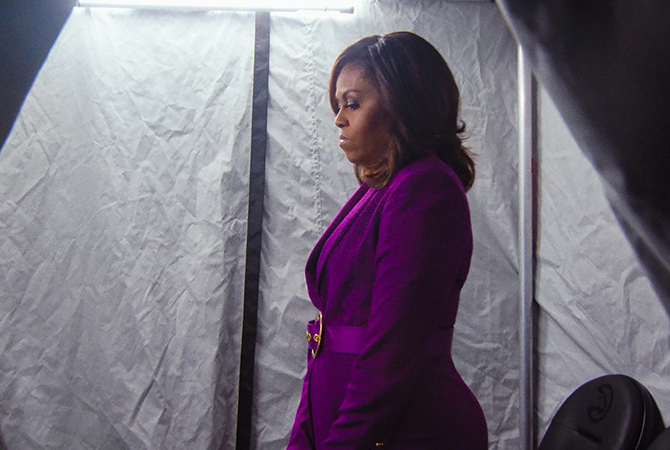 Throughout Becoming, viewers are taken on a rollercoaster of emotions. You'll feel happy, sad, elated, and angry. Michelle Obama will make you laugh and keep you thinking. If there's a core theme for the documentary, it would be hope. Becoming is about being inspired and staying hopeful—that things will be better in the end. 
Becoming is now available for streaming on Netflix.