Tired of your cluttered vanity space? Give your beauty desk a major upgrade that is sure to spark joy—tried-and-tested tips ahead
I don't know about you, but the last two years have given me ample time to reconsider all of my life choices. Did I take the wrong degree? Did I get the right vaccines? Was bleaching my brows a mistake I can never take back? All of these thoughts are valid.
Unfortunately, there's nothing I can do about any of them. What I can do, however, is micromanage my space in a bid to feel like I have control over at least something in my life.
Ah, yes... the sheer bliss of a home makeover. I can smell the euphoria. There are so many possibilities! Perhaps I'll get a new couch (check). Or, I'll deck out my work and gaming setup (also check). Hmm... oh, I know! Why don't I redo my entire vanity from head to toe? It's definitely due a deep clean by now—and while I'm at it, I might as well make it a real showstopper, eh?
READ: Spring cleaning: Your guide to organising your vanity table
Indeed, this is now my passion project. Do I have the time for it? Probably not, but it'll be fun to see how it turns out, right? Yeah. In fact, while I'm busy redecorating, I'll be taking you along for the ride too. Yep, this will make for good content.
That just about sums up my inner monologue from before this project. TL;DR: I gave my vanity a big ol' makeover and I'm here to share some insights.
Without further ado, from lighting to storage to organisers and beyond, here are five ways I upgraded my vanity space:
#1: Illuminate your space with vanity lights
If there is any one thing I'd recommend from this list, it's a good set of vanity lights. Good lighting is an absolute essential with any beauty desk—aside from giving your nightly skincare routine a wonderfully luxurious feel, being able to actually see whether your foundation is blended in correctly is, quite honestly, a game-changer.
READ: 7 LED vanity mirrors you need to invest in right now
While you can get vanity mirrors with lights that are built-in, there are plenty of flexible light strips and wall lamps that work to illuminate spaces of any shape and size.
Personally, I opted to get a Hollywood-inspired vanity light strip (I have a flair for the dramatics), and I can honestly say that it's the best feature of my room. In addition to being a very practical purchase, it has also elevated the look of my space considerably. All in all, it's a 10/10 purchase.
Then again, anything is an improvement from my last setup, which was comprised of a set of Christmas fairy lights haphazardly strung across my mirror. Spoiler alert: The wattage was not good.
#2: Get sorted with some vertical storage
Vertical storage is a must-have on any vanity. In fact, I'd say that the clear acrylic drawers and pots that hold all my beauty products are probably the second-best thing on my vanity.
Not only do they keep my space tidy (as long as I remember to put things back where they belong, of course), but they also keep my beauty collection visible for my convenience. 
#3: Invest in a practical vanity table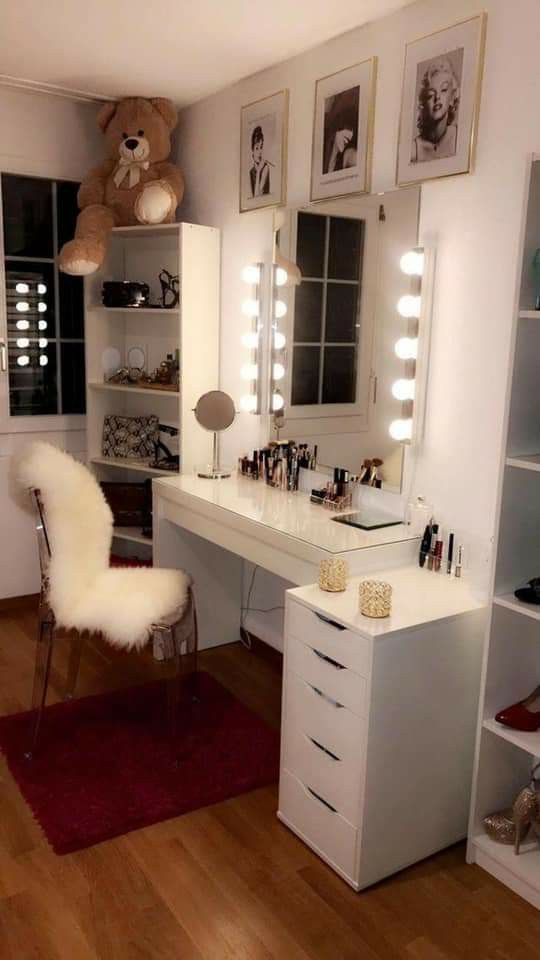 As someone who works in the beauty industry, my collection of products is... extensive. As such, I need a lot of space when it comes to my vanity. Up until recently, I'd been using an antique dressing table (courtesy of my dear grandma)—an undeniably beautiful piece, but far too small and oddly shaped to accommodate my collection.
Since then, I've shifted my vanity space to a table that is much wider, and I have outfitted it with some customisable Muji drawers to store my 'excess stock' of products. In addition, I've also made sure to keep track of the expiry dates of each product in my collection so I can keep making more room for new launches.

#4: Keep your jewellery visible with a grid organiser or jewellery box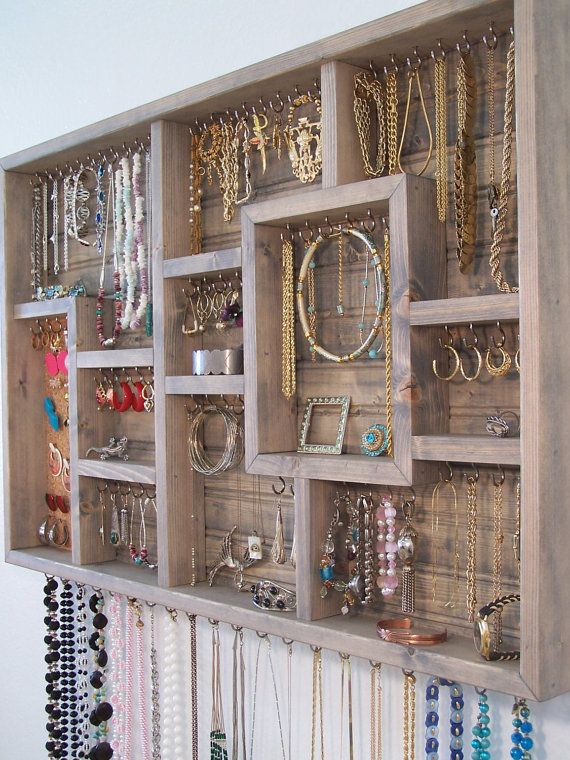 If you're the type to buy a piece and immediately forget you own it (definitely speaking from personal experience here), then this is the tip for you. The easiest way to keep track of any bits and bobs from your jewellery drawer is to display it proudly, organising it in such a way that everything you own is visible. 
This way, you won't need to dig through any drawers or claw exasperatedly at your forgotten pile of tangled necklace chains before a night out.
#5: Find yourself a Lazy Susan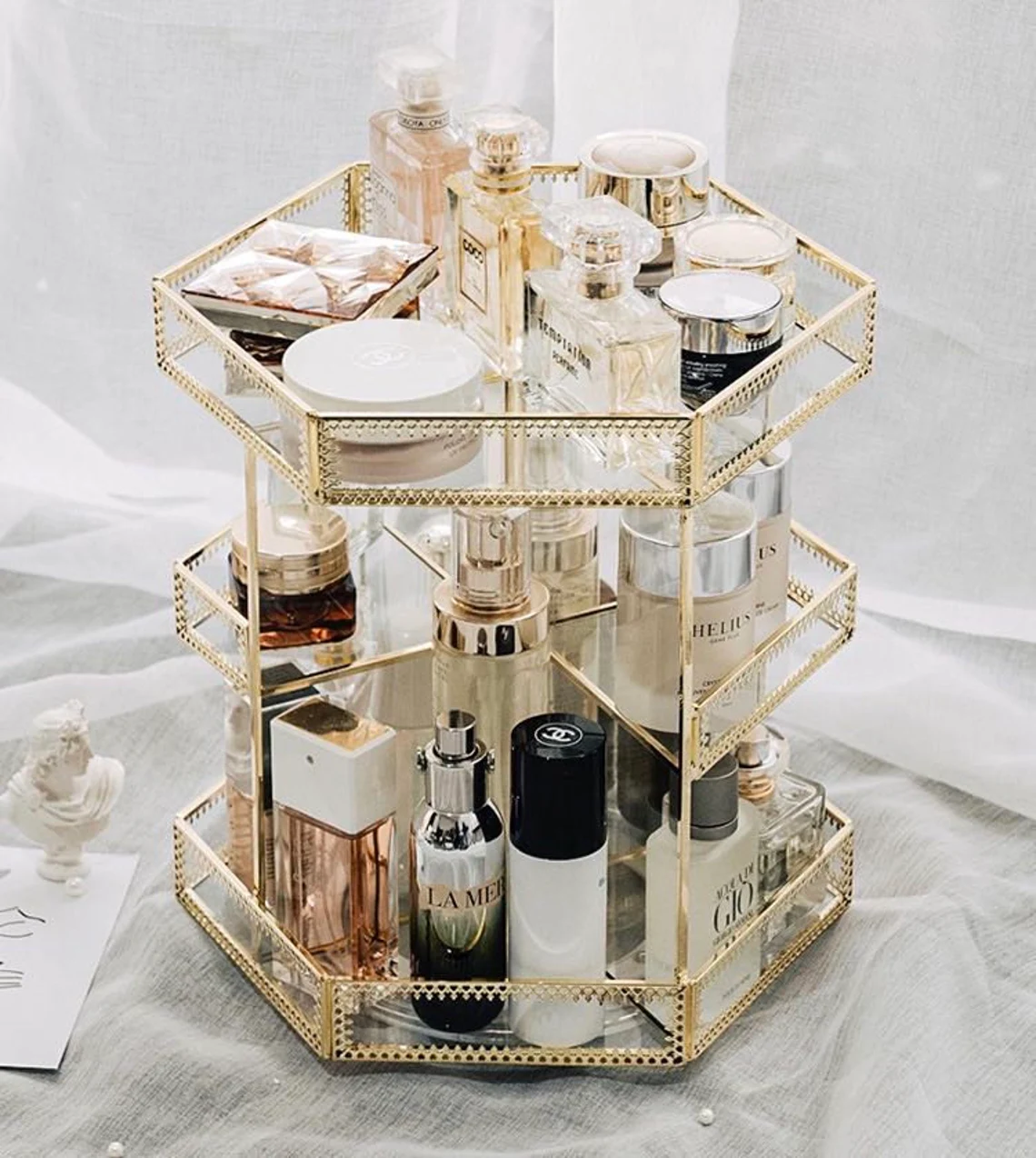 I don't know who Susan is or why she's so lazy, but I would like to personally thank her for this contraption. My fragrance collection has been growing at an exponential rate and, as a result, has been in great need of a new home. Fortunately, I have now found a rotating organiser that allows me to see every scent I own from every angle—it's the ideal solution for my cluttered vanity, housing anything and everything you could possibly need within arms reach. 
Et voila—five easy steps to upgrade your vanity for a space of any size. Fingers crossed that there was at least one goldmine tip in here somewhere. Either way, good luck on your own makeover endeavours!
Find more beauty stories like this here.