From double-tapping to doing the dishes, your hands are in constant contact with various elements that can be harmful and drying. Not to mention, each time you wash your hands with hand soap, you are actually stripping away the natural oils from your skin—no clues as to why your fingers are cracking and painful right after.
If you aren't a fan of slathering on overly-greasy hand creams to protect your skin, just think of all the benefits that come with, including petal soft skin, zero chapping, no more stinging sensations the next time you're rinsing your hands—need we say more? On the plus side, you get to flaunt your chic manicure when your hands are looking super fine.
In defense of one of the oft-overlooked limbs on your body, shop these tried-and-tested hand creams, serums and masks to combat dryness and wrinkles on your hands:
Those who aren't a fan of the texture of hands creams…
"I love our Beauty Ed, Wei Yeen's recent feature on some of the most underrated parts of our body because not only was it beautifully shot, it also served as a wakeup call as I too, like many of us, can't recall the last time I stopped to give some TLC to my hands, neck or my poor, as-good-as-forgotten elbows.

And if you asked me how many times on average, I wash my hands in a day, the answer will always be: way too many. It's basically a problem. And no matter how gentle the hand soap, I'm basically stripping away natural oils from my hands with every OCD-fuelled wash. So, if I can't kick the habit, the least I can do is give my hands and digits some love. Here's why I'd recommend Neal's Yard Remedies Frankincense Intense Hand Treatment Serum:
Texture: I'm not a fan of rich creams or oils as I'm on my phone or laptop a lot, and because I'm OCD, fingerprints and smudges on screens are the bane of my existence. This serum feels velvety smooth and absorbs quickly—I'd have no problems using this at the start or end of the day.
Scent: Since everything about Neal's Yard Remedies is organic, you won't have to worry about nasty parabens, colours or fragrances. Organic frankincense and rosehip oil are the key natural scents that stand out, and doubles as a little mindful aromatherapy moment to break up a busy day.
Results: I've only used it for a week, but it instantly smoothens and fills fine lines upon application. Use it long-term and you can expect a more even skin tone, lighter age spots, increases firmness and slows the thinning of our skin due to ageing—I'm excited to experience more of this myself.
Bonus: Also, I really appreciate how NYR ethically sources Frankincense from Oman and has sound sustainability practices in place to ensure proper harvesting and conservation so I know my investments go into helping the brand keep up with the good work that they do." – Terry Saw, Editor-in-Chief
Frankincense Intense Hand Treatment Serum, RM259 for 50ml
If your nails are in an appalling state…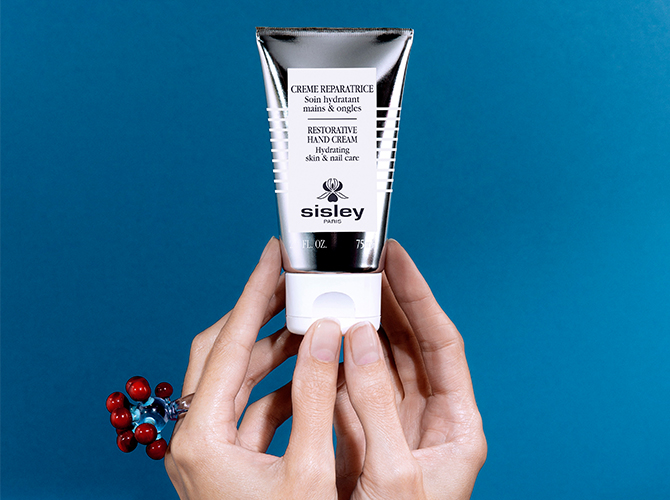 A good hand cream can take your palms, fingers and nails to places. But a rich, restorative hand cream like Sisley's new addition will make sure your digits are worth a double take with a formula that's nourishing enough for the most hardworking of hands.
"I am not proud to say that I have awful habit of picking on my fingernails when I get stressed or nervous. Needless to say, my fingers aren't always in the prettiest state—no amount of fancy nail art can make me not pick on my nails.
That said, I'm mildly obsessed with Sisley's new Restorative Hand Cream for a few good reasons. Firstly, the texture was surprisingly lightweight for a hand cream. It absorbs quickly and doesn't leave an icky finish (I didn't have to worry about leaving greasy fingerprints on any surface my hands came in contact with.)
The scent was pleasant to boot, nothing to overwhelming, and I like that the formula has pro-Vitamin B5 and almond oils coupled with minerals to strengthen my nails and cuticles. A little goes a long way with this—just a pea-sized amount on my nails did the trick." – Loh Wei Yeen, Beauty Editor
Treat your hands as well as your face—indulge your hardworking limbs in a weekly mask treatment:
If you can find time to indulge your skin in hydrating masks at the end of every week (or sheet masks every alternate day), why not pamper your hands at the same time? Try The Gold Mask Hand – Revitalizing Hand Mask by Starskin to really let your skin soak up some hydrating goodness.
The mask treatment comes in two layers—a Bulgarian rose-based formula with shea butter and rosehip oil, coupled with an outer protective foil layer to warm your hands for better absorption. Trust us when we say that it's one must-do for your hands to really impart benefits including a chockfull of vitamins and antioxidants.
Get ready to say hello to happy, healthy hands that are ultra-soft to boot—it can almost rival your complexion for the most youthful skin award.
| | |
| --- | --- |
| SHARE THE STORY | |
| Explore More | |