When you hear (or read) the words 'Chanel', many things come to mind but No. 5 will definitely be at the forefront. With its rich history and beloved by many since its creation, Chanel No. 5 has become an icon—so much so it's akin to the status of a celebrity. As the House celebrates its 100th anniversary—'100 Years of Celebrity'—one might begin to question how did the fragrance get to where it is today. Who better to answer this than Olivier Polge, Chanel In-House Perfumer-Creator who, in turn, has created some of the most coveted fragrances for the House (Gabrielle Chanel Essence, Coco Mademoiselle EDP Intense and more).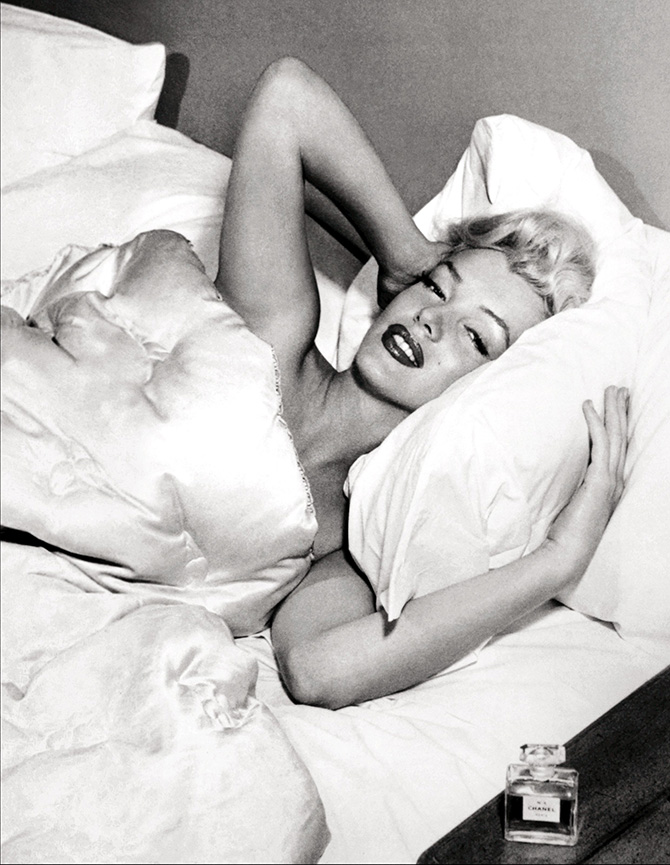 How do you explain the longevity of N°5?
"Gabrielle Chanel's idea was to create "an artificial scent", which, in her own words, meant constructed like a dress. N°5 arose from this opulent and mysterious composition of flowers that complement one another without any single one really being identifiable. That is why it is considered an abstract fragrance. The way that aldehydes were used in proportions that enhanced the natural ingredients was incredibly modern. Its longevity, and its success, can be explained in large part by its abstract nature and this mystery. But that is not all, because for 100 years the House of Chanel has also had the intelligence to look after N°5, as if it were a new fragrance, in terms of the formula itself, of course, but also in terms of the work that goes into its image, which keeps N°5 forever rooted in its era."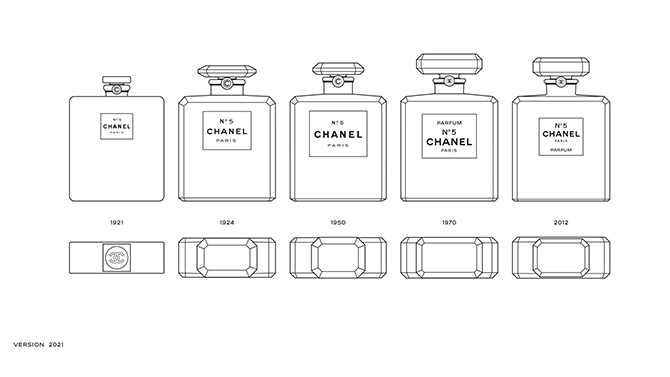 What role do raw materials play in N°5?
"The standards of this fragrance make it inimitable. In one little bottle of N°5 Parfum, there are over one thousand flowers, which shows its opulence. Some ingredients come from France, but others from much farther away, a rare thing one hundred years ago. It is a little world in and of itself. In creating N°5, the House developed a true fragrance savoir-faire, and monitors the entire value chain from flower to bottle. This savoir-faire has become integrated, which is exceptional, still today.
"Part of my job each and every day is to preserve N°5. All throughout the year, we make sure to acquire all of its qualities: citruses at the beginning of the year, then orange blossoms, roses in May, jasmine in September, ylang-ylang several times a year. It requires constant vigilance, a job that is rooted in history. I have the 1921 formula, handwritten by Ernest Beaux, in the safe."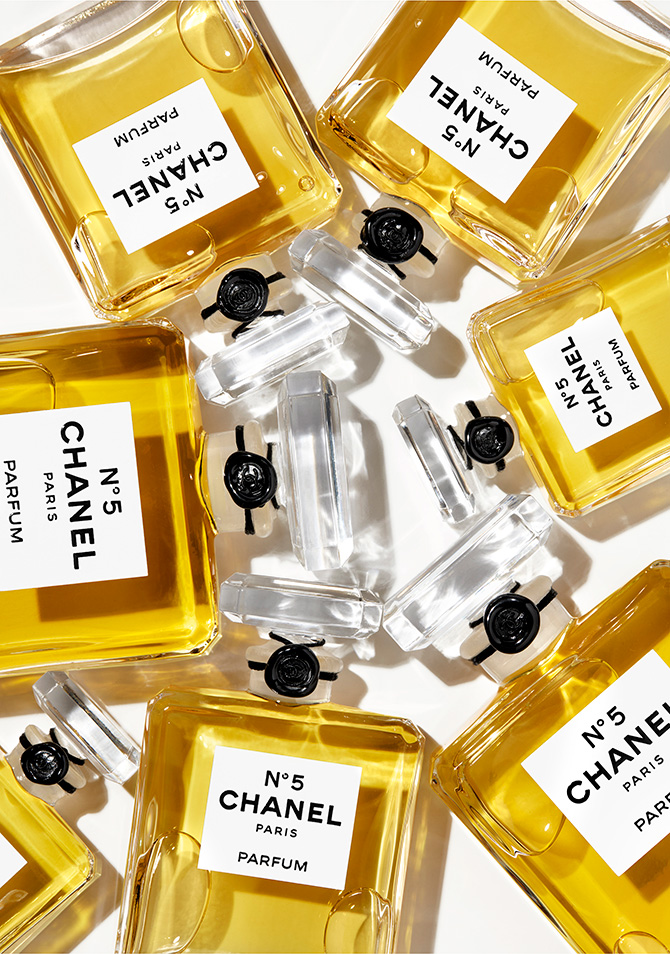 What is the relationship between fashion and fragrance?
"Gabrielle Chanel had the brilliant intuition to turn perfume into a fashion accessory. When she had the idea for N°5, fashion and fragrance were two completely separate worlds. She, a dressmaker, was the one who decided to bring them together. Because of this infusion, I am always influenced by fashion. There is no completely clearly defined bridge, but a state of mind, a style of life in each of our different fields, which are intertwined. I quite like the expression by Gabrielle Chanel, who said, "Chanel—above all else, is a style. Fashion, you see, goes out of fashion. Style never." The complexity of N°5 is a powerful creative act. In fragrance, like in fashion, we do not copy nature, we always try to transform it through construction."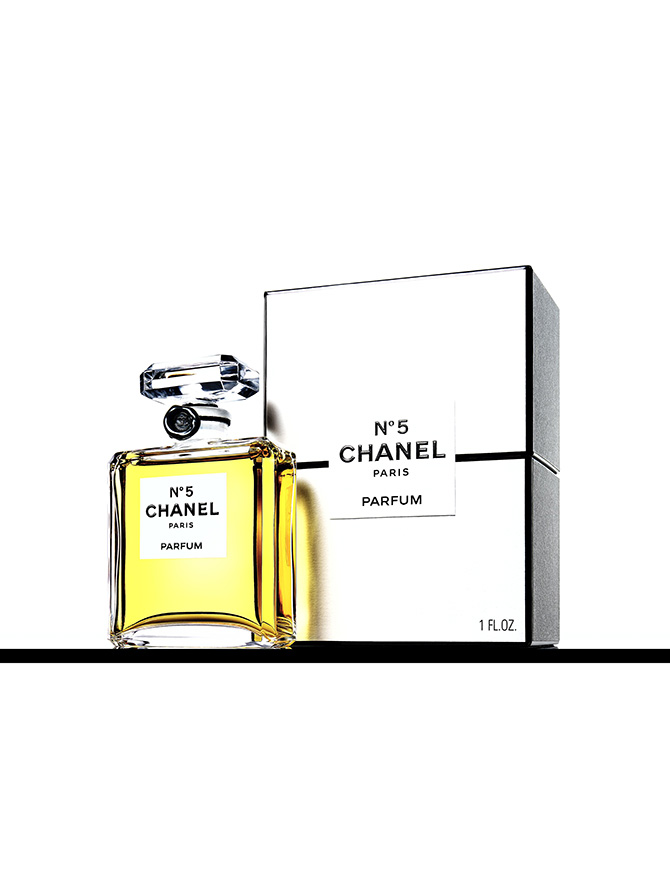 How can N°5 be simultaneously preserved and made to evolve?
"N°5 has not lost any of its modernity. It is still instantaneously distinguishable from all other fragrances. Nevertheless, reinterpretations allow us to situate N°5 in this day and age, as well as to make way for new uses. Originally, N°5 was a very concentrated and very precious Parfum, of which just a few drops was worn behind each ear. An appetite for more generous fragrance use, with sprays, for example, calls for new formulations, new textures, and new creative acts that introduce variety. Because the identity of N°5 is so strong, it is easy to play with. When I had the idea for N°5 L'Eau, I had elements essential to N°5 at my disposition, which took me toward tones that were more sparkling, fruitier at the top, lighter: these naturally occurring aldehydes that we had been able to capture from concentrated citrus essences were zestier and more fluid than the original aldehydes. This exercise in reinterpretation, which my predecessors underwent before me, allows us to express another side to the signature of N°5 and to view it through a new prism. Through it, some obvious things are brought to our attention from time to time that we find interesting to capture. We always begin with the same N°5 structure, but the raw materials allow us to bring something else to light."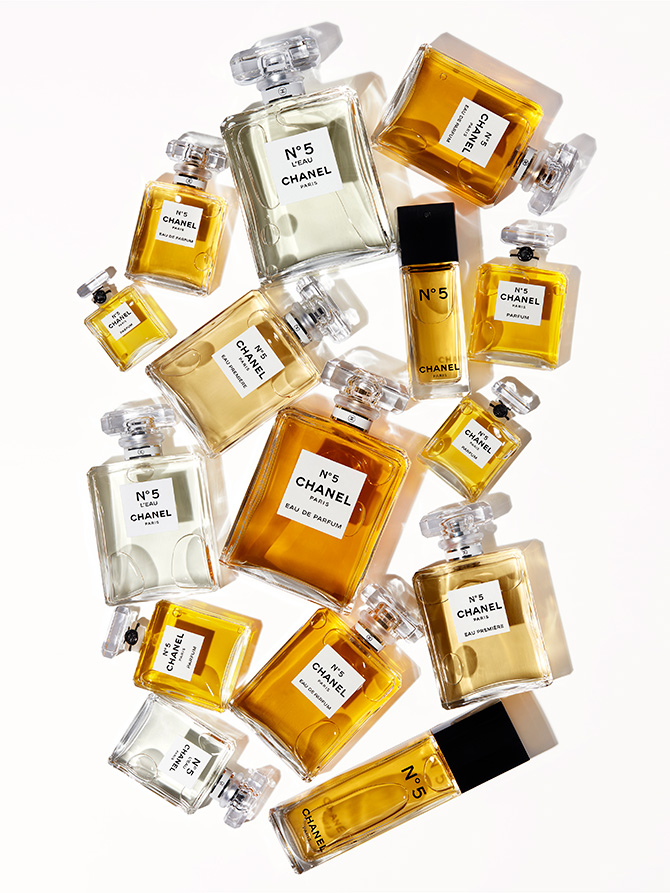 What does N°5 say about the women who wear it?
"N°5 reflects Gabrielle Chanel's personal life story. And yet, N°5 resonates with all kinds of personalities and cultures. Describing the fragrance might better help us grasp the woman who wears it. Femininity, elegance, refinement, a certain richness, and that element of mystery, are words that come to my mind. It is the fragrance of an emancipated woman, with assertive femininity. What we express with fragrance cannot be expressed in words, it says something about our personality, in the same way as the clothing that we wear or the manner in which we speak. We wear N°5 for others, but also for ourselves, it is an act that helps one feel good about oneself. N°5 is a wonderful signature of one's personality. Everything Chanel is in N°5."
Discover more on Chanel No. 5 on Inside Chanel here.
| | |
| --- | --- |
| SHARE THE STORY | |
| Explore More | |