Here's a trip down memory lane as we clock in Chanel No. 5's firsts and its milestones (in numbers)
Perhaps the most recognised fragrance in the world, Chanel No. 5's status in the olfactory scene is that of an icon—inimitable, an avant-garde during its inception, and known for making headlines time and time again. As Chanel No. 5 turns 100 next year, we zero in on why and how this coveted perfume has successfully maintained its status as one of the most iconic fragrance throughout this century.
From the symbolic meaning behind its seemingly decorous name to the most expensive limited-edition variant of this fragrance, here's everything you never knew (and need to know) about Chanel No. 5:

Chanel No. 5's many firsts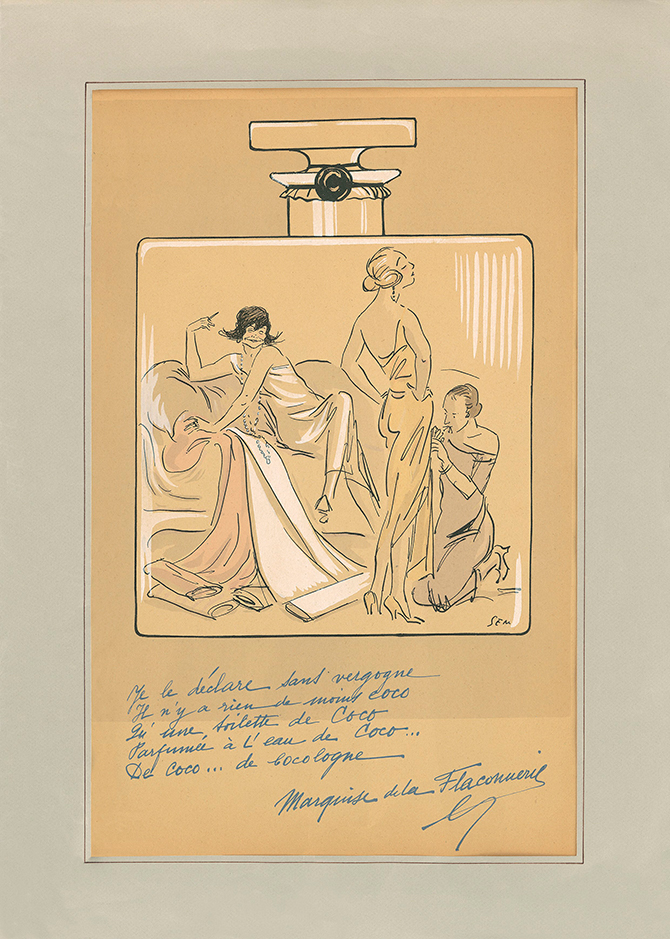 It was the first time in history that a fragrance was created with a high percentage of aldehydes (almost 1 percent), resulting in a "modern abstract" composition.
It was the first fragrance ever to be associated with and named after a female couturier.
Chanel No. 5 was the first to break tradition in 1921 for not following fragrance trends at that time. Gabrielle Chanel refused to have a fragrance associated with the smell of one flower, and asked perfumer Ernest Beaux for "an artificial fragrance like a dress, something crafted. I am a seamstress. I don't want rose or lily-of-the-valley, I want a composed fragrance."
In 1937, Coco Chanel made headlines for starring in Chanel No. 5's first-ever publicity campaign, shot by photographer François Kollar for Harper's Bazaar USA—incidentally the first time she has openly promoted her perfume in an advertisement.

Chanel No. 5 fun facts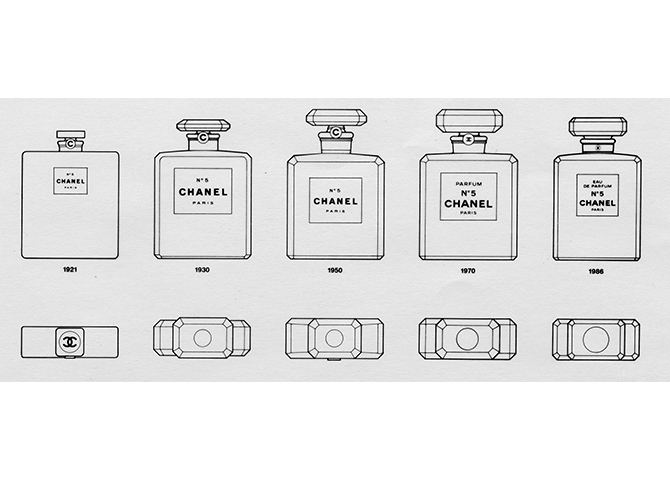 The Chanel No. 5 bottle is as seminal as the fragrance itself. Inspired by the beveled lines of Charvet toiletry bottles, it was a minimalist take in comparison to the elaborate crystal fragrance flacons of that era.
The original bottle sported a delicate, slimmer silhouette (sans the beveled edges) but was modified later on for functional purposes.
While the original 1921 No. 5 bottle has a 'C' on the black wax seal of the neck, the logo was replaced years later to the now-iconic interlocking Cs—referencing the geometric motifs of stained glass windows at the chapel in a monastery in Aubazine, France, where Chanel spent most of the childhood.
In 1985, the emblematic bottle was reinterpreted by American artist Andy Warhol in a series of colour screenprints for his 'Ads' series. The house of Chanel later repurposed the same artwork for an advertising campaign in 1997.

Chanel No. 5 in numbers
100
The number of years since Chanel No. 5's creation in 1921.
80
The number of ingredients in the first-ever Chanel No. 5 formulation. Created in 1921 by perfumer Ernest Beaux, the fragrance comprised 80 scents, including notes of May rose, jasmine, ylang-ylang, sandalwood and more.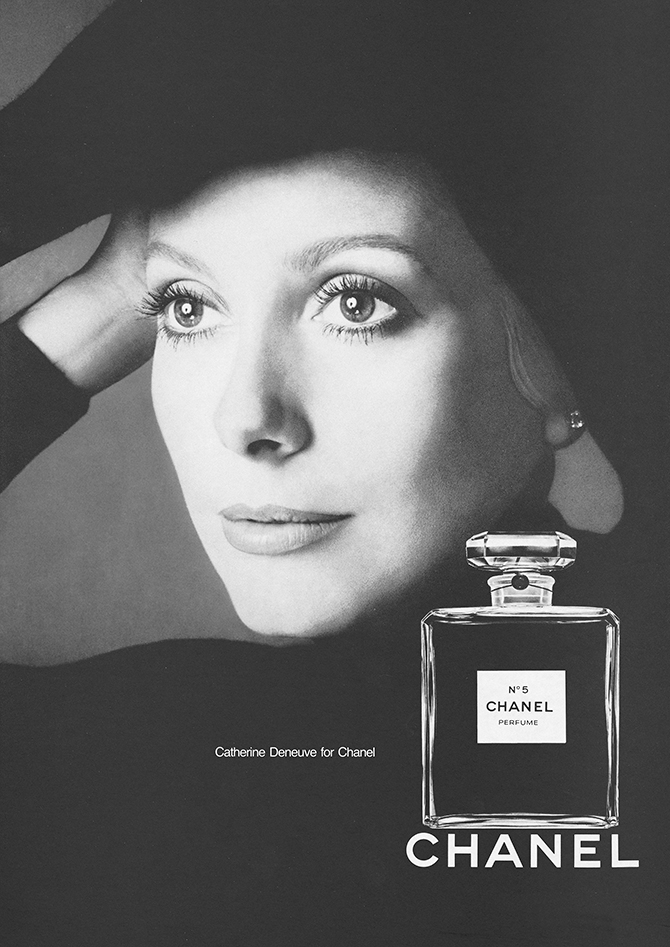 5
While it is said that number five stands for the fifth sample that Beaux offered to Gabrielle Chanel, this symbolic figure is also her lucky charm—and the date she chose to present her collections (February 5 and August 5).
But that's not all—Chanel No. 5 was officially launched in the Chanel Paris boutique on the fifth day and fifth month of 1921.
16
The age in years of the youngest perfume ambassador for Chanel—French-American actress Lily-Rose Depp starred as the face of Chanel No. 5 L'Eau in 2016 when she was only 16 years old.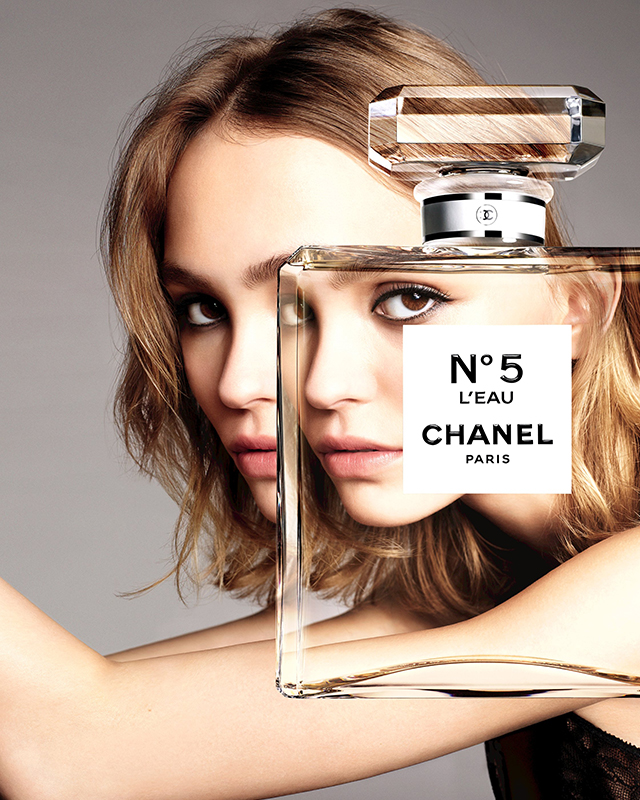 1
The number of times Chanel has appointed a male ambassador for Chanel No. 5. Brad Pitt was the first male celebrity to endorse the fragrance back in 2012.
14
The number of ambassadors for Chanel No. 5 since its creation in 1921. French award-winning actress Marion Cotillard is the latest face of the fragrance—check out the full film campaign here.
900
The quantity in millilitres of the largest bottle of Chanel No. 5 available right now—the No. 5 Parfum Grand Extrait. This deluxe-sized fragrance will set you back a cool RM21,200—perfect for No. 5 fans and fragrance fiends alike.
30,000
The price in USD of the most expensive Chanel No. 5 to date. In December 2018, the house launched the Chanel No. 5 Limited Edition Grand Extrait in red (reportedly Chanel's favourite colour). Each 900ml-bottle was sealed with a special hand-crafted technique (baudruchage) to preserve the fragrance, and only 55 bottles were made available worldwide.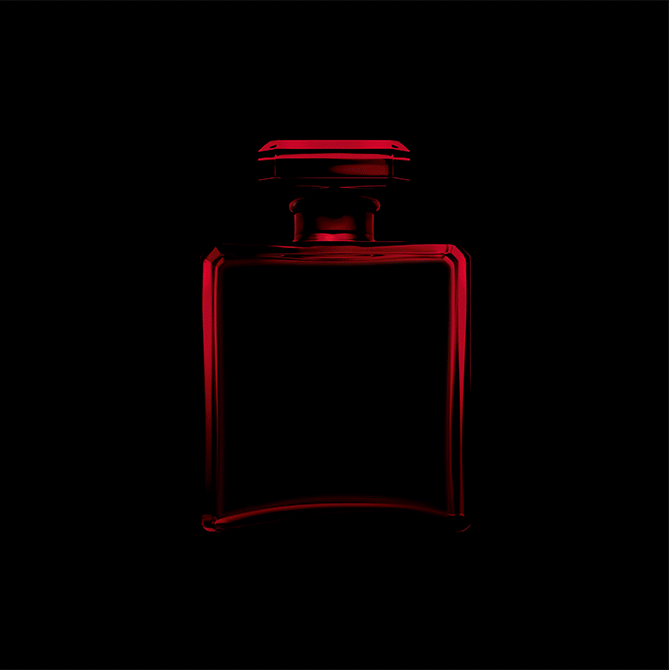 Elevate your
perfume ritual
It's safe to say that the Chanel No. 5 will retain its iconic status for years to come. If these random fun facts are convincing you to add a couple more of No. 5s to your existing stash—or perhaps a perfect gift for a fragrance fan who's on your list, Chanel has got you covered this holiday season.
The brand has introduced a brilliant perfume ritual this Christmas with not one, but five fancy ways to leave a memorable olfactory impression. The Chanel No. 5 Holiday 2020 collection comprises five bath and body essentials that any No. 5 Eau de Parfum enthusiast would appreciate.
Step 1: Add The No. 5 Shower Gel to your shower routine to scent your skin and leave it ultra soft to the touch. The bottle now comes with a "Twist and Slide" cap for easy dispensing.
Step 2: Hydrate your skin with The No. 5 Body Lotion—apply liberally to allow its rose-and-jasmine formulation to hydrate skin for up to eight hours.
Step 3: If you need a more nourishing treat, try The No. 5 Body Cream for its rich texture and a more decadent No. 5 scent-sorial experience.
Step 4: Spritz The No. 5 Deodorant on certain areas of your body to leave it fresh and subtly scented throughout the day.
Step 5: Don't forget your tresses while you're at it—The No. 5 Hair Mist now has a new active ingredient to keep your locks soft, shiny and well-scented.
Chanel No. 5 Holiday 2020 Collection is now available in stores. For more information, click here.
For the latest in fragrance, click here.