No decade has produced a slew of eye-twitch-inducing, cringe-worthy makeup trends quite like the '90s. The swinging Sixties gave us beehives and doe-like eyes, and we can't fault the '80s for giving us full brows and two-toned locks. While we can't identify as diehard fans of hair and makeup trends from the '90s, we have to admit that some of these beauty fads are seeing a resurgence as of late.
Beware of a wave of nostalgia (and a step back into your childhood, for some) as you scroll through these makeup trends that absolutely slayed two decades ago:
Brown lipstick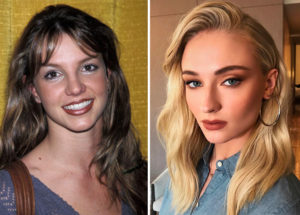 Then: Chocolate-toned and burgundy-based browns were all the rage. Coupled with super skinny brows and frosted lids, it was really pretty much the nude lippie of the era, as seen on fresh-faced Britney here.
Now: Nudes of every shade were trending quite recently, what with the matte liquid lipstick craze that took over for a few seasons. But the new nude now is in a shade of earthy brown (in various textures) that's Insta-worthy as it is versatile for every look.
Tip: Keep the rest of your makeup in warm-toned neutrals to prevent your visage from looking flat or one-dimensional. Don't forget to contour your features for a sculpted 'do.
Blue eyeshadow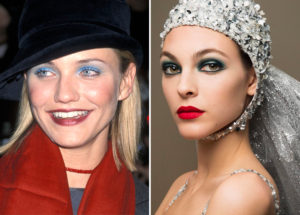 Then: Talk about 90s eye makeup trends and the one prevailing trend that still garners a fair share of tongue-wagging is blue eyeshadow—typically in a frosted finish teemed with a bold red (or berry, as spotted on Cameron Diaz) lip and splotches of pink on the apples of the cheeks.
Now: While the likes of azure-dusted lids may have taken a backseat in the early 2000s, the trend has seen a re-emergence as of late. Shades of blue (dashed with green) often get reinterpreted in cyan, teal, navy and cerulean—all worn in various ways, whether on the lids for a subtle pop of colour, a graphic cat eye, or a smouldering smokey eye.
Tip: We're all for monochromatic makeup but don't let your outfit steal the limelight of your eye makeup. Always remember to tightline your lash lines to let the whites of your eyes stand out. Try a darker hue (taupe, grey, black) if you're wearing an intense, smoky eye; or go with a matte blue for a daytime look.
Body shimmer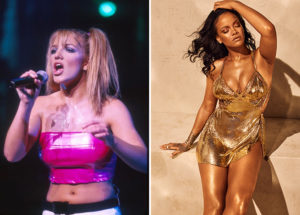 Then: What better way to capture the light and look like a walking disco ball in pictures back in the day? Body glitter, of course. If your teen icons were Britney Spears and Christina Aguilera, sequins and sparkles (that were incredibly hard to clean up) will always hold a special place in your heart.
Now: This era's body glitter is pretty much highlighter for the body. The effect is more natural, subtle, and glowy—think shimmer mixed in body moisturiser. High-shine body oils, "glotions", and serums aren't just made to be worn for music festivals and raves, pat it on to get an allover luminised finish that smells and looks amazing.
Tip: Give the illusion of longer legs by applying some body shimmer along the shins in a straight line down.
Frosted lips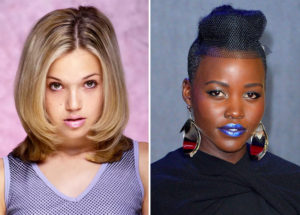 Then: You can't scroll through images of 90s celebs and teen stars without seeing their frosty lip shades in all its glory. Before the lip gloss took over in the early 2000s, this light-reflecting finish was so popular it even spilled over to eyeshadows and the like.
Now: We're still bracing ourselves for the comeback of lip gloss, so we're definitely not ready for this trend to rear its head so quickly. An edgier, reinterpreted version of this trend is the metallic lip—more foil, less frosty, and able to give an illusion of fuller lips thanks to the shine.
Tip: Line your lips before application to ensure the metallic hue doesn't feather out in an unbecoming way. Cotton buds dipped in micellar water are your BFFs to clean up any colour outside the lines after application.
The scrunchie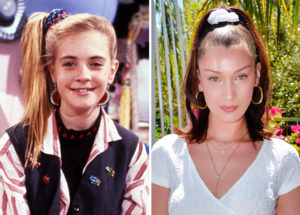 Then: The knocked-askew ponytail of the 90s was almost always wrapped around with a scrunchie. These fabric-clad hair ties were so popular that even our favourite twin sisters Mary Kate and Ashley sported these when they starred in their first acting gig, Full House.
Now: Scrunchies are seeing a revival with celebrities (most of them millennials) donning it everywhere from a workout session to red carpet events. Here, Bella Hadid paid homage to the decade with a super high ponytail and gold hoop earrings.
Tip: Spritz a texture spray in your damp locks to give it volume before blow-drying it and securing it with a scrunchie.
Hair clips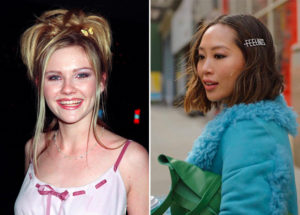 Then: Anyone who grew up in the 90s and early 00s have either one of these in their hair accessories stash back then: butterfly clips (a lot of them), jawclips, hair barrettes—you get it. Our personal favourite were teeny butterfly clips that you can use to secure tresses in funky updos. How cute does young Kirsten Dunst look here?
Now: Hair slides are so major that it's been spotted on the street style folk, the fashion runways, and even on celebs including Gigi Hadid, Emma Stone, Kendall Jenner and more. Instead of cutesy clips, slides now are literally making a statement with logos and text motifs along with embellishments i.e. pearls, tortoiseshell, rose quartz etc.
Tip: This is our favourite hair accessory for all occasions, whether you're heading to a wedding or a weekend out (and only have five minutes to spare).
Overlined lips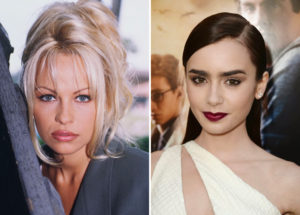 Then: Pamela Anderson in all her overplucked-brows, overlined-lips, and tousled-hair glory? Say no more. The Baywatch star and blonde bombshell of the 90s was the poster girl for over-accentuated lips, typically with a much darker shade around the perimeter of her pout.
Now: Kylie Jenner gave lip liner a new lease of life when she made this trend popular once more, filling in her upper lip with a nude liner in several shades for an illusion of plumper lips. Our beauty muse Lily Collins gave us more inspo on creating a fuller pout with a tres chic ombré lip in two monochromatic shades.
Tip: Choose a nude shade of lip liner that matches your skin undertone to prevent a jarring contrast. Start lining your lips from the corners to make the lines less visible, then blend with your finger. Complete your look with a lipstick in a similar shade to your lip liner.
| | |
| --- | --- |
| SHARE THE STORY | |
| Explore More | |