What kind of beauty packer are you: ONE beauty kit would suffice; or the more, the merrier?
If I had to make a mid-year resolution, it'd likely be fine-tuning what it means to "travel light". I don't typically have a problem with packing clothes, shoes and accessories, but when it comes to beauty things, there's no such thing as bringing along one beauty bag (unless that bag is the size of a separate carry-on luggage, that is.)
Not that I actually need three serums, five moisturisers, and more than six scents for every mood/look, but I love it when travel sets come with the best picks (not just one solid option and three 'meh' ones) that I would actually use when I'm on-the-go.
Ahead, three recently-acquired travel sets that have made it to my "must-keep" list because of the many listed reasons below:
The all-in-one travel kit that will not let you down: Aesop Departure Travel Kit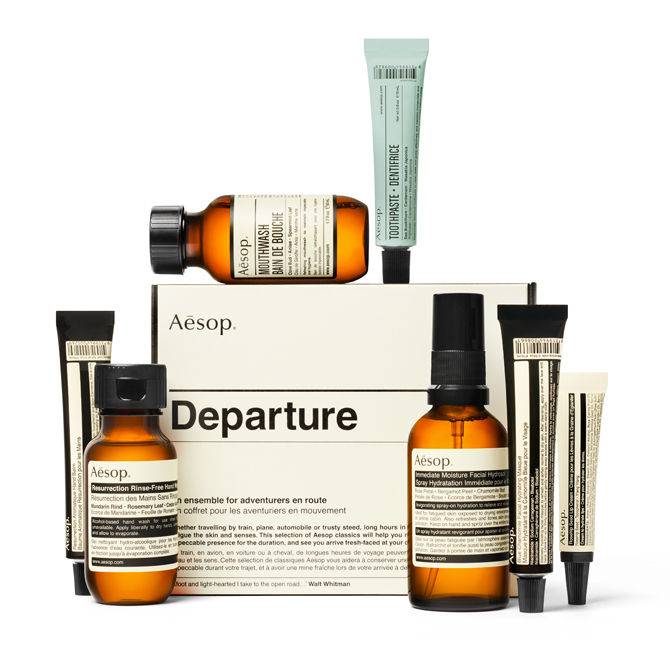 Includes: Resurrection Rinse-Free Hand Wash, Resurrection Aromatique Hand Balm, Blue Chamomile Facial Hydrating Masque, Immediate Moisture Facial Hydrosol, Rosehip Seed Lip Cream, Mouthwash, Toothpaste
Why it's in my bag: Beauty sets that are this inclusive come far and few between. The ones I usually bring along are four-in-one skincare kits that covers all the basics, or oral hygiene packs to ensure that bad breath isn't going to be a problem throughout my journey.
Aesop ups the game this season and I'm eternally grateful for this Departure kit that's packed with not four, but seven fun-sized essentials to keep my face, mouth and hands in check. My favourites include the hydrosol for a quick spritz of hydration, the lip cream to keep chapped lips at bay, and the toothpaste that'll come in handy for long-distance flights this weekend.
Priced at RM225, available at Aesop stores
The scent stash to ensure you never run out of options: Chanel Les Eaux De Chanel Travel Set
Includes: Les Eaux De Chanel 50ml fragrances—Paris-Deauville, Paris-Biarritz and Paris-Venise, along with a jersey pouch bag and three postcards
Why it's in my bag: As often as I toy with the idea of lugging along my entire fragrance stash whenever I'm travelling, filling up a string of 50ml bottles of various scents (because, #options) before a trip is way too much of a hassle. But Chanel's latest travel set is solving that problem easily with a complete set of the Les Eaux De Chanel range.
Tips on how I'd wear this lineup—Paris-Deauville for a daytime jaunt, and Paris-Biarritz for a lovely evening out. But for nights that are made for flights of fancy, Paris-Venise is the perfect finishing touch to my outfit. (Extra points go to the prettiest postcards that would make the best kind of mail no matter the destination you're at.)
Priced at RM885, available at Chanel Fragrance & Beauty Boutiques
The ultimate cleanser pack for a skin detox: Shiseido Waso Reset Face Cleanser Squad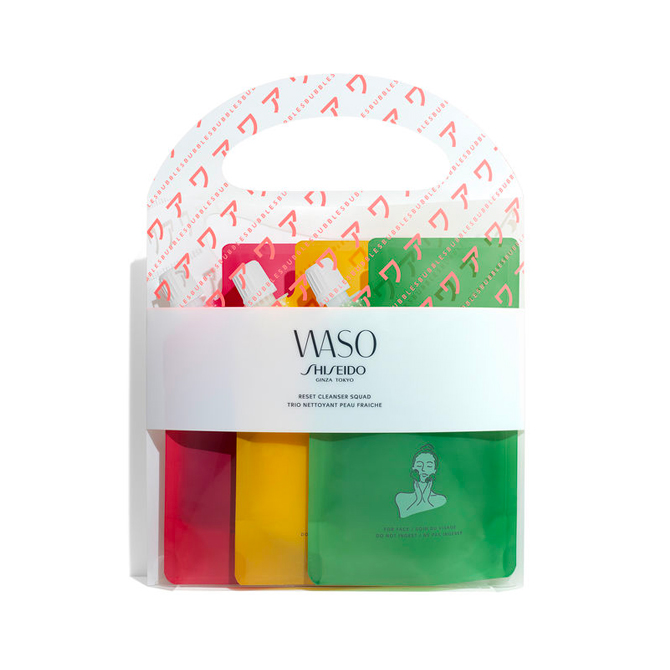 Includes: Shiseido Waso 70ml face cleansers—Wild Garden, Good Vibes, Romantic Dream
Why it's in my bag: I don't usually come across cleansers in packs of three—like Shiseido Waso's fun-scented, snazzy-coloured Reset Cleanser Squad. (It also didn't help that the traffic-light hues of this trio made it difficult for me to take this seriously.) But what I liked about it was that each cleanser is laden with superfood extracts to nourish the skin—depending on your skin condition.
Wild Garden has the most refreshing scent and key ingredients such as okra and vitamins A, C and B to rejuvenate the skin, while Good Vibes does what its name suggests—boost your skin with an energising scent and chockful of nutrients. I especially liked Romantic Dream for my evening beauty routine. It smells sweeter than the first two, and comes with skin-tightening properties, which bode well with my post-cleansing nighttime ritual.
Priced at RM125, available for a limited time only at Shiseido stores