You've glimpsed the contents of our team's carry-on luggage a few weeks back, but today's edit that you are about to feast your eyes on—is the real challenge. Packing our travel beauty bags can be tricky for most on our team because we're always tempted to sweep everything from our dresser into one teeny PVC kit (and in 100ml bottles, which is practically impossible.)
Ahead, we asked our editors—and one senior writer—what beauty picks they absolutely can't travel without, their in-flight beauty regimes before landing, and more:
TERRY SAW, editor-in-chief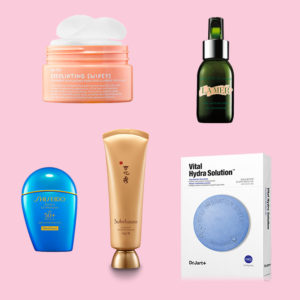 What can we find in your travel beauty bag?
Learning that women could lose over 1.5 litres of bodily fluids on an average flight completely changed the way I packed. Drinking enough water to replenish moisture in your body is great, but it's just as important that your skin is not drying out in the process.
I have a no-makeup rule for long-haul flights and cleanse my face with Cetaphil Gentle Skin Cleanser soon as I can—it doesn't strip the skin of its natural oils, so I don't have to worry about any dryness or itchiness. I usually skip the toner and go straight to using the La Mer Treatment Lotion to soften my skin before layering on La Mer The Concentrate, which smells great and absorbs quickly.
If I have some privacy on the flight, I'll put on a sheet mask—extra, I know—but so worth it. A recent fave is the Dr. Jart+ Vital Hydra Solution, otherwise, a rich leave on mask is just as good. I always have a Sulwhasoo Overnight Vitalizing Mask EX handy for times like these.
What is your beauty regime when travelling?
Gone are my one-ritual-for-all days! I started customising my travel beauty essentials in my thirties because it's so important to notice when and what your skin is telling you. As a quick guide, when traveling to hotter cities, I load up on super moisturising, water-based products, which hydrate my skin without causing outbreaks and swap them for richer serums and creams for colder to sub-zero destinations.
The one important ritual I feel doesn't get enough love while traveling is exfoliation. I'm a fan of Aussie brand Go-To's Exfoliating Swipeys—they're super easy to use, single-use facial pads dipped in lactic acid and infused with essential oils to gently but very effectively remove dead skin cells and brighten the complexion while you're on the go.
If you're the busiest person in the world and have time for one thing and one thing only, make it sunscreen. Shiseido does an amazing job with their Ultimate Sun Protection Lotion series, which goes on like second skin and gives you good protection—also water resistant so your outdoor adventures are covered.
How do you prep your face in-flight before landing?
My pre-landing ritual is quick and simple—I cleanse, moisturise with a day cream (with SPF!) and as a superfan of BB cushions, I'll freshen up with a compact especially if I'm heading straight to a meeting because they're magic when it comes to giving you that healthy skin finish, even if you're not slept a wink on the flight.
CAI MEI KHOO, contributing editor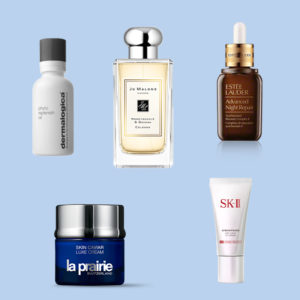 What can we find in your travel beauty bag?
I don't know how to pack light and that's evident of my clear PVC toiletry kit that's filled to the brim with my in-flight beauty essentials. I always have a sleeping mask on hand—I'm currently using one from Chanel.
I also find face oils great for locking moisture in. Not forgetting, lip balms (yes, plural) are essential and I have at least two on hand from La Mer and Laura Mercier. I also must have a hand cream and dry shampoo with me—the latter to ensure I have fresh hair, especially after a long-haul flight (my go-to are from Ouai and Percy & Reed.)
What is your beauty regime when travelling?
I like to tailor my beauty routine based on what the weather is like at my destination. For colder weather, I pack face oils. I currently love Dermalogica Phyto Replenish Oil which is lightweight enough to be used both day and night. I also just started using Elizabeth Arden Retinol Night Serum—the texture is velvety smooth and my skin feels soft immediately after using it.
I usually finish off with a rich moisturising cream, like La Prairie Skin Caviar Luxe Cream. For warmer climates, I use Estee Lauder Advanced Night Repair, sometimes using it during the day as well. I also make sure I have sunscreen with me; I'm currently using SK-II Atmosphere Airy Light UV Cream.
How do you prep your face in-flight before landing?
Before landing it's usually a spritz of face mist, followed by a quick touch-up with a compact powder and finally, a dab of perfume behind the ears. I'm currently wearing Jo Malone London's Honeysuckle & Davana. And while I always carry a toothbrush and toothpaste with me, I also bring breath freshener in the form of Saje's Kiss Mist.
GWEN ONG, deputy editor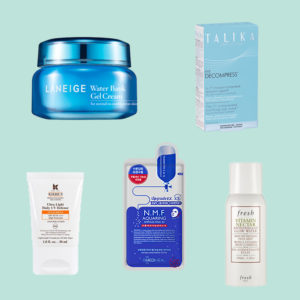 What can we find in your travel beauty bag?
While I like to keep it minimal when I go on long haul flights, my beauty bag is supercharged with heavy-duty essentials. Think rich moisturiser, facial mist, sheet mask, eye mask and lip care­—the works.
On regular rotation now are Laneige Water Bank Gel Cream and Dermalogica Calm Water Gel that immediately hydrate my skin so it stays soft and comfortable. I also have a stash of sheet mask favourites from Dr. Jart+ and Mediheal that are really convenient if my skin needs a boost.
A new addition in my carry-on is Talika Eye Decompress—this double capsule mask pack is great to relieve puffiness, so I look bright-eyed post flight. Last but not least, I pack along my trusted Kiehl's Ultra-Light Daily Sunscreen—did you know you're more prone to UV radiation up in the air? Get protected people!
What is your beauty regime when travelling?
Travelling really puts a toll on my skin. I've learned that what may work for me here in hot and humid Malaysia, does not work as well when I'm in the blistering cold of New York or in the dry air of Dubai. For these countries, I've had to switch to super rich cream-based moisturiser, which I'd generally avoid using in our tropical climate for my skin would just protest in breakouts.
One thing that I've found useful is to mask every single night that I'm away in a different country. This has helped save my face countless times as it puts the moisture and balance back into my skin.
How do you prep your face in-flight before landing?
Right before the plane descends, I'll always whip out my facial mist and give myself a good spritz. I love feeling fresh for the touchdown and it pays to look alert for the long immigration line too. Fresh Vitamin Nectar Antioxidant Glow Water is among my go-to.
RACHEL AU, lifestyle editor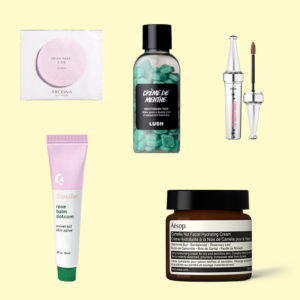 What can we find in your travel beauty bag?
I like to keep my travel beauty kit light and compact, especially my on-board beauty kit. If you're like me, my number one tip is to always save the samples you get so you don't have to pack several 20ml to 50ml products.
Currently, I'm using Aesop's Camellia Nut Facial Hydrating Cream to keep my skin hydrated. I also love Arcona's Triad Pads 2 Go—they smell amazing and gives my skin that quick refresh. Also, they're packed individually so I can take as many as I need.
A dental kit is a given, and I also bring along a bottle of Mouthwash Tabs by Lush—I use it right after brushing my teeth for an extra minty cleanse. My other must-have is Glossier Balm DotCom. It's super moisturising for my lips and cuticles. One last thing: a solid perfume. I'm now loving Diptyque's L'ombre dans L'eau.
What is your beauty regime when travelling?
I generally switch to cream-based moisturisers when in cooler countries as my skin tends to dry out easily. I also bring a ton of sheet masks to use at night, which I have found to be very effective in maintaining my skin's texture. So I'll only use a proper moisturiser during the day.
How do you prep your face in-flight before landing?
A quick 3-step skincare plus a 2-step dental care, as elaborated above. Next, I'd use a Shiseido Waso Colour-Smart Day Moisturiser for light coverage on the face, Benefit 3D BrowTones for a quick filler because brows make all the difference and Fresh Sugar Tinted Lip Treatment for SPF and a tint of colour to make sure I look less like a zombie getting off a long-haul flight.
WEI YEEN LOH, senior fashion & beauty writer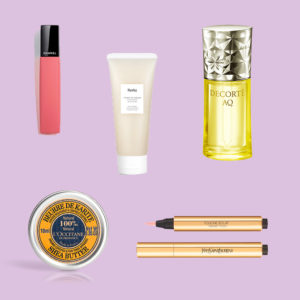 What can we find in your travel beauty bag?
My skin is ultra-sensitive to fluctuating temperatures (even in AC-ed environments), so anything oil-based is great to soothe it quickly—in my bag now are Decorté AQ Oil Infusion and Dior Hydra Life Oil-to-Milk Cleanser.
Sunscreen is in my handbag no matter where I go; I like Supergoop! Unseen Sunscreen because it doesn't leave a white cast on my skin. Not forgetting, my trusty L'Occitane Organic Shea Butter to prevent dry cuticles/hands/elbows/anything, really.
Makeup wise, I find that a good lip colour works wonders in looking put-together under five minutes—I'm crushing on Chanel's Rouge Allure Liquid Powder for a subtle, blotted finish.
What is your beauty regime when travelling?
Moisturise and mask, all the way. I alternate between Shiseido Essential Energy Moisturizing Cream and Cetaphil Rich Hydrating Night Cream depending on the climate at my destination. Before I tuck in at night, a masking sesh is key—Huxley Sahara Sleeping Mask and Innisfree Second Skin Mask are current favourites.
How do you prep your face in-flight before landing?
Brushing my teeth following a gargle of mouthwash are a given. For my face—a spritz of Avène Thermal Spring Water for a quick refresh, a swipe of YSL concealer because my undereye circles are still a work in progress, and Nars The Multiple for a wash of colour on my cheeks and lips. Not forgetting, a dab of fragrance behind my ears and inside of my elbows.
| | |
| --- | --- |
| SHARE THE STORY | |
| Explore More | |