Remember that cool workout that was inspired by drumming and went viral online? Interestingly, about one year ago, we listed Pound as one of the workouts we wished was available in Malaysia and now it is — at Sole To Soul Dance Studio. Knowing that we will be taking on such a high-intensity workout that's said to burn up to 900 (and more) calories per hour, we figured it was the best way to also put the new Triaction by Triumph sports bra collection to the test.
Watch the new episode of #FitnessFriday featuring Pound below:
Cai Mei Khoo, Editor-in-Chief
If it's a fun workout you're looking for, look no further than Pound. High-intensity and stress-relieving at the same time, you're handed a pair of neon green drumsticks, called Ripstix, and spend the next 45 minutes hitting them on the floor, above your head or side to side. Our instructors had great energy and led this cardio-intensive class to the beat of the latest hit songs. We did glute bridges to an entire song, which had me feeling sore the next day. The Triaction sports bra I tried was lightweight and comfortable, and offered good enough support for this fairly fast-paced class.
Rating: 4/5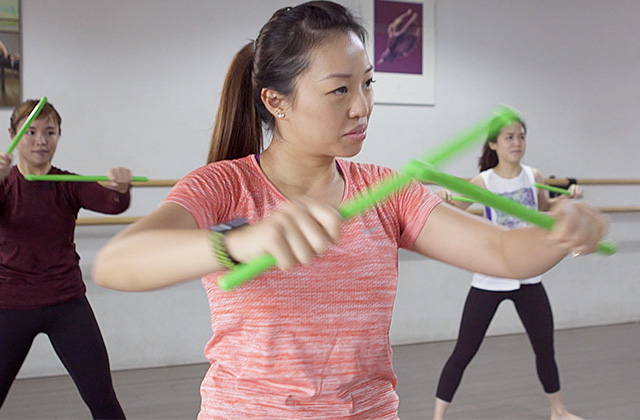 Gwen Ong, Deputy Editor
I realised two things from this class – 1) how my lack of coordination made me look like a failed jester, 2) how even with my klutzy tendency, I can still have fun. That's right, I was a fool who had a good time pounding about aimlessly. I had seen videos of Pound when it went viral last year and I was fascinated by how coordinated (and cool) the moves are even though this was not my strongest skill. I felt like a total rock star holding the two drumsticks and taking my stance. The class conducted by Alice and Daniel was detailed as they both showed us each and every step of the high-energy workout. My thighs and butt really felt the sore for the next few days. One more thing that I realised, a good support system is needed for such a high-intensity class. Besides the spirit of camaraderie with my teammates throughout the class, I had the support of the Triaction sports bra to keep "my girls" in check.
Rating: 4/5

Rachel Au, Senior Lifestyle Writer
Source: https://www.buro247.my/lifestyle/health-fitness/fitnessfriday-bridal-bootcamp-koa-fitness-malaysia.html
I've been anticipating the arrival of Pound to KL for a while now so imagine my excitement when I heard Sole To Soul Dance Studio has recently offered classes. When I first saw videos of the, as they say, Rockout, Workout, I figured this might just be the class that transforms my couch potato attitude about exercising. It looked cool. After taking one session, however, I realised I forgot one important detail: I'm horrible at hand-leg-body coordination. Alice and Daniel's instructions were clear for each routine but once the music started and the pace increased, my mind was in a blur — wait, what? Right? No, left. Erm. — and my body, stagnant for the second half of each song. Don't get me wrong. I could really hear my heart pounding (pun intended) throughout most songs and the burn on my thighs was immense. It really is a full-body workout so it was a good thing that the Triaction sports bra offered ample support throughout. However, I love it mostly for its snug, perfect fit since it has adjustable straps. I couldn't walk for almost a week after the session which leads me to conclude that Pound is not The One — a Quarter Pounder is (note: I am not sponsored by a certain fast food chain).
Rating: 4/5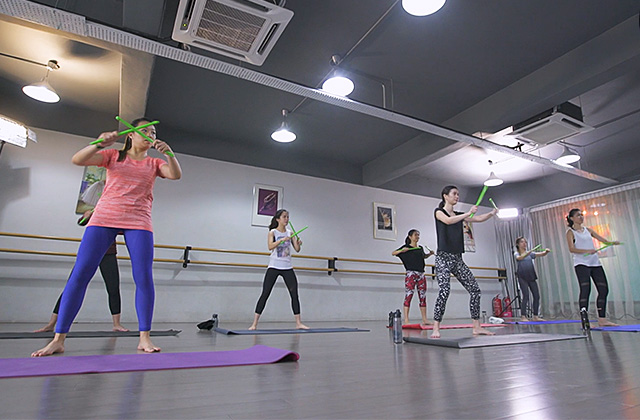 Loh Wei Yeen, Fashion & Beauty Writer
Source: https://www.buro247.my/lifestyle/health-fitness/fitnessfridays-team-workout-at-fuel-athletics.html
I have to admit that I had my reservations prior to the class — in my mind it involved either 1) real drums or 2) incessant air-drumming that might result in quite a hilarious scene on camera. While it inclined more to the latter, Pound is a combination of coordination and choreography that would bode well for someone who is looking to vent their frustrations (or should I say, pound it out?) while losing calories at the same time. Alice and Daniel were super helpful in showing us all the movements in between each rep, and if you actually do it right, the day after would result in soreness in all the right places — which is definitely a good thing, right? The favourable rating also extends to the Triaction sports bra I wore during the class. It gave me adequate breathability and support I needed without the chafing — plus I love that it's got adjustable straps and clasps for the perfect fit.
Rating: 4/5

Tan Su Fen, Writer
Working out to music is always a good idea, and adding in the drumming element definitely amps up the fun factor. Having tried Pound before (and loved it), I went in anticipating a great sweat sesh, and this class didn't disappoint. The instructors kept the class in high spirits with their upbeat energy, and despite the workout being fast-paced, it wasn't too difficult to keep up, as Alice and Daniel would give us a quick run-through of the steps before each song. By the end of the workout, my drumsticks thighs were really feeling it. On a side note, my Triaction sports bra lived up to its promise of comfort and sweat-wicking capabilities, deeming it a trusty companion for dynamic workouts.
Rating: 4/5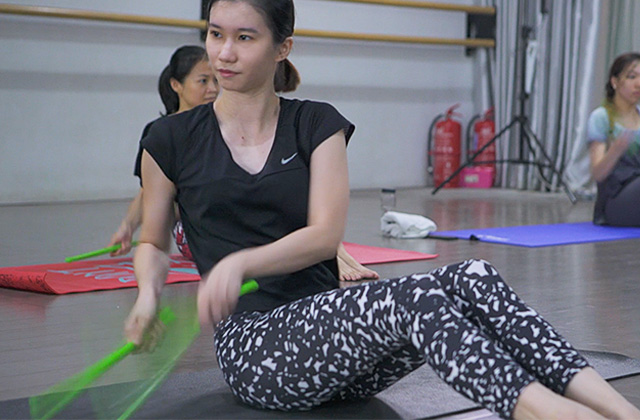 Alyssa Lee, Editorial Assistant
Source: https://www.buro247.my/lifestyle/health-fitness/fitnessfriday-bootybarre-at-activ-studio.html
Walking in to the studio, I was immediately disappointed. Contrary to my (uninformed) expectations, there were no giant drums to pound on or — more pertinently — cower behind. Instead, our neon green Ripstix and uncoordinated movements were on full display. My Triaction sports bra kept things a little more discreet — the comfortable cups and band did not cut into the flesh to create any extra unsightly bumps while its patterned straps flashed the slightest bit of pizzazz on the shoulders. Pound is the kind of workout where you get so caught up trying to follow the routine that time just flies by and reps become a blur. For exercise novices, taking attention away from the exertions was actually really useful — it kept me going. The catchy music and the manufactured energy of a dozen drumsticks clacking together made the session feel like an amateur reenactment of 'Stomp', a.k.a an adrenaline pumping riot. Very fun, really tiring, wonderfully sweaty. Just got to say, in lieu of sweaty palms wrapped around Ripstix, I think I'd fare much better with oily palms wielding drumsticks of the edible variety.
Rating: 4/5

Yi Suen Chong, Digital Designer
Source: https://www.buro247.my/lifestyle/health-fitness/fitnessfriday-bootybarre-at-activ-studio.html
I was fascinated by Pound ever since I saw a video of it on Facebook. Drumming on the floor like a rockstar and working out to energetic songs? Sign me up, pronto! Our session at Sole To Soul Dance Studio did not disappoint. A whole body workout combining cardio, conditioning and mild strength training, it requires a lot of coordination (which I lacked but did not take away the fun) and lower body strength (evident by how sore my thighs were for the next few days from the drum-squats). The killer move for me was the core conditioning workout (sitting in a V-shaped position while pounding on the floor with the Ripstix). It was a good thing the Triaction sports bra gave me the extra support I needed. The adjustable bra strap enabled me to alter the tightness according to the type of workout I'm doing. For all the wannabe rockstars, this is for you.
Rating: 4/5

Sole To Soul Dance Studio is located in Taman Sea. Find out more on their website or Facebook page.
Source: https://www.buro247.my/lifestyle/health-fitness/jumping-fitness-malaysia-workout-review.html
Related stories:
Supermodel Jessica Hart on fitness and Triumph's new Triaction sports bra range
#FitnessFriday: BootyBarre at Activ Studio
| | |
| --- | --- |
| SHARE THE STORY | |
| Explore More | |