We flew to Sydney to have a chat with Jessica Hart, supermodel and Triumph's global brand ambassador, on her fitness tips and the new Triaction sports bra
It was a beautiful morning when I gathered with the rest of the media at the Royal Botanical Gardens in Sydney. I was half exhilarated and half nervous to know we'll be joining a spin session with Jessica Hart. The Sydney-born, Melbourne-raised, New York-based supermodel was back in town for the launch of Triumph's new range of Triaction sports bras—and the rest of us were going to join her in putting it to the test. I'll save that story for another day. In the meantime, hear it from Triumph's global brand ambassador, Jessica Hart herself on what she thinks about the range, the problem she usually finds with other sports bras and more.
On her career so far
"You can't really control much. So far I've been really lucky. I pinch myself that I am still in demand, so to speak. I'm just going with the flow and people are booking me, so that's good. When I was 20 I couldn't have ever imagined being this successful at 30. There are the young ones now, too, but there is still a lot for us ones around that are approaching the hill."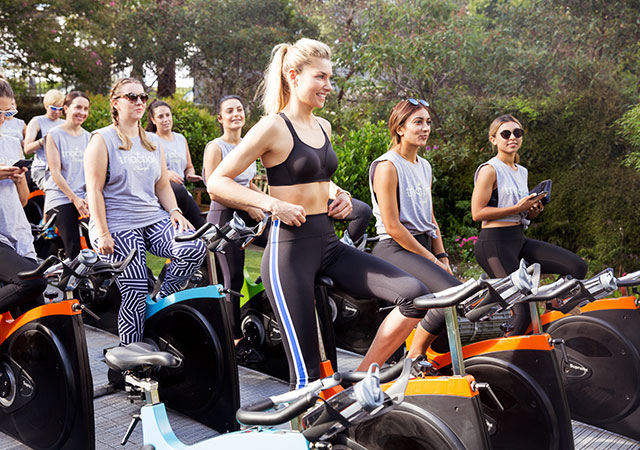 On her role as Triumph's global brand ambassador
"It's so exciting to be involved with such an iconic brand and one that I can really relate to. The brand understands that the wrong or uncomfortable fit can ruin a woman's day and that level of insight means that it designs excellent products. I worked with Triumph a few years ago and it's great to be back."
Her thoughts about Triumph's Triaction sports bra
"For me, my biggest problem is that I have low-set breasts and a lot of sports bras are non-adjustable. I'm always falling out at the bottom and it's so uncomfortable. I can't run or if I stretch up, they come out at the bottom. So this (Triaction sports bra) has really helped me out. It offers the best bounce control and I always feel fully supported, no matter what exercise I'm doing when I'm wearing any products from the Triaction range."
Her health regime and fitness tips
"I'm always at the gym, and I love being as healthy as I can. I just amp it up a little bit when I know I have an underwear shoot coming up. I give up alcohol and drink lots and lots of water. It's also always important to change up your workout routine because your body gets used to things. So I'm constantly trying to trick myself into new exercises to keep myself entertained."
How she finds time to exercise with her schedule
"I just do. I make time for it. If I'm at home and have five days off, I'll work out every single day so I can get it in the bank and then give myself a break when I'm travelling—or when I can't work out cos I'm working. That way I don't have to be too hard on myself."
Her go-to work out routines when on the road
"I'm usually too exhausted but I do have a few such as planking, lunges and push ups—those that are easy to do in a hotel room."
Related stories:
#FitnessFriday: Team takes flight at Flycycle
#FitnessFriday: Team tries a Wireless EMS workout at Be Urban Wellness
10 Health and fitness trends to watch out for in 2017