From portraying the sexy blue "Beast", Henry "Hank" McCoy in the X-Men franchise to the writer J.R.R Tolkien in 2019's Tolkien and making hearts swoon as Peter III in the Hulu miniseries The Great, Nicholas Hoult has proven to be a versatile actor with a wide range of characterisations to pull from his repertoire.
In honour of his 31st birthday, we give you an insight to how Hoult physically gets ready for his roles.
1) He's an avid boxer
According to an interview, Hoult frequents the Trinity Boxing Club, located behind Melrose Boulevard in Los Angeles. He trains with Eddie Arrazola, a boxing coach to the stars who was quoted saying,"I train a lot of actors, and a lot of them don't pick it up, but Nick actually knows how to box." His warm-up routine before entering the ring includes a few rounds with the jump rope and sparing with a punching bag.
2) He monitors his diet
View this post on Instagram
Instagram
According to the Daily Mail, one of the ways Hoult shed his skinny physique and muscled up for his role in X-Men was an increased protein intake. It was reported that the actor would start his day with a bowl of oatmeal, followed by a toast and a glass of orange juice. For dinner, Hoult's diet would consist of vegetable soup and a sizeable piece of chicken breast. For supper, Hoult would reportedly have some salad with a steak. During an interview on the Jonathan Ross Show, the actor said, "… the last couple of roles I've done they've asked me to be really skinny so I didn't get to eat a lot and now I finally get to eat anything and everything pretty much."
3) Don't miss leg day
View this post on Instagram
Instagram
During an episode of The Great earlier this year, fans were (delightfully) exposed to Hoult's toned derrière—which eventually made headlines. We did some digging and found that PureGym, (a chain of no frills health clubs in the UK) actually modelled a gluteus (among other body parts) exercise after Hoult circa X-Men: Dark Phoenix just last year.
Here a quick summary :
Squats—perform five sets of five reps.
Stand tall with feet slightly wider than hip-width distance apart, feet slightly turned out
Roll your shoulders and down away from the ears. This will help you to maintain a straight spine
Look straight ahead. Take a big breath in and tighten your abs
Bend your knees and sink your hips back while lowering your hips towards the floor until it sinks just below the knees. Try to keep a straight spine and tight core throughout the whole movement
Pause in this position before straightening your legs and exploding back up to standing position, and then exhale.
4) He focuses on the details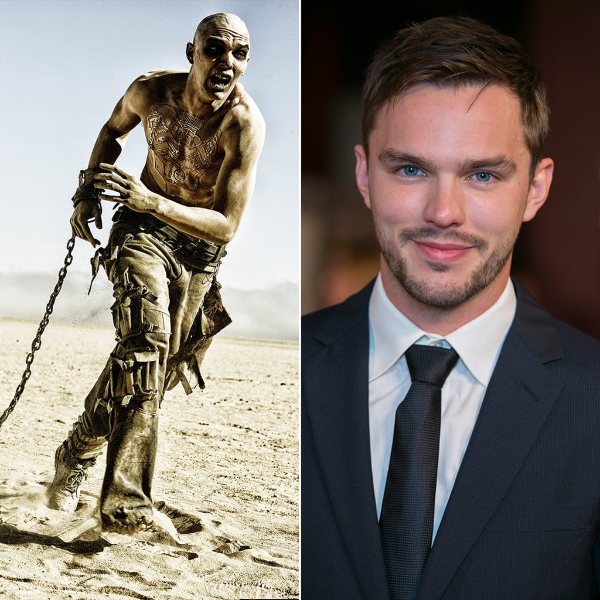 When Nicholas was cast as the lead role in 2013's Jack the Giant Slayer, he understood the necessary physical demands and trained to look natural onscreen, especially during the climbing scenes. In a similarly physically demanding role, 2015's Mad Max: Fury Road, Hoult found a personal trainer and took up rock climbing according to Star Changes. This was to attain the appearance of toned forearms and effortless dynamic movements onscreen. It was reported that Hoult would do various hands exercises every day. He started each workout from warm-up and stretching, followed by pushups and dumbbell exercises.
5) He also went through a mental metamorphosis during his career
| | |
| --- | --- |
| SHARE THE STORY | |
| Explore More | |