Medical and health insurance is one of those adulting things we'd all like to avoid for various reasons. For one, it involves long-term commitment in premium payment/contribution. Insurance plans/Takaful certificates often take a portion out of a monthly budget, which may not be sustainable for some or preferable for others.
Two, it's very tempting to skip coverage, especially if you are still in your 20s and hardly ever get sick. Perhaps you think your employee benefits are sufficient for that rare occasion you might need coverage for medical bills. Finally, medical insurance policies/certificates can be comprehensive or complicated and need to be explained in greater detail.
However, if the past few years have unceremoniously proved anything—and we're not just talking about the Covid-19 pandemic, but also the accidents, mental challenges, and natural disasters in between—it's that a medical emergency can happen to anyone at any time. This is why financial planners often advise that you buy medical and health insurance/Takaful before even considering investment.
The first step is easier than you think: educate yourself. In light of that, the Life Insurance Association of Malaysia (LIAM), Malaysian Takaful Association (MTA), and General Insurance Association of Malaysia (PIAM) have launched a campaign with the tagline #AmbilTauBarulahTau—inspired by the Malay proverb, "tak kenal, maka tak cinta"—which means that you can't love what you don't know. With that said, keep reading to learn why insurance/Takaful is important, what you are actually paying for when you buy insurance/Takaful, and how to make an insurance/Takaful claim.
Why do I need medical and health insurance/takaful (MHIT)?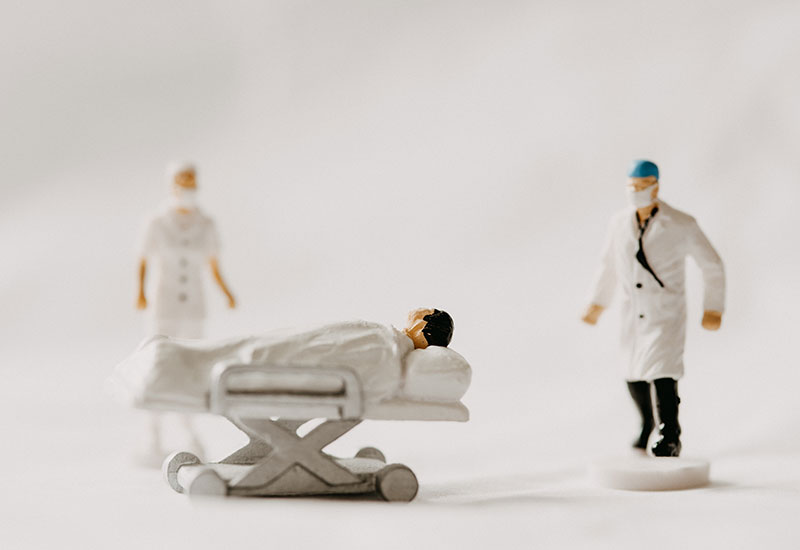 Cover medical costs: The cost of healthcare services have been rising over the years and will only continue to inflate. With a MHIT policy, you can rest assured that your eligible treatment and hospitalisation will be covered by your insurance company/Takaful operators for covered conditions depending on your medical insurance policy or certificate coverage. This saves you from the financial burden of digging into your savings to cover high medical expenses.
Financial safety net: In the event that you are unable to work or earn a livelihood due to a life-threatening illness or sustaining an injury or disability, medical and health insurance/Takaful may ensure that you and your family will not be burdened by high medical bills.
Safeguard policy/certificate holders: Medical and health insurance/Takaful ensures that you receive adequate and timely medical care with comprehensive medical coverage if and when the need arises.
Obtain the most suitable treatment: Health insurers/Takaful operators typically offer disease management programs should you develop a chronic condition such as diabetes or depression. They can also provide referrals to specialists and other resources to ensure that you receive the best treatment after gathering different medical opinions from different doctors.
How does medical insurance work?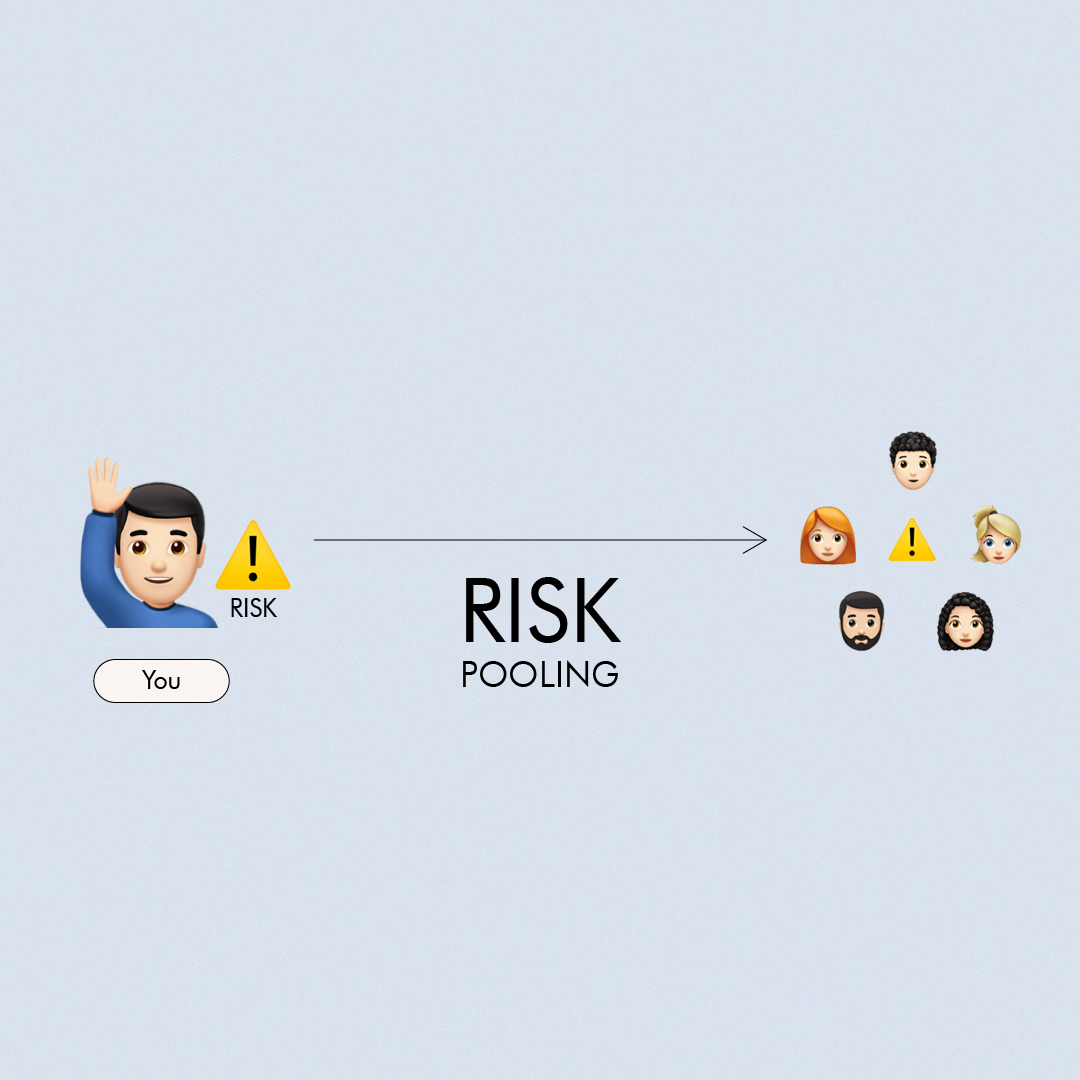 The insurance and Takaful industry runs on the risk pooling concept. This refers to the equal sharing of financial risks among policy/certificate holders in a common pool. The funds collected from all policy/certificate holders will be used to pay the medical costs for members of the pool.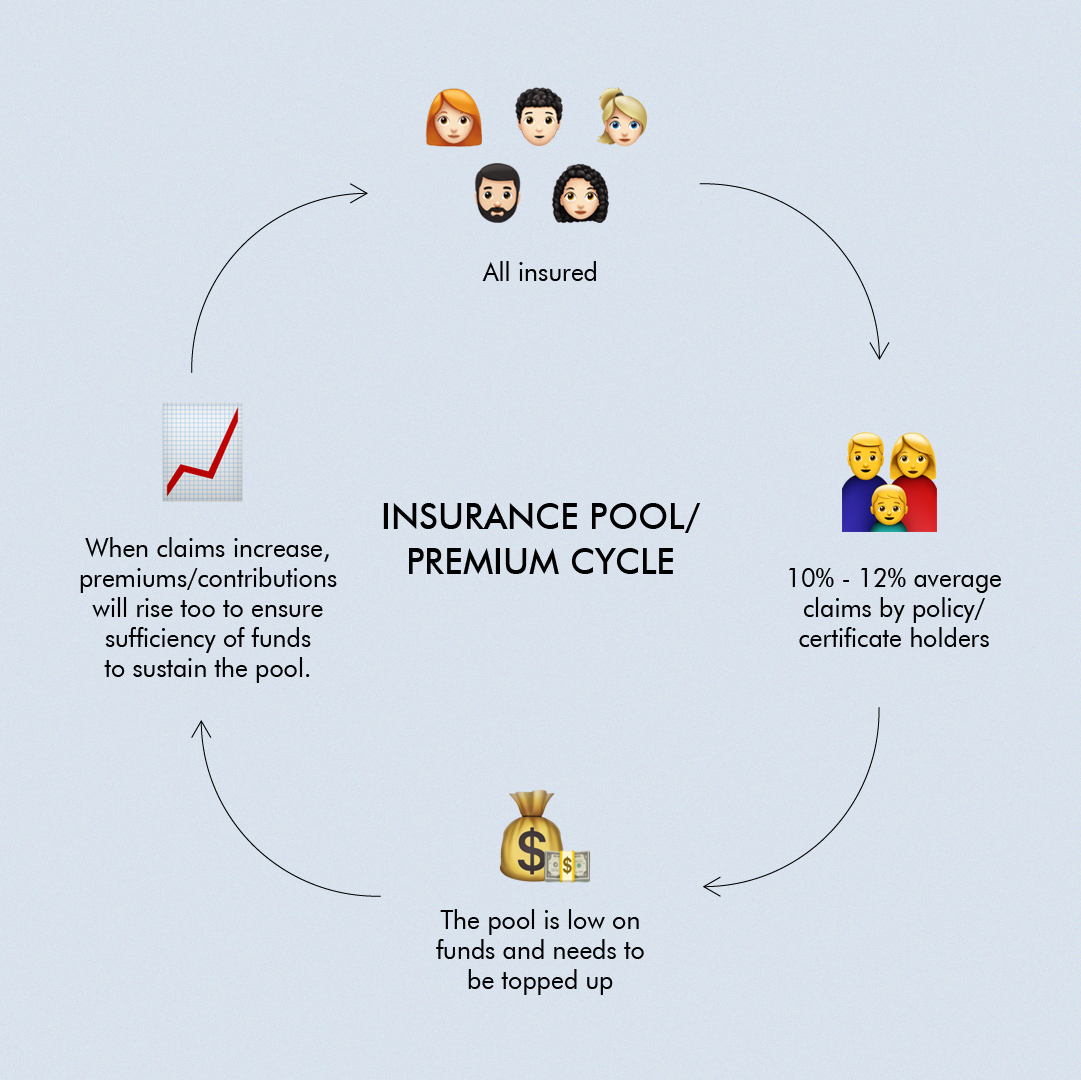 The key factor for premiums is the average healthcare cost incurred by the policy/certificate holders in the pool. Typically, about 10 to 12 per cent of policy/certificate holders will make hospitalisation claims. If the amount of claims increases, then the premium/contribution will be raised to ensure there are sufficient funds in the pool.
How do I make an insurance claim?
First, you need to be aware of the two main types of medical insurance claims:
Cashless admission: Also known as cashless hospitalisation, this is a value-added service provided by some insurers/Takaful operators' panel hospitals. In the event that you require hospitalisation, you will not need to make any payments under the plan as the hospital will bill your insurance company/Takaful operator directly.
Reimbursement of medical cost: In lieu of a cashless admission plan, this is the common procedure whereby a policy/certificate holder pays off any medical expenses incurred upfront and later makes a claim for reimbursement by their insurer/Takaful operator.
If your insurance policy includes the benefit of cashless admission, this is how the claims process during your hospital admission and discharge journey will look like: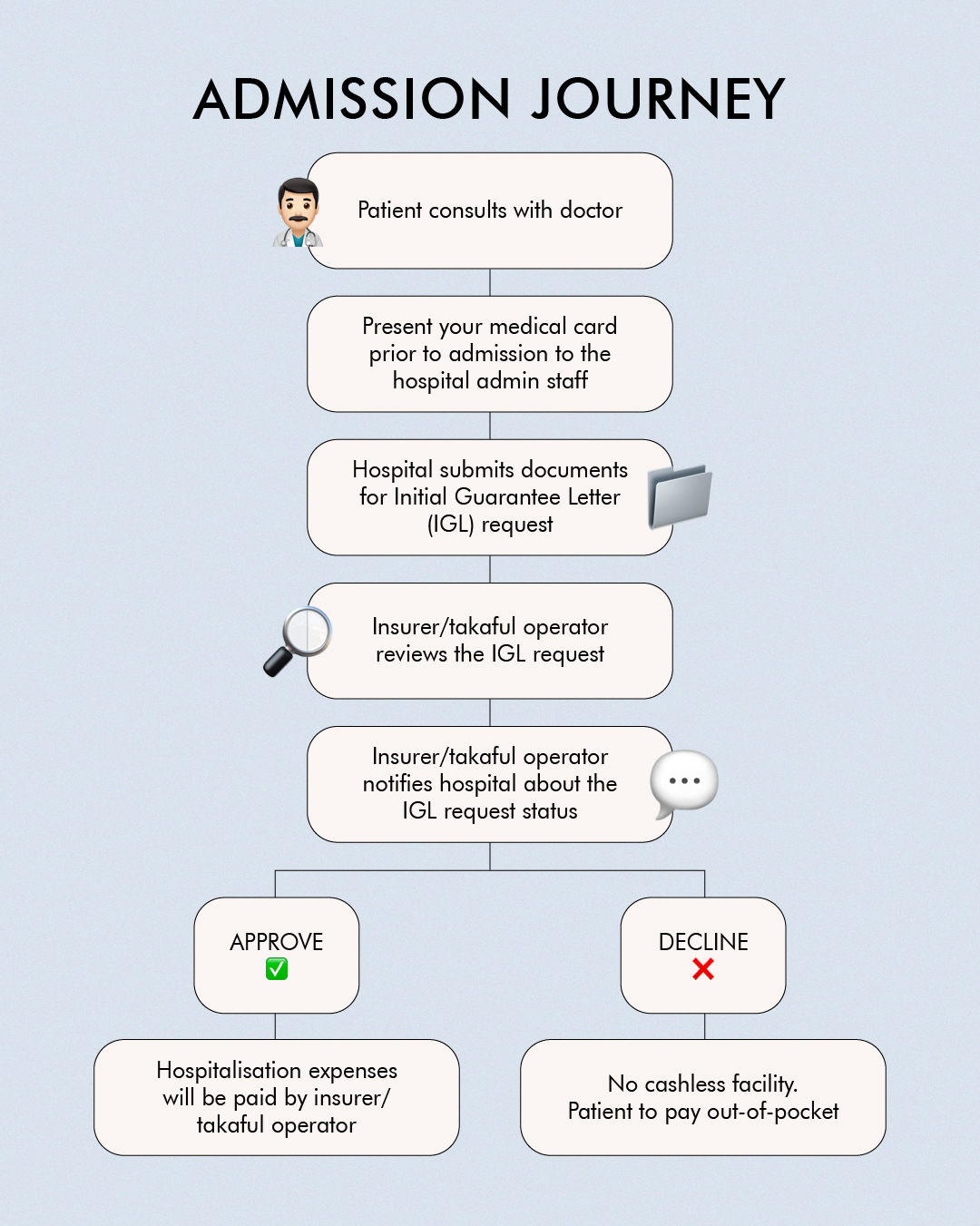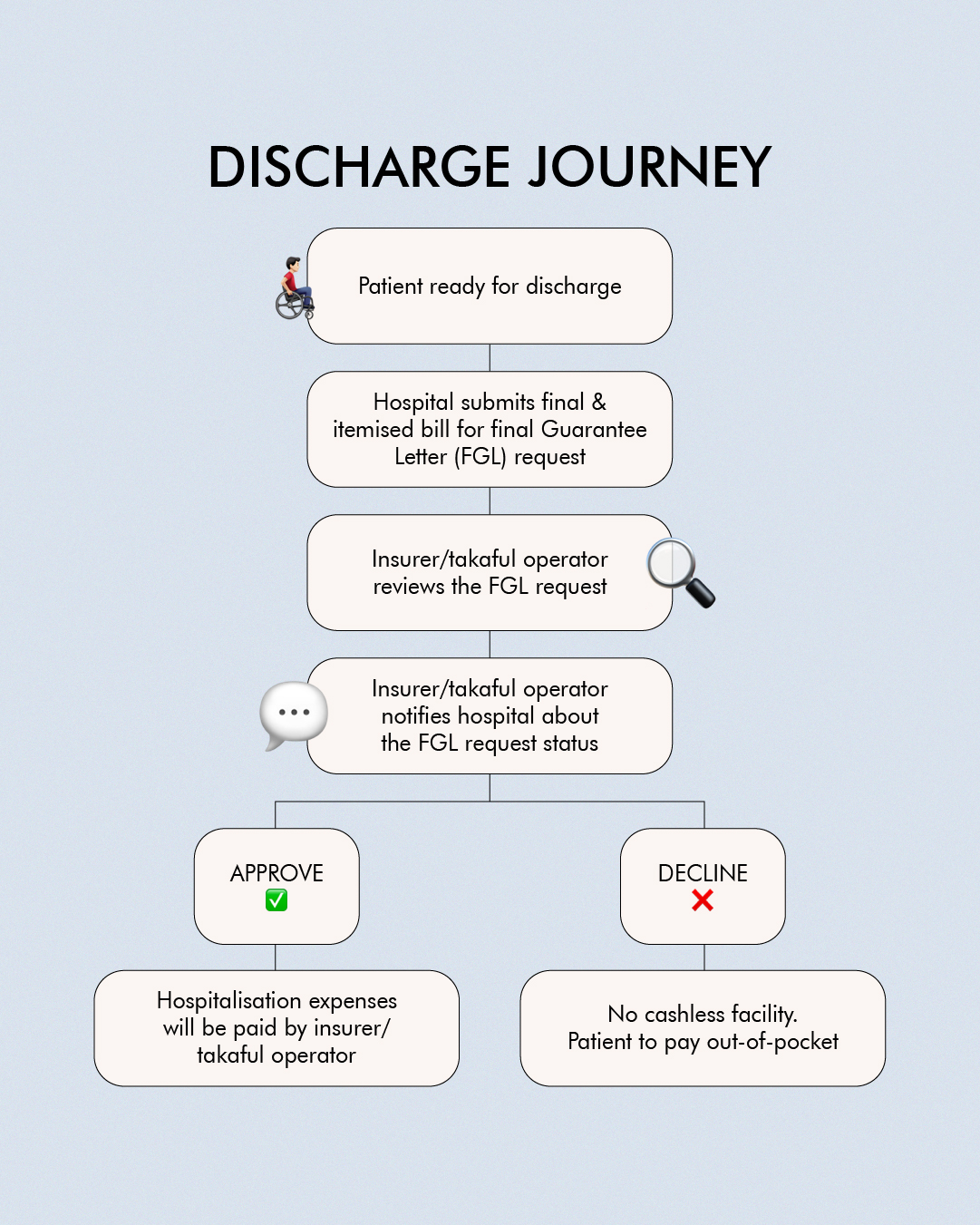 To ensure a smooth claim process, you only need to follow three simple steps: prepare the necessary bills/documents, fill up your claim form, and submit your claim. 
Why was my medical claim rejected?
There are some circumstances in which your cashless admission claim may be rejected. One common reason is that your policy/certificate is on a reimbursement basis. Your claim may also be rejected if you are admitted into a non-panel hospital or if you are getting medical treatment at an overseas hospital (depending on the terms and conditions of your policy/certificate).
Here are other reasons why your medical claim may get rejected:
1. The claim occurred during the waiting period (average of 30 days of cover) as specified in your policy/certificate.
2. Pre-existing conditions, which refer to illness or conditions that existed prior to getting a MHIT policy, are usually excluded from coverage.
3. The claim is for a "specified illness", which is excluded within the specified period as defined in your policy/certificate.
4. The medical procedure or treatment is commonly expected to be done without having to be admitted to the hospital.
5. Cost of treatment or procedure is not insured/covered under your selected insurance/Takaful plan.
Therefore, it is important to ask for and read the Product Disclosure Sheet (PDS) thoroughly to understand it before you purchase your policy/certificate.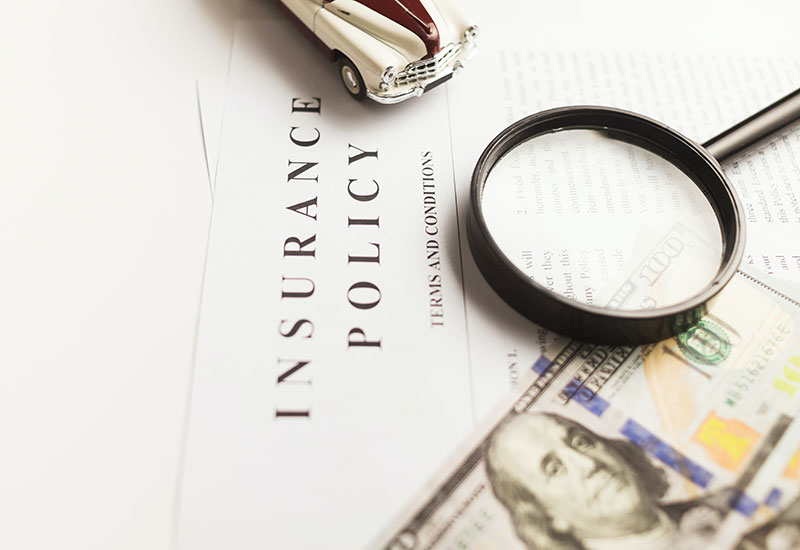 How do I maintain the sustainability of my MHIT policy?
While insurance offers peace of mind and is an essential step in financial planning, it is also important for policy/certificate holders to be responsible in the claims process. This is because unnecessary claims can increase average healthcare costs in the risk pool, which may then lead to an increase in premiums/contributions or affect your annual/lifetime limit.
Aside from claiming behaviour, age also influences the cost and sustainability of an insurance policy. Generally, the older you are, the higher your health risk, which results in a higher premium/contribution.
Two other factors that may alter your policy/certificate include medical inflation and expansion of benefits of medical care. The former may be imposed from time to time due to the rising cost of medical care and new technology for advanced disease treatment, whereas the latter may involve a revision of your policy to include benefits that were previously not covered.
To ensure a stable premium/contribution in the long term and preserve your annual/lifetime limit for critical situations, it is advisable to practise the following habits:
Understand the necessity of all medical procedures and availability of alternative treatments and procedures
Insist on an itemised medical bill and always question if the billing is unreasonable
Consider the most optimal medical treatment for lower medical costs such as reduced length of stay
Choose insurer's network of hospital partners for the best pricing
---
With all the above in mind, it is in your best interest to raise any questions if you are unclear and talk to your insurer/Takaful operator or your agent for more information or advice to ensure that your policy/certificate is in force and sustainable in the long run. If not, you may want to consider reviewing and altering your insurance policy to better suit your needs.
Remember to #AmbilTauBarulahTau for a more sustainable policy/certificate.
---
Read more about insurance here.
| | |
| --- | --- |
| SHARE THE STORY | |
| Explore More | |